Top 20 Best Riding Jackets Under 5000 and 10000
Here we have Top 20 Best Riding Jackets in India.
We all like to spend time outdoors, and for many of us, this includes biking. But it is important to be prepared with the right gear. When you are riding your bike in India, there are a lot of things that can go wrong! The heat from the sun can make everything unbearable, and if you don't have a good bike jacket then you will start sweating profusely. This is why we created this listicle about the Top 20 Best Riding Jackets Under 5000 and 10000.
If you are serious about bike riding and doing long rides, I recommend you check helmets under 10000. Don't have a budget? No Problem. Check Helmets under 2000 and 3000 and 5000. I also recommend you get a Riding Jacket and Riding Pants with Boots and Gloves too be safe in all conditions.
Things to remember while buying Riding Jackets in India
Buy a jacket that will keep you warm
Make sure the jacket is waterproof and has a zip-out liner for warmer days
Look for reflective strips to help drivers see you in low light conditions
Choose a style with lots of pockets to store your gear
Get one with an adjustable hem so it doesn't ride up when you're on the bikeMake sure the jacket is made of genuine leather
The colour should be dark, preferably black
It should have a detachable lining and removable sleeves for easy cleaning
There must be at least two zippered pockets on the outside to keep your phone or wallet safe from thieves
You need to know how many times you want to wear it per month before purchasing one
Best Riding Jackets Under 5000
Royal Enfield Streetwind v1
Basically this is the most affordable riding jacket.
Riding a bike is an exhilarating experience. But riding for long hours can be uncomfortable, especially in the summer months when temperatures rise and the sun shines brighter than ever.
A standard riding jacket will not protect you from the elements of nature like rain or wind. In fact, most jackets are made of leather that traps heat instead of releasing it which can make you feel even hotter under the blazing sun.
The Streetwind Riding Jacket is made with 100% Polyester to keep you cool in all weather conditions and provide protection against UV rays while riding your Royal Enfield bike throughout your daily commute or weekend adventures. The back shock-absorbent helps reduce vibration while driving and provides extra comfort on long rides; keeping you safe as well as comfortable during your journey!
Royal Enfield Streetwind V2
We all know that protecting your skin from the sun is important, but it's also hard to find a jacket that doesn't feel like you're wearing a heavy lead vest.
Most protective jackets are made with stiff and thick fabrics which make them uncomfortable for everyday wear.
The Royal Enfield Streetwind V2 Riding Jacket has been designed keeping in mind comfort and style as well as protection against UV rays. Our lightweight mesh fabric is breathable and allows air to circulate freely through the jacket while you ride or walk around town. You can even remove the inner liner if you want an open-air experience on those warm summer days.

The Royal Enfield Streetwind V2 Riding Jacket comes with CE approved armour protectors at shoulders and elbows so you don't have to compromise safety just because of fashion!
TVS Riding Jacket
comfort, and safety. It features a mesh construction for optimal cooling, making it perfect for adventures on the road or city commutes. The jacket also comes with Level 1 CE certified protectors around the shoulders and elbows to ensure maximum protection while riding.
Made with waterproof inner pockets and 600D polyester fabric, this jacket is designed to offer both comfort and safety. It is perfect for riders who love to explore and seek adventure on the open road. The jacket is available in two stylish colors, grey and neon, to suit the personal style of every rider.
Overall, the TVS Racing Riding Jacket is a versatile and reliable option for riders who want a combination of style and safety. It's built to handle any adventure and provide the ultimate motorcycling experience.
Best Riding Jacekets Under 10000
Rynox AIR GT 3 JACKET
The Rynox Air GT 3 Riding Jacket in Dark Grey Red is a utilitarian jacket that provides essential protection for motorcyclists. It is designed with Safe-Tech CE Level 2 protectors.
The jacket features retro-reflective panels on the chest, arms, and back to enhance low light visibility. Additionally, the Rynox Air GT 3 Riding Jacket is part of the MODULAYER system, allowing riders to buy the riding jacket alone or with all the layers needed for weather protection, such as the H2Go Rain Jacket, Surge Winter Jacket, or Swarm Winter Jacket.
Comfort is also prioritized with a street fit, girth adjusters on the waist, arms, and cuffs for fit modulation, and soft neoprene trims on the collar and cuffs to prevent chafing of the skin. Overall, the Rynox Air GT 3 Riding Jacket is a practical and comfortable option for riders seeking essential protection.
Rynox URBAN X JACKET
The Urban X Jacket has been designed with the commuter in mind. It offers all of the protection you need to tackle your daily commute while looking great and feeling comfortable at the same time.
We know that when it comes to safety gear, there are a lot of options out there for riders who want to protect themselves on their daily commutes. But we also know that most people don't like wearing bulky jackets or heavy armour because they can be uncomfortable and even restrict movement—and nobody wants that when they're riding their bike around town!
Rynox Storm Evo Riding Jacket
Nimble and lightweight, the Storm Evo is perfect for the minimalist overlander looking for top-shelf performance with an extra dose of ventilation.
Currently I have been using this as my riding Jackets from last 2 years over 60000km.
The Rynox Color Block Motorcycle Jacket offers high impact and abrasion protection for the rider. It includes Knox CE level 2 protectors for the shoulders, elbows, and back, and CE level 1 protectors for the chest. The jacket is made of a lightweight and sturdy 3D mesh with dual-fold knit and heavy-duty 600D PU-coated polyester. Retro-reflective panels are placed strategically to increase visibility in low-light conditions, and there is dual safety stitching on slide zones.
The jacket is comfortable to wear with girth adjusters on waist, arms, and cuffs, accordion stretch panels on shoulder blades, and soft neoprene trims on collar and cuffs. It is also compatible with the MODULAYER performance layering system, allowing for separate purchase of rain and winter layers as per the rider's needs.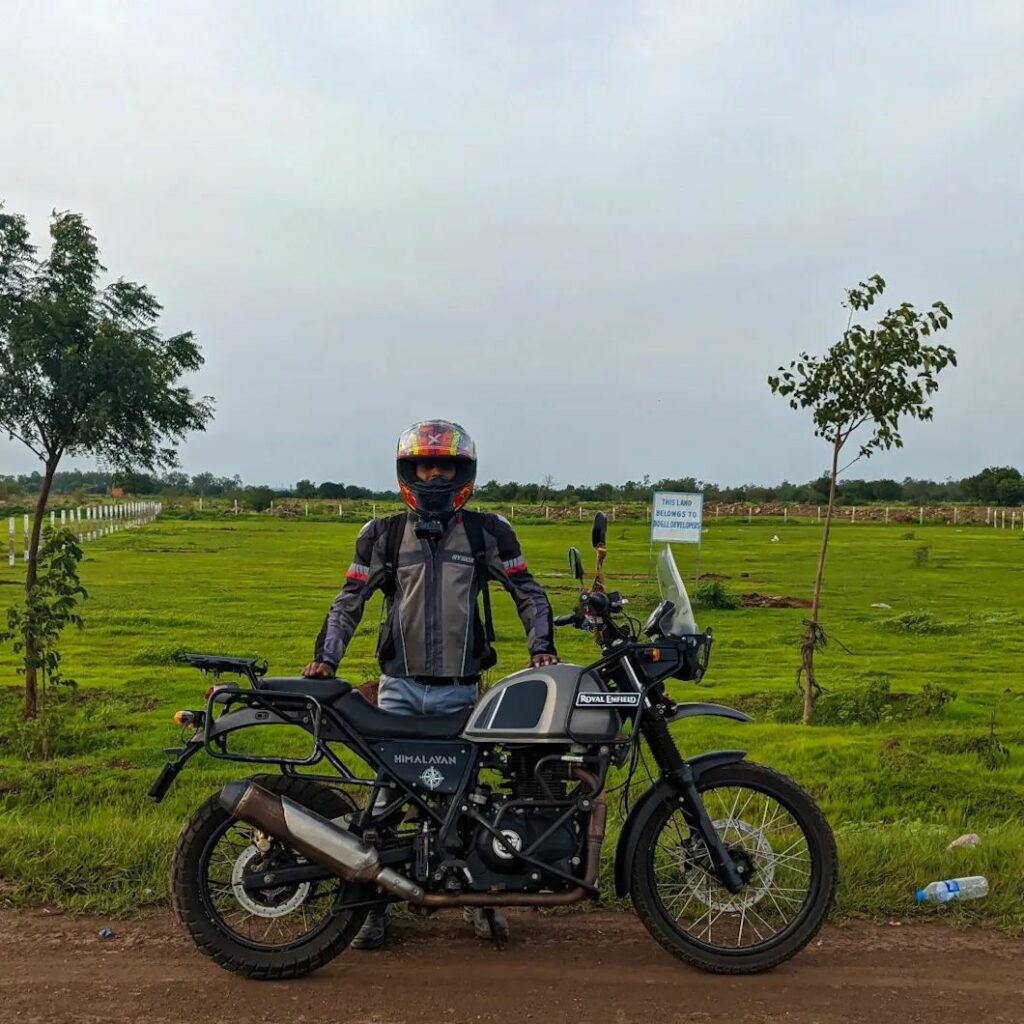 Finding the right jacket is a challenge. It needs to be comfortable, lightweight and sturdy enough for Overlanding trips.
Most jackets are made of heavy materials that don't breathe well and can get hot in warm climates. They also tend to be bulky and uncomfortable compared to other clothing items.The Rynox Storm Evo Jacket was designed with comfort, ventilation, durability and performance in mind. This innovative 3D mesh material breathes exceptionally well while still providing ample protection from the elements, thanks to its waterproofing technology.
Rynox Stealth Evo
With understated aesthetics and a super-functional design, the Stealth Evo 3 is engineered for the perpetual traveller who is unphased through any terrain, weather or ride.
Rynox jackets are designed with functionality in mind, but they still look good. They're perfect for the urban commuter or the professional looking to stay warm and dry without sacrificing style.Most winter coats are either too bulky or don't keep you warm enough. STEALTH EVO 3 JACKET is just right!
The STEALTH EVO 3 JACKET has everything you could want out of a coat – it's waterproof, windproof, breathable and lightweight so it can be easily packed away when not needed. It also comes with underarm vents that allow heat to escape on warmer days while keeping moisture at bay during rainy weather. We've even included reflective panels on this stylish jacket so you'll always be seen no matter what time of day it is!
Royal Enfield [Pushkar] Windfarer Riding Jacket
The Windfarer jacket is a stylish and functional riding jacket. It has the perfect balance of style, safety, and comfort.
Some riders don't like to wear jackets because they can be uncomfortable or hot. Others have trouble finding a good-looking jacket that also provides plenty of protection in case of an accident.The Windfarer Riding Jacket combines all three features into one great product so you can look good while riding your bike without sacrificing comfort or safety! With its removable liner, you can easily pack it up for travel or use it as an everyday commuter jacket around town when the weather isn't too bad outside!
Royal Enfield [ Jaisalmer] Summer Riding Jacket Black
The Jaisalmer is a stylish jacket that offers protection from the sun, but it's not always easy to find comfortable riding gear for hot weather.
This Summer Riding Jacket was designed specifically for warm weather riding with an outer shell made of nylon air mesh and impact zones at the shoulders and elbows. It also has reflective panels to increase visibility in low light conditions.
The Summer Riding Jacket will keep you cool while you ride in comfort. And if you want even more protection, we offer CE Level 2 back protectors separately for additional coverage on your back or upgrade your existing protector with our Shock Absorber Back Protector Insert sold as an accessory item.
Royal Enfield [Nakeela] Stormraider Summer Riding Jacket
A blend of comfort and safety, the Nakeela jacket is designed to keep up with all your adventures. Built with double PU coating which makes it resistant to water.
The Royal Enfield Stormraider riding jacket is a high-quality, multi-functional, stylish riding jacket with CE Level 1 armours to protect against falls.
This riding jacket has been designed for riders who like to explore new places and take on adventurous rides. It is lightweight, waterproof and can be worn in all sorts of weather conditions.
If you are looking for an affordable yet functional riding jacket that offers great value for money, this one from Royal Enfield is just perfect!
Royal Enfield Explorer V3 Riding Jacket
The Royal Enfield Explorer V3 CE Certified riding jacket represents the spirit of the brand in earnest. Classic, versatile, better with every outing, it is one of the most enduring riding jackets.
You can't find a jacket that's both high-quality and affordable.
The Explorer V3 is CE certified, meaning it has passed the highest level of safety testing in Europe. It also includes Knox armour at the elbows and shoulders, which are designed to dissipate energy on impact for maximum protection.
We've made this riding jacket with you in mind—it's comfortable, protective, stylish, and versatile enough to wear every day or out on your next ride. And because we believe that everyone deserves a great deal on quality gear from their favourite brands like Royal Enfield Motorcycles®, we're offering free shipping worldwide when you order today.
Viaterra Spencer
Raida Kavac Motorcycle Jacket
Best Riding Jackets for Women's
Royal Enfield Women's Breeze Riding Jacket
While women have been riding motorcycles for decades, they still face a number of challenges when it comes to finding appropriate gear.
Women aren't just getting into motorcycling anymore; we're taking over. It's time that the industry recognizes this and starts designing products specifically for us – not just smaller versions of men's gear!
The Breeze Women's Riding Jacket was designed in collaboration with female riders like you to solve these problems, so you.
Royal Enfield Girl on Wheels Women Riding Jacket Olive
The Girls On Wheels Women's Riding Jacket is engineered for the urban motorcyclist. Designed for a vogue look, the jacket offers protection from the outside and comfort on the inside.
The Women's Riding Jacket is made of 100% cotton fabric, making it light and breathable. It also has Cordura denim at the shoulder and elbow for higher abrasion resistance.
Royal Enfield Girl on Wheels Women Riding Jacket comes with zippered vents at shoulders, forearm and back to ensure ample ventilation while riding in the city. It also offers protection from the outside elements like rain, wind etc., keeping you protected on your ride.
This jacket is engineered for the urban motorcyclist who wants to look good while riding her bike around town or across the country!
Royal Enfield Nubra Women's Season Riding Jacket
Conclusion
I hope you liked the Best Riding Jackets in India. Now that we've found some of the best jackets, it's time to share this information with our fellow riders. Please tell your friends and family about what you learned from this article – maybe they will find a new jacket or accessory for themselves!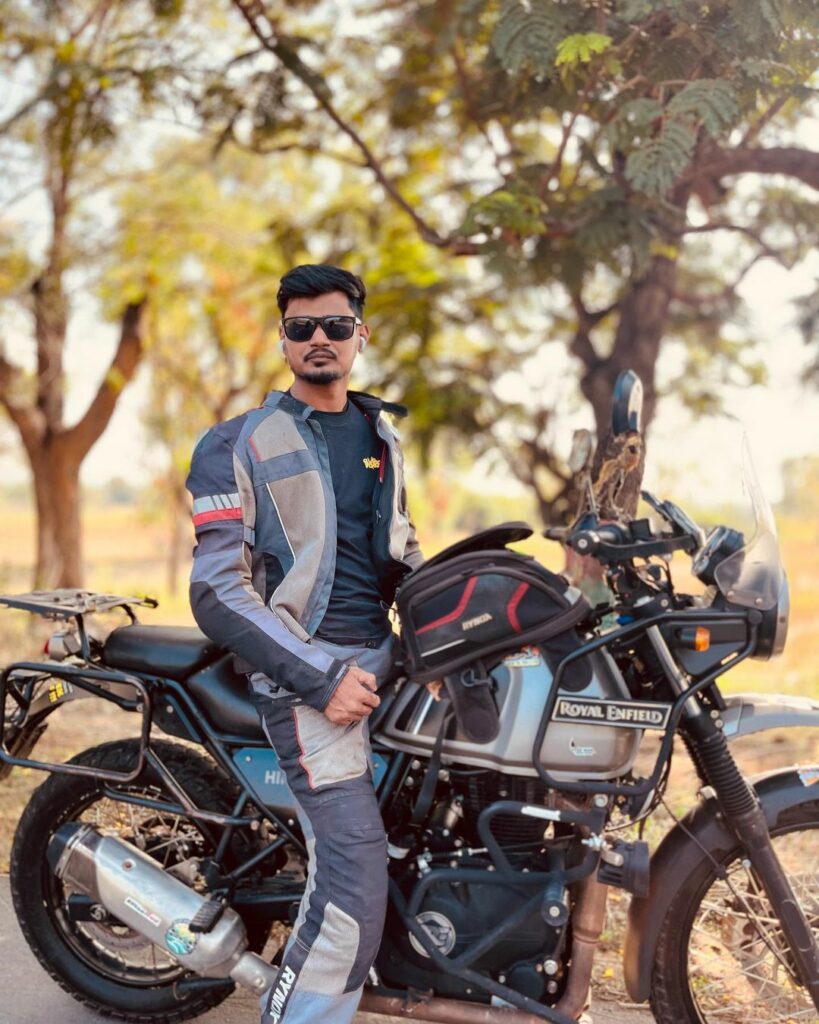 Vishwanath Mathpati
I am Vishwanath Mathpati, a full-time Blogger and Motorcyclist from Bidar, Karnataka. I love writing about my Motorcycles Stories and Riding Gears on this blog.
Know More About Me.
---
If you liked this article, then please subscribe to our YouTube Channel for more Bike Videos. You can also find us on Instagram, Twitter and Facebook.
Disclosure: As an Amazon Associate, I earn from qualifying purchases. Read more about Amazon Affiliate Disclaimer.