Top 12 Best Saddle Bags for Bikes In India
The problem is that you are looking for the best saddle bags for your bike and can't find a good list online?
We all know that buying a new product can be hard if you don't have access to reviews or customer ratings.
Our guide will help you speed up this process by recommending the best 13 saddlebags on the market based on price, quality, and popularity. You'll save time searching through hundreds of different products!
If you are a biker, then you know how important it is to be prepared for every ride. One of the most essential accessories that every biker needs are saddlebags for bikes in India. They can easily carry your essentials like water bottles, Riding Jacket and Riding Pants with Boots and gloves, food and extra clothes during long rides. To make things more convenient, we have shortlisted some of the best saddlebags available on Amazon India.
If you commute long distances regularly, go with a full luggage setup, such as a tail bag, tank bag, saddle bag, and hydration bag.
Which Saddle Bags am I using right now?
When I bought my Himalayan, I had 2 options; Saddle Bags or Panniers. And I opted for Saddle Bags because these are cheap and value for money. Since then, I have used Rynox Expeditions Series Saddle Bag and Tail Bag.
I did Ladakh, Spiti and Zanskar with this luggage setup, and my experience was really great, I am happy with this. These Bags protected my luggage from getting wet during the water crossing at Ladakh and torrential rains at Yamuna Expressway.
Still, I am using these bags even after 2 years.
Below is the photo of me at Pench Tiger Reserve with My Himalayan and Rynox Expedition luggage setup, Riding Jacket, Riding Gloves, Riding Pants and Axor Helmet.
Rynox Gears – Drystack Saddlebags
Rynox Drystack Saddlebags are the perfect solution for your adventure needs. Whether you need to carry a change of clothes, food and water for a long ride or just some small items on your daily commute, these bags hold it all securely and safely in place with no bouncing or rubbing against the bike.
Rynox Drystack Saddlebags are the perfect solution for your adventure needs. Whether you need to carry a change of clothes, food and water for a long ride or just some small items on your daily commute, these bags hold it all securely and safely in place with no bouncing or rubbing against the bike.
Many people want to use saddlebags on their bikes, but they don't like how hard they can access while riding. They also hate that they bounce around when not full, which is annoying as well as dangerous if there are things inside that could fall out and get lost while riding!
The Roll Top Mechanism allows you to roll down the top completely flat so you can still see what's in them without taking anything out first! This makes accessing your belongings quick and easy even at high speeds or over bumpy terrain. Each bag has an adjustable shock cord system that keeps them tight.
Rynox Nomad v2.1
Rynox Nomad v2.1 Saddle Bag is a heavy-duty saddle bag designed for the rider who wants to pack everything and anything on their motorcycle journey in India.
If you are looking for the best quality, top-loading main compartment with easy access to your belongings without having to take off your helmet then this product is just what you need!
The expandable main compartment has an adjustable strap that can be expanded or contracted depending on how much stuff you want to carry around. It also comes with rain covers so that if there's a sudden downpour, all of your items inside will stay dry and safe from water damage. This product is perfect for long road trips and adventure rides!
Rynox – Expedition Saddlebags
It's always either too bulky or not waterproof enough for your needs. No saddlebags on the market solve this problem while being affordable and easy to mount.
We created a pair of roll-top dry bags with an innovative mounting system – it utilizes your existing rear rack, so there isn't any need for additional brackets or clamps!
They're designed to be compact when empty but can expand up to 3 times their size depending on what you pack inside them! Installation is super simple – just remove one bolt from each side of your rear rack and slip these bad boys right over! They even come with reflective piping along the seam to increase visibility.
VIATERRA Leh Motorcycle Saddlebags
Travel in any kind of weather with the included 100% waterproof inner liner and raincover
60 litres capacity (works for 7-10 days travel) and suitable for all non-monoshock motorcycles with straight exhausts
2 outside flap pockets to carry tools etc (can fit 2L bottle), 2 mesh pockets to carry bottles and 2 zippered pockets top flaps for quick access items
4 Molle loop straps to mount additional luggage modularly i.e. tents/ sleeping bags/ViaTerra POD 12/ ViaTerra POD 22 et
Zero displacement fit with the 3 Point Anchoring System that secures bag in place and ensures proper stress distribution
The classic throw-over style saddlebags are not waterproof and do not have a proper rain cover.
With VIATERRA Leh, we've addressed all these issues by creating a 100% waterproof bag system with external rain covers and an internal liner that can be removed to turn it into an open-top bag. We've also added more volume than our previous bags for extra space to carry your gear!
Enjoy the freedom of riding on any non-monoshock motorcycle without worrying about your luggage getting wet or damaged due to heavy rains (we've got you covered)! The Leh is designed keeping in mind all of the requirements mentioned above. It's hardy enough for everyday use while being stylish too!
Golden Riders Mini-Basic
1. Minimalist, simple & consumer-pleasant design
2. Mild weight/ fold-capable/ clean to hold.
3. Suits properly on bike-three x straps on again to tighten up the luggage.
4. Rubber patch for safety towards shockers.
5. Three-M reflective tape for safety at some point of negative visibility.
6. Brighter linings for higher vision, even in low light.
7. Fluorescent colour rainstorm covers protect against rain; colouration has relatively high visibility.
Golden Riders MINI-Basic is a Simple/ strong/ light weighted/ compact and connected double side pair of bags for motorcycles. It mounts on both facets of the motorbike's back seat as a horse-saddle.
It is a common problem for bikers to carry their gear, especially when they are travelling long distances.
Bikers need to have enough space in their saddlebags to store all of the necessary items. However, too much space makes the bag too heavy and difficult to manage.
The Golden Riders Mini-Basic Motorbike Saddlebag for Bikers was designed with this issue in mind. They provide just enough storage space without adding excess weight or bulkiness to your bike. Its compact design allows you to take on any journey with ease
Golden Riders Rydro 69 Saddle Bags
#1. Large-size & fold-able
#2. Intact & right suit on a motorcycle with 3 x straps to tighten up it on back facets.
#3. Safety with 3m-reflective tape during poor visibility.
#4. Brighter linings for better imagination & prescient even in low mild.
#5. It's a minimalist layout with more storage space.
#6. Fluorescent colour rainstorm covers for protection against rain.
#7. It's a travel bag while going out to other events.
#8. Adjustable gap between bags for easy fit on varied bikes.
Rydro-69 is a perfect option for long rides or extreme conditions. Detachable pair of two bags, to be easily mounted as double-sided saddlebags on varied motorcycles. Each bag could be converted off the bike to carry a backpack or shoulder bag. Made out of special coated, heavy-duty ballistic fabric to enhance longevity & durability.
Easy to install with adjustable straps and buckles; suitable for most kinds of bikes like sportbikes, cruisers, touring bikes etc.; Durable fabric material; Two detachable saddlebags which can be used separately from one another when not mounted on the bike; Easily convert into backpack or shoulder bag by removing the back support strap after detaching it from the main body.
Rydro-69 is a perfect option for long rides or extreme conditions. Detachable pair of two bags, to be easily mounted as double-sided saddlebags on varied motorcycles. Off the bike each bag.
TREK 'N' RIDE Xplorer
Most saddle bags don't provide enough space and are not waterproof, so you can't use them in rainy weather or when you take a shower after riding.
The other problem is that most saddlebags are made from low-quality materials and wear out quickly with time. Also, they don't have any special features like rain covers to protect your belongings from water damage.
Our Saddle Bag offers enough space to store all your valuables and a waterproof inner lining that will keep everything dry inside even if it rains heavily outside.
It comes with an extra rain cover that protects the bag against water damage while riding and ensures that no dirt gets into it during transportation without putting anything else inside. This way we guarantee its durability for years to come!
GuardianGears Mustang
Heavy Duty YKK zippers and sliders, with 50Ltrs Capacity (Combined)
Industrial Grade High Abrasion Resistant Ballistic Nylon Fabric, Heavy Duty Fittings and High Tensile Straps for long life and Durability.
Heat Resistant Industrial Grade Bottom Panel, for higher Resistance even if Bag touches the Exhaust.
Comes with a Rain Proof Cover and also 3M Reflective tapes all all sides for safer Night rides. Huge outer pocket for storing quick access items.
Suitable for ALL MOTORCYCLES with Straight Exhuast. Tested on ALL Royal Enfield Mororycles, Interceptor, Himaliyan, JAWA, KTM Duke, CBR and Dominar with or without Saddle Stays.
Motorcycle riders always have to compromise between convenience and safety. With our saddlebags, you don't need to!
The saddlebag is a perfect companion for your rides, whether riding solo or with a pillion. It comes in two sizes 50L and 35L, which can be attached to most motorcycles by using the provided straps. The large storage space allows you to carry all your essentials while travelling long distances without compromising on the safety of yourself or others around you as it has heat-resistant fabric at the bottom side so that it doesn't touch your exhaust pipe even if it touches accidentally during movement.
Mustang 50L Saddle Bag from Guardian Gears is an ideal solution for carrying essential items, such as mobile phones, wallets, keys etc. when we ride across different places. It also helps us save money from buying water bottles every time we go out since we can store water inside the bag itself.
AmazonBasics Saddle Bags
Dual saddle bags for conveniently carrying personal gear; bags quickly attach to motorcycle with adjustable rubberized straps and quick-release buckles
Made of heavy-duty fabric with water-resistant backing for maximum weather and abrasion protection; heat shield panels on the bottom and sides protect against hot exhaust
Large zippered cargo compartments and exterior zippered side pockets with easy-open handles
High-visibility cover (included) protects the bags and stored belongings during stormy weather
Measures 15.5 by 6.3 by 10 inches (LxWxH)
1 year limited warranty
Motorcycle tail bags are a great alternative to backpacks. They free your shoulders and make for a more comfortable ride, but they can be hard to find in stores these days.
The bag is made of heavy-duty fabric with water-resistant backing, which provides maximum weather and abrasion protection. It has an adjustable strap that fits most motorcycles so you don't have to worry about it falling off or getting lost on the road. You can easily attach the bag onto the back of your motorcycle thanks to its universal mounting system that attaches around the seat post without any tools required. The bag also has reflective details for added safety when riding at night or during bad weather conditions.
This AmazonBasics product is exactly what you need if you want comfort, convenience and durability all rolled into one package!
Dirtsack Frogman Saddle Bags
If you want to carry your stuff on a motorcycle, there are plenty of options for the rider. But what about the pillion? They have nothing…
Until now! Dirtsack has created a line of bags that can be mounted behind your passenger seat and they're waterproof too! It's like having saddlebags for both riders.
Gods Triton X2-50 Saddle Bag
Triple Locking Connecting System - The Connecting straps lock at three levels.
Triple Mount-System - Journey convenience! There is a mounting system built which makes this backpack ensured with stability and strength
Easy Access - The Saddle comes with a Removable Drypack to accommodate easy of access without demounting the saddle from the Motorcycle.
The Connecting System - Comes with a padded top considering the comfort of the Pillion and easy to use
The Main compartment - Consists of Compression Straps which compresses the content and prevent the bag from sagging.
Wroom Infinity Saddle Bag
Main compartment with ROLL TOP opening to your belongings in harshest of weather
Waterproof inner drybags and seam welded on all stitches to withstand heavy rains
2 outside zippered pockets to keep documents, papers etc for easy access.
2 outside bottle pockets with tightening straps – can carry a 2 liter bottle
2 outside flap pockets with buckles – to carry tools, spare cans, first-aid kit or other quick-access items
5 MOLLE webbing to add on sleeping bags/Tripod or increase capacity with the Nemo Utility bag, or use extra cam straps or Nemo Straps.
Conclusion:
Let's take a moment to reflect on what we learned about the best saddle bags for bikes in India. We have 13 different options, each with its own set of benefits and drawbacks. I hope you found this article helpful! Please share it with your friends who are looking for bike saddle bags by using one or all of the buttons below. Thanks so much for reading!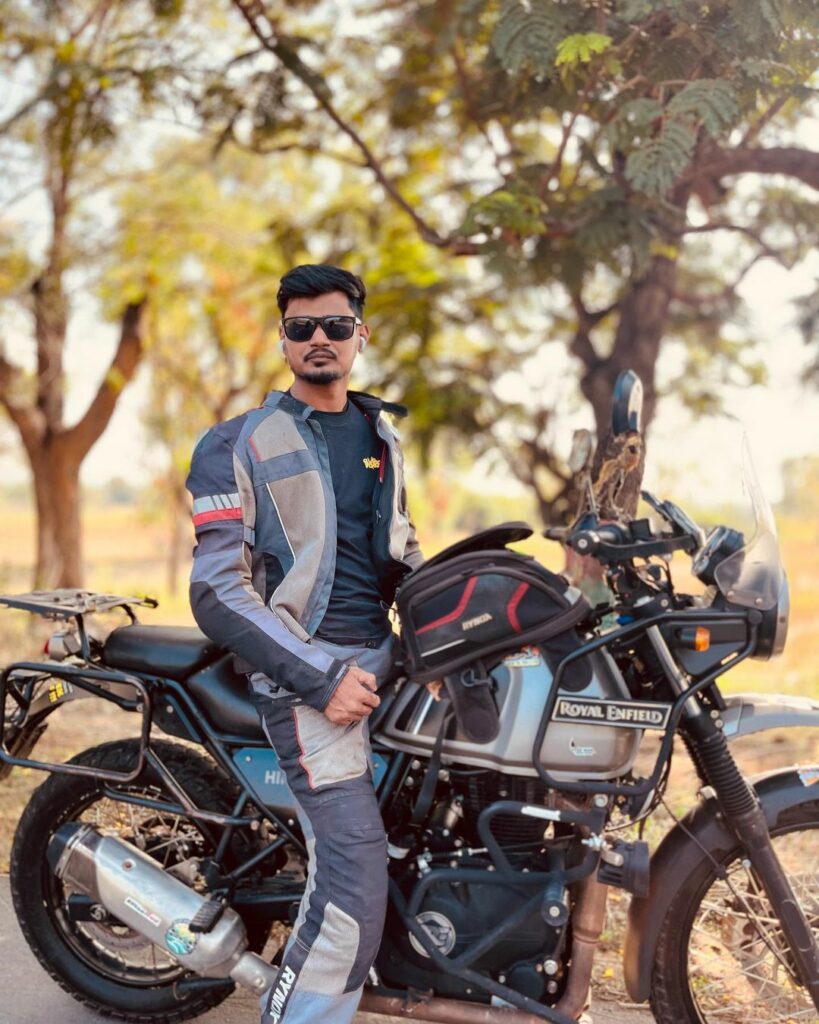 Vishwanath Mathpati
I am Vishwanath Mathpati, a full-time Blogger and Motorcyclist from Bidar, Karnataka. I love writing about my Motorcycles Stories and Riding Gears on this blog.
Know More About Me.
---
If you liked this article, then please subscribe to our YouTube Channel for more Bike Videos. You can also find us on Instagram, Twitter and Facebook.
Disclosure: As an Amazon Associate, I earn from qualifying purchases. Read more about Amazon Affiliate Disclaimer.