Motorcycle Laws in North Dakota: Your Comprehensive Guide to Safe Riding
Hopping on a motorcycle and hitting the open road can be a thrilling experience, but there's more to it than just the wind in your hair. In North Dakota, as in every state, there are specific laws that pertain exclusively to motorcyclists. It's crucial for riders to familiarize themselves with these rules not only to stay legal but also to ensure their safety.
Helmet requirements, eye protection regulations, and passenger restrictions are just some of the areas where North Dakota has established clear guidelines for motorcycle enthusiasts.
Without proper knowledge of these laws, you're at risk for fines or even worse – potential accidents due to noncompliance with safety regulations. So before you rev up your engine and head out onto North Dakota's highways or scenic byways, let's delve deeper into what exactly is expected of motorcyclists in this state.
key Takeaways
Motorcyclists under 18 years old are required to wear helmets in North Dakota.
All riders must wear protective eyewear unless the bike has a windscreen.
Handlebars can't be higher than the operator's shoulder level when seated.
An operator's license with a specific endorsement for motorcycles is required.
Lane splitting is illegal, but two motorcycles are allowed to ride side by side in the same lane.
Motorcycle license applicants must be at last 14 years old to obtain a permit.
Functional accessories like headlights, tail lights and rearview mirrors, along with a working muffler, are compulsory.
The legal blood alcohol content (BAC) limit is 0.08% for all motorists, including motorcyclists, and DUI offenses carry strict penalties.
Motorcycles in North Dakota must carry at least liability insurance with minimum coverage limits.
Traffic violations like speeding, DUI and reckless driving can impact driving privileges and insurance premiums.
The state also encourages wearing sturdy footwear, long pants, gloves, jackets, and other safety gear while motorcycling.
Motorcycle laws in North Dakota only require helmet usage for riders under the age of 18. This is a more lenient approach compared to some neighboring states, while it aligns with others. For example, motorcycle laws in South Dakota are consistent with North Dakota's laws, only requiring helmets for riders under 18. In contrast, motorcycle laws in Minnesota mandate helmets for riders under 18 and those with instructional permits. Moving westward, motorcycle laws in Montana also require helmets only for those under 18. Conversely, motorcycle laws in Wyoming oblige all riders, regardless of age, to wear eye protection, though helmets are mandated only for those under 18. These varying regulations across North Dakota and its neighboring states reflect the disparate approaches to motorcycle safety. Understanding the unique characteristics of motorcycle laws in each jurisdiction is paramount for riders, particularly those traveling across state lines, to ensure legal compliance and uphold safety standards.
A Brief Overview of North Dakota Motorcycle Laws
Motorcycle enthusiasts, like me, know that every state has its own set of rules. In North Dakota, motorcycle laws are quite straightforward and specific to ensure safety on the road. Let's delve into some important ones.
First up is helmet law. If you're under 18, it's mandatory for you to wear a helmet while riding or being a passenger on a motorcycle in North Dakota. However, if you're over 18, this requirement isn't applicable.
Next comes eye protection. No matter what your age, all riders must have protective eyewear unless the bike is equipped with windscreen.
Riders should also be aware that handlebars or grips cannot exceed the height of the operator's shoulder level when seated in place and footrests are required if carrying passengers.
As for license requirements – well they're pretty standard across most states but let's cover them anyway! You need an operator's license specifically endorsed for motorcycles (class M).
Understanding North Dakota's Helmet Requirements
First off, riders under the age of 18 are required by law to wear helmets. They must meet the U.S. Department of Transportation (DOT) standards. So if you're not yet 18 or traveling with someone who isn't, don't forget those helmets!
| Age | Requirement |
| --- | --- |
| Under 18 | Must wear DOT standard helmet |
For adults over 18, however, wearing a helmet is optional in North Dakota. But let me stress how crucial safety is when operating any motor vehicle – especially motorcycles! While it's your choice as an adult rider whether to don protective headgear or not, I'd strongly recommend always opting for safety.
Now here are key facts about helmets and motorcycle laws in general:
Helmets approved by DOT have been tested for their ability to absorb impact and protect against penetration.
Helmets also help reduce wind noise and shield your eyes from bugs and debris.
The North Dakota Century Code (NDCC) states that all motorcycle operators must have a valid operator's license with a motorcycle endorsement.
All motorcycles need eye protection unless equipped with wind screens.
Lane Splitting and Sharing: What's Legal in North Dakota?
In many states, lane splitting is either explicitly legal or not specifically outlawed. However, in North Dakota, it's a different story. To put it simply: lane splitting is illegal in this northern state.
Why? Safety is the primary concern here. Authorities believe that allowing motorcyclists to weave through traffic can lead to accidents if other drivers aren't expecting such maneuvers.
Now, how about lane sharing, which involves two motorcycles using the same lane side by side? In North Dakota, you'll find a bit more leniency. According to state law:
Two motorcycles are allowed to ride side by side in the same lane.
More than two motorcycles should not share a single lane.
Passing within the same lane is prohibited for safety reasons.
To summarize these key points:
| Motorcycle Law | Is It Legal? |
| --- | --- |
| Lane Splitting | No |
| Riding Side by Side (2 Motorcycles) | Yes |
| More Than 2 Motorcycles Sharing A Lane | No |
| Passing Within The Same Lane | No |
Motorcycle Licensing in North Dakota: The Essentials
Riding a motorcycle through the wide-open plains of North Dakota can be an exhilarating experience. Yet, before you start your engine and hit the road, it's important to understand some essential details about motorcycle licensing in this state.
First off, let's discuss age requirements. In North Dakota, you must be at least 14 years old to obtain a motorcycle learner's permit. This permit allows learners to ride under the supervision of a licensed motorcyclist who is at least 18 years old.
| Age Group | Permit/License Type |
| --- | --- |
| 14-15 | Motorcycle Learner's Permit |
| 16+ | Class M License |
Now, onto the steps required for obtaining a license. If you're over 16 and have decided to get your Class M license (the full motorcycle endorsement), passing a written test and an on-cycle skills test is mandatory.
The written exam covers topics like traffic rules, safety measures, and operating procedures specific to motorcycles. It's based on information available in ND Motor Vehicle Division's Motorcycle Operator Manual which I'd highly recommend reading thoroughly.
As for the practical skills test, it evaluates your ability to handle a bike safely on roads – maneuvers like turning, stopping quickly or swerving are assessed here.
If taking tests isn't quite your thing though – there's another way! Completion of an approved motorcycle safety course waives these tests. Plus it offers hands-on learning which could be immensely valuable especially if you're new to riding.
Age Restrictions for Motorcycle Riders in North Dakota
In the plains of North Dakota, riding a motorcycle isn't just about transportation; it's also about freedom and adventure. However, before you feel the wind in your hair, there are certain age restrictions you need to know.
First things first, you must be at least 14 years old to obtain a motorcycle permit in this state. It's essential for young riders to remember that this is merely a permit – not a full license.
For those under 16, there are additional rules:
The bike engine can't exceed 250cc.
You're required to complete an approved rider course.
Riding on interstate highways is prohibited.
| Age | Permit or License | Engine Size Limit | Required Course | Interstate Highway |
| --- | --- | --- | --- | --- |
| <16 | Permit | ≤250cc | Yes | No |
Now moving forward, if you're between the ages of 16 and 18 and want to graduate from a permit to an actual license, there's more work cut out for you. Apart from having held your permit without any violations for at least two months, you'll also need to pass both written and road tests.
But here's something interesting: once you turn 18 and still haven't got your motorcycle license yet? Well, let me tell ya', North Dakota doesn't require its adult applicants (18+) to hold permits before getting their licenses!
To cap it off with some legal jargon: according to section §39-06-01 of the North Dakota Century Code (NDCC), all licensed drivers must have their operator's licenses while driving on public roadways or risk facing hefty fines.
Equipment Requirements for Motorcycles in North Dakota
Riding a motorcycle in North Dakota isn't just about hopping on and hitting the open road. There are specific equipment requirements that I'll cover to ensure you're riding legally and, more importantly, safely.
Let's kick things off with helmets: In North Dakota, any rider under 18 must wear a helmet at all times. However, riders over 18 aren't required by law to do so. Despite this, it's highly recommended as your noggin is worth protecting!
Then there's eye protection – something that often gets overlooked. Believe it or not, regardless of age, all motorcyclists in North Dakota are required to wear some form of eye protection unless their bike has a windscreen.
Beyond these basics, let's dive into some specifics related to your motorcycle itself:
Lights: All motorcycles should have operational headlights and tail lights.
Mirrors: At least one rearview mirror is mandatory.
Handlebar Height: The handlebars can't be higher than shoulder level when seated.
Muffler: A properly working muffler is a must-have.
Here's a quick rundown table for easy reference:
| Requirement | Riders Under 18 | Riders Over 18 |
| --- | --- | --- |
| Helmet | Mandatory | Not Required |
| Eye Protection | Mandatory | Mandatory |
The state also strongly encourages the use of safety gear such as sturdy footwear (not flip flops), long pants, gloves and jackets made from durable material. Lastly but notably, every motorcycle must pass an annual safety inspection.
DUI Laws and Penalties for Motorcyclists in North Dakota
When it comes to DUI laws in North Dakota, they're more stringent than you might think. It's important to note that the legal blood alcohol content (BAC) limit is 0.08% for all motorists, including motorcyclists.
If you're caught riding under the influence, you'll face some pretty severe consequences. For a first offense, you're looking at:
A fine up to $500
Possible jail time of up to 30 days
License suspension for 91 days
Not only does this hit your wallet hard, but it also affects your freedom and ability to get around.
| Offense | Fine | Jail Time | License Suspension |
| --- | --- | --- | --- |
| First Offense | Up to $500 | Up to 30 days | 91 days |
For repeat offenders, penalties increase significantly. A second offense within seven years will result in:
A fine up to $1,500
Mandatory imprisonment of at least ten days
One-year license suspension
And if three offenses are committed within seven years? You're facing:
An escalated fine up-to $2000
Mandatory imprisonment of at least 60 days
Two years license suspension
No one wants their finances drained or their freedom stripped away because of poor decisions on the road.
Motorcycle safety courses are available and can not only keep you safer on the road but also reduce these penalties. In fact, completing an approved course may reduce your sentence by up-to one-third! So it's definitely worth considering if you find yourself facing any sort of penalty related to riding under the influence.
Insurance Obligations for Motorcycle Owners in North Dakota
In the state of North Dakota, it's mandatory for motorcycle owners to have insurance. Liability insurance is non-negotiable and a critical aspect of legal motorcycle operation in this region. This type of policy covers bodily injury and property damage sustained by others in an accident where you're deemed at fault.
Here are the minimum coverage limits that you must meet:
| Coverage Type | Minimum Requirement |
| --- | --- |
| Bodily Injury (per person) | $25,000 |
| Bodily Injury (per accident) | $50,000 |
| Property Damage | $25,000 |
Don't forget that these figures represent the bare minimum coverage required. As a motorcyclist, I find it prudent to consider additional coverage options such as collision or comprehensive insurance. These can provide financial protection against damages from other incidents like theft or vandalism and not just accidents.
But there's more to know about North Dakota's insurance obligations. In this state, uninsured/underinsured motorist coverage isn't required by law but I'd highly recommend considering it anyway – after all, not everyone on the road will be as diligent about maintaining proper insurance coverage as you are.
It's also noteworthy that any changes made to your bike could potentially impact your insurance needs and costs too. For instance:
Installing expensive aftermarket parts increases its value which might warrant a higher level of property damage protection.
A high-powered engine upgrade could increase risk factors leading insurers to raise your premiums.
Lastly, remember that proof of insurance is crucial when riding around North Dakota. You'll need to carry an up-to-date proof card issued by your insurer at all times while out on the road – failure to do so can result in hefty fines or even license suspension!
How Traffic Violations Impact Motorcyclists in North Dakota
Motorcycle laws are not to be taken lightly, especially in North Dakota. If you're a motorcyclist, traffic violations can have serious consequences on your driving privileges and insurance premiums.
Speeding is one common violation that can lead to hefty fines and points on your license. In North Dakota, exceeding the speed limit by just 1-10 mph could result in a fine of up to $20. But if you're caught speeding over 36 mph above the limit, the potential fines skyrocket to $150! Here's how it breaks down:
| Over Speed Limit (mph) | Fine ($) |
| --- | --- |
| 1-10 | 20 |
| 11-15 | 40 |
| 16-20 | 60 |
| 21-25 | 80 |
| 26-35 | 120 |
| Over 36 | 150 |
Another common violation for motorcyclists is driving under the influence (DUI). North Dakota has stringent DUI laws with severe penalties for violators – including imprisonment, fines, and license suspension.
A first offense may lead to a minimum $500 fine, at least two days of jail time or community service.
For a second offense within seven years, expect at least ten days of jail time, one year of unsupervised probation and a minimum fine of $1,500.
Lastly, let's discuss reckless driving – this includes actions like tailgating or weaving through traffic which are viewed as aggressive or unsafe by law enforcement officers. Penalties include:
For an initial offense: up to thirty days in jail or a maximum fine of $1,500.
For subsequent offenses: up to one year in jail or a maximum fine of $3,000.
Traffic violations not only impact your wallet but also hike up your insurance rates. I've found that after just one minor violation such as speeding ticket; rates can increase by about 22%!
Concluding Thoughts on Navigating Motorcycle Laws in North Dakota
I've found that understanding motorcycle laws in North Dakota isn't as daunting as it might initially seem. It's all about knowing the specifics, staying informed, and adhering to the rules.
Firstly, let's not forget the importance of wearing a helmet if you're under 18. It's not just a good safety practice—it's the law. Remember also that eye protection is mandatory unless your bike has a windshield. These rules aren't arbitrary; they're for your own safety.
Turn signals are another key point to consider. Unlike some states, North Dakota requires motorcyclists to have them installed on their bikes. This requirement ensures clear communication between motorists on the road and contributes greatly to overall traffic safety.
Reflective clothing isn't mandated by law but it's highly recommended when riding at night or during low visibility conditions. You want to be seen by other motorists at all times.
Lastly, don't overlook insurance requirements: you need liability coverage at minimum before you hit the road in North Dakota.
In my opinion, these laws offer a balanced approach between ensuring rider freedom and maintaining public safety—which is what legislation should strive for after all. So whether you're cruising through Fargo or taking in the natural beauty of Theodore Roosevelt National Park, remember that these laws are there for everyone's benefit—including yours.
Motorcycle Laws in the US By States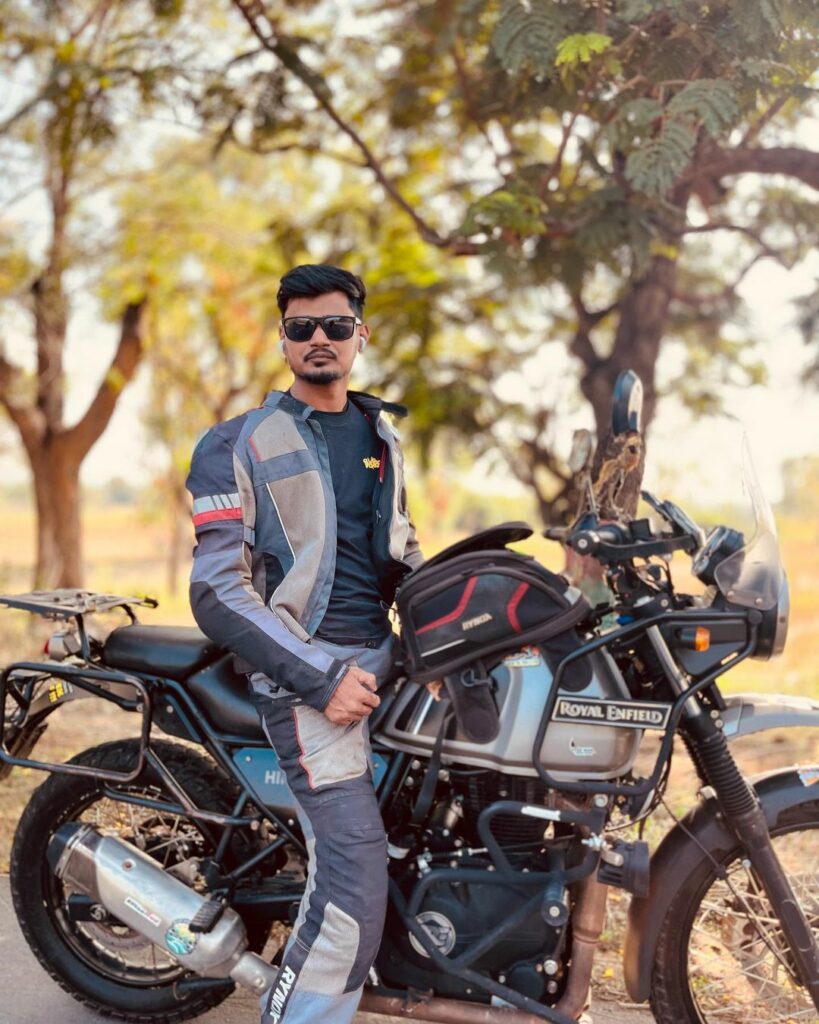 Vishwanath Mathpati
I am Vishwanath Mathpati, a full-time Blogger and Motorcyclist from Bidar, Karnataka. I love writing about my Motorcycles Stories and Riding Gears on this blog.
Know More About Me.
---
If you liked this article, then please subscribe to our YouTube Channel for more Bike Videos. You can also find us on Instagram, Twitter and Facebook.
Disclosure: As an Amazon Associate, I earn from qualifying purchases. Read more about Amazon Affiliate Disclaimer.