How to Choose The Right Bike Luggage
Choosing the right bike luggage for your motorcycle in India can make all the difference in having a smooth and enjoyable ride. The vast and diverse landscape of this country offers ample opportunities for both short and long-distance travel on bikes. However, it's essential to make sure you've got the right gear to help carry your essentials comfortably.
First, it's crucial to consider the type of motorcycle you own, as this will play a crucial role in determining the kind of luggage suitable for your bike. Different motorcycles have varying weight capacities, design, and attachment points for luggage, so understanding these factors will help you choose the most appropriate luggage for your bike.
Secondly, it's essential to consider the nature of your trips – whether you'll be primarily using your motorcycle for commuting, leisurely weekend rides, or extended multi-day journeys. This will help you assess the capacity, durability, and overall features you need for your bike luggage, ensuring it provides the necessary convenience and functionality on the road. . In this article, I'll be sharing some tips and useful information on how to select the perfect bike luggage for your needs.
Understanding Different Types of Bike Luggage
Choosing the right bike luggage for your motorcycle is essential when heading out on a journey across the diverse landscapes of India. Here, I will break down the various options to help you find the perfect fit for your specific needs.
Saddlebags are a popular choice for many motorcyclists. These bags attach to either side of the rear seat or on a separate luggage rack. Saddlebags come in various sizes and materials, such as hard plastic or weather-resistant fabric. Here are some benefits and downsides associated with saddlebags:
Pros
Provide ample storage space
Keep weight distributed evenly on the bike
Can be used with other types of luggage
Cons
May require additional brackets or supports for secure attachment
Bulky design could affect handling and maneuverability
2. Tank bags attach to the top of the fuel tank, usually by magnets or straps, offering quick access to essentials such as a wallet, phone, or map. Just like during my rides through Ladakh and Spiti, a tank bag can prove to be a handy addition. Some advantages and disadvantages of using tank bags are:
Pros
Easily accessible
Can include a clear map pocket
Secure and stable
Cons
Limited storage capacity
May necessitate removing for refueling
3. Tail bags are placed at the rear of the seat or on a separate luggage rack behind it. They can provide a convenient storage solution when used alone or alongside other luggage options. From my experience using the Rynox Expedition Tail Bag, here are some pros and cons of tail bags:
Pros
Easy to install and remove
Additional storage space without adding width to the bike
Can be combined with other luggage types
Cons
May require extra support or brackets
Limited capacity compared to saddlebags
4. Panniers are hard-sided, box-like luggage options designed for adventure touring bikes. They attach directly to the bike's frame and offer a high level of protection for your belongings. Some benefits and drawbacks of using panniers include:
Pros
Durable and secure
Weatherproof
Easy to remove and carry off the bike
Cons
Expensive compared to other luggage types
Heavier and bulkier than soft bags
Can affect handling, particularly at higher speeds
Assessing Your Motorcycle's Luggage Compatibility
Firstly, you need to consider the type of bike you're riding. Different types of motorcycles, such as tourers, cruisers, and ADVs have varying luggage attachment points and capacities. By recognising the luggage limitations for your specific motorcycle, you can avoid overloading and imbalances.
Next, take a closer look at the available attachment points on your motorcycle. Many bikes are pre-equipped with mounts and brackets for panniers or top boxes. If your bike isn't already outfitted, it may be possible to purchase additional mounts specific to your model, ensuring a secure fit for your luggage.
Once you've established your motorcycle's capabilities and attachment points, consider the type and size of luggage that's most suited to your trip. Motorcycle luggage comes in a variety of materials, shapes, and sizes. For my own adventures, I've found that a combination of Rynox Expedition Saddle Bags, Rynox Expedition Tail Bag and Rynox Magnapod Tankbag works well. Recently, I started using Royal Enfield Panniers as an alternative to the saddle bag setup. Whatever your choice, make sure the luggage's volume meets your travel needs without sacrificing manoeuvrability or stability on the road.
To enhance your luggage's functionality, consider features such as:
Waterproof or weather-resistant materials
Reflective elements for increased visibility
Quick-release systems for easy accessibility
Security features like lockable zippers and secure mounting
Expandability options in case you need extra storage capacity
To wrap up, assessing your motorcycle's luggage compatibility involves understanding your bike's limitations, available attachment points, and the types of luggage best suited to your journey. Taking these factors into account will result in a safer and more enjoyable riding experience, regardless of which road you choose to take.
Establishing Your Riding Style and Needs
Firstly, consider the type of motorcycle trips you'll be taking. Are you a die-hard adventurer planning to tackle the challenging routes ? Or are you more interested in weekend getaways ? Knowing your preferred trip style is crucial to ensure you choose luggage that suits your needs.
If you enjoy solo rides or long-distance group adventures, additional storage is vital. Keep your bike and luggage weight distribution in mind as well. Overloading one side of your motorcycle can lead to handling issues and affect your overall riding experience
Exploring Luggage Materials: Soft vs Hard
Soft luggage typically includes products like saddlebags, tail bags, and tank bags. These options tend to be more lightweight, flexible, and reasonably priced. Here are some advantages of soft luggage:
Easy to install and remove
Usually more affordable
Readily collapsible when not in use, saving valuable storage space
However, soft luggage has its drawbacks as well:
Less secure, as it's relatively easy to break into or cut through
Susceptible to wear and tear over time
Offers limited protection from impacts, as it lacks rigid support
Hard luggage, like panniers and top boxes, is known for its durability and better security, but can be expensive and bulky. Benefits of hard luggage include:
Increased security with integrated locking mechanisms
Greater impact resistance to protect your valuables in the event of a crash
Water-resistant or waterproof options available
On the flip side, hard luggage comes with some disadvantages:
Heavier, which could affect fuel consumption and balancing during long rides
Requires specific mounting brackets
Expensive compared to soft luggage options
To help you find the right bike luggage for your adventures, consider the riding conditions and the level of security you require. For casual or budget riders, soft luggage may suffice. For those who prioritize security and protection from harsh conditions, hard luggage might be a better investment.
Security Features to Consider
In this section, I'll discuss the security features to consider when selecting motorcycle luggage for your rides.
One essential feature to look for is lockable zippers. Having zippers that can be locked ensures your luggage remains secure during your rides and when left unattended.
Another crucial aspect to consider is the material and construction of the luggage. A high-quality, durable fabric like Cordura or ballistic nylon will resist damage from scratches and punctures better than cheaper alternatives.
Reflective material is also an essential security feature worth considering, as it will increase your visibility to other motorists during night-time rides
To further improve security, consider luggage with quick-release mechanisms that can be easily detached and taken with you when you're away from your motorcycle.
Some bike luggage also offers integrated security systems, like sturdy locking mechanisms or alarm systems. Though these features might increase the price, they can provide peace of mind knowing your belongings are safe, especially during overnight stays in unfamiliar locations.
When choosing motorcycle luggage in India, consider:
Lockable zippers
Durable materials like Cordura or ballistic nylon
Reflective material
Quick-release mechanisms
Integrated security systems
Selecting the Right Size and Capacity
When it comes to selecting the right bike luggage for your motorcycle adventures in India, size and capacity matter. It's essential to choose luggage that can accommodate all your essentials without compromising manoeuvrability, comfort, or safety.
When considering luggage size and capacity, it's necessary to take into account:
The type of motorcycle you're riding
The duration of your trip
The kind of terrain you'll be traversing
Your personal packing preferences
While touring bikes in India can accommodate larger luggage sets, it's crucial not to overload your bike. For short trips, like weekend getaways, a tank bag and a tail bag should suffice. For longer journeys, saddlebags, panniers, or a combination of both come in handy.
When choosing the right size and capacity, consider the following properties:
Weight Limit: Ensure that the luggage does not exceed your bike's rated payload. The payload capacity can be found in your motorcycle's owner's manual.
Balance: Distribute the weight of your luggage evenly to maintain balance while riding. For instance, heavy items should be placed at the bottom and centre of the bags.
Security: Invest in luggage with secure fastening mechanisms, such as straps, hooks, and bungee cords, to avoid your belongings from shifting or falling out during the ride.
In my experience, here are some popular options with varying capacities:
| Luggage Type | Capacity Range |
| --- | --- |
| Tank Bag | 10 to 25 litres |
| Tail Bag | 20 to 60 litres |
| Saddlebags | 30 to 90 litres |
| Panniers | 30 to 100 litres |
Remember, it's better to have a bit of extra space in your luggage than to outgrow it. Keep in mind possible scenarios like additional gear or souvenir purchases during the ride. In the end, what matters most is striking the perfect balance between capacity, comfort, and riding enjoyment.
Weatherproofing: Protecting Your Belongings
A high-quality, weatherproof bike luggage system not only safeguards your belongings from the elements but also ensures a hassle-free riding experience. I've compiled some essential tips for selecting weatherproof bike luggage:
Waterproof materials are crucial for keeping your belongings dry during unexpected rain showers. Look for materials like PVC-coated polyester or TPU (thermoplastic polyurethane).
Sealed zippers and seams ensure that the contents of your bike luggage stay safe from water ingress. opt for luggage with weather-resistant zippers and sealed seams to keep water out.
Rain covers provide an added layer of protection. Although not a direct substitute for waterproof materials, they can help shield your bags from heavy downpours. Some bike luggage even comes with integrated rain covers for added convenience.
In summary, always consider weatherproofing when selecting the right bike luggage for your motorcycle adventures in India. Ensuring your belongings are protected from the elements will make your trip more enjoyable and hassle-free.
Comparing the Top Brands in India
To pick the right bike luggage in India, it's essential to compare the top brands available in the market. I'll share my knowledge on some of the best bike luggage brands in India.
Rynox has been the go-to choice for many riders like me. Their expedition lineup is a popular choice, including their saddlebags, tail bag, and the versatile Magnapod tank bag. I've used these bags extensively on various rides. Rynox bags are known for their durability, convenience, and value for money.
Some important features to consider for Rynox bags are:
Waterproofing
Quick-release buckles
Multiple compartments for storage
Rugged construction
Reflective details for visibility
Another top brand to consider is Royal Enfield, especially their panniers. Recently, I switched to Royal Enfield panniers from the traditional Rynox saddlebags setup. These panniers are designed with attention to detail and cater specifically to the needs of Royal Enfield motorcycle owners. They offer a blend of style and functionality that's perfect for long touring rides.
Benefits of Royal Enfield panniers include:
Perfectly integrated with the bike
Offers ample storage capacity
Strong mounting system
Lockable for added security
ViaTerra is another brand worth considering, known for their innovative designs in bike luggage tailored for Indian conditions. They offer robust and easy-to-use bags, including the popular Claw Mini and the Fly Universal.
Essential features of ViaTerra bags are:
Weather-resistant fabric
Large YKK zippers
Strong mounting systems
Easy-access pockets
Comparing these top brands in India will help you make an informed decision on the right bike luggage for your needs.
Installation and Ease of Use
First and foremost, the type of luggage you select should be compatible with your motorcycle. While looking at compatibility, be sure to assess the mounting system. There are plenty of options available, such as:
Strap-based systems: These allow for easy attachment and removal of luggage with minimal hassle.
Hard-mounted systems: These offer increased security and stability, though they may involve more complex installation processes.
Another aspect to consider is the luggage's durability and weather resistance. Ease of use should not be overlooked during the selection process. opt for a luggage system that allows you to easily access your belongings, secure them, and use other gear . Pay attention to the kind of compartments, zippers, and pockets a luggage system has. Remember, easy access is vital when stopping for short breaks or during emergencies. Lastly, one should always factor in the total carrying capacity needed for their trip.
FAQs
What are the different types of motorcycle luggage available in India?
The Three Main Types Of Motorcycle Luggage Are Tank Bags, Saddlebags, And Tail Bags.
How do I determine the right capacity for my motorcycle luggage?
The Capacity Required Depends On Your Travel Needs And The Amount Of Gear You Need To Carry. Consider Your Trip Duration And The Type Of Items You Will Be Packing While Choosing The Capacity.
What security features should I consider while choosing motorcycle luggage?
Look For Luggage With Secure Locking Mechanisms, Sturdy Attachment Points, And Durable Materials To Prevent Theft Or Accidental Detachment During Rides.
How can I ensure compatibility between my motorcycle and the chosen luggage?
Check The Specifications Of The Luggage To See If It Is Designed Specifically For Your Motorcycle Model. You Can Also Check For Universal Fit Options That Accommodate Various Motorcycle Types.
How do I choose the best material for my motorcycle luggage?
Materials Commonly Used For Motorcycle Luggage Are Leather, Synthetic Fabrics Like Cordura Or Nylon. Consider Factors Such As Durability, Water Resistance, And Aesthetics When Choosing The Material.
Making Your Final Decision
When making your final decision on the right bike luggage, consider the following factors:
Fitment: Ensure that the luggage fits your specific motorcycle model. Compatibility is crucial for a secure and stable connection.
Capacity: Reflect on your packing needs and select luggage with enough space to accommodate your belongings for short or long trips.
Durability: India has diverse riding conditions – choose luggage made from strong materials that can withstand the elements, wear and tear.
Accessibility: Easy access to your belongings is essential during a trip. Opt for luggage with well-designed openings and compartments.
Budget: While quality gear can be more expensive, finding luggage that fits within your budget is also important.
Remember, bike luggage plays a significant role in your touring experience. To get the right feel and fit, it's helpful to test various options in person, by visiting local stores and trying them on your motorcycle. In addition, it's a good idea to check online reviews and seek advice from experienced bikers.
Don't forget the importance of maintaining your riding gear as well! Check out this helpful guide on riding gear maintenance.
With all these considerations in mind, you're now ready to choose the right bike luggage for your motorcycle adventures in India. Safe travels and enjoy the open road! For more information on preparing for your ride, here are some other helpful resources: helmet fitting and a list of touring bikes in India.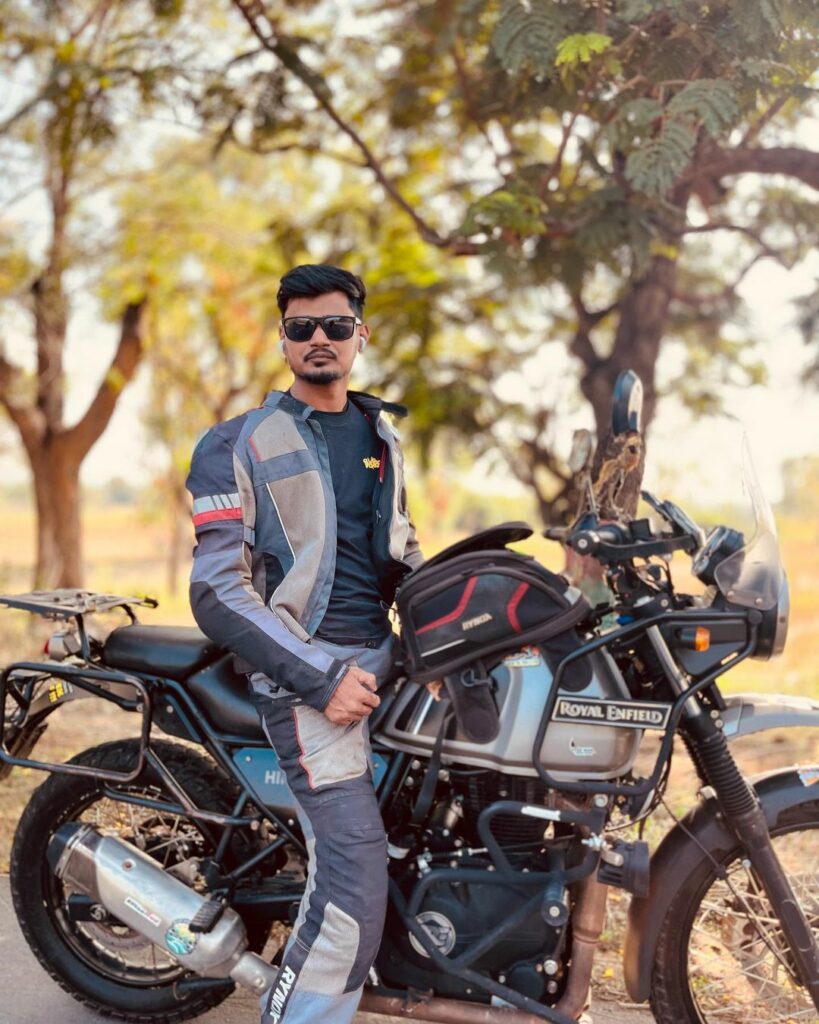 Vishwanath Mathpati
I am Vishwanath Mathpati, a full-time Blogger and Motorcyclist from Bidar, Karnataka. I love writing about my Motorcycles Stories and Riding Gears on this blog.
Know More About Me.
---
If you liked this article, then please subscribe to our YouTube Channel for more Bike Videos. You can also find us on Instagram, Twitter and Facebook.
Disclosure: As an Amazon Associate, I earn from qualifying purchases. Read more about Amazon Affiliate Disclaimer.