Tips for using a motorcycle tank bag
One of the challenges motorcycle riders face during long journeys is storage. Luckily, motorcycle tank bags have emerged as a popular solution. With a plethora of designs and functionalities, tank bags offer practical storage space for riders, especially in India.
If you've never used a tank bag before, don't worry! I'll share some essential tips to help you make the most of this convenient accessory while travelling in India. From selecting the right bag to installing it correctly, we'll cover the bases to ensure you can focus on the open road ahead.
Choosing the Right Tank Bag
Selecting a suitable motorcycle tank bag can make your rides in India more comfortable, especially when touring. With experience in using Rynox Expedition Saddle Bags and Magnapod Tankbag, along with RE panniers for long routes such as Ladakh, Spiti, and Zanskar, I can confidently recommend features to consider while selecting a tank bag.
A crucial aspect to remember is that not every motorcycle tank bag suits all kinds of bikes. Consider the tank shape, size, and material so that the bag fits snugly and prevents any potential damage. Magnetic tank bags work best for metal tanks and strap-based bags for non-metallic tanks, such as the ones found in some touring bikes.
The storage capacity of the motorcycle tank bag should suit your specific needs. For short rides, a compact bag with 10-15 liters capacity is ideal, while for long trips go for 20 liters or more. Nonetheless, don't forget to take into account the size of your motorcycle tank to avoid any imbalance while riding.
Convenience features, such as a quick-release system for easy detachment and a transparent top pocket for maps or a phone, make the tank bag user-friendly. Lastly, think about the cost, as motorcycle tank bags often vary in price. However, remember that the cheapest option might not be the best one. I found that investing in a quality tank bag ultimately saves money down the line thanks to its durability and reliability.
Waterproof Features for Monsoon Rides
Monsoon rides in India can be quite an adventure, and it's essential to invest in a motorcycle tank bag with waterproof features.
Motorcycle tank bags with water-resistant materials can protect your belongings during sudden downpours. Some bags come with a detachable waterproof rain cover, making it easy to shield your gear without fuss.
Another essential waterproof feature to have in a motorcycle tank bag is sealed zippers. These zippers prevent water from seeping into the tank bag and damaging your mobile phone, camera equipment, chargers, or other electronics.
An additional tip to remember during monsoon rides is to store your gadgets in a waterproof pouch before stowing them away in your tank bag. I use an iPhone 13 and GoPro, and taking this extra precaution ensures that my devices remain safe during downpours.
Here are some of my top features to look for in a waterproof motorcycle tank bag:
Durable and water-resistant materials: Look for materials like 600D polyester or heavy-duty PVC that can withstand rough weather conditions.
Detachable waterproof rain cover: A rain cover that can be easily attached or removed is invaluable when the weather turns sour.
Sealed zippers: Opt for zippers with a waterproof seal to keep moisture from seeping into the bag.
Reflective elements: Increase your visibility during heavy rain by choosing a tank bag with reflective strips or logos.
Mounting
Safety Tips for Tank Bag Usage
Motorcycle tank bags are incredibly useful for keeping essentials within easy reach while riding. Here are some safety tips to consider when using a motorcycle tank bag in India.
Select the right tank bag size and style: Not all tank bags are suitable for every motorbike. Choose one that fits your bike's tank, doesn't interfere with your riding position, and has adequate storage space for your needs. Your balance and maneuverability shouldn't be compromised.
Secure the tank bag properly: Tank bags have different attachment mechanisms, such as magnets, straps, or a combination of both. Ensure it's secured firmly to the bike and double-check attachment points regularly. A loose tank bag can shift while riding, affecting your stability and concentration.
Balance the load: Distribute the weight evenly within the bag to maintain optimal balance and control while riding. Heavier items should be placed in the Centre or closer to the rider, while lighter items can be put on the sides.
Keep important items within easy reach: Store essential items like mobile phones and chargers close to the top, so you don't need to rummage through your tank bag while riding. This reduces distractions and the risk of accidents.
Avoid overstuffing: Overfilling your tank bag may affect your bike's stability, making turns awkward and increasing the risk of accidents. Know your bag's storage limits, and use additional luggage like panniers or a tail bag if necessary.
Be aware of the weather conditions: Choose a tank bag made from water-resistant material if you're riding in a region with frequent rain or unpredictable weather. Additionally, opt for bags with reflective elements or colors for better visibility during poor weather or low-light conditions.
Storage Capacity and Organization
When it comes to using a motorcycle tank bag in India, storage capacity and organization are essential factors to consider. Based on my experience, here are some tips on storage capacity and organization for your tank bag.
First, determine the storage volume you'll need. Tank bags come in various sizes ranging from 5 litres to 25 liters. It's crucial to choose a bag that matches your travel needs, whether you're going for a short weekend ride or a long trip through India's diverse roads like the coastal Karnataka and Malenadu routes I've ridden.
Here are some size guidelines based on the type of trip:
Short rides (1-2 days): 5-10 liters
Long rides (3-5 days): 10-15 liters
Extended trips (5+ days): 15-25 liters
When organizing the tank bag, proper weight distribution is vital. Heavy items should be placed at the bottom, while lighter things can be stored on top. Moreover, ensure that your bag has enough compartments and pockets to neatly organize your belongings.
Some bags even include a clear map pocket or a phone holder. Make sure that you allocate separate compartments for gear and personal belongings in your tank bag. Properly organizing will help in maintaining your gear and other essential equipment.
Lastly, it's essential to consider the type of closure your tank bag has. A sturdy zip or buckle can make all the difference in safeguarding your belongings on challenging rides. By following these tips on storage capacity and organization, you'll maximize the utility of your motorcycle tank bag and ensure a more enjoyable and hassle-free ride across India's diverse landscapes.
Accessing Essentials on the Go
One key aspect I've learnt is to organize the tank bag in a way that prioritizes frequently used items. I recommend the following placement of items:
Top pocket: Place your mobile phone, map, and a power bank here.
Main compartment: Store things like sunglasses, sunblock, hat, camera accessories, and snacks
Side pockets: Keep important documents like insurance, registration papers, and driving license here, along with a small first-aid kit.
For quick access, ensure that the bag has a transparent top cover that enables you to view maps, GPS devices, and your mobile. It's advisable to keep a small spare key and extra cash hidden in the tank bag for emergencies.
Although tank bags are designed not to interfere with the rider, it's worth investing in a non-slip base to keep it securely in place. Also consider using adjustable straps to secure the bag and accommodate various tank sizes.
Proper Maintenance and Care
One of the primary maintenance tips I can offer is to keep your tank bag clean. After each ride, take the time to wipe it down using a soft, damp cloth to remove any dust, dirt or grime that may have accumulated. Avoid using harsh chemicals or abrasive materials that can damage the bag's surface.
In addition to cleaning your motorcycle tank bag, it's crucial to look out for potential wear and tear. Periodically check your bag for any loose stitching, frayed fabrics or damaged zippers. If you notice any of these issues, it's best to repair or replace the damaged parts before they worsen.
Here are some other maintenance tips to keep in mind:
Store the bag away from direct sunlight when not in use, as prolonged exposure can cause fading and damage to the material
Don't overload the bag beyond its recommended weight capacity, as this can strain the straps and seams
Empty your tank bag and air it out after a long ride, especially if you've carried food, liquids or damp items
By following these proper maintenance and care tips, you're sure to prolong the life of your motorcycle tank bag and enjoy stress-free rides across India.
Theft Prevention Techniques
Using a motorcycle tank bag in India comes with its own set of challenges, particularly theft. But don't worry!
Firstly, choose a tank bag with sturdy locking mechanisms like zippers and buckles. Look for bags with inbuilt locks as well as those equipped with metal cables to secure them to your motorcycle. The more robust and secure your tank bag, the less likely a thief will attempt to steal it.
Next, be extra cautious when parking your motorcycle in an unfamiliar location. It's essential to keep an eye out for potential issues and take steps to secure my motorcycle tank bag whenever I park in a new area. Some ideas include:
Parking in well-lit, busy areas where other motorcyclists are present
Securing the tank bag to a fixed object, such as a post or railing, with a cable lock or chain
Removing valuable items from the bag when leaving your motorcycle unattended for prolonged periods
Additionally, using detachable tank bags can be advantageous. These bags can be conveniently taken off the tank and carried with you when you go into restaurants, shops or hotels. Fewer opportunities for theft arise when your tank bag isn't left vulnerable on your parked motorcycle.
One often-overlooked theft prevention technique is concealing valuable items. Using pouches or compartments within your tank bag can help reduce the chance of theft by making it less obvious that expensive electronics are inside.
Lastly, keep an eye on your motorcycle even when you're sitting indoors. I recommend choosing establishments with windows that face your parked motorcycle or sitting in outdoor areas. This way, you can periodically check on your tank bag and make sure everything is safe.
In conclusion, numerous theft prevention measures exist when using a motorcycle tank bag, but it's important to stay vigilant and always plan ahead. For even more motorcycle-related advice, including helmet fittings, touring bikes in India, and riding gear maintenance, check out these helpful resources:
FAQs
What is the use of a motorcycle tank bag in India?
A Motorcycle Tank Bag Provides Extra Storage Space For Essential Items Like Wallets, Mobile Phones, Documents, And More While Riding A Bike In India.
How do you mount a tank bag on a motorcycle?
Tank Bags Can Be Mounted Using Strong Magnets Or Straps. For Non-Metallic Tanks, Straps Are Used To Securely Fasten The Bag.
Will A Tank Bag Scratch My Motorcycle Tank?
To Prevent Scratches, Place A Layer Of Non-Slip Padding Between The Tank And The Bag To Provide Extra Grip And Protection.
Are tank bags useful for carrying laptops and other work essentials?
Yes, Tank Bags With Adjustable Shoulder Straps And Compartments Can Accommodate Laptops, Files, And Stationery For Work-Related Purposes.
How do I choose the best motorcycle tank bag for my needs in India?
Consider Factors Such As Size, Mounting Options, Storage Capacity, And Additional Features Like Adjustable Straps Or Backpack Conversion Before Purchasing A Tank Bag For Your Motorcycle In India.
Conclusion: A Stress-Free Ride
After sharing my extensive tips on using a motorcycle tank bag in India, I hope that you'll find it much easier to enjoy your ride without any unnecessary stress.
A motorcycle tank bag can make all the difference in enhancing your riding experience. Here are a few key takeaways:
Ensure the tank bag is properly mounted, following manufacturer guidelines and taking extra precautions when navigating rough terrain or weather conditions.
Organization is important, so use the compartments for specific items and consider using smaller bags within the tank bag to make it even easier to find what you need.
Safeguard your electronics
As the saying goes, practice makes perfect. So, the more you use your motorcycle tank bag, the more efficient you'll become in organizing your belongings, ensuring everything is in its proper place without even having to think about it.
By considering these tips and putting them to use, you'll soon realize just how valuable a motorcycle tank bag can be for a stress-free ride. So, take a deep breath, rev up that engine, and set off on your next adventure with confidence!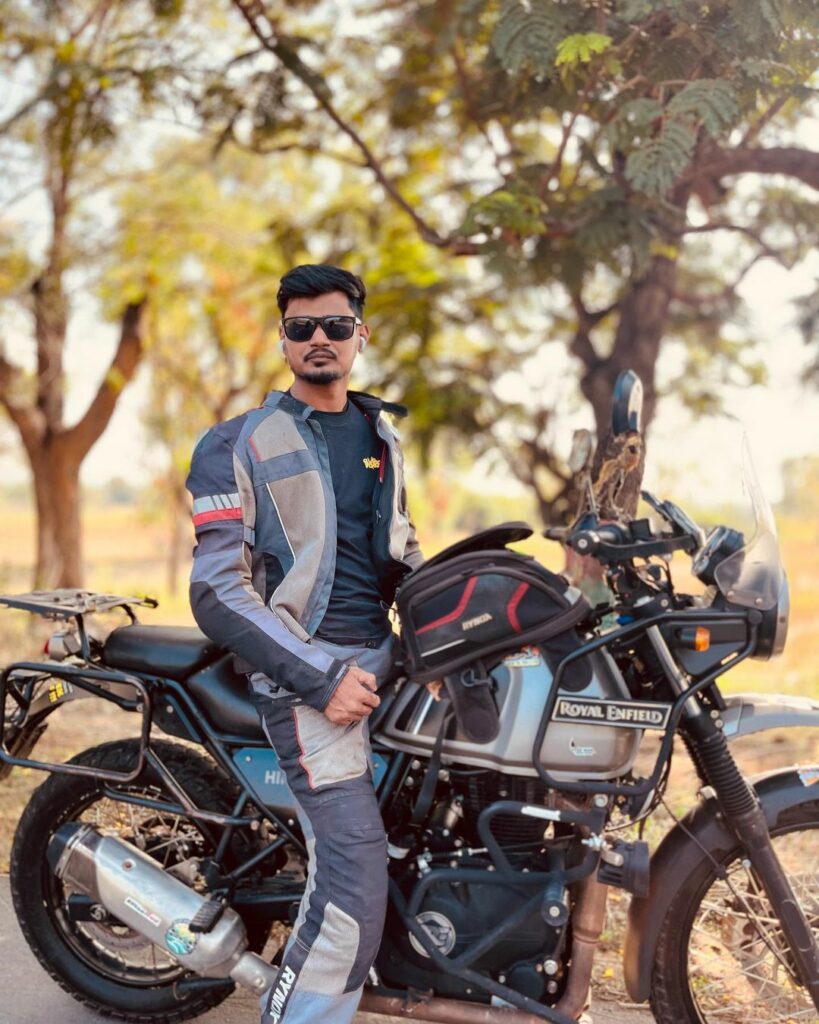 Vishwanath Mathpati
I am Vishwanath Mathpati, a full-time Blogger and Motorcyclist from Bidar, Karnataka. I love writing about my Motorcycles Stories and Riding Gears on this blog.
Know More About Me.
---
If you liked this article, then please subscribe to our YouTube Channel for more Bike Videos. You can also find us on Instagram, Twitter and Facebook.
Disclosure: As an Amazon Associate, I earn from qualifying purchases. Read more about Amazon Affiliate Disclaimer.