How to Choose The Right Motorcycle Helmet Camera
Choosing the right motorcycle helmet camera in India can be a daunting task. With so many options available in the market, it's crucial to know what features to look for in order to get the best value for your money.
Helmet cameras serve as a valuable tool for recording your rides, capturing memories, and staying safe on the road. In the context of India, they also play an essential role in navigating traffic and collecting evidence in case of an accident. Quality, durability, and compatibility are vital when it comes to finding a top-notch camera that will cater to your needs.
There's a wide range of cameras designed specifically for motorcycle helmets, each with its own set of features and specifications. By understanding your requirements and conducting thorough research, you'll be able to make an informed decision and choose a camera that perfectly complements your adventures on the Indian roads. In this article, I'll share my insights and experiences to help you select a suitable camera to enhance your riding experience.
Understand Helmet Camera Basics
When it comes to choosing the right motorcycle helmet camera in India, it's essential to understand some basic aspects.
In my moto vlogs, I use a Go Pro and Insta 360 One R to record 360 videos, while relying on my trusty iPhone 13 for capturing photos. From this experience, I can confidently say the following factors play a crucial role in making an informed decision about helmet cameras:
Resolution: Higher resolution means better video quality – look for cameras offering at least Full HD 1080p to capture crisp and detailed footage of your rides.
Frame rate: A higher frame rate ensures smooth videos. Aim for 60 frames per second (fps) or more for seamless playback and better slow-motion effects.
Field of View: Wide-angle lenses allow you to record more of the surrounding scenery. A field of view of 120 degrees or wider is recommended for capturing those breathtaking views.
Battery Life: Since your helmet camera constantly records your ride, you'll want to consider cameras with longer battery life. You don't want your camera dying in the middle of an epic journey on one of those fantastic touring bikes in India.
Mounting Options: The camera should be compatible with a variety of mounts for helmet attachment. Versatile mounting options will allow you to customize the placements of the camera to suit your needs.
Weather Resistance: Our Indian weather can be unpredictable, so go for a camera with weather resistance to endure those sudden downpours or dusty winds.
And remember that a good fit is just as important as selecting the right helmet camera. Check out this helpful guide to learn how to find the perfect fit for your helmet.
Additional Features to Consider
Image Stabilization: To counteract the vibrations from your bike, opt for a camera that has effective image stabilization.
Loop Recording: With this feature, the camera will overwrite the oldest footage when its memory is full, ensuring continuous recording without manual intervention.
Connectivity: Built-in Wi-Fi or Bluetooth makes it easier to transfer footage to your smartphone for quick editing and sharing.
Voice Control: This feature allows you to control your camera with voice commands, which can be handy when riding.
Have a good look at these factors when choosing the right motorcycle helmet camera for your needs. Make sure to take care of your riding gear and camera, using proper maintenance techniques.
Set Your Priorities Straight
Firstly, think about the video quality. A camera with a good image sensor can make a significant difference in preserving those memories. Consider looking for cameras with 1080p or higher video resolution, and don't forget about the frame rates, which can impact the smoothness of your videos.
Next, contemplate the camera's mounting system. A secure and unobtrusive mount is vital for capturing stable footage while riding. You'll want something that's easy to attach and detach, yet robust enough to withstand India's unpredictable weather and road conditions.
Durability and Water Resistance
One of the most crucial aspects to consider while making your decision is the durability and water resistance of the camera. When tackling unpredictable weather conditions and rough terrains during rides helmet camera's durability and water resistance will be put to the test.
You'll want a helmet camera that's built to withstand bumps, knocks, and drops, as accidents can happen during rides. Camera housing made from high-quality materials, such as aluminum or toughened plastic, ensures that your helmet camera can endure the wear and tear of everyday use. Additionally, cameras with lens protection and shock absorbers offer extra layers of safety.
Water resistance is vital as well, especially when touring vast expanses of India like the Karnataka Coast and Malenadu routes. With a water-resistant motorcycle helmet camera, you won't have to worry about sudden showers or puddles damaging your gear. Make sure to look for a camera that's at least IPX4-rated, which means it's resistant to splashing water from any direction. For heavy rain or underwater usage, opt for a camera with an IPX7 or IPX8 rating, indicating its ability to withstand immersion in water up to a specific depth.
Here are some key features to keep in mind when assessing a helmet camera's durability and water resistance:
Sturdy build and materials
Lens protection
Shock absorbance
Water-resistant ratings (IPX4, IPX7, or IPX8)
In conclusion, selecting the right motorcycle helmet camera that offers durability and water resistance is crucial for every biker. It'll give you peace of mind knowing that your camera will stay intact, come rain or shine, allowing you to focus on the journey ahead.
Battery Life and Charging Options
When it's about choosing the right motorcycle helmet camera in India, one important factor I consider is battery life. Having a camera that can last for an entire ride without having to constantly recharge is crucial, especially on long journeys.
There are helmet cameras with removable batteries, allowing you to carry spare batteries when on extensive rides. This comes in handy for times where charging options may not be accessible. On the other hand, some cameras have built-in batteries. These are less flexible in terms of battery life management, but they can still be a suitable choice if you won't need to record lengthy footage continuously.
I've learned that a good helmet camera should have a decent battery life of at least 2-4 hours. This allows you to record your adventurous rides and vlogs without the need to constantly worry about the camera dying out.
Charging options also play a vital role in determining the efficiency of a helmet camera. Many cameras support USB charging, allowing you to use a power bank or even a mobile holder with charger for bike to charge them while on the move. Below are some key factors to consider when reviewing battery life and charging options in motorcycle helmet cameras:
Battery life of at least 2-4 hours
Removable or built-in battery options
USB charging capabilities
Compatibility with power banks and motorcycle chargers
Having a helmet camera with decent battery life and charging options makes your riding experience more enjoyable. Choose a product that offers a good balance between these factors, especially if you're planning to conquer long routes and challenging terrains.
Evaluate Mounting Options
Based on my extensive experience and expertise, selecting the right motorcycle helmet camera is crucial for capturing unforgettable moments during rides. One critical aspect to consider when purchasing a motorcycle helmet camera in India is evaluating mounting options to ensure stable footage.
There are multiple mounting options available for attaching a camera to your motorcycle helmet. Here are the most common types:
Tape mounts: These use adhesive tape to attach the camera mount to your helmet. They're simple to install and remove, and they usually offer a strong bond. However, if the adhesive weakens, the camera could fall off during a ride.
Strap mounts: These wrap around your helmet and attach via straps, providing a secure fit. But, strap mounts might not fit all helmet shapes and sizes, which can limit their compatibility.
Chin mounts: A popular mounting option as it provides a first-person view of your ride. They can be a bit trickier to install, but once secured, chin mounts offer excellent stability.
Analyzing your helmet's design and your desired shooting angle is essential for determining the most suitable mount. Try to find a helmet camera that offers multiple mounting options, as this will provide more flexibility on how and where to mount it.
When choosing a helmet camera mount, it's essential to consider factors such as stability, ease of installation and removal, adjustability and compatibility with your specific helmet. Here are a few tips:
Stability: Ensure that the mount is stable and secure, so your camera doesn't fall off while riding. Motorcycle rides, especially ones like the ones I've completed, can get rough, so having a secure mount is crucial.
Ease of installation and removal: Look for a mount that's simple to install and remove without causing damage to your helmet or camera. You may need to switch between different cameras or remove it for maintenance. In such cases, a user-friendly mount can save time and effort.
Adjustability: Choose a mount that allows for easy angle adjustments, so you can capture the perfect shot. With a versatile mount, you can experiment with different camera angles to find your preferred view.
Helmet compatibility: Keep in mind that not all mounts work with every helmet type. Make sure the mount you choose is compatible with your helmet's design and shape.
To summarize, evaluating mounting options is a key step in selecting the right motorcycle helmet camera in India. Consider stability, ease of installation, adjustability and compatibility with your helmet when making your decision.
Analyze Video Quality
Choosing the right motorcycle helmet camera in India involves analyzing video quality, as it plays a vital role in capturing your riding adventures.
While picking a helmet camera, you'll need to consider the resolution. Most helmet cameras nowadays offer resolutions of 1080p, 2.7K, and 4K. Higher resolutions ensure better video quality but can affect battery life and storage requirements. Here's a comparison of the standard resolutions:
| Resolution | Image Quality | Storage | Battery Life |
| --- | --- | --- | --- |
| 1080p | Good | Lower | Longer |
| 2.7K | Better | Medium | Medium |
| 4K | Best | Higher | Shorter |
Frame rate is another important aspect to consider. Higher frame rates like 60fps or 120fps can provide smoother videos and better slow-motion footage. However, higher frame rates can also impact storage and battery life.
It's essential to have a camera with image stabilization. Motorcycles create lots of vibrations, and an action camera needs to handle them without compromising on video quality. Both electronic image stabilization (EIS) and optical image stabilization (OIS) help in reducing blurry and shaky footage, with OIS being more effective but also pricier.
Low light performance is important, especially for night rides or times when there isn't ample sunlight. A camera with good low light capabilities can capture clear and noise-free videos in darker conditions. Remember to read user reviews and watch sample videos to gauge a camera's low light performance.
Lastly, consider additional features, such as:
Wide-angle view: To capture more of the road and surroundings.
Connectivity: Wi-Fi and Bluetooth capabilities for easier sharing and editing.
External microphone support: For better audio quality during vlogs.
Waterproofing: For protection against rain and adverse weather conditions.
Taking the time to analyze the video quality of motorcycle helmet cameras is well worth it in the end.
Consider Ease of Use
A simple, user-friendly interface is a top priority. It should have clear instructions, a quick setup process, and an accessible menu for navigating various settings. Additionally, it should be easy to mount on different types of helmets – a flexible mounting system will enable you to adjust the camera angle effortlessly.
Another key factor while choosing the right motorcycle helmet camera is the ease of transferring and sharing your footage. Make sure that the camera offers a simple way to get your videos onto your computer or smartphone, either through a USB connection or Wi-Fi.
Battery life is another crucial consideration. A long-lasting battery will allow you to ride without the worry of your camera dying mid-adventure. Look for cameras with replaceable batteries, so you can carry an extra set for those extended journeys. Furthermore, a camera with a built-in charging system, can be incredibly useful.
To sum up, while choosing the right motorcycle helmet camera, keep these ease of use factors in mind:
Simple, user-friendly interface
Flexible mounting options
Quick setup and navigation
Easy file transfer and sharing
Long-lasting battery life
Compare Price and Warranty
Choosing the right motorcycle helmet camera in India can be challenging, but one key aspect to consider is the price and warranty of the product. In this section, I will explore some essential factors to help you decide on the ideal camera for your needs.
Obviously, the price plays a significant role in the decision-making process. There are many helmet cameras available in India, ranging from budget options to premium devices. It's essential to assess your budget and determine what features you need before making a purchase
Once you have settled on a budget, it's important to compare the features of the different helmet cameras available. Some factors to consider include:
Video resolution and quality (1080p, 4K, etc.)
Image stabilization capability
Battery life and charging options
App compatibility and ease of use
Another crucial aspect is the warranty offered by the manufacturer. A good warranty provides peace of mind and assurance that the product is reliable and well-built. Look for a warranty that covers at least one year, and make sure to read the terms and conditions carefully. Do they cover manufacturing defects, accidental damages, or both? Inquire about after-sales support as well, as it can be vital should you encounter any issues with your helmet camera.
Ultimately, finding the right motorcycle helmet camera in India will require you to weigh your budget against the features and warranty offered by different brands. By keeping these factors in mind, you can make an informed decision and choose the best camera for your adventures on the road.
FAQs
Should I mount a camera to my motorcycle helmet or directly on the motorcycle?
It Depends On Your Preference And Intended Purpose. Helmet-Mounted Cameras Offer A More Dynamic Perspective, While Motorcycle-Mounted Cameras Provide A Stable, Fixed View.
What factors should I consider when choosing the right motorcycle helmet camera in India?
Factors To Consider Include Video Resolution, Camera Durability, Mounting Options, Battery Life, And Price.
Are action cameras in helmets legal in India?
There Is No Specific Law Prohibiting The Use Of Helmet Cameras In India, But It Is Advised To Check With Local Traffic Laws And Regulations For Any Restrictions.
What are the different types of helmet cameras?
The Main Types Of Helmet Cameras Include Action Cameras, 360-Degree Cameras, And Dash Cams Specifically Designed For Motorcycles.
What is the best motorcycle helmet camera available in India?
The Best Motorcycle Helmet Cameras In India Include GoPro Hero10 Black Action Camera, Insta360 ONE X2, And SENA 10C EVO.
Conclusion
Choosing the right motorcycle helmet camera in India can be a daunting task. Firstly, consider the resolution and image quality of the helmet camera. Higher resolution and better image quality are crucial for crisp, clear videos.
Next, the camera's durability and battery life should be prioritized. Indian weather conditions can be unpredictable, and long motorcycle tours may require prolonged use. I recommend looking for products with waterproof, dustproof, and shockproof features to ensure it can withstand the elements.
The mounting options available for the helmet camera also play a significant role. Various cameras offer diverse mounting options, from straps to adhesive mounts. Make sure the camera is easy to mount, dismantle, and adjust on your helmet.
Lastly, assess the camera's connectivity options. Wi-Fi, GPS, and Bluetooth capabilities allow you to easily transfer media, geotag your location, and connect with mobile devices.
To summarize, focus on image quality, durability, mounting options, and connectivity when selecting the right motorcycle helmet camera. Don't forget to research the product's user reviews and consider your specific touring needs. Here are some helpful resources to guide you along the way:
By following these essential tips and understanding your specific requirements, you'll be ready to hit the road with the perfect helmet camera for capturing those unforgettable moments on your Indian motorbike adventures. Safe travels and happy recording!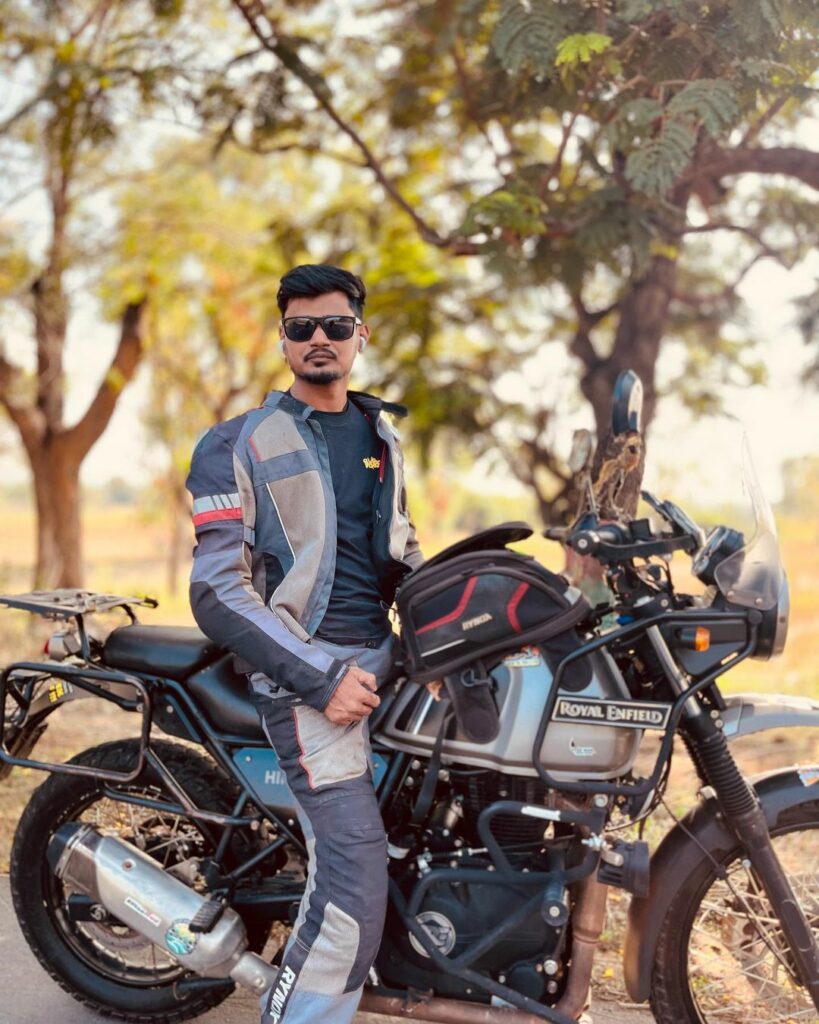 Vishwanath Mathpati
I am Vishwanath Mathpati, a full-time Blogger and Motorcyclist from Bidar, Karnataka. I love writing about my Motorcycles Stories and Riding Gears on this blog.
Know More About Me.
---
If you liked this article, then please subscribe to our YouTube Channel for more Bike Videos. You can also find us on Instagram, Twitter and Facebook.
Disclosure: As an Amazon Associate, I earn from qualifying purchases. Read more about Amazon Affiliate Disclaimer.