How to Plan a Solo Bike Adventure in India
India has long captivated travelers with its vibrant colors, rich culture, and diverse landscapes, making it an attractive backdrop for the ultimate solo bike adventure. As a seasoned motorcyclist myself, I've experienced countless excursions on two wheels, and nothing compares to the thrill of exploring India's fascinating terrain independently. Planning a solo bike trip in India can be a daunting task, especially for first-timers, but with some careful research and strategic arrangements, you'll be able to conquer the subcontinent in style.
To make the most of your solo bike adventure, it's essential to map out your route in advance while considering factors such as fuel availability, accommodation, safety, and road conditions. India's vast landscape boasts a variety of terrain to explore, from the lush greenery of Kerala to the arid deserts of Rajasthan or the daunting high-altitude roads of Ladakh.
Finally, it's crucial to ensure that you possess a reliable and well-maintained motorcycle to tackle this amazing journey. Familiarize yourself with local traffic laws and road etiquette to remain safe throughout your solo bike adventure. Familiarizing oneself with basic mechanical maintenance and carrying a trusty emergency kit can provide an added layer of security for any unplanned circumstances. With these pointers in mind, you'll be well-equipped to embark on your solo motorcycle expedition and create life-changing memories to cherish for a lifetime.
Choosing the Right Motorcycle
A successful solo bike adventure in India depends on the right choice of motorcycle. India offers a vast terrain, from smooth highways to challenging off-road trails, which is why choosing the most suitable motorcycle is essential.
In India, popular motorcycles for touring include the Royal Enfield range. If you are looking for a motorcycle that is affordable, reliable and able to handle various conditions, you may want to check out the models available from Royal Enfield here.
This is crucial to consider, as you'll want a motorcycle that is suitable for the terrain and conditions you will face. You can learn more about available touring bikes in India here. 'Best 400cc Bikes in India' is another informative resource that I highly recommend here.
Mapping Out Your Route
Planning a solo bike adventure in India can be a thrilling experience, and one of the essential steps is mapping out your route.
First, determine your starting point and final destination. After that, identify essential stops along the way for fuel, food, and accommodation. It's important to have some flexibility in your schedule to allow for unexpected events or to explore off-the-beaten-path locations.
Next, break your journey into smaller segments. An optimal daily distance for a solo bike adventure is around 200-300 km. This allows you to manage fatigue and enjoy the scenery without rushing through it. It's also a good idea to familiarize yourself with the terrain and traffic conditions of your route. India offers a diverse range of landscapes, from arid deserts to lush mountains, so preparation is key.
Lastly, be prepared to adjust your route on the go. Unpredictable events such as road closures, bad weather, or mechanical issues may require you to change your plans. But that's all part of the adventure! Embrace the challenges and be open to altering your route as necessary.
So, take the time to research and map out your route for a solo bike adventure, and you'll be well on your way to an unforgettable experience through India's diverse landscapes.
Safety Preparations
Embarking on a solo bike adventure in India requires diligent safety preparations. I've tackled various routes, including Ladakh, Spiti, Zanskar, Dhanushkodi, Karnataka Coastal, and Malenadu. From my experiences and expertise, here are the key aspects to consider for a safe journey.
Proper Riding Gear: Choose high-quality equipment for maximum protection. I trust Rynox Storm Evo Riding Pants and Jackets along with Rynox Air GT Gloves to keep me safe. It's essential to maintain your gear and choose the right size for optimum benefits. Learn more about riding gear maintenance and choosing the correct jacket size.
Helmet Fitting: A good helmet is crucial in ensuring head protection during a crash. Visit the article helmet-fitting to learn about proper helmet fitting techniques.
Motorcycle Boots: Your feet and ankles need protection from potential impacts and injuries. Discover the importance of wearing motorcycle boots at the article the importance of wearing motorcycle boots.
Luggage Setup: Efficient luggage management is crucial for solo travelers. I've used Rynox Expedition Saddle Bags, Rynox Expedition Tail Bag, and Rynox Magnapod Tankbag for luggage. Recently, I switched to Royal Enfield Panniers for a more convenient setup.
Communication and Navigation: A reliable mobile phone, like my iPhone 13, is essential for communication and navigation purposes during the trip. Secure your phone with a mounting system and charger, as suggested in best mobile holder with charger for bike.
Photography and videography: To capture every precious moment during your solo bike adventure, carry good-quality equipment. I use a GoPro for Moto vlogging and an Insta 360 One R for 360-degree videos. Pick up some tips on DSLR bike photography at DSLR bike photography.
By following these safety preparations, you'll be well-equipped for an unforgettable and secure solo bike adventure in India.
Budgeting for Your Trip
Planning a solo bike adventure in India can be thrilling, but it's essential to have a clear idea of your budget to ensure a smooth journey.
First, consider the cost of your bike and gear. Next, account for fuel and accommodation costs. Fuel prices may fluctuate, so calculate an approximate expense and add a buffer for contingencies. Assess the distances between your accommodation choices and their respective costs. Factor in food expenses based on your dietary preferences and stay options.
Don't forget the miscellaneous expenses that may arise, like:
Bike maintenance and servicing costs
Permit prices for certain areas
Entrance fees for attractions
This isn't an exhaustive list, but I hope it gives you a solid starting point for budgeting your solo bike adventure in India. By accounting for these expenses, you'll pave the way for a well-planned and unforgettable trip
Obtaining the Necessary Documentation
Embarking on a solo bike adventure in India requires some essential documentation to ensure legality and safety. I'll explain the necessary paperwork you need to have in place before starting your journey.
First and foremost, always carry your driving license. Indian authorities accept an Indian Driver's License, but if you're visiting from another country, ensure you have an International Driving Permit (IDP) alongside your national license.
Additionally, make sure you have third-party insurance coverage. Although comprehensive insurance might be more expensive, it's worth considering for extra protection on your adventures across various terrains.
Keeping your motorcycle's Registration Certificate (RC) with you is another key requirement. This document bears crucial information about the bike, including its registration number, owner's details, and engine number. If you're renting a motorcycle, make sure to get a copy of the RC from the rental agency.
Don't forget to obtain a vehicle fitness certificate (PUC), proving that your motorcycle adheres to emission standards. PUCs are valid for six months in India, so renew it as needed.
In my experience, covering rides like Ladakh, Spiti, and Zanskar routes, you'll need special permits for some regions, such as the inner line permit (ILP) for certain areas in Ladakh, Arunachal Pradesh and Nagaland, or Protected Area Permit (PAP) for Sikkim. These are available at district commissioner offices and/or border checkpoints.
To ensure a smooth trip, consider the following:
Acquire documents digitally where possible, but carry printed copies as a backup.
Keep physical copies of your documents in a waterproof pouch.
Familiarize yourself with road regulations and traffic signs.
Keep emergency contacts, including consulates, if you're a foreign traveler.
With these tips in mind, you'll be set to properly obtain your necessary documentation and embark on an unforgettable solo bike adventure in India.
Navigating India's Road Conditions
When planning a solo bike adventure in India, it's essential to be aware of the varying road conditions you might encounter.
Indian roads often range from smoothly paved highways to potholed village lanes. Here are some of the key factors to consider when navigating India's road conditions:
Road quality: Varies from region to region and even within the same state. While the highways can be well-maintained, the condition of rural roads is less predictable. Motorcyclists need to stay alert, and a comfortable, protective riding gear can be a lifesaver.
Traffic: Indian roads can be quite chaotic, with vehicles, pedestrians, and animals all vying for space. Always stay vigilant and be prepared for the unexpected.
Weather: Indian climate can be highly variable with torrential rains in some regions and scorching heat in others.
Dealing with the Climate and Monsoon Season
One of the main challenges I faced on my solo bike adventure in India was dealing with the diverse climate and monsoon season. India's weather can be quite demanding, particularly if you're not accustomed to it. The key to overcoming such hurdles is to be prepared and adaptable in the face of unpredictability.
Firstly, it's essential to understand the various climate zones in India and plan your ride accordingly. Generally, the country can be divided into six key climate zones:
Alpine Zone (e.g., Ladakh, Spiti)
Subtropical Zone (e.g., Karnataka Coastal)
Tropical Wet Zone (e.g., Malenadu)
Tropical Dry Zone (e.g., Zanskar)
Arid Zone (e.g., parts of Rajasthan)
Semi-arid Zone (e.g., Dhanushkodi)
It's worth considering the time of year and which parts of India you'll be exploring when planning your route. Monsoon season (June to September) can introduce heavy rainfall and flooding in some areas, while the summer months (March to May) can be scorching hot, requiring extra care and hydration.
In summary, managing climate and monsoon season challenges during a solo bike adventure in India can be achieved by being well-equipped, knowledgeable about weather patterns, and having the willingness to adapt. Armed with the right gear and mindset, anyone can undertake unforgettable motorcycle journeys through this remarkable country.
Top Destinations to Explore
Planning a solo bike adventure in India can be exhilarating and unforgettable. With my ample experience, I'll share some of the top destinations to cover on your journey.
During my rides, I've explored the beautiful landscapes of Ladakh, Spiti, Zanskar, Dhanushkodi, Karnataka Coastel, and Malenadu routes. Some standout places include:
Ladakh: I completed a solo ride here, taking in stunning views like the Khardung La pass, Nubra Valley, and Pangong Tso Lake.
Spiti Valley: I rode this route with a friend, exploring the stunning terrain, picturesque villages, and monasteries such as Ki, Dhankar, and Tabo.
Zanskar: Joined by a friend, we enjoyed the beauty of Zanskar Valley's treacherous roads while visiting ancient monasteries and the Zanskar River.
Connecting with Fellow Riders
Embarking on a solo bike adventure in India can be an exhilarating experience, and connecting with other fellow riders can significantly enhance the journey. It's important to remember that the motorcycle community in India is vast, and riders are more than willing to share their experiences or offer assistance.
One way to connect with fellow riders is by joining online forums and social media groups dedicated to motorcycling in India. These platforms provide a wealth of information about routes, destinations, and advice for solo travelers. Plus, it's a great opportunity to meet up with other riders along the way or even plan group rides.
Lastly, don't forget the importance of connecting with locals during your solo bike adventure in India. Engaging with local communities allows you to understand the region's culture and history better, and you may even receive some invaluable tips on the best routes to take.
To summarize, connecting with fellow riders on your solo bike adventure in India will not only enhance your experience but also provide opportunities to learn, share, and create lasting memories. Remember to always be prepared, maintain open lines of communication, and immerse yourself in the local culture to maximize your experience on the road.
Reassessing and Adapting Your Plans
During a solo bike adventure in India, it's essential to remain flexible and ready to adjust your plans as needed. Reassessing and adapting your plans can make the difference between a successful trip and a potentially challenging one.
Firstly, always have a backup plan for potential route changes. Road closures, extreme weather, or unexpected events can disrupt your travel. Be prepared with alternative roads or destinations, and stay updated on local traffic and weather updates. Download offline maps, and invest in good-quality GPS devices.
Lastly, be open to interesting detours and discoveries along the way. Sometimes, the most memorable experiences stem from unexpected surprises. Trust your instincts, meet new people, and explore hidden gems to make your solo bike adventure in India truly unforgettable.
FAQs
How do I plan a solo bike ride in India?
Research Routes, Choose A Reliable Motorcycle, Gather Essential Gear, Create An Itinerary, And Inform Family And Friends.
Are there any recommended motorcycle routes for solo bike trips in India?
Manali To Leh, Srinagar-Leh-Manali, Jaipur-Jodhpur-Jaisalmer, Manali To Spiti Valley, And Mumbai To Goa.
How can I prepare for a long bike ride in India?
Inspect And Maintain Your Motorcycle, Pack Light, Dress Appropriately, Ride Fewer Miles Daily, And Eat Healthily.
How can I ensure my safety during a solo motorcycle trip in India?
Inform Loved Ones Of Your Plans, Maintain Your Motorcycle, Ride At A Safe Pace, Follow Traffic Rules, And Carry Emergency Contacts.
What should I carry during a solo bike trip in India?
Carry A Basic Toolkit, Spare Parts, Riding Gear, Weather-Appropriate Clothing, Navigation Tools, And A First-Aid Kit.
Wrapping up Your Journey
Planning a solo bike adventure in India requires thoughtful preparation, but the exhilarating experiences and breathtaking views make it all worth it
Firstly, it's essential to reflect on the experiences and lessons learned during the journey. Doing so will help you grow as a biker, identify areas for improvement, and make informed decisions for future trips.
As your solo bike adventure comes to an end, remember to review and replace any damaged gear or equipment for safe travels in future expeditions. Additionally, you might want to explore options to improve your riding experience, such as customizing your riding jacket.
Lastly, always evaluate your helmet's fitting and condition, as it's a crucial safety measure for every biker. In conclusion, make the most of your solo bike adventure in India by reflecting on your journey, capturing moments, and ensuring you gear up for future rides.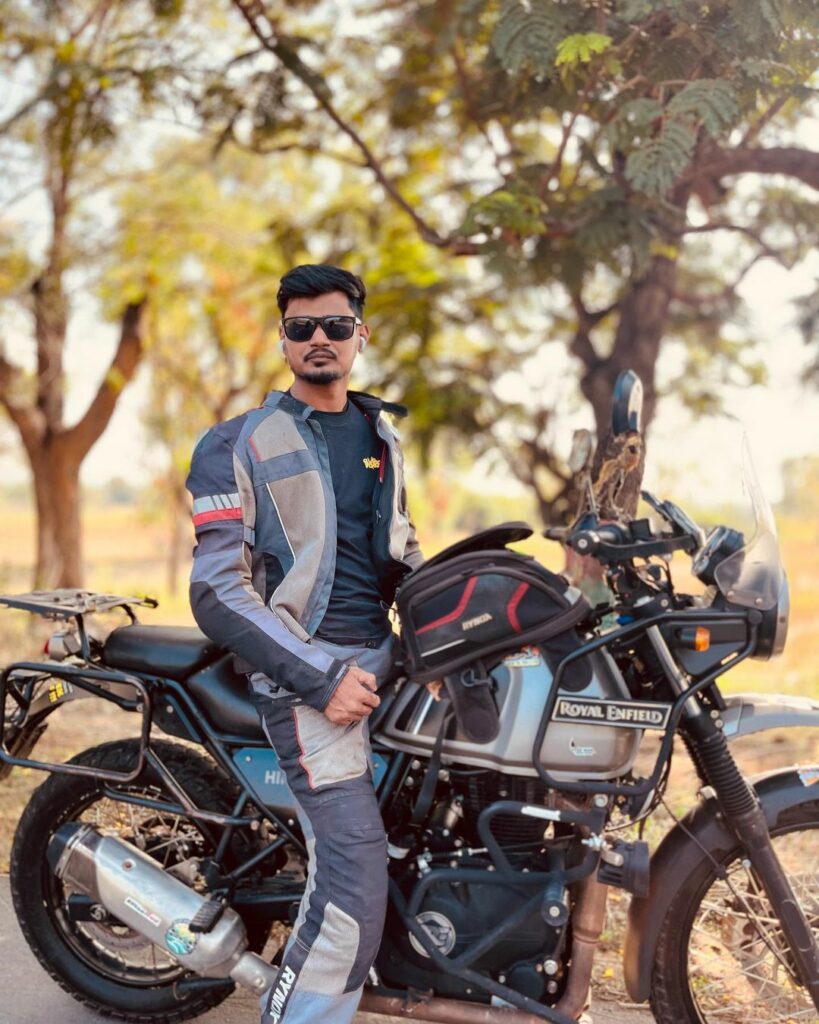 Vishwanath Mathpati
I am Vishwanath Mathpati, a full-time Blogger and Motorcyclist from Bidar, Karnataka. I love writing about my Motorcycles Stories and Riding Gears on this blog.
Know More About Me.
---
If you liked this article, then please subscribe to our YouTube Channel for more Bike Videos. You can also find us on Instagram, Twitter and Facebook.
Disclosure: As an Amazon Associate, I earn from qualifying purchases. Read more about Amazon Affiliate Disclaimer.