How to find bike-friendly accommodations in India
Travelling on a motorcycle across India can be an exhilarating experience, offering a unique perspective of the country's landscapes and culture. One of the key aspects when planning such trips is finding bike-friendly accommodations. As a motorbike enthusiast, I understand how important it is to search for the right places to rest and secure my motorbike overnight.
India offers a diverse range of accommodations that cater to various preferences and budgets. As I've travelled across this beautiful country, I've picked up a few tricks to help fellow motorcyclists locate bike-friendly accommodations, ensuring that both you and your motorcycle are well-taken care of during your trip.
The first step is to familiarize yourself with the various types of accommodations available, ranging from budget-friendly guesthouses and hostels to upscale resorts and hotels. By researching and identifying establishments that specifically cater to bikers, you'll feel more comfortable knowing your motorcycle is secure and that you're among like-minded travelers. Stay tuned as I share my insider tips and experiences to help you find the perfect bike-friendly accommodations in India.
Understanding Bike-Friendly Accommodations
Finding bike-friendly accommodations in India can be a challenging task, but I've got you covered.
Bike-friendly accommodations are lodgings that cater primarily to motorcycle riders and their specific needs. Some common features include secure parking for bikes, bike maintenance facilities, and rider-focused amenities such as helmet lockers or drying rooms for wet riding gear.
Here's what you need to know about finding bike-friendly accommodations in India:
Location: It's essential to choose accommodations that are conveniently located, preferably close to popular bike routes or towns that have a strong biking culture. Accessibility is crucial, so keep an eye out for excellent road connectivity and signboards.
Parking Facilities: Secure parking is a must for any bike trip. Look for accommodations with well-lit, sheltered parking spaces, and where possible, additional security precautions like CCTV surveillance or guards.
Maintenance Support: In case of unforeseen breakdowns or other issues, it's a massive plus if your accommodation can provide some level of maintenance support. Check if they have a dedicated area for bike maintenance or whether they have ties to nearby workshops and mechanics.
On-Site Amenities: Bike-friendly accommodations may offer specialised on-site amenities for riders. These can include washing and drying facilities for wet gear, luggage storage, charging stations, and a relaxation area to unwind after long rides.
Awareness of Local Routes & Points of Interest: Knowledgeable and friendly staff can be an invaluable resource when planning your rides. They'll likely be familiar with the area's best routes and points of interest, and can provide advice on where to stop, refuel or explore.
Online Reviews & Recommendations: Websites like TripAdvisor and independent motorcycle blogs are great sources of information on bike-friendly accommodations. Look for places with consistent positive reviews, and pay particular attention to riders' own accounts of their experiences. It's also essential to use peer recommendations from fellow riders whom you trust.
In conclusion, understanding and identifying bike-friendly accommodations in India takes a bit of research and attention to detail. By focusing on location, parking facilities, maintenance support, on-site amenities, local knowledge and online reviews, you'll be able to find the perfect lodging to suit your motorcycle adventure needs.
Researching Motorcycle Lodging Options
First and foremost, consult fellow bikers. They can offer valuable advice on places they've stayed and share their experiences. Online forums, social media groups and asking my friends have always served me well.
Use Online Booking Platforms. They allow to filter options based on the specific needs of motorcyclists, such as parking facilities, roadside assistance, or tools for quick fixes. Some popular sites to explore include TripAdvisor, Booking.com, and Airbnb.
Next is to research the accommodation itself. Check their website and online reviews to see if they have amenities catering to bikers, such as secure parking, bike cleaning facilities, and gear storage space. It's also useful to find out if they can provide local information on the best biking routes in the area.
Don't forget to contact the accommodation directly and clarify any doubts you have about their bike-friendly facilities. It's essential to confirm details about their parking, safety measures, and any additional support they may offer bikers. This conversation might reveal hidden perks or discounts for motorcycle travellers.
To ensure the best experience, always keep a list of bike-friendly accommodations in the areas you plan to visit. This way, even if first choice isn't available, you will have a backup and can continue enjoying my journey without a hitch. By following these steps, you will be able to find suitable accommodations on various routes.
To further enhance your motorcycle travels, consider the following resources:
Using Online Platforms for Accommodation Searches
Leveraging the internet has several advantages when it comes to searching for accommodations. The most obvious benefit is the ease of access to information and reviews. By tapping into the experience of other riders, you'll save time and energy finding a suitable place to stay. Look out for important details like secure parking, the availability of motorcycle repair shops nearby, and the overall convenience of the location.
There are a few key platforms I recommend you check when searching for bike-friendly accommodations in India:
Aggregator websites: These sites compile information from multiple sources and provide an extensive database. Check out websites like Booking.com, TripAdvisor, and Airbnb for a comprehensive list of options. These platforms often allow you to filter search results based on your specific requirements, such as secure parking or proximity to bike repair shops.
Online forums and social media groups: Connect with fellow riders and share recommendations for accommodations. Websites like IndiaMikes.com and forums on Team-BHP are excellent resources for finding reliable information from experienced riders. Facebook groups, such as The Ghost Ryderz India or xBhp community, also offer valuable insights from fellow riders.
Motorcycle blogs and vlogs: Follow motorcycle enthusiasts who share their experiences and recommendations. It may provide even more in-depth reviews on their platforms. Look out for blogs and YouTube channels dedicated to motorcycle touring in India for relevant and up-to-date information.
Online platforms offer convenience, accessibility, and a wealth of information, making them ideal resources for finding bike-friendly accommodations in India. By tapping into the knowledge of the online motorcycle community, you'll have an easier time planning the perfect adventure – whether you're hitting the road solo or with a group.
Joining Biker Communities for Recommendations
One of the most effective ways to find bike-friendly accommodations in India is by joining biker communities and seeking recommendations from fellow riders. Motorcycles are more than just a mode of transportation for many people, they're a lifestyle.
Naturally, you'll want to stay in places that cater to the needs of bikers, and there's no better source of information than those who've been there before. Fellow bikers can recommend accommodations that offer secure parking, bike maintenance facilities, and other useful amenities, as well as sharing invaluable insights on riding routes and attractions along the way.
Biker communities can be found on various platforms, including Facebook groups, motorcycle clubs, and online forums dedicated to specific bike brands or regions. By participating in these communities, you can connect with other riders, share experiences, and get tips on the best bike-friendly accommodations in India.
I suggest using a combination of online research, social media, and attending motorcycle events to gather a comprehensive list of bike-friendly accommodations, and filtering the results based on personal preferences and requirements. Remember that joining biker communities is not only about finding accommodation, but also about sharing your expertise and experiences with others.
Assessing Hotels' and Guesthouses' Parking Facilities
One of the vital factors to consider when booking a hotel or guesthouse is the parking facilities on offer.
When looking for appropriate accommodations, start by checking the hotel or guesthouse website, searching for any information regarding parking facilities, and specifically enquiring about secure parking for motorcycles. You could also read online reviews or get in touch with fellow bikers for their recommendations using forums or social media groups.
Once you have shortlisted your potential accommodations, focus on the following:
Parking space size: Ensure there is ample space to maneuver your motorcycle easily.
Security: Look for hotels with well-lit parking lots and 24-hour security or surveillance cameras. Being able to lock your bike to a fixed structure such as a railing is an added bonus.
Accessibility: Make sure the parking area is easily accessible from the main road and does not require crossing difficult or muddy terrain.
To ensure your bike remains safe while you're off the saddle, consider the below points as well:
When available, make use of dust covers to protect your motorcycle from the elements.
Keep an eye on your motorcycle if your hotel room has a window with a clear view of the parking area.
Maintain a low profile by avoiding unnecessary attention to your valuables or the presence of your motorcycle.
Remember to plan for the possibility that a hotel's parking facilities may be lacking or unavailable. In such cases, consider asking the hotel staff or locals about any nearby alternative parking spaces. You can also try to partner with other motorcycle travelers and collectively seek out bike-friendly accommodations.
Budgeting for Your Bike-Friendly Journey
First, it's important to consider your bike's maintenance and fuel costs. Those planning a motorcycle tour should check out touring bikes in India for recommendations on bikes that balance fuel efficiency and performance. Regular maintenance is crucial, too, as it can potentially save you from expensive breakdowns during your trip.
As for accommodation, you'll need to strike a balance between comfort and affordability. Research various options including hotels, hostels, guesthouses or homestays, and consider possible discounts for bikers. I've found that booking accommodation in advance can sometimes secure better deals, too.
When budgeting for food and other expenses, you'll need to account for regional variations in prices. I've observed that spending on street food and local eateries can save you money compared to eating at fancy restaurants. Finally, anticipate miscellaneous expenses or emergencies by setting aside some extra cash. In addition, always carry a mix of cash and digital payment options.
To sum up, keeping these budgeting tips in mind can help ensure a memorable and enjoyable bike-friendly journey across India. By factoring in costs for your bike, gear, accommodation, food, and other trip necessities, you'll be better prepared to experience all that India has to offer.
Reaching Out to Local Tour Experts
Local tour experts can provide you with insider tips, from the best places to stay to the most scenic routes to take. They may also be able to assist you with securing discounts or special deals that might not be available through regular booking channels.
To get started, try these methods:
Joining biking forums and social media groups dedicated to motorcycle touring: Look for groups where members have travelled in India and can share their experiences. This can be a goldmine of information about bike-friendly accommodations and routes.
Reaching out to motorcycle rental companies: Rental businesses often collaborate with accommodation providers, and they can recommend places that cater to bike riders' needs.
Contacting travel agencies that specialize in motorcycle tours: They can provide guidance on the best accommodation options for bikers in various regions of India, ensuring your entire trip is tailored to your needs.
Exploring Unconventional Biking Accommodations
Homestays are a fantastic option for bikers who prefer a more intimate and authentic experience. Often run by local families, they provide a cosy and welcoming environment, giving you a taste of local life and culture. Homestays usually have ample parking space and are more than happy to assist with any bike-related issues that may arise.
Another option worth considering is campsites. Camping is a surefire way to immerse yourself in nature, and many campgrounds across India cater to bikers. They offer secure parking and basic amenities such as restrooms and freshwater.
Motorcycle clubs and riders' lodges offer the ultimate bike-friendly accommodations, with services tailored specifically for bikers. These establishments provide secure parking, tools and equipment for maintenance, and an atmosphere that fosters camaraderie among riders. Some even host workshops and events to enhance your biking experience.
For bikers on a budget, hostels are an ideal option. They offer affordable accommodation, a sense of community, and oftentimes, parking and bike-specific services.
Adventure resorts and eco lodges are perfect for riders looking to merge comfort and eco-friendly living with their love of biking. Many of these places promote sustainable tourism and have appropriate facilities and services to cater to riders.
When searching for unconventional bike-friendly accommodations, consider the following tips:
Look for reviews from fellow bikers on popular travel forums
Don't hesitate to ask for recommendations from your biking community or local motorcycle clubs
Inquire about the specific needs of a biker, such as secure parking and maintenance facilities
FAQs
How can I find motorcycle-friendly accommodations in India?
You Can Use Platforms Like Booking.com, TripAdvisor, And bikerbnb.com To Filter And Search For Motorcycle-Friendly Accommodations In India.
What could motorcycle-friendly accommodations include for riders?
Motorcycle-Friendly Accommodations Might Offer Secure Parking, Technical Assistance, And Dedicated Areas For Maintaining And Cleaning Motorcycles.
Are there any mobile applications that can help me find motorcycle-friendly hotels in India?
Yes, Apps Like "Motorradhotels" Can Help You Find Motorcycle-Friendly Accommodations In India And Neighboring Countries.
Can I find motorcycle-friendly accommodations through Facebook Groups?
Yes, Joining Facebook Groups Such As "Motorcycle Friendly Accommodation" Can Help Connect You With Motorcycle-Friendly Businesses
Are there any motorcycle tour companies that provide accommodations during their tours?
Yes, Companies Like Thrillophilia And GIVI Explorer Often Provide Accommodations During Their Motorcycle Tours In India.
In Conclusion
Finding bike-friendly accommodations in India is an essential aspect of planning a memorable motorcycle trip. However, it's also vital to verify the facilities and policies, as well as check online reviews from fellow bikers before deciding where to stay.
Remember, preparation is key, and being well-informed will not only make your rides more enjoyable but also safer. So gear up, find those bike-friendly accommodations, and start discovering the beauty of India on two wheels.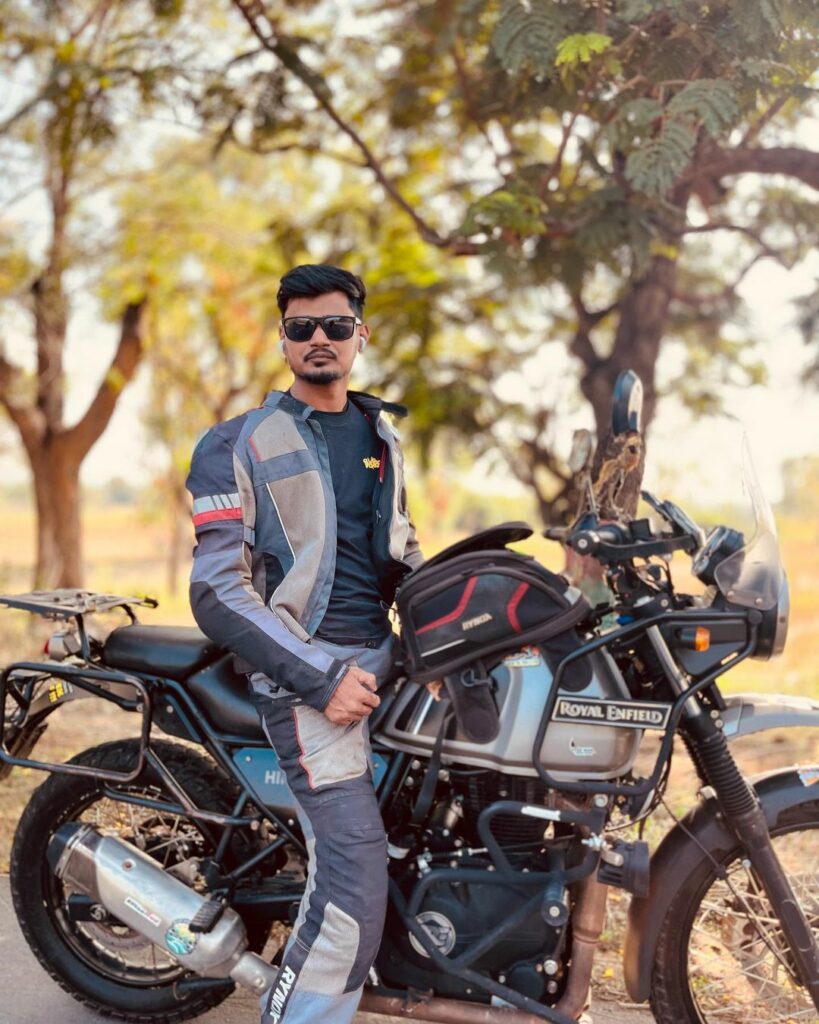 Vishwanath Mathpati
I am Vishwanath Mathpati, a full-time Blogger and Motorcyclist from Bidar, Karnataka. I love writing about my Motorcycles Stories and Riding Gears on this blog.
Know More About Me.
---
If you liked this article, then please subscribe to our YouTube Channel for more Bike Videos. You can also find us on Instagram, Twitter and Facebook.
Disclosure: As an Amazon Associate, I earn from qualifying purchases. Read more about Amazon Affiliate Disclaimer.