The best time of year for a bike road trip In India
India is a country full of rich culture, vibrant landscapes, and diverse terrain that makes it a fabulous destination for a bike road trip. As a motorcyclist, I've had my fair share of incredible experiences exploring this beautiful land on two wheels, and I'm ready to help you find the best time for a bike road trip in India.
Timing is everything when it comes to planning a motorcycle road trip, and India's most favourable weather can be experienced during the post-monsoon months – between October and March. This period serves as the ideal time to embark on a journey across India, avoiding the heavy rainfall that the monsoon season brings and the scorching summer heat.
It's during this time that road conditions are at their best and temperatures are pleasant for riding throughout the day. In addition, the post-monsoon months present clear skies and lower humidity, catering both to the rider's comfort and to stunningly picturesque views. So, if you're gearing up for an unforgettable bike road trip experience, look no further than October through to March for the perfect climate to explore India's vast beauty.
Exploring India's Diverse Climate
India's diverse climate plays a significant role in determining the best time for a bike road trip. The country has a wide range of climatic conditions, varying from the cold and snowy mountains in the north to the scorching deserts in the west, and the humid tropical regions in the south.
One can typically divide India's climate into three major seasons:
Summer (March to May)
Monsoon (June to September)
Winter (October to February)
Summer can be an excellent time to explore the high-altitude regions in the north, such as Ladakh, since the mountain passes are mostly open, and the weather is relatively stable. However, it's important to remember that temperatures in the plains can soar to extreme levels, making long-distance rides on bikes quite challenging.
Monsoon brings heavy rainfall across India, and while the landscape turns lush and green, navigating some regions can be tricky. Adequate riding gears is crucial during this season.
On the other hand, Winter offers a great opportunity to explore the southern coastal and tropical regions like Dhanushkodi and Karnataka's coast, where the weather remains pleasant and relatively dry. However, if you're planning to head north to the mountains, be prepared to encounter snow and ice, which may limit your travel options.
Planning your trip according to the climate will enable you to fully experience India's stunning landscapes – from the high-altitude Himalayan passes to the beautiful coastal roads – making it an unforgettable adventure.
Navigating India's Varied Terrain
India's diverse terrain can be both a challenge and a charm when it comes to planning the best time for a bike road trip. The country is home to a combination of breathtaking mountainous regions, vast plains, tropical coastal areas, and arid deserts. I have personally experienced this variety during my rides to Ladakh, Spiti, Zanskar, Dhanushkodi, Karnataka Coastal and Malenadu routes.
Below are some general guidelines to consider:
Mountains: Riding in the mighty Himalayas or the picturesque Western Ghats, the optimal months are usually between May and October. Monsoons (June to September) can be particularly treacherous due to landslides, slippery roads and poor visibility.
Plains: Avoid extreme heat and unbearable temperatures by planning your road trip in the plains during the cooler months of October to March.
Coastal Regions: Late September to early March is the ideal time to explore the stunning coastlines of India, avoiding uncomfortably high humidity and monsoon rains.
Deserts: The long stretches of the Thar Desert should be explored during the relatively cooler months, i.e., from October to February.
Ideal Months for Different Regions
Based on my numerous rides, I've learnt that the best time for a bike road trip in India usually varies across different regions. Considering factors like weather conditions, terrain and the availability of scenic beauty, I'll discuss the top regions in India for motorcycle adventures and their ideal months.
North India: Ladakh, Spiti, and Zanskar
The prime season for motorcycle rides in North India is from June to September. These months offer pleasant weather and some of the most spectacular routes for biking enthusiasts. I've had the pleasure of riding through Ladakh solo, exploring Spiti with a friend, and experiencing Zanskar alongside my trusted group of riders.
South India: Dhanushkodi, Karnataka Coastal, and Malenadu
For South India, November to February serves as the best time for bike road trips. During these months, the temperatures are moderate and bearable, making it easier to manoeuvre through the terrains. My bike rides through Dhanushkodi, Karnataka Coastal, and Malenadu were purely astounding, offering a mix of historical, coastal, and hill station experiences.
West and East India
The ideal months to explore West and East India on a motorcycle are between October and March. While the Western Ghats offer picturesque landscapes in Maharashtra and Goa, East India mesmerises riders with the natural beauty of Sikkim, Meghalaya, and Arunachal Pradesh. For comfortable and adrenaline-pumping rides, consider these best 400cc and 650cc bikes in India.
| Region | Ideal Months |
| --- | --- |
| North India | June – September |
| South India | November – February |
| West and East India | October – March |
Gearing Up for Your Journey
First and foremost, invest in quality riding gear like Rynox Storm Evo Riding Pants and Jackets, which I personally use. These will keep you protected from the elements and accidents. For good measure, pair them with Rynox Air GT Gloves for added protection.
As for photography and vlogging, I personally use iPhone 13 for taking breathtaking photos, and complete your kit with a GoPro for Moto vlogs and an Insta 360 One R for 360-degree videos. This will allow you to capture incredible memories along the various routes, such as Spiti, Zanskar or Dhanushkodi.
Luggage is another essential aspect to consider while gearing up for a bike trip in India. I have used Rynox Expedition Saddle Bags, Rynox Expedition Tail Bag and Rynox Magnapod Tankbag on my journeys. Recently, I opted for Royal Enfield Panniers as my go-to luggage solution.
Choosing the best motorcycle for your journey can make or break your trip. Be sure to check out the range of touring bikes available on the market, including those from Royal Enfield. Depending on your preferences and needs, you may also want to explore some best 400cc, best 650cc or other bikes from the 200cc, 160cc, 250cc and 350cc categories.
In summary, gearing up appropriately for your bike road trip in India involves investing in dependable riding gear, top-quality luggage solutions and selecting the right motorcycle for your needs.
Riding Solo vs Group Tours
Deciding between a solo or group motorcycle tour in India largely depends on personal preferences and riding experiences. Let's examine the differences to help you make an informed decision for your next road trip in India.
Solo rides provide the opportunity for self-discovery, freedom and flexibility. You can set your own pace, explore offbeat paths and alter your itinerary as you wish. While this has its perks, it also means shouldering all the responsibilities yourself, from route planning and navigation to dealing with unforeseen challenges.
Advantages of solo rides:
Complete control over your journey
Opportunity for self-discovery
Freedom to explore lesser-known destinations
Enhanced sense of accomplishment
Group tours, on the other hand, involve travelling with a group of like-minded riders who share the same passion for biking. This camaraderie fosters a sense of security and support on the road. I've had wonderful experiences during group rides, including the memorable Rider Mania 2022 with De Offroaders Hyderabad Group. However, group tours often come with a predetermined schedule and route, which might not suit everyone's preferences.
Advantages of group tours:
Enhanced safety and support
Opportunity to meet new people and make lasting friendships
Shared responsibilities, such as navigation and mechanical assistance
Easier to organize permits and accommodations for popular routes
Whether you decide on a solo adventure or a group tour, the most important aspect is to enjoy the thrill and excitement of exploring India's diverse landscapes on two wheels.
FAQs
How can one prepare for a long motorcycle trip across India?
Preparation For A Long Motorcycle Trip Involves Route Research, Obtaining Necessary Permits, Budgeting For Accommodations And Fuel, And Ensuring The Motorcycle Is Well-Maintained.
Which map book is recommended for planning a long motorcycle trip across India?
An Eicher Road Atlas Map Book Is A Useful Resource For Planning A Motorcycle Trip In India.
How long should a first-time motorcycle trip in India be?
First-time motorcycle trips can start with shorter distances of around 200 km per day.
What is the best time for a motorcycle tour in India?
The Peak Season For Motorcycle Tours In India Is From October To March.
When is the best time for a motorcycle trip between Guwahati and Tawang?
The Ideal Timeframe For A Guwahati To Tawang Bike Trip Is From June To August.
Final Thoughts on Timing Your Adventure
After careful consideration, the best time for a bike road trip in India depends on the region you're planning to explore and the climate it experiences. Generally speaking, the months of October to March offer pleasant weather conditions for motorcycle tours across much of the country. That said, since India is a vast and diverse land, it's important to take into account the specific region you want to visit.
Lastly, bear in mind that neighboring regions might have different weather conditions even within the same time frame. Therefore, thorough research on your desired destination is crucial to make the most out of your motorcycle adventure in India. With proper planning, you'll be well on your way to experiencing breathtaking landscapes, fascinating cultures, and the thrill of exploration on two wheels.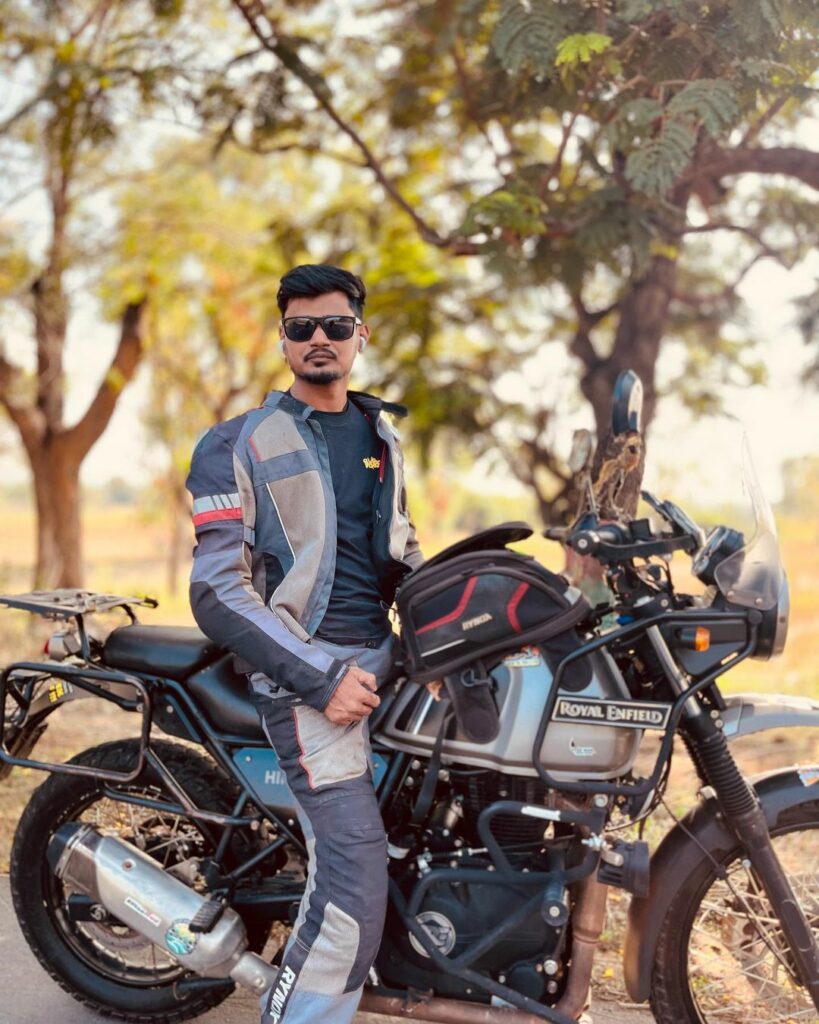 Vishwanath Mathpati
I am Vishwanath Mathpati, a full-time Blogger and Motorcyclist from Bidar, Karnataka. I love writing about my Motorcycles Stories and Riding Gears on this blog.
Know More About Me.
---
If you liked this article, then please subscribe to our YouTube Channel for more Bike Videos. You can also find us on Instagram, Twitter and Facebook.
Disclosure: As an Amazon Associate, I earn from qualifying purchases. Read more about Amazon Affiliate Disclaimer.