Top 8 Best Motorcycle Rides in Nebraska: My Ultimate Guide for Riders
It's no secret that Nebraska offers some of the most picturesque landscapes for motorcycle enthusiasts to enjoy. With its stunning natural beauty, diverse terrain, and well-maintained roads, Nebraska is a motorcycle rider's paradise. In this article, I'll be sharing my top 8 best motorcycle rides in the Cornhusker State that cater to various riding preferences and skill levels.
Rolling hills, winding river roads, and incredible views of the sprawling countryside are just a few things you'll experience on these journeys. From the laid-back Great Plains scenery to the mystical beauty of the Sandhills region, Nebraska boasts a multitude of iconic routes that provide ample opportunities for exploration and unforgettable memories.
So, as you plan your next motorcycle adventure, consider hitting the open road in Nebraska. Embrace the rugged charm of the Needles Highway in South Dakota or relish the twisting river-side path of the Great River Road in Iowa. For an adrenaline-fueled adventure, try the Peak to Peak Highway in Colorado. Alternatively, explore the breathtaking landscape of the Flint Hills National Scenic Byway in Kansas. These neighboring state routes offer fantastic opportunities to make your motorcycle ride a multi-state adventure.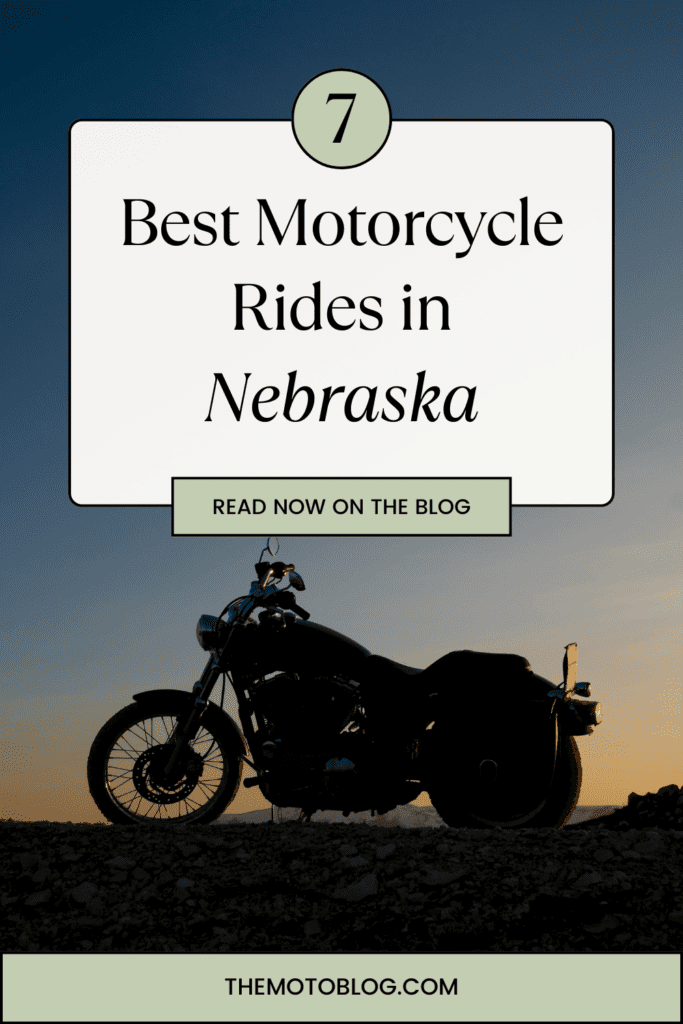 1. Highway 2: Scenic Sandhills Journey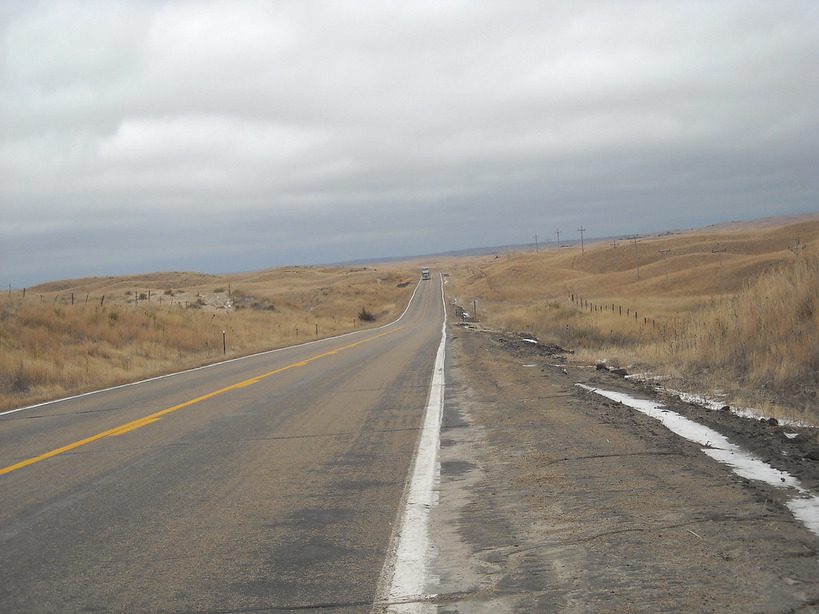 As you traverse through this picturesque landscape, you'll be immersed in the vast, rolling hills of the Sandhills region.
Honestly, the ideal period to embark on this journey would be between late spring and early fall. During these months, the weather is generally pleasant, and rainfall is at a minimum. However, always keep an eye on the weather forecast to avoid any surprises.
| Month | Temperature Range (°F) |
| --- | --- |
| Late Spring | 60 – 75 |
| Early Fall | 55 – 70 |
This magnificent stretch of highway spans approximately 200 miles. Depending on your preferred pace and how often you stop to appreciate the breathtaking views, it could take anywhere from 4 to 6 hours to complete the full route.
Places to Stop:
Snake River Falls: The largest waterfall in Nebraska and a perfect spot for a quick break and some stunning photo opportunities.
Nebraska National Forest: An excellent opportunity to indulge in nature and explore some scenic hiking trails.
Mari Sandoz High Plains Heritage Center: This enlightening museum showcases Nebraska's rich history and the life of local author, Mari Sandoz.
Carhenge: An intriguing replica of England's Stonehenge, created entirely from vintage cars.
With a mix of sweeping turns, mild elevation changes, and majestic landscape, Highway 2 can be classified as moderately challenging. It's suitable for riders with some experience, but not so difficult as to deter beginners from enjoying the ride.
A few additional tips to make the most of your Scenic Sandhills Journey:
To avoid traffic congestion, I recommend starting the journey early in the morning.
Ensure that your motorcycle is in top condition and fill up on gas before you set off, as service options may be sporadic along the way.
Keep an eye out for wildlife crossings and be cautious of any animals potentially crossing the road.
2. The Platte River Motorway Adventure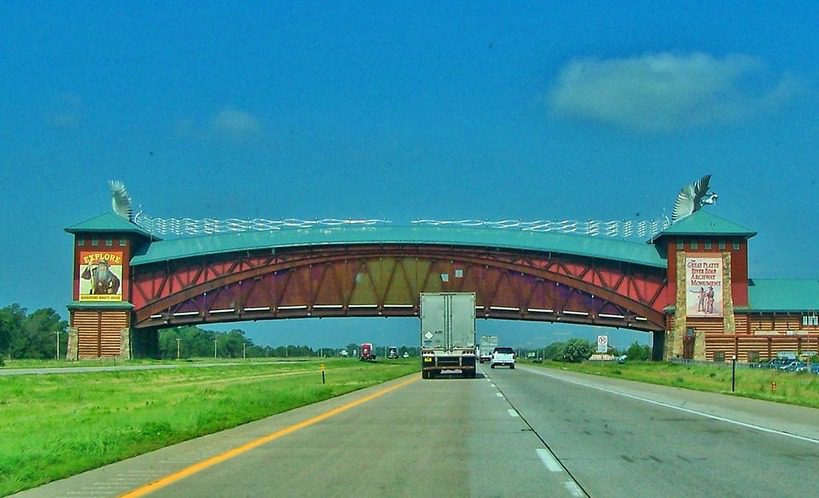 There's no better place to start your motorcycle ride in Nebraska than the Platte River Motorway Adventure. This picturesque route offers incredible views, twists, turns, and scenic beauty, making it one of the top rides every biker must experience.
For the most enjoyable ride, I'd recommend visiting between late spring and early fall – May to October. The weather during this time is usually perfect for motorcycle trips, as it's warm and sunny, allowing you to take full advantage of the stunning scenery.
The Platte River Motorway Adventure spans approximately 250 miles, which should take about 4-5 hours to complete if you're cruising at a leisurely pace. However, it's important to keep in mind that some sections can be challenging for inexperienced riders, so adjust your travel time accordingly.
Riding through the Platte River Valley and alongside the river, you'll encounter an abundance of wildlife, rolling hills, and lush greenery. The route takes you from Plattsmouth to North Platte, primarily following Highway 30 and Highway 34.
Along the way, you'll come across various points of interest:
Platte River State Park: For a quick break from riding, you can stop at the Platte River State Park, known for its beautiful waterfalls and scenic hiking trails.
Kearney: A small city offering a variety of attractions, such as the Great Platte River Road Archway Monument and the Museum of Nebraska Art.
Gothenburg: A quaint town that houses the Original Pony Express Station, an excellent pit stop for history buffs.
Buffalo Bill Ranch State Historical Park: Located in North Platte, it provides insights into Buffalo Bill's life and his Wild West shows.
The Platte River Motorway Adventure has varying levels of difficulty. Some sections are incredibly smooth and easy to ride, while others feature sharp curves and undulating terrain. But overall, it's a suitable route for intermediate and advanced riders.
As with any long distance motorcycle ride, be prepared with:
Proper riding gear for unpredictable weather
A well-maintained motorcycle
A detailed map or GPS tracking system
Sufficient water and snacks for the journey
3. Ewing Road's Countryside Curves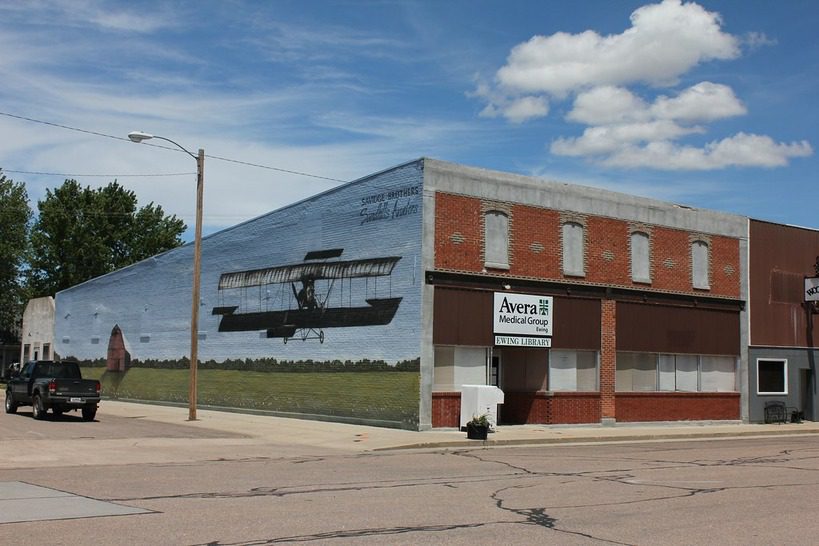 There's something magical about experiencing the open road on a motorcycle, and Ewing Road's Countryside Curves in Nebraska is a ride that should be on every biker's bucket list. This beautiful stretch of road offers an assortment of sweeping curves, stunning scenery, and idyllic countryside views that's hard to beat.
While you can enjoy Ewing Road's Countryside Curves at any time of the year, I'd highly recommend visiting between April and October. During these months, you'll experience pleasant temperatures and predominantly dry weather, perfect for motorcycle riding. Moreover, the surrounding landscapes come alive with vibrant colors, making the ride even more captivatin
Ewing Road's Countryside Curves covers a distance of approximately 80 miles. Depending on your riding style and the number of stops you make, plan for a duration of 2 to 3 hours to complete the ride. This allows ample time to savor the views and enjoy the journey.
Some noteworthy stopping points along this route include:
Ewing: A small town with a welcoming atmosphere, ideal for rest and refreshments.
Neligh Mill State Historic Site: A chance to learn about Nebraska's milling history.
Ashfall Fossil Beds State Historic Park: A unique opportunity to explore prehistoric fossils.
The Ewing Road's Countryside Curves ride is suitable for riders of all skill levels. The road is well-maintained, offering smooth riding conditions, and the curves are gentle enough even for beginners. Of course, experienced riders won't be disappointed either, as the sweeping twists and turns provide an exhilarating experience.
Other Information
The speed limits range between 55 and 65 mph on this route, so make sure to obey the traffic rules.
The road has occasional deer crossings, so stay vigilant, especially during dawn and dusk.
Gas stations and amenities can be sparse along the route, so fill up your tank and pack necessary supplies before you set off.
4. Cowboy Trail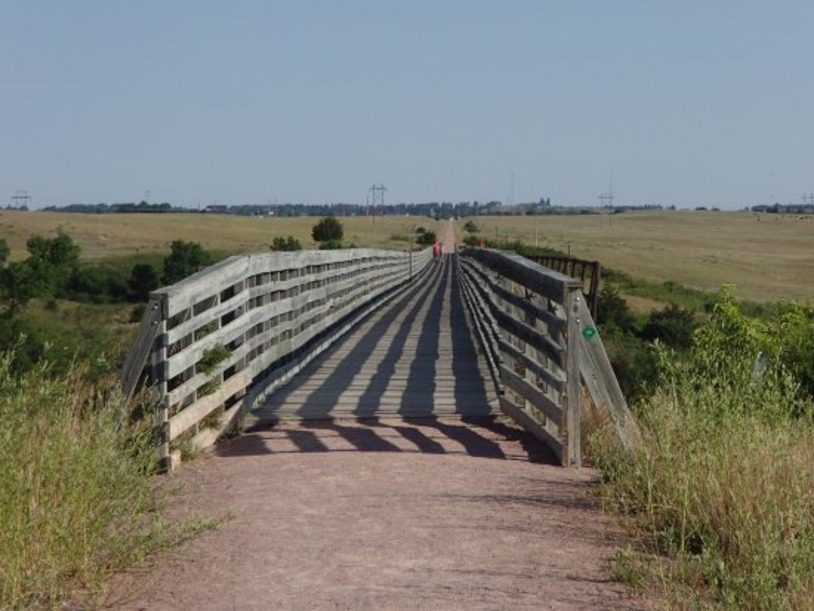 Motorcycle enthusiasts, prepare to be amazed by the incredible Cowboy Trail. Spanning over 195 miles, the Cowboy Trail invites riders to explore Nebraska's stunning landscapes.
The ideal time to embark on this journey is between May to October. During this period, the weather is pleasant and allows for smooth cruising along the road.
| Distance (miles) | Estimated Time (approx.) |
| --- | --- |
| 195 | 4 – 5 hours |
While riding along the Cowboy Trail, I recommend making stops at these remarkable places:
Valentine National Wildlife Refuge
Long Pine State Recreation Area
The town of Norfolk
The level of difficulty for riding this trail is, in my opinion, moderate. Although there are some challenging stretches, those with a bit of riding experience should find it manageable.
Other Information:
The road surface is primarily crushed limestone, making it more suitable for adventure bikes and dual-sport motorcycles.
Grab a trail map from local visitor centers or check out an online map.
5. Lewis and Clark Scenic Byway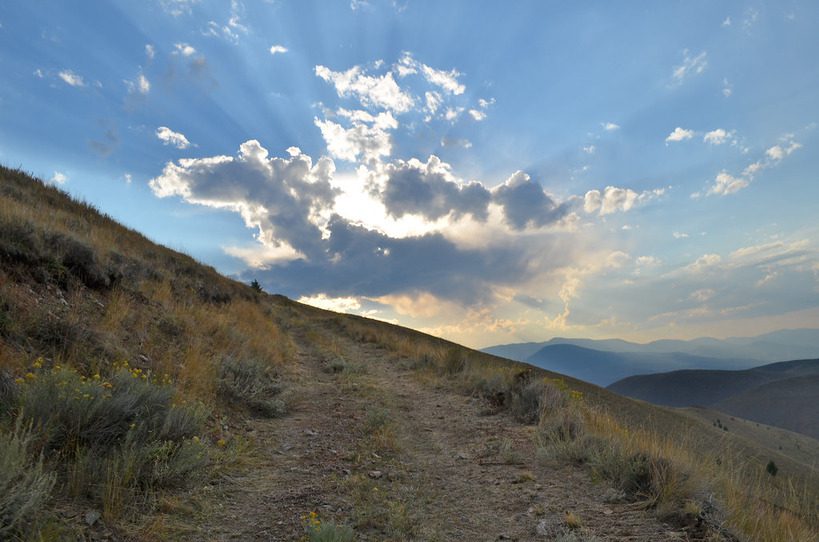 I've always found the Lewis and Clark Scenic Byway to be one of the most rewarding and historically engaging motorcycle road rides in Nebraska. Winding along the Missouri River, this byway covers an incredible 82 miles and offers stunning views, fascinating historic sites, and countless opportunities for adventure.
The ideal time to explore the Lewis and Clark Scenic Byway on a motorcycle is from late spring to early fall. During these months, you'll enjoy comfortable temperatures, minimal precipitation, and longer daylight hours, making your ride all the more pleasant.
| Distance | Estimated Time to Travel |
| --- | --- |
| 82 miles | 2-3 hours |
Keep in mind that the above-mentioned travel time does not account for stops and detours along the way. You might want to give yourself a full day or even a weekend to fully appreciate everything this scenic byway has to offer.
As you ride along the Lewis and Clark Scenic Byway, I highly recommend taking some time to explore these notable stops:
Fort Atkinson State Historical Park: Discover the first US military post established in the region, where fascinating reenactments take place on weekends during the summer.
DeSoto National Wildlife Refuge: A haven for birdwatching enthusiasts; keep an eye out for bald eagles, waterfowl, and other unique bird species.
Boyhood Home of Standing Bear: Learn about the life of the famous Ponca Chief Standing Bear and his fight for Native American civil rights.
Riding along the Lewis and Clark Scenic Byway is generally considered to be an easy to moderately challenging motorcycle route. The majority of the road is well-maintained and has gentle curves, making it suitable for riders of all skill levels. However, keep an eye out for a few sections with tighter turns and elevation changes that can be more challenging, especially for less experienced riders.
Besides its historical significance, the Lewis and Clark Scenic Byway is also known for its numerous recreational activities. Along the route, you'll find ample opportunities for hiking, fishing, picnicking, and wildlife observation, ensuring an unforgettable journey no matter what interests you.
6. Indian Cave State Park Loop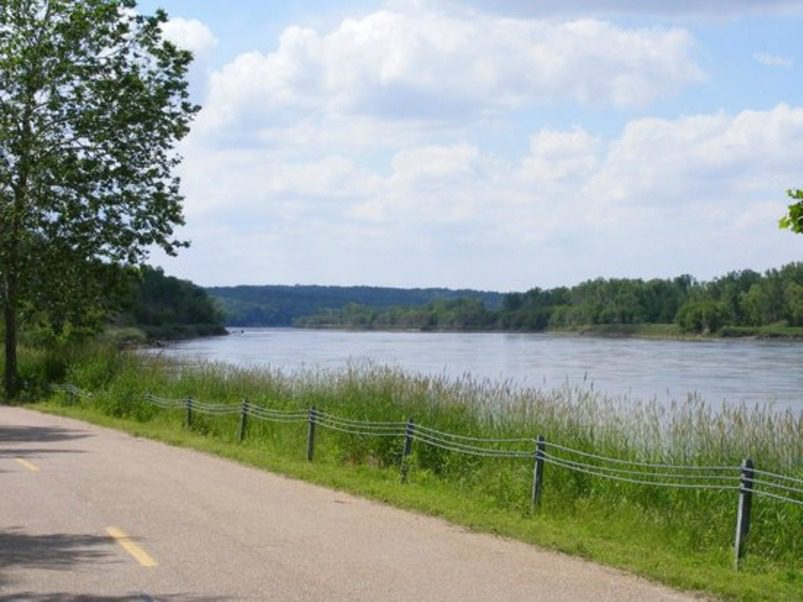 Nestled along the Missouri River, this loop offers a perfect combination of natural beauty, history, and exciting twists and turns.
The ideal time to visit the Indian Cave State Park Loop is from April through October. During these months, the weather is typically mild and comfortable making it the perfect time to enjoy the scenery and clear roads.
The loop stretches across 20 miles, and it takes approximately 40 minutes to complete without any stops. However, I recommend allocating some extra time to explore the park and take in the breathtaking vistas.
Places to Stop:
Indian Cave State Park: Here, you'll find the park's astounding sandstone cliffs and caves which are rich in Native American history.
Missouri River Lookout: A great spot to take in the sweeping views of the river.
Park Visitor Center: Stop by for information on trails and local events.
The Indian Cave State Park Loop is considered a moderate ride. It has a few twisty sections and some elevation changes, making it a fun ride for experienced and intermediate riders. However, less experienced riders should still be able to tackle this loop with caution.
Other Information:
State Park Fee: A daily fee of $6 is required for vehicles entering the park ($8 for non-residents). It's worth every penny for the experience.
Amenities: Indian Cave State Park has various amenities such as restrooms, picnic areas, and even camping spots if you choose to extend your adventure.
7. Niobrara River Valley Trek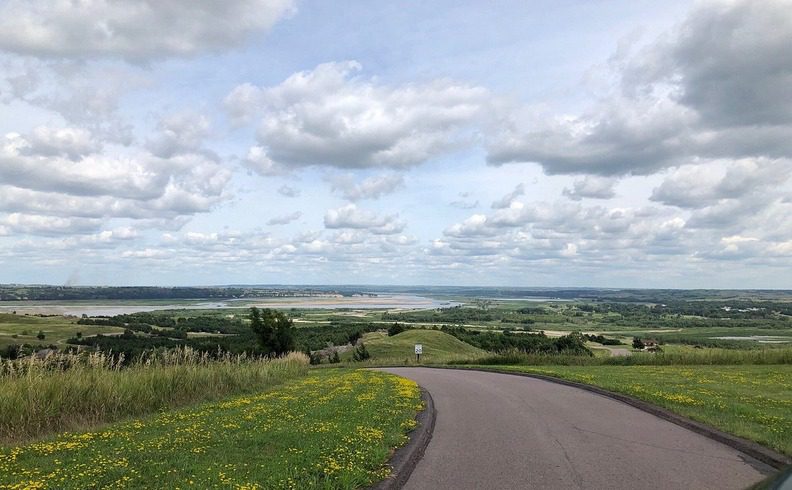 The Niobrara River Valley Trek is one of the top motorcycle rides in Nebraska, offering riders an incredible experience through one of the state's most picturesque regions. The ride takes you along winding roads, through beautiful landscapes, and past some spectacular natural attractions.
Fall is considered the most vibrant and stunning season for experiencing the Niobrara River Valley Trek. The changing colors of leaves create a breathtaking backdrop, while mild temperatures ensure a pleasant experience. However, summer can also be a good choice, offering lush green scenery and, of course, more daylight hours.
The Niobrara River Valley Trek covers approximately 240 miles in total. Depending on how many stops you make and your riding pace, the ride should take around 5-7 hours to complete. If you'd prefer to take your time and explore the area further, planning for a full day or even a weekend trip is highly recommended.
Here are some highlights along the route that you won't want to miss:
Smith Falls State Park: Home to Nebraska's tallest waterfall, Smith Falls, this park is a must-visit destination for nature lovers.
Niobrara State Park: With its incredible views of the Missouri River and numerous outdoor activities, this park is a perfect spot for picnic and relaxation.
The Ashfall Fossil Beds State Historical Park: This fascinating site offers a glimpse into Nebraska's ancient past and boasts some unique fossil finds.
The Niobrara River Valley Trek is best described as a moderate ride, with some twisty sections requiring technical skills, as well as straight stretches perfect for cruising. Overall, this route is suitable for riders with some experience but isn't too intimidating for those who are fairly new to motorcycling.
There are several towns and villages along the route where you can find gas stations, convenience stores, and dining options. Before embarking on your journey, be sure to check the weather forecast, as storms and heavy rain can make certain stretches of the road more challenging or even impassable.
8. Wahoo Creek Road's Rollercoaster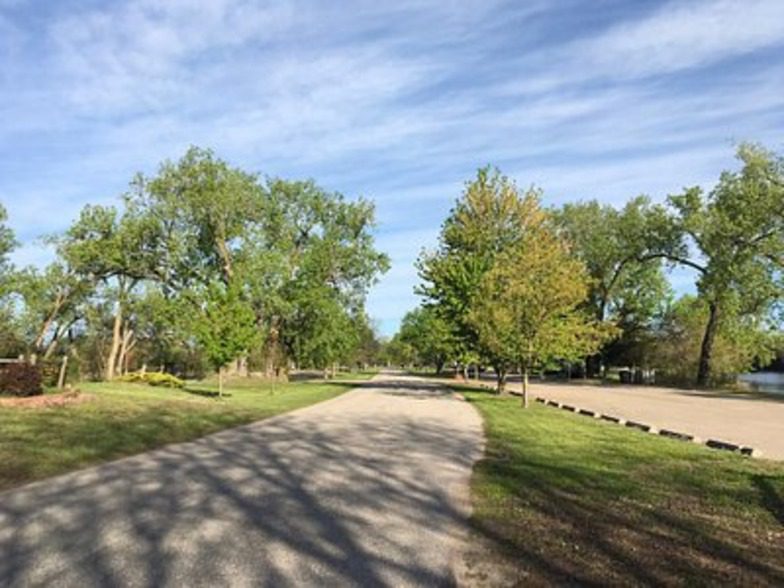 Exploring Nebraska's motorcycle routes, I found that Wahoo Creek Road's Rollercoaster stands out as a thrilling and memorable ride. This captivating route, characterized by its undulating pavement and surprising twists, will keep you on your toes, making it suitable for experienced riders.
The ideal time to experience Wahoo Creek Road's Rollercoaster is during the late spring, summer or early fall months, as these seasons offer dry road conditions and milder weather. It's best to avoid winter, as icy roads and chilly temperatures pose challenges for motorcyclists.
Wahoo Creek Road's Rollercoaster stretches for approximately 20 miles and with an average speed of 45 mph, it takes around 30 minutes to complete the route.
Throughout the route, you'll encounter several points of interest worth stopping at:
Wahoo: Start your ride in Wahoo, a small town with ample dining options and fuel stations to prepare for the journey ahead.
Roadside parks: You'll find a few roadside parks along the route, offering a chance to rest, stretch your legs, and perhaps snap some photos of the picturesque scenery.
Branched Oak State Recreation Area: Situated near the road, consider stopping at Branched Oak State Recreation Area for a break or to explore its hiking trails.
Due to the nature of the route, I'd classify Wahoo Creek Road's Rollercoaster as having a moderate to high level of difficulty. This ride requires motorcyclists to navigate steep hills, sharp curves, and occasional dips in the pavement.
Other Information:
Wahoo Creek Road is a two-lane, paved road that is generally well-maintained. However, be cautious and pay attention to changeable road conditions.
Keep an eye out for wildlife, particularly deer, as they may cross the road unexpectedly.
The route has limited cell phone reception, so it's essential to plan your trip accordingly and consider investing in a reliable GPS device.
Don't forget to pack plenty of water, snacks, and necessary gear for a safe and comfortable ride.
FAQs
What are some popular motorcycle routes in Nebraska?
Schramm State Park Run, Hwy 2 Sandhills Journey, K-7 To Rulo, Backroad Hills, Highway 75 Along The Missouri, The Platte River Run, US 20 (Northwest Nebraska), And Highway 12 Are Popular Motorcycle Routes In Nebraska.
What scenic drives in Nebraska are suitable for motorcycle rides?
Some Scenic Drives In Nebraska Ideal For Motorcycle Rides Include Schramm State Park Tour, Western Trails Scenic & Historic Byway, Outlaw Trail, Loup Rivers Scenic Byway, And Lincoln Highway Scenic & Historic Byway.
Are there any motorcycle ride groups or communities in Nebraska?
Yes, Mid Nebraska Motorcycle Rides Is A Group On Facebook Where Riders Can Join And Engage With Other Nebraska-Based Motorcyclists.
What are some notable wildlife sightings and landscapes to expect while riding through Nebraska?
While Riding Through Nebraska, You May Encounter Sandhills, Pronghorn Sheep, Coyotes, Mule Deer, And Mini-Mountains As Part Of The Beautiful Landscape And Wildlife Offerings.
Where can I find more information on Nebraska motorcycle routes?
Websites Like Motorcycle Roads (motorcycleroads.com), Great Motorcycle Roads (greatmotorcycleroads.com), And REVER (rever.co) Provide Detailed Information On Various Nebraska Motorcycle Routes And Rides.
Concluding Thoughts on Motorcycle Rides in Nebraska
After exploring the top 8 best motorcycle rides in Nebraska, it's clear that this state offers a diverse range of scenic roads and picturesque landscapes. Motorcycle enthusiasts can choose from winding roads through lush forests, tranquil rides by shimmering lakes, and routes that showcase Nebraska's rolling hills and vast farmlands.
Here's some information that'll be helpful as you plan your Nebraska motorcycle adventure:
While Nebraska does experience all four seasons, the best time for motorcycle rides is generally from late spring to early fall. During this time, temperatures are comfortable, and riders can enjoy the full beauty of the state's diverse landscapes.
The total distance and time needed to complete each of these rides will vary. To make the most out of your trip, be sure to take into account the distance of the ride, additional stops you'd like to make, and how much time you want to spend exploring each area.
Nebraska's motorcycle routes offer numerous opportunities to stop and take in the sights or refuel with a meal. Some popular rest stops include breathtaking viewpoints, charming small-town cafes, and national parks where you can stretch your legs or even spend the night.
Most of the motorcycle rides in Nebraska are suitable for riders of all levels. However, a few routes, such as some twisting sections through the state's wooded areas, may present more of a challenge to less experienced riders. Be sure to consider your skill level and your familiarity with the region when choosing a route.
Nebraska's weather can be unpredictable, so it's always smart to check the forecast ahead of time and pack rain gear as a precaution. Also, keep in mind that while the state has many gas stations and rest areas, you may encounter stretches of road with few services, so plan your stops accordingly.
All in all, Nebraska's motorcycle rides are bound to leave you with unforgettable memories. No matter the route you choose, you'll be met with stunning views, friendly locals, and a sense of exploration that will have you coming back for more.
Motorcycle Rides in the US by States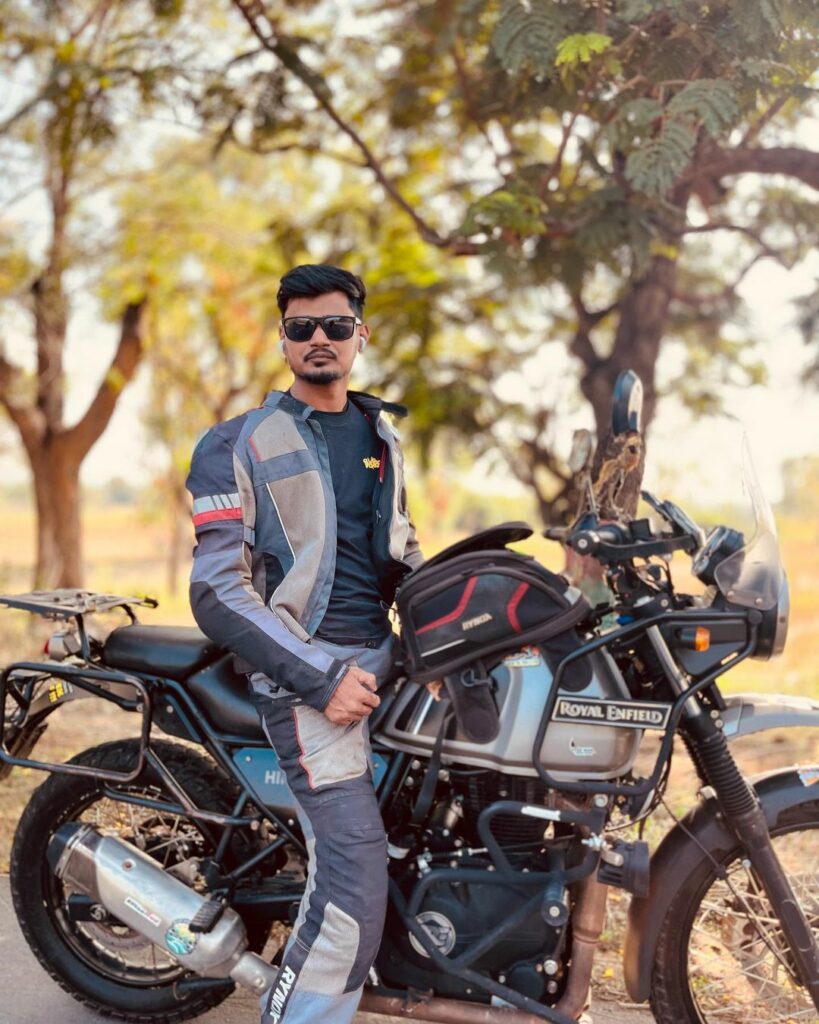 Vishwanath Mathpati
I am Vishwanath Mathpati, a full-time Blogger and Motorcyclist from Bidar, Karnataka. I love writing about my Motorcycles Stories and Riding Gears on this blog.
Know More About Me.
---
If you liked this article, then please subscribe to our YouTube Channel for more Bike Videos. You can also find us on Instagram, Twitter and Facebook.
Disclosure: As an Amazon Associate, I earn from qualifying purchases. Read more about Amazon Affiliate Disclaimer.