6 Types of Helmets in India: Which is Good For Me?
Here we discuss 6 Types of Helmets in India let us decide Which Helmet is Good For you.
Are you looking for a new motorcycle helmet that will fit your head well and protect it from the elements? You may ask yourself, "How do I choose the right helmet?".
A motorcycle helmet is the most important safety gear you can buy for yourself. It is required by law. This article will help you choose the right helmet based on your requirements.
You've just bought yourself a motorcycle, and you're looking to equip yourself with a helmet.
To ride a motorcycle in India, you need to wear a helmet. A helmet is a protective gear covering the head and keeping the wearer safe in case of an accident. While helmets are a legal requirement in India. Various types of helmets are available, and the choice is entirely up to you. I India Helmet rate starts from 1000 and goes up to 1 lakh. Here are some of the most popular types of helmets in India.
With motorcycle helmets being mandatory for every motorcyclist, it is important to make the right decision by choosing the right helmet. Here are 6 types of motorcycle helmets available in India and what they offer.
Types of Helmets
| Helmet Type | Pros | Cons |
| --- | --- | --- |
| Full-face | Best protection for head, face, and chin | Can be heavy, may cause discomfort after long hours of use, may obstruct peripheral vision |
| Modular | Versatile, offers full-face and open-face | Heavy and bulky, may not provide as much protection as a full-face helmet, chin bar mechanism may fail during a crash |
| Open-face | Provides better visibility and ventilation | Offers less protection, leaves face exposed to injury, less noise reduction, no chin bar for added protection |
| Half | Lightweight, comfortable, minimalist design | Offers the least protection, leaves the face, chin, and ears exposed to injury, provides no noise reduction |
| Off-road/MX | Designed for off-road or motocross use | Offers less protection for the chin, heavier than other types of helmets, limited use on the road due to design and visibility issues |
Full Face Helmets
We don't know when people will need to wear helmets in a motorcycle accident, but if they're going to need one, the helmet has to be full face.
A full-face helmet is the most common type of helmet worn by riders. It covers the entire head and face, providing the best protection in case of an accident. Full-face helmets come with a chin bar, which adds extra protection to the face and chin. They also have a visor that can be flipped up or down to protect the eyes from sunlight, wind, and rain.
Modular or Flip-up Helmet
Today, helmets have become quite sophisticated, as far as their safety features go. However, one major drawback to most helmets is their tendency to flip up or down. With a modular helmet, you don't have to worry about the annoying flip-up problem. Instead, the helmet is held firmly to your head using suction cups.
A modular helmet is a combination of a full-face and an open-face helmet. It has a chin bar that can be flipped up, allowing the rider to speak or breathe more easily when not riding. This type of helmet is suitable for riders who frequently communicate with their fellow riders or pedestrians.
Half-face helmets
Half-Face Motorcycle Helmet, is a type of protective motorcycle helmet that is half-concealed and half-visible. Half-face motorcycle helmets are intended to blend in with the rider's surroundings, making them difficult to notice.
To some people, a half-face helmet can appear cool and sexy. It doesn't, however, protect you as well as full face. That's why it is called Half-Face Motorcycle Helmets.
These are helmets which are designed for motorcyclists. They cover the face's front half while exposing the back part. These helmets protect the riders from head injuries and accidents. These helmets are light weight, comfortable and durable.
Half-shell helmets
A half-shell motorcycle helmet is basically a motorcycle helmet that doesn't cover the entire head and instead has a half-shell design. Most motorcycle riders who use half-shell helmets don't realize that these helmets have a higher chance of being damaged than traditional helmets.
There are two primary reasons for this: first, a half-shell helmet is generally lighter than a full-helmet helmet, and second, a half-shell helmet has a much smaller opening than a full-helmet helmet, which means that it's harder to protect the head. Additionally, a full-helmet helmet provides better protection in the event of a crash.
Off-road helmets
Off-road helmets are helmets designed to protect against falls off motorcycles and other off-road vehicles. These helmets' main focus is to protect the face and head. They can help prevent facial injuries as well as injuries to the head caused by a fall. Off-road helmets are specially designed for motorcycle riding and they come with a wider helmet shell to give more room to the wearer's head. There are several different types of off-road helmets including full face, open face, half face, and hybrid helmets.
Off-road motorcycling is a fast-growing sport, especially among young men. But off-road motorcycles are built to take off-road terrain, not for smooth streets. While you're off-roading, your helmet should have a chin strap to keep it on your head, and some kind of ventilation system to keep your head cool.
Dual-sport helmets
One of the most significant innovations in the motorcycle helmet industry was the development of the dual-sport helmet. Dual-sport motorcycles are designed to allow you to take advantage of all the benefits of motorcycling on all types of terrain while maintaining protection against the most severe impacts. With this in mind, these helmets were developed to provide maximum safety and comfort while allowing the rider to enjoy their motorcycle experiences anywhere.
The dual-sport helmet has a face mask that sits atop the head, covering the face, and a brimmed hard hat that covers the front of the skull. A typical dual-sport helmet features a full-face mask that has openings for both the eyes and nose, and a bill that covers the mouth. The brimmed hard hat provides a low profile and additional protection to the wearer's scalp and forehead. The dual-sport helmet is ideal for motorcycle riders and those who engage in touring.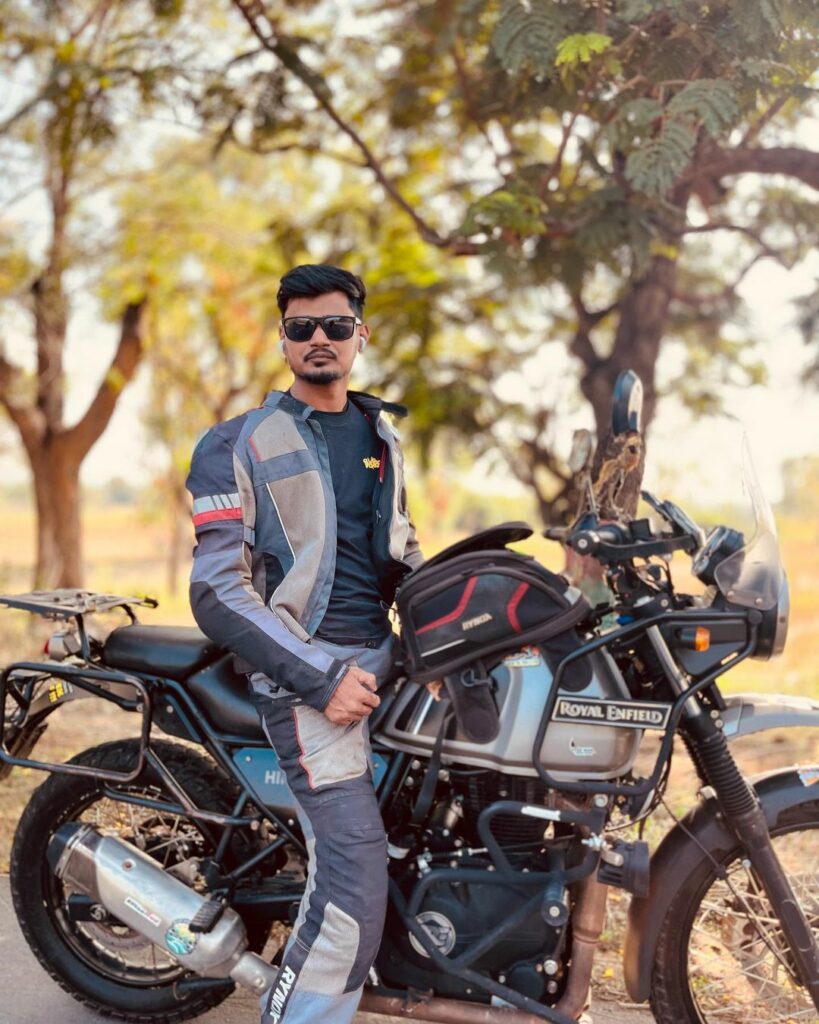 Vishwanath Mathpati
I am Vishwanath Mathpati, a full-time Blogger and Motorcyclist from Bidar, Karnataka. I love writing about my Motorcycles Stories and Riding Gears on this blog.
Know More About Me.
---
If you liked this article, then please subscribe to our YouTube Channel for more Bike Videos. You can also find us on Instagram, Twitter and Facebook.
Disclosure: As an Amazon Associate, I earn from qualifying purchases. Read more about Amazon Affiliate Disclaimer.