Top 5 Vintage Bikes Still Worth Owning In India
As a motorcycle enthusiast, I've always been fascinated by vintage bikes and their timeless appeal. With their unique designs and impressive performance, these classic machines offer a completely different riding experience compared to modern bikes. India has a rich history of two-wheelers, and some of these vintage motorcycles still hold significant value today. In this article, I'll be discussing the top 5 vintage bikes that are worth owning in India.
Vintage bikes have a certain charm about them, with their retro looks, reliable engines, and an undeniable sense of nostalgia. However, for a bike to be considered worth owning, it must meet a few criteria. It's crucial to weigh in factors such as the bike's overall condition, its rarity, and its historical importance. These factors determine not only the bike's value but also the overall satisfaction and sense of pride that comes with owning such a classic set of wheels.
In the following sections, I'll be unveiling my selection of top 5 vintage bikes in India that are still worth owning. From iconic Indian brands to classics from legendary international manufacturers, these motorcycles have left an indelible mark on the hearts and minds of bike enthusiasts. So, let's dive into the world of these beautiful and classic motorcycles and awaken those nostalgic feelings.
5 Vintage Bikes Worth Owning in India
The craze for vintage bikes never seems to fade away. Many riders take pride in owning and riding these timeless machines, and I'm one of them. If you're considering adding a classic to your collection or just curious about what makes them so special, let's dive into the top 5 vintage bikes worth owning in India :
1. Royal Enfield Bullet: An Instant Classic
When we talk about vintage bikes, the Royal Enfield Bullet is a name that instantly comes to mind. It's been a mainstay in the Indian motorcycling space for decades, and today, I'm going to dive into why it's still worth owning.
One of the key reasons the Bullet has held its charm is its iconic design. It retains the classic lines and elements that defined the brand in its golden era, such as the round headlamp, robust tank design, and sweeping exhaust, making it widely popular among vintage bike enthusiasts.
Underneath the classic exterior, the Royal Enfield Bullet comes equipped with a reliable 346cc, air-cooled, 4-stroke engine that produces 19.1 bhp of power and 28Nm of torque. The Bullet's low-end torque and easy-to-service engine characteristics make it perfect for exploring the vast beauty of India.
Although there are more modern bikes available, such as those mentioned in these articles: Best Touring Bikes, Best 400cc Bikes, and Best 350cc Bikes, the Royal Enfield Bullet holds its place as a nostalgic and capable offering. With a well-established service network across the country, maintaining the Bullet is not much of a headache either.
In conclusion, the Royal Enfield Bullet remains a highly sought-after vintage bike for good reason. Its classic design, dependable performance, and the ability to customise it to fit the rider's preference make it an instant classic truly worth owning for bike enthusiasts in India.
2. Yezdi Roadking: Nostalgia on Two Wheels
When talking about vintage bikes worth owning in India, the Yezdi Roadking deserves a special mention. With a well-balanced combination of power, handling, and classic styling, this bike has earned its rightful place among motorcycle enthusiasts in the country. In my experience, Yezdi Roadking is the perfect choice for those seeking nostalgia on two wheels.
Manufactured in the 1970s and 1980s, the Yezdi Roadking was built by Ideal Jawa, an Indian-based manufacturer. Its 2-stroke 250cc engine was hailed for providing impressive performance and endurance, making it a popular choice for rally participants and long-distance riders.
Some features of the Yezdi Roadking include:
250cc air-cooled 2-stroke engine
Dual exhausts
19-inch wheels
Unique gear shift system (with heel and toe levers)
The Yezdi Roadking was known for requiring little maintenance and being highly reliable. Because of these qualities, it's remained an attractive option for many. While the Yezdi Roadking may not match modern-day bikes, it delivers an unparalleled charm that few bikes can replicate.
Though limited in availability, getting your hands on a well-maintained Yezdi Roadking is an investment you won't regret. Besides catching the attention of fellow motorcycling enthusiasts, it offers unforgettable riding experiences.
In conclusion, if you're looking for a blend of performance, style, and nostalgia in your next motorcycle, the Yezdi Roadking is a fantastic choice. As a proud rider of this vintage marvel, I can attest to its worth and timeless appeal.
3. Rajdoot 175: A Reliable Companion
When it comes to vintage bikes worth owning in India, the Rajdoot 175 certainly stands out as a reliable companion. This iconic motorcycle, which was a favourite among Indian riders during the 1980s, still holds a special place in the hearts of motorcycle enthusiasts.
One of the main reasons people still cherish the Rajdoot 175 is its engine. With a 175cc two-stroke engine, this bike offers sufficient power for daily commutes and can tackle rough terrains with ease. Its fuel-efficient nature is also a big plus, which is why it remains a popular choice for those looking for a cost-effective mode of transportation. Additionally, the Rajdoot 175 is easy to maintain and repair, making it a sensible choice for owners.
While the Rajdoot 175 might not offer modern features found in the 400cc bikes or the 500cc bikes in India, its vintage charm and dependability are what attract riders even today. Some of the famous Rajdoot models worth considering include:
Rajdoot 175 Standard
Rajdoot 175 Delux
Rajdoot 175 Classic
Another great aspect of owning a Rajdoot 175 is that, with minimal modifications, it can be transformed into a stylish cafe racer, giving the vintage bike a modern, customised touch. Many Rajdoot fans continue to restore, customise, and maintain their bikes, which adds to the thriving community of vintage bike lovers.
4. Bajaj Chetak: A Trusted Scooter
When talking about vintage bikes in India, it's impossible not to mention the iconic Bajaj Chetak. The Bajaj Chetak was first introduced in 1972 and quickly became the symbol of Indian middle-class mobility. For decades, it was the preferred family scooter and even gained popularity for its fuel efficiency and low maintenance costs. Some of the features that make it worth owning today are:
Timeless Design: The Bajaj Chetak has a classic scooter design that has aged well over the years. Its simple yet elegant appearance evokes nostalgia and can be a great addition to any vintage bike collection.
Spare Parts Availability: As a testament to its popularity, one can still find spare parts for the Chetak relatively easily. This is crucial when owning a vintage bike as repairs and maintenance become a lot more manageable.
Affordability: The Chetak was always known for its value-for-money proposition, and even today, you can find well-maintained second-hand models at reasonable prices.
In recent years, Bajaj reintroduced the Chetak as an electric scooter, paying homage to its legendary namesake. While this modern iteration is quite different from the original, it proves that the Chetak remains an important part of India's two-wheeler landscape.
All in all, the Bajaj Chetak is a legendary scooter in India, and owning one as a vintage bike enthusiast reflects both history and pride. Its timeless design, availability of spare parts, and affordability make it a top choice when looking for vintage bikes that are still worth owning today.
5. LML Vespa: The Italian Connection
Among the top vintage bikes worth owning in India, you can't overlook the LML Vespa. It's a classic scooter that first hit Indian roads back in 1984, courtesy of its rich Italian heritage. Over the years, the LML Vespa has evolved, but its vintage charm remains intact, making it an irresistible choice for two-wheeler enthusiasts.
The timeless combination of Italian design and Indian adaptability gives the LML Vespa an unmistakable character. It's equipped with efficient engines, ranging from 150cc to 200cc that can tackle urban commutes as well as relaxed road trips. Furthermore, the availability of spare parts and an active community of Vespa enthusiasts ensure that ongoing maintenance won't be a hassle.
Some key features of the LML Vespa include:
A classic steel frame and body
A powerful 150cc to 200cc engine
A simple yet comfortable suspension system
Iconic handlebar-mounted headlamp
To sum up, the LML Vespa remains a classic vintage bike that continues to capture the hearts of riders in India. Its combination of sleek design, reliable performance, and enduring appeal make it a motorcycle to cherish. So if you're planning to own a piece of nostalgic motoring history, the LML Vespa is indeed a fantastic choice.
FAQs on Vintage Bikes
Are vintage bikes suitable for daily commuting and long-distance rides?
While Vintage Bikes Are Known For Their Classic Appeal And Nostalgic Charm, They May Not Be The Best Option For Daily Commuting Or Long-Distance Rides.
Which vintage bikes offer the best value for money in India?
The Best Value For Money In Vintage Bikes Depends On Personal Preference And Intended Use. However, The Royal Enfield Bullet 350 And Jawa Standard Are Two Popular Choices Known For Their Timeless Appeal.
Where can I buy vintage bikes in India?
Vintage Bikes Can Be Bought Through Various Online Platforms, Dedicated Vintage Bike Dealerships, Or Through Classified Ads. Websites Such As Droom, CredR, And Olx Are A Few Popular Options To Explore Vintage Bikes For Sale.
Can I modify or customize my vintage bike to improve its performance and aesthetics?
Many Vintage Bike Enthusiasts Enjoy Modifying And Customizing Their Bikes To Match Their Personal Preferences. However, It's Essential To Carry Out These Modifications Within Legal Limits And Without Losing The Bike's Authentic And Preserved Charm.
What factors should I consider when buying a vintage bike in India?
When Buying A Vintage Bike In India, Consider These Factors:
Availability Of Spare Parts And Maintenance Support, The Overall Condition Of The Bike, Authenticity And History Of The Bike, Budget And The Overall Cost Of Ownership , Legal Aspects Such As Registration, Permits, And Insurance
Purchasing Tips for Vintage Motorcycles
Venturing into the world of vintage bikes can be an incredibly rewarding experience, especially when you realise the value these timeless machines still hold.
Firstly, it's crucial to research and select a suitable model. Given the wide variety of vintage bikes available, you must identify one that fits your preferences and requirements. Make sure it's a model with a strong following and readily available spare parts.
Once you've chosen a model, it's time to inspect the bike thoroughly. Examine the frame, engine and other components, ensuring there are no signs of excessive wear or corrosion. If possible, take it for a test ride to assess its performance and comfort. Owning a vintage motorcycle often involves a degree of maintenance, so be prepared for that responsibility.
Originality is another essential factor. While modified bikes might seem visually appealing, they often lose the charm and collectable value that comes with original parts. Try to find a bike with genuine components to maintain the essence of a true vintage machine.
Don't hesitate to seek expert advice if you're unsure about a particular bike. Consult fellow vintage bike enthusiasts, join online forums or reach out to local mechanics experienced with these classic models. They can be a valuable resource when trying to find a motorcycle worth owning.
Lastly, set a realistic budget and stick to it. Vintage bikes can range from affordable to pricey, depending on various factors such as rarity, condition, and historical significance. Keep in mind additional costs like registration, insurance, and maintenance when budgeting for your vintage motorcycle.
Maintenance and Upkeep
Owning a vintage bike can bring immense satisfaction, but it's essential to be aware of the maintenance and upkeep required to ensure their longevity. In my experience, I've found that keeping these rare gems in top condition is worth the investment and effort. Here's a rundown of the most crucial aspects of maintaining a vintage motorcycle in India.
One of the key factors in maintaining a vintage motorcycle is regular servicing. Due to their age, these bikes might require more frequent check-ups than modern ones. Make sure to replace oils and filters, adjust and lubricate the chain, and maintain tyre pressure within the recommended range.
Another essential aspect is choosing the right spare parts. Original parts may be challenging to find for some models, but I've discovered that it's worth going the extra mile to locate them. Genuine parts will ensure that your vintage bike's performance remains optimal and maintains its value.
In addition to the mechanical aspects, keeping the motorcycle clean and well-protected is crucial. Washing and polishing the bike regularly, as well as using a cover to protect it from environmental factors, will maintain its appearance while also preventing rust and corrosion. Always store the motorcycle in a dry, ventilated space, away from direct sunlight or moisture.
Finally, proper riding gear is as critical for vintage bike riders as it is for any motorcycle enthusiast. I've been using Rynox Storm Evo Riding Pants and Jackets with Rynox Air GT Gloves for added safety and comfort during my rides. As a devout rider, I have relished the experience of exploring various routes like Ladakh, Spiti, Zanskar, Dhanushkodi, Karnataka Coastel and Malenadu. With the right accessories in tow, such as the iPhone 13 and Go Pro for photos and vlogs, along with quality luggage options like Rynox Expedition bags, I've guaranteed a smooth and enjoyable ride every time.
It's important to remember that while vintage bikes are worth owning in India, it requires dedication and knowledge in maintaining them. Browse Best 400cc bikes, Royal Enfield bikes in India , Best 350cc Bikes in India , best 500cc bikes in India, and Touring Bikes In India to get a better idea of the options available and make well-informed decisions for your vintage motorcycle.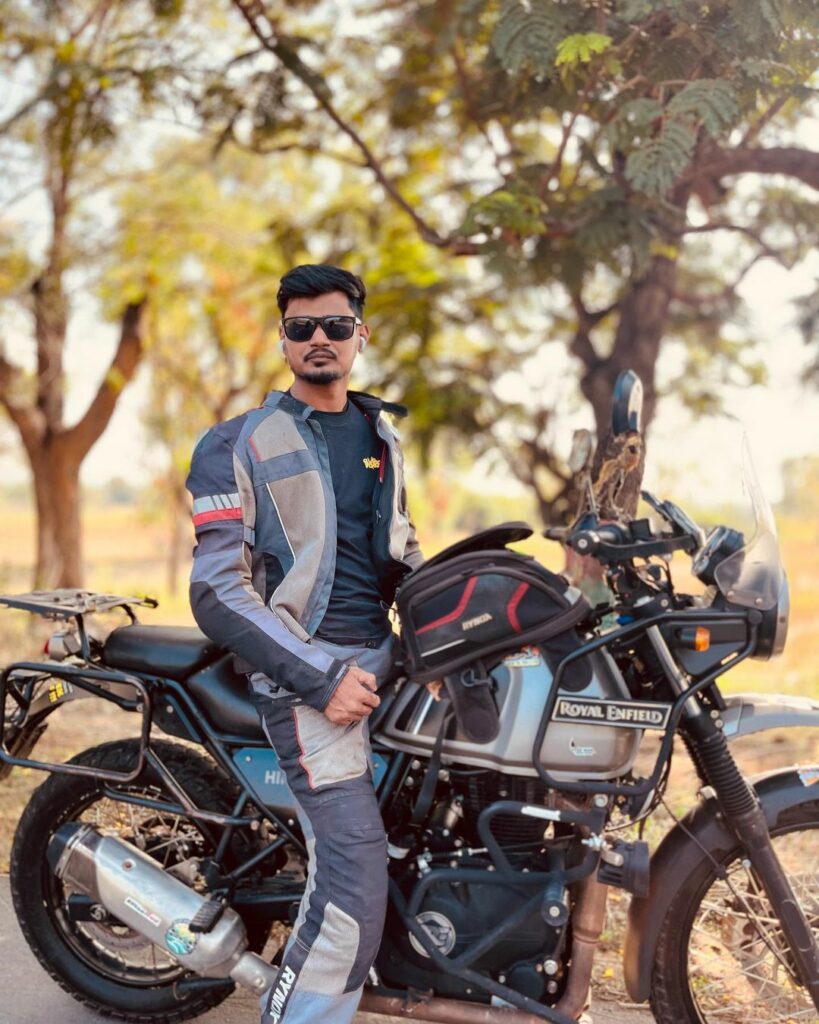 Vishwanath Mathpati
I am Vishwanath Mathpati, a full-time Blogger and Motorcyclist from Bidar, Karnataka. I love writing about my Motorcycles Stories and Riding Gears on this blog.
Know More About Me.
---
If you liked this article, then please subscribe to our YouTube Channel for more Bike Videos. You can also find us on Instagram, Twitter and Facebook.
Disclosure: As an Amazon Associate, I earn from qualifying purchases. Read more about Amazon Affiliate Disclaimer.