The best scenic routes in India for Bike riders
India is blessed with some of the best scenic routes for bike riders, offering an unforgettable experience for those who love the thrill of exploring on two wheels. From winding mountain passes to coastal highways, I've covered countless miles on my motorcycle discovering this diverse country.
First up, we have the breathtaking Manali-Leh highway in the Indian Himalayas. This route, which stretches over 470 kilometers, is popular among adventure-seekers and serves as an incredible journey through some of the most awe-inspiring landscapes in India. Encountering dramatic, snow-capped mountain peaks, crystal-clear streams, and ancient monasteries along the way, this journey offers an unparalleled experience for bike riders.
Another rewarding ride can be found along the Mumbai-Goa coastal highway. This 600-kilometre stretch of road hugs the scenic coastlines of Maharashtra and Goa, providing riders with views of shimmering beaches, swaying palm trees, and vibrant local culture. Make sure to stop off at beach-side shacks for some scrumptious seafood to make the most of your motorcycle adventure. Stay tuned, as I'll guide you through even more of the best scenic routes in India for bike riders in the sections that follow.
1. Exploring the Leh-Ladakh Route
The Leh-Ladakh route is among the best scenic routes in India for motorcycle enthusiasts. I had the pleasure of completing this ride solo, which provided me with unforgettable memories and unbeatable adrenaline. The high-altitude terrain mixed with challenging road conditions and incredibly diverse landscapes will keep any biker fully engaged.
Some of the highlights of the Leh-Ladakh route include the ever-popular Khardung La Pass and the stunning Nubra Valley. The journey will also take you through the charming town of Leh, where you can fill up on local delicacies and learn about the region's rich history. Additionally, there's plenty of opportunity to interact with the warm-hearted locals, which further enriches your biking experience.
During my trip, I encountered a range of weather conditions, adding to the sense of adventure and excitement. There's nothing quite like ascending the Khardung La Pass, the highest motorable road in the world, to truly experience the thrill of motorcycling at its best.
Here are some points worth considering before embarking on the Leh-Ladakh route:
The ideal time to ride this route is from June to September, as the weather is relatively stable, and roads are accessible.
Make sure to acclimatize properly. Start with shorter rides in the region to get comfortable with the altitude.
Carry necessary spares, tools, and a puncture repair kit, as access to mechanics may be limited.
It is advisable to travel with a buddy, especially for novice riders.
India's vast and varied landscape makes it one of the most incredible destinations for motorcyclists seeking unforgettable adventures. With routes like Leh-Ladakh and the ones I've mentioned here, you'll be spoiled for choice as you plan your next thrilling escape.
2. A Ride Through Manali-Shimla
Embarking on a motorcycle journey through the best scenic routes in India has always been a dream of mine. Among these routes, the Manali-Shimla stretch stands out as a truly unforgettable experience. Dotted with picturesque landscapes, this route offers riders a chance to explore the majestic Himalayan foothills.
The Manali-Shimla route stretches approximately 250 km and takes around 7-8 hours to complete, depending on the rider's pace and breaks. Along the way, you'll pass through lush green valleys, dense forests, and vibrant villages, each with its unique charm. Highlights of the route include:
Kullu Valley: Known for its apple orchards, lush greenery, and traditional architecture
Mandi: A quaint town built along the banks of the Beas River, offering a glimpse of local life
Sundernagar: Home to the picturesque Sunder Nagar Lake, a perfect spot for a break
While riding through Manali-Shimla, take the time to make stops along the way and immerse yourself in the local culture. Sample the regional cuisine and interact with the warm and hospitable people who call this tranquil region, their home.
Finally, remember that it's important to keep safety a priority throughout the journey. Whether you're attempting this route solo or with friends, always abide by the regulations, maintain a safe speed and stay alert.
In summary, the Manali-Shimla route offers an unparalleled experience for riders looking to traverse the best scenic routes in India. With awe-inspiring landscapes, rich culture, and challenging terrains, this journey is sure to be an adventure you'll remember for a lifetime.
3. Discovering the East Coast Road
Nothing beats the thrill of exploring the best scenic routes in India, and one such journey is along the East Coast Road (ECR).
The East Coast Road stretches from Chennai in Tamil Nadu to Cuddalore, covering a distance of about 690 kilometers. This coastal route offers mesmerizing views of the Bay of Bengal, pristine beaches, and quaint fishing villages, making it an unforgettable experience for motorcycle enthusiasts like me.
Here are some highlights of the ECR that make it such a fascinating ride:
Picturesque coastal views: With the Bay of Bengal in the backdrop throughout, the ECR ride gives you breathtaking sights of vast blue horizons and pristine sandy beaches that are a treat to the eyes.
Unique cultural experiences: The ECR brings you up close and personal with vibrant fishing villages where you can witness the everyday life of fishermen and interact with the warm, welcoming locals.
Architectural marvels: As you embark on the ECR journey, be prepared to encounter splendid temples and historical sites that showcase the rich cultural heritage of this region.
So gear up and prepare yourself to traverse one of the most enchanting coastal rides India has to offer. From vibrant seaside disciplines to impressive landmarks, the East Coast Road is a biker's delight and an experience you won't want to miss.
4. The Majestic Rajasthan Tour
The land of kings and palaces, Rajasthan offers some of the most picturesque landscapes and enchanting roads for bike riders. From its colorful cities with historical marvels to its sweeping sand dunes, Rajasthan has it all.
Starting from Jaipur, followed by visits to Pushkar, Jaisalmer, Jodhpur, and Udaipur, the diverse terrain offers a mix of flat highways and curvy roads to enjoy. Some iconic spots along the way include:
Amber Fort
Mehrangarh Fort
Thar Desert
City Palace, Udaipur
To fully immerse yourself in the culture and beauty of Rajasthan, I recommend planning your journey during the winter months of October to March. The weather is more bearable for long rides, with cooler temperatures and pleasant riding conditions.
It's essential to carry necessary tools, spare parts, and first-aid kits while embarking on this Majestic Rajasthan Tour. As an experienced rider, I suggest planning your route beforehand and making necessary bookings for accommodations. This preparation ensures a smooth journey and a more enjoyable experience. The combination of Rajasthan's diverse landscapes, vibrant culture, alluring food, and welcoming locals create an unforgettable experience that all bike riders should have on their list of Indian adventures.
5. Thrilling Sikkim Adventure
One of the best scenic routes in India for bike riders, especially those who crave adventure, is undoubtedly a thrilling ride through the breathtaking landscapes of Sikkim. This small Indian state offers a diverse range of sights that include snow-capped mountains, dense forests, serene lakes, and picturesque valleys. With each turn of the road, you'll find stunning panoramas, beckoning you to explore further.
A popular route for bikers in Sikkim is the ride from Gangtok to North Sikkim, covering destinations like Lachen, Gurudongmar Lake, and Lachung. The entire journey showcases a blend of both natural beauty and cultural richness. Along the way, you can marvel at the eye-catching vistas of mountain peaks like Kanchenjunga and encounter ancient monasteries that exude a sense of tranquility.
Here are some highlights of this thrilling Sikkim adventure that you won't want to miss:
Tsomgo Lake: A glacial lake located at an altitude of about 3,753 meters, offering mesmerizing views of the surrounding mountains.
Gurudongmar Lake: One of the highest lakes in the world, situated at an altitude of 5,430 meters. The pristine beauty of this lake is a sight to behold.
Lachung and Yumthang Valley: A beautiful valley often referred to as the "Valley of Flowers", with vast meadows and colorful rhododendron forests.
So, if you're looking for a one-of-a-kind motorcycling experience amidst some of the most stunning landscapes in India, a thrilling Sikkim adventure should undoubtedly be on your list. With a mix of serene beauty and adrenaline, this journey promises to leave you with memories that last a lifetime.
6. Experiencing the Rann of Kutch
Nothing quite compares to the experience of traversing the Rann of Kutch, which ranks amongst the best scenic routes in India for bike riders. Located in the beautiful state of Gujarat, the Rann is a vast, sprawling salt marsh that offers an unparalleled adventure when traversed on a motorcycle.
Divided into two parts, the Great Rann and the Little Rann, this unique landscape presents an awe-inspiring sight, especially during the full moon nights. The vast expanse of white salt comes alive as you ride your bike through it, and the solitude of the region adds to its charm.
The best time to explore the Rann of Kutch is between October and March, when the region's famous Rann Utsav (festival) takes place. Here you can witness the vibrant culture and tradition of the local community, experience the exquisite craftsmanship in handicrafts, and indulge in the mouthwatering local cuisine.
When planning your ride through the Rann of Kutch, make sure you check out the following places:
Dholavira: A mysterious ancient city of the Indus Valley Civilization, excellent for history buffs.
Mandvi: Famous for its pristine beach and the historic Vijay Vilas Palace.
Kala Dungar (Black Hill): The highest point in the region, offering a panoramic view of the Rann.
7. Chasing the Western Ghats on Two Wheels
Heading along the Western Ghats, one can experience a beautiful mixture of dense forest, lush green tea plantations, cascading waterfalls, and winding mountain roads. Some of the most popular and thrilling routes to explore in this region include:
The Mumbai-Goa coastal route, offering spectacular views of the Arabian Sea and some hidden beaches
The stretch from Bangalore to Coorg, taking riders through lush coffee plantations
The journey from Munnar to Thekkady, traversing Kerala's picturesque tea gardens and spice plantations
The ride from Belgaum to Goa, delivering a stunning experience of the Dudhsagar Falls and the thrilling Chorla and Amboli Ghats
Riding in the Western Ghats requires careful attention to weather conditions, as heavy monsoons can make some routes treacherous. Nevertheless, the experience of exploring these picturesque landscapes on the back of a motorcycle is undeniably worth it for any passionate rider. So, gear up, hit the road, and chase some of the most incredible views that India's Western Ghats have in store for you.
8. Gazing at the Beauty of Valparai
Valparai is undoubtedly one of the best scenic routes in India for motorcycle riders. This picturesque route is nestled in the Anaimalai Hills of the Western Ghats and forms a stunning stretch of road that can't be missed.
The route from Valparai to Pollachi is approximately 64 kilometers of sheer bliss and offers an enthralling experience with its lush green forests, pristine waterfalls, and breathtaking hairpin bends. This unforgettable ride guarantees some of the most captivating views you could ask for, making it a must-try for any adventure-seeking motorcycle rider.
A few highlights of the Valparai route include:
Loam's View Point: A vantage point offering a panoramic view of the Aliyar Dam and the surrounding landscape.
Monkey Falls: A natural waterfall flowing down the rocky slopes of the Western Ghats.
Sholayar Dam: The second-largest rock dam in Asia, set against a backdrop of dense forests and rolling hills.
With ample wildlife sanctuaries and national parks, the Valparai route offers adrenaline-filled excitement as well. Don't be surprised if you spot endangered species such as the Nilgiri Tahr or the Lion-tailed Macaque while riding along this mesmerising route. The presence of these rare animals adds to the thrilling experience and is simply one more reason why Valparai deserves its spot among the best scenic routes in India.
9. Venturing Through North East India
North East India offers some of the best scenic routes for bike riders – from winding roads to stunning landscapes. I've personally explored a variety of routes throughout the country and have had some unforgettable experiences. In this section, we'll dive into the incredible journeys that the North East has to offer.
The region is home to lush forests, breathtaking valleys, and a diverse range of flora and fauna. When you venture through North East India, you'll get to experience breath-taking vistas that are both challenging and rewarding. Some iconic routes in the area include:
The Kaziranga National Park Route: This route takes you through the unique environment of Kaziranga National Park, famous for its one-horned rhinos and diverse wildlife.
The Guwahati-Shillong-Cherrapunji Route: This popular route takes you on an adventure through two states – Assam and Meghalaya – and the strikingly beautiful towns of Shillong and Cherrapunji.
The Siliguri-Gangtok-Tsomgo Lake Route: A spectacular journey through serpentine roads, embracing the beauty of Sikkim's lush green hills and pristine lakes.
No matter which route you choose, make sure you're well-prepared for the adventure ahead. Carry essential gear, stay informed about the weather, and always be cautious while riding. The memories and experiences you gather during your ride through North East India truly are unlike any other.
FAQs
Which is the best road trip bike in India?
The Best Road Trip Bike Depends On Personal Preference, But Popular Choices Include Royal Enfield, Bajaj Dominar, And KTM Adventure Series Motorcycles.
Are guided motorcycle tours available in India?
Yes, There Are Guided Motorcycle Tours Available, Such As Manali To Leh, Srinagar-Leh-Manali, And Jaipur-Jodhpur-Jaisalmer Expeditions.
What is the best bike riding season in India?
The Ideal Time For Bike Riding Varies By Region, But Generally, The Months Between September And March Offer Pleasant Weather And Clear Roads.
Can you recommend some scenic routes in South India for motorcycle riders?
The East Coast Highway From Chennai To Pondicherry And The Scenic Ride From Hyderabad To Hampi Are Popular Routes In South India.
What are some recommended offbeat bike riding destinations in India?
Offbeat Destinations Include Leh-Ladakh, Western Arunachal Pradesh, And The East Coast Road From Chennai To Pondicherry.
Concluding Thoughts on Your Indian Bike Adventure
It's been a pleasure sharing my thoughts and experiences on the best scenic routes in India for bike riders. My journey through each region has provided breathtaking vistas, unforgettable memories, and a more profound connection with the diverse landscapes of this vast and captivating country.
Having completed the Ladakh, Spiti, Zanskar, Dhanushkodi, Karnataka Coastal, and Malenadu routes, I have witnessed the beauty of India's wildlife, heritage, and culture firsthand. My solo Ladakh trip, my Spiti ride with a friend, and my Zanskar trip with a friend, among others, have challenged and enriched me as a rider.
I documented my journeys with detailed blog posts and videos, sharing my experiences with fellow bike riders and enthusiasts. For example, you can catch a glimpse of my Zanskar ride in the trailer zanskar-2022-trailer and the entire journey in bidar to zanskar ride
Furthermore, I have had the opportunity to be a part of many group rides, one of the major ones being Rider Mania 2022 with De Offroaders Hyderabad Group. While exploring the best scenic routes in India, I discovered that choosing the right touring bike is essential. I recommend checking out the resources on the best 250cc bikes and best 400cc bikes in India.
Embarking on an Indian bike adventure goes beyond riding through picturesque landscapes; it's about discovering the history, culture, and stories that enrich the human experience. India's scenic routes allow riders to establish a deep bond with this enigmatic land and its people.
So if you're a motorcycle enthusiast with a taste for adventure, don't hesitate to explore the best scenic routes in India. You'll be rewarded with an amazing sense of accomplishment and a journey you'll cherish for a lifetime. And remember, the pictures and tales from these bike trips make for great conversation starters and cherished memories with your fellow riders. Safe travels!
Motorcycle Rides in the US by States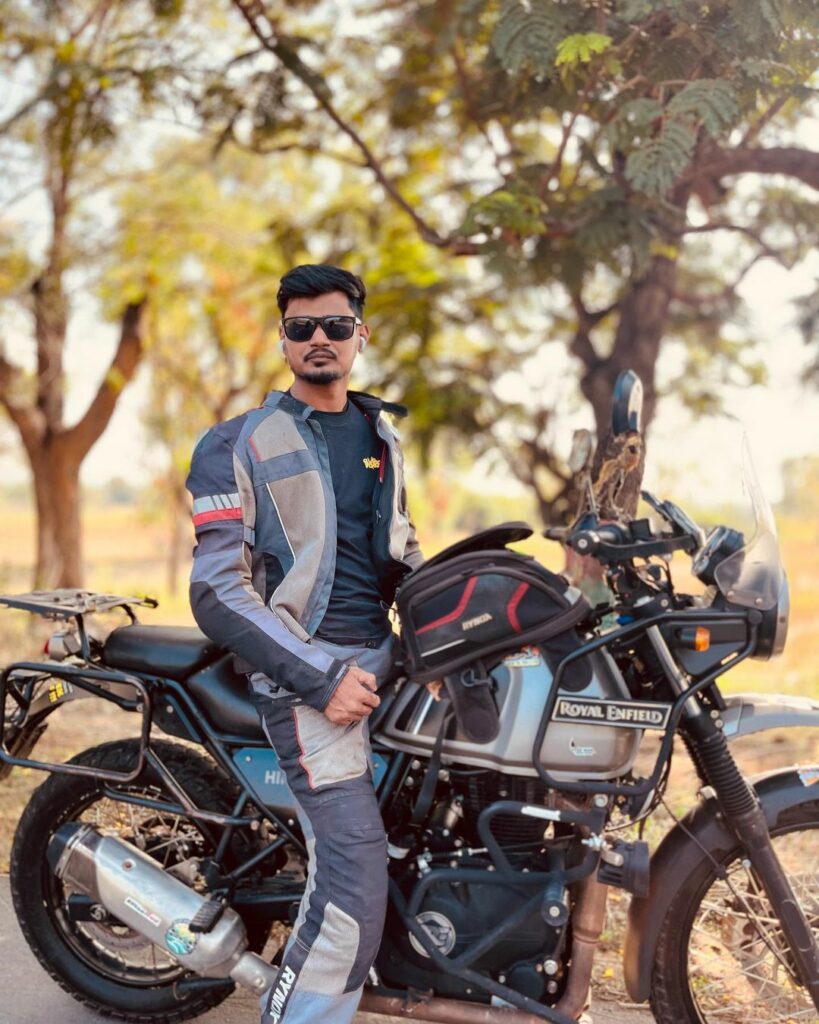 Vishwanath Mathpati
I am Vishwanath Mathpati, a full-time Blogger and Motorcyclist from Bidar, Karnataka. I love writing about my Motorcycles Stories and Riding Gears on this blog.
Know More About Me.
---
If you liked this article, then please subscribe to our YouTube Channel for more Bike Videos. You can also find us on Instagram, Twitter and Facebook.
Disclosure: As an Amazon Associate, I earn from qualifying purchases. Read more about Amazon Affiliate Disclaimer.