Yamaha FZR600: Unveiling the Classic Sport Bike's Power and Performance
There's a certain thrill that comes with riding the Yamaha FZR600. It's not just about the speed, though it certainly delivers in that department. This sports bike, produced from 1989 to 1999, embodies Yamaha's commitment to performance and style. With its liquid-cooled DOHC engine and distinctive Genesis technology, it quickly became a favourite among motorcycle enthusiasts.
The FZR600 isn't just about raw power; it's also known for its remarkable handling. Yamaha added an aluminum Deltabox frame and swingarm, giving the bike a balanced feel on both straightaways and turns. You'll find yourself maneuvering with ease even at high speeds – testimony to Yamaha's excellent engineering.
Whether you're an experienced rider or new to sports bikes, you can't go wrong with this classic model. The Yamaha FZR600 offers an unmatched blend of power, agility, and style – making it one of those rare machines that stand the test of time.
The History of the Yamaha FZR600
Let's take a journey back in time, to the year 1989. This was when Yamaha, a renowned name in the motorbike industry, unveiled their masterpiece – the FZR600. Crafted with precision and an eye for performance, this bike quickly became a favorite among bike enthusiasts.
The FZR600 stood out with its innovative features. It boasted a 599cc inline-four engine that was liquid-cooled and had four valves per cylinder. What made it exceptional? Its distinct "Deltabox" frame design, which significantly improved handling and stability. It's no wonder that during its first few years on the market, bikers were clamoring to get their hands on this fantastic machine.
| Year | Significant Feature |
| --- | --- |
| 1989 | Introduction of FZR600 |
| 1990 | Addition of dual round headlights |
| 1991 | Transition to single rectangular headlight |
In '90 and '91, Yamaha didn't rest on their laurels but continued to innovate. They introduced dual round headlights in '90 and then transitioned to a single rectangular headlight in '91, demonstrating their commitment not just to functionality but also style.
As you delve deeper into the history of the FZR600, you'll find more tweaks and improvements over time:
In 1993: Improved frame rigidity with thicker tubing
In 1994: Upgraded brake calipers for better stopping power
From 1995-99: No significant changes
Despite no significant changes from '95-'99, Yamaha maintained consistent production until they discontinued it in favor of YZF-600R "Thundercat."
Throughout its lifespan from '89 till '99, FZR600 managed to leave an indelible mark within biking circles due to its blend of performance, durability, and sleek design. So if you're ever lucky enough to ride or even see one today, know that you're beholding a piece of motorcycling history!
Technical Specifications: Yamaha FZR600
When it comes to raw power and precision handling, you'll be hard-pressed to find a bike that can outperform the Yamaha FZR600. Its mix of speed, agility, and durability makes it stand out in the crowd.
You'll discover under the hood that this model is powered by a 599cc liquid-cooled inline four-cylinder engine. It's capable of delivering an impressive 91 horsepower at 10,500 rpm and has a maximum torque of 47 lb-ft at 8,500 rpm. This means your ride will be smooth, powerful, and responsive in all conditions.
The fuel delivery system uses four Mikuni BDST32 carburetors ensuring consistent performance from start to finish. A six-speed constant mesh gearbox handles the transmission, enabling seamless transitions between gears for more comfortable rides.
Let's not forget about its dimensions. With a length of 2,165 mm (85.2 inches), width of 725 mm (28.5 inches), and height of 1,155 mm (45.5 inches), it's compact yet robust enough for both city commuting and long-distance cruising.
As for its suspension setup:
Front: Telescopic fork
Rear: Swingarm (link suspension)
Now onto the brakes – dual disc brakes upfront with single disc brake at the rear ensure optimal stopping power when you need it most.
Here's a quick glance at some details:
| Specification | Value |
| --- | --- |
| Engine Type | Inline Four-Cylinder |
| Displacement | 599 cc |
| Max Power | 91 HP @10500 rpm |
| Max Torque | 47 lb-ft @8500 rpm |
| Cooling System | Liquid Cooled |
| Gearbox | Six-Speed Constant Mesh |
So there you have it; these are just some highlights of what makes the Yamaha FZR600 such an extraordinary machine!
Notable Features of the Yamaha FZR600
Diving straight into the heart of the matter, let's talk about the Yamaha FZR600. It's a sports bike that boasts impressive features and performance, setting it apart from its rivals in the market.
The engine of this beast is one point to note. Equipped with a 599cc, liquid-cooled inline-four-cylinder four-stroke engine, it delivers raw power and quick throttle response. This setup enables you to reach high speeds effortlessly and comfortably.
The transmission doesn't disappoint either. With a six-speed gearbox smoothly integrated into its design, gear shifting on this motorcycle becomes a breeze. You'll find yourself zipping through city streets or cruising down highways without a hitch.
Another noteworthy aspect is its suspension system. The Yamaha FZR600 has an adjustable rear monoshock and front telescopic forks that allow for customizing your ride comfort level according to your preference or road conditions.
Safety-wise, the braking system deserves praise as well. Front dual disc brakes combined with a single disc at the rear provide excellent stopping power, ensuring you can handle any situation confidently.
Here's how some of these specs look in tabular form:
| Feature | Specification |
| --- | --- |
| Engine | 599cc, liquid-cooled inline-four-cylinder four-stroke |
| Transmission | Six-speed |
| Suspension (Front) | Telescopic Forks |
| Suspension (Rear) | Adjustable Monoshock |
| Brakes (Front) | Dual Disc |
| Brakes (Rear) | Single Disc |
Now let's touch base on aesthetics because they do matter! Sporting an aerodynamic bodywork design along with attractive color schemes – Yamaha FZR600 doesn't just perform; it turns heads!
Lastly but certainly not least is its fuel efficiency – something bikers often overlook when considering sports bikes but definitely shouldn't! Boasting impressive mileage for its class thanks to efficient fuel injection technology means less frequent pit stops for gas and more time enjoying your ride.
In summary:
Yamaha FZR600 offers robust performance with its powerful engine.
It provides comfortable & customizable riding experiences due to an adaptable suspension system.
Safety isn't compromised – top-notch brakes ensure secure rides.
Its striking looks are sure to grab attention.
And don't forget – it's an efficient choice too!
Remember that every feature counts when you're picking out your perfect ride!
Performance and Handling Capabilities
When you're behind the handlebars of a Yamaha FZR600, there's no denying its impressive performance. This motorbike, known for its agility and power, has a reputation that precedes it.
Firstly, let's touch on the engine. The FZR600 boasts a 599cc inline-four engine. It's designed to deliver an output of 91 horsepower at 11,500 rpm and a torque of 47 lb-ft at 9500 rpm. These impressive figures translate into robust acceleration you can feel from the moment you twist the throttle.
| Engine Size | Horsepower | Torque |
| --- | --- | --- |
| 599cc | 91 hp | 47 lb-ft |
Now onto handling – truly one of Yamaha FZR600's shining attributes. You'll find this bike is nimble on corners thanks to its lightweight frame and superb balance. Whether you're navigating tight city streets or winding country roads, it ensures confidence-inspiring navigation.
The suspension setup comprises an inverted front fork and rear mono-shock absorber providing stability even in high-speed situations. Additionally, dual disc brakes up front coupled with single disc brake at rear offer reliable stopping power when needed.
Let's bullet point those elements for clarity:
Lightweight frame
Balanced design
Inverted front fork
Rear mono-shock absorber
Dual disc brakes (front)
Single disc brake (rear)
So what does all this mean for your ride? Well, when you're astride a Yamaha FZR600, expect thrilling speed combined with remarkable control – it's quite simply motorcycling done right. But remember – while we've highlighted some impressive specs here, nothing beats getting out on the open road to really understand what this machine is capable of!
Common Upgrades for Your FZR600
Eager to rev up your Yamaha FZR600? Let's dive into some popular upgrades that could take your ride to the next level. Remember, it's not about splashing out on every upgrade available but picking the ones that align with your riding style and needs.
Exhaust System Upgrade
Swapping out the stock exhaust system for a performance-focused alternative is a common first step. You'll see an immediate impact on both sound and power output. There are plenty of options, from full systems like Yoshimura RS-3 Street Series, which offer significant horsepower gains, to slip-on mufflers for a more budget-friendly boost.
Suspension Modifications
The stock suspension on the FZR600 can feel a bit squishy for some riders. If you're among them, consider upgrading your front forks or investing in an aftermarket shock absorber. High-quality brands include Ohlins and Progressive Suspension.
| Stock | Upgrade |
| --- | --- |
| Forks | Ohlins |
| Shock Absorber | Progressive Suspension |
Brake Improvement
Upgrading brakes might not be as exciting as boosting horsepower, but it's essential for safe riding. Choosing high-performance brake pads or installing steel braided brake lines could vastly improve stopping power.
Here are few options you may want to think about:
Performance Brake Pads
Steel Braided Brake Lines
Larger Disc Rotors
Remember, these aren't just bolt-on-and-go modifications; they require careful installation and adjustment.
Finally, don't overlook routine maintenance while chasing performance upgrades. Keeping your FZR600 well-tuned is just as important as any aftermarket part you might add!
So what are you waiting for? Start exploring these upgrades today and see how much more enjoyable your FZR600 can become!
Maintenance Tips to Keep your Yamaha Running Smoothly
Keeping your Yamaha FZR600 in peak condition isn't as complex as it might seem. With some regular checks and a little TLC, you'll be able to enjoy the open road for years to come.
First off, regular oil changes are key. Aim to change the oil every 3,000 miles or so. This keeps your engine running smoothly and extends its overall lifespan. Here's how often you should perform other routine maintenance tasks:
| Task | Frequency |
| --- | --- |
| Change Oil | Every 3000 miles |
| Check Tire Pressure | Weekly |
| Clean Air Filter | Every 6000 miles |
Next on the list is tire care. Remember, your tires are the only part of your bike touching the ground! Regular pressure checks ensure optimal performance and longevity.
Don't forget about cleaning that air filter either! It's an easy task that can have a big impact on performance. Aim to clean it every 6,000 miles or so.
Your brake system deserves attention too. Always keep an eye out for wear on both pads and discs – replace them as needed for optimal stopping power.
Finally, regular engine check-ups are vital for keeping things running smoothly. Be sure to take note of any strange noises or drops in performance – these could be signs of larger issues lurking beneath the surface!
Here are few additional tips:
Use quality fuel: Your bike's engine will thank you.
Store properly: When not in use, protect from extreme weather.
Follow manufacturer recommendations: They know best when it comes to their product!
Remember, preventative maintenance is always cheaper than repairs down the line! Keep these tips in mind and you'll enjoy many smooth rides with your Yamaha FZR600.
Comparing the Yamaha FZR600 with its Competitors
When you're in the market for a mid-range sportbike, there's no shortage of options. Yet, the Yamaha FZR600 stands out among its competitors. Let's delve into how it sizes up against two of its main rivals: the Suzuki GSX-R600 and Honda CBR600.
You'll find that each bike has unique strengths. For instance, Yamaha's FZR600 is renowned for its excellent handling and robust power at high revs. It boasts a 599cc liquid-cooled inline four-cylinder engine that delivers an impressive 91 horsepower at 10,500 rpm. This makes it a force to be reckoned with on open roads.
On the other hand, Suzuki's GSX-R600 also packs quite a punch with similar engine specifications but differs in torque output:
| Bike | Engine Size | Horsepower | Torque |
| --- | --- | --- | --- |
| Yamaha FZR600 | 599cc | 91 hp @10500 rpm | Not specified |
| Suzuki GSX-R600 | 599cc | Not specified | 69 Nm @11500 rpm |
While both bikes are close contenders in this department, where they really differ is their design ethos. The Yamaha FZR600 showcases a more traditional design – recalling classic sportbikes of yesteryears. This contrasts sharply with the modern aesthetics of the GSX-R600.
Switching gears to another competitor – Honda's CBR600 – there's another set of factors to consider. While it matches up closely in terms of power and performance specs, Honda's reliability is often touted as superior by some riders:
Honda CBR600: Known for excellent reliability
Yamaha FZR600: Renowned for great performance but slightly behind on reliability
Additionally, rider comfort varies between these models too; some riders may prefer one over another based on riding style and personal preference.
In summary:
For top-end power and handling: Yamaha FZR600
For modern styling: Suzuki GSX-R600
For reliability: Honda CBR600
Remember though – choosing a bike isn't just about comparing specs; make sure you test ride before making your decision!
Understanding the Resale Value of a Used Yamaha FZR600
Diving into the market for a used Yamaha FZR600? You're probably curious about resale values. It's crucial to make an informed decision before you invest your hard-earned cash.
A variety of factors impact the resale value of any motorcycle, including model, age, condition, and mileage. The Yamaha FZR600, renowned for its reliability and performance, generally holds its value well over time.
Motorcycle prices fluctuate based on demand and availability too. For instance, during riding season (typically spring through fall), used bike prices may spike due to increased demand.
Here are estimated resale values for a Yamaha FZR600 in different conditions:
| Condition | Estimated Price |
| --- | --- |
| Excellent | $2,500 |
| Good | $1,900 |
| Fair | $1,400 |
These estimates assume average mileage for the bike's age and no major mechanical issues or damage.
Excellent condition means it's almost like new with very low miles.
A Good condition bike shows some signs of use but is free from major defects.
A Fair condition motorcycle might need a bit more TLC or have higher than average miles.
Keep in mind that exact pricing can vary based on location and other factors such as aftermarket modifications or unique features.
When selling your used Yamaha FZR600:
Be honest about the bike's history and current state.
Have maintenance records ready to show potential buyers.
Clean up your ride; first impressions count!
No matter what you're planning – buying or selling – understanding the potential resale value of a Yamaha FZR600 can help steer you towards making savvy decisions. Happy biking!
Sharing Real-Life Experiences with the Yamaha FZR600
You've heard about the Yamaha FZR600's specs and features, but what's it really like to own this legendary bike? Let's dive into some real-life experiences shared by passionate Yamaha FZR600 owners.
First off, you should know that riders often praise the FZR600 for its reliability. It's a machine built to last, with many owners reporting that their bikes have clocked in over 50,000 miles without major issues. That's not to say it doesn't require regular maintenance – oil changes and brake checks are still crucial. But when you take care of your FZR600, it'll take care of you.
But what about performance? Here too, the FZR600 shines. Riders rave about its agility on both city streets and winding country roads. With a power output of up to 89 horsepower, there's no denying this bike has got some serious zip!
Let's talk comfort now. Some find the seating position slightly aggressive for long rides – but hey, isn't that part of the sportbike experience? While others claim that with a good pair of riding boots and gloves, they're ready to hit even the longest road trips head-on.
Here are few more points from various owners:
The exhaust note is described as "music to my ears" by one particularly poetic rider.
The ride quality is deemed "smooth as butter", even at high speeds.
Gear shifts are "snappy and precise", adding to an overall sense of control while riding.
These insights give a glimpse into what owning a Yamaha FZR600 feels like. Yes, it may have quirks here or there – every ride does – but there's something compellingly raw and authentic about this motorcycle that makes it truly special for its enthusiasts.
Conclusion: Is the Yamaha FZR600 Right for You?
The time has come to address the big question: is the Yamaha FZR600 right for you?
If you're a fan of classic sportbikes, there's plenty to appreciate here. The FZR600 offers an old-school charm that newer models just can't replicate. It's got a raw, unfiltered riding experience that'll take you back to the golden age of motorcycling.
But let's not forget about practicality. Its robust build, reliable engine, and affordable maintenance make it a sensible choice for everyday commuting. Plus, with its comfortable ergonomics, you won't arrive at your destination feeling like you've just run a marathon.
However, if your main concern is speed and power, then perhaps this bike might not be up your alley. Despite holding its own in its heyday, the FZR600 may struggle against today's more advanced machines in terms of pure performance metrics. Even so, it still provides an exhilarating ride that many bikers continue to love.
Here's a quick rundown of key considerations:
Pros

Classic sportbike appeal
Reliable and durable
Affordable maintenance

Cons

May lack modern features
Performance outclassed by newer bikes
Remember though — choosing a motorcycle isn't just about specs and numbers; it's also about how it makes you feel when you're on the saddle. If the Yamaha FZR600 ticks all your boxes and stirs up those feelings of excitement every time you fire it up – well then my friend, I think we've found your match!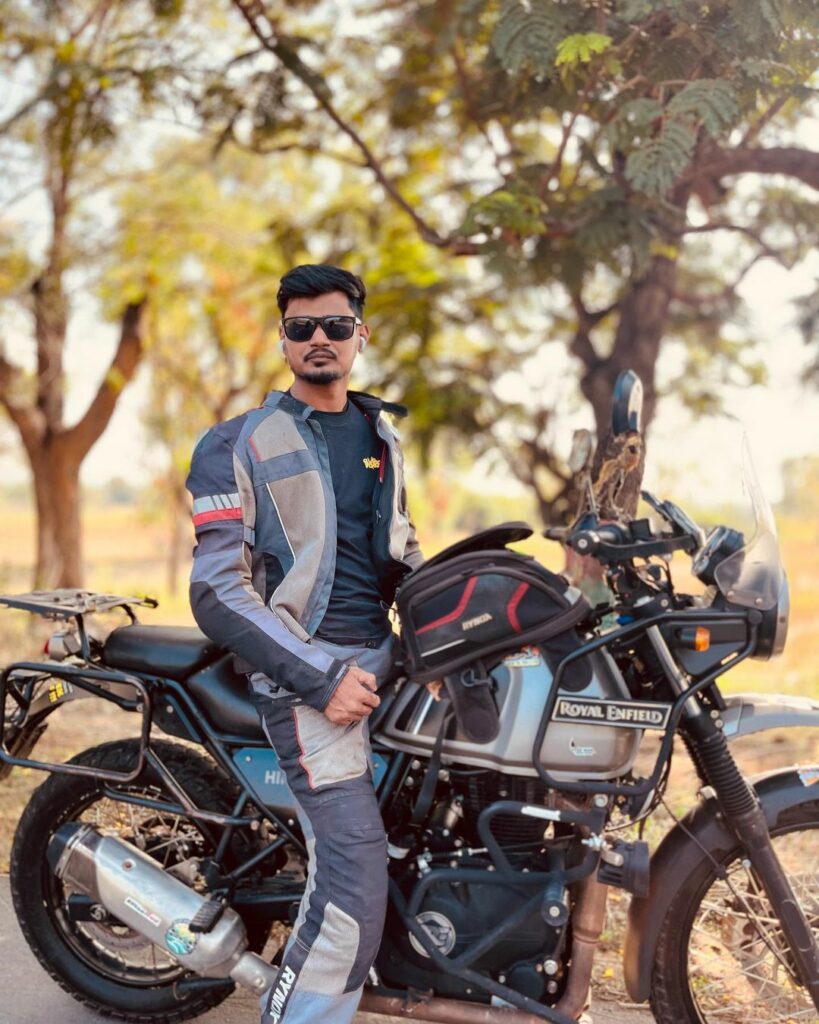 Vishwanath Mathpati
I am Vishwanath Mathpati, a full-time Blogger and Motorcyclist from Bidar, Karnataka. I love writing about my Motorcycles Stories and Riding Gears on this blog.
Know More About Me.
---
If you liked this article, then please subscribe to our YouTube Channel for more Bike Videos. You can also find us on Instagram, Twitter and Facebook.
Disclosure: As an Amazon Associate, I earn from qualifying purchases. Read more about Amazon Affiliate Disclaimer.