Top 8 Best Motorcycle Rides in Wyoming: The Ultimate Guide
As a motorcycling enthusiast, I'm always on the lookout for the best road rides that offer incredible scenery, challenging twists, and unforgettable experiences. With its diverse landscape, Wyoming is a prime destination that delivers on all fronts. In this article, I'll be sharing my top 8 favourite motorcycle road rides in Wyoming, that every biker should add to their bucket list.
Riders who embark on these captivating journeys will not only experience the sheer beauty of Wyoming's landscape, but they'll also encounter historic sites and charming towns along the way. These rides perfectly encapsulate the true essence of motorcycling, providing that essential sense of freedom and adventure.
The state of Wyoming provides an abundance of picturesque motorcycle routes that encapsulate its unique western charm and untouched wilderness. While exploring this state, don't miss the opportunity to experience the neighboring states' exceptional rides. Venture to Montana and enjoy the thrilling ride across the Bear Tooth Highway , offering dramatic alpine vistas. Heading south, Colorado's Million Dollar Highway will take your breath away with its mountain passes and vibrant fall colours. Over in the west, Idaho's Sawtooth Scenic Byway presents riders with captivating views of the Sawtooth Mountain range.
If you head east, the Black Hills National Forest ride in South Dakota offers dense forest roads that any motorcycle enthusiast would appreciate. With their unique landscapes and exhilarating rides, these neighbouring states perfectly complement Wyoming's beautiful routes. So, without further ado, let's dive into my top picks for Wyoming's best motorcycle road rides.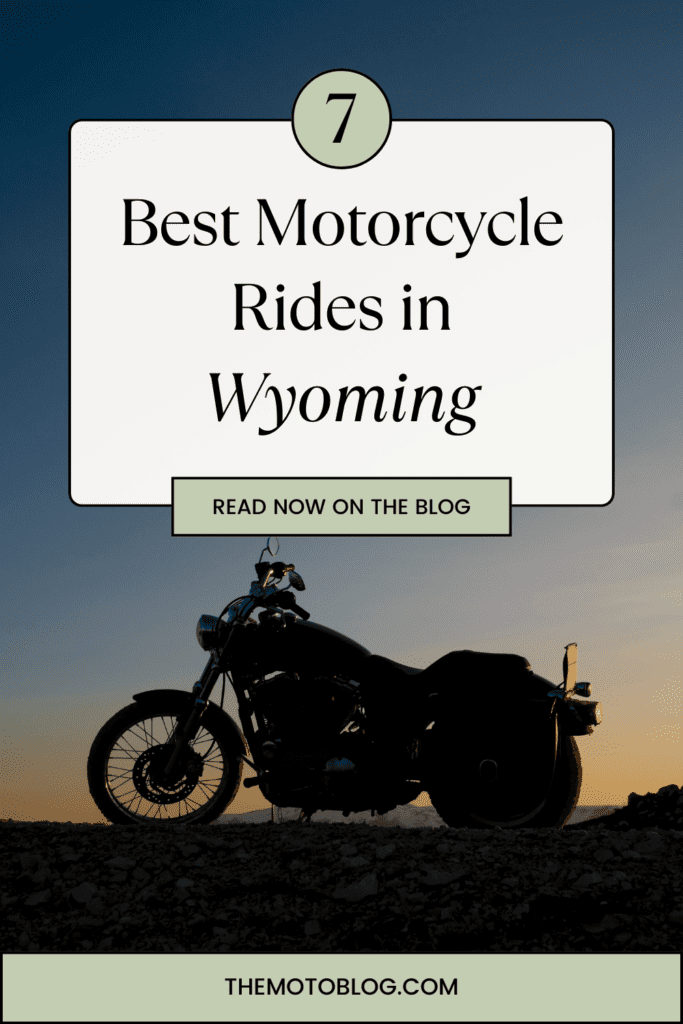 Important Tips
Wyoming offers a variety of scenic motorcycle rides that allow you to explore the state's beautiful landscapes. Here are some tips and top routes for motorcycle rides in Wyoming:
Plan your route: Some popular motorcycle rides in Wyoming include Devil's Tower Loop, Chief Joseph Byway, Beartooth Highway, Yellowstone National Park, and Bighorn Mountains. You can also explore scenic byways like Beartooth Scenic Byway and other routes mentioned in and.
Check the weather: Wyoming's weather can be unpredictable, so it's essential to check the forecast before your ride and be prepared for changing conditions.
Follow the rules of the road: Familiarize yourself with Wyoming's motorcycle laws, such as helmet requirements, lane usage, and licensing. Remember that lane-splitting is not allowed in Wyoming.
Prepare for altitude changes: Some routes, like the Beartooth Highway, involve significant elevation changes. Be prepared for temperature fluctuations and ensure your motorcycle is tuned for high-altitude riding.
Take your time: Plan to spend ample time on your ride, as many routes offer stunning views, trailheads, and lookout points worth stopping for. Don't rush through the experience; savor the scenery and enjoy the ride.
Stay safe: Ensure your motorcycle is in good working condition and has the required safety equipment, such as a left-side mirror and handlebars that don't extend higher than your shoulders when seated. Also, be cautious of wildlife on the roads, especially in areas like Yellowstone National Park.
Share the experience: Consider joining a group ride or inviting friends to explore Wyoming's scenic routes together. Sharing the experience can make it even more memorable and enjoyable.
1. Beartooth Highway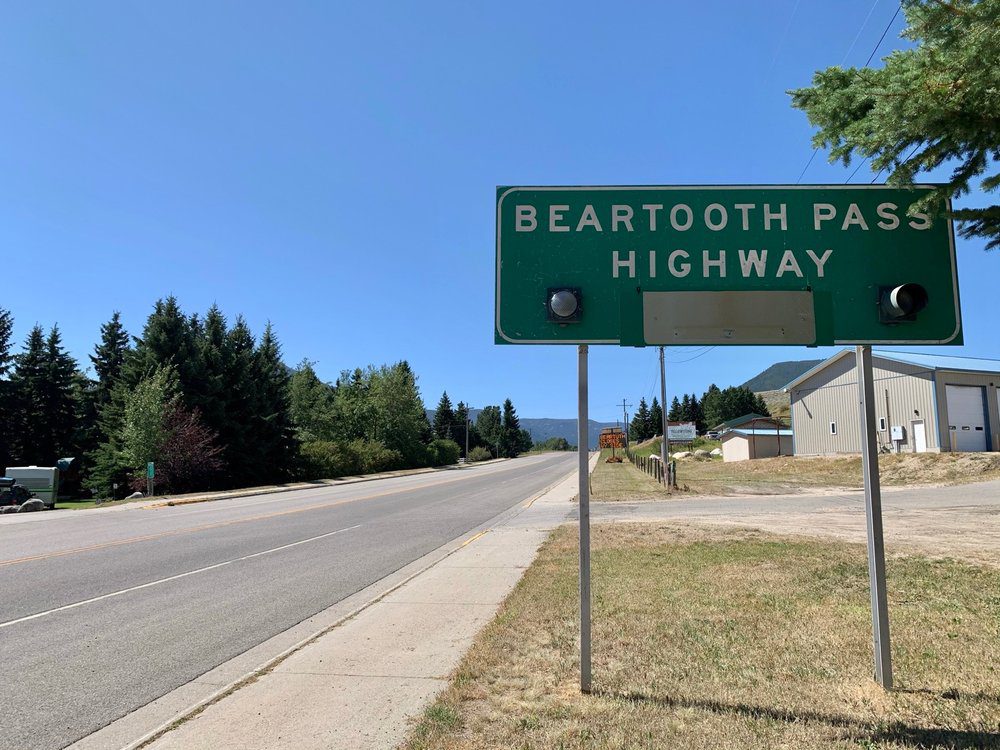 When it comes to motorcycle road rides in Wyoming, Beartooth Highway is truly a must-ride. Scenic beauty, thrilling twists, and monumental elevations make this an unforgettable experience.
The most ideal time to ride Beartooth Highway is from late May to late September. During these months, the weather is most favorable, and the high elevation mountain pass is generally open without major snow or ice hazards. Take note that the pass closes in wintertime due to extreme weather conditions.
Stretching approximately 68 miles, the Beartooth Highway begins in Red Lodge, Montana, and ends near Yellowstone National Park at the junction with the Chief Joseph Scenic Byway in Wyoming. Navigating the entire route should take anywhere from 2 to 4 hours, depending on your pace and number of stops. Regular breaks are recommended to fully enjoy the breathtaking panoramas.
Places to Stop:
Vista Points – numerous scenic overlooks are scattered along the highway providing stunning views of the surrounding landscapes.
Top of the World Store – located along the route, this pit stop offers snacks, drinks, and souvenirs.
Rock Creek Vista Point – at an elevation of 9,190 feet, this vista point provides a remarkable perspective of the glacial valley that forms the Rock Creek Canyon.
Beartooth Highway has moderate to high difficulty level, with numerous hairpin turns, steep grades, and high elevations. It's crucial for riders to be in good physical condition and possess adequate riding experience to tackle this spectacular but challenging road.
Other Information:
Due to the high elevation, the temperature can drop significantly so be prepared with appropriate riding gear for colder conditions.
Keep an eye out for wildlife like bison, bighorn sheep, and mountain goats that may occasionally cross the road.
Check local road conditions and plan a safe alternative route in case of sudden closures or severe weather.
2. Snowy Range Road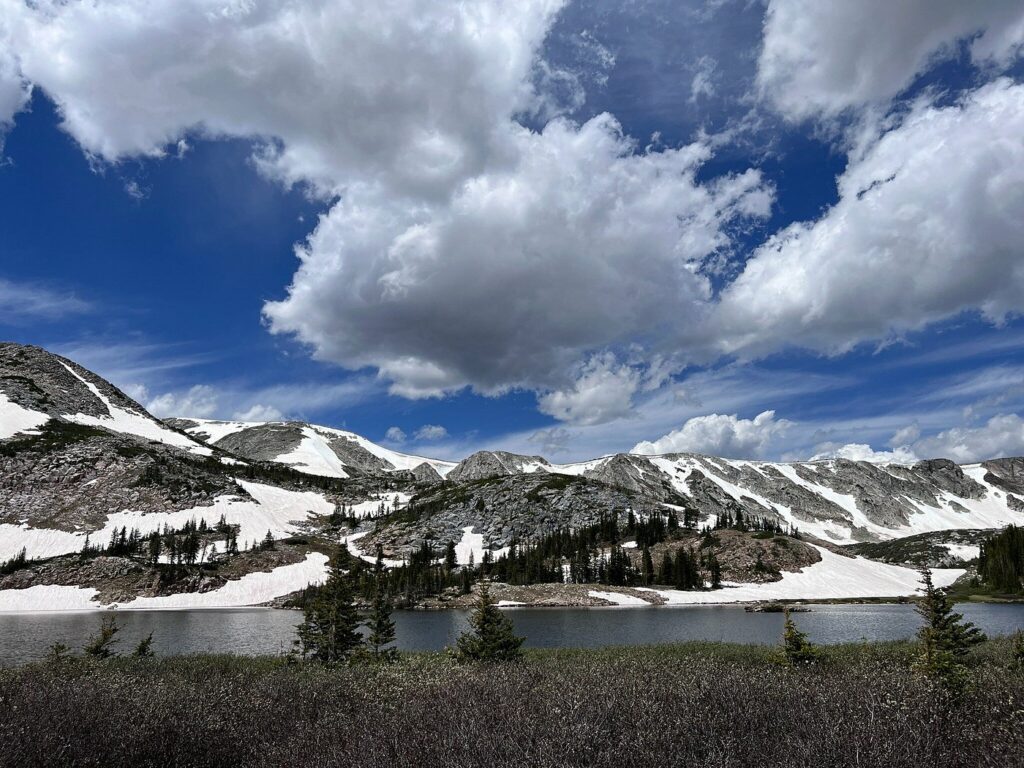 The Snowy Range Road, also known as Wyoming Highway 130, is a stunning route takes you through the heart of the Snowy Range in the Medicine Bow National Forest, offering incredible views of snow-capped peaks, lush alpine meadows, and serene lakes.
Late spring through early fall is typically the most suitable time to ride the Snowy Range Road, since it closes during winter months due to heavy snowfalls. If you're looking for a less-crowded experience and peak foliage colors, aim for late September through early October. However, always check the current road conditions and closures before starting your journey.
The Snowy Range Road stretches for approximately 29 miles, starting from Centennial and ending at the junction with Wyoming Highway 230. To fully enjoy the scenic beauty and the various stops along the way, give yourself 2 to 3 hours for the entire ride.
There are quite a few beautiful spots to pause your journey and soak in the surroundings:
Lake Marie: A picturesque alpine lake located in a beautiful glacial valley.
Mirror Lake Picnic Area: A scenic spot with picnic facilities and easy access to a stunning lakeshore.
Libby Flats Observation Point: The highest point on the road, offering panoramic views of the Snowy Range.
The Snowy Range Road is considered an intermediate level ride, with some twisty sections and elevations changes. The road can be a bit challenging for novice riders, but those with some experience will find it enjoyable and picturesque. Be prepared for occasional gravel patches and the possibility of encountering wildlife on the road.
A few other details to keep in mind:
Fuel: Fill up your tank in Centennial or nearby towns before hitting the road, as there are no gas stations along the route.
Weather: Prepare for changing weather conditions; higher elevations can bring cooler temperatures and sudden rainstorms.
Safety: Prudent riding is essential, as deer, elk, and other wildlife can suddenly appear on the road.
3. Big Horn Mountains Loop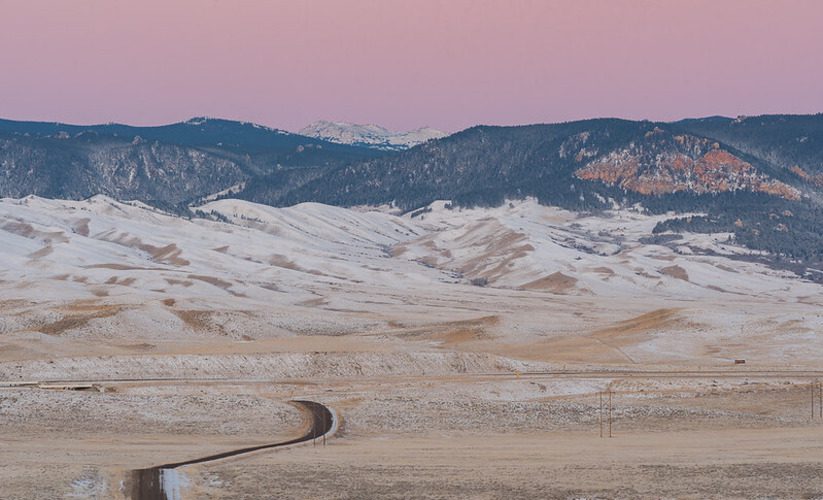 One of Wyoming's finest motorcycle rides, the Big Horn Mountains Loop, has a lot to offer. You'll be in awe of the majestic landscapes, diverse wildlife, and numerous recreational opportunities along this scenic route.
The ideal period to explore the Big Horn Mountains Loop is between June and September. During these months, the weather is more favourable, and it's less likely to encounter road closures or harsh conditions.
The loop covers approximately 200 miles and can be completed within a day. However, I'd recommend taking your time to fully appreciate the adventure and make stops along the way.
Places to Stop:
Ten Sleep Canyon: This steep, narrow canyon is a popular stop for its natural beauty and recreational opportunities, such as hiking and rock climbing.
Shell Falls: Don't miss this stunning 120-foot waterfall, accessible via a short walk from the parking area.
Medicine Wheel: Explore this Native American sacred site with its mysterious stone formation, believed to be a calendar and spiritual place.
Bighorn National Forest: With its lush forests and pristine lakes, this vast wilderness area offers a plethora of outdoor activities, like fishing, camping, or hiking.
The Big Horn Mountains Loop has a moderate level of difficulty, with some curvy and steep sections. It's suitable for experienced riders who are comfortable navigating mountain roads.
In terms of accommodations, there are several campgrounds and small towns along the route, offering lodging, food, and fuel services. Be sure to check weather conditions before your ride, as mountain roads can quickly become hazardous in adverse conditions.
4. Wind River Canyon Scenic Byway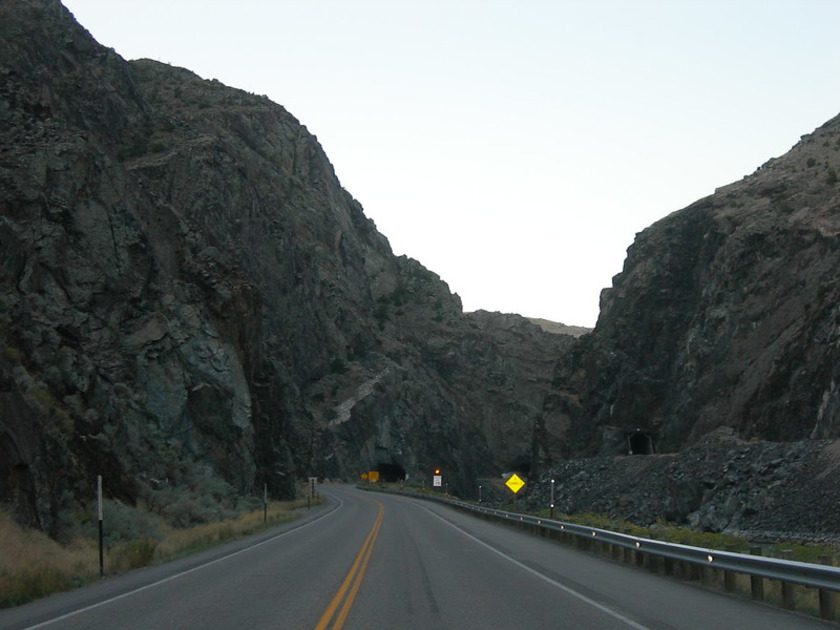 When it comes to breathtaking motorcycle rides, Wind River Canyon Scenic Byway definitely ranks high on the list. This gem of a route in Wyoming offers riders an unforgettable experience, complete with unparalleled natural beauty and the thrill of cruising along curves and twists.
The best time to visit Wind River Canyon Scenic Byway is between May and September. These months provide the most pleasant weather conditions, ideal for tackling the exhilarating ride. It's recommended to start the ride early in the morning to avoid traffic congestion and high temperatures during the day.
The entire route spans approximately 34 miles (55 km) and takes about 45 minutes to travel without stopping. However, considering the significant number of sights to see, it's wise to allow for additional time to really appreciate the beauty of the area.
There are plenty of marvelous stops along the way that simply can't be missed. Some of my favorites include:
The Boysen State Park: Offering beautiful views of scenic valleys and the impressive Boysen Reservoir. Perfect for outdoor enthusiasts, the park provides opportunities for fishing, boating, and picnicking.
Hot Springs State Park: Known for its natural hot springs, this park boasts incredible mineral formations and rejuvenating hot water. Don't forget to take a dip in the free bathhouse!
Wind River Canyon Whitewater: This stop is for adrenaline junkies who want to take on some thrilling whitewater rafting in the heart of the canyon.
Wind River Canyon Scenic Byway is suitable for riders of all skill levels. The route mainly consists of gentle curves and undulating terrain. However, always exercise caution and stay within your limits while riding.
Other Information
Make sure to fill up on gas before starting the ride, as gas stations are sparse along the route.
Keep an eye out for wildlife, as deer, bighorn sheep, and bald eagles can often be spotted throughout the journey.
Finally, it's important to come prepared for sudden weather changes, as Wyoming can be unpredictable. Dress in layers and pack some rain gear just in case.
5. Chief Joseph Scenic Byway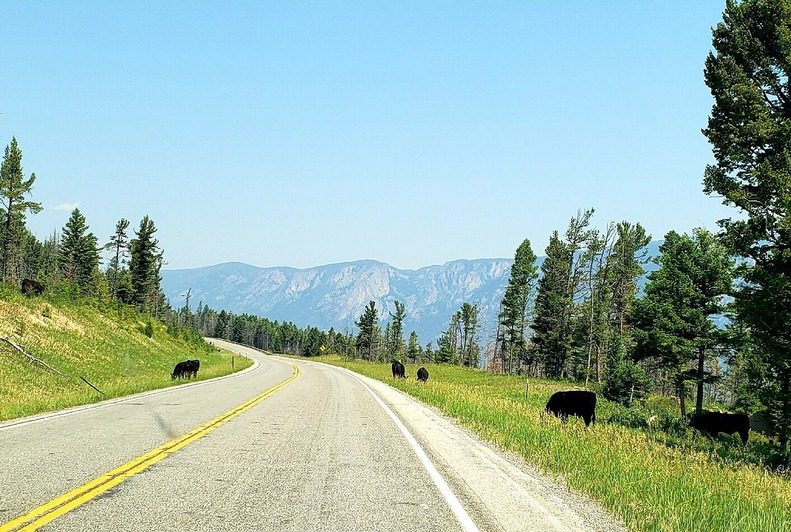 Chief Joseph Scenic Byway, offers an unforgettable motorcycle riding experience. We'll explore the highlights of this route, which includes breathtaking landscapes, points of interest, and the technical aspects of the ride.
Typically, the best time to ride along Chief Joseph Scenic Byway would be from late June to September. During this time, we'll experience more favorable weather conditions, and the road will generally be free of snow or ice.
Total distance: 47 miles
Time to travel: Approximately 1.5 hours
Along the Chief Joseph Scenic Byway, there are several notable stops worth checking out:
Dead Indian Summit: At an elevation of 8,060 feet, this breathtaking overlook offers stunning panoramic views of the Absaroka Range and surrounding valleys.
Clarks Fork Canyon: Situated along the Clarks Fork River, this canyon presents an opportunity to enjoy the tranquillity of the area and marvel at the steep cliffs that rise from the water.
Sunlight Bridge: As one of the highest bridges in Wyoming, this impressive structure spans 285 feet across Sunlight Creek, providing riders with dramatic views of the gorge below.
I'd rate the difficulty of this ride as moderate. It features a combination of sweeping curves, elevation changes, and tight sections, making it a very engaging experience. However, riders should be cautious, as there are a few sharp hairpin turns and seasonal hazards, such as wildlife or falling rocks.
While traversing Chief Joseph Scenic Byway, we'll not only be immersed in nature but also history. The route is named after Chief Joseph, the leader of the Nez Perce tribe. In 1877, they made a daring escape through this same region while fleeing from the U.S. Army, an event known as the Nez Perce War.
6. Buffalo Bill Cody Scenic Byway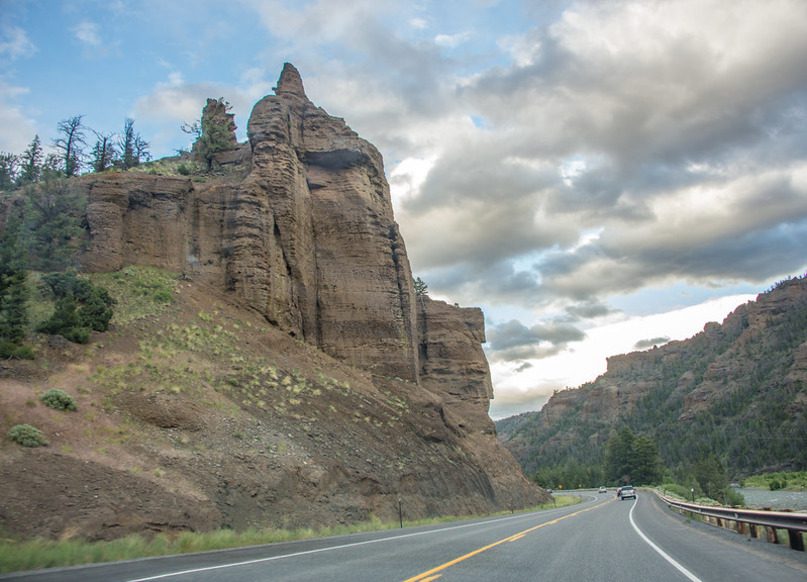 Buffalo Bill Cody Scenic Byway stretches for 52 miles, offering breathtaking views of the Absaroka Mountains, Buffalo Bill Reservoir, and the Shoshone National Forest. Traversing this route will truly immerse you in the beauty of American wilderness.
The best time to visit the Buffalo Bill Cody Scenic Byway is during the summer months, from June to September. You'll find the road conditions most favorable during this time, and the days are typically sunny and warm, perfect for a motorcycle ride.
| Distance | Time to Travel |
| --- | --- |
| 52 miles | 1-1.5 hours |
While riding along the Buffalo Bill Cody Scenic Byway, you'll come across some amazing pit stops, including:
Buffalo Bill Dam: An engineering marvel not to be missed. Take a break and learn about the dam's history at the visitor center.
Pahaska Tepee: Pull over at this historic site, which was Buffalo Bill's hunting lodge and a popular resting spot during the stagecoach era.
Wapiti Ranger Station: This log-cabin structure was built in 1903 and is an excellent example of early 20th-century ranger stations, making for a great photo op.
In terms of difficulty, I'd consider the ride to be moderately challenging. There are some winding sections and sharp turns, so it's important to stay alert and be prepared to navigate through rough terrain. However, the road is generally well-maintained, ensuring a smooth ride for most motorcyclists.
Other Information:
Elevation: The highest point on the byway is at approximately 8,500 feet above sea level.
Wildlife: Keep an eye out for wildlife such as bighorn sheep, mule deer, and bald eagles during your ride. Be cautious and respect their space, as they can be unpredictable.
Weather Conditions: Be mindful of changing weather conditions, as they can occur unexpectedly in the mountains. Take appropriate gear and be prepared for varying temperatures and potential rain.
7. Togwotee Pass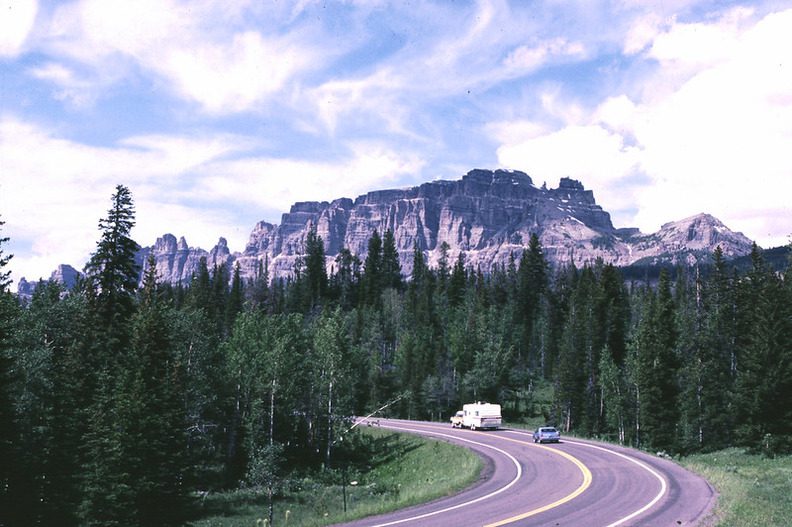 Winding through the Shoshone National Forest, this stretch offers a taste of Wyoming's most magnificent landscapes. With unparalleled views of the Grand Tetons and opportunities for spotting wildlife, Togwotee Pass is a captivating route for motorcycle enthusiasts. For travelers seeking a thrilling motorcycle road ride in Wyoming, this is an adventure you won't want to miss.
The ideal time to experience this ride is between May and October, when the weather is warm and the roads are clear of snow. To enjoy the striking fall colors, plan your visit between late September and October.
Togwotee Pass stretches 56 miles (90 km) and takes approximately 1.5 hours to travel, excluding stops. The pass begins in Dubois, WY, and extends to Moran, WY.
Places to Stop:
Brooks Lake Lodge & Spa: A luxurious retreat perfect for relaxing and enjoying the great outdoors.
Togwotee Mountain Lodge: Offering guided tours, dining, and lodging for adventurers.
Whiskey Mountain: Pause at the crest of Whiskey Mountain for a panoramic view of the valley below.
Lava Mountain Lodge: A rustic lodge with accommodations, a restaurant, and a general store.
Togwotee Pass provides a moderate level of difficulty for motorcyclists. Be prepared for some twists and turns as you navigate your way through the mountain pass.
Other Information:
Elevation: At its peak, Togwotee Pass reaches 9,658 feet (2,944 meters) above sea level.
Wildlife: Keep an eye out for bears, moose, elk, and other native wildlife that can be spotted along the route.
8. Cloud Peak Skyway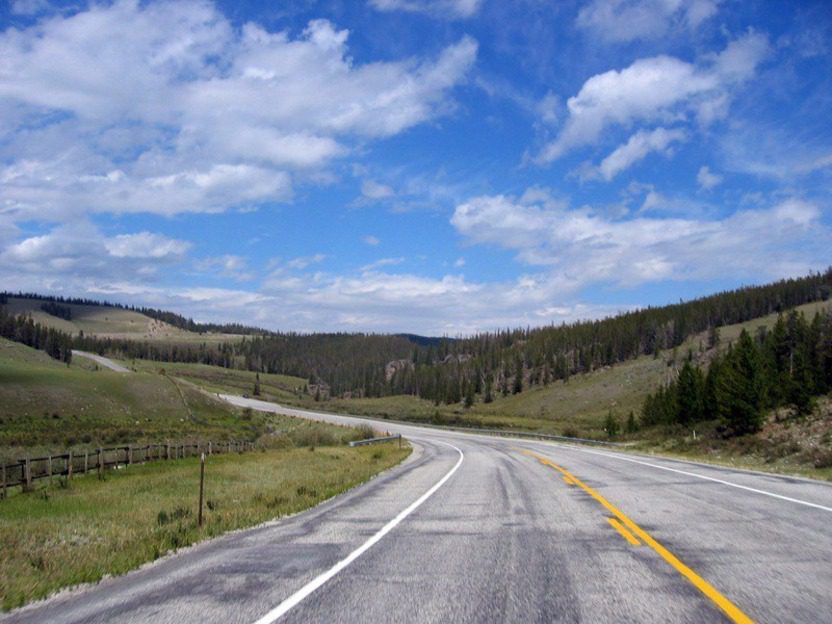 Wyoming's Cloud Peak Skyway offers a picturesque motorcycle road ride. This scenic byway runs for 47 miles along Highway 16, taking riders through Bighorn National Forest with impressive views of Cloud Peak and other mountains within the Bighorn Range. To fully appreciate all that this route has to offer, I recommend planning your trip between June and September when the weather is most favorable.
| Stat | Details |
| --- | --- |
| Best Time to Visit | June to September |
| Distance | 47 miles |
| Time to Travel | 1.5 to 2 hours |
As a motorcyclist, I appreciate that this ride provides a moderate level of difficulty, ensuring a smooth but exciting ride for most skill levels. With a combination of sweeping curves, spectacular mountain vistas, and alpine meadows, there's no shortage of breathtaking views that stay with you long after the ride ends.
While cruising the Cloud Peak Skyway, be sure to stop at these must-see points of interest:
Meadowlark Lake: A picturesque lake perfect for a rest stop or picnic.
Ten Sleep Canyon: A steep, dramatic gorge known for excellent rock climbing.
Crazy Woman Canyon: This fascinating area features unique rock formations and a compelling history.
Other helpful information :
Keep an eye on the weather, as sudden changes can occur in the mountains.
Gas stations and amenities are scarce along the route, so ensure you have a full tank and necessary supplies before embarking.
Cell phone reception may be spotty, so it's wise to carry a map or GPS device for navigation.
FAQs
What are some of the best motorcycle rides in Wyoming?
Top Motorcycle Rides In Wyoming Include The Lasso, Big Horn Mountain Loop, Chief Joseph Highway, Wind River Canyon Run, Snowy Range National Forest, Beartooth Highway, And Devils Tower To Yellowstone.
What Is The Chief Joseph Highway Motorcycle Ride In Wyoming?
The Chief Joseph Highway (Highway 296) Is A Scenic Motorcycle Route That Offers Breathtaking Views, Challenging Curves, And Access To The Beartooth Highway And Yellowstone National Park.
Which Wyoming motorcycle ride takes you through Wind River Canyon?
The Wind River Canyon Run Is A Popular Motorcycle Route That Offers Stunning Views Of The Wind River Canyon In Wyoming.
Is It Safe To Ride A Motorcycle In Yellowstone National Park?
Riding A Motorcycle In Yellowstone National Park Can Be Safely Enjoyed As Long As Riders Obey Speed Limits, Watch For Wildlife, And Follow All Park Rules And Regulations.
Where can I find more information about motorcycle rides in Wyoming?
Websites Like MotorcycleRoads.com, REVER, And Best Biking Roads Offer Additional Information And Maps For Motorcycle Rides In Wyoming.
Concluding Thoughts on Wyoming Rides
There's no doubt that Wyoming is a haven for motorcycle enthusiasts. Offering a variety of breathtaking routes, this beautiful state provides bikers with incredible opportunities to experience the great outdoors. As we wind down on this fascinating discussion, let's recap the important inclusions of each ride.
Generally, the best time for riding in Wyoming is from June to September. This period typically provides ideal weather conditions, minimal snowfall, and the most comfortable riding temperatures. Keep in mind, always check the local weather forecast before embarking on any route.
Each route offers its unique sights and attractions that you won't want to miss. Key highlights include:
Picturesque overlooks
Charming towns with local eateries
National parks and monuments
Various campgrounds and recreational areas
While some rides are relatively easy, others might be more challenging. It's important to note that factors such as weather, elevation changes, and road conditions can affect the difficulty level. Always consider your own skills and be prepared for possible surprises on the road.
Take the time to research each route even further, as you might find additional helpful tidbits that could enhance your ride. For instance, you may want to know:
Road regulations and requirements for each area
Nearby lodging options
Local events happening during your visit
Relevant contact information for emergencies
In conclusion, Wyoming rides offer a diverse and unforgettable experience for motorcycle aficionados. With stunning scenery, a variety of challenges, and plenty of unique spots to explore, there's undoubtedly a route to suit every rider's preferences. So, gear up, plan wisely, and get ready to embark on an incredible adventure through the unparalleled landscapes of Wyoming.
Motorcycle Rides in the US by States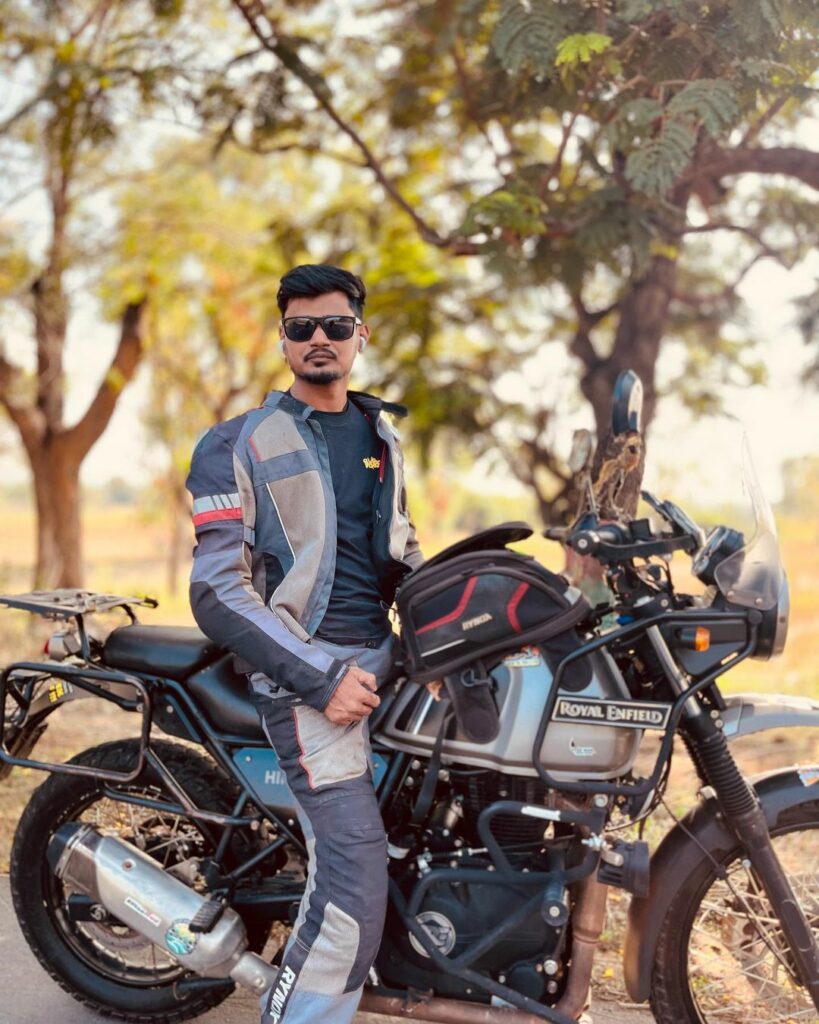 Vishwanath Mathpati
I am Vishwanath Mathpati, a full-time Blogger and Motorcyclist from Bidar, Karnataka. I love writing about my Motorcycles Stories and Riding Gears on this blog.
Know More About Me.
---
If you liked this article, then please subscribe to our YouTube Channel for more Bike Videos. You can also find us on Instagram, Twitter and Facebook.
Disclosure: As an Amazon Associate, I earn from qualifying purchases. Read more about Amazon Affiliate Disclaimer.