Top 10 Best Motorcycle Rides in Alaska: My Ultimate Guide
Alaska, often referred to as the Last Frontier, offers motorcycle enthusiasts a thrilling and unique riding experience. With its diverse terrain, majestic mountains, and vast wilderness, it's no wonder that the state confidently boasts several top-notch motorcycle routes to suit every rider's taste.
When planning a motorcycle adventure in Alaska, understanding the weather conditions and recommended riding seasons is crucial. Generally, May through September provides the best riding conditions, but keep in mind that weather can be unpredictable. From the stunning Denali National Park to the breathtaking Seward Highway, each route showcases distinct aspects of Alaska's beauty and spirit. Therefore, it's always important to be prepared for a little bit of everything.
While Alaska is not bordered by any other U.S. states, it's important to note the incredible journey riders can take through Canada on their way to or from Alaska. Begin your journey with the captivating landscapes of British Columbia, Canada, which is renowned for its diverse terrain of mountains, coasts, rainforests, and deserts. Next, immerse yourself in the ethereal beauty of Yukon, Canada, home to vast tundras, gleaming glaciers, and wildlife-filled forests. Alaska's breathtaking vistas of glaciers, mountains, and wildlife-filled forests make it a truly unforgettable ride. Each area offers a unique riding experience that is unmatched by anything else in North America.
So without further ado, let's dive into the top 10 best motorcycle rides that await you in Alaska.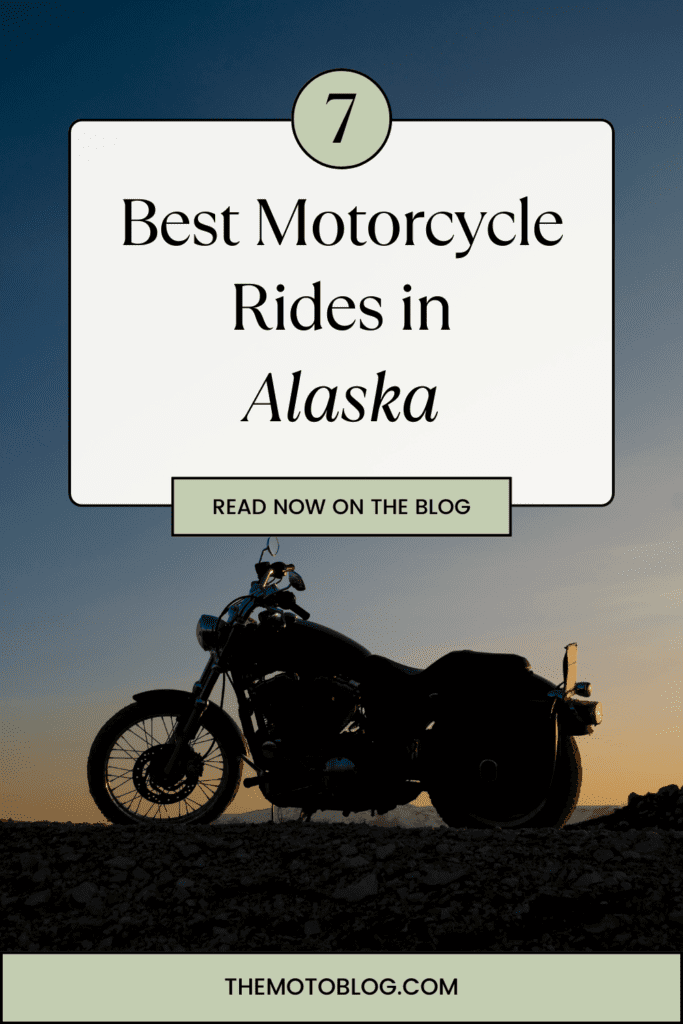 1. The Seward Highway Ride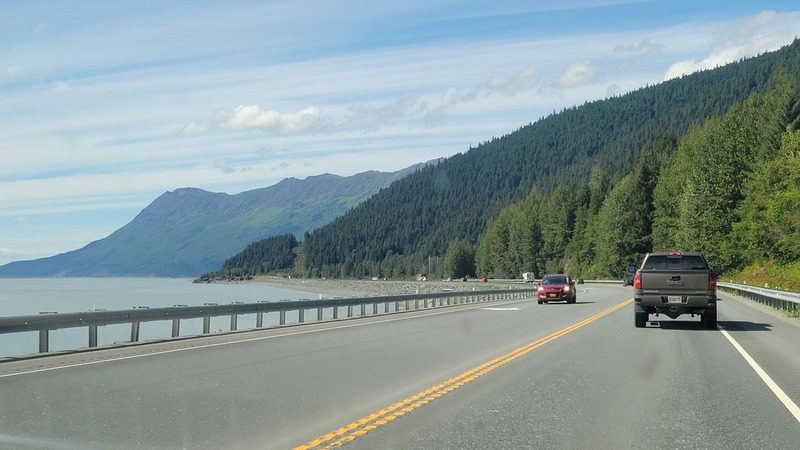 If there's one ride that must be on every motorcyclist's bucket list when visiting Alaska, it's the scenic Seward Highway ride. Stretching from Anchorage to Seward, this picturesque route offers breathtaking views of glaciers, mountains, and serene lakes, making it one of the best motorcycle rides in the state.
Best Time to Visit: I'd recommend taking the trip between June and August, as these months offer the most comfortable riding conditions and longest daylight hours. Be aware that Alaska's weather can be unpredictable, so it's best to stay informed and make sure you're prepared for possible changes.
Distance with Time to Travel: The Seward Highway spans approximately 127 miles (204 kilometers), which should take around 3 to 4 hours to complete, depending on your riding speed and the number of stops you make.
Places to Stop: Some of the most notable stops along the route include:
Chugach State Park: A quick detour will take you to the park where you can enjoy the beautiful scenery and even do some hiking.
Kenai Lake: A great spot to take a break and enjoy the calming views of the lake surrounded by towering mountains.
Exit Glacier: One of the most accessible glaciers in Alaska, it's well worth the short hike to get up close and personal with this awe-inspiring natural wonder.
Level of Difficulty: The Seward Highway ride is considered moderate in terms of difficulty, with a mix of sweeping curves and straight stretches. There may be a few tight turns and inclines, as well as stretches with gravel or uneven pavement, but overall, it's a fairly manageable ride for experienced motorcyclists.
When planning your trip, keep in mind the following important tips:
Watch for wildlife: Moose, bears, and other animals are often spotted near the road, so be cautious and give them plenty of space.
Gas stations and amenities may be sparse, so plan accordingly and make sure you have enough fuel, as well as food and drinks, for the trip.
Don't forget your camera, as the stunning scenery along the route is something you'll want to capture and remember for years to come.
2. The Majestic Denali Highway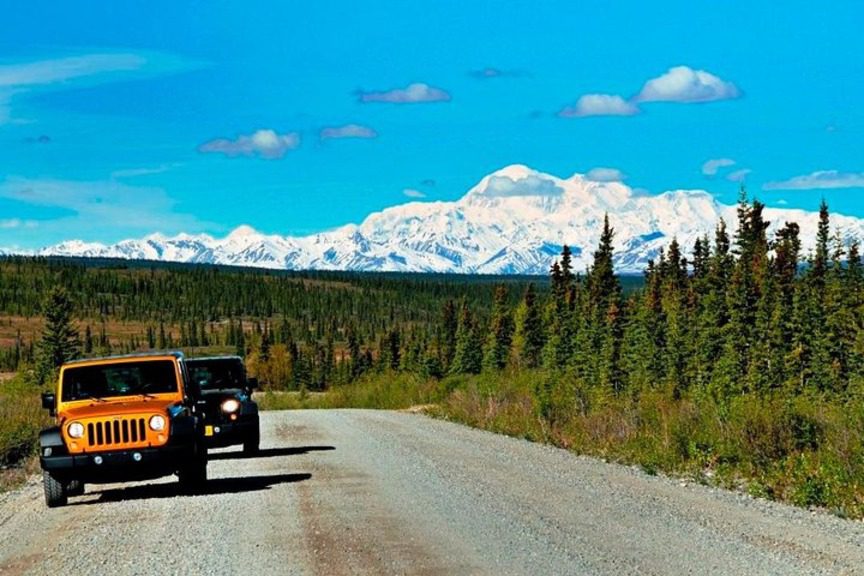 Denali Highway, a journey that showcases Alaska's stunning landscape. This iconic route traverses 135 miles through breathtaking scenery that includes mountains, glaciers, and wildlife. It's undoubtedly one of the best motorcycle rides in Alaska, and I'm here to give you some valuable insights to make the most of this unforgettable trip.
Best Time to Visit: The most suitable time to enjoy this ride is between June and September, when the weather is pleasant, with less rain. This will enhance your experience and make it easier to explore the various stops along the way.
Distance and Time to Travel: Covering 135 miles from Cantwell to Paxson, the Denali Highway usually takes about 3-5 hours, depending on your pace and number of stops. Always remember to pace yourself and take breaks to enjoy the gorgeous scenery Alaska has to offer.
Places to Stop: The Denali Highway offers several interesting places to stop and take in the sights:
Maclaren River – A perfect spot for a picnic, fishing, or even rafting
Tangle Lakes – An ideal place for hiking, bird watching, and enjoying scenic views
Brushkana Campground – A quiet campground for camping enthusiasts
Level of Difficulty: While the Denali Highway isn't considered a difficult route, riders should still be prepared for a combination of paved and gravel surfaces. Additionally, some sections require extra caution, especially during wet weather when the road can become slippery. It's best for riders with moderate experience due to these factors.
Here are some helpful tips for your Denali Highway ride:
Keep an eye out for wildlife, as it's common to encounter caribou, moose, and bears.
Make sure to carry necessary tools and spare parts for your motorcycle, as there's limited assistance available on this remote highway.
Fuel up in Cantwell or Paxson, as gas stations are few and far between.
Be prepared for sudden weather changes – carry adequate warm clothing and rain gear.
3. The Picturesque Glenn Highway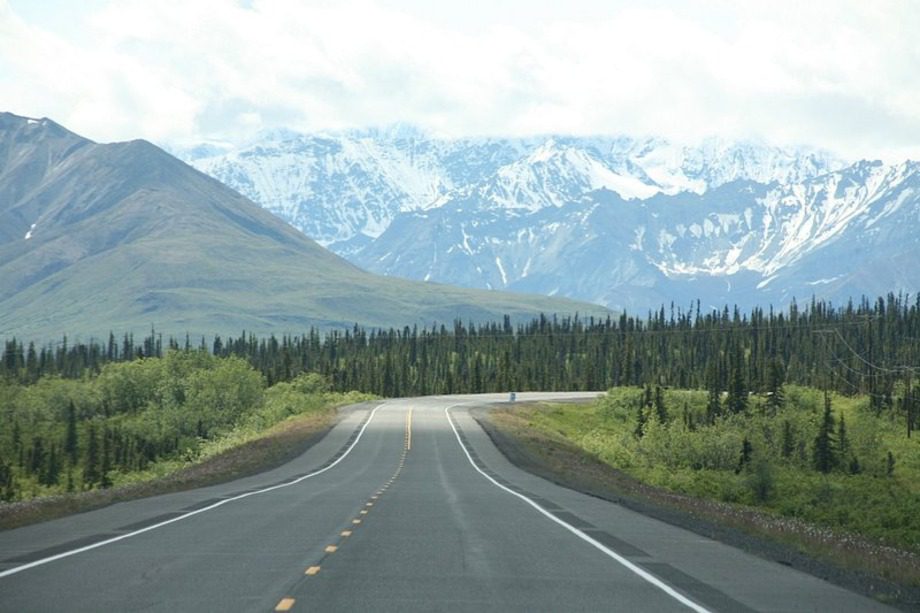 The scenic route takes riders on a spectacular journey through the heart of the state, offering stunning views of glaciers, mountains, and vibrant valleys.
Best Time to visit: Although accessible year-round, the ideal time for a motorcycle ride on Glenn Highway is from mid-May to late September. This period provides warm, pleasant weather conditions with the least amount of snow and ice on the road.
Distance with time to travel: Stretching approximately 179 miles, this route can be completed in a single day. However, you might want to allow 2-3 days for this trip so you can explore the various attractions along the way and fully immerse yourself in the picturesque landscape.
Places to stop:
Matanuska Glacier: One of the most accessible glaciers in Alaska. A pullout is located at mile 101, offering great opportunities for photography.
Lions Head: A unique mountain formation at mile 109, with a recreation area for picnicking and camping.
Eureka Summit: At mile 129, this summit is the highest point on the Glenn Highway, offering breathtaking views of the surrounding valleys.
Level of difficulty: I'd consider Glenn Highway to be a moderate ride in terms of difficulty. While there are plenty of smooth and well-maintained stretches, riders should be cautious of gravel sections, wildlife, and occasional road construction.
Other Information:
Fuel stops and rest areas are available along the highway, but it's always a good idea to top up at every opportunity due to the infrequent locations.
Be prepared for sudden weather changes as Alaska's climate can be unpredictable at times. Pack appropriate gear including rain suits, warm layers, and a helmet with a face shield.
When riding Glenn Highway, always keep an eye out for wildlife such as moose and caribou, as they often wander near or onto the road.
4. The Historic Alaska Highway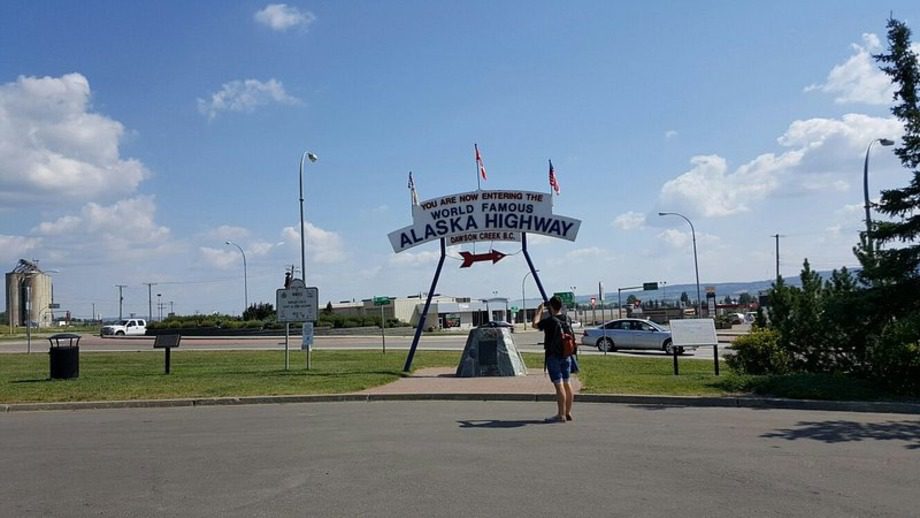 One of the most iconic motorcycle rides in Alaska has to be the Historic Alaska Highway. This memorable ride stretches over 1,387 miles (2,234 km) from Dawson Creek, British Columbia, to Delta Junction, Alaska.
Best Time to Visit: The ideal time to tackle the Historic Alaska Highway on two wheels is during late spring to early fall, generally from May to September. This is when the weather is more predictable, the roads are in better condition, and the days are longer.
Distance and Time to Travel: Covering a distance of approximately 1,387 miles (2,234 km), you can expect a travel time of about 4 to 7 days depending on your pace and stops along the way. Here's a quick summary:
Places to Stop: With an abundance of scenic spots and historic sites, there's no shortage of fascinating places to stop along the Alaska Highway. Some of my favorites include:
Sign Post Forest: A quirky attraction started in 1942 by a homesick US soldier, featuring thousands of signs from all over the world.
Liard River Hot Springs: A great stop to unwind and soak in the natural hot springs, surrounded by lush vegetation.
Kluane National Park and Reserve: Home to Canada's highest peak, Mount Logan, this park offers spectacular vistas and wildlife watching opportunities.
Delta Junction Visitor Center: Marking the official end of the Alaska Highway, this is the perfect spot to take a commemorative photo and learn about the region's history.
Level of Difficulty: While the Historic Alaska Highway doesn't present any significant technical challenges for experienced riders, it's important to remember that this is a remote route with unpredictable weather and varying road conditions. As such, I'd classify the ride as moderate in difficulty.
Other Information
Fuel and Accommodations: Ensure you plan your fuel stops and overnight stays in advance, as services along the highway can be few and far between.
Wildlife Encounters: Be prepared for possible encounters with wildlife, such as bears, bison, and moose. Maintain a safe distance and respect their space.
Road Conditions: Be prepared for variable road conditions, including possible gravel sections and ongoing construction.
5. The Challenging Dalton Highway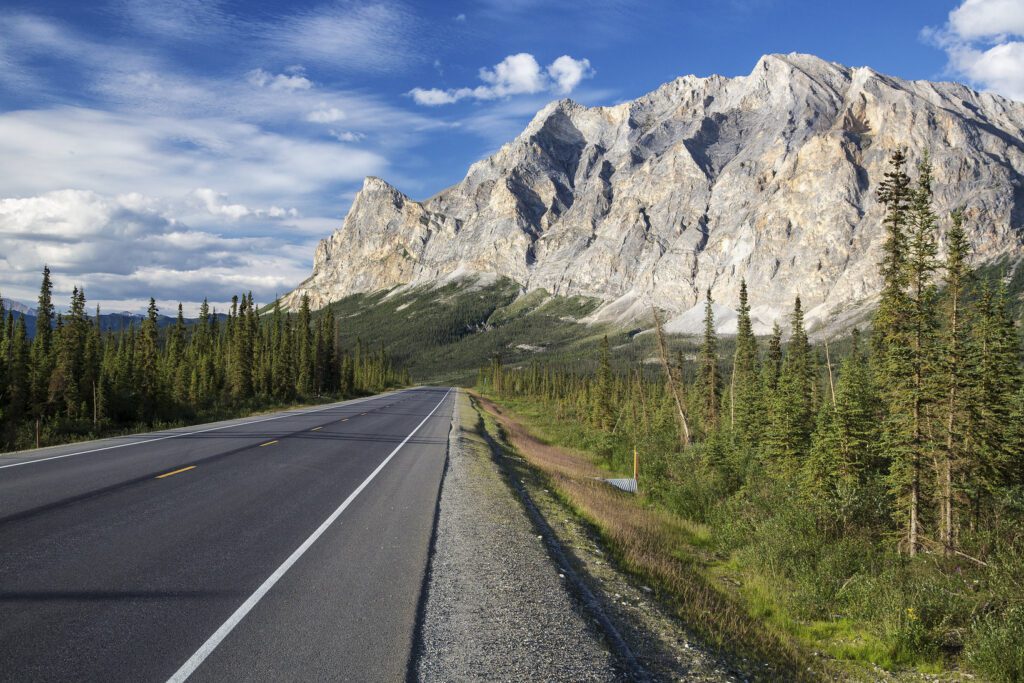 When it comes to extreme motorcycle rides in Alaska, conquering the challenging Dalton Highway is an adventure you won't want to miss. Also known as the "Haul Road," this route offers stunning landscapes and a thrilling riding experience.
Best Time to Visit: The ideal time for a Dalton Highway ride is from June to September. During these months, the weather is more stable, and you'll likely encounter fewer hazards. It's essential to avoid the winter months, as extreme cold temperatures and low visibility create dangerous riding conditions.
Distance and Time to Travel: The Dalton Highway stretches over approximately 414 miles (666 km) from the town of Livengood to Deadhorse near the Arctic Ocean. Depending on your riding experience and preference for stops, the ride can take anywhere between 2 to 4 days.
Places to Stop: Various noteworthy stops along the Dalton Highway enrich the overall experience:
Yukon River Camp
Coldfoot Camp
Chandalar Shelf
Atigun Pass
Arctic Circle sign
Wiseman Village
Prudhoe Bay
Level of Difficulty: The Dalton Highway can be a moderate to difficult route for most riders. Road conditions vary greatly, and you may encounter gravel, mud, and even ice depending on the time of year. It's crucial to be comfortable with varying terrain and prepared for shifts in weather, as well as potential road hazards. Riders should have a solid level of motorcycle-riding experience before embarking on this challenging adventure.
Before hitting the Dalton Highway, keep these essential tips in mind:
Make sure your motorcycle is in excellent condition and can handle the rough terrain. Dual-sport bikes or adventure-touring motorcycles are preferable.
Carry extra fuel, as there are limited fuel stops available along the route.
Pack warm clothing, even during the summer months, as temperatures can drop unexpectedly.
Practice Leave No Trace principles and respect the environment during your ride.
6. The Taylor Highway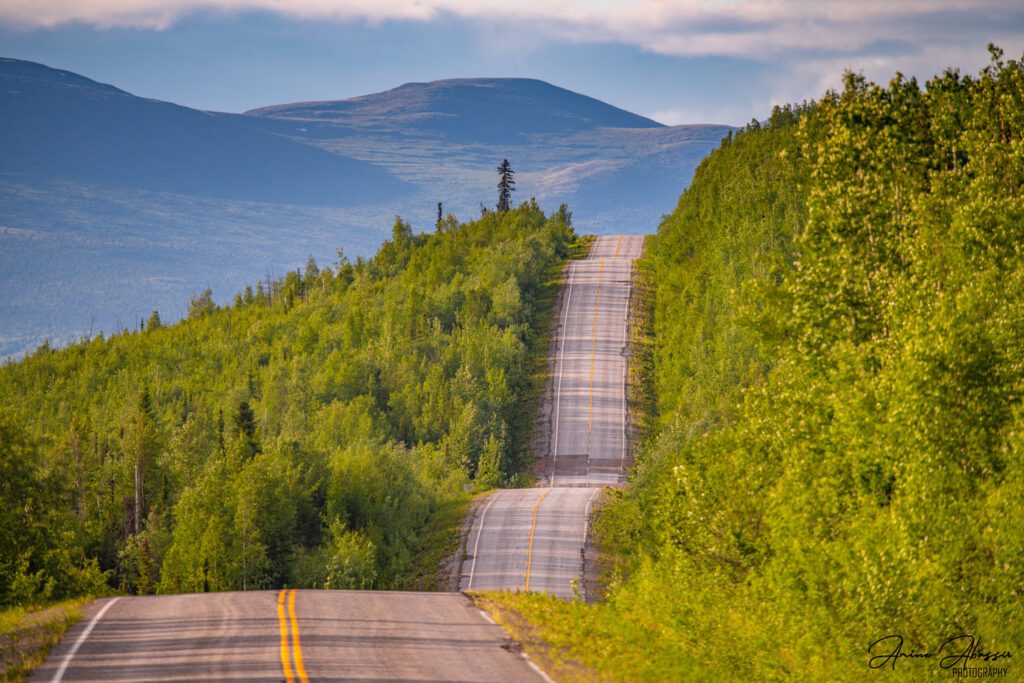 Alaska never ceases to amaze me with its stunning landscapes, and the Taylor Highway is no exception. This picturesque route takes motorcycle riders on a thrilling adventure through the Alaskan wilderness. If you're an avid biker and nature lover, this is the perfect ride for you.
The best time to visit is during the summer months, from June to September. During this time, the weather conditions are ideal for motorcycle riding, and you'll witness the lush greenery of the Alaskan landscapes. The highway is closed during winter due to harsh weather conditions, so summer is the only time you can experience this fantastic ride.
The Taylor Highway stretches for approximately 160 miles, starting at the junction with the Alaska Highway near Tok and ending in Eagle, a historic gold-mining town. Depending on the number of stops you make, allot approximately 6-8 hours for travel time to fully appreciate the scenic route.
As you ride along this path, you'll come across several places to stop and marvel at the majestic scenery, including:
West Fork of the Fortymile River – A popular spot for river rafting and picnicking
Chicken – A quirky, small town with a funny name where you can grab a bite and refuel
Boundary – The last outpost before entering Canada, offering gas services and a place to rest
The level of difficulty for this ride is moderate due to the varying road conditions. While the majority of the route is paved, some sections are gravel, requiring extra caution and focus. Don't let this deter you, though; the experience is well worth it.
Here are some additional tips and information to consider when planning your journey:
Carry extra fuel, as gas stations may be scarce in remote areas
Keep an eye out for wildlife, like moose and bears, for safe encounters
Stay up-to-date with road conditions by checking the Alaska Department of Transportation website before departing
Bring a spare tire and repair kit equipped for the variable road surfaces
Don't forget your camera to capture astonishing snapshots of your journey!
7. The Parks Highway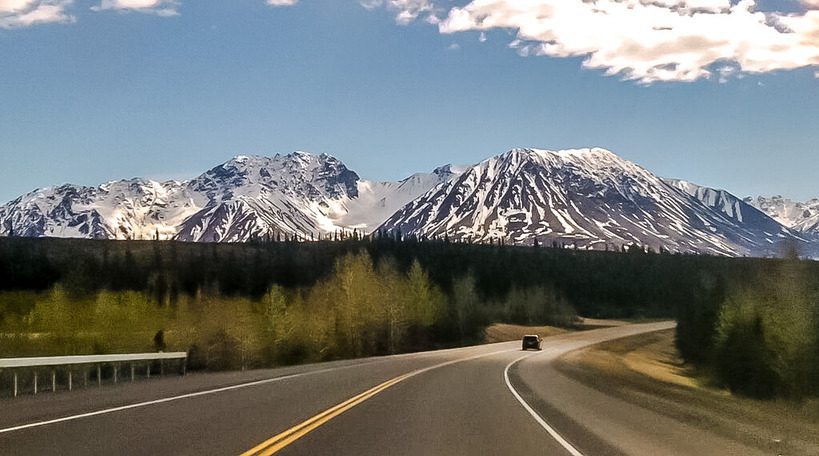 The Parks Highway is an amazing route for motorcyclists looking to explore the beauty of Alaska. Stretching over 360 miles, this scenic highway connects the cities of Anchorage and Fairbanks. While riding down the Parks Highway, you'll come across panoramic views of breathtaking mountains, vast landscapes, and picturesque rivers.
Best Time to Visit: Although Alaska is beautiful year-round, the ideal time to enjoy a motorcycle ride on the Parks Highway is during the warmer months of June through August. This time frame offers the best riding conditions as well as longer daylight hours, which allows you to fully appreciate the natural beauty of Alaska.
Distance with Time to Travel
| Total Distance | Approx. Time to Travel |
| --- | --- |
| 362 miles | 6-8 hours |
Keep in mind that this duration is an approximation, as some riders may choose to stop at various places along the route or simply take their time to enjoy the ride.
Places to Stop: There are numerous interesting stops along the Parks Highway, some of which include:
Denali National Park and Preserve: Home to the highest peak in North America, Denali.
Talkeetna: A charming, historic town with picturesque views of Mount Denali.
Hatcher Pass and Independence Mine State Historical Park: A beautiful mountain pass and a fascinating gold mining site.
Canwell Glacier: A stunning glacier accessible by foot or ATV.
Level of Difficulty: The Parks Highway is a relatively straightforward ride, making it suitable for riders of all skill levels. However, it's important to be cautious of changing weather conditions and potential wildlife encounters, especially in remote areas.
When embarking on a motorcycle ride along the Parks Highway, it's essential to be well-prepared. Here are a few tips to keep in mind:
Ensure your motorcycle is well-maintained and equipped for long distances.
Dress appropriately in layers, as temperatures can vary throughout the day.
Bring rain gear to stay dry during potential rain showers.
Keep an eye out for wildlife, particularly moose, which may wander onto the road.
Stay updated on weather conditions and opt for a weatherproof GPS device to avoid getting lost.
8. The Sterling Highway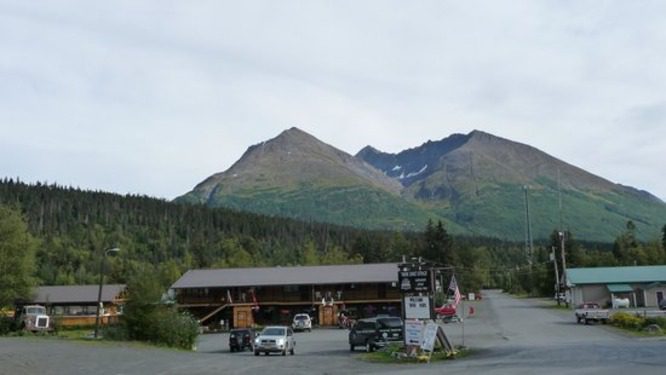 One of my personal favorite motorcycle rides in Alaska is down the scenic Sterling Highway. Stretching over 142 miles, this breathtaking route offers incredible views and an unforgettable experience.
Best Time to Visit: May through September is the optimal time to explore the Sterling Highway. During these months, you'll enjoy the Alaskan summer with its stunning green landscapes and extended daylight hours. Keep in mind that Alaska's weather can be unpredictable, so it's best to check the forecast before you go.
Distance with Time to Travel: The highway spans around 142 miles from Tern Lake to Homer and can be covered in about 3.5 to 4 hours, depending on traffic and stops.
Places to Stop:
Cooper Landing: This charming town is located along the Kenai River, perfect for taking a break and exploring the area.
Russian River: A popular fishing spot, the Russian River is where the salmon run attracts thousands of anglers every year.
Seward Highway Intersection: A great spot to snap photos of the beautiful Kenai Peninsula and Chugach Mountains.
Ninilchik: Experience old-world charm and admire the stunning Russian Orthodox Church.
Homer: The end of the Sterling Highway, this picturesque town sits at the edge of Kachemak Bay and is a must-visit destination.
Level of Difficulty: The Sterling Highway is considered an easy to moderate ride for motorcyclists. However, like any road, being cautious and attentive to changing weather conditions and wildlife is crucial.
Other Information:
Wildlife Sightings: You may encounter some of Alaska's most famous residents, such as moose, bears, and eagles.
Fall Colors: If you can't make it during the summer months, visiting in September offers a breathtaking display of autumn hues as the trees change color.
Construction and Delays: Be prepared for possible construction work or delays along the highway. It's always a good idea to check for road conditions and updates before setting out on your ride.
9. The Coastal Route: Haines Highway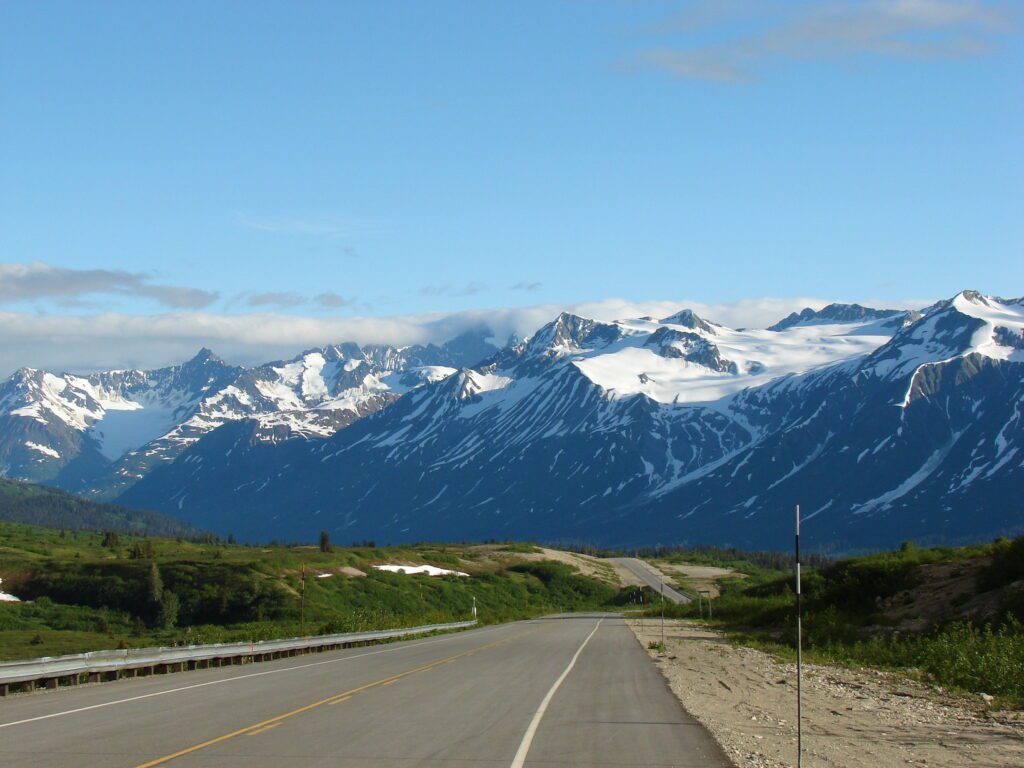 It's an incredibly picturesque journey that weaves along the coast and takes you through some of the most breathtaking landscapes the state has to offer.
Best Time to Visit: Ideally, you'll want to tackle this ride between June and August. During these summer months, the temperatures are mild and the days are long, which makes for an excellent riding experience. Remember that the weather in Alaska can be unpredictable, so it's always a good idea to bring layers and rain gear just in case.
Distance with Time to Travel: The Haines Highway stretches for about 152 miles (245 kilometers) and takes around 3-4 hours to complete, depending on your riding pace and how often you stop. It begins in Haines, AK, and ends near the Canadian border at Haines Junction, YT.
Places to Stop: Along the way, you'll come across several noteworthy spots that are worth stopping for:
Chilkoot Lake: A gorgeous, serene lake surrounded by towering mountains. Perfect for picnicking, fishing, or just taking a break.
Bald Eagle Council Grounds: Home to the largest concentration of bald eagles in the world during October and November, this area provides an incredible opportunity for birdwatching.
Kluane National Park and Reserve: Just over the border in Canada, Kluane offers tremendous hiking opportunities and the chance to spot grizzly bears, moose, and wolves.
Level of Difficulty: This route is considered a moderate ride due to the many twists and turns that hug the mountainous terrain. While there aren't any particularly challenging sections, riders should still be prepared to handle a variety of road conditions and stay alert to changing weather.
Other Information
Gas Stations: Make sure to fuel up in Haines, since gas stations along the highway are few and far between. It's better to be safe than sorry!
Border Crossing: Don't forget your passport, as you'll be crossing the US-Canada border. Familiarize yourself with the border crossing hours and rules ahead of time.
Wildlife: Always keep an eye out for wildlife on and near the road. Large animals like bears, moose, and bison can pose a real danger to riders if they unexpectedly cross your path.
10. The Richardson Highway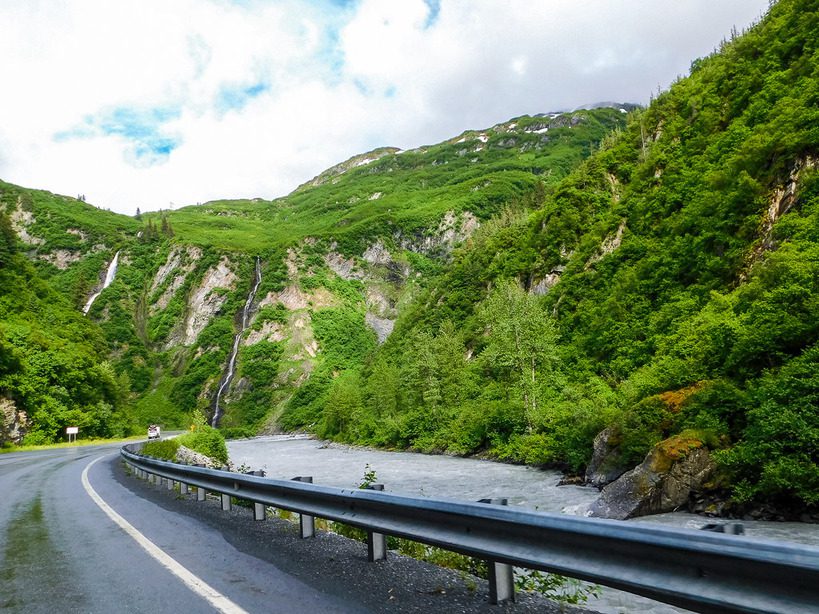 As I make my way to the final motorcycle ride on this list, it is through the Richardson Highway. This ride is simply majestic, with its picturesque views and an adrenaline-pumping ride that any motorcycle enthusiast would enjoy.
Best Time to Visit: If you're looking to experience the true beauty of this ride, it's ideal to plan your journey between May and September. This time frame allows you to witness the breathtaking Alaskan landscape in its full glory, as the snow has melted and the wildlife is active.
Distance with Time to Travel: The Richardson Highway stretches for approximately 368 miles, starting from Valdez and ending in Fairbanks. On average, riders can expect to cover this distance within 6-8 hours, allowing for a leisurely pace with time to soak in the incredible surroundings.
Places to Stop: As you embark on this memorable adventure, there are a few noteworthy stops along the way:
Worthington Glacier: A beautiful spot to admire a spectacular glacier up close
Horsetail and Bridal Veil Falls: Two stunning waterfalls with scenic viewing areas
Paxson Lake: A picturesque location to rest and take in the tranquil scenery
Gulkana Glacier: An exciting backcountry detour for riders looking for a thrilling off-road experience
Level of Difficulty: While the Richardson Highway ride is not overly difficult, it's always good to be prepared for the varying road conditions you might encounter. Keep in mind that some sections may be affected by frost heaves, gravel, and even construction. Additionally, weather conditions such as rain or fog can sometimes be present. Remaining vigilant and alert is essential for a safe and enjoyable ride.
The Richardson Highway certainly has its share of wonder and excitement, but it's also important to consider safety precautions during your journey:
Be cautious of wildlife, as it's not uncommon to encounter moose or bears near the road
Keep an eye out for other drivers during peak summer months, as the road can become busy
Make sure to carry necessary gear for unpredictable weather conditions
FAQs
What are some notable destinations for a motorcycle ride in Alaska?
Prudhoe Bay, The Arctic Ocean, And The Denali Highway Are Significant Destinations Offering Breathtaking Views And An Epic Riding Experience In Alaska.
Is the Denali Highway paved or gravel?
The Denali Highway Is Primarily Gravel With Some Short Paved Sections, Providing A Unique And Adventurous Riding Experience.
What is the distance of the Denali Highway?
The Denali Highway Is Approximately 135 Miles (217 Kilometers) Long, Offering An Epic Ride Through Alaska's Stunning Landscapes.
What type of scenery can riders expect to see on the Denali Highway?
Riders Can Expect To Encounter Expansive Views Of Alaska's Wilderness, Majestic Mountains, And Pristine Lakes Along The Denali Highway.
What challenges might riders face on the Denali Highway?
Riders May Experience Gravel Road Conditions, Variable Weather, And Limited Access To Amenities Such As Fuel And Lodging, Making Preparation And Planning Essential For A Successful Trip.
Concluding Thoughts on Alaskan Motorcycle Rides
After exploring the top 10 best motorcycle rides in Alaska, I've no doubt that this breathtaking state offers some of the most diverse and awe-inspiring routes a rider could ever imagine. To make the most out of these incredible adventures, let's recap our findings on the best time to visit, places to stop, level of difficulty, and other information.
Alaska's prime motorcycle riding season runs from mid-May to mid-September, with optimal conditions typically found in June and July.
Each route offers unique stops and points of interest. Some highlights include:
Scenic viewpoints for breathtaking landscapes
Wildlife sightings, such as moose, bears, and eagles
Charming small towns with local eateries and shops
Historic landmarks and informational centers
Recreational areas for camping, picnicking, and hiking
The routes described in this article vary in difficulty levels, offering something for every skillset. Generally, they range from:
Easy and well-paved: Seward Highway, Sterling Highway, and Richardson Highway
Moderate with some gravel or rough patches: Glenn Highway, Parks Highway, Alaska Highway
Challenging or remote, requiring more experience and preparation: Dalton Highway, Denali Highway
Keep in mind these essential tips for a successful adventure:
Stay prepared for unpredictable weather by packing proper gear
Keep an eye out for wildlife and give them space
Make sure your motorcycle is in top working condition and carry a basic repair kit
Plan your accommodations and fuel stops in advance
Armed with this information, I'm confident that you will create unforgettable memories as you embark on these must-experience motorcycle routes in Alaska. Safe travels and happy riding!
Motorcycle Laws in the US By States
Motorcycle Rides in the US by States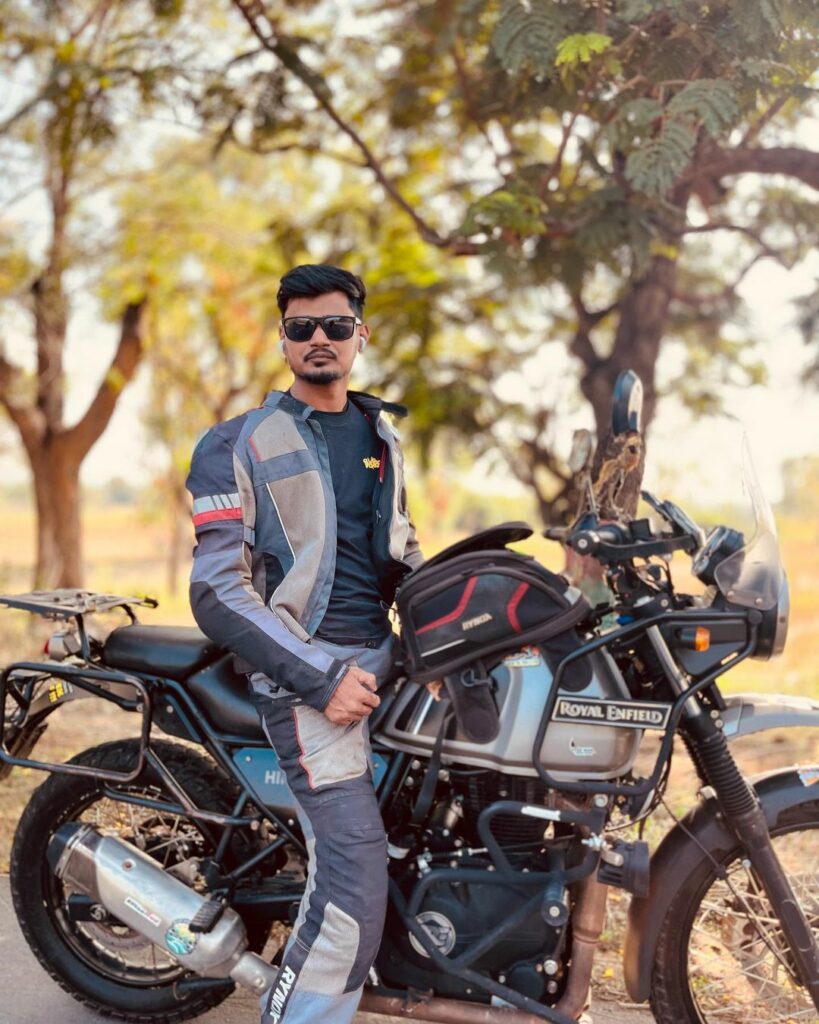 Vishwanath Mathpati
I am Vishwanath Mathpati, a full-time Blogger and Motorcyclist from Bidar, Karnataka. I love writing about my Motorcycles Stories and Riding Gears on this blog.
Know More About Me.
---
If you liked this article, then please subscribe to our YouTube Channel for more Bike Videos. You can also find us on Instagram, Twitter and Facebook.
Disclosure: As an Amazon Associate, I earn from qualifying purchases. Read more about Amazon Affiliate Disclaimer.