Top 10 Best Motorcycle Rides in Virginia: The Ultimate Guide
Motorcycling enthusiasts will agree: Virginia offers some of the most scenic and enjoyable road trips in the country. With its diverse landscape of mountains, valleys, and coastlines, Virginia is truly a biker's paradise. From the winding routes in the Blue Ridge Mountains to the relaxing coastal rides, there's a route for every type of rider.
In this article, I'll be taking you through the top 10 best motorcycle rides in Virginia. You'll discover breathtaking views, challenging twists and turns, and roads that make for memorable rides. Whether you're a seasoned rider or new to motorcycling, these routes are sure to awaken your passion for the open road.
Get ready to plan your next unforgettable adventure as we explore Virginia's finest motorcycle rides. From the popular Skyline Drive to lesser-known gems, you'll discover why Virginia is a must-visit destination for bikers everywhere.
Virginia boasts an array of breathtaking motorcycle routes, with its majestic mountain ranges, scenic coastal views, and historic landmarks. One of the most acclaimed rides is along the Blue Ridge Parkway, where the captivating vistas of the Blue Ridge Mountains unfold for riders. However, Virginia's allure doesn't end here; its neighborhood states offer equally enchanting rides. Heading south to North Carolina, you can conquer the notorious Tail of the Dragon, a thrilling 318-curve ride in just 11 miles. On the other hand, West Virginia's Highland Scenic Highway offers peaceful and unspoiled natural beauty.
In Maryland, the Chesapeake Bay Loop provides a scenic waterfront ride, and Tennessee's Cherohala Skyway boasts stunning mountain ranges. Exploring these routes offers the perfect balance between exhilarating motorcycle rides and captivating natural beauty.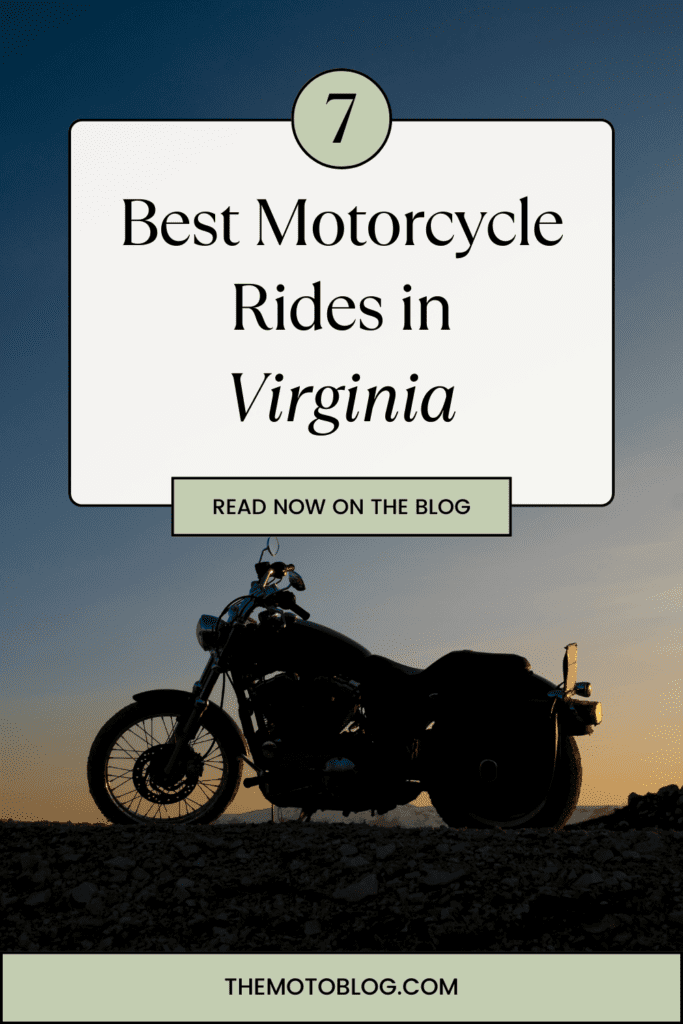 1. Skyline Drive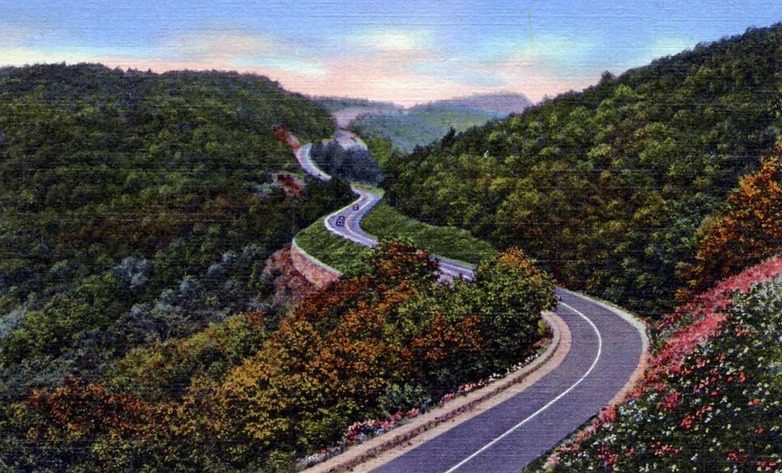 Skyline Drive is one of the best motorcycle ride in Virginia, effortlessly winding through the stunning Shenandoah National Park. This mesmerizing route stretches across 105 miles of unspoiled views, with numerous overlooks for picture-perfect moments. Boasting remarkable landscapes, Skyline Drive offers a truly unforgettable experience.
The optimal time to take a ride on Skyline Drive is during fall, as the leaves burst into a fiery display of oranges, yellows, and reds. Spring is also delightful, especially with the vibrant colors of blooming wildflowers.
Total distance: 105 miles
Ideal time to complete: 3 – 4 hours, depending on stops and pace
Places to Stop
Front Royal Visitor Center
Dickey Ridge Visitor Center (mile 4.6)
Panorama (mile 31.5)
Mary's Rock Tunnel (mile 32.4)
Big Meadows Lodge (mile 51)
Blackrock Summit (mile 84.4)
Rockfish Gap Entrance Station (mile 105)
Level of Difficulty
The road is mostly smooth and well-maintained throughout the year making the ride enjoyable for all skill levels.
However, with over 75 overlooks and many tight turns, it requires riders to stay attentive and alert.
It's essential to respect the 35 mph speed limit to ensure a safe ride for all visitors.
Other Information
Shenandoah National Park requires an entrance fee: $30/motorcycle for a seven-day pass. You can also opt for the America the Beautiful Pass for $80/year to enjoy all national parks.
Lodging and dining options are available at lodging facilities within the park, such as Skyland Resort and Big Meadows Lodge.
Wildlife, including deer and black bears, often roam the park. Maintain a safe distance and remain cautious on blind turns.
2. Route 16: The 'Back of the Dragon'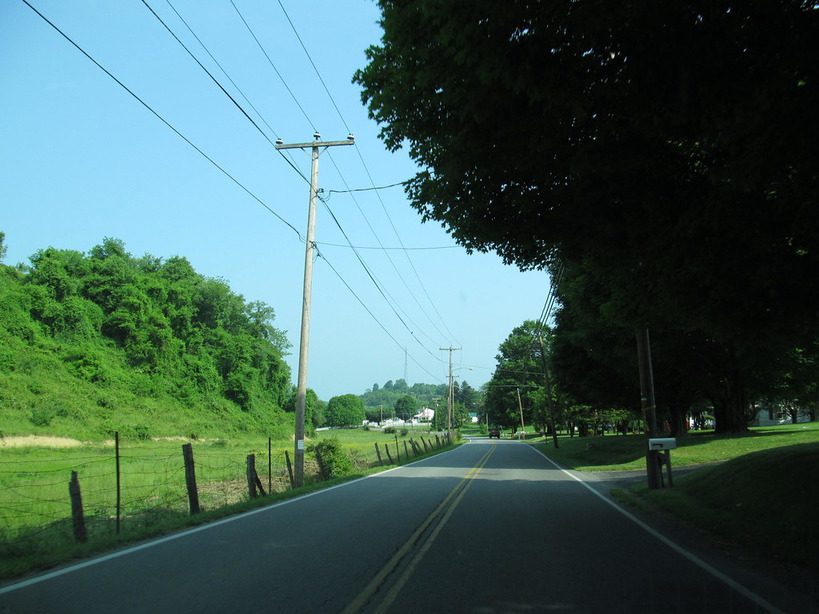 As one of Virginia's premier motorcycle rides, the Back of the Dragon offers riders a thrilling experience, with over 260 bends through the scenic Appalachian Mountains. This amazing road takes you on an unforgettable journey between Marion and Tazewell, offering a perfect combination of turns, elevation changes, and beautiful views.
While Route 16 can be ridden any time of the year, the best time to visit is during the spring or fall seasons. During these months, the weather is usually mild, making it comfortable to ride, and the vibrant foliage provides a stunning backdrop.
The Back of the Dragon stretches for approximately 32 miles, with an estimated travel time of 1 to 1.5 hours depending on your pace and stops.
Along the way, you'll find several picture-worthy spots and attractions to explore. Some highlights include:
Hungry Mother State Park: A great place to stop and enjoy a picnic or hike around the beautiful lake.
Thompson Valley: Offers breathtaking panoramic views of the surrounding mountains.
Downtown Tazewell or Marion: Takes a break and explores the lovely shops, restaurants, and small-town charm.
Route 16 is said to be a moderately challenging ride, suitable for riders with some experience. The route features tight turns, steep inclines, and sweeping curves, requiring concentration and skill to navigate safely.
It's crucial to keep in mind the following tips when riding the Back of the Dragon:
Respect the local speed limits and don't push your limits as sharp turns can catch you off guard.
Watch for local wildlife and livestock crossing the road, especially in rural areas.
Be prepared for changing weather conditions, as the higher elevations can bring sudden changes in temperature and precipitation.
3. George Washington National Forest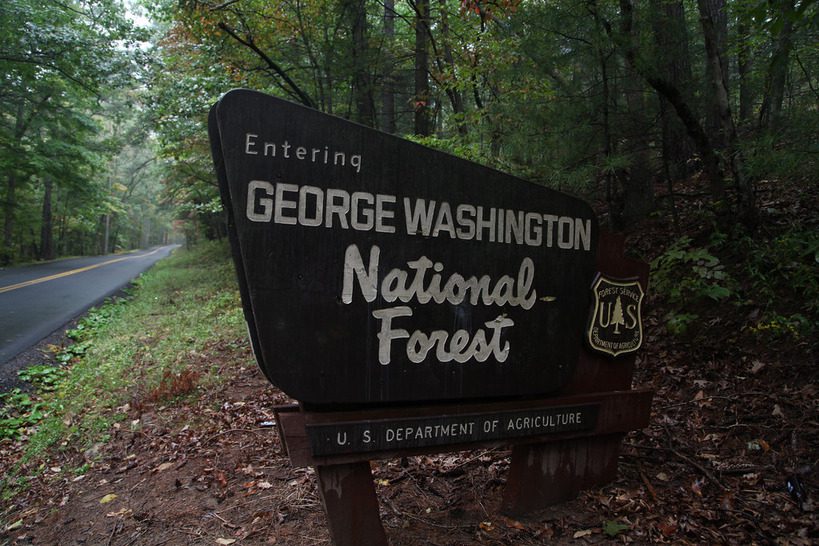 Embarking on a journey through George Washington National Forest is a must for motorcycle enthusiasts looking to explore the best rides that Virginia has to offer. The route is packed with exceptional scenery, winding roads, and plenty of opportunities for nature lovers.
Spring and fall are the ideal seasons for experiencing this ride, as both provide mild temperatures and the beautiful display of foliage. It can be quite hot during the summer, so those who are sensitive to heat may want to avoid that season. Winter brings snow and icy conditions, making the roads potentially unsafe for motorcycles.
Covering a distance of about 175 miles, this ride can be completed in a day, though for a more relaxing experience, it's recommended to plan for a 2-day excursion. This will give you ample time to explore the must-see attractions along the way.
Here are some noteworthy stops to include during your journey:
Goshen Pass: A stunning stretch of the Maury River, Goshen Pass offers scenic overlooks and picnic areas.
Elkton: This quaint small town is the perfect place to grab a bite to eat and take a break during your ride.
Mount Solon: Home to the captivating Natural Chimneys Park, featuring extraordinary rock formations and hiking trails.
The George Washington National Forest motorcycle route is considered moderately difficult due to its length and varying elevation. Riders should have some experience riding on twisty roads and be comfortable maneuvering through changing terrains. Ultimately, this route offers an exhilarating challenge for most riders.
Other Information:
Accessible fuel stations and restaurants can be found along the route.
Lodging options include several campgrounds, as well as hotels and lodges in nearby towns.
Keep in mind that cell phone reception may be spotty in some areas, so prepare accordingly.
4. Shenandoah Valley Loop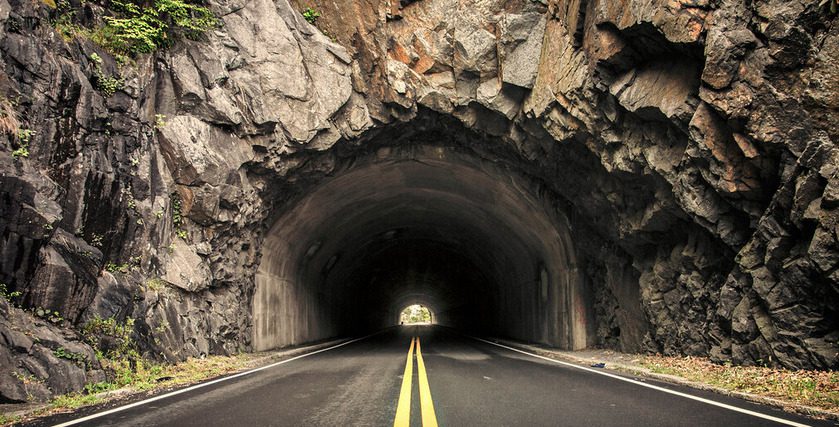 The Shenandoah Valley Loop is a fantastic motorcycle ride that showcases the serene beauty of Virginia's rural landscape. I have found it to be an ideal route for those who love scenic views, and varying terrains. This loop offers great opportunities to explore the history and culture of the region, while also providing the thrill of winding roads and hairpin turns.
April to October is the recommended time to experience this route, as the weather is usually mild. Fall foliage during October adds an extra layer of beauty to the ride.
The loop covers approximately 255 miles, traveling through diverse landscapes and picturesque small towns. Expect to spend around 5-6 hours riding, depending on your pace and breaks along the way.
Some charming towns and attractions along the Shenandoah Valley Loop include:
Front Royal: This historic town offers antique shops, art galleries, and eateries.
Luray Caverns: One of the largest caverns in the Eastern United States, it's an awe-inspiring stop.
Staunton: Known for its Victorian architecture, Staunton is home to the American Shakespeare Center and Woodrow Wilson Presidential Library and Museum.
Lexington: A small college town, Lexington offers an array of restaurants, as well as the Virginia Military Institute and the George C. Marshall Museum.
The Shenandoah Valley Loop is considered moderate in terms of difficulty. It has a few technical sections with hairpin turns, and elevation changes, but most of the ride is smooth and comfortable for all skill levels.
While riding through this picturesque loop, you can also experience the following:
Shenandoah National Park: With its famous Skyline Drive, it's a must-see stop providing countless photo opportunities and breathtaking views.
Historic Civil War Battlefields: As you ride through the region, you'll come across multiple historic sites related to key Civil War battles.
Vineyards and Wineries: Take some time to visit local wineries and enjoy their offerings, immersing yourself in the regional flavors.
5. Colonial Parkway Ride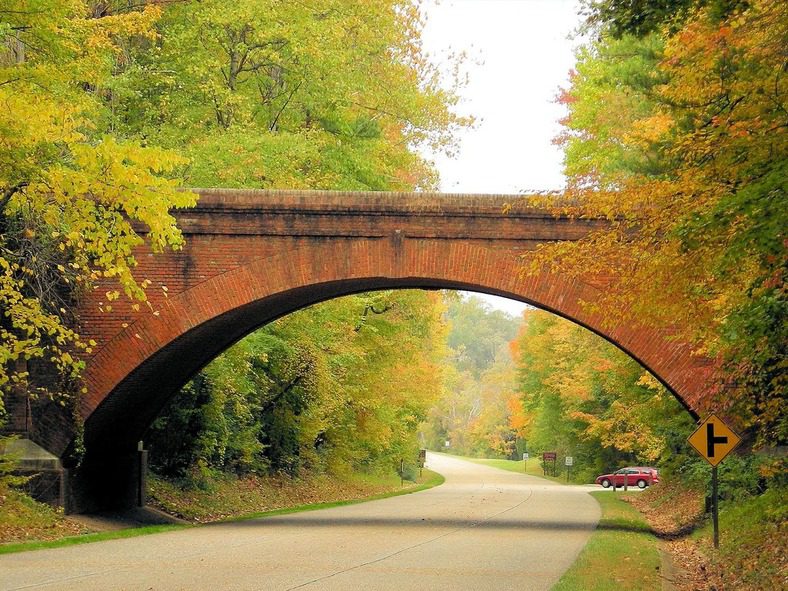 I can't talk about the top motorcycle rides in Virginia without mentioning the Colonial Parkway Ride. Connecting three of the state's most historic areas, the scenic 23-mile long road is a must for anyone looking to take in beautiful views and learn about Virginia's rich history.
The ideal time of the year for this ride would be between April and October. The weather is moderate, and you'll find the most vibrant colors and lush greenery during these months.
As mentioned earlier, the Colonial Parkway is a 23-mile stretch. Riders can expect to spend about 1-1.5 hours cruising along the relaxing and picturesque route.
Places to stop:
Historic Jamestowne
Yorktown Battlefield
College of William & Mary
Colonial Williamsburg
With its well-maintained, gently winding road, the ride along the Colonial Parkway is suitable for beginners and experienced riders alike. It's a relatively easy route to navigate.
Other Information:
There's no fee to travel the parkway, making it an affordable adventure for everyone.
The speed limit is limited to 45 mph, so this ride isn't for adrenaline-seekers. Instead, it's an opportunity to take in the lush landscapes and feel the breeze.
Along the way, you'll find many informative signs explaining the history of the various landmarks, which will enrich your riding experience.
6. Mountain Majesty on Route 33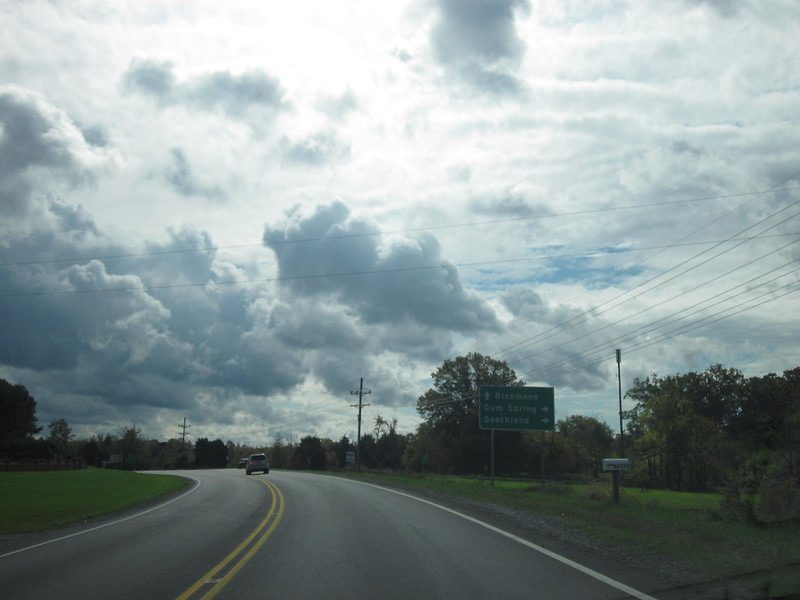 Mountain Majesty on Route 33 remains one of the best routes to take when traversing the beautiful Virginia countryside on a motorcycle. With its twisty roads, picturesque scenery, and exciting elevations, it's no wonder riders are drawn to this unforgettable adventure.
The prime time to embark on this motorcycle ride is during the fall season, specifically from late September to mid-October. This period offers the most vibrant autumn foliage, providing a breathtaking backdrop for your journey. Though you can still enjoy the route during spring and summer, the fall season is truly exceptional.
Mountain Majesty on Route 33 stretches for approximately 67 miles from the town of Harrisonburg to the Virginia-West Virginia border. The travel time depends on your speed and the number of stops you make along the way, but generally, it's good to allocate 2 to 3 hours for the entire ride.
Here are some inviting spots worth taking a break at:
Rawley Springs – A gorgeous spot along the river to relax and absorb the scenery.
Briery Branch Dam – A perfect location for a picnic, with beautiful views of the reservoir.
Spruce Knob – Located in West Virginia, this is the highest peak in the state, offering stunning panoramic views.
It's important to note that the Mountain Majesty on Route 33 route has a moderate to challenging level of difficulty. With its steep and curvy sections, as well as narrow lanes in some parts, it requires attentive riding and experience with handling twisty mountain roads. Additionally, the higher elevations may create some fog, making it essential to be cautious and alert during your ride.
It's worth taking a few precautions before starting your trip:
Expect some sudden changes in weather, so bring suitable gear.
Watch out for wildlife crossing the road, especially deer.
Ensure your motorcycle is in top condition, as there are few service stations along this route.
7. Coastal Views Along Route 13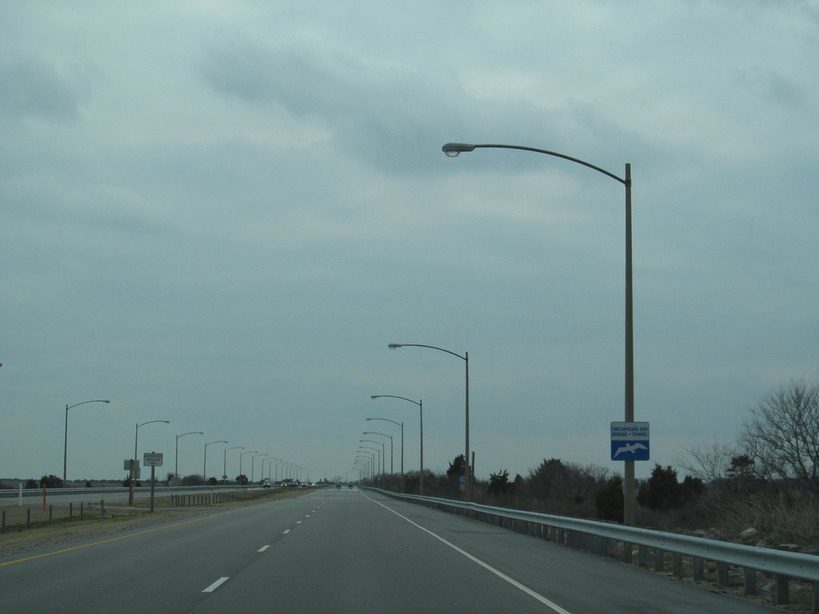 As a motorcycle enthusiast, I've found that one of the most scenic routes in Virginia is Route 13. This ride offers riders an incredible opportunity to enjoy the beautiful coastal views along the eastern shore of Virginia.
The ideal time for this ride would be during the spring or fall months. The weather is generally pleasant, and the road is less crowded than it would be during the peak summer months.
The total distance covered in this scenic route is approximately 285 miles. The ride takes about 5-6 hours to complete, including a few stops along the way.
Some must-visit spots along Route 13 include:
Chincoteague Island: A serene barrier island known for its sandy beaches, wild ponies, and the Chincoteague National Wildlife Refuge.
Cape Charles: A charming bayside town with beautiful Victorian houses, shops, and eateries.
Kiptopeke State Park: A perfect place for a picnic or a quick hike through the coastal forest.
Onancock: A picturesque, historic town with a vibrant arts scene and unique lodging options.
Route 13 is a moderately challenging motorcycle ride. While the roads are generally well-maintained, the frequent twists and turns may require some experience to navigate confidently. This route is suitable for intermediate riders and above.
When planning your ride along Route 13, it's important to keep these tidbits in mind:
Tolls: There is a toll for crossing the Chesapeake Bay Bridge-Tunnel. Be prepared to pay the fee, which is around $15 for motorcycles.
Fuel and Supplies: Gas stations and rest areas can be sparse along certain stretches of the route, so be sure to plan your stops accordingly.
Lodging: You can find many delightful B&Bs, hotels, and campgrounds along the eastern shore, so be sure to book in advance to secure a spot.
8. Goshen Pass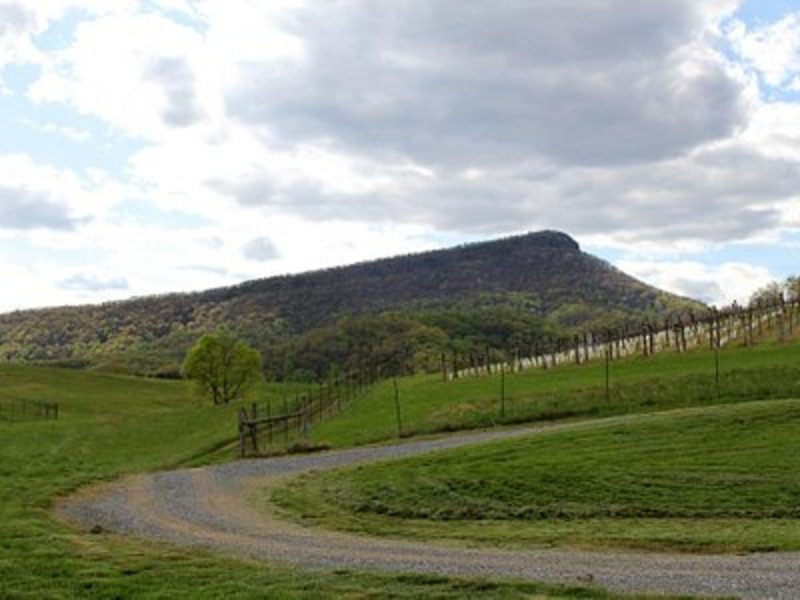 I've always been a fan of picturesque routes, and Goshen Pass in Virginia never disappoints. This beautiful ride takes you through a stretch of Route 39 and offers breathtaking views of the Maury River.
The best time to experience Goshen Pass is during the fall months, when the foliage is changing colors, but it's also a great ride during spring and summer, with lush greenery surrounding the river. Be aware that it may get a bit chilly during the fall, so it's best to dress in layers.
The journey through Goshen Pass is 35 miles long and should take approximately 1 hour to travel. However, given the stunning scenery, I recommend setting aside extra time to stop and admire the landscape.
Along the route, there are several ideal places to stop and cherish the surroundings:
Goshen Pass Natural Area Preserve: This 936-acre preserve features hiking trails and an opportunity to see rare plants.
Maury River: Stop by the river for a picnic, fishing, canoeing, or simply to enjoy the calming sights and sounds of the water.
Rockbridge Baths: A small, quaint town with a few local businesses and some great photo opportunities.
Goshen Pass offers an easy-to-moderate ride for motorcyclists, with a few twists and turns but nothing overwhelming. It's a perfect experience for both beginners and seasoned riders looking for a tranquil ride.
Keep in mind that while this route is relatively easy, there might be wildlife crossing the road from time to time. Here are some additional tips for the ride:
Watch for deer in the early morning and late afternoon, as they might be moving through the area.
Cellphone Reception can be spotty, so plan ahead and bring a paper map as a backup.
Fuel up before starting your journey, as there are limited gas stations along the route.
9. Roaring Run Loop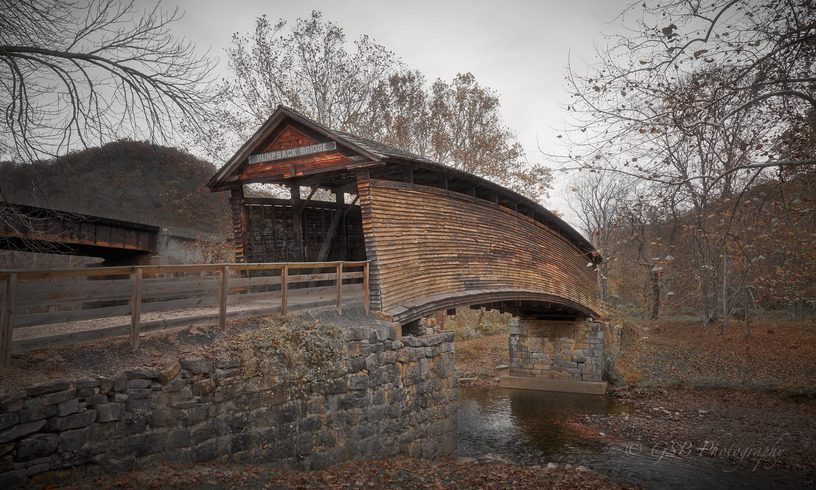 When I think of the perfect Virginia motorcycle ride, Roaring Run Loop comes to mind. Also known as "A Historic Ride," this loop offers a journey uniquely filled with beautiful scenery and a taste of American history.
The best time to ride Roaring Run Loop is during fall, when the vibrant foliage is at its peak. However, spring and summer provide pleasant riding conditions as well. It's advised to avoid winter months due to the possibility of ice or snow.
The Roaring Run Loop is approximately 32 miles long and can take anywhere from 1 to 2 hours to travel on a motorcycle, depending on your riding style and the number of stops you make.
A few noteworthy stops along the Roaring Run Loop include:
Roaring Run Furnace: An historic iron furnace from the 1800s that reminds you of the area's rich past.
Roaring Run Falls: A beautiful waterfall surrounded by lush greenery offers a peaceful place to rest and take photos.
Humpback Covered Bridge: A picturesque covered bridge dating back to 1857 that's perfect for capturing memories of your ride.
Roaring Run Loop is suitable for beginners but still offers excitement for experienced riders. The road boasts a few twisty curves to keep riders engaged, while the overall ride remains comfortable for those with less experience.
While enjoying your ride, remember to take note of the small towns you'll pass through along the way. You might come across charming shops and local restaurants that provide breaks from the road and tasty bites to replenish your energy. Be sure to also check local weather forecasts before riding, as sudden changes in weather can affect road conditions.
10. Breaks Interstate Park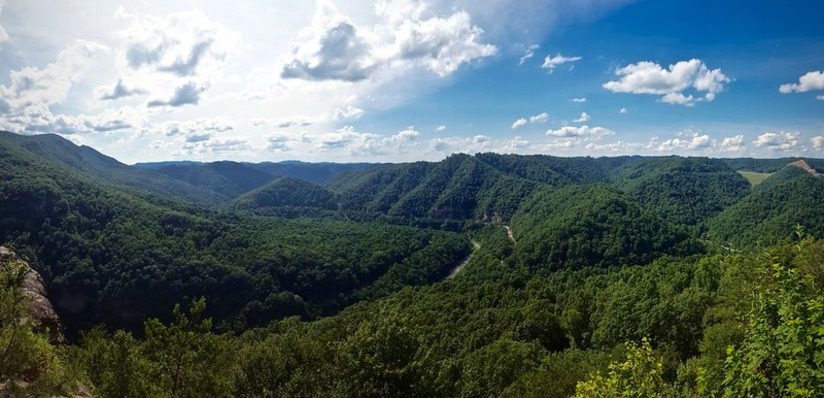 When I think of exhilarating motorcycle rides, Breaks Interstate Park's 'Grand Canyon of the South' is definitely one of the top choices. Virginia's nature, coupled with winding roads and amazing views, makes this ride a bucket list item for any motorcycle enthusiast.
Ideally, the best time to visit is during the months of May through October, when the weather is warm and clear enough for an enjoyable ride. It's worth noting that autumn offers an added bonus with vibrant fall foliage, creating a truly remarkable backdrop to your ride.
The Breaks Interstate Park has around 25 miles of roads within its boundaries, offering diverse riding experiences. I'd recommend dedicating at least 2 hours to fully explore the park and enjoy the mesmerizing views. Keep in mind that the roads can be more challenging during winter; therefore, plan your ride accordingly.
While meandering through the park, there are several points of interest worth a stop:
Breaks Interstate Park Visitor Center: A perfect place for a pit stop, offering information and restrooms.
Tower Tunnel Overlook: This spot provides awe-inspiring panoramic views of the canyon.
Beaver Pond Trail: Stretch your legs while exploring this easy 1.5-mile trail.
Rustic Cabin Area: This serene location offers picnic tables, ideal for taking a break and refueling.
Riders of all experience levels can ride through Breaks Interstate Park. But, be wary that some sections contain sharp turns and steep inclines. These roads require focus and a cautious approach. Always remember to ride within your skill level to ensure a safe and enjoyable adventure.
While planning your trip to Breaks Interstate Park, keep these additional points in mind:
Entrance Fee: $15 per vehicle (motorcycles included), which is valid for 3 consecutive days.
Accommodation: The park has lodging options varying from camping to cabins, ideal for multi-day trips.
Safety: Wildlife encounters are possible; therefore, be mindful and maintain a safe distance from any animals.
FAQs
What are the top 5 motorcycle rides in Virginia?
The Top 5 Motorcycle Rides Are Skyline Drive, Blue Ridge Parkway, U.S. Route 250, Virginia State Route 16 (The Back Of The Dragon), And Colonial Parkway.
How Long Is The Skyline Drive In Shenandoah National Park?
Skyline Drive Is 105 Miles Long.
What is the length of the Blue Ridge Parkway in Virginia?
The Blue Ridge Parkway Stretches For About 217 Miles In Virginia Out Of Its Total Length Of 469 Miles.
What Is The "Back Of The Dragon" Motorcycle Route?
The "Back Of The Dragon" Is A 32-Mile Ride Along Virginia State Route 16, Known For Its Twisty Roads And Scenic Views.
What are some attractions along the George Washington Memorial Parkway?
Attractions Along The 25-Mile George Washington Memorial Parkway Include Scenic Views, Historical Sites, And Access To The Nation's Capital.
In Conclusion: The Ultimate Riding Experience in Virginia
Virginia offers a diverse range of motorcycle riding experiences, from scenic coastal routes to challenging mountain twisties. I've gathered my personal top 10 picks for the best rides in the state, but let me quickly sum up some important points to consider when planning your ultimate Virginia motorcycle adventure.
For optimal riding temperatures and stunning foliage, I recommend visiting in late spring or early fall. You'll avoid the summer crowds and extreme heat, making your ride far more enjoyable. Keep in mind that some roads, especially high-altitude ones, may be closed or impassable due to winter snow.
There's no one-size-fits-all approach to motorcycle trips, as some riders may prefer short day rides while others crave longer journeys. In general, shorter rides are ideal for weekends or even a full day's worth of riding, while longer routes take multiple days to fully savor. Virginia offers great choices for both types of rides:
No matter which route you choose, some iconic Virginia attractions are worth stopping for:
Historic sites like the Jamestown Settlement and Colonial Williamsburg
Natural wonders like Shenandoah National Park, Luray Caverns, and the Natural Bridge
Quaint small towns such as Abingdon, Lexington, and Staunton that offer a taste of Virginia's culture and cuisine
Be sure to choose routes that align with your skill level. Virginia's rides vary from beginner-friendly coastal sweeps to advanced mountain switchbacks. Consider your riding experience and bike type when selecting a route – keep in mind that some routes may be better suited for sportbikes, cruisers, or touring bikes.
Before heading out, make sure you're prepared for the road ahead. Keep the following tips in mind:
Plan your fuel stops, as gas stations can be few and far between in some areas of Virginia
Check road conditions and closures to avoid any unexpected detours
Always carry essential tools, rain gear, and a first aid kit for unforeseen situations
Keep a lookout for wildlife, especially in forested or rural areas where deer and other animals are more common
With these tips in mind, you're ready to conquer the open road and enjoy the best motorcycle rides Virginia has to offer. Safe travels, and happy riding!
Motorcycle Rides in the US by States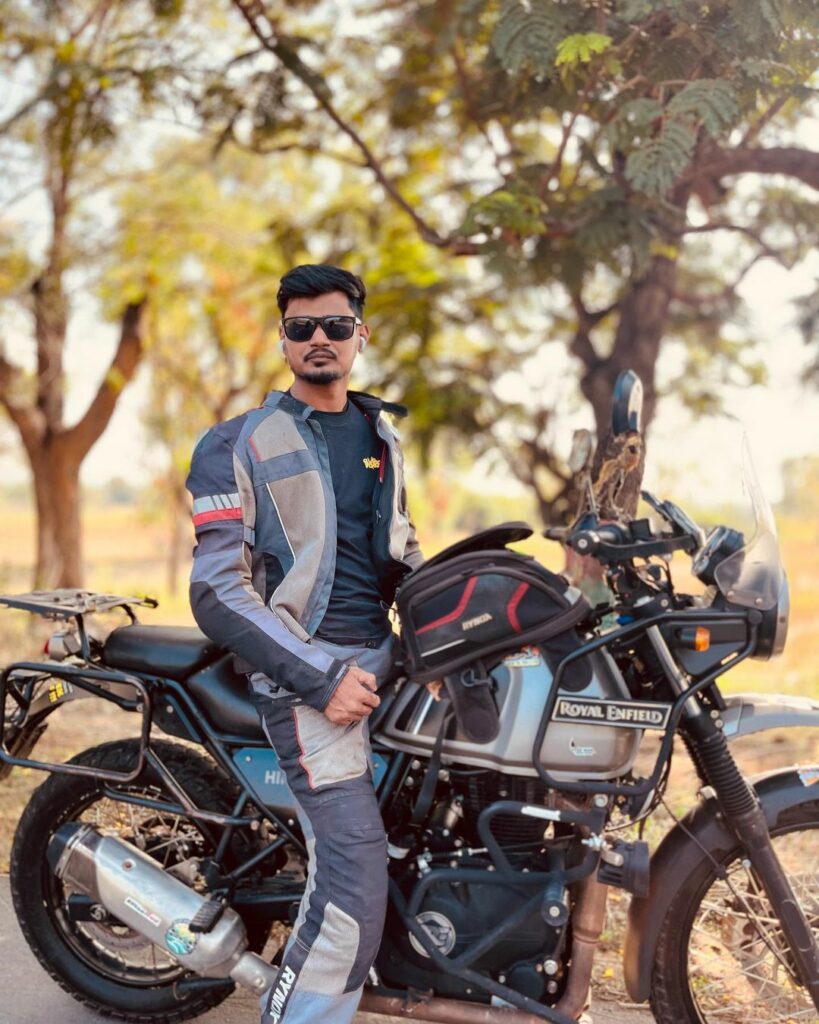 Vishwanath Mathpati
I am Vishwanath Mathpati, a full-time Blogger and Motorcyclist from Bidar, Karnataka. I love writing about my Motorcycles Stories and Riding Gears on this blog.
Know More About Me.
---
If you liked this article, then please subscribe to our YouTube Channel for more Bike Videos. You can also find us on Instagram, Twitter and Facebook.
Disclosure: As an Amazon Associate, I earn from qualifying purchases. Read more about Amazon Affiliate Disclaimer.