Top 10 Best Motorcycle Rides in Georgia: My Ultimate Guide
Georgia's diverse landscape offers a variety of scenic motorcycle rides that can't be missed. From winding mountain roads to coastal highways, picturesque small towns, and lush forests, there truly is something for every rider.
Nestled in the heart of the southern United States, Georgia's mild climate and rich history make it a haven for motorcyclists. With its well-maintained roads and plenty of twists and turns, you'll find that each ride offers its own unique charm, guaranteed to captivate and thrill any rider. Whether you're seeking adventure or a leisurely ride, the Peach State won't disappoint.
Neighboring states too, offer their unique charm and riding experiences. Just north, you'll find the Tail of the Dragon in Tennessee, known for its 318 curves in 11 miles. Heading west into Alabama, the Little River Canyon Rides offer sweeping views of river canyons and hardwood forests. Meanwhile, South Carolina to the northeast offers the Cherokee Foothills Scenic Highway, a ride filled with waterfalls, mountains, and rich history. So, without further ado, let's dive into the top 10 best motorcycle rides in Georgia!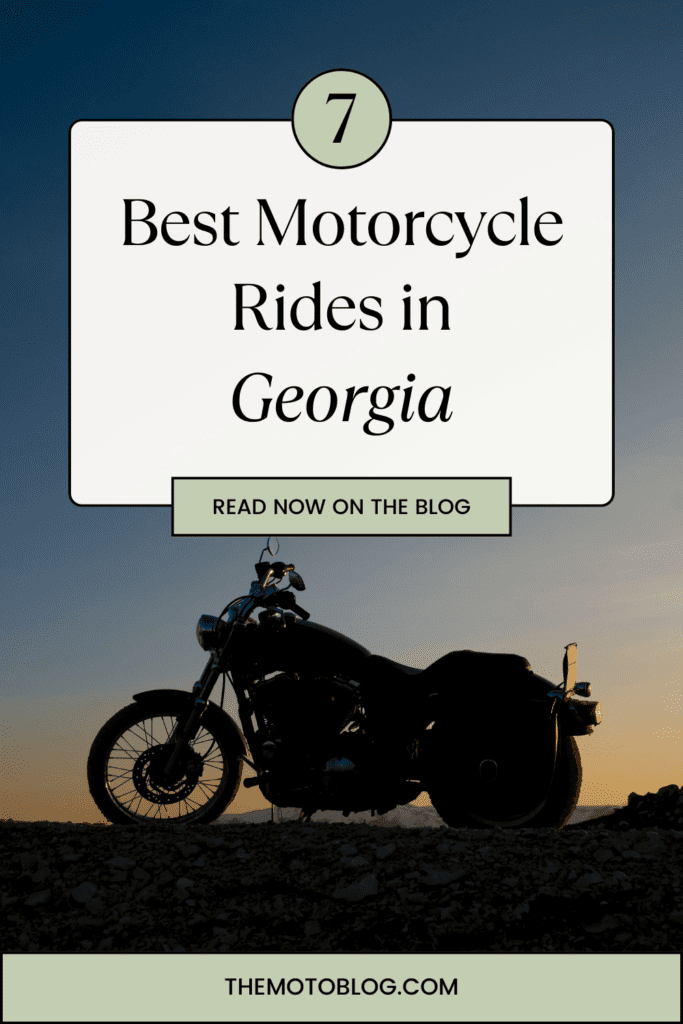 Unveiling the Peach State: Georgia's Motorcycle Gems
Georgia, known as the Peach State, is a gem in the world of motorcycle riding. The state's beautiful scenery, exciting roads, and pleasant climate make it a must-visit destination for motorcycle enthusiasts. I've gathered some essential information to help make your journey through Georgia even more enjoyable.
While the weather in Georgia is generally mild most of the year, the optimal time for a motorcycle ride is from late spring (May) to early fall (September). This period offers warm temperatures, minimal rainfall, and gorgeous landscapes in full bloom.
To ensure you have memorable experiences, it's important to plan some stops during your rides. Some great places to visit while you're exploring Georgia on your motorcycle include:
Historic landmarks and buildings
Picturesque small towns and villages
Beautiful parks and scenic overlooks
Popular restaurants and eateries
The route's challenge and difficulty level should never be overlooked when planning a motorcycle ride. In Georgia, you can find a variety of routes catering to different skill levels. Be sure to pick a route that suits your skill level and riding preferences.
Lastly, don't forget to consider your motorcycle's fuel range and the availability of gas stations along your chosen route. It's also essential to keep safety gear like helmets, jackets, gloves, and boots in mind before setting off on your ride.
Overall, by considering these factors, you're well on your way to uncovering some of Georgia's true motorcycle gems.
1. Cherohala Skyway: Scenic Thrills Await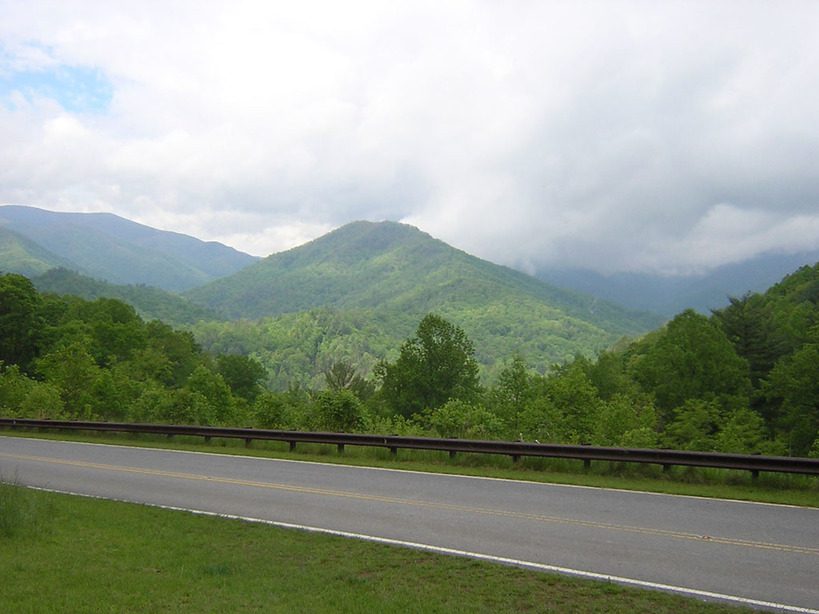 Cherohala Skyway is one of the best motorcycle rides in Georgia. This incredible route covers around 43 miles of scenic byways connecting Tellico Plains, Tennessee, with Robbinsville, North Carolina. What makes this ride truly memorable is the panoramic views, winding curves, and elevation changes.
The ideal time to experience the Cherohala Skyway on a motorcycle is between April and October, when you'll find mild weather and colorful foliage. However, always be prepared for variable temperatures and remember that colder temperatures can occur at higher elevations even during the warmer months.
Riding the entire 43-mile stretch of Cherohala Skyway takes about 2 hours without any stops. But I'd highly recommend allocating at least half a day to fully enjoy the sights and attractions along the way.
Places to stop:
Santeetlah Overlook (milepost 8): Enjoy breathtaking views of Lake Santeetlah and the surrounding mountains.
Huckleberry Knob (milepost 20.8): Hike a short trail to the highest point on the Skyway at 5,560 feet above sea level.
Hooper Bald (milepost 29): Explore a high-elevation meadow with native grasses and abundant wildflowers during summer months.
The Cherohala Skyway is a ride that falls under the moderate category of difficulty. With numerous winding curves and elevation changes, it's best for those who are comfortable with navigating a motorcycle on mountain roads.
If you get hungry during your ride, there are limited dining options along the Skyway, so you might want to pack some snacks or plan a meal stop in either Tellico Plains or Robbinsville. Additionally, always keep an eye out for wildlife as deer and other animals are known to make appearances near the road.
2. North Georgia Mountains Loop: Twists and Turns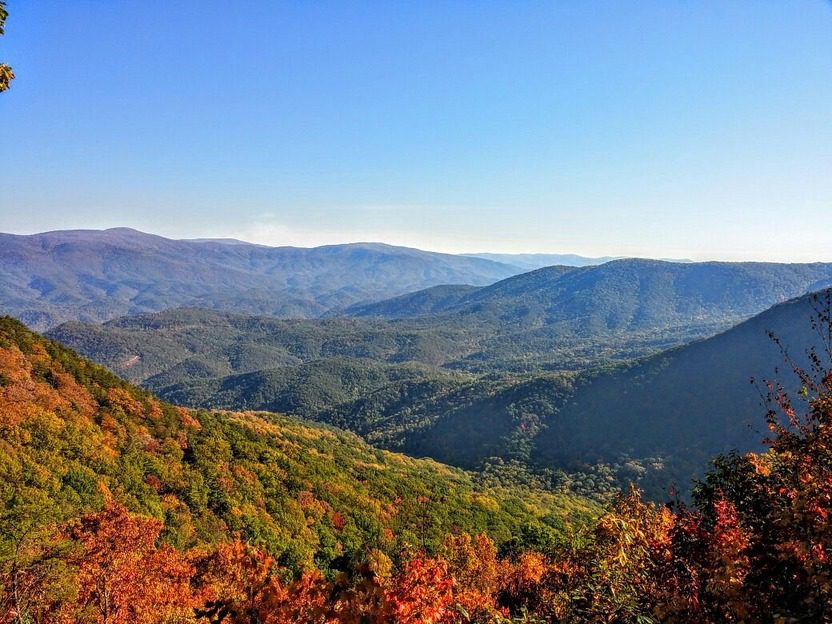 I've found that one of the most exhilarating motorcycle rides in Georgia is the North Georgia Mountains Loop. This route takes you through some of the most picturesque landscapes, with plenty of twists and turns to thrill any rider.
The ideal time to take on this ride is during spring or fall. These seasons offer comfortable temperatures, beautiful foliage, and fewer tourists. Summer and winter can be pretty extreme, making riding conditions less than ideal.
The entire loop covers approximately 120 miles and can be completed in about 3-4 hours, depending on how many stops you choose to take along the way.
There are quite a few noteworthy spots to stop at during your ride. Some of my favorites include:
Dahlonega: A historic gold-mining town with lovely architecture and interesting shops to explore
Amicalola Falls State Park: Home to Georgia's tallest waterfall, Amicalola Falls, this park has numerous hiking trails and fantastic scenery
Chattahoochee National Forest: This vast forest offers breathtaking views, picnic areas, and various recreational opportunities
Blairsville: A small town with a friendly atmosphere, Blairsville is an excellent place to grab a bite or refuel before continuing your journey
I'd say this loop is best suited to intermediate riders due to its numerous twists and turns. It's essential to remain cautious and attentive, as weather conditions and changes in road surfaces can create unpredictable situations.
When planning your trip through the North Georgia Mountains Loop, it's helpful to know that:
The route is well-maintained with mostly smooth asphalt, making it a pleasure to ride on
There are ample gas stations and restaurants along the way, but it's always wise to keep your gas tank full and carry some snacks for those more remote stretches
Cell phone reception can be spotty in certain areas, so be prepared with maps or a GPS device
On weekends, especially during peak seasons, be prepared for some increased traffic from other motorcyclists and tourists exploring the gorgeous mountain roads
3. Richard B. Russell Scenic Highway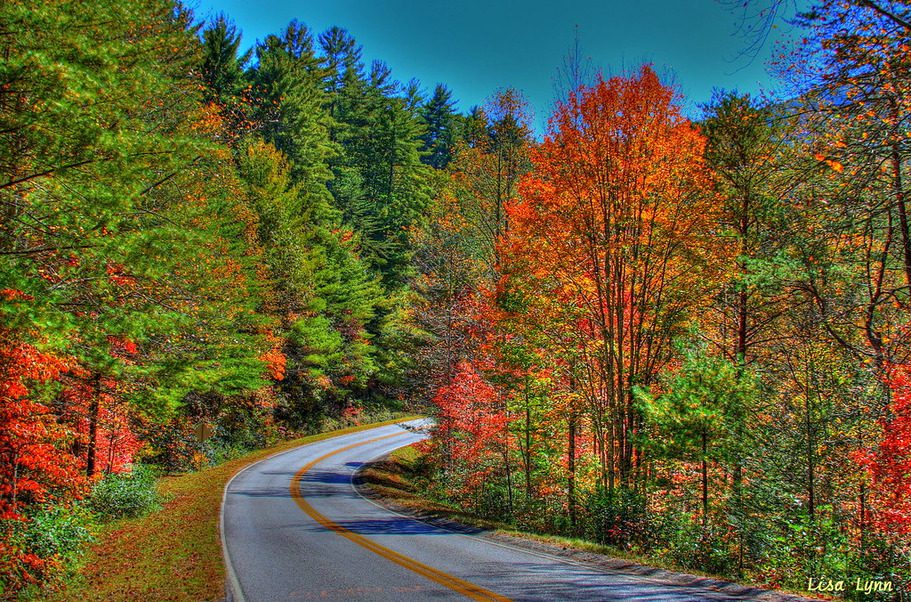 Stretching across the picturesque North Georgia mountains, the Richard B. Russell Scenic Highway offers motorcyclists a feast for the senses with its stunning views and exhilarating curves
The ideal time to take on this route is during the spring and fall months. With the vibrant colors of the foliage, crisp mountain air, and comfortable riding temperatures, you'll be immersed in a breathtaking experience.
The highway stretches for 40.6 miles, extending from Blairsville to Helen. Most riders complete the journey in about 1.5 hours, but of course, that depends on your own pace and stops along the way.
A couple of notable rest stops include:
Brasstown Bald: Offering jaw-dropping panoramic views, this spot is the highest point in Georgia.
Helton Creek Falls: Refresh yourself in the cascading waters of this serene waterfall, just a short hike from the main road.
Navigating the Richard B. Russell Scenic Highway is considered a moderate ride in terms of difficulty. While it's packed with fun twists and turns, riders should watch out for the occasional tight curve and local wildlife crossing the road.
In addition to the beautiful scenery and engaging ride, there are a few other things to note:
Elevation: This route reaches elevations of up to 3,315 feet, offering unmatched views of surrounding peaks.
History: Named after Georgia's longest-serving U.S. Senator, this highway has been a popular spot for nature lovers and outdoor enthusiasts since its completion in 1996.
Safety Tips: This scenic route is frequented by various users, so keep an eye out for hikers, cyclists, and wildlife sharing the road. Additionally, cell service can be spotty, so it's essential to plan ahead and inform someone of your trip.
4. Wolf Pen Gap Road: A Motorcycle Enthusiast's Dream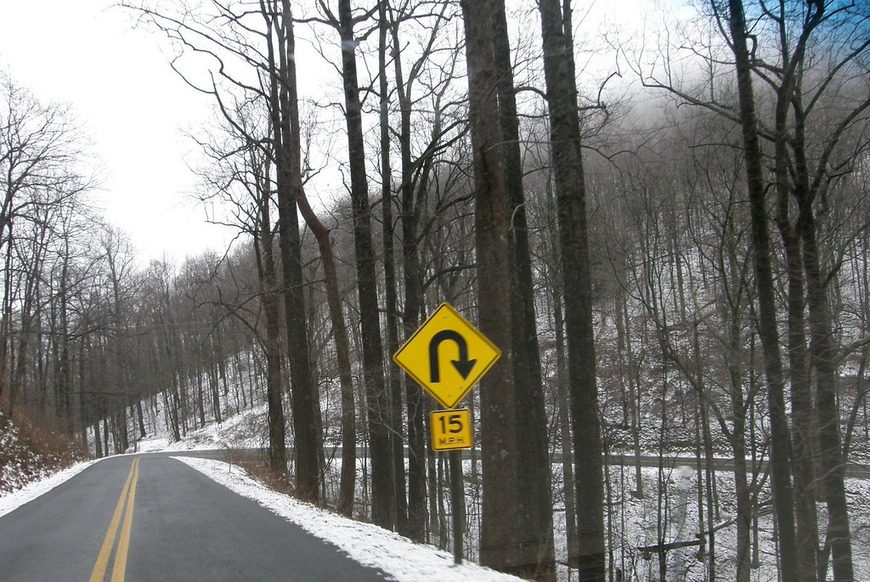 I've always been fascinated by the incredible motorcycle roads that Georgia has to offer, and Wolf Pen Gap Road is no exception. As a motorcycle enthusiast, I can confidently say that this ride is one of the best routes in the state, providing thrilling twists and turns, gorgeous scenery, and an overall unforgettable experience.
The ideal time to visit Wolf Pen Gap Road is between April and October. During these months, you can expect warm temperatures and minimal rain, perfect for a smooth and comfortable ride.
Wolf Pen Gap Road is a 12-mile stretch located between the towns of Suches and Blairsville. The winding road, with its tight curves and elevation changes, will take approximately 30-45 minutes to complete, depending on your pace and riding style.
There are several amazing spots along the way, perfect for a quick break or a photo opportunity:
Turner's Corner Café: Located at the intersection of Highway 19 and Highway 129, this café is known for its delicious meals and is an excellent place to refuel before or after your ride.
Two Wheels of Suches: A popular motorcycle campground and lodge nestled in the Chattahoochee National Forest, where you can relax, socialize and rest.
Lake Winfield Scott Recreation Area: A scenic lake surrounded by mountain laurels and rhododendrons, offering picturesque views and an ideal spot for a picnic.
Wolf Pen Gap Road offers a moderate to challenging level of difficulty. With numerous tight hairpin turns, steep climbs, and rapid descents, it may not be suitable for beginner riders. I recommend this route for those with some experience navigating challenging roads.
Before embarking on your Wolf Pen Gap Road adventure, be aware that gas stations are scarce in the area, so make sure to fill up your tank beforehand. Additionally, the road can be busy on weekends, so consider a weekday ride if you prefer to avoid crowds.
5. The Suches Loop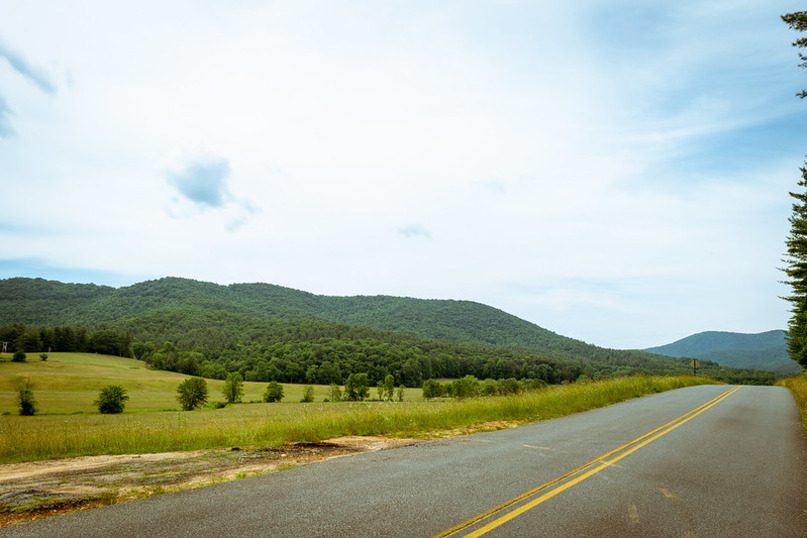 The Suches Loop offers some of the most breathtaking views that Georgia has to offer. Often referred to as "Georgia's Dragon", this ride is an absolute must for motorcycle enthusiasts who appreciate winding curves, lush greenery, and awe-invoking landscapes.
The ideal time to visit is April through October. During these months, you'll experience mild weather and vibrant foliage, which adds color to the already stunning backdrop of the Chattahoochee National Forest. To avoid traffic and fully enjoy the ride, I recommend hitting the road early in the morning or during the week, as weekends can be quite crowded.
The Suches Loop spans approximately 50 miles and takes around 1 to 1.5 hours to complete, depending on your riding speed and how frequently you stop. Expect numerous twists and turns on this fun, engaging route that's sure to keep you entertained.
Don't miss out on these highlights during your ride:
Wolf Pen Gap Country Store – A perfect spot to grab a snack, refuel, and chat with fellow riders.
Two Wheels of Suches – Motorcycle campground and resort offering lodging, camping, and cuisine, making it an excellent stop for longer visits or overnight stays.
Woody Gap Overlook – Take a break at this scenic overlook to admire the incredible panoramic views of the Appalachian Mountains. It also makes for an awesome photo opportunity.
The Suches Loop is rated as moderate, providing a mix of tight curves, swooping bends, and some pretty intense elevation changes. This ride isn't recommended for novice riders, but it's an exciting challenge for those who are experienced and comfortable handling their bikes.
While riding the Suches Loop, remember to watch out for wildlife, such as deer and turkey, which are a common sight. Also, be prepared for the occasional patches of gravel or tar snakes on the road.
6. Six Gap North Georgia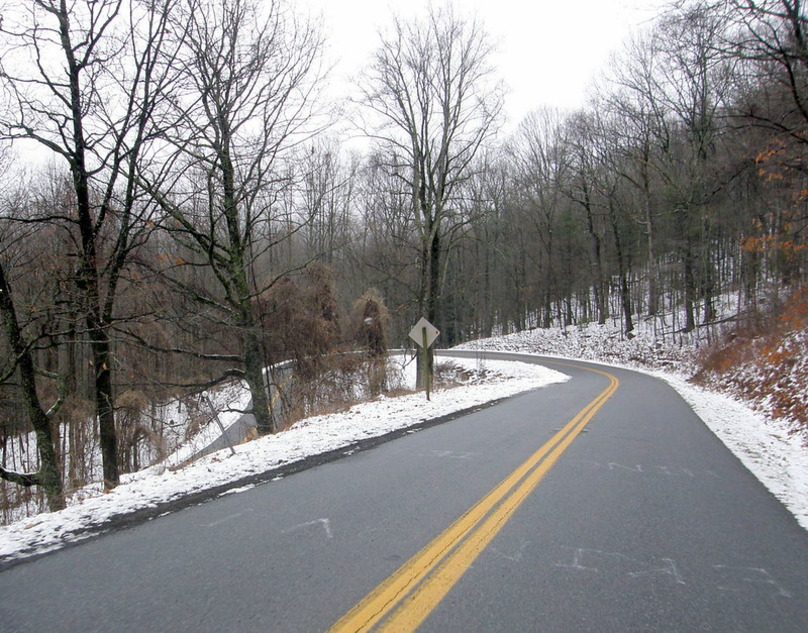 Six Gap North Georgia never fails to impress riders with its astounding beauty and thrilling twists and turns. For anyone looking to explore Georgia's stunning scenery, this motorcycle ride is not to be missed. Known for its challenging route, incredible views, and countless great stops along the way, Six Gap North Georgia is the perfect ride for any enthusiast.
The best time to visit Six Gap North Georgia is during the fall months, when the foliage is at its peak: September, October, and early November. These months offer vibrant colors and cooler temperatures, making it an ideal time for riding. However, be mindful of weekend traffic as it can get pretty busy during the peak season.
Traveling along the Six Gap North Georgia route will take you through over 100 miles of mountainous terrain. The journey can be completed in around 4-6 hours, depending on the number of stops you choose to make. Some excellent spots to take a break along the route include:
Woody Gap: A scenic overlook with breathtaking views
Turner's Corner Cafe: A popular biker-friendly spot to grab some food
Wolfpen Gap: A sought-after mountain pass with picturesque views
Riders should be aware that the level of difficulty of the Six Gap North Georgia route can be quite high. It's home to tight curves, steep inclines, and unpredictable weather conditions. Therefore, it's important to exercise caution and come prepared with the necessary gear and skills.
Other information to take into account in your journey:
Be alert for wildlife crossing the road, especially during dawn and dusk.
Check weather forecasts before planning your journey to avoid rain or snow.
Watch for slow-moving vehicles on tight curves as they may take up more of the roadway than expected.
Accommodations are available in nearby towns, making it possible to extend your trip over several days if desired.
7. Cohutta Chattahoochee Scenic Byway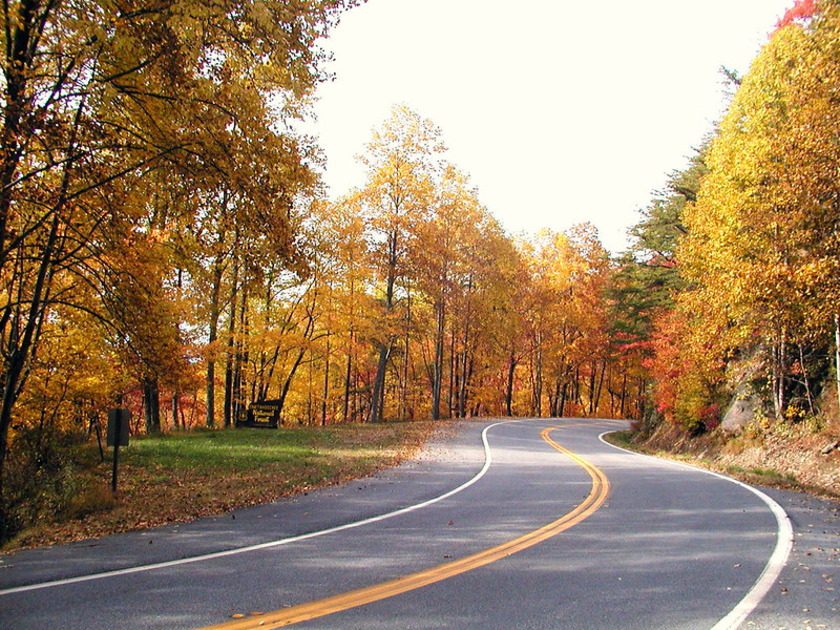 As a motorcycling enthusiast, I've had the pleasure of exploring numerous scenic routes, and I can definitely attest that the Cohutta Chattahoochee Scenic Byway stands out as a true Southern gem. This stunning ride is nestled in the heart of Chattahoochee National Forest, offering a perfect blend of nature's beauty, captivating vistas, and exhilarating twists and turns.
The ideal time to visit is during fall when vibrant foliage is on display, giving riders an exceptional experience. However, you'll also find the route enjoyable during late spring and summer.
This enchanting route stretches for about 54 miles and typically takes around 2 hours to complete, depending on your pace. It's a great ride for those looking to spend a few hours soaking in the scenic beauty of Georgia's countryside.
Along the Cohutta Chattahoochee Scenic Byway, you'll come across numerous attractions and picturesque stops, including:
Fort Mountain State Park: A perfect place for a rest stop, with opportunities for hiking and picnicking.
Cohutta Mountain Overlook: Providing panoramic views of the Cohutta Wilderness, ideal for taking memorable photos.
Bear Creek Campground: A lovely spot to take a break, or even consider camping overnight.
The ride offers a variety of curves and elevation changes that may prove challenging for novice riders. Hence, I'd rate the level of difficulty as moderate. Still, with caution and a willingness to hone your riding skills, this route remains accessible to most motorcyclists.
When venturing along this route, don't forget to keep an eye out for wildlife. It's not uncommon to witness deer and other animals native to the region. As always, fuel up your motorcycle before embarking on the ride, and stay alert for any potential hazards along the way.
8. Silver Comet Trail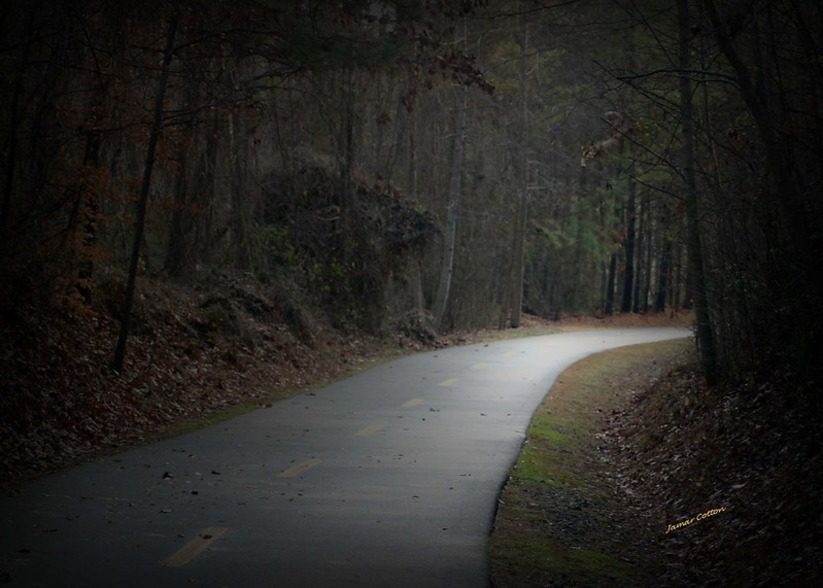 Diving into the heart of Georgia's railroad history has never been more thrilling than with a ride along the Silver Comet Trail. This picturesque route stretches over 60 miles, offering a captivating blend of history and nature to motorcycle enthusiasts.
To fully appreciate the Silver Comet Trail, I'd recommend planning your visit between April and November. During these months, the weather is generally mild, providing optimal riding conditions.
The 60-mile long trail takes approximately 2-3 hours to complete, depending on your pace and the number of stops you make.
While exploring the Silver Comet Trail, be sure to pause and enjoy these notable sites:
Hiram Trailhead: A perfect starting point for your journey, with ample parking space and picnic areas.
Pumpkinvine Trestle: A must-see historic landmark offering stunning views of a bridge that stands 126 feet above Pumpkinvine Creek.
The Rockmart Natural History Area: A fascinating glimpse into Georgia's geologic history with a stop at the Rockmart Slate Quarry.
Cedartown Depot: A restored 1912 train depot housing a Silver Comet Trail visitor center and community museum.
Coot's Lake Beach: A serene spot perfect for a mid-ride break or refreshing swim.
Navigating the Silver Comet Trail is relatively easy for most motorcycle riders. The pathway is flat, smooth, and well-maintained, making it an enjoyable experience for both seasoned riders and beginners alike.
Consider the following additional information when planning your Silver Comet Trail ride:
The trail is open from dawn until dusk.
Make sure to check for any trail restrictions or closures before your visit.
Motorcycles are only allowed on certain sections of the trail. Be prepared to plan your route accordingly.
While the trail is well-suited for all skill levels, always take proper safety precautions and ride within your ability.
9. Savannah River Scenic Byway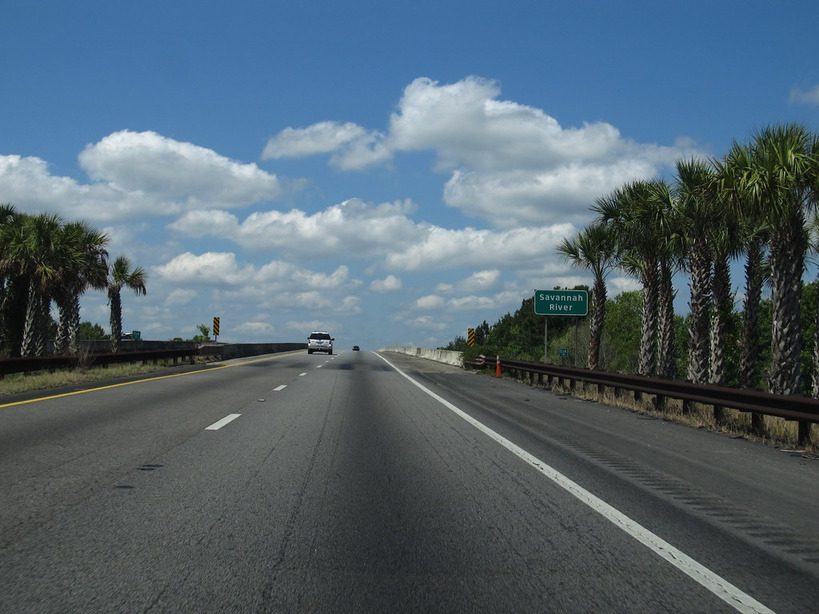 I can't help but gush over the Savannah River Scenic Byway, a ride that offers coastal charm and amazing views. This well-known route features a mix of nature, history, and picturesque scenery that will undoubtedly captivate any motorcycle enthusiast.
Spring and fall are the ideal seasons to embark on this journey. During these times, you'll be able to experience the beautiful foliage and avoid the sweltering summer heat.
The Savannah River Scenic Byway stretches over 100 miles, and it typically takes around 2.5 to 3 hours to complete without stops. Riders can start from Augusta, GA, and head towards Savannah, GA, making their way through quaint towns and beautiful landscapes.
Along this scenic byway, there are several must-see places that you won't want to miss. Here's my top pit stop list:
Augusta Canal: Enjoy the historic site with trails, a beautiful park, and a museum that celebrates the rich history of this area.
Brick Pond Park: Escape to this wetlands park for a chance to spot alligators, turtles, and various bird species.
Riverfront Marina Park: A great spot for a picnic, this park offers stunning views of the Savannah River.
Georgia Visitor Center: For a quick break or more information, pop into this visitor center conveniently located near the beginning of the byway.
The Savannah River Scenic Byway is fairly easy to navigate, making it perfect for riders of all skill levels. The smooth roads and gentle curves allow for a comfortable and enjoyable experience.
Riders should be cautious during the spring and fall seasons, as deer activity is more prevalent along the byway. It's best to remain vigilant and take all necessary precautions for a safe and enjoyable ride.
10. Dixie Highway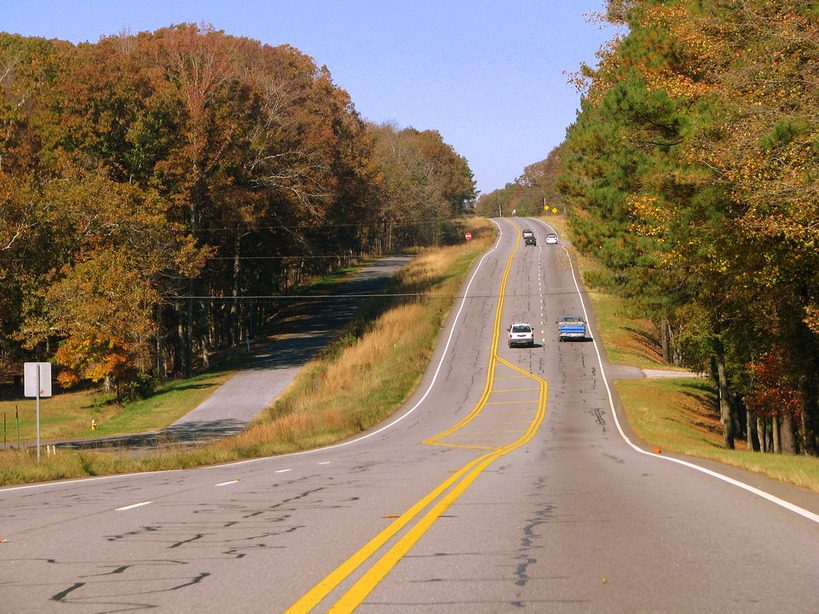 Stepping back in time has never been easier than riding along the Dixie Highway through Georgia. It's not just another motorcycle ride – it's a historic journey that unveils a rich tapestry of Southern culture and incredible scenery.
Autumn is the ideal time to enjoy the beautiful fall foliage, cooler temperatures, and less tourist traffic. If you're a history buff, consider visiting during late spring or summer when the numerous historic sites have extended hours.
The Dixie Highway spans around 290 miles in Georgia, and it takes approximately 5-6 hours with some stops to travel the road's entirety. However, you can choose to break it up into shorter rides if you prefer.
Places to Stop:
Carter's Quarters: This beautifully restored bed and breakfast is perfect for a restful stay and discovering the history of the area.
Warm Springs: Home to the Little White House, this charming town reflects the soothing environment that drew President Franklin D. Roosevelt for his polio treatments.
High Falls State Park: Marvel at the stunning waterfalls and take a break at this serene location with picturesque views.
Intermediate riders will enjoy the Dixie Highway, as it has some twisting roads, elevation changes, and beautiful countryside to navigate. Novices may find the challenge slightly difficult but still enjoyable.
One of the most historic highways in America, the Dixie Highway was constructed between 1915 and 1927. It played a significant role in the cultural and economic development of the South. While riding, you'll encounter historic landmarks, southern hospitality, and a unique glimpse into the area's past.
FAQs
What are some of the best motorcycle rides in Georgia?
Some Top Motorcycle Rides In Georgia Include Georgia's Dragon, Highway 28: Tri-State Tour, The Extended Suches Loop, The Northern Georgia Scenic Byway, And The Savannah River Scenery.
What is the Georgia Dragon?
The Georgia Dragon, Also Known As The Suches Loop, Is A Popular And Challenging Motorcycle Ride In Georgia, Featuring Twisty Roads And Beautiful Scenery That Require Fine-Tuned Riding Skills.
How many miles is the Suches Loop?
The Suches Loop, Also Known As Georgia's Dragon, is a 40-Mile Scenic Motorcycle Route In North Georgia.
What are some scenic motorcycle rides in Georgia during the fall season?
Scenic Motorcycle Rides In Georgia During Fall Include Blue Ridge, The Dahlonega Loop, Georgia Mountain Parkway, Southern Highroads Trail, And Russell-Brasstown National Scenic Byway.
Can you recommend some North Georgia Mountains motorcycle rides?
Some Top Motorcycle Rides In The North Georgia Mountains Are Highway 52, Ellijay Western Loop, Blue Ridge, Suches (Georgia's Dragon), Southern Highroads Trail, And Russell-Brasstown National Scenic Byway.
In Summary: Georgia's Irresistible Motorcycle Rides
Exploring Georgia on two wheels offers some truly amazing experiences. With its diverse landscape, awe-inspiring views, and thrilling roads, Georgia has a rich selection of unforgettable motorcycle rides. Here's a quick summary of the top 10 motorcycle rides in Georgia.
Best Time to Visit: Spring and fall are the ideal seasons to experience Georgia's best motorcycle rides. The moderate temperatures and colorful foliage make for perfect riding conditions.
Distance with Time to Travel: The distances of these top motorcycle routes range from 50 to 350 miles, with estimated completion times between 2 hours and 7 hours, depending on the specific route's mileage, road conditions, and your preferred speed.
Places to Stop: Be sure to include stops at scenic spots like Brasstown Bald, Fort Mountain State Park, and Amicalola Falls State Park. Vibrant historical towns like Dahlonega, Helen, and Madison are worth exploring as well.
Level of Difficulty: The difficulty of these rides varies, from easy, leisurely rides like Cherohala Skyway to more technical routes like the Suches Loop. Whether you're a novice or an experienced rider, you'll find a ride to suit your skill level and preferences.
Other Information:
Make safety a priority and always ride within your skill level.
Be mindful of local weather forecasts and plan your ride accordingly.
Respect the environment and practice safe and courteous riding.
Georgia's helmet law requires riders and passengers under the age of 21 to wear DOT-approved helmets.
Now that you're armed with a comprehensive list of the top 10 best motorcycle rides in Georgia, it's time to hit the road and start exploring! Stay safe, and enjoy the ride.
Motorcycle Rides in the US by States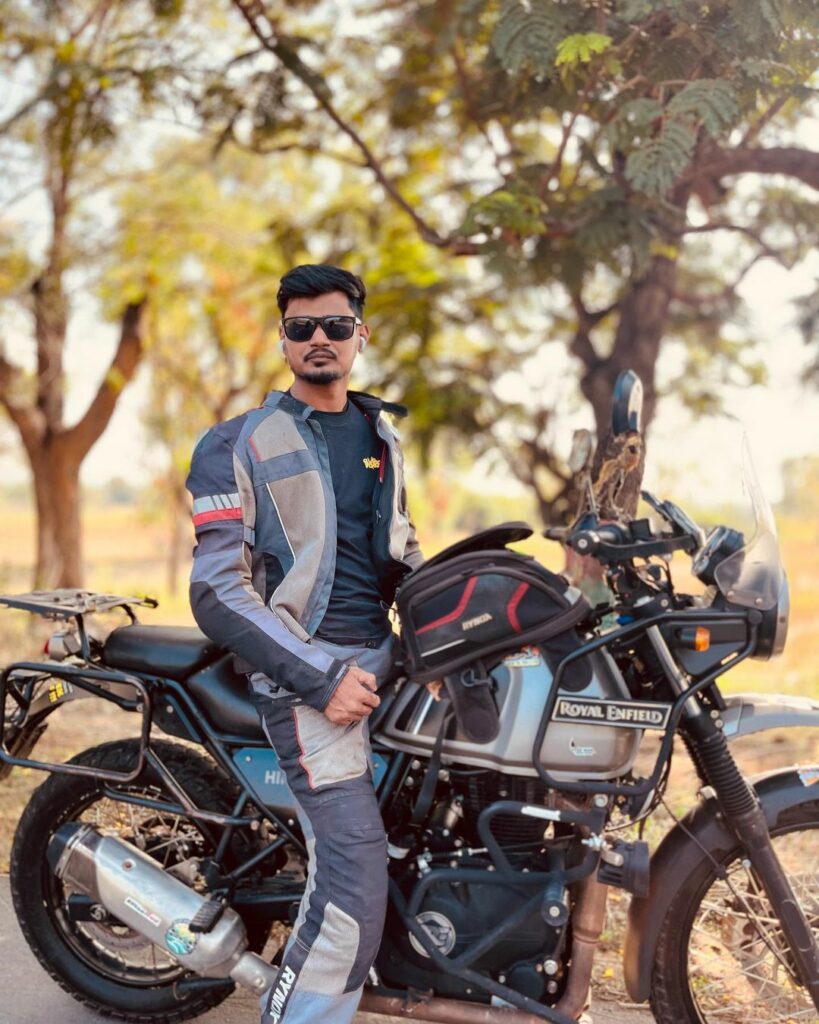 Vishwanath Mathpati
I am Vishwanath Mathpati, a full-time Blogger and Motorcyclist from Bidar, Karnataka. I love writing about my Motorcycles Stories and Riding Gears on this blog.
Know More About Me.
---
If you liked this article, then please subscribe to our YouTube Channel for more Bike Videos. You can also find us on Instagram, Twitter and Facebook.
Disclosure: As an Amazon Associate, I earn from qualifying purchases. Read more about Amazon Affiliate Disclaimer.