Top 10 Best Motorcycle Rides in Oregon: My Ultimate Guide
Oregon's breathtaking scenery, diverse landscapes, and winding roads make it a motorcyclist's dream destination. The state offers an incredible variety of routes, perfect for bikers who crave adventure and enjoy the thrill of discovering new places. In this article, I'll share my top 10 best motorcycle rides in Oregon that will take you from coastal highways to lush forests and magnificent mountain passes.
The Pacific Northwest is famous for its picturesque landscapes that change dramatically as you explore different regions of Oregon. The state's diverse climate conditions and unique topography make each ride a thrilling and unforgettable experience. As an experienced rider myself, I'm always on the lookout for fantastic routes that not only challenge my skills, but also reveal the natural beauty and hidden gems of this amazing state.
With its majestic mountains, verdant forests, and rugged coastlines, Oregon offers some of the most scenic motorcycle rides in the Pacific Northwest. However, the journey doesn't end at Oregon's borders. Heading north to Washington, riders can explore the breathtaking North Cascades Highway, featuring towering peaks and serene alpine lakes. To the east, Idaho's Sawtooth Scenic Byway presents an unforgettable ride through the Sawtooth National Recreation Area. Traveling south, California's iconic Pacific Coast Highway delivers a coastal riding experience like no other. Further afield, the adventurous Going-to-the-Sun Road in Montana offers spectacular Rocky Mountain vistas. These remarkable rides in neighboring states make a fantastic addition to Oregon's own diverse range of motorcycle routes.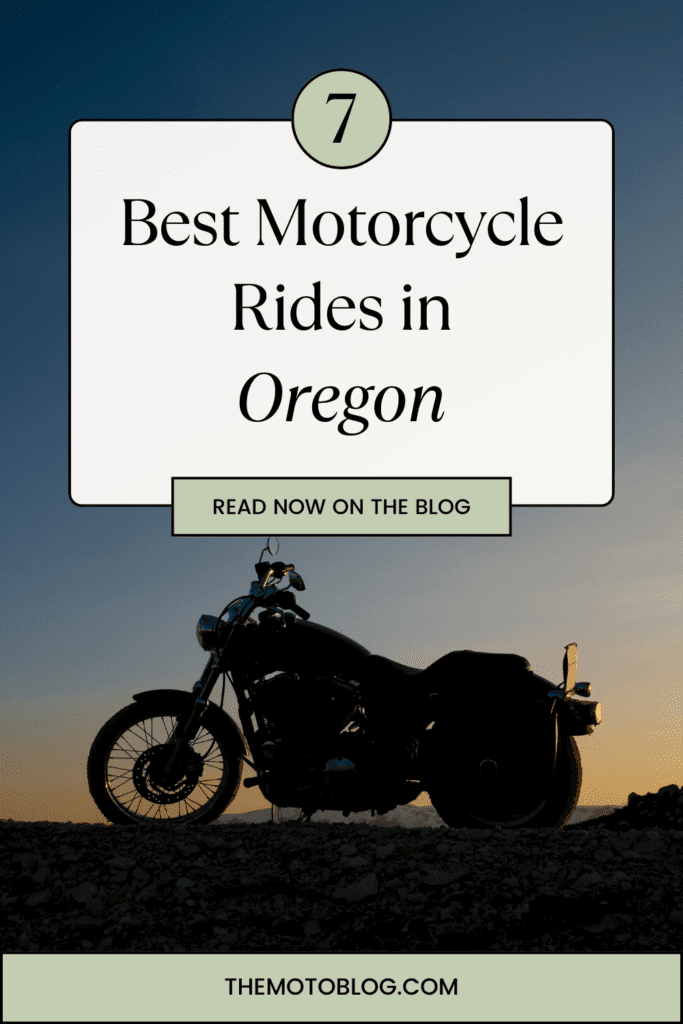 1. Hell's Canyon Scenic Byway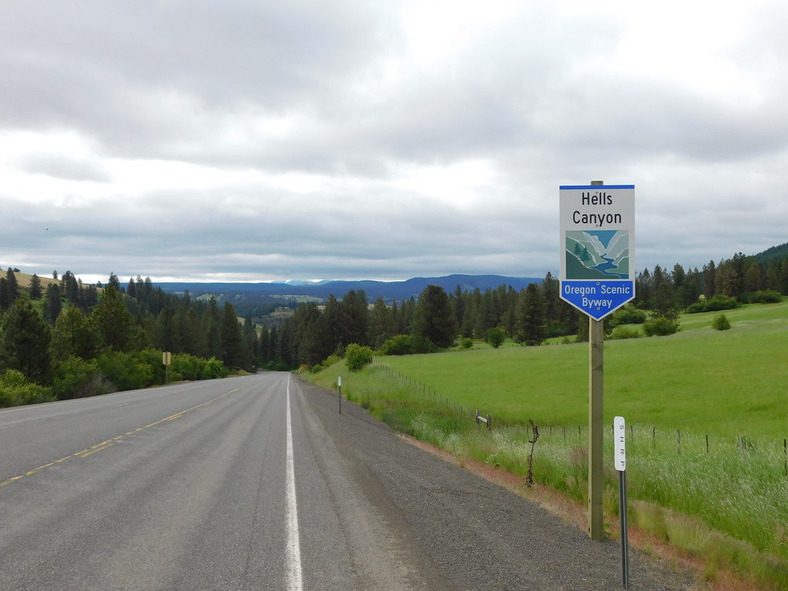 One of the most thrilling rides in Oregon is the Hell's Canyon Scenic Byway. I've had the opportunity to explore this fantastic route and can't recommend it enough to fellow motorcyclists. This captivating motorcycle route will take you through diverse landscapes, from lush forests to rugged mountains, offering a sensational riding experience.
The ideal time for marveling at the phenomenal scenery is from late spring to early fall. During this period, you'll encounter comfortable temperatures and overall favorable weather conditions, ensuring a safe and pleasant ride.
The Hell's Canyon Scenic Byway is approximately 218 miles long, stretching between the cities of La Grande and Baker City. It typically takes about 5-6 hours to complete, but I'd suggest allocating more time to fully embrace the beauty and enjoyment this route has to offer.
There's certainly no shortage of incredible places to pause and take in the magnificence of Hell's Canyon Scenic Byway. Some must-see stops include:
Hell's Canyon Overlook: Gaze out at the stunning canyon, considered the deepest river gorge in North America.
Joseph: A charming town with unique art galleries and bronze sculptures.
Wallowa Lake: A mesmerizing lake nestled in the spectacular Wallowa Mountains.
Baker City: Explore the rich history at the Oregon Trail Interpretive Center.
I'd rate this ride as moderate in terms of difficulty. Although there are some challenging sections with tight turns and steep inclines, the majority of the route is relatively easy to navigate for experienced riders. However, be prepared for potentially strong crosswinds in certain areas.
Here are a few extra tidbits to keep in mind before tackling the Hell's Canyon Scenic Byway:
Be cautious of wildlife: Deer and other animals can be spotted near the road, especially in the early morning and evening hours.
Arrange for fuel stops in advance: There aren't many gas stations along the route, so plan your refueling locations ahead of time.
Wear proper safety gear: Protective clothing, including a helmet, is essential when riding through mountainous terrain.
2. Oregon Coast Highway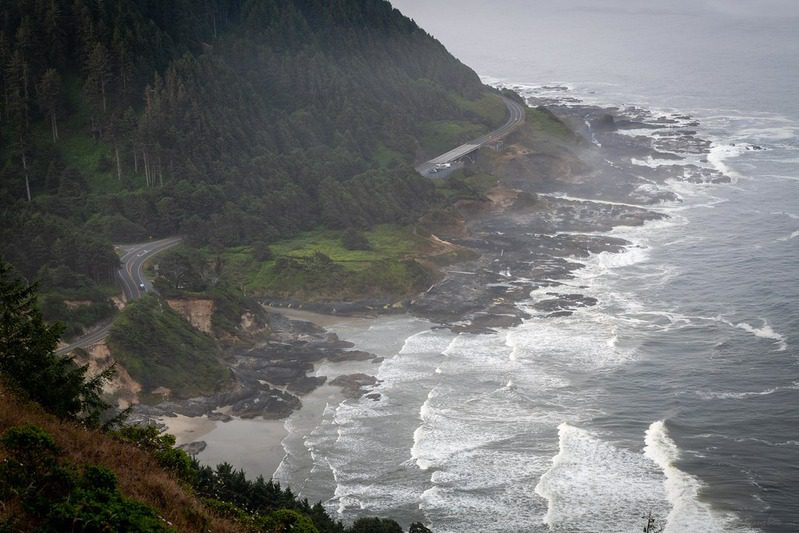 As one of the most scenic routes in Oregon, the Oregon Coast Highway offers riders a thrilling and awe-inspiring experience. The highway stretches over 360 miles along the Pacific coastline, showcasing dramatic cliffs, picturesque lighthouses, and quaint coastal towns. Allow me to delve into the finer details of this exceptional ride.
Oregon's coastline offers beauty all throughout the year, but for the optimal motorcycle ride, I'd recommend visiting during the summer and early fall months. This is when you'll experience:
Warmer temperatures
Less rain
Longer daylight hours
| Distance | Approximate Time |
| --- | --- |
| 360 miles | 8-10 hours |
Keep in mind that this time estimate is for the actual ride itself, not including stops and detours you may want to make along the way. It's always smart to add some buffer time for unexpected road conditions or scenic breaks.
With many attractions and scenic viewpoints along the Oregon Coast Highway, you'll want to make time to stop and soak it all in. Some notable stops include:
Cannon Beach: A charming seaside town known for its iconic Haystack Rock
Cape Perpetua: Witness the stunning Devil's Churn, a mesmerizing ocean inlet
Yaquina Head Lighthouse: A historic lighthouse with a captivating view
Please note, this is just a small sample of the many places you can explore during your ride.
In general, the Oregon Coast Highway is considered a moderate ride, with a mix of:
Curvy coastal roads
Straight and open stretches
Hill climbs and descents
More experienced riders might find it to be relatively easy, while newer riders may have to take their time with the more technical sections.
When planning your ride, keep these points in mind:
Fuel stops: Ensure you know the locations of gas stations along the route to avoid running low on fuel.
Lodging: Consider breaking up your trip into a multi-day adventure. You'll find an array of hotels, motels, and campgrounds in the coastal towns.
Safety gear: Coastal weather can be unpredictable. Make sure you're prepared with appropriate gear for potential rain and cooler temperatures.
3. Highway 101 – Pacific Coast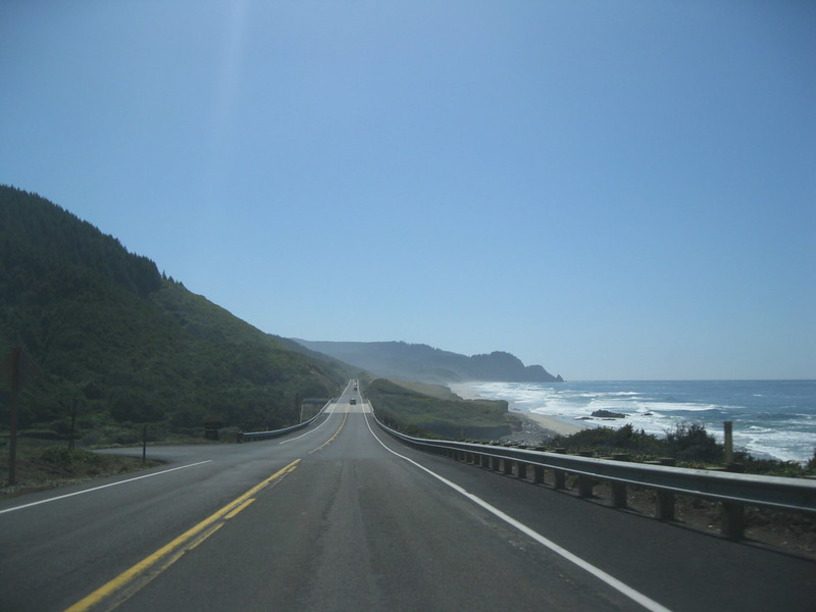 Highway 101 in Oregon is an unforgettable route that takes riders on a thrilling journey along the Pacific coastline. This iconic stretch is renowned for its breathtaking ocean views, picturesque seaside towns, and forested landscape. I'm excited to share with you some highlights and particulars about this exceptional route.
Escaping the winter months by taking a ride during the drier season is the best time to visit. In general, June to September offers safer road conditions and clearer skies, allowing you to fully appreciate the scenery.
The Oregon portion of Highway 101 stretches for approximately 338 miles from Astoria in the north to Brookings in the south. To enjoy the route fully, I'd recommend allocating at least 2-3 days for the trip, allowing you to ride at a leisurely pace and enjoy the numerous attractions along the way.
Some must-visit stops while exploring Highway 101 include:
Astoria: This historic city at the mouth of the Columbia River offers museums, shops, and seafood restaurants to enjoy before starting your journey.
Cannon Beach: Famous for its expansive sandy shores and iconic Haystack Rock, Cannon Beach is the perfect place for a beachside picnic or a photo op.
Devil's Punchbowl State Natural Area: A unique geological formation resembling a large bowl eroded by the ocean, this spot is an excellent place to spend an afternoon hiking and exploring.
Yaquina Head Lighthouse: One of the most iconic lighthouses on the Oregon coast, the area surrounding Yequina Head offers some gorgeous scenic views perfect to capture stunning pictures.
Florence: Nicknamed the 'Oregon Coast's Premier Destination,' it's a charming town with boutique shopping, exceptional dining, and fabulous art galleries.
Highway 101 is considered an intermediate level route due to its winding sections and varying road conditions. Though the route is manageable for most riders, some experience navigating twisty roads and rural highways is recommended.
When planning your ride along Highway 101, it's essential to note you'll come across some roads with limited shoulders and tighter curves, particularly through the coastal mountains. Additionally, always keep an eye out for wildlife, and watch for occasional sand on the road, which can be slippery.
4. Columbia River Highway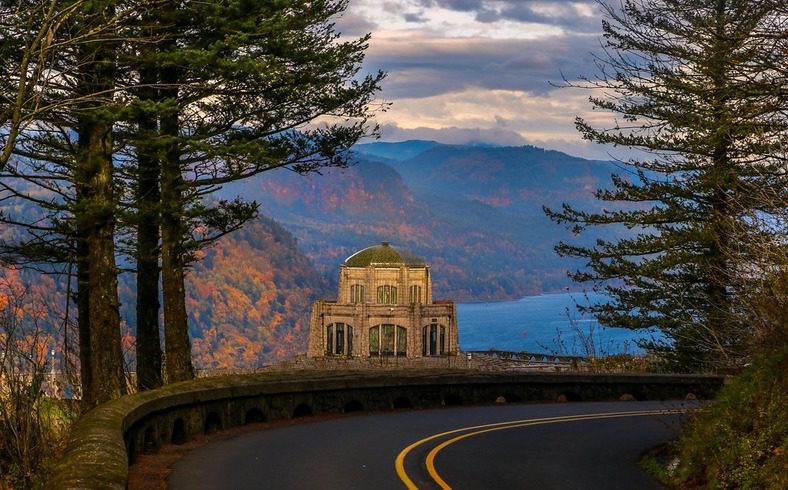 As an avid motorcyclist and explorer, I can confidently say that the Columbia River Highway is one of the most beautiful and thrilling motorcycle rides in Oregon. Winding through the impressive Columbia River Gorge, this scenic road offers a variety of breathtaking landscapes to enjoy.
The best time to take a ride on the Columbia River Highway is undoubtedly during the spring and fall months. During these seasons, you'll find mild weather and vibrant foliage adding to the beauty of your ride. Summer can be nice as well, but it's likely to be more crowded, while winter conditions can make the ride a bit more challenging.
The Columbia River Highway stretches for about 75 miles, starting near Troutdale and ending in The Dalles. Depending on your riding pace and how often you stop, you can expect the journey to take around 2 to 3 hours one way.
On your ride, you'll come across several must-see spots:
Multnomah Falls: A stunning 620-foot waterfall, and the tallest in Oregon.
Vista House: A historic building offering panoramic views of the Columbia River Gorge.
Bonneville Dam: A massive hydroelectric dam worth visiting for its engineering marvel.
Hood River: A charming town with various dining, shopping, and lodging options.
While the Columbia River Highway isn't the most technically challenging motorcycle ride, it does have a few twists and turns to keep you engaged and sharp. Riders of all experience levels should be able to manage this journey, but always be mindful of varying road conditions and watch out for traffic in popular tourist sections.
A few tips for making the most out of your ride in the Gorge:
Ensure your motorcycle is in good condition before setting off.
Pay attention to posted speed limits and obey them.
Keep an eye out for wildlife as you're sharing the road with nature.
Don't forget to pack essentials such as water, snacks, and a fully charged phone.
5. Willamette Valley Wine Country Ride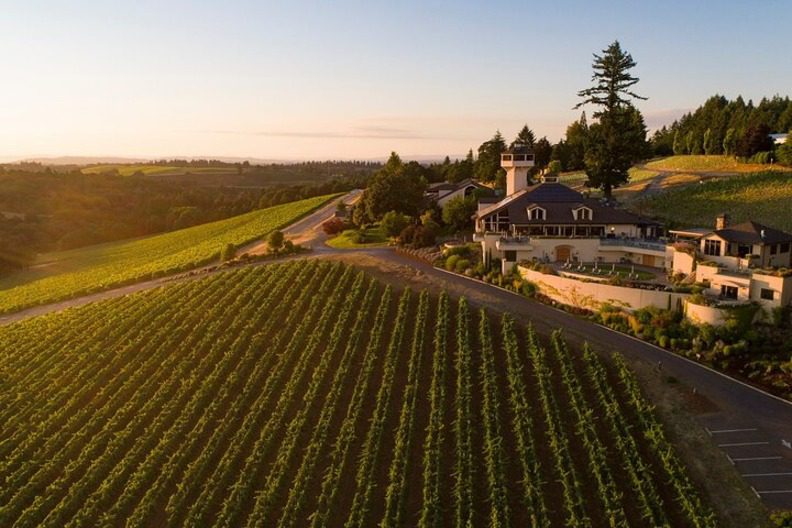 Willamette Valley Wine Country Ride takes me through lush vineyards, quaint towns, and stunning landscapes that exemplify Oregon's natural beauty. Let me break down essential details for this incredible ride.
The best time to visit the Willamette Valley Wine Country Ride is between May and October, as the weather is most pleasant during these months. The valley comes alive with vibrant colors, making it a spectacular time to ride through Oregon's wine country.
The total distance of this ride is approximately 140 miles. On average, it will take you about 3-4 hours to complete, depending on your pace and the length of breaks. I often split this journey into a full-day tour or stretch it over a weekend to maximize enjoyment and take in the incredible scenery at a leisurely pace.
During this ride, there are numerous pit stops and must-see locations that will enhance your experience. A few of my favorite stops include:
Salem: Oregon's capital city, which offers several historic sites and gardens to explore.
McMinnville: A charming small town with award-winning restaurants, boutique shops, and cozy wine bars.
Evergreen Aviation & Space Museum: This impressive museum houses an extensive collection of aircraft, including the famous Spruce Goose.
Wineries: Willamette Valley is famous for its phenomenal Pinot Noir, so don't miss the chance to visit local wineries for tastings.
The Willamette Valley Wine Country Ride is relatively easy with predominantly flat or gently rolling terrain, making it suitable for riders of all skill levels. Nonetheless, it's essential to prepare for occasional segments of narrow roads and traffic.
When planning your ride, keep these additional tips in mind:
Adequate hydration is crucial, so remember to pack plenty of water and stop at filling stations along the way.
Ensure you have a detailed map of the area or a GPS navigation device to stay on track.
Take breaks as required, and don't be afraid to stop and soak in the remarkable scenery.
6. Rogue River Valley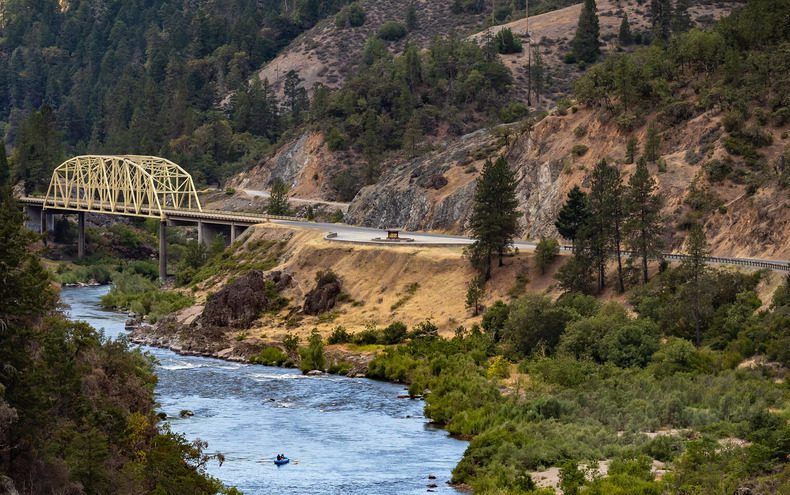 There's nothing quite like riding through the picturesque Rogue River Valley, with its winding roads and stunning landscapes. As I embarked on this challenge, I was simply captivated by the natural beauty that surrounded me.
The ideal time to take on the Rogue River Valley Challenge is between May and October. During this period, the weather is generally pleasant, ensuring a comfortable ride through the valley.
The total distance of the Rogue River Valley Challenge is around 145 miles. Averaging a moderate pace and accounting for sightseeing stops, riders can complete this route in approximately 4 to 5 hours.
On this amazing road ride, there are several noteworthy stops:
Grants Pass: Start your journey in this vibrant city, where you can grab a bite to eat before hitting the road.
Hellgate Canyon: Pull over and admire the natural wonder of this dramatic canyon, a popular spot for jet boat excursions.
Rogue River Gorge: Don't miss this unique geological formation, where the river narrows and rushes through a lava tube.
Crater Lake National Park: Finish your ride by exploring the park, home to the stunning Crater Lake, which is the deepest lake in the United States.
I found the Rogue River Valley Challenge to be a moderate level of difficulty. The roads are well-maintained, with some tight turns and elevation changes. Riders of varying skill levels should be able to navigate this route with care and caution.
Other Information:
| Road Type | Road Condition | Traffic |
| --- | --- | --- |
| Paved, curvaceous | Well-maintained | Moderate-Heavy |
Please note that some sections of the road can be busier during peak travel season, particularly around popular attractions like Crater Lake National Park. As a rider, I highly recommend adhering to safe and responsible riding practices throughout the journey.
7. McKenzie Pass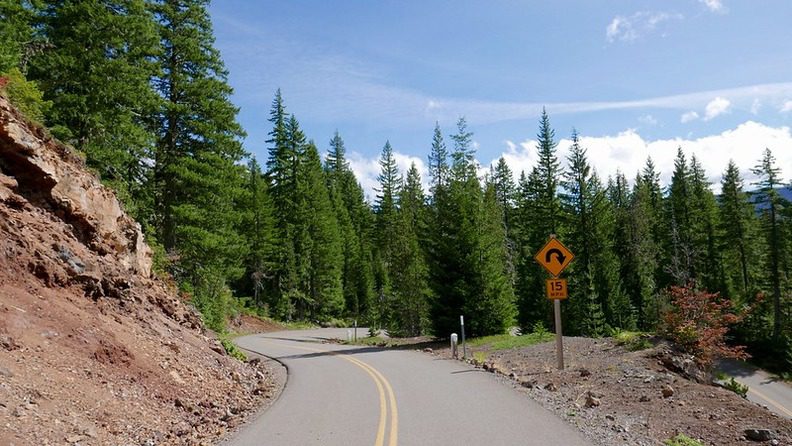 Embarking on the McKenzie Pass offers a unique and historic journey along Oregon's scenic byways. Steeped in history, this motorcycle ride traverses through breathtaking landscapes and showcases the state's natural beauty.
Best time to visit is Mid-June to mid-October, when the pass is open and clear of winter snow. However, it's essential to check weather conditions before setting out on your adventure as unexpected snowstorms may arise.
Distance with time to travel:
| | Distance | Time |
| --- | --- | --- |
| Eugene to Sisters | 61 miles | 1.5 hours |
There's a wealth of Places to Stop along the McKenzie Pass to take in the picturesque views:
Dee Wright Observatory: A perfect stop for panoramic views of the surrounding lava field and Cascade Mountains.
Proxy Falls: A stunning two-tiered waterfall, accessible via a short hike.
Clear Lake: A serene lake with crystal clear waters, providing an ideal spot for a picnic or quick break.
The Level of Difficulty for navigating the McKenzie Pass is moderate to challenging, with considerable elevation changes and numerous switchbacks. It's best suited for experienced riders who can handle the sharp curves and steep inclines.
Other Information:
The pass's highest elevation reaches 5,325 feet, so it's essential to be prepared for changing weather conditions.
Lodging and dining options are available in nearby towns such as Sisters, Bend, and McKenzie Bridge.
Don't forget to fuel up in Sisters or McKenzie Bridge as there are limited gas stations along the route.
8. Aufderheide Scenic Byway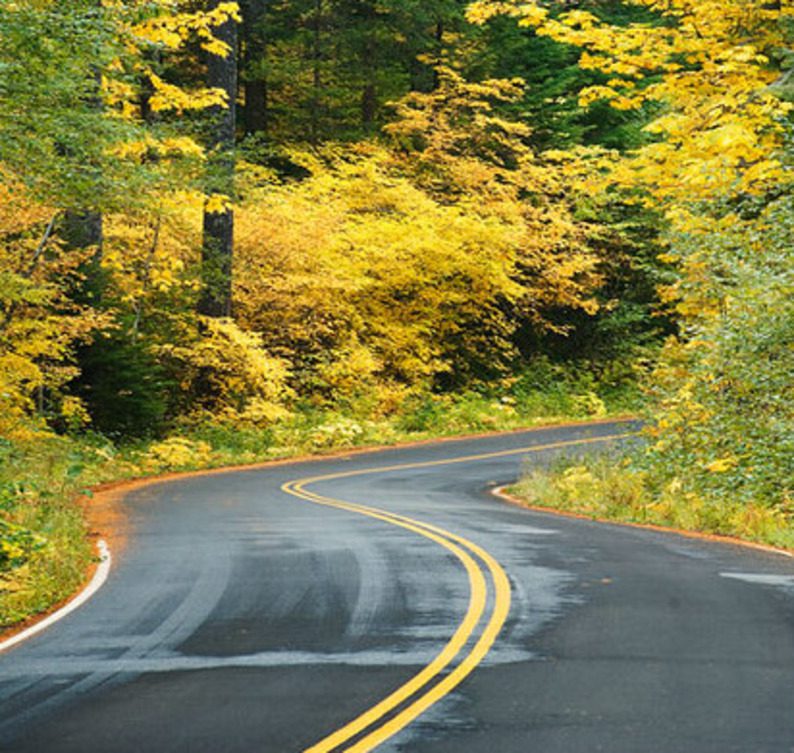 If you're seeking a beautiful ride through the heart of the Cascade Mountains, look no further than the Aufderheide Scenic Byway. This captivating route offers a unique blend of lush forests, vibrant rivers, and expansive mountain views that will leave you in awe.
The ideal time to ride the Aufderheide Scenic Byway is from late spring to early fall, as this is when the roads are clear of snow, and the weather is pleasant for riding.
The byway stretches approximately 60 miles and takes about 1.5 to 2 hours to complete, depending on your pace and stops.
Along the route, you can:
Capture memories at the Cougar Reservoir and Cougar Dam
Discover the pristine beauty of Terwilliger Hot Springs
Explore the West Cascades National Scenic Byway Interpretive Center
Visit the historic Box Canyon Guard Station
The Aufderheide Scenic Byway is a moderately easy and enjoyable ride for most motorcyclists. There are some twists and turns, but they're primarily gentle, making it a pleasant experience for riders of all skill levels.
Keep in mind the following while planning your ride:
Gas stations are scarce along this scenic route. Make sure you fill up before starting your journey.
The byway is officially known as Forest Service Road 19, though signs and locals may use either name.
If you're planning to visit Terwilliger Hot Springs, bring cash for the entry fee.
Camping is permitted at designated campgrounds and dispersed camping areas along the route.
9. Cascade Lakes Highway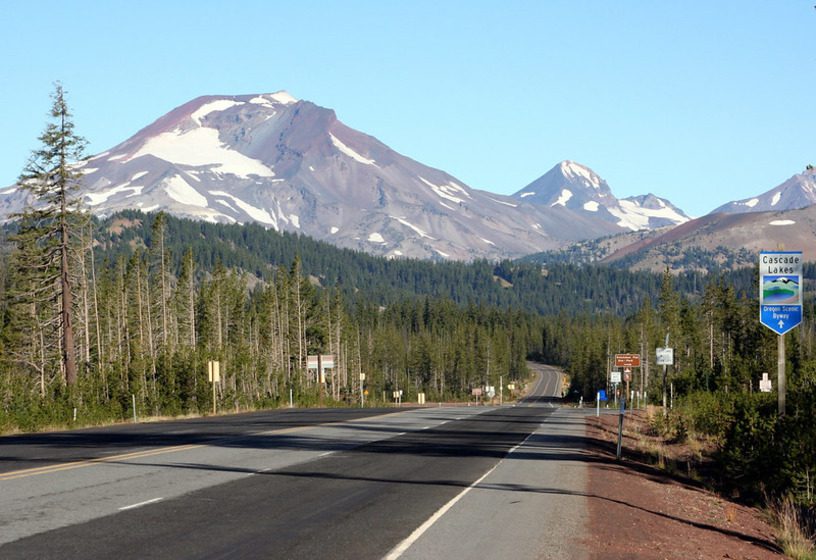 Cascade Lakes Highway is a scenic route that offers motorcyclists the thrilling experience of cruising through Oregon's stunning landscapes. This ride is perfect for motorcycle enthusiasts looking for an adventure filled with both curvy roads and gorgeous scenery. I highly recommend checking out this ride, as it showcases some of the best of what Oregon has to offer.
The ideal time to embark on this journey is between late May and early October. During these months, you'll enjoy warmer temperatures and blooming wildflowers, making the ride all the more pleasurable. It's best to avoid this route during the winter season due to potential snowy conditions and road closures.
Cascade Lakes Highway spans approximately 66 miles, and I recommend allotting about 2 to 3 hours to complete the journey. Of course, depending on how many stops you choose to make along the way, the overall duration may vary.
This route provides ample opportunities for sightseeing and exploration. Some must-see stops include:
Mount Bachelor Scenic Viewpoint
Sparks Lake
Elk Lake
Devil's Lake
Lava Lake
Taking the time to stop and admire these picturesque locations is definitely worth it, as it adds an extra layer of enjoyment to the ride.
Cascade Lakes Highway offers a moderate level of difficulty for motorcyclists. The route features a combination of winding roads and some straight stretches, making it an engaging and enjoyable ride for both intermediate and experienced riders. Beginners may find some sections challenging, but with proper caution and preparation, they too can enjoy this fantastic route.
Here are some additional tips to keep in mind while planning your Cascade Lakes Highway motorcycle ride:
Always check road conditions before embarking on your journey, as seasonal weather may impact the safety and passability of the route.
Make sure to refuel before starting, as gas stations are relatively sparse along the highway.
Keep an eye out for wildlife, particularly deer and elk, which are commonly seen in this area.
10. Oregon Coast Range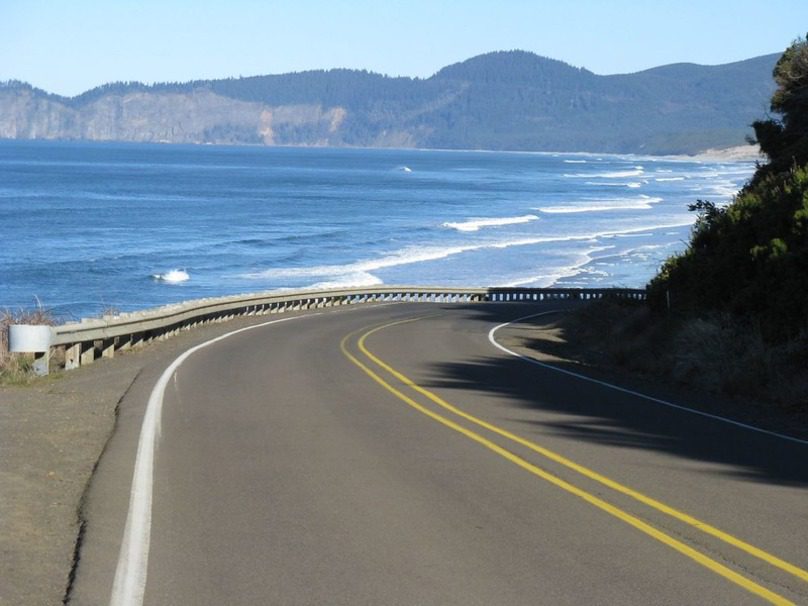 If you're looking for a scenic and exciting ride in Oregon, there's no better place than the Oregon Coast Range. Cruising down these roads, you'll be met with stunning vistas, winding turns, and ample opportunities for exploration. Prepare to be awed by the journey through this wonderful region.
Oregon's Coast Range is breathtaking year-round. However, I'd recommend visiting between late spring and early fall when the weather is more consistently dry and temperatures are comfortable for riding.
One-way distance: 170 miles
Time to travel: 4-6 hours
Keep in mind that these estimates depend on your travel speed and the number of stops you make along the way. The ride could take longer if you decide to explore some of the nearby attractions.
As you wind through the Coast Range, be sure to take the time to explore these notable locations:
Tillamook Cheese Factory: Sample delicious, freshly made cheese and other dairy products.
Three Capes Loop: A side trip that takes you to Cape Meares, Cape Lookout, and Cape Kiwanda for more breathtaking views.
Lincoln City: Home to a wide variety of shops, restaurants, and beaches.
With its curvy roads and numerous elevation changes, the Oregon Coast Range ride offers a moderate level of difficulty. For those new to riding, the challenges presented by this route may be daunting. However, experienced riders will appreciate the variety of turns and changes in elevation.
Before you set off on your adventure, keep the following tips in mind:
Be prepared for varying weather conditions, especially if you're visiting during the rainy season.
Cell service may be spotty in certain areas, so carry a printed map or downloaded GPS data.
Keep an eye out for logging trucks, which can be a common sight on these roads.
FAQs
What are the top motorcycle rides in Oregon?
Historic Columbia River Highway, Hells Canyon Scenic Byway, Columbia River Gorge, Mount Hood, U.S. 101
Which Motorcycle Route Offers Stunning Coastal Views In Oregon?
The Highway 101 – Oregon Coast Highway Offers Beautiful Coastal Scenery For Motorcycle Riders.
What is a popular high desert motorcycle ride in Oregon?
The Shaniko Fossil Highway Is A Scenic High Desert Route, Featuring Winding And Hilly Terrain.
Which Motorcycle Route Offers A Scenic Mountain Ride In Oregon?
The Mount Hood Loop Provides A Picturesque Mountain Ride That Showcases Oregon's Natural Beauty.
What are some favorite motorcycle routes near Portland, Oregon?
The Three Lynx Loop Out Of Estacada And The Santiam Highway To The Oregon Coast Are Two Popular Rides Near Portland.
Wrapping Up the Adventure
Exploring the top 10 best motorcycle rides in Oregon has been quite an adventure. The Beaver State truly is a motorcycling paradise, boasting an incredible variety of scenic routes and breathtaking landscapes. To make the most out of your riding adventure, consider these key factors:
The best time to visit Oregon for motorcycle rides is between late spring and early fall when the weather is dry and mild. Specifically, May to September offers the most favorable riding conditions. However, be mindful of tourist peak seasons and local events which can increase traffic on popular routes.
Throughout your journey, you'll find numerous interesting places worth a stop. These may include:
Picturesque viewpoints
Historic towns and landmarks
Quaint cafes and eateries
Local bike shops or services
Routes vary in difficulty, from relaxing and scenic cruises to challenging mountain passes. When choosing, take into account your riding experience, the type of motorcycle you have, and any specific preferences you may have.
Preparing for your adventure is key to ensuring a memorable and enjoyable experience. Remember to:
Check the weather forecast before setting off.
Pack appropriate gear and clothing for various conditions.
Update your GPS or maps with the most recent information.
Research any areas or attractions you plan to visit beforehand.
Finally, don't forget to have fun and stay safe on those winding roads. The thrill of riding through Oregon's diverse landscapes is incomparable, leaving you with memories you'll cherish forever. So, gear up, rev those engines, and enjoy the ride.
Motorcycle Rides in the US by States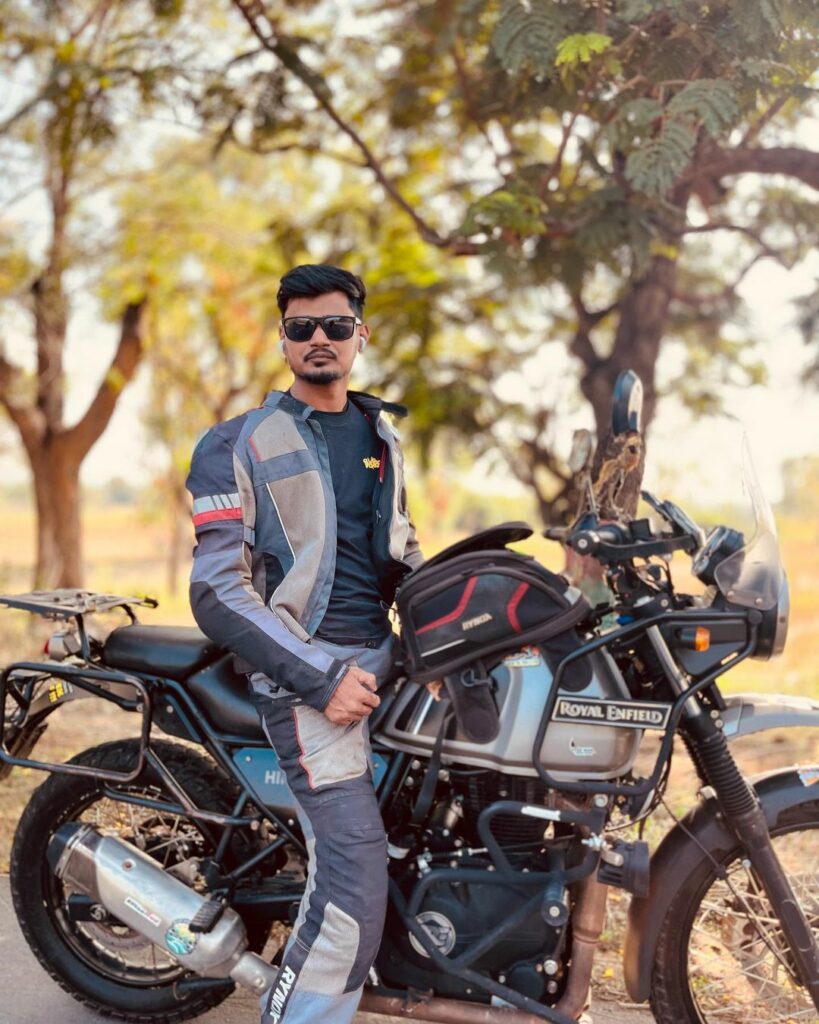 Vishwanath Mathpati
I am Vishwanath Mathpati, a full-time Blogger and Motorcyclist from Bidar, Karnataka. I love writing about my Motorcycles Stories and Riding Gears on this blog.
Know More About Me.
---
If you liked this article, then please subscribe to our YouTube Channel for more Bike Videos. You can also find us on Instagram, Twitter and Facebook.
Disclosure: As an Amazon Associate, I earn from qualifying purchases. Read more about Amazon Affiliate Disclaimer.