Top 8 Best Motorcycle Rides in Nevada: My Ultimate Guide
When it comes to motorcycle rides, Nevada is a top choice for those seeking stunning views and heart-pumping adventure. With its diverse landscape of mountains, deserts, and scenic highways, the Silver State offers some of the most thrilling and memorable rides for motorcyclists of all skill levels. In this article, I'll share my top 8 best motorcycle rides in Nevada that surely you wouldn't want to miss.
To kick-off your motorcycling experience, it's essential to choose a ride that perfectly matches your expectations and skill level. So I've carefully picked these routes, keeping in mind a variety of factors including the scenery, road quality, and overall appeal. From the ghost town of Rhyolite to the iconic Valley of Fire State Park, be prepared to be amazed by Nevada's natural beauty and rich history.
If you've taken all that Nevada has to offer and are still hungry for more, why not traverse into the surrounding states? Experience the vast desert landscapes of the Grand Staircase-Escalante National Monument in Utah or the thrilling twists and turns of the Pacific Coast Highway in California. Venture north and explore the diverse topography of Going-to-the-Sun Road in Montana or head south to Arizona for the captivating Historic Route 66. Each of these neighboring state rides offer distinct experiences to enhance your motorcycle journey.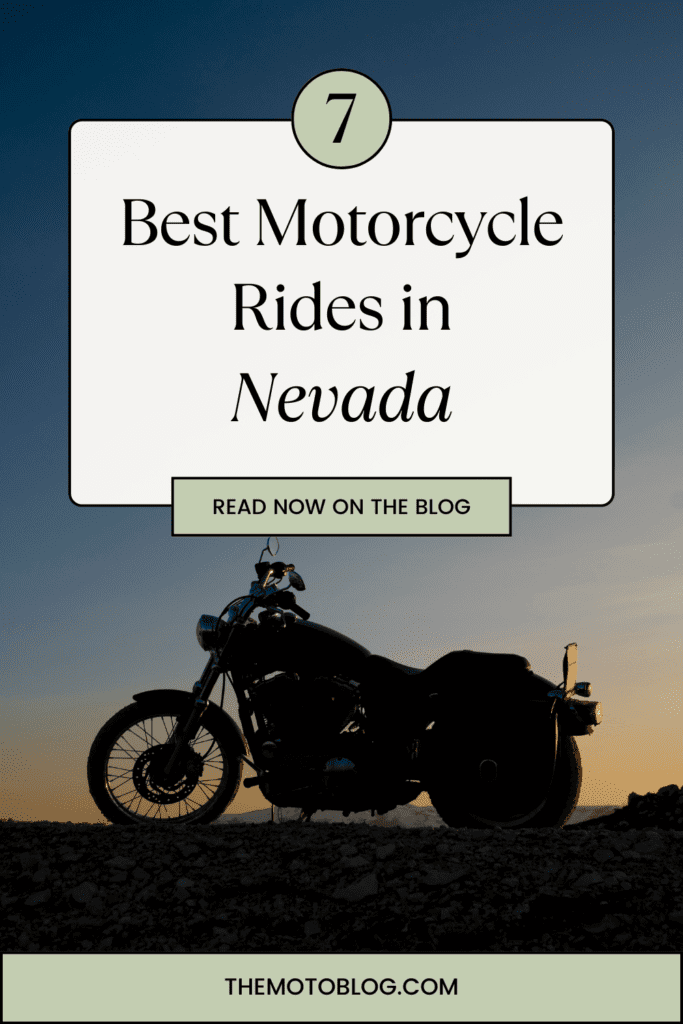 1. Red Rock Canyon National Conservation Area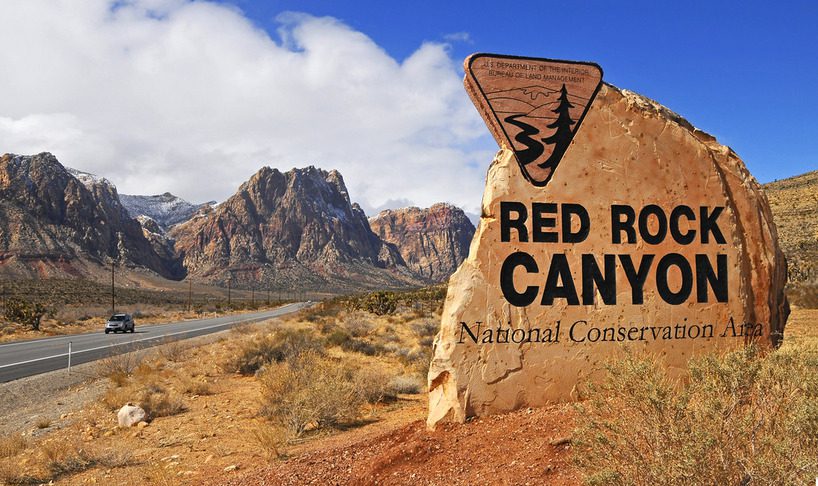 One of my personal favorite motorcycle rides in Nevada is the Red Rock Canyon National Conservation Area. This stunning destination boasts incredible scenery and smooth pavement, making it a must-visit for any motorcyclist.
Visiting during spring or fall is ideal, as temperatures are moderate, making for a comfortable ride. It's best to avoid the summer months due to the intense heat. I also recommend hitting the road early in the morning or late afternoon to avoid the busiest times.
The Red Rock Canyon loop is approximately 13 miles long and takes about 35-45 minutes to complete without stopping. However, I suggest taking your time to fully appreciate the beauty and make some stops along the way.
There are several fantastic spots to stop within the conservation area:
Visitor Center: Start your journey here to grab a map and get acquainted with the area.
High Point Overlook: Take in sweeping views from this vantage point, perfect for a quick break and photo opportunity.
Sandstone Quarry: Discover remnants of historic sandstone mining from the early 1900s.
Calico Hills: Witness the vibrant colors of the red sandstone formations.
Be sure not to miss these incredible sites as you ride through the mesmerizing landscape.
The Red Rock Canyon loop is generally an easy ride for all skill levels, with well-maintained roads and gentle curves. However, there are a few sections with tighter turns, so remember to stay alert and ride within your skillset.
Before embarking on your ride through Red Rock Canyon National Conservation Area, consider these helpful tips and reminders:
Admission Fee: There's an entrance fee of $15 per motorcycle, a small price to pay for such a memorable experience.
Safety: Wear appropriate protective gear, and don't forget to hydrate during warmer months.
Wildlife: Keep an eye out for desert tortoises, bighorn sheep, and other native species.
Leave No Trace: Help keep this stunning area pristine by practicing responsible riding and disposing of waste properly.
2. Mount Charleston Scenic Byway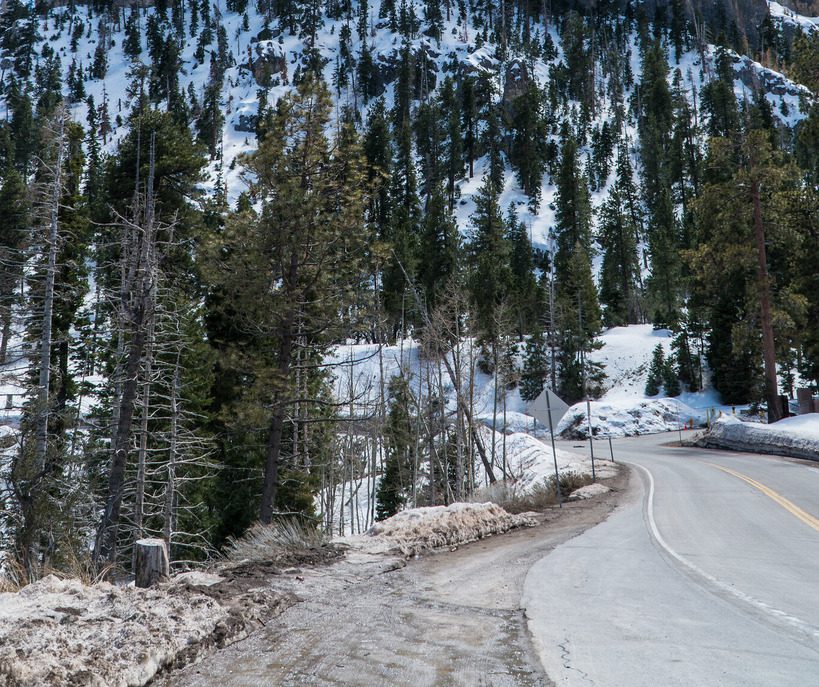 When it comes to motorcycle rides in Nevada, it's hard not to mention the Mount Charleston Scenic Byway. This ride offers a fantastic mix of scenic beauty, challenging routes, and plenty of great stops along the way.
Ideally, you'll want to plan your trip between April and October, when the weather is most favorable. During these months, temperatures are more pleasant, making for an enjoyable ride through the picturesque landscape.
The Mount Charleston Scenic Byway stretches for about 41 miles, which should take you approximately 1.5 hours to cover, without factoring in stops.
This ride is filled with wonderful places to stop and soak in the beauty of Nevada's outdoors. These are a few favorites:
Spring Mountains Visitor Gateway: A great starting point for your adventure, offering information about the area and its fascinating history.
Cathedral Rock: Provides a short hike and a stunning viewpoint.
The Resort at Mount Charleston: A perfect spot to grab a satisfying meal or a refreshing drink while taking in the gorgeous surroundings.
While the Mount Charleston Scenic Byway isn't overwhelmingly difficult, it does offer some challenges. There are steep inclines, sharp turns, and changing elevations. I'd say it's a moderately difficult ride, best suited for riders with some experience.
Be prepared for a change in temperature, as the elevation varies significantly. Also, don't forget to carry extra water and some snacks.
3. Valley of Fire Loop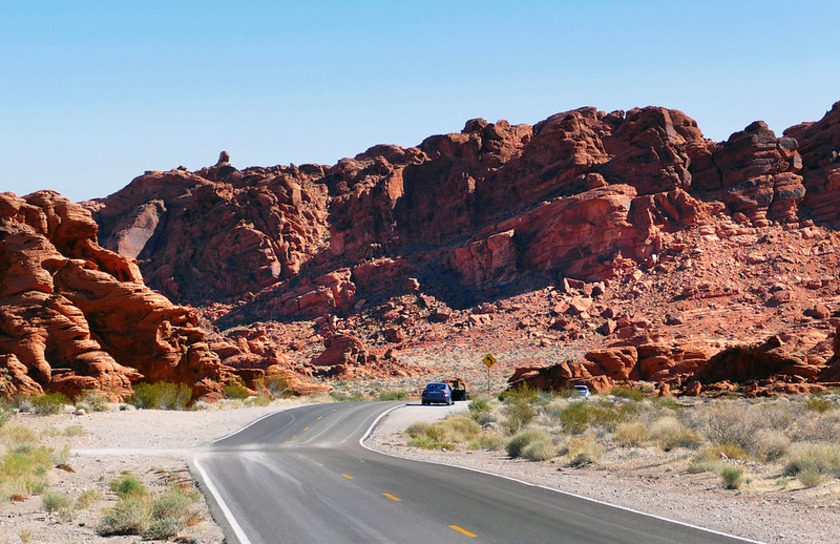 One of the breathtaking ride is the Valley of Fire Loop. It's an incredible ride that showcases Nevada's stunning desert landscapes, complete with fiery red rock formations and vivid blue skies. If you're a motorcycle enthusiast, you definitely need to add this one to your list!
The ideal time to experience this ride is during the spring and fall months, as temperatures in the desert can reach soaring highs in the summer. I recommend avoiding the scorching heat and ride in the more comfortable weather during these times.
The loop itself runs for approximately 77 miles and takes around 1.5 to 2 hours to complete, depending on your pace.
There are several interesting points to stop and indulge in the unique beauty of the Valley of Fire. Some of my favorites include:
Valley of Fire State Park: This is the main attraction of the loop, with stunning views, hiking trails and interpretive exhibits.
The White Domes: A collection of white sandstone towers that showcase the geological beauty of the area.
Mouse's Tank: A natural basin where you might spot some Nevada wildlife if you're lucky.
The ride itself is relatively easy, making it perfect for riders of all skill levels. The route features smooth, well-maintained roads with gentle curves, so even beginners can confidently enjoy this scenic ride.
Here are a few additional tips to take note of before venturing out on this beautiful loop:
Make sure you have a full tank of gas before starting the ride, as there aren't many fueling stations along the route.
Don't forget to bring ample water and stay hydrated, especially during the hotter months.
Keep an eye out for local wildlife, as you might encounter bighorn sheep or desert tortoises crossing the road.
4. Extraterrestrial Highway – Highway 375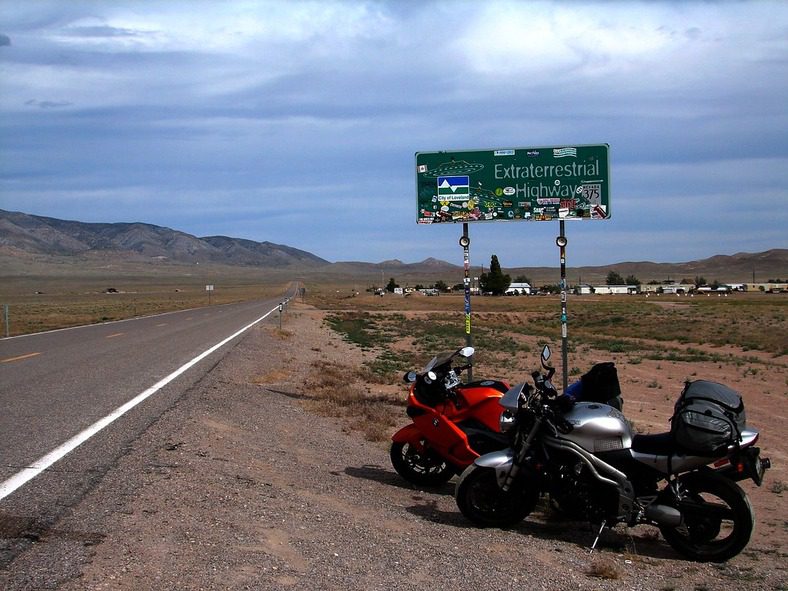 One of the Nevada's numerous scenic routes and one that truly stands out is the Extraterrestrial Highway. Highway 375, as it's formally known, is approximately 98 miles long, and it's a captivating ride full of mystery and awe-inspiring scenery.
Nevada is known for its arid climate, so the ideal times to discover Highway 375 are during spring and fall when the temperatures are milder. However, summer months are still doable, as long as you're prepared for the heat.
The total distance of the Extraterrestrial Highway is 98 miles. Given its relatively short length, you could complete the journey in under 2 hours without stopping for too long. However, I suggest setting aside at least 4 hours to really absorb the visuals and interesting stops.
Places to stop:
Rachel: This small town, with a population of fewer than 100 residents, has embraced the UFO-themed journey and is referred to as the "UFO Capital of the World." Don't miss the chance to grab a meal at the iconic Little A'le'Inn restaurant.
Black Mailbox: This unassuming mailbox has become a famous gathering spot for UFO enthusiasts and skywatchers. Rumors say that it's the mailbox for secretive Area 51 personnel.
Area 51: While you're not allowed to enter the infamous military base, there is a high-security gate you can visit for a photo opportunity. The gate is located down a dirt road just off Highway 375.
Highway 375 features mostly straight roads, with a few mild curves and hills. It's an easy ride suitable for motorcyclists of all skill levels. However, the remote location and limited services along the route require riders to plan ahead and carry necessities like water, snacks, and a spare tire.
As you would expect from the name, this journey embraces the unknown and the possibility of extraterrestrial life. Be prepared for UFO-themed signage, establishments, and perhaps even a few flying saucer sightings. Though it can feel remote at times, the Extraterrestrial Highway presents a truly memorable experience that is out of this world.
5. The Loneliest Highway: Route 50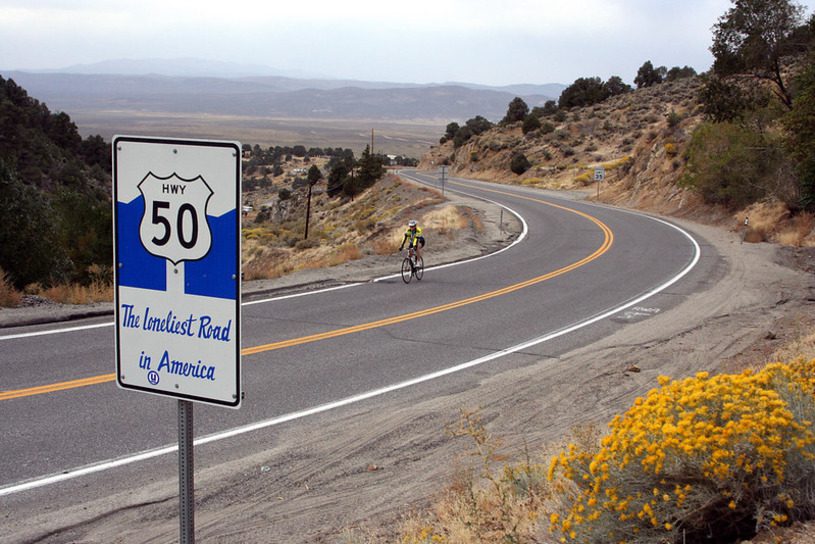 Spanning over 287 miles, Route 50 has earned its title as the "Loneliest Highway" in Nevada, but I assure you, this motorcycle ride is anything but boring. With long stretches of open road cutting through picturesque scenery, it offers riders a chance to experience the state's beauty and solitude.
The ideal period for traversing Route 50 is from late spring to early fall, as unpredictable weather conditions or snow could make the ride more challenging during winter months.
The entire journey takes approximately 5-6 hours to complete, depending on your riding speed and breaks for sightseeing.
There are several noteworthy pit stops worth exploring along Route 50, including:
Eureka: A charming old mining town with historical buildings and museums.
Great Basin National Park: Located just off the highway, this park provides an opportunity for camping, hiking, and stargazing.
Sand Mountain Recreation Area: A massive sand dune perfect for adrenaline-charged off-roading and ATV riding.
Middlegate Station: A rustic roadhouse offering food, drinks, and a chance to mingle with fellow travelers.
Route 50 might not be the most technically challenging ride; however, its uninterrupted stretches can prove monotonous for some. Therefore, I classify this motorcycle ride as moderate in difficulty.
When embarking on this adventure, keep the following points in mind:
Ensure your motorcycle is in excellent condition, as services are few and far between on this route.
Stay well-stocked with water, snacks, and extra fuel to avoid any inconveniences.
Finally, be mindful of wildlife crossing the highway, especially during dawn and dusk.
6. The Great Basin Highway: Route 93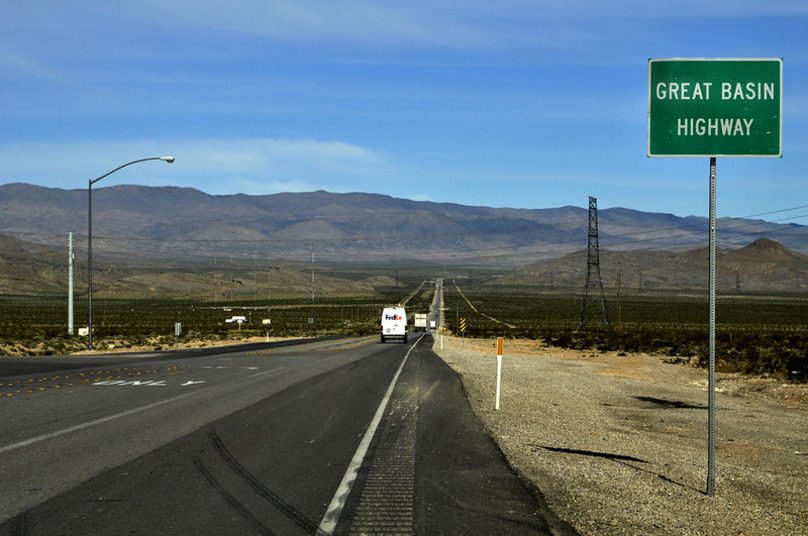 I'd like to introduce you to a fantastic motorcycle ride: The Great Basin Highway (Route 93). This spectacular route presents a unique opportunity to explore the scenic wonders of Nevada, from picturesque valleys to stunning mountain ranges.
For an optimal riding experience on Route 93, it's best to plan your trip during the months of spring or fall. During these seasons, you'll find milder temperatures and less traffic. Riding in summer can be quite hot, and winter weather can be unpredictable.
The Great Basin Highway stretches for about 305 miles in Nevada. Riders can expect the journey to take roughly 5 to 6 hours if they ride non-stop. It's important to allow additional time to appreciate the numerous places to stop and explore.
A ride through Route 93 wouldn't be complete without visiting some of the must-see attractions along the way, such as:
Cathedral Gorge State Park: Marvel at the dramatic landscape filled with stunning cliffs and unique rock formations.
Pahranagat National Wildlife Refuge: Take a break to appreciate the diverse wildlife and gorgeous scenery as you unwind by the beautiful lake.
Ward Charcoal Ovens State Historic Park: Immerse yourself in the region's rich history by exploring these six intriguing, beehive-shaped structures.
The Great Basin Highway offers a moderate level of difficulty for motorcyclists. The route consists of mostly well-maintained, paved roads with some twisty sections and elevation changes. Riders of various skill levels can enjoy the journey, but it's essential to remain cautious and stay within your comfort zone.
Here are a few more nuggets of information to make your ride even more enjoyable:
Accommodations: There are several small towns along the route offering motels, hotels, and campgrounds, such as Wells, Ely, and Alamo.
Fuel: Gas stations are sparse in some sections of Route 93, so it's wise to fill up at every opportunity and carry extra fuel if possible.
Safety: As with any motorcycle journey, remember to pack essential safety gear, stay hydrated, and check weather conditions ahead of time.
7. Lake Tahoe Loop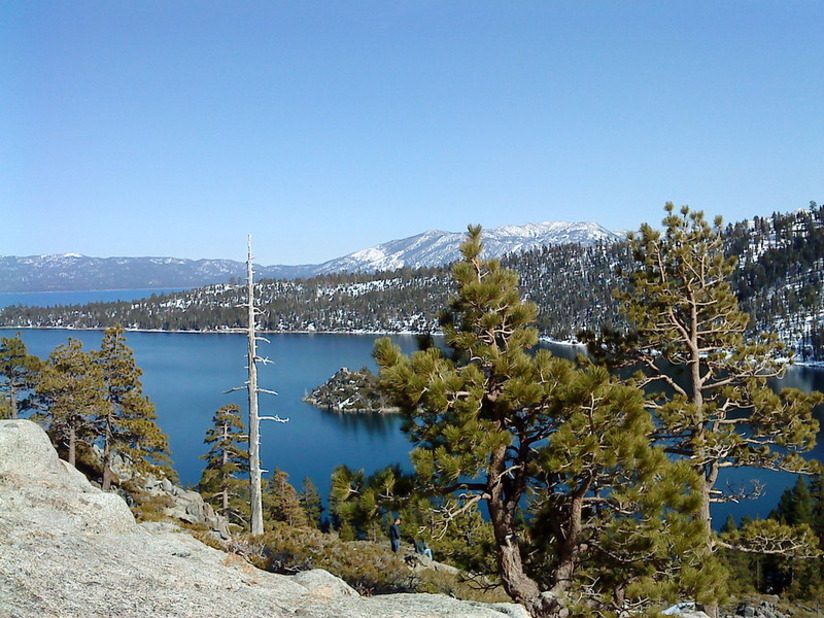 When I think of scenic motorcycle rides in Nevada, the Lake Tahoe Loop immediately comes to mind. A popular route among enthusiasts, this ride offers an unparalleled blend of breathtaking scenery, thrilling curves, and well-maintained roads.
The ideal time to experience the Lake Tahoe Loop is during spring, summer, and fall. Winter months can bring icy conditions, snow, and road closures, which may not be ideal for motorcyclists.
The entire loop is approximately 170 miles long, with an estimated travel time of 4 to 7 hours depending on stops and riding pace. As you navigate through these miles, you'll encounter incredible views, including alpine forests, pristine beaches, and snow-capped mountain peaks.
Some must-see stops along the Lake Tahoe Loop include:
Emerald Bay State Park: Take in the park's stunning views of the bay, Fannette Island, and Vikingsholm Castle.
Sand Harbor Beach: One of the most beautiful beaches in the area, this stop is well worth your time.
Heavenly Mountain Resort: A perfect spot for a meal, incredible views, or a scenic gondola ride.
Truckee: Visit this historic and charming mountain town for a coffee, snack, or shopping.
I'd rate the Lake Tahoe Loop as having a moderate level of difficulty. It's perfect for intermediate and advanced riders due to its winding roads and varying elevations. New riders should exercise caution and ride at a comfortable pace, as some sections contain hairpin turns and challenging road conditions.
Keep in mind that the Lake Tahoe Loop has a few paid parking areas at popular stops. To avoid parking fees, consider exploring these areas during weekdays, or early mornings when the lots are less crowded.
Another essential tip is to keep an eye on your fuel gauge, especially on the route's less-traveled western side. Fuel stations are scarce, so it's crucial to plan your stops accordingly.
8. Lamoille Canyon Scenic Byway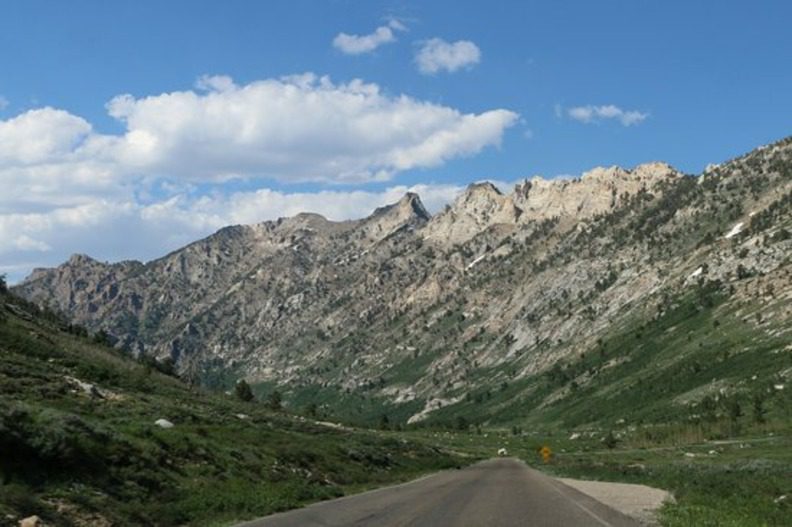 Lamoille Canyon Scenic Byway is a mesmerizing motorcycle ride that I have always loved. Nestled in the Ruby Mountains, the route offers a peaceful and visually stunning experience. Riding through the canyon, you'll feel a sense of exhilaration, as the sights of towering peaks, lush green meadows, and cascading waterfalls leave a lasting impression.
The ideal time to embark on this ride is between late spring and early fall. In these months, the temperature is generally mild, and the roads are clear of snow, which makes for a safer and more enjoyable trip.
The Lamoille Canyon Scenic Byway spans approximately 12 miles. It usually takes around 45 minutes to an hour to complete the ride, depending on your speed and stops along the way.
During the ride, there are several notable spots you won't want to miss. Some of my favorites include:
Thomas Canyon Campground: A great place to set up camp and admire the surrounding beauty
Lamoille Lake Trailhead: Perfect for a quick hike up to Lamoille Lake
Road's End Picnic Area: An excellent spot to relax and enjoy a well-deserved break
The Lamoille Canyon Scenic Byway is practically doable for riders of all skill levels. The road is mostly paved and well-maintained, allowing for a smooth ride. There are a few twists and turns along the way, but none too challenging for most riders.
A few things to keep in mind while planning your ride on the Lamoille Canyon Scenic Byway:
Gas stations can be scarce, so fill up before starting the ride and keep an eye on your fuel level
Cell reception may be spotty, so make sure you have a map or GPS device handy
Be prepared for wildlife encounters as the area is home to deer, elk, and other animals
FAQs
What are some of the best motorcycle rides in Nevada?
Top Rides Include Red Rock Canyon, Mt. Charleston, Valley Of Fire State Park, Hoover Dam Loop, And Zion National Park.
Is Las Vegas motorcycle friendly?
Yes, Las Vegas And Its Surrounding Areas Offer Numerous Scenic And Enjoyable Motorcycle Routes.
What is a popular off-road motorcycle ride near Carson City, Nevada?
Kings Canyon Road Is A Scenic Off-Road Ride Located Just West Of Carson City, Offering Beautiful Vistas And Exploration Opportunities.
Are There Any Motorcycle Routes Around Lake Mead?
Yes, The Lake Mead Loop (North Shore) And Lakeshore Road Offer Stunning Views And Enjoyable Riding Experiences.
What are some top-rated motorcycle roads in Nevada according to user ratings?
NV 207 (Stateline To Gardnerville) And The Virginia City Loop Are Highly Rated By Riders.
In Conclusion
It's been an incredible journey exploring the top 8 best motorcycle road rides in Nevada. Before we wrap up, let's quickly recap some essential information about these routes.
The best time to visit these roads is generally between April and October, when the weather is most favorable for riding.
While cruising along these stunning routes, don't forget to stop at some remarkable landmarks and places, such as:
Valley of Fire State Park
Mount Charleston Village
Red Rock Canyon National Conservation Area
Great Basin National Park
Sand Harbor Beach at Lake Tahoe
Little A'Le'Inn in Rachel
Lamoille Canyon Recreation Area
Badwater Basin in Death Valley
As for the level of difficulty, most of these routes are suitable for riders with varying skill levels. However, it's essential to stay cautious and respect the road conditions, especially during inclement weather.
Lastly, remember to plan your trip and arrange accommodations in advance, particularly in the peak tourist season (April to October). It's also a good idea to keep an eye on fuel and rest stop availability while riding through more remote areas.
I hope this guide has inspired you to discover Nevada's beauty and diverse landscapes on your motorcycle, making unforgettable memories along the way. Safe riding!
Motorcycle Rides in the US by States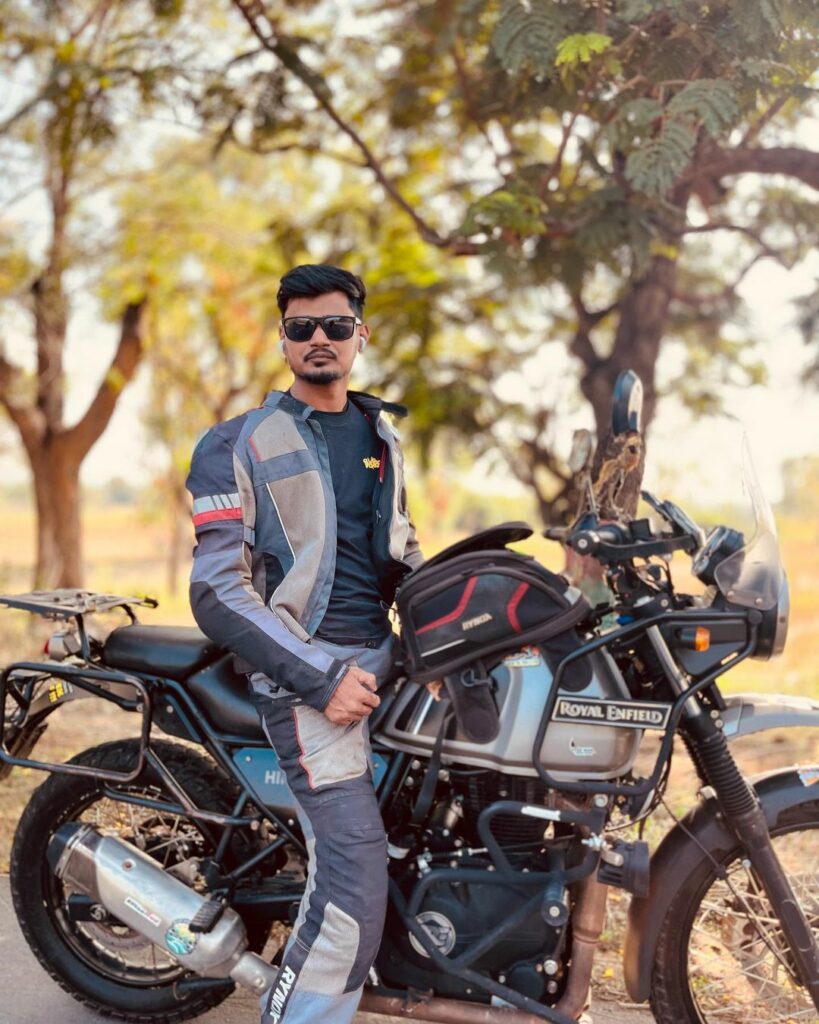 Vishwanath Mathpati
I am Vishwanath Mathpati, a full-time Blogger and Motorcyclist from Bidar, Karnataka. I love writing about my Motorcycles Stories and Riding Gears on this blog.
Know More About Me.
---
If you liked this article, then please subscribe to our YouTube Channel for more Bike Videos. You can also find us on Instagram, Twitter and Facebook.
Disclosure: As an Amazon Associate, I earn from qualifying purchases. Read more about Amazon Affiliate Disclaimer.