Top 10 Best Motorcycle Rides in Florida: Discovering Breathtaking Routes
There's nothing quite like hitting the open road on a motorcycle, and Florida is no exception. This state is a motorcycling haven, offering scenic routes all around that showcase its natural beauty, sunny skies, and warm weather.
To start off, you don't have to worry about harsh weather conditions like snow or ice, making Florida an ideal destination for year-round motorcycle adventures. The diverse terrain, from coastal views and tropical getaways to twisting turns and historic landmarks, provides endless opportunities for riders to explore and discover.
With its year-round warm climate and scenic coastal roads, Florida provides some truly iconic motorcycle rides. The Overseas Highway from Miami to Key West is perhaps the most notable, with its expansive sea views and long, continuous stretches of road. Just to the north, Georgia offers the Suches Loop, known as 'Georgia's Dragon,' providing challenging turns and a completely different type of natural beauty. Meanwhile, Alabama, located to the northwest, entices riders with the scenic Little River Canyon Rides that offer sweeping river canyon views. So, rev up your engine, grab your helmet, and let's hit the road as I share with you the Top 10 Best Motorcycle Rides in Florida that cater to all riding levels and preferences.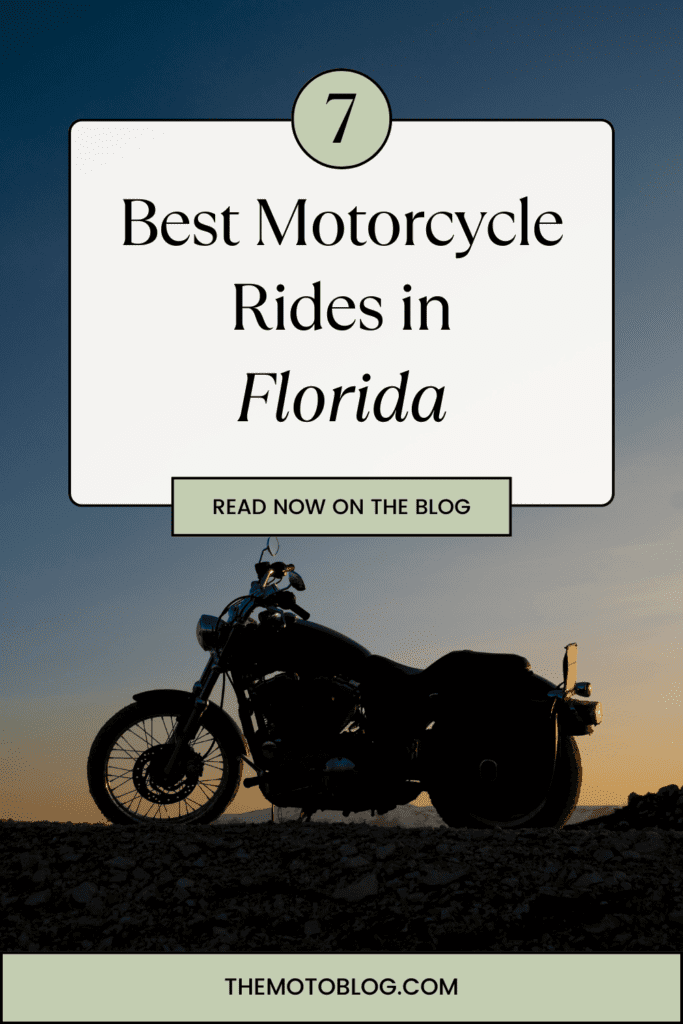 1. Overseas Highway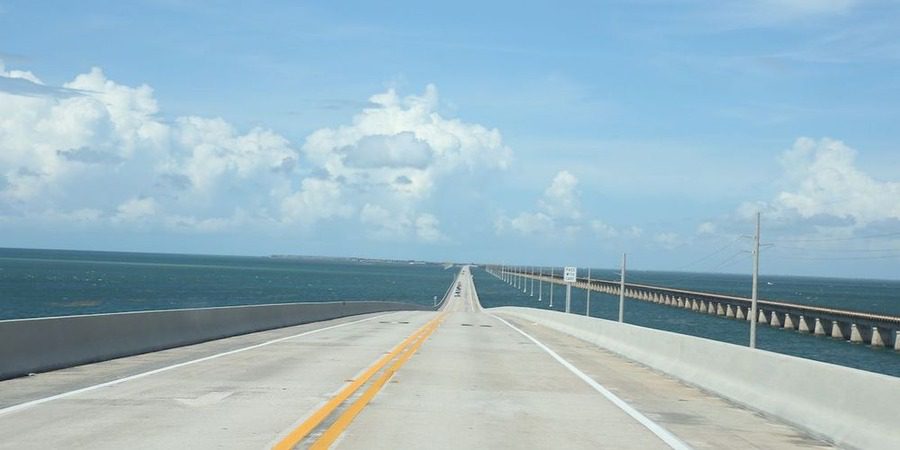 There's something special about cruising down the Overseas Highway from Key Largo to Key West. This 113-mile journey is a top pick for motorcycle enthusiasts seeking a scenic and unforgettable ride. Let me break down the details of this fantastic journey.
Best Time to Visit: Late fall to early spring is the ideal time to take this ride, as you'll avoid the summer heat and humidity, as well as hurricane season. Temperatures between November and April generally range between 70 and 80 degrees Fahrenheit, making for perfect riding weather.
| Distance | Time to Travel |
| --- | --- |
| ~113 miles | 2.5 – 3 hrs |
Places to Stop:
John Pennekamp Coral Reef State Park: Located in Key Largo, it's a great place to start your adventure. As the first undersea park in the United States, it offers beautiful views, snorkeling, and diving opportunities.
Bahia Honda State Park: A picturesque park, known for its white sandy beaches and sparkling waters. It provides a perfect spot for a mid-ride break.
Seven Mile Bridge: This iconic bridge provides unbeatable views of the surrounding water and islands.
Key West: The southernmost point of the United States, you can visit the Ernest Hemingway Home and Museum, tour the historic district, or relax on one of its famous beaches.
Level of Difficulty: I'd say it's an easy ride, suitable for riders of all levels. The road is well-maintained and relatively flat. However, there may be occasional crosswinds across the bridges, so moderate caution is advised.
Other Information:
Tolls: There are no tolls on the Overseas Highway.
Fuel availability: You'll find plenty of gasoline stations along the route, so it's not necessary to worry about running out of fuel.
Lodging: Numerous hotels, motels, and campgrounds are available across the Florida Keys, catering to different budgets and preferences.
2. Loop Road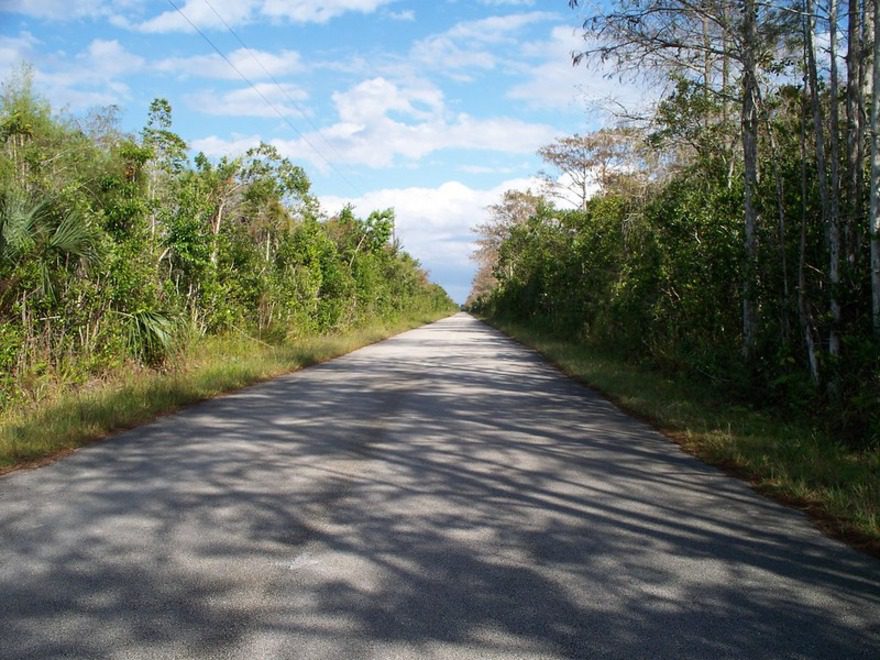 Whenever you want a scenic and exhilarating ride, Loop Road through the Big Cypress National Preserve never disappoints. It's one of the most captivating motorcycle routes in Florida. Weaving through 27 miles of lush landscape, this ride offers not only picturesque views but also an opportunity to encounter diverse wildlife.
Best Time to Visit : The ideal time to embark on this epic ride is during the cooler months from November to April. During this time, the weather is pleasant, and it's more comfortable to ride through the swampy areas of the preserve.
Distance and Time to Travel : Loop Road is 27 miles long and takes about 1-1.5 hours to cover, depending on your riding speed and the number of stops you take along the way.
Places to Stop : As you ride, you'll come across some noteworthy stops worth checking out:
Monroe Station: A historic landmark that served as a place for fuel and lodging for early motorists.
Sweetwater Strand: An excellent spot for photography with its unique landscape and mirror-like water reflections.
H.P. Williams Roadside Park: A perfect place to rest, enjoy a picnic or even spot an alligator or two.
Level of Difficulty : The ride along Loop Road is moderate in terms of difficulty. While the road itself is mostly paved and well-maintained, it can get quite curvy and narrow at certain points. This calls for greater attention on the rider's part, especially when navigating tight twists and turns.
Other Information : It's essential to keep in mind the following points while cruising through the Big Cypress National Preserve:
Be cautious of wildlife. Alligators, snakes, and bears are often found near the road.
Carry plenty of water and sunscreen to combat the heat and stay hydrated.
Some areas can get quite swampy, especially during the wet season, so make sure your bike is equipped to handle such conditions.
3. The Ormond Scenic Loop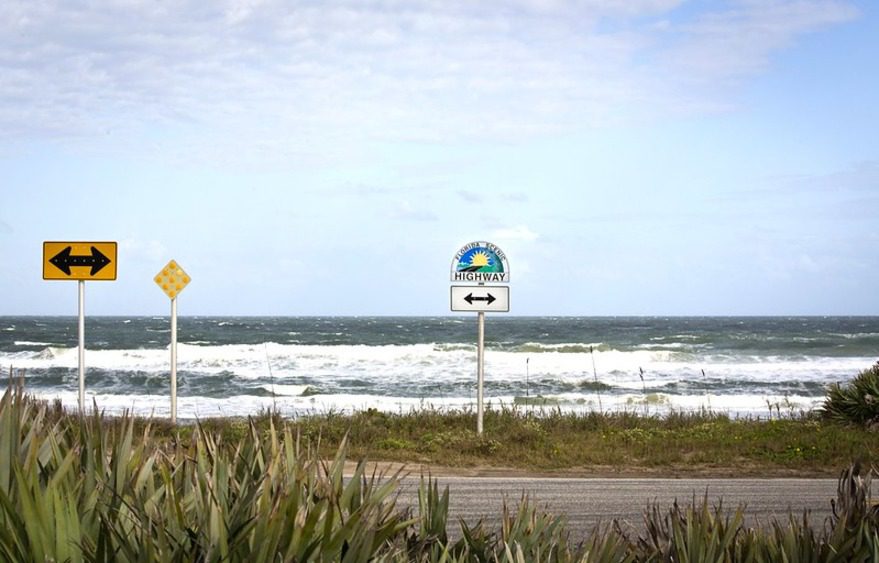 When looking for an exhilarating ride, I highly recommend The Ormond Scenic Loop. Known for its beautiful scenery, this 30-mile loop offers fantastic views of the Atlantic Ocean and lush Florida vegetation. It's not only a favorite amongst experienced riders, but beginners will also find it enjoyable and accessible.
Best Time to Visit : The Ormond Scenic Loop is an excellent ride all year round. However, the best time to visit is during spring or fall, when temperatures are milder, and the weather is more predictable. You'll find fewer crowds during these seasons, making for a more enjoyable ride. During the summer, it can get quite hot. So, with Florida's unpredictable storms, taking a quick break is always a good idea when conditions become uncomfortable.
Distance and Time to Travel : The Ormond Scenic Loop covers approximately 30 miles and takes about 1-2 hours to complete at a comfortable pace. Of course, if you choose to stop and explore the many attractions along the way, it may take longer.
Places to Stop : While cruising along the loop, you'll find several fascinating places worth stopping for:
Ormond Beach: Relax on the beautiful sandy beach or take a dip in the Atlantic Ocean.
Bulow Creek State Park: Check out some of the largest southern live oak trees in Florida and wander the trails through this lush wetland.
Tomoka State Park: A haven for birdwatchers, this park is also home to the Tomoka River, perfect for kayaking or fishing.
Level of Difficulty : The Ormond Scenic Loop boasts smooth, well-maintained roads, making it an easy ride for both beginners and experienced riders. With its gentle curves and minimal elevation changes, it's an excellent choice for riders of all skill levels.
Other Information : As you ride along the Ormond Scenic Loop, keep an eye out for wildlife and marine life that call the area home. It's not uncommon to spot manatees, dolphins, and various bird species. Additionally, there are several seafood restaurants and local shops in the area where you can grab a bite to eat and buy some souvenirs.
4. A1A: St. Augustine to Daytona Beach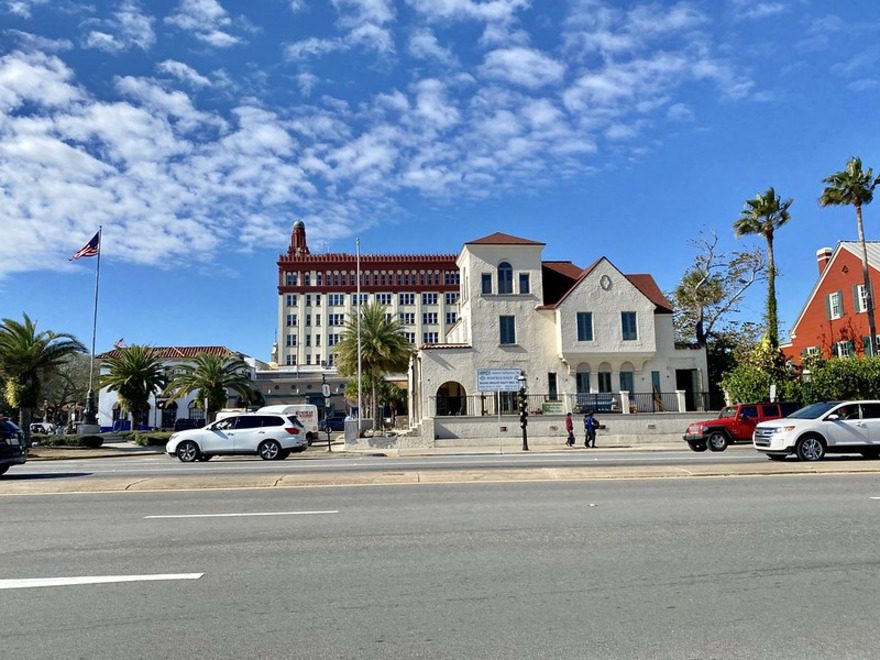 Riding along A1A from St. Augustine to Daytona Beach offers an absolute treat for motorcycle enthusiasts seeking scenic beauty and coastal charm. It's an unforgettable journey that showcases the best of northeast Florida's coastal terrain and historic sites.
Best Time to Visit : The prime time for this picturesque ride is during the spring and fall months, when the weather is mild with comfortable temperatures. These seasons provide optimal riding conditions and fewer tourists congesting the roads.
Distance and Time to Travel : Covering approximately 60 miles in distance, this route can be comfortably completed in about 1.5 to 2 hours without stopping. However, I'd highly recommend taking your time and making stops at the remarkable spots you'll encounter along the way.
Places to Stop : Some must-see locations along A1A include:
St. Augustine: Known as the nation's oldest city, St. Augustine offers rich history, fascinating museums, and eye-catching Spanish colonial architecture.
Flagler Beach: A quaint seaside town with beautiful beach views, an inviting pier, and charming local shops and cafes.
Ormond Beach: A quiet beach area and home to the picturesque Ormond Scenic Loop, perfect for a pleasant detour.
Daytona Beach: The world-famous beach destination famous for its motorsports events, lively boardwalk, and excellent dining options.
Level of Difficulty : A1A is a moderate-level ride that is relatively easy to navigate. It's recommended for riders of all skill levels, as the traffic conditions are generally light and the road is well-maintained.
Other Information : Keep in mind that while the ride itself is stunning, there may be some sections with limited shoulder space and tight turns. Therefore, it's essential to remain vigilant and always exercise caution when riding.
5. Sugarloaf Mountain Road: Central Florida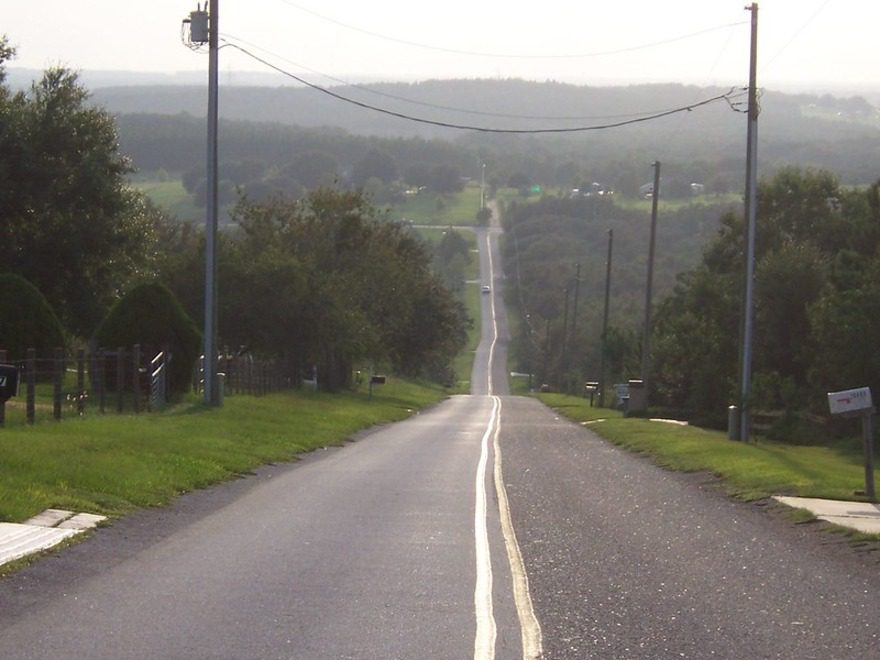 When looking for great motorcycle rides in Florida, Sugarloaf Mountain Road in Central Florida is not to be missed. Let me share some information about this fantastic spot for your next motorcycle adventure.
Best Time to Visit: Honestly, Florida's weather allows for year-round riding, but the optimal time to visit is between October and April. During these months, you'll enjoy mild temperatures and less rainfall, making your ride even more pleasurable.
Distance with Time to Travel: Sugarloaf Mountain Road is approximately 11 miles long, with an estimated 30-45 minutes of leisurely riding time. This route features a series of rolling hills, as well as few elevations, rare in the state, which further enhances your riding experience.
Places to Stop: Along the route, you'll come across several great spots for breaks. A few favorites are:
Lake Apopka: Florida's fourth-largest lake, offering beautiful views, fishing piers, and hiking trails.
Green Mountain Scenic Byway: A lovely side trip with panoramic views of Lake Apopka and surrounding areas.
Ferlita's Bakery & Ice Cream Parlor: A local gem with delicious pastries and ice cream, perfect for a quick treat.
Level of Difficulty: This ride is suitable for intermediate to experienced riders. Sugarloaf Mountain Road does have some tight curves and elevations, so it's important to be cautious and confident with your skills.
Other Information: While the area is quite rural, you'll find a few convenience stores and gas stations along the way. Besides, it's worth mentioning that cell service can be spotty in some spots, so ensure you plan your route beforehand or have a GPS device handy.
6. SR 13: Along the St. Johns River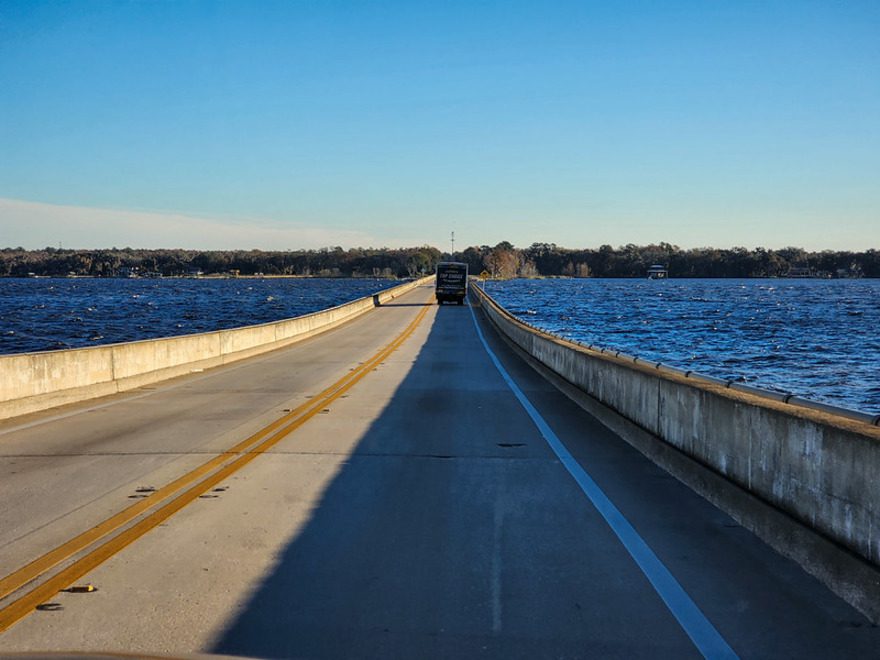 In Florida, there's no shortage of beautiful motorcycle rides, but one of my favorites has got to be SR 13 — a picturesque route that follows the St. Johns River. This amazing ride combines stunning natural beauty, captivating historical sites, and charming little towns, making it a truly unforgettable journey.
Best time to visit: Fall and spring are the most enjoyable seasons to ride along SR 13, when temperatures are mild and comfortable. However, the ride is suitable year-round, so long as you're prepared for the usual summer heat and humidity, or possibly cooler winter temps.
Distance with time to travel: Covering approximately 60 miles, it takes around 1.5 to 2 hours to complete the ride, not counting any stops you might want to make, of course!
Places to stop: SR 13 is filled with delightful stopping points:
Shands Bridge – This iconic historical structure offers beautiful views of the St. Johns River;
Bartram Trail – A series of markers along the route commemorate the journey of famed naturalist William Bartram;
Rivertown Park – A great place to relax and enjoy riverside views or enjoy a picnic;
Switzerland – This charming unincorporated riverside community has a laid-back atmosphere and beautiful homes to admire;
Fruit Cove – Stop for lunch or a snack at one of the many eateries along SR 13 in this lovely area.
Level of difficulty: SR 13 is generally an easy ride, with smooth pavement and gentle curves, making it accessible for riders of various experience levels.
Other Information:
Traffic can vary, but congestion is usually minimal, so you can mostly look forward to a calm and enjoyable ride.
Keep an eye out for wildlife since there's a good chance you'll spot some beautiful Florida animals like ospreys and wading birds.
Gas stations and restrooms can be found in the towns along the route, but it's best to fill up before you embark on your ride, as they might be a bit spaced apart.
7. US 98: Apalachicola to Panama City Beach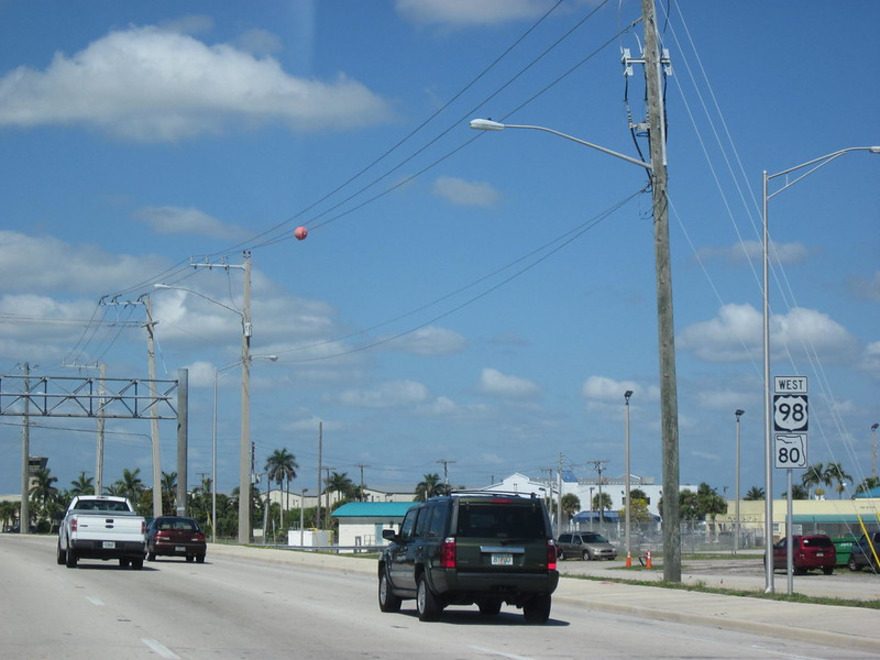 US 98 starts in the charming town of Apalachicola and ends in the vibrant Panama City Beach. The scenery along this route is magnificent, with plenty of coastal landscapes and lush greenery to admire.
Best Time to Visit ; The ideal time to experience this route is during the spring and fall months, when the weather is pleasant and traffic isn't as heavy as in the summer months. Be sure to avoid hurricane season, which usually lasts from June to November.
Distance and Travel Time : Covering a distance of about 120 miles, this ride will take you approximately 2.5 hours to complete without any stops. However, I highly recommend taking breaks to explore the small towns and beautiful beaches along the way.
Places to Stop : Here are some must-visit pit stops on this route:
Apalachicola: Known for its fresh seafood and historic downtown area, this small town is the perfect starting point for your journey.
Carrabelle: Stop by here to relax on Carrabelle Beach or visit the unique Crooked River Lighthouse.
St. George Island: This beautiful barrier island offers pristine beaches and the opportunity to spot dolphins in the water.
Mexico Beach: Here, you'll find white sandy beaches and crystal-clear waters, perfect for taking a relaxing break.
Panama City Beach: Conclude your ride at this popular tourist destination, with plenty of attractions, shopping, and dining options.
Level of Difficulty : I would rate this journey as easy to moderate in terms of difficulty. Traffic can vary depending on the time of year, and certain stretches may be more congested due to beachgoers during peak times. However, US 98 is generally well-maintained, making for a relatively smooth ride.
Other Information : While riding along this route, always remember to have your helmet and other safety gear on. In Florida, helmets are required by law. Keep an eye on the weather and be prepared for sudden changes, especially during hurricane season. Lastly, make sure your motorcycle is in good condition and fueled up, as gas stations can be sparse on certain parts of the route.
8. Tamiami Trail: Naples to Miami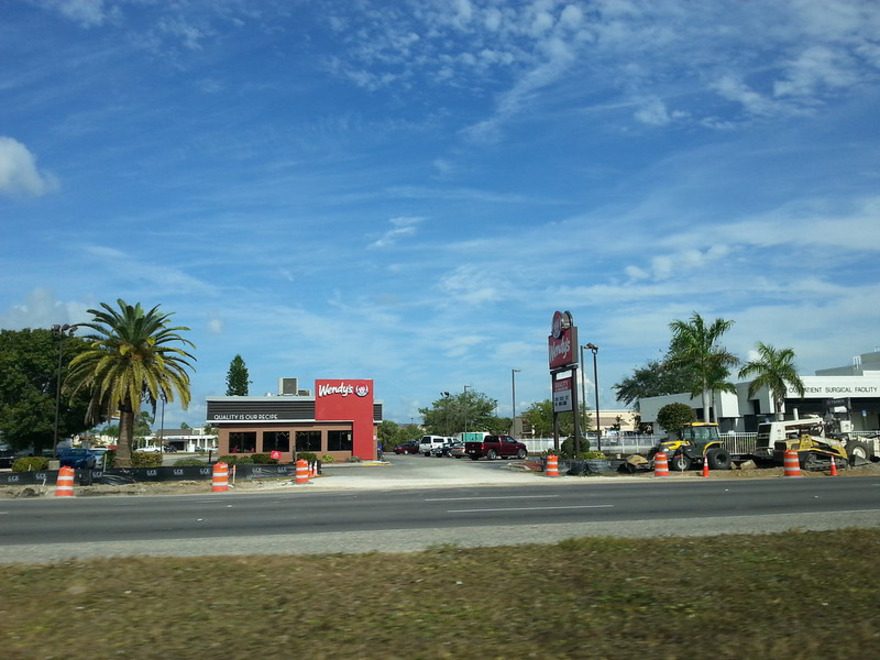 When it comes to scenic motorcycle rides in Florida, I can't help but recommend the Tamiami Trail. Connecting Naples to Miami, this picturesque route takes riders on a journey through the heart of the Everglades and offers stunning views of unique landscapes, making it an unforgettable experience.
Best Time to Visit : Florida's weather can be quite unpredictable, but the ideal time to ride the Tamiami Trail is during the dry season between November and April. Temperatures are cooler, and there's less chance of encountering rain or storms during your ride.
Distance & Time to Travel : The Tamiami Trail spans approximately 167 miles (267 km) and typically takes riders around 3 to 4 hours to complete depending on your preferred speed and stops.
Places to Stop : Some noteworthy stops along the Tamiami Trail include:
Shark Valley Visitor Center – A great stop for learning more about the Everglades ecosystem, flora, and fauna. Don't miss the 15-mile loop road and hour-and-a-half tram ride.
Big Cypress National Preserve – Perfect for capturing that picturesque landscape. Explore the sites and experience the tremendous biodiversity of this area.
Clyde Butcher's Gallery – Famed for his black-and-white photography of the Everglades, Clyde Butcher's gallery is worth a visit for art enthusiasts.
Ochopee Post Office – The smallest post office in the United States is a unique landmark that's worth a quick photo stop.
Miccosukee Indian Village – Experience the rich culture and history of the Miccosukee Tribe. Enjoy traditional arts and crafts, alligator wrestling shows, and airboat tours.
Level of Difficulty : Riding the Tamiami Trail is relatively easy and enjoyable for all skill levels. However, it's crucial to remain cautious and attentive during your ride, as the two-lane highway can get busy with traffic, and wildlife may wander onto the road unexpectedly.
Other Information : Before starting your ride, make sure to fill up on gas and pack any essential items, such as water, snacks, sunscreen, and a camera. Cellphone reception can be spotty along certain parts of the route, so keeping a physical map or GPS device with offline maps is helpful in case you get turned around.
9. SR 80: Palm Beach to Labelle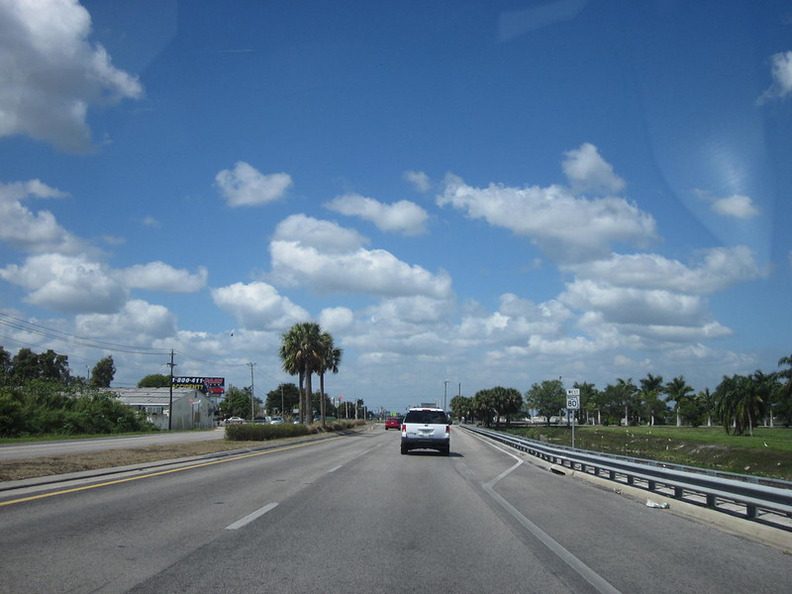 One of my favorite motorcycle rides in Florida is SR 80 which takes you from Palm Beach to Labelle. This route offers a terrific combination of scenic views, historic landmarks, and various places to stop and explore.
Best Time to Visit: The ideal time to ride this route is from November through April when the weather is cooler and less humid. This will help make your ride more enjoyable and comfortable.
Distance and Time to Travel: The stretch of SR 80 from Palm Beach to Labelle is approximately 100 miles long and could take around 2-3 hours to complete, depending on your pace and stops along the way.
Places to Stop:
Lion Country Safari: A unique drive-thru wildlife park offering close-up views of animals and various exhibits.
South Bay: A small city perfect for a relaxing break or quick snack before continuing your journey.
Clewiston: Known as "America's Sweetest Town," Clewiston offers sugar tours, fishing in Lake Okeechobee, and charming small-town charm.
Level of Difficulty: This route is considered a moderately easy ride, making it suitable for all skill levels. However, keep in mind that the roads can be busy and congested, especially near Palm Beach, so exercise caution and be prepared for traffic.
Other Information:
Look out for wildlife while passing through sugar cane fields and farms.
Take time to explore the historic downtown Labelle area.
Be prepared for occasional rain, as Florida weather can be unpredictable.
10. The Ocala National Forest Loop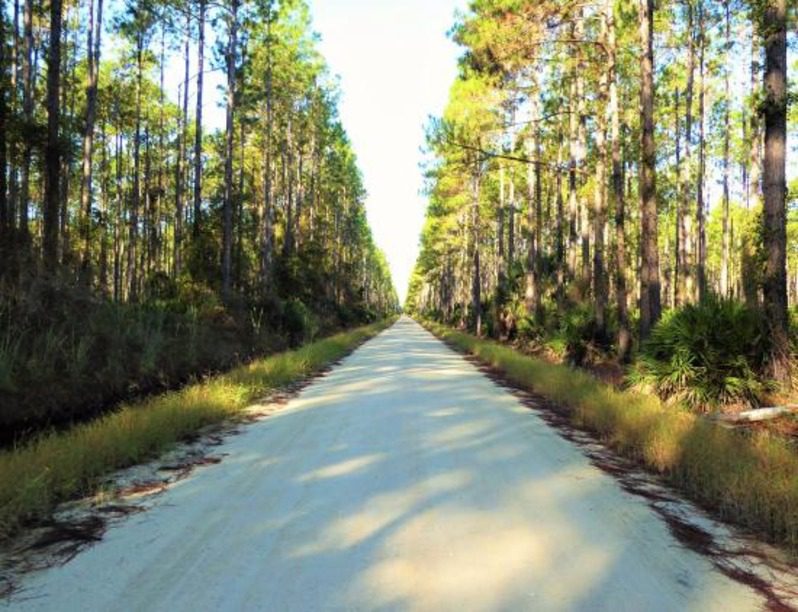 The Ocala National Forest Loop offers motorcyclists a refreshing and memorable ride through one of Florida's most prized natural treasures. I highly recommend giving this beautiful route a try as you explore the Sunshine State's best motorcycle rides.
Best Time to Visit : To make the most of your ride, visit between October and April. The weather is cooler during these months, with temperatures averaging between 60°F to 70°F, perfect for a pleasant ride through lush landscapes.
Distance and Time to Travel : The Ocala National Forest Loop stretches for approximately 85 miles. Plan on spending around 2-3 hours for the perfect balance of riding time and opportunities to explore the various stopping points.
Places to Stop : There's no shortage of scenic stops along this captivating route. Here are some must-sees:
Alexander Springs: This pristine, first-magnitude spring offers clear turquoise waters perfect for a refreshing swim.
Juniper Springs: A beautiful recreational area with canoeing, kayaking, and camping opportunities.
Silver Glen Springs: Another stunning first-magnitude spring that provides crystal-clear waters for swimming and snorkeling.
Level of Difficulty : The Ocala National Forest Loop is suitable for beginners to experienced riders. Smooth roads and enjoyable twists provide a delightful experience for all skill levels.
Other Information
Keep in mind that much of this ride ventures through designated wildlife areas. Be cautious of animals crossing the road and follow posted speed limits.
You'll pass through the communities of Umatilla, Astor, and Paisley during your ride, offering plenty of opportunities for gas, food, and supplies.
Cell phone reception can be spotty within the forest, so it's best to have a map downloaded or print a physical copy before venturing out.
FAQs
What is the best country to ride a motorcycle?
The Best Country For Motorcycle Riding Varies Based On Personal Preference, But Florida Offers Several Beautiful And Scenic Routes That Are Ideal For A Fun And Enjoyable Ride.
Is Florida good for motorcycle riding?
Yes, Florida Offers A Variety Of Scenic Rides And Beautiful Landscapes, Making It An Ideal Location For Motorcycle Enthusiasts.
Where can I find more information on motorcycle rides in Florida?
What are some of the top motorcycle rides in Florida?
Top Motorcycle Rides In Florida Include The Ozello Trail Ride, Naples To Key West, The Daytona Loop, Scenic SR-13, And The Green Swamp Tour.
Are there twisty roads in Florida?
Yes, Florida Has Twisty Roads, Such As The Ozello Trail Ride (State Route 494), Which Is Known For Its Twists And Turns And Stunning Views Of The Water And Marshlands.
Concluding the Sunshine State's Best Rides
With a myriad of breathtaking motorcycle rides in Florida, it's difficult to choose just ten. However, the selections listed here represent some of the best rides the Sunshine State has to offer. As an expert blogger, I've considered factors such as the best time to visit, distance with time to travel, places to stop, level of difficulty, and other information.
| Best Time to Visit | Distance | Time to Travel | Level of Difficulty |
| --- | --- | --- | --- |
| October to April | Varies | 1 hour to all day, or longer | Easy to Moderate |
When planning these motorcycle rides, some factors to keep in mind include:
The best time to visit most places in Florida is from October to April when the weather is cooler and less humid.
To vary your riding experience, plan stops at popular tourist attractions, restaurants, or historical landmarks.
Don't forget to check local weather conditions and road closures before hitting the road.
No matter what your level of riding experience is, it's important to put safety first by following traffic rules and wearing proper riding gear.
Here are a few extra tidbits to help make your excursion an unforgettable one:
Remember, these motorcycle rides offer varying levels of difficulty, so choose a route that suits your riding abilities.
Consistent with Florida's natural beauty, many of these routes provide riders with opportunities to spot wildlife like birds, alligators, dolphins, and manatees if you keep your eyes peeled.
So, whether you're a seasoned rider or a newbie biker, Florida's motorcycle routes have something to offer everyone. Take these recommendations as A Starting Point And Don't Hesitate To Set Off On Your Own Sunshine State Adventure. The Open Road Awaits!
Motorcycle Laws in the US By States
Motorcycle Rides in the US by States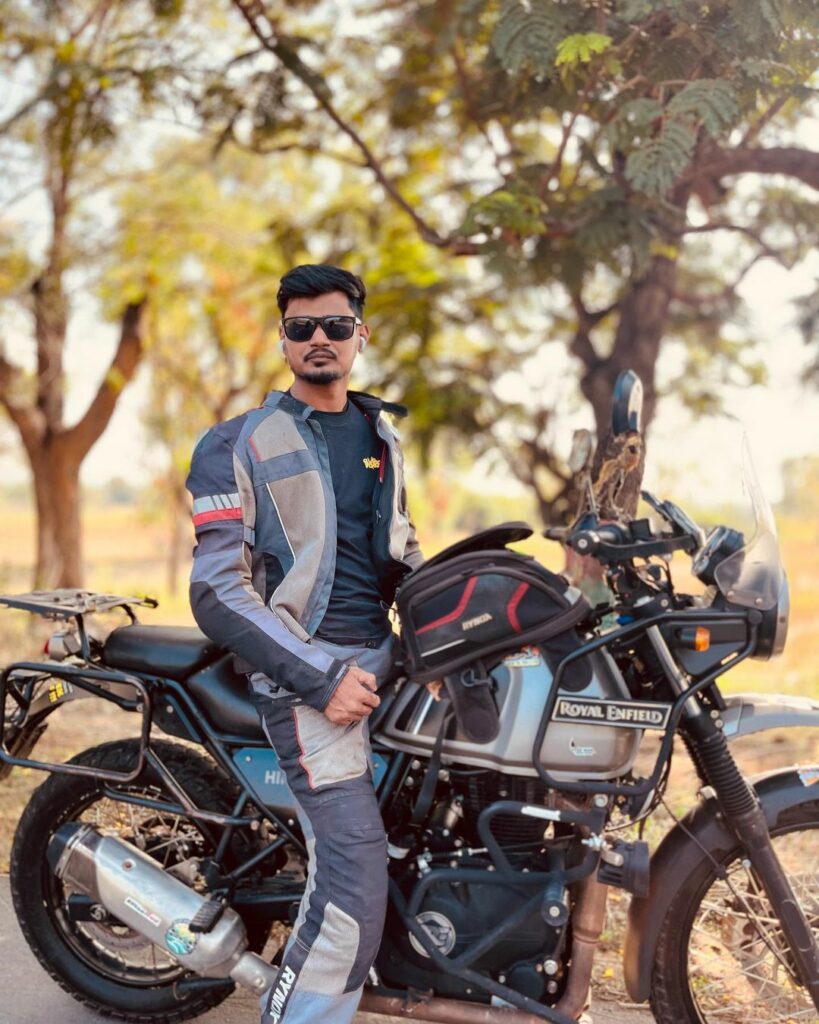 Vishwanath Mathpati
I am Vishwanath Mathpati, a full-time Blogger and Motorcyclist from Bidar, Karnataka. I love writing about my Motorcycles Stories and Riding Gears on this blog.
Know More About Me.
---
If you liked this article, then please subscribe to our YouTube Channel for more Bike Videos. You can also find us on Instagram, Twitter and Facebook.
Disclosure: As an Amazon Associate, I earn from qualifying purchases. Read more about Amazon Affiliate Disclaimer.