Top 8 Best Motorcycle Rides in Montana: My Personal Favorites
Montana's vast landscapes, towering peaks, and wide-open roads make it a motorcyclist's paradise. The Treasure State offers some of the most scenic and thrilling rides in the country. I've compiled a list of the top 8 best Motorcycle Rides in Montana to make planning your next adventure a breeze.
The state's diverse terrain, from winding mountain passes to serene rural highways, provides an exciting variety of riding experiences. You'll discover everything from the famous Beartooth Pass, with its sweeping curves and jaw-dropping vistas, to the stunning landscapes of Going-to-the-Sun Road and beyond. Riding through Montana, it's no surprise that the state's nickname is "Big Sky Country."
Yet, the thrill extends well beyond Montana's borders. To the east, North Dakota's Maah Daah Hey Trail offers an off-road adventure across the Badlands. Traveling west into Idaho, the Sawtooth Scenic Byway is an awe-inspiring ride through the rugged Sawtooth National Recreation Area. Heading south, Wyoming's Beartooth Highway offers a thrilling high-altitude journey with spectacular mountain views. Finally, venturing north into the Canadian province of Alberta, the Icefields Parkway presents a breathtaking ride through the heart of the Canadian Rockies. Each neighboring route offers a unique motorcycle riding experience, further enhancing the vast range of rides beginning in Montana.
I'll reveal the top 8 must-ride roads in Montana and what makes each of them exceptional. Whether you're a seasoned rider or just starting to explore the world on two wheels, Montana's roads will undoubtedly leave you breathless and craving more.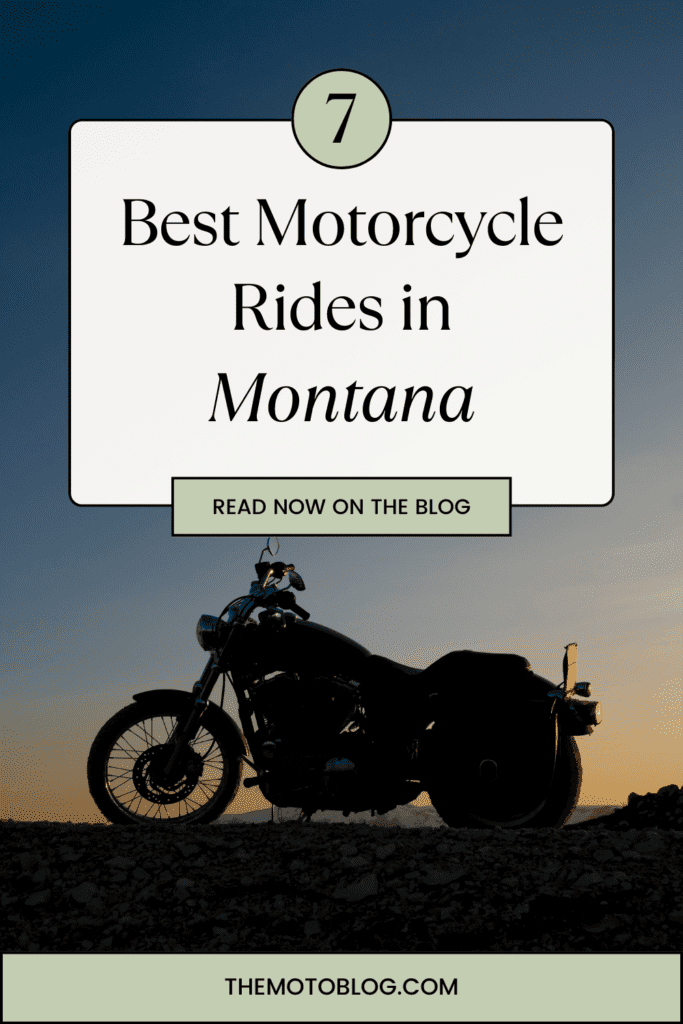 1. The Beartooth Highway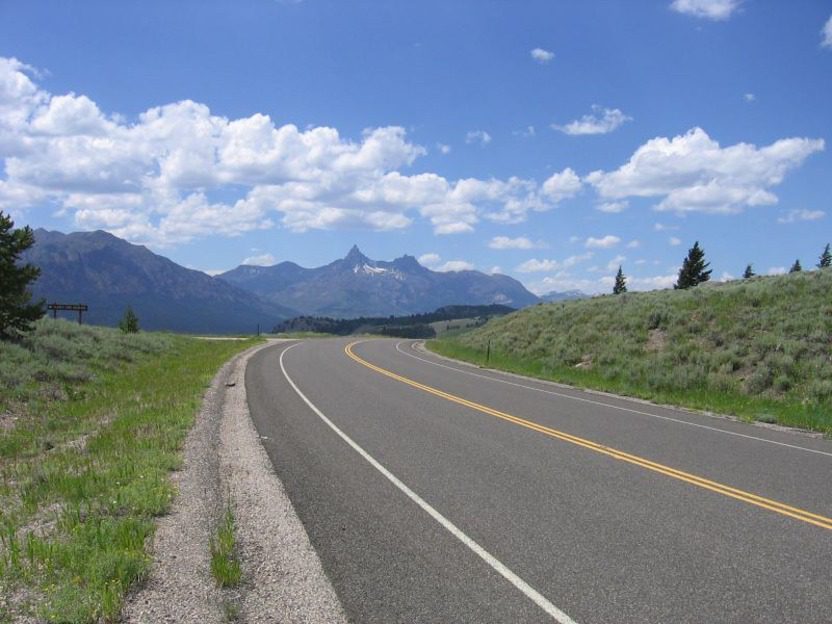 Taking a ride on the Beartooth Highway is an unforgettable experience. With its winding roads, vast landscapes, and unparalleled natural beauty, it's easy to see why it's one of the best motorcycle rides in Montana.
The ideal time to ride the Beartooth Highway is between May and October, as the road may be closed due to snowfall during the winter months. However, it's important to note that weather can be unpredictable, so checking the forecast and road conditions before setting off is a must.
The Beartooth Highway stretches for about 68 miles (109 kilometers) and traverses both Montana and Wyoming. Riders can expect to spend approximately 2 to 3 hours on the highway, not factoring in time for stops and exploration.
There are a few notable stops you won't want to miss along the Beartooth Highway:
Beartooth Pass Summit: At an elevation of 10,947 feet (3,337 meters), it offers breathtaking views of the surrounding mountains.
Rock Creek Vista Point: This overlook provides stunning panoramic views of the Beartooth Mountains.
Top of the World Store: A great place to take a break, refuel, and grab some souvenirs.
The Beartooth Highway can be somewhat challenging for riders, especially those with less experience. You'll encounter steep inclines, sharp curves, and narrow roads. However, with proper preparation and caution, most riders should be able to navigate it safely.
Other Information:
Beartooth Highway is designated as an All-American Road, signifying it's one of the most scenic and culturally significant roads in the United States.
Due to its high elevation, riders should be prepared for sudden temperature changes during their journey. Dressing in layers and packing extra clothes is recommended.
2. Cruising Glacier National Park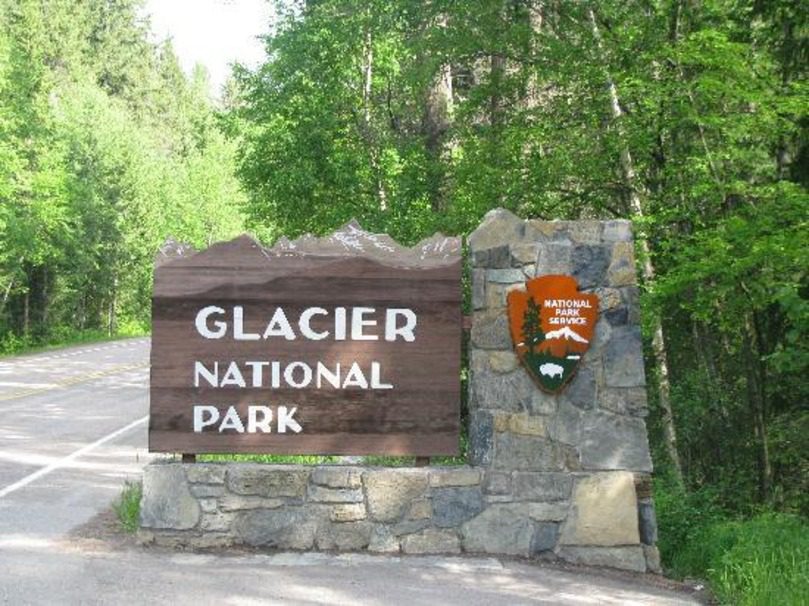 When planning a motorcycle ride in Montana, there's one destination that should always be on your list: Glacier National Park. Riding through this astonishing park offers a unique and memorable experience.
The best time to visit Glacier National Park on a motorcycle is between June and September. During these months, the temperatures are ideal for riding, and the roads are free from snow. Keep in mind that it's also the park's peak season, so you may encounter more traffic and tourists.
| Months | Temperature Range |
| --- | --- |
| June | 55°F – 75°F |
| July | 60°F – 80°F |
| August | 58°F – 80°F |
| September | 48°F – 70°F |
The most iconic and scenic route for motorcyclists in Glacier National Park is the Going-to-the-Sun Road. It's a thrilling 50-mile ride that takes about 2 hours to complete, depending on your desired pace and the number of stops you make.
Some noteworthy places to stop during your ride through the park include:
Lake McDonald: A crystal-clear glacial lake perfect for a scenic break.
Logan Pass: At 6,646 feet, it's the highest point accessible via the Going-to-the-Sun Road, offering incredible views of the park.
The Loop: A hairpin turn with a breathtaking viewpoint of the surrounding mountains and valleys.
When it comes to the level of difficulty, the Going-to-the-Sun Road can be considered as moderate. Though it's not exceptionally challenging, it does have narrow sections and tight curves. Be cautious, especially in areas with steep drop-offs and during wet weather. Inexperienced riders may find it more difficult due to these factors.
Some additional information to keep in mind while planning your motorcycle ride through Glacier National Park:
You'll need to pay an entrance fee to access the park. Visit the National Park Service website for current pricing and other valuable details.
Gas stations inside the park are limited. Fill up before you enter the park, and be prepared to cover at least 50 miles without refueling.
Lodging and camping options are available inside the park and throughout the surrounding areas, but they can fill up quickly, especially during peak season. Book your accommodations in advance.
3. The Going-to-the-Sun Road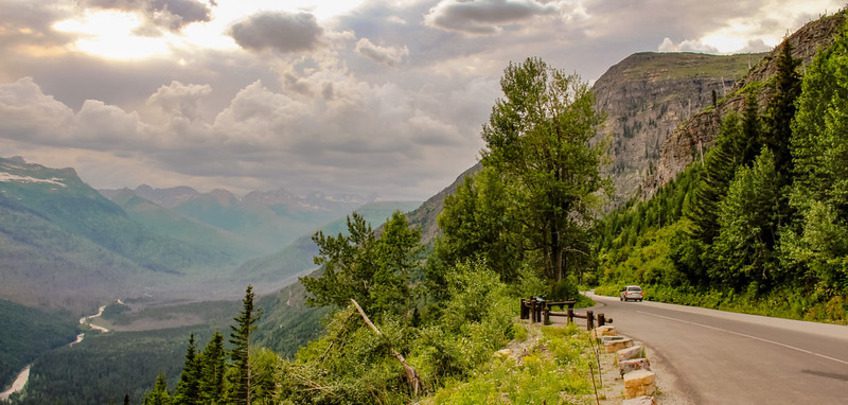 If you're seeking a memorable motorcycle ride in Montana, then Going-to-the-Sun Road in Glacier National Park has to be on your bucket list. This well-known stretch is famous for its breathtaking landscapes, intriguing history, and thrilling twists and turns.
The ideal time to ride Going-to-the-Sun Road is between late June and early October. The full length of the road might not be open until July due to snow, and conditions can be unpredictable in late autumn. Be sure to check current road conditions before planning your trip.
Going-to-the-Sun Road spans a total distance of 50 miles, and it takes approximately 2-3 hours to ride one way, depending on traffic and how many stops you make. Make sure to take your time – the beauty of this route deserves to be savored.
This route features several must-see stops along the way. Don't miss some of these key points of interest:
Lake McDonald: The largest lake in Glacier National Park, offering incredible views and photo opportunities.
Logan Pass: At an elevation of 6,646 feet, it's the highest point you'll reach on Going-to-the-Sun Road.
Jackson Glacier Overlook: One of the few remaining glaciers in the park visible from the road.
St. Mary Lake: A serene alpine lake with picturesque surroundings.
Sunrift Gorge: A striking and narrow gorge that warrants a quick hike.
While the Going-to-the-Sun Road isn't considered an extremely challenging route for experienced motorcyclists, less seasoned riders should exercise caution due to some sharp curves and steep drop-offs. Maintaining a safe speed and staying alert is crucial for a comfortable and enjoyable ride.
Keep in mind that, being within a national park, there's an entrance fee (currently $35 per motorcycle). Also, consider the park's restrictions on vehicle size – motorcycles towing trailers are not permitted. Finally, be prepared for changing weather and cooler temperatures at higher elevations – pack suitable gear to keep yourself warm and dry.
4. Bitterroot Valley Loop

When it comes to outstanding motorcycle rides in Montana, I can't help but mention the Bitterroot Valley Loop. Taking a ride along this picturesque route is a must-do for any motorcycle enthusiast.
I always recommend visiting May through October for the most enjoyable riding experience. During these months, the weather is more predictable, offering ideal conditions for your motorcycle journey.
The Bitterroot Valley Loop covers about 260 miles and can take an entire day to complete, depending on your riding speed and the number of stops you make along the way.
While cruising the Bitterroot Valley Loop, you'll come across several locations worth stopping for. Some of these must-visit spots include:
Hamilton: A small, charming town with a mix of dining and shopping options.
Stevensville: Known as Montana's first settlement, this town offers a glimpse of the state's history.
Darby: An excellent place for a meal break, Darby is home to the popular Smokin' Hot Espresso.
Trapper Peak: Stretch your legs and absorb the magnificence of the breathtaking view from Trapper Peak.
I'd say the level of difficulty for the Bitterroot Valley Loop is moderate. The route features both leisurely stretches winding around mountains and some challenging switchbacks. It's suitable for riders with some experience on curvy roads.
Here are a few tips and additional information to keep in mind while navigating the Bitterroot Valley Loop:
Road conditions: Expect varying road conditions, including some occasional gravel or debris, especially after the winter months.
Fuel stops: There are adequate fuel stops along the route, but it's a good idea to fuel up whenever you have the opportunity.
Wildlife: Keep your eyes open for both large and small animals that might cross your path unexpectedly. Montana has an abundance of wildlife, so stay alert!
5. Big Sky Backcountry Byway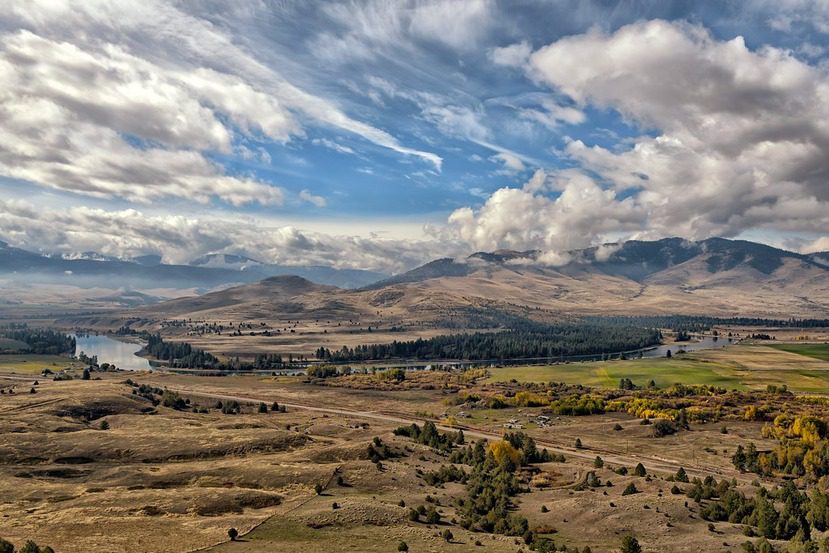 This incredible route covers approximately 105 miles of picturesque landscapes and offers excellent riding opportunities for adventurous riders like myself.
The ideal time to traverse this byway is during the months of May to October, as the weather is more favorable and the roads remain open.
The Big Sky Backcountry Byway takes about 3-4 hours to complete, depending on your riding pace and the stops you take along the way. Here's a quick overview of the distances and estimated travel times:
| Segment | Distance | Estimated Time |
| --- | --- | --- |
| Divide to Wise River | 25 miles | 45 minutes |
| Wise River to Polaris | 30 miles | 1 hour |
| Polaris to Bannack | 50 miles | 1.5 hours |
There are several scenic stops along the route that I highly recommend, such as:
Divide Bridge Recreation Area: A perfect spot to relax and enjoy the view of the Big Hole River
Wise River Club: Treat yourself to a delicious meal or beverage at this local favorite
Bannack State Park: Explore a well-preserved ghost town and soak up some Montana history
The Big Sky Backcountry Byway is considered a moderately challenging ride due to its twisty sections and varied road conditions. While it's suitable for intermediate riders, it's important to remain cautious and vigilant throughout the journey.
Here are some additional tips to make the most of your ride on the Big Sky Backcountry Byway:
Make sure your fuel tank is topped off, as gas stations are limited along the route
Pack essential tools and a tire repair kit, as cell phone coverage can be spotty
Keep an eye out for wildlife, particularly in the early morning and late afternoon hours
6. St. Ignatius to Paradise: Montana Backroads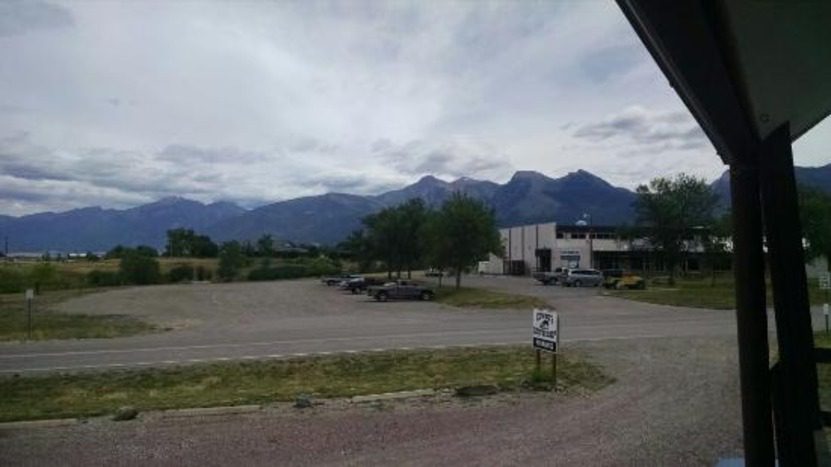 As a motorcycle enthusiast, I can't help but get excited when talking about the ride from St. Ignatius to Paradise on Montana backroads. This picturesque route will take you through some of the most breathtaking and lesser-known scenic spots in Montana.
It's no secret that Montana's weather can be unpredictable, but the ideal time to embark on this journey is from late May to early October. During this period, you'll enjoy comfortable temperatures for riding and have the best chance of clear, sunny skies.
Covering approximately 97 miles, the ride from St. Ignatius to Paradise should take around 2 to 3 hours. Of course, you might find yourself stopping along the way to take in the incredible surroundings, so it's always a good idea to allocate extra time for sightseeing.
There are several scenic stops along the route that I highly recommend, such as:
Ninepipe National Wildlife Refuge: A perfect place to spot impressive birdlife and take in the natural beauty of Montana.
Wild Horse Hot Springs: Nothing beats a relaxing dip in a hot spring after a ride. Be sure to check it out!
Paradise, Montana: Take the time to explore this charming small town.
| Level of Difficulty | Road Conditions | Traffic |
| --- | --- | --- |
| Moderate | Well-paved | Low to Moderate |
Although this ride is suitable for riders with some experience, don't let the moderate difficulty deter you. The roads are well-paved and mostly free of heavy traffic, allowing you to focus on the captivating landscapes. Be aware that cell phone reception may be spotty throughout the route, so come prepared with offline maps or a GPS device.
While there's plenty of open space along this route, it's crucial to abide by the speed limits and ride responsibly. Montana's stunning beauty and rapidly changing weather conditions can distract even the most experienced riders, so keep your focus on the road ahead.
7. Swan Valley and Seeley Lake Ride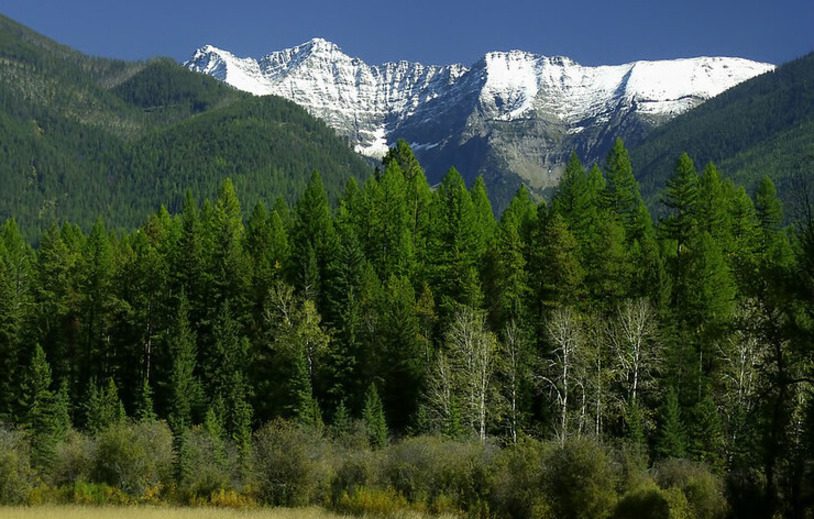 One of my favorite motorcycle rides in Montana has got to be the Swan Valley and Seeley Lake Ride. With scenic beauty aplenty and miles of open road, it's a trip you don't want to miss out on.
The ideal time to experience the beauty of the Swan Valley and Seeley Lake Ride is between May to October, when the weather is generally warmer and drier. Due to Montana's unpredictable weather patterns, I'd recommend checking the forecast ahead of planning your trip.
The entire route spans approximately 150 miles, which can be covered in around 3 to 4 hours, depending on your desired pace and stops along the way.
Here are a few must-see stops for your journey:
Bigfork: Make sure you visit this charming village situated on the beautiful shores of Flathead Lake. There's plenty to see and do, from art galleries to delicious dining options.
Swan Valley and Seeley Lake Ride: Located between Swan and Mission Mountain Ranges, this scenic area offers spectacular vistas and a chance to observe local wildlife.
Holland Lake: With its crystal-clear waters, Holland Lake is a refreshing spot to stop for a picnic, a swim, or just to soak in the natural beauty.
Seeley Lake: Enjoy numerous recreational activities, from fishing and canoeing to hiking and birdwatching.
For seasoned motorcyclists, I'd classify the Swan Valley and Seeley Lake Ride as easy to moderate in terms of difficulty. With generally well-maintained roads and a mostly straightforward route, it's a ride that many bikers can handle comfortably.
Don't forget to fuel up before hitting the road, as gas stations can be sparse along the route. Additionally, it's essential to pack necessary gear for unexpected weather changes and always stay aware of wildlife sharing the road, especially deer and elk.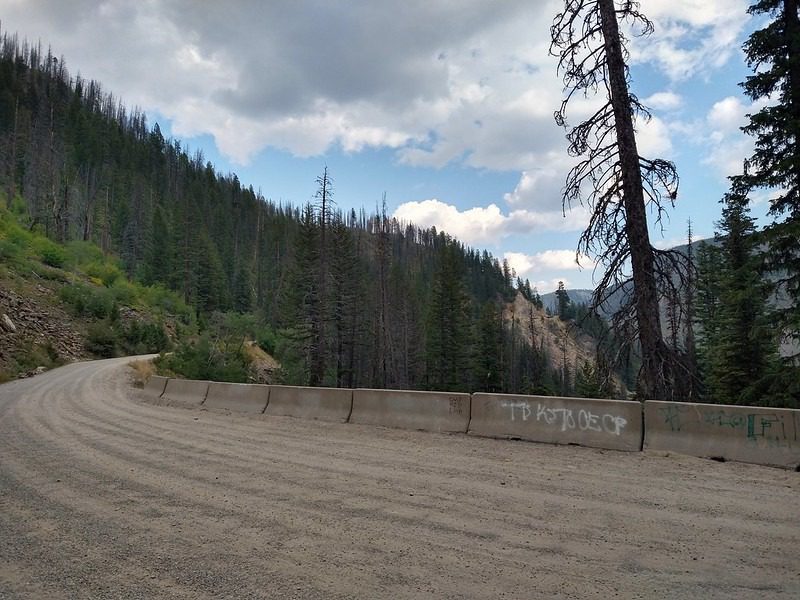 When talking about fascinating motorcycle routes in Montana, I cannot overlook the hidden gem that is Skalkaho Pass. This picturesque route will provide you with stunning scenery, thrilling curves, and a memorable experience.
The ideal time to visit Skalkaho Pass is from June to September, as this is when the pass is usually open. The area does see snowfall and may be closed during the winter months, so it's crucial to check the road conditions before you set out.
Spanning about 50 miles, Skalkaho Pass takes approximately 2 to 3 hours to travel. However, I recommend allowing for extra time to stop, take pictures, and to simply enjoy the beautiful surroundings.
There are several must-see spots on this ride, such as:
Skalkaho Falls: A 150-foot cascading waterfall offering exceptional photo opportunities
Gem Mountain Sapphire Mine: Here, you can try your hand at mining sapphires and potentially come away with a precious souvenir
Black Bear Campground: A great place to camp overnight if you'd like to turn your trip into a multi-day adventure
I would rate Skalkaho Pass as a moderate ride in terms of difficulty. The road is mostly paved, but there are some gravel sections that may require additional caution. Make sure to watch out for sharp turns, wildlife, and changing weather conditions.
Keep in mind that Skalkaho Pass is a seasonal road and doesn't have any services or fuel stations along the route. I recommend carrying extra fuel, water, and snacks for the journey.
FAQs
What are some of the best motorcycle rides in Montana?
Some Top Motorcycle Rides In Montana Include Beartooth Pass, Going-To-The-Sun Road, St. Joe River Scenic Byway, Lewiston To Missoula On US Route, And Flathead Lake Loop.
Where can I find more information on best motorcycle routes in Montana?
Can you ride motorcycles through Yellowstone National Park?
Yes, you can ride motorcycles through Yellowstone National Park. Many popular routes go through the park, such as the Lake Loop and Wilsall Loop.
What are some notable motorcycle routes in Glacier National Park?
The Glacier National Park Loop Is A Popular Motorcycle Route That Takes Riders Through Some Of The Park's Most Scenic Areas, Including Going-To-The-Sun Road And The Surrounding Mountainous Terrain.
What are some historic motorcycle rides in Central Montana?
Some Historic Motorcycle Rides In Central Montana Include The Lewis & Clark, C.M. Russell, Last Battle, And Cowboy Trails, Which Follow Significant Historic Landmark Sites.
In Conclusion: Montana's Motorcycle Mecca
Montana certainly lives up to its reputation as a motorcycle mecca. With scenic routes, challenging twists and turns, and breathtaking landscapes, it's no wonder motorcyclists flock to Big Sky Country. Here's a quick recap of some essential information for planning your perfect motorcycle road trip to Montana:
Montana's peak riding season typically falls between late May and September. The summer months of June-August provide the most optimal weather conditions, but be prepared for cooler temperatures as you reach higher elevations.
The total distance and time required to travel on your chosen route will vary based on your selection from our top eight road rides. However, keep in mind Montana's vast size and varying terrain. Be sure to carefully plan your route and allocate plenty of time for sightseeing and rest stops.
From iconic natural landmarks such as Glacier National Park and the Beartooth Highway, to picturesque small towns and historical sites, Montana offers an abundance of memorable pit stops. Make sure to visit these incredible destinations while exploring the top motorcycle routes.
Montana offers a variety of routes that attract riders with different skill levels and preferences. From the technical curves of the Going-to-the-Sun Road to the more leisurely rides along Montana's long stretches of open road, riders can find the perfect route that aligns with their ability and comfort level.
Don't forget the importance of safety while exploring Montana's motorcycle Mecca. Keep an eye out for local wildlife that may wander onto roadways, and always wear proper protective gear. Additionally, ensure you familiarize yourself with Montana's road laws, carry a well-maintained motorcycle, and keep your itinerary flexible to accommodate unexpected changes in weather or road conditions.
In conclusion, embarking on a motorcycle adventure in Montana is an unforgettable, once-in-a-lifetime experience. Come well-prepared and, most importantly, savor every moment of your journey through this beautiful showcase of nature's wonders.
Motorcycle Rides in the US by States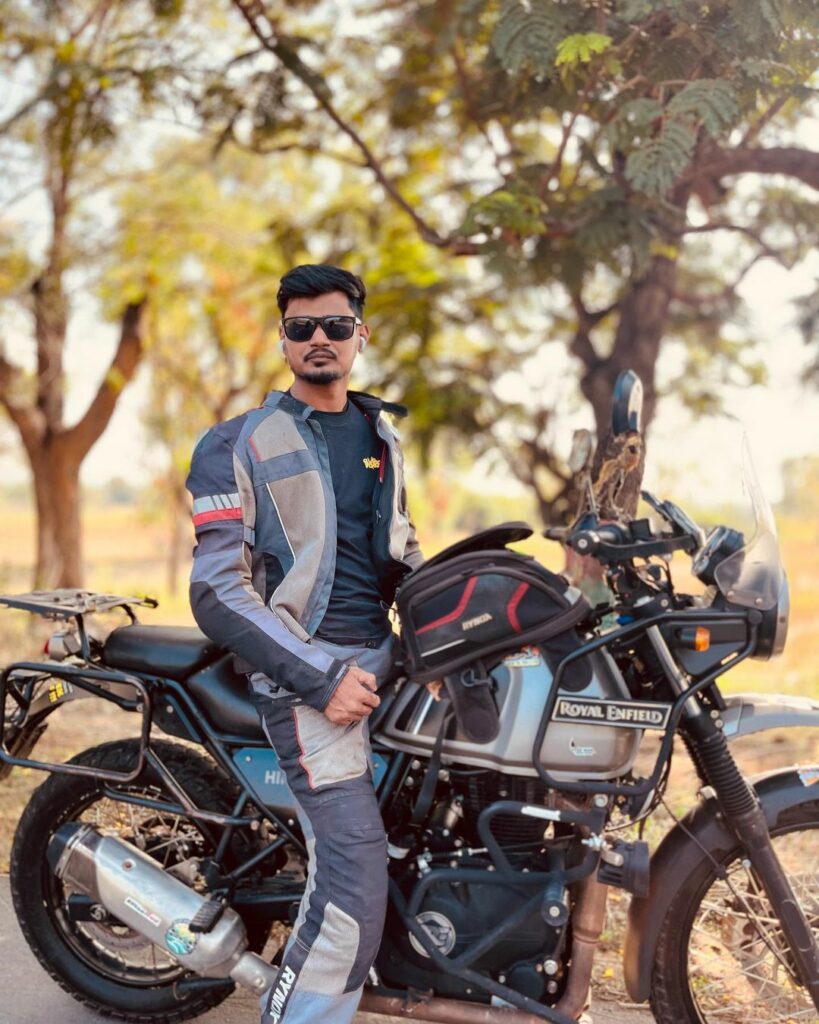 Vishwanath Mathpati
I am Vishwanath Mathpati, a full-time Blogger and Motorcyclist from Bidar, Karnataka. I love writing about my Motorcycles Stories and Riding Gears on this blog.
Know More About Me.
---
If you liked this article, then please subscribe to our YouTube Channel for more Bike Videos. You can also find us on Instagram, Twitter and Facebook.
Disclosure: As an Amazon Associate, I earn from qualifying purchases. Read more about Amazon Affiliate Disclaimer.