Top 8 Best Motorcycle Rides in Washington: The Ultimate Guide
Few experiences can rival the freedom and exhilaration of exploring the open road on a motorcycle, especially in Washington State. With its diverse landscapes and awe-inspiring scenery, it's no surprise that Washington is a top destination for motorcycle enthusiasts. From majestic mountain passes to breathtaking coastal routes, the state offers an impressive variety of options for riders of all skill levels.
In this article, I'll share with you my top 8 favorite motorcycle rides in Washington, complete with recommendations for stops along the way, an overview of each route's difficulty level, and tips for making the most of your riding adventure. Whether you're a seasoned rider or just starting out, these routes are sure to satisfy your wanderlust and leave you hungry for more.
Washington state offers a vast array of scenic motorcycle routes, from the coastal roads near the Pacific Ocean to the winding routes through the Cascade Mountains. Yet, the beauty of the Pacific Northwest extends beyond Washington's borders. Heading south, Oregon's Cascade Lakes Highway offers a captivating ride through picturesque mountain scenery and clear alpine lakes. If you venture east into Idaho, the River of No Return route provides stunning views along the Salmon River. To the north, British Columbia in Canada is home to the Sea-to-Sky Highway, a breathtaking journey from Vancouver to Whistler that offers sea, mountain, and forest views.
These neighboring routes make a great addition to any Pacific Northwest motorcycle adventure, enhancing the riding experience beyond the beautiful routes of Washington state.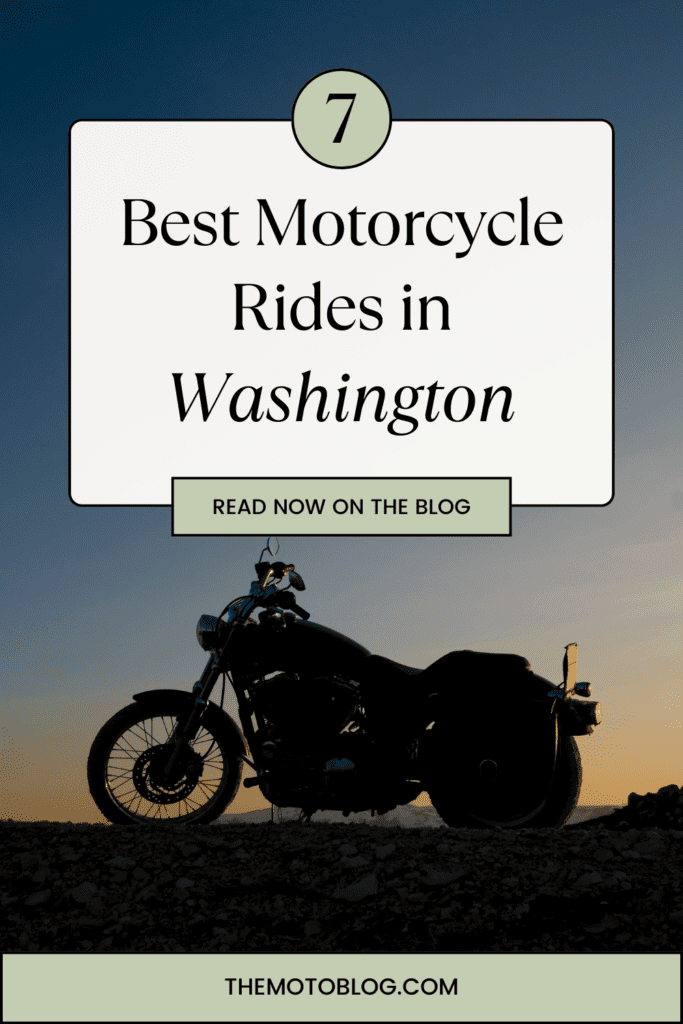 1. Mount Rainier Loop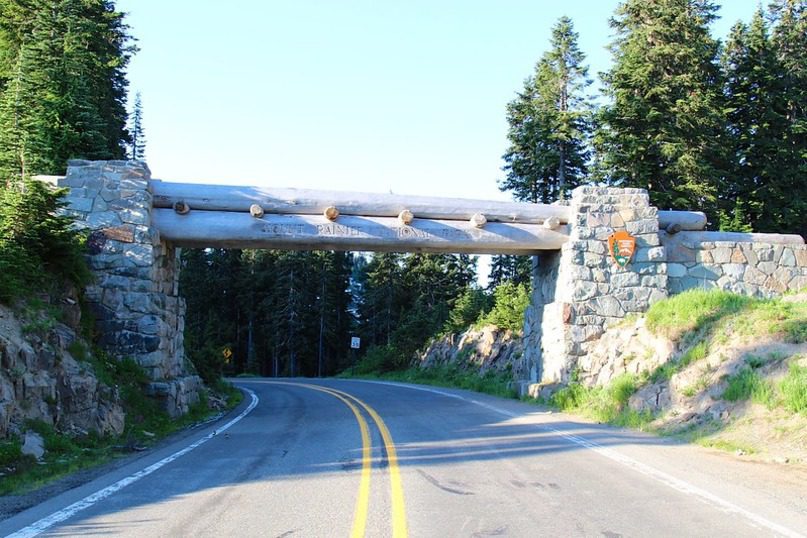 One of the most iconic motorcycle rides in Washington is the Mount Rainier Loop. Surrounded by breathtaking scenery, this loop offers a captivating journey through nature. Every twist and turn presents a new vista, which makes this ride a must-experience for any serious motorcyclist.
The ideal time to ride this route is from May to September, when the roads are clear of snow and the mountain's beauty is enhanced by spring wildflowers or vibrant fall foliage.
The loop covers approximately 440 miles and can be completed in a two to three-day trip, depending on your pace and the stops you choose to make.
Places to Stop:
Paradise: This area offers stunning views of Mount Rainier, wildflower meadows, and the iconic Henry M. Jackson Visitor Center.
Sunrise: At an elevation of 6,400 feet, it's the highest point accessible by car or motorcycle in Mount Rainier National Park. There are hiking trails and fantastic panoramic views of the volcanic peak.
Crystal Mountain Resort: Popular for skiing and snowboarding during winter, the resort also offers scenic gondola rides in summer, providing 360° views of Mount Rainier.
I'd rate this loop as moderate to challenging, with some long climbs, sweeping turns, and occasional rough surfaces. In certain sections, you'll need to be vigilant and cautious when navigating sharp curves and narrow roads.
Other Information:
Be prepared with a valid National Park pass, as you'll be entering Mount Rainier National Park.
Keep an eye on the weather, as conditions can change quickly around the mountains. Dress appropriately and pack rain gear just in case.
There are a few gas stations and eateries along the way, but it's always a good idea to carry extra fuel and snacks during your journey.
While the route can be congested at peak times with both motorcyclists and car drivers, always remember to ride safely, respect other road users, and give yourself plenty of time to take in the beauty of Mount Rainier and its surroundings.
2. North Cascades Highway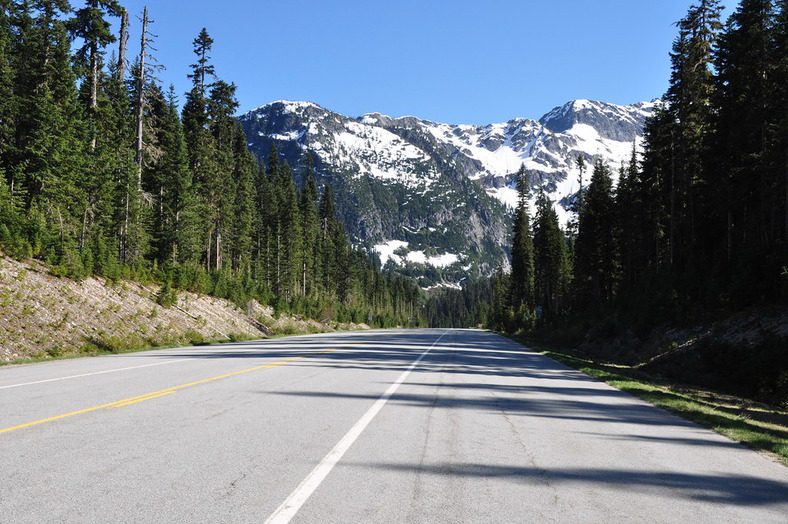 North Cascades Highway, also known as State Route 20 is an incredible journey which provides riders with breathtaking views of jagged mountain peaks, striking evergreen forests, and crystal-clear lakes.
I'd recommend riding the North Cascades Highway between late spring and early fall, as the route could be closed due to snow or other weather-related issues during the winter months. The perfect time, however, is from June to September when you'll experience comfortable riding temperatures and witness nature in full bloom.
The North Cascades Highway stretches for 140 miles, and it's a ride that'll take you approximately 3 to 4 hours to complete, without accounting for stops. Yet, you'd be compelled to pause and bask in the awe-inspiring scenery along the way.
I suggest making a few stops during your ride to maximize the experience. Must-visit sites include:
Diablo Lake Overlook: An ideal location to capture stunning photos of the turquoise waters of Diablo Lake.
Washington Pass Overlook: At an elevation of 5,477 feet, this viewpoint offers majestic views of the surrounding peaks.
Ross Lake National Recreation Area: Take a break here to engage in activities like hiking and fishing, or simply enjoy the scenery.
I'd rate the difficulty of this ride as moderate. While there are plenty of twists and turns, the road is well-paved and well-maintained, allowing riders to focus on the beauty of their surroundings.
Before setting off on this incredible journey, make sure to check the road conditions and be prepared for unpredictable weather, regardless of the time of year you choose to ride. Also, fuel up before starting as gas stations can be scarce along the route.
3. Columbia River Gorge

The Columbia River Gorge is a stunning natural wonder you'll want to experience on your motorcycle journey through Washington. This scenic route boasts unparalleled beauty, incredible views, and numerous opportunities to explore unique geological and historical sites.
To enjoy the most vivid colors and pleasant weather conditions, I recommend visiting the Columbia River Gorge between late spring to early fall.
The Columbia River Gorge stretches for nearly 80 miles, with various routes offering different lengths and travel times. An average trip along the Gorge can take anywhere from 3 to 6 hours, depending upon the specific route and stops you make.
There are numerous must-see spots along the Columbia River Gorge. Some of the top highlights include:
Multnomah Falls: A breathtaking 620-foot waterfall and an iconic landmark within the Gorge.
Vista House: Built in 1918, this historic observatory offers sweeping views of the landscape.
Bonneville Lock and Dam: An impressive feat of engineering, the dam is a fascinating stop to learn about the area's history.
Crown Point State Scenic Corridor: A remarkable viewpoint offering panoramic views of the Columbia River and the surrounding region.
Riders can expect a moderate level of difficulty when traversing the Columbia River Gorge. Though the route offers challenging twisties, switchbacks, and elevation changes, it's still accessible for most riders with some experience.
Make sure to brush up on local traffic and safety regulations before embarking on your ride. Keep in mind that the Columbia River Gorge is a popular tourist destination, so plan for potential congestion during peak times.
4. Olympic Peninsula Loop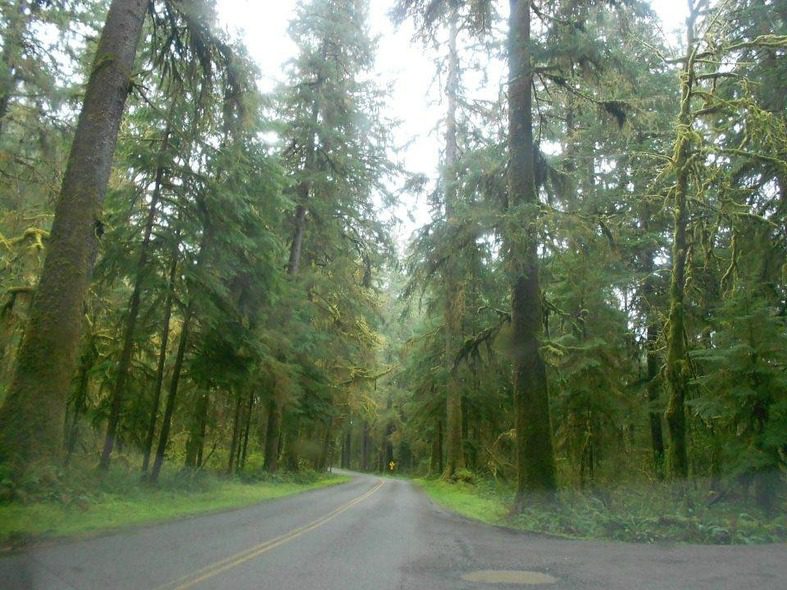 When it comes to motorcycle rides in Washington, Cruising the Olympic Peninsula Loop holds a special place in my heart. This scenic ride offers stunning views of the Pacific coastline, the majestic Olympic Mountains, and enchanting rainforests. It's an adventure you don't want to miss!
Best Time to Visit:
Distance with Time to Travel:
| Distance | Time Duration |
| --- | --- |
| 330 miles | 1-2 days |
Places to Stop:
Port Angeles: A charming harbor city with excellent eateries and the starting point for a visit to the Olympic National Park.
Lake Crescent: A glacially carved lake, perfect for taking a break and admiring the mesmerizing blue waters.
Sol Duc Hot Springs: Relax in these therapeutic, mineral-rich waters after a day of riding.
Hoh Rainforest: A captivating temperate rainforest teeming with lush greenery and abundant wildlife.
Level of Difficulty:
Moderate: There are many winding roads and elevation changes along the route. It's best suited for intermediate to advanced riders.
Other Information:
The loop mainly consists of WA-101.
Forks, a town on the loop, is the setting for the popular "Twilight" series – a fun fact for fans!
Gas stations and restrooms can be found at regular intervals along the route, but expect some stretches with limited services.
5. Whidbey Island Scenic Isle Way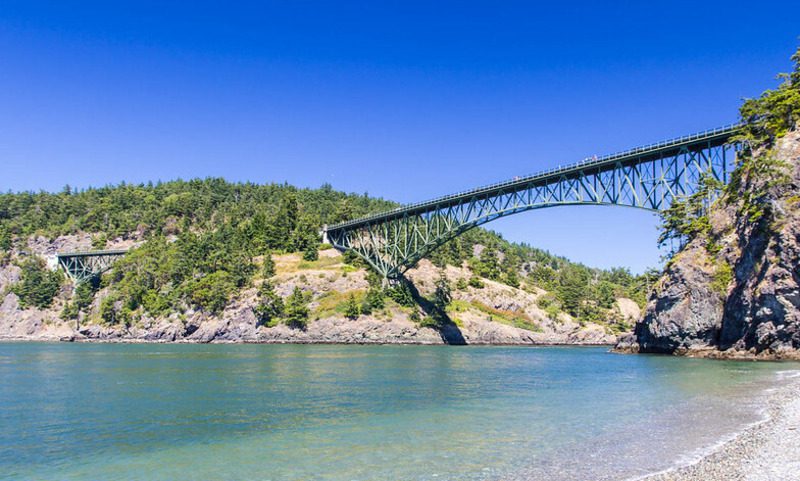 Taking a ride along the Whidbey Island Scenic Isle Way appreciates the serenity and beauty of Washington. This picturesque route takes riders through lush forests, tranquil farmlands, and spectacular coastal views, all while enjoying a smooth, winding roadway perfect for motorcycle enthusiasts.
I'd highly recommend riding the Whidbey Island Scenic Isle Way during the summer months from June through September for the most pleasant weather conditions. It's crucial to avoid visiting in winter when the roads can become icy and precarious.
The scenic route stretches around 50 miles in total and can be completed within a comfortable time span of 2 to 3 hours. This timing allows riders to immerse themselves in the captivating landscapes, fully taking in the sights without feeling rushed.
Along the Whidbey Island Scenic Isle Way, you'll encounter various noteworthy spots worthy of a stop:
Deception Pass State Park: A perfect location to take a break, with incredible views of Deception Pass Bridge and the surrounding waters.
Coupeville: This historic waterfront town offers excellent dining and shopping options to refuel during your ride.
Fort Casey State Park: Boasting a remarkable military history and picturesque vistas, this park is a must-visit location along the route.
Whidbey Island Scenic Isle Way is a fairly easy ride, making it suitable for riders of different skill levels. Although there are some gentle twists and turns, the route is not overly challenging, allowing riders to enjoy the scenery without feeling too tense.
A few additional tidbits for planning your ride:
Ferry Required: To access Whidbey Island, you'll need to take a ferry from Mukilteo or Port Townsend. Be sure to plan ahead and check the ferry schedules.
Motorcycle Rentals: If you don't have your own motorcycle, several rental options are available in the Seattle area before embarking on your ride.
6. Yakima River Canyon Scenic Byway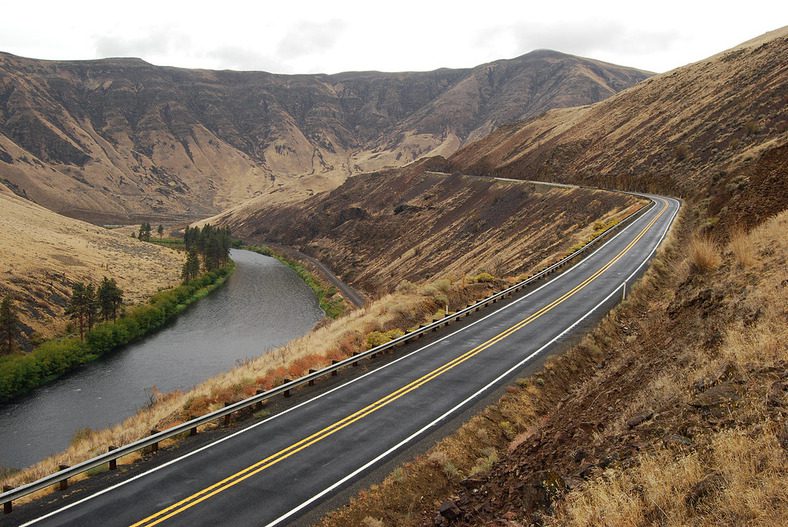 You will be amazed every time you ride through the Yakima River Canyon Scenic Byway. This incredible route in Washington State has it all. From the picturesque landscapes to the thrilling twists and turns, it's no wonder this is considered among the top motorcycle road rides in the region.
The ideal time to visit this scenic byway is between May and October. During these months, the weather is typically warm and dry, providing excellent road conditions. However, it's always a good idea to check the weather forecast before you head out.
Spanning approximately 22 miles, the journey along Yakima River Canyon Scenic Byway should take around 1 to 1.5 hours, depending on your speed and the number of stops you make.
There are several scenic spots and recreational areas to stop at and take in the beauty of the canyon. As you're cruising along, consider stopping at the following locations:
Umtanum Recreation Site: A perfect spot for a picnic or even a little hike, with great views of the river and wildlife.
Big Pines Recreation Site: Another picturesque picnic area with amenities like restrooms and fishing access.
Roza Dam: Get a closer look at this impressive dam, and if you're lucky, witness local wildlife including bighorn sheep and bald eagles.
I'd say the Yakima River Canyon Scenic Byway offers a moderate level of difficulty. While the ride itself is not extremely challenging for experienced riders, there are some curves and tight spots that could be tricky for inexperienced motorcyclists. As always, it's important to ride within your limits and be cautious on unfamiliar roads.
Keep an eye out for wildlife as deer, elk, and bighorn sheep are known to inhabit the area. Be especially cautious during dawn and dusk when these animals are most active. Also, be mindful of the speed limit – it varies from 45 to 60 mph (72 to 97 kph) throughout different sections of the byway.
7. Coulee Corridor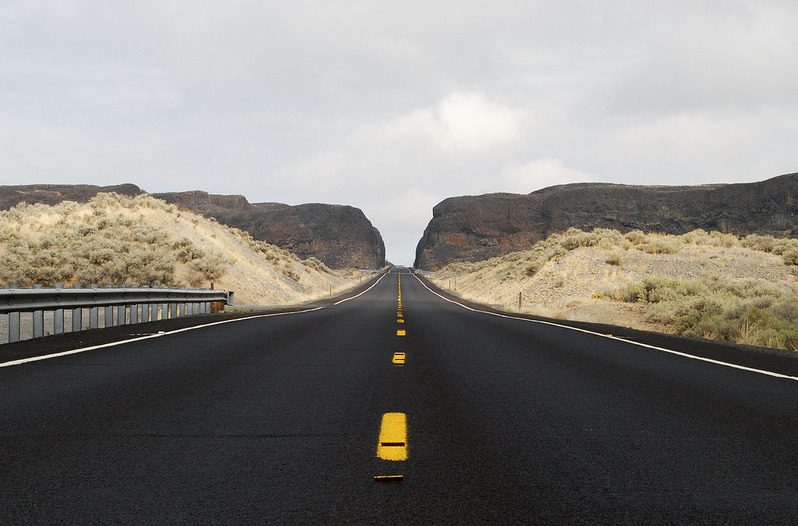 As you explore Washington's best motorcycle rides, you'll find the Coulee Corridor to be an extraordinary experience. This route takes you through a unique geological area, showcasing breathtaking natural wonders and diverse wildlife habitats.
The ideal time to ride the Coulee Corridor is between April and October, when the weather is typically mild and dry. This time of year provides comfortable temperatures and minimal rainfall, making it perfect for a motorcycle adventure.
Covering roughly 150 miles, this route takes approximately 3 to 4 hours to ride, depending on your pace and the amount of stops you make along the way. Be sure to allocate enough time to fully appreciate the beautiful views and attractions.
As you cruise through the Coulee Corridor, there are several must-see destinations:
Dry Falls: Witness the remnants of an ancient waterfall, much larger than Niagara Falls
Steamboat Rock State Park: Perfect for a picnic lunch, this park offers stunning vistas, hiking trails, and lake access
Grand Coulee Dam: Explore one of the largest hydroelectric-producing facilities in the United States
Banks Lake: Stretch your legs and enjoy various recreational activities, such as fishing, swimming, and boating.
The Coulee Corridor offers a moderate level of difficulty for motorcycle riders. Although the route has several twists and turns, the road surfaces remain smooth, allowing you to thoroughly enjoy the ride. It's suitable for more experienced riders, but newer riders can still tackle it with proper caution and preparation.
While navigating the Coulee Corridor, keep in mind the following tips:
Be mindful of wildlife crossing the road, particularly during dawn and dusk out in the more remote areas
Make sure to fill up your gas tank before starting the ride, as gas stations can be scarce along the route
Remember to observe posted speed limits and be extremely cautious when approaching tight turns and sweeping curves.
8. San Juan Islands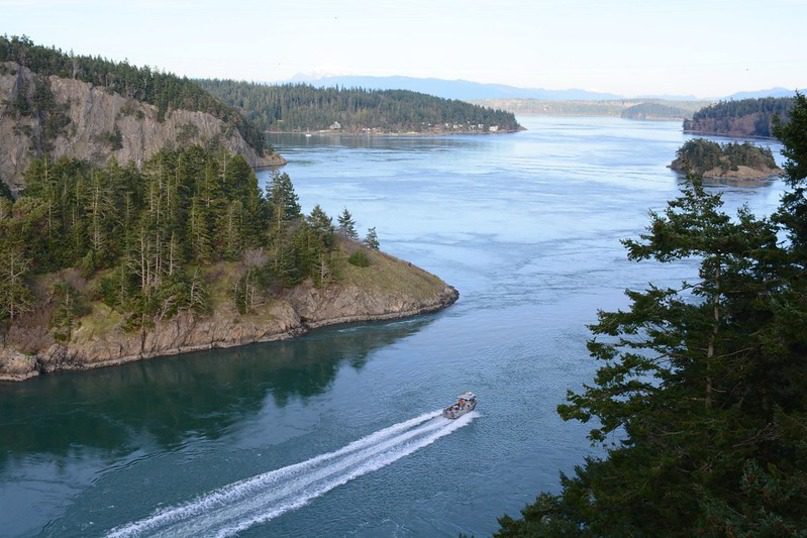 If you're searching for a ride where you'll forget life's worries and enjoy picturesque scenery, look no further than the San Juan Islands. This ride takes you to the most breathtaking spots in Washington. I can't recommend this ride enough, so let me tell you why.
While the San Juan Islands can be visited all year round, the best time to enjoy a motorcycle ride is from April to October. During these months, the weather is mild, and you'll witness the beauty of the islands and nature at its peak.
It's approximately 173 miles from Seattle and requires taking a ferry to reach the islands. The total ride time, including the ferry ride, is around 4 to 5 hours.
Places to Stop:
Anacortes: This city acts as a gateway to the San Juan Islands and is home to several waterfront parks, shops, and restaurants.
Friday Harbor: The largest town in the San Juan Islands, it offers various dining and shopping options as well as beautiful views of the harbor.
Lime Kiln Point State Park: A prime spot for whale watching.
Roche Harbor: A historic resort located on the northwest side of San Juan Island.
The ride is moderate in difficulty, making it an excellent choice for riders of all skill levels. The roads are well-maintained, and there are several twists and turns to make it exciting without being too challenging.
Other Information:
Depending on the time of year, you might see orcas, humpback whales, and porpoises during your ferry ride.
There are a total of 172 islands in the San Juan archipelago, but only four are accessible via ferry.
If you prefer camping, there are several campgrounds available on the islands.
Remember to keep an eye on the ferry schedule and make advanced reservations, as the ferries are usually busy during peak months. Also, check the weather forecast before embarking on your ride, because local weather conditions can significantly impact your experience.
FAQs
What are the top 5 motorcycle rides in Washington State?
The Top 5 Motorcycle Rides Are Highway 101 Loop, Cascade Loop, Highway 14, Whidbey Island Day Trip, And Spirit Lake Highway.
How Long Is The Highway 101 Loop In Washington?
The Highway 101 Loop Covers Around 440 Miles.
What makes the Cascade Loop a popular motorcycle ride?
The Cascade Loop Is Popular For Its Diverse Landscape, Such As Snow-Capped Mountains, Verdant Forests, And Small Towns, Spanning Approximately 400 Miles.
What Attractions Can Riders Expect During The Whidbey Island Day Trip?
The Whidbey Island Day Trip Offers Beautiful Coastal Scenery, Winding Roads, And Picturesque Towns Along A 50-60-Mile Route.
Are there any scenic routes suitable for motorcycle rides in the Yakima River Canyon?
Yes, The Yakima River Canyon Scenic Byway Is A Popular Ride For Its Combination Of Stunning Views, Wildlife Sightings, And Well-Maintained Roads.
Concluding Thoughts on Washington Motorcycling
Washington State truly offers some of the most amazing motorcycle rides in the country. Whether it's the stunning views of the Cascade Mountains or the breathtaking coastal roads, there's something for every motorcyclist to enjoy. Here are some final thoughts on the top 8 best motorcycle rides in Washington:
The ideal time to visit Washington for motorcycle rides is between late spring and early fall, specifically from May to October. During these months, you'll experience the best weather and road conditions for a smooth, enjoyable ride.
Throughout these routes, you'll find various scenic viewpoints, historic towns, and fantastic eating options. Some suggested pit stops include:
North Cascades Visitor Center
Artist Point (Mt. Baker Highway)
Leavenworth (Cascade Loop)
Hurricane Ridge (Olympic Peninsula Loop)
Washington motorcycle rides range from easy coastal cruises to more challenging mountain roads. Routes like Chuckanut Drive and Hwy 14 along the Columbia River Gorge are perfect for beginners. However, experienced riders can challenge themselves on the North Cascades Highway, Mt. Baker Highway, and the Cascade Loop.
It's essential to prepare for your journey by gathering accurate route, road, and weather information before you ride. Make sure your motorcycle is in top condition by performing regular maintenance, and don't forget to pack essential safety gear and tools.
In summary, the top 8 best motorcycle rides in Washington promise unforgettable experiences for riders of all skill levels. With its unparalleled natural beauty and diverse terrains, Washington State should be on every motorcyclist's bucket list. Happy riding!
Motorcycle Rides in the US by States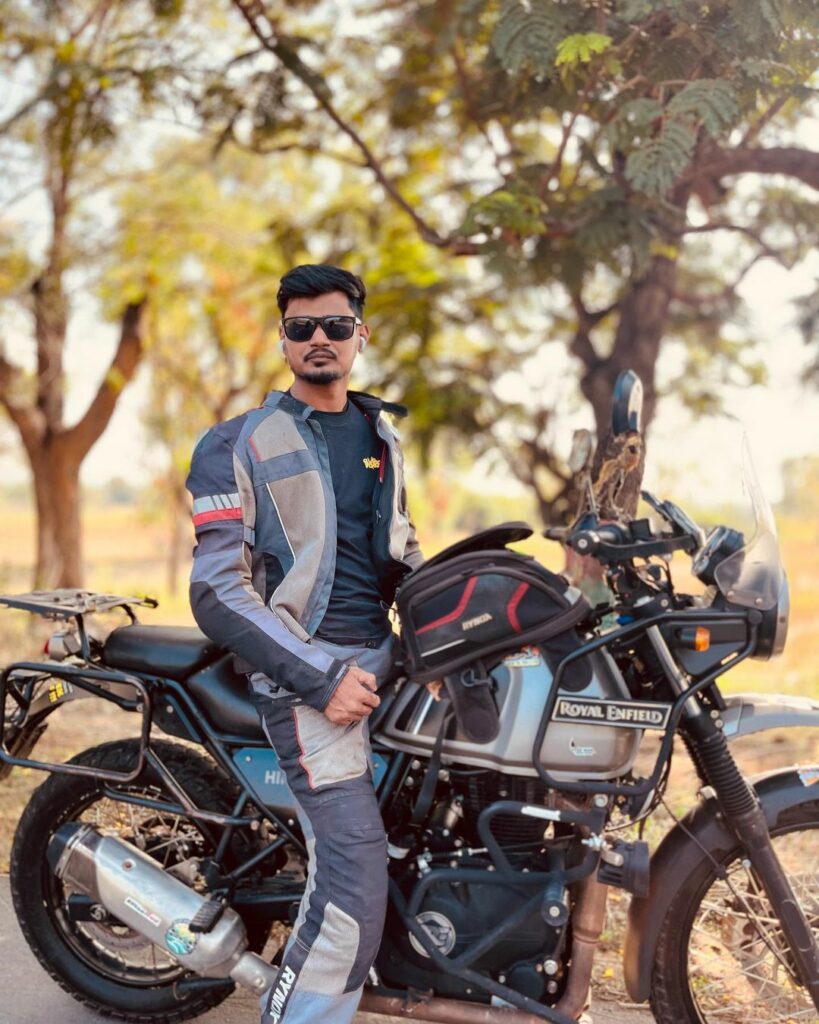 Vishwanath Mathpati
I am Vishwanath Mathpati, a full-time Blogger and Motorcyclist from Bidar, Karnataka. I love writing about my Motorcycles Stories and Riding Gears on this blog.
Know More About Me.
---
If you liked this article, then please subscribe to our YouTube Channel for more Bike Videos. You can also find us on Instagram, Twitter and Facebook.
Disclosure: As an Amazon Associate, I earn from qualifying purchases. Read more about Amazon Affiliate Disclaimer.