Top 7 Best Motorcycle Rides in North Dakota: The Ultimate Guide
When I think of North Dakota, I can't help but imagine the picturesque landscape of the Midwest, just waiting to be explored on a motorcycle. North Dakota's scenery is the ideal backdrop for the top 7 best Motorcycle Rides in North Dakota, offering a perfect blend of wide, open plains and rolling hills. With each route serving as a spectacular adventure on its own, I'm excited to share these incredible rides that'll make any biker crave the open road.
Considering its size, North Dakota may not always be the first state that comes to mind for a motorcycle adventure. But don't be fooled, this state has plenty to offer. From its charming rural towns, rich with history and culture, to the stunning Badlands, every road invites exploring a unique aspect of North Dakota's geography. As an avid motorcyclist, I believe riding through these routes is the ultimate way to truly appreciate and connect with the undiscovered beauty of the landscape.
North Dakota offers a unique blend of motorcycle rides, from the expansive Great Plains to the dramatic landscapes of the Badlands. However, the journey doesn't end at North Dakota's borders. To the east, Minnesota's North Shore Drive provides stunning views of Lake Superior's rugged shoreline. If you head south into South Dakota, the Needles Highway winds through towering granite structures in the Black Hills. Over in Montana to the west, the Going-to-the-Sun Road presents a breathtaking journey through Glacier National Park.
Last but not least, the Canadian province of Manitoba to the north offers the Red Coat Trail, a historical route that was once used by the North West Mounted Police. Each of these neighbouring routes offers a unique motorcycle adventure, adding to the rich tapestry of rides originating from North Dakota.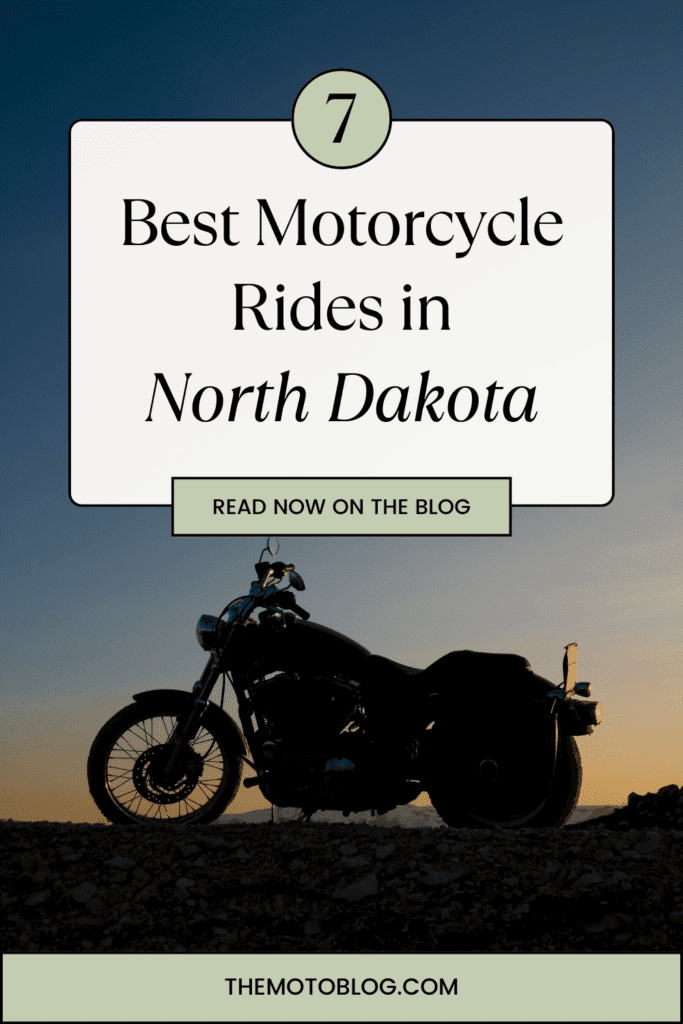 1. Theodore Roosevelt National Park Loop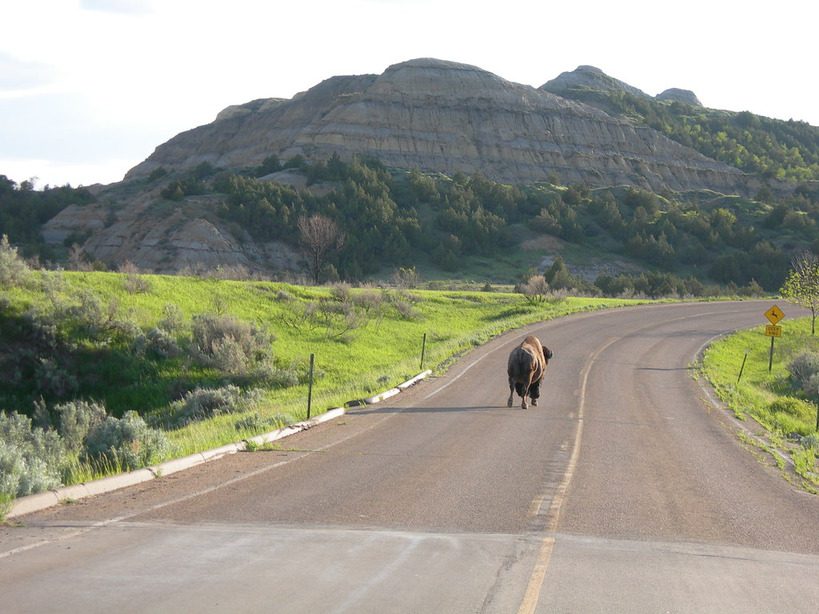 When it comes to motorcycle rides in North Dakota, Theodore Roosevelt National Park Loop is truly one of the best. This scenic loop offers picturesque views of the rugged badlands, rolling prairies, and stretches of dense forests.
The ideal time to visit this route is from late spring to early fall. The weather is typically warm during these months, and the roads are in good condition. It's important to note that North Dakota's weather can be quite unpredictable, so it's always best to check the forecast before hitting the road.
| Weather | Months |
| --- | --- |
| Late Spring | May – June |
| Summer | July – August |
| Early Fall | September |
The Theodore Roosevelt National Park Loop covers approximately 100 miles and takes about 2-3 hours to complete, depending on the number of stops you make. The ride takes you through both the North and South units of the park, allowing you to take in the breathtaking landscapes from different angles.
There are several points of interest along the way that you won't want to miss. Here are some must-see stops:
Painted Canyon Visitor Center: Offers a stunning panoramic view of the badlands.
Prairie Dog Town: A great spot to observe these adorable creatures in their natural habitat.
Oxbow Overlook: Provides an incredible view of the Little Missouri River and the surrounding badlands.
The Theodore Roosevelt National Park Loop is considered to be a moderate route. It's perfect for riders with some experience, as it combines a mix of sweeping curves and straightaways. As always, following local speed limits and staying alert while navigating park roads is important.
A few final tips to ensure a smooth ride:
Entrance fee: There's a small entrance fee to access the park (currently $30 per motorcycle). This fee is valid for 7 days, so you can explore other parts of the park on multiple days if desired.
Fuel up: Make sure to fill up your tank before entering the park, as gas stations may be scarce in the area.
Wildlife: Keep an eye out for bison, wild horses, and other wildlife that roam the park, and remember to give them plenty of space.
2. The Enchanted Highway Journey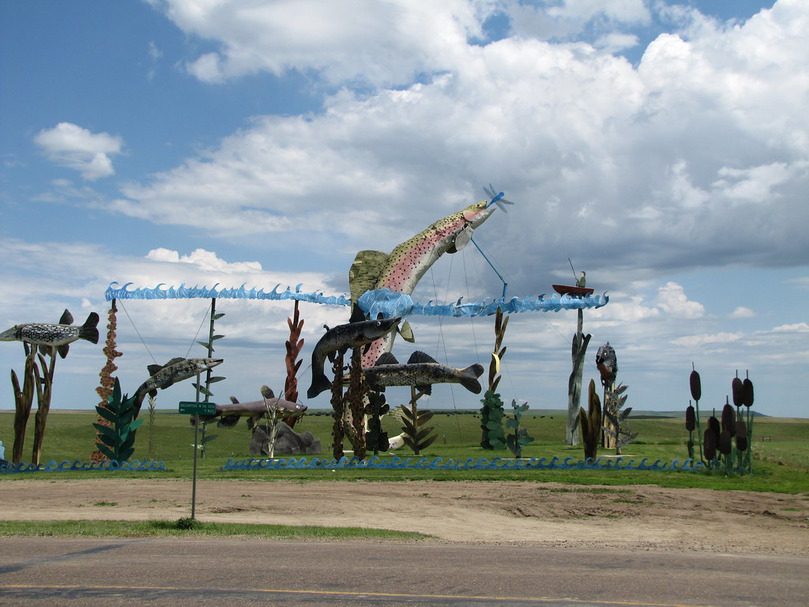 One of the most unique and captivating motorcycle rides in North Dakota is the Enchanted Highway Journey. This fantastic route is perfect for those looking to take their time on the open road and soak in the natural beauty and quirky art found throughout the journey.
Surprisingly, there isn't a particular best time to travel the Enchanted Highway, as every season brings its own charm and allure. However, I recommend planning your ride between May and September to avoid extreme weather conditions.
The Enchanted Highway covers approximately 32 miles and takes about 1 hour to travel without stops. If you plan on stopping at the various attractions, you can expect the trip to take roughly 2-3 hours.
Places to Stop:
Regent: This small town marks the start of the Enchanted Highway and is the ideal spot to grab a bite and fuel up before embarking on your memorable ride.
Geese in Flight: The first giant sculpture on this route is a must-see for its striking design and size.
Enchanted Castle Hotel: Located in Regent, this accommodation option offers a unique, whimsical vibe and perfect resting spot after your Enchanted Highway Journey.
The ride itself isn't challenging, as it's mostly flat and straight. It's perfect for beginners or those looking for a leisurely, yet intriguing, ride.
Other Information:
A series of seven large sculptures by artist Gary Greff are scattered throughout the route, providing a whimsical and one-of-a-kind experience.
Each sculpture has a convenient picnic area alongside, giving you the perfect opportunity to stretch your legs, enjoy the art, and indulge in some snacks.
The Enchanted Highway is a two-lane, paved road, making it suitable for all types of motorcycles.
Cell phone reception can be spotty along the route, so make sure to download offline maps or carry a physical map for navigation.
3. Killdeer Mountain Four Bears Scenic Byway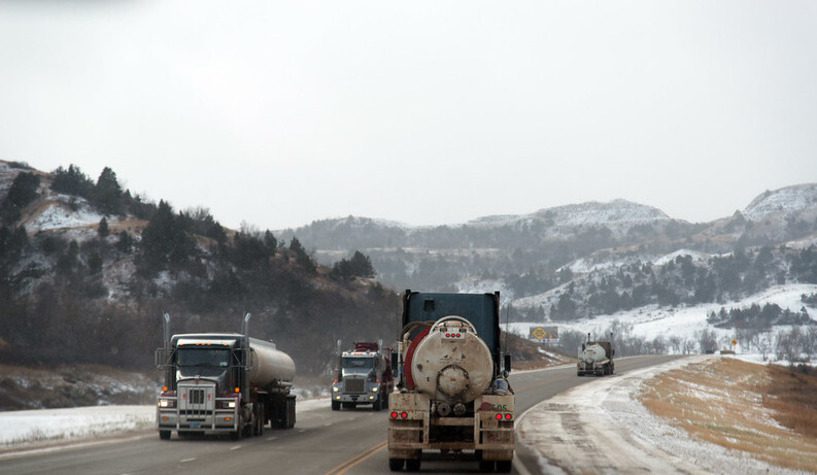 One of my personal favorites, Killdeer Mountain Four Bears Scenic Byway offers a unique mix of picturesque landscapes and historical significance. It's a must-visit destination for motorcycle enthusiasts seeking an unforgettable ride experience in North Dakota.
The optimal time to cruise along Killdeer Mountain Four Bears Scenic Byway is during late spring to early fall. This period provides riders with beautiful weather conditions and opportunities for wildlife sightings.
The byway stretches for approximately 64 miles, promising a delightful ride that'll take around 1.5 to 2 hours to complete.
Along the way, you'll have plenty of opportunities for interesting pit stops:
Crow Flies High Butte Overlook: It's a perfect vantage point to admire the surreal panoramic views of Lake Sakakawea.
Fort Berthold Indian Reservation: Experience an enriching cultural insight as you explore the reservation and its history.
Little Missouri State Park: This park offers numerous scenic overlooks, walking trails, picnic spots, and wildlife watching opportunities.
Killdeer Mountain Four Bears Scenic Byway is moderately challenging for motorcycle riders. Although the route mostly has well-maintained roads with sweeping curves, there are several steep inclines and downhill sections that may require extra caution, particularly for less-experienced riders.
4. Turtle Mountain Scenic Byway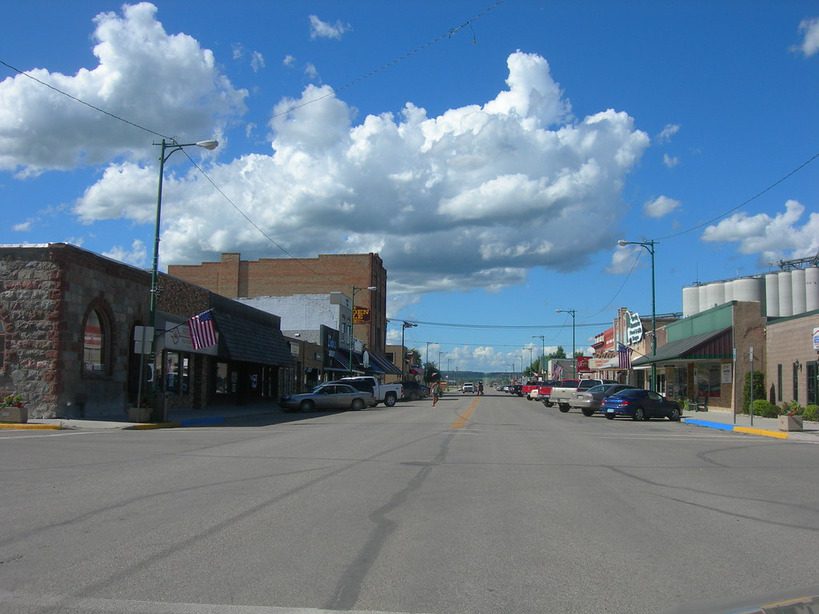 Turtle Mountain Scenic Byway is Located in the north-central part of the state; this 64-mile stretch of highway offers a perfect blend of beautiful scenery, thrilling twists and turns, and a great riding experience.
The most favourable time for visiting the Turtle Mountain Scenic Byway is between the months of May and October. During this period, you'll typically experience warmer weather, lush green landscapes, and ideal riding conditions.
The journey covers about 64 miles and can be completed in approximately 1.5 to 2 hours, depending on your riding speed. It's important to note that this doesn't account for any stops you might make along the way.
There are several interesting places to make a pit stop during your ride:
Lake Metigoshe State Park: A picturesque spot to enjoy a break and take in the beauty of nature.
International Peace Garden: Located on the US-Canada border, this garden is dedicated to promoting peace and friendship between the two nations.
Bottineau: A charming town that features a variety of attractions such as a beautiful golf course and the Bottineau Winter Park ski resort.
The main challenge you'll encounter while riding through the Turtle Mountain Scenic Byway is the occasional twist and turn, which I would classify as a moderate level of difficulty. This means that an experienced rider should have no trouble navigating the byway, but less-experienced riders should take extra caution.
Make sure you come prepared with some essentials like water, snacks, and appropriate gear for all possible weather conditions. Since not many amenities are available along the route, it's a good idea to fuel up your motorcycle before embarking on your ride. Additionally, be sure to respect the speed limits, particularly in the narrow sections and tight corners to ensure a safe and enjoyable experience for everyone.
5. Old Red Old Ten Scenic Byway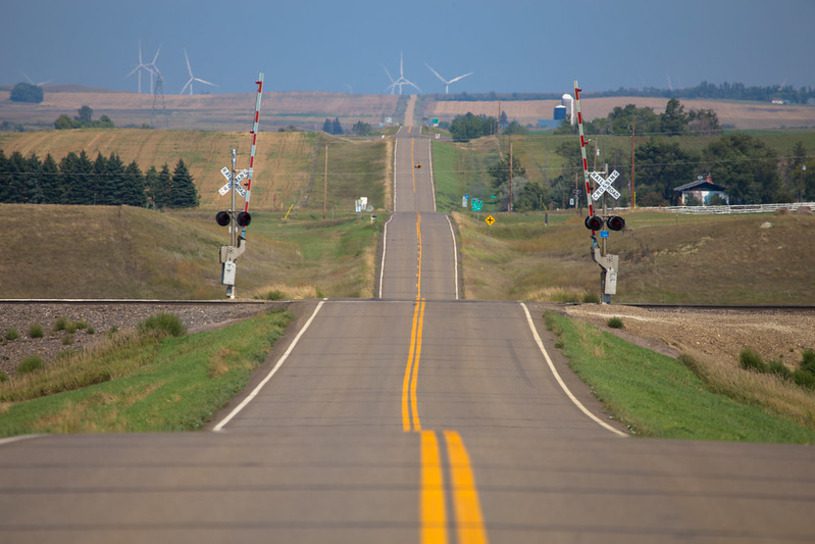 Old Red Old Ten Scenic Byway is a must-ride for any motorcycle enthusiast visiting North Dakota. This historic route stretches around 108 miles and showcases the beautiful North Dakota landscape. Its breathtaking scenery and enjoyable twists and turns make it one of the state's most beloved rides.
The best time to visit this route is typically between April and September, when the weather is more favorable for motorcycling. Keep in mind that North Dakota can have unpredictable weather, so it's always a good idea to check the forecast before you head out.
Along the route, you'll travel about four hours with stops included and find many interesting places to pause and take in your surroundings. Some highlights include:
St. Joseph's Church
Salem Sue, the world's largest Holstein cow statue
The Enchanted Castle in Regent
The level of difficulty for Old Red Old Ten Scenic Byway is moderate, making it suitable for riders with some experience under their helmets. The road has gradual curves and elevation changes, which only add to the excitement of the ride.
As you enjoy the byway, be aware that you'll be sharing the road with other travelers and local traffic. Be prepared for the occasional gravel or dirt roads that may come your way, and ride at a pace that is both comfortable and safe for you.
In terms of other information, remember that there are limited amenities and services along the byway, so make sure your motorcycle is in top shape and ready for the ride. Fuel up before setting out and bring along any necessary supplies, such as water and snacks.
6. Rendezvous Region Scenic Backway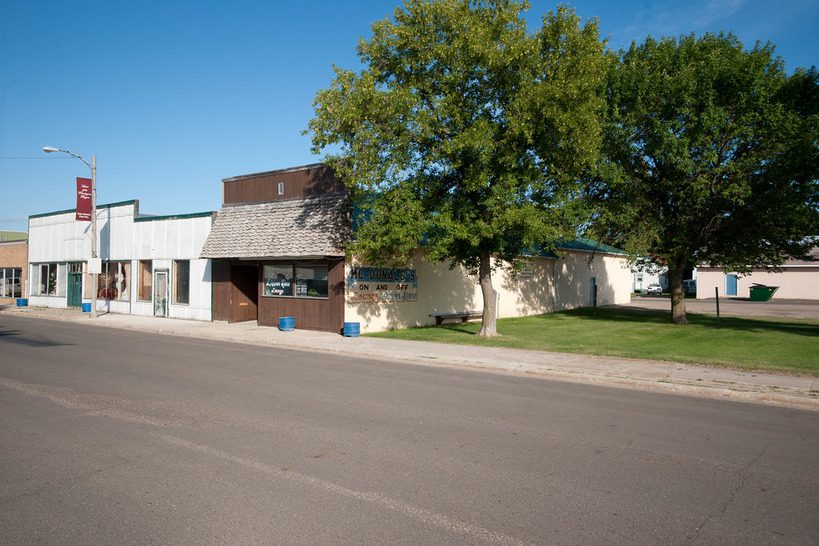 A truly memorable ride, the Rendezvous Region Scenic Backway offers an astonishing variety of landscapes, from lush forests to rolling hills and meandering waterways. This route stretches about 88 miles and presents a relatively easy ride that I highly recommend for those looking to explore North Dakota's diverse beauty.
While you can take on the Rendezvous Region Scenic Backway anytime during the year, the most enjoyable experience typically happens between May and October. During these months, the weather is more temperate and the scenery is at its peak.
This scenic route covers approximately 88 miles. Most riders will complete the journey in 2 to 3 hours, but I advise setting aside a full day to truly appreciate the area's attractions and soak in the natural landscapes.
Along the way, you'll find several noteworthy stops that enhance your road trip experience:
Walhalla: A charming small town worth visiting for its historical sites.
Mystery Cave: A fascinating, must-see geological feature located within the Pembina Gorge State Recreation Area.
Frost Fire Mountain: Provides winter skiing opportunities and excellent hiking trails during warmer periods.
Tongue River: A perfect spot for a break with scenic views and the chance to spot local wildlife.
The Rendezvous Region Scenic Backway is relatively easy to navigate, making it suitable for riders of all skill levels. Just be cautious of the occasional gravel section.
For a truly immersive experience, I suggest staying overnight at one of the several campgrounds or lodging options along the route. There are also plenty of dining choices throughout the area, so be sure to sample some local cuisine.
7. Sakakawea Scenic Byway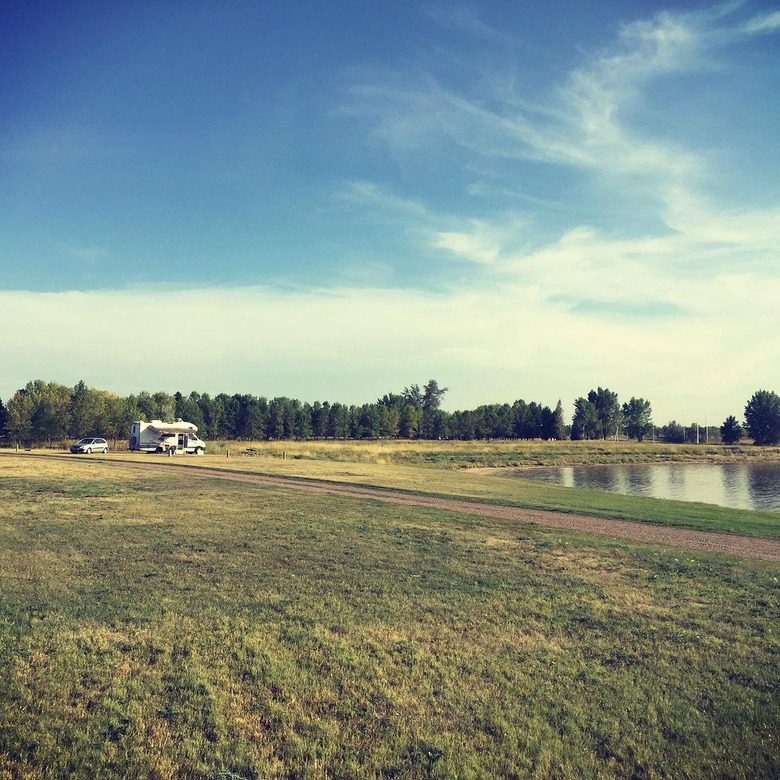 Sakakawea Scenic Byway is a must-ride for any motorcycle enthusiast looking to explore North Dakota's diverse landscape. The byway stretches along the 35-mile long route beside the sparkling, north-south-running Missouri River. You'll get stunning views of the serene Lake Sakakawea and the iconic Garrison Dam from here. This picturesque region offers an unforgettable riding experience that you won't want to miss.
I recommend planning your ride from late spring through early fall to get the most out of this breathtaking route. The warmer weather and lush greenery create a truly captivating backdrop for your journey. However, it's essential to monitor the weather conditions as unexpected storms can come up quickly along this route.
As mentioned earlier, the scenic byway stretches for about 35 miles and takes approximately 1 to 1.5 hours to complete, depending on your riding speed and any stops you might choose to make.
When riding the Sakakawea Scenic Byway, you might want to take a break and enjoy some of its interesting attractions:
Fort Mandan: A reconstructed Lewis and Clark-era fort that offers a glimpse into North Dakota's rich history.
Knife River Indian Villages: Explore the remnants of these ancient Native American settlements.
Riverdale High Lodge: A perfect spot for picnics with scenic views of the Garrison Dam and Lake Sakakawea.
The Sakakawea Scenic Byway is considered moderate in difficulty due to its winding roads and rolling terrain. More experienced riders will find this offers an enjoyable and exciting challenge. However, less experienced riders should take their time as they navigate the curves.
Before setting off on your captivating journey along the Sakakawea Scenic Byway, it's important to:
Be mindful of the local wildlife, such as deer and rabbits, that might dart onto the road unexpectedly.
Wear appropriate safety gear, including helmets and reflective vests, which will make you more visible to fellow motorists
Fully charge your camera as you'll want to capture countless memories of the beautiful landscapes and historic sites you'll encounter.
FAQs
What are some popular motorcycle rides in North Dakota?
Sheyenne River Valley Scenic Byway, Enchanted Highway, Loop Through Theodore Roosevelt National Park, Rt 1804 From Now Town To Williston, And Killdeer Mountain Four Bears Scenic Byway.
What Websites Can I Use To Find More Information On Motorcycle Rides In North Dakota?
Websites Like Motorcycle Roads (motorcycleroads.com), REVER (rever.co), And North Dakota Tourism (ndtourism.com) Offer Valuable Information On Motorcycle Routes And Rides In The State.
What attractions can I expect along some of the best North Dakota motorcycle rides?
Some Attractions May Include Picturesque Landscapes, Farmlands, Ranches, Wildlife Habitats, And Points Of Interest Like Lake Sakakawea And Roosevelt Park.
What Are Some Resources To Help Plan My Motorcycle Trip In North Dakota?
Websites Like North Dakota Tourism, REVER, And Sand Law North Dakota Can Help You Plan Your Road Trip Through Scenic Routes, Wildlife Refuges, And Backways In The State.
How can I discover other top motorcycle rides in the Midwest?
Websites Like Dairyland Insurance (dairylandinsurance.com) And Indian Motorcycle (indianmotorcycle.com) Provide Information On The Best Motorcycle Routes And Rides Throughout The Midwest Region.
Concluding the North Dakota Motorcycle Experience
I've covered seven of the best motorcycle rides in North Dakota, but it's essential to consider a few factors before hitting the road for an unforgettable journey. These factors include the best time to visit, travel distance, Level of difficulty, places to stop, and other necessary information.
North Dakota's climate can change quite dramatically during the year. The best times to enjoy motorcycle rides are late spring and summer-fall months (May to September). Winter is best avoided, as temperatures can drop significantly and snow can create hazardous road conditions.
These North Dakota motorcycle routes present varying levels of difficulty. Remember to consider your experience and motorcycle's capabilities before tackling more challenging routes.
When planning your North Dakota motorcycle adventure, coming prepared is essential. Consider the following:
Check the weather forecast before embarking on your trip
Ensure your motorcycle is in good condition
Pack appropriate safety gear (such as helmets and gloves)
Stay hydrated and bring snacks for longer stretches without amenities
Familiarize yourself with local laws and regulations
All things considered, experiencing the best motorcycle rides in North Dakota is a surefire way to create lasting memories. Stay safe, ride responsibly, and embrace the exhilaration of open roads and breathtaking scenery that awaits you.
Motorcycle Rides in the US by States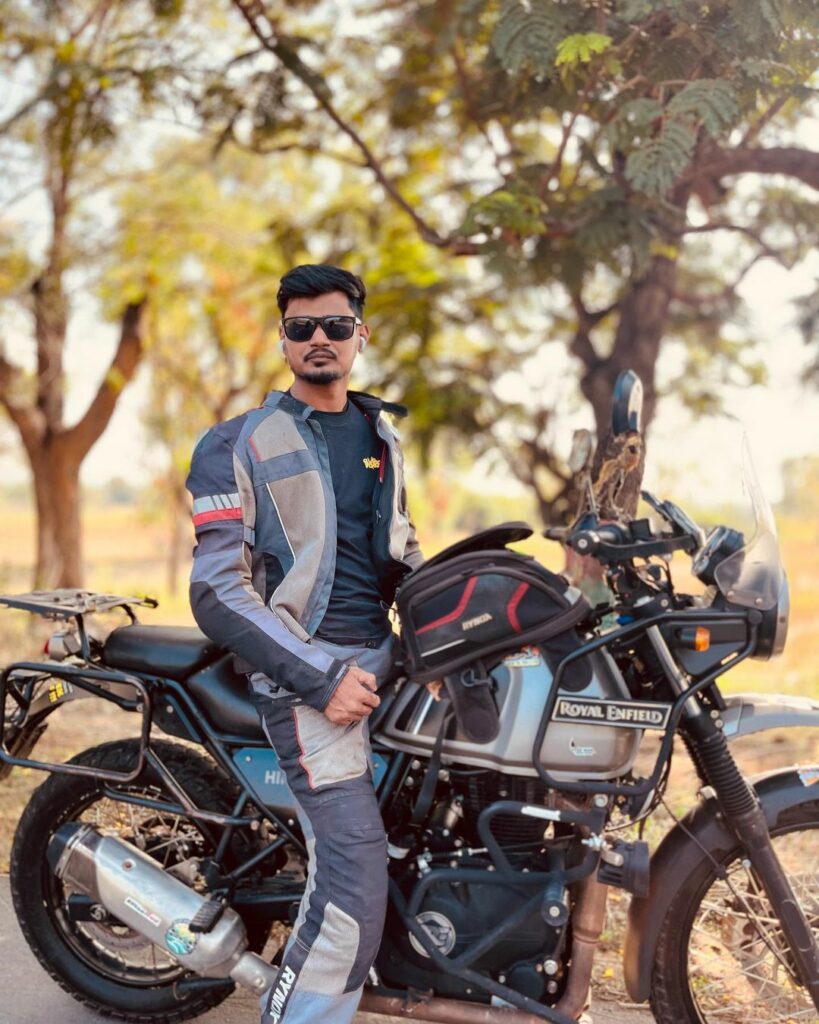 Vishwanath Mathpati
I am Vishwanath Mathpati, a full-time Blogger and Motorcyclist from Bidar, Karnataka. I love writing about my Motorcycles Stories and Riding Gears on this blog.
Know More About Me.
---
If you liked this article, then please subscribe to our YouTube Channel for more Bike Videos. You can also find us on Instagram, Twitter and Facebook.
Disclosure: As an Amazon Associate, I earn from qualifying purchases. Read more about Amazon Affiliate Disclaimer.