Top 5 Best Motorcycle Road Rides in Maryland: My Expert Picks
If you're a motorcycle enthusiast like me, you're always on the hunt for the best rides offering picturesque landscapes, thrilling curves, and smooth roads. In this article, I'll introduce you to the top 5 best motorcycle road rides in Maryland that are sure to provide the perfect balance of adventure and relaxation on your next two-wheeled journey.
Maryland, with its diverse terrain, offers a versatile range of riding experiences that'll suit any motorcyclist's preference. From the tranquil countryside to the Chesapeake Bay shoreline, there are countless routes waiting to be explored. I've carefully selected these top 5 routes to ensure that you get the most enjoyment from this incredible state.
In Maryland, motorcycle enthusiasts revel in the splendor of the Chesapeake Bay Loop, boasting views of the country's largest estuary. Yet, the thrill of motorcycle journeys isn't confined within Maryland's borders. Adjacent states offer equally enthralling rides. Virginia, to the south, offers the Blue Ridge Parkway with magnificent mountain views. Travel north to Pennsylvania, where the Grand Army of the Republic Highway unveils a combination of history and scenic beauty. Head west into West Virginia to explore the Highland Scenic Highway, a route synonymous with untamed wilderness. Finally, Delaware's Brandywine Valley Scenic Byway to the east showcases historic mansions and lush gardens.
These nearby routes enhance the already exciting prospect of motorcycle rides in Maryland. So let's dive in and explore the beauty of Maryland's motorcycle roads together.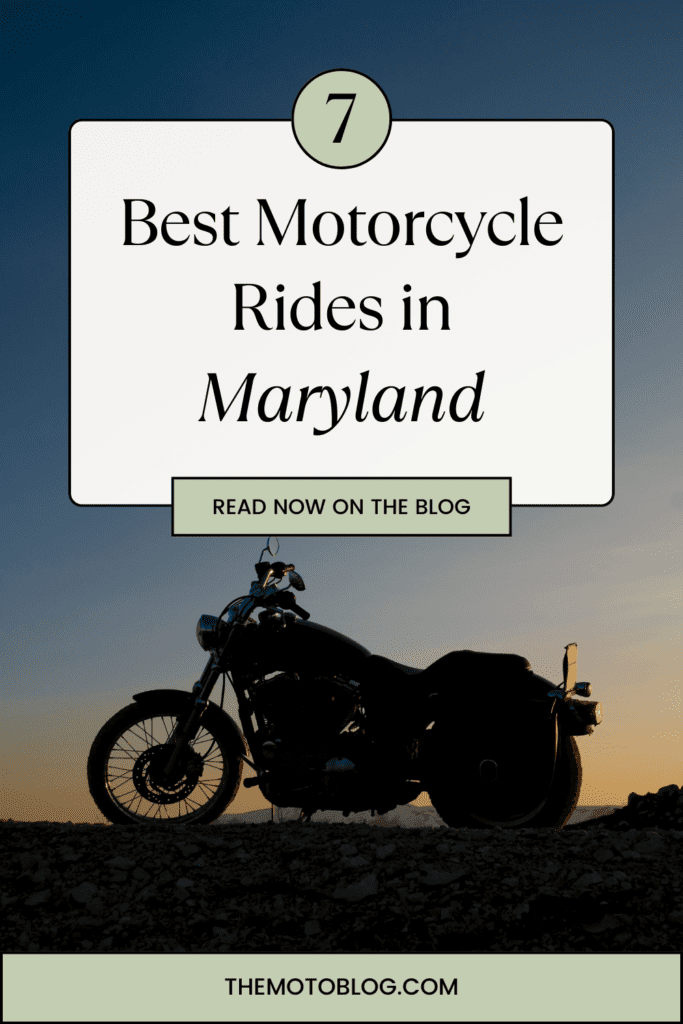 1. The Deep Creek Lake Loop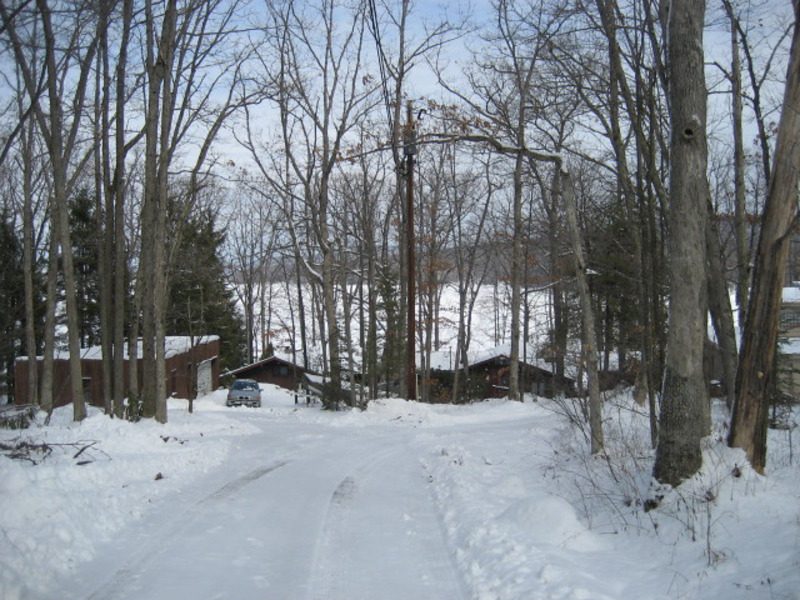 This route offers a mix of beautiful landscapes, exciting twists and turns, and a few unexpected surprises along the way.
The ideal time to take on the Deep Creek Lake Loop is during the spring and fall months. Road conditions are at their best, and the changing foliage offers stunning views of the surrounding countryside.
The loop itself covers around 95 miles and takes approximately 2.5 hours to complete, depending on your riding speed. Be sure to allow extra time for stops and sightseeing.
As you traverse this exhilarating route, consider stopping at these points of interest:
Deep Creek Lake State Park: A perfect spot for picnicking, boating, or hiking.
Swallow Falls State Park: Home to Maryland's highest free-falling waterfall.
Wisp Resort: Known for skiing in the winter and ziplining, golfing, and mountain biking in the summer.
I would classify the Deep Creek Lake Loop as a moderate level ride. It's suitable for riders with some experience, as there are challenging curves and steep descents to navigate. However, even less experienced riders can still enjoy this route with proper caution and preparation.
Here are a few additional tips to help you make the most of your ride:
Traffic can be heavy during peak vacation times (particularly during summer), so keep an eye out for congestion.
Keep in mind that the loop is located in a mountainous region, which means weather can change rapidly. Be prepared for varying conditions.
Gas stations and amenities are available in the towns along the route, but it's always a good idea to head out with a full tank and supplies to be on the safe side.
2. The Garrett County Backroads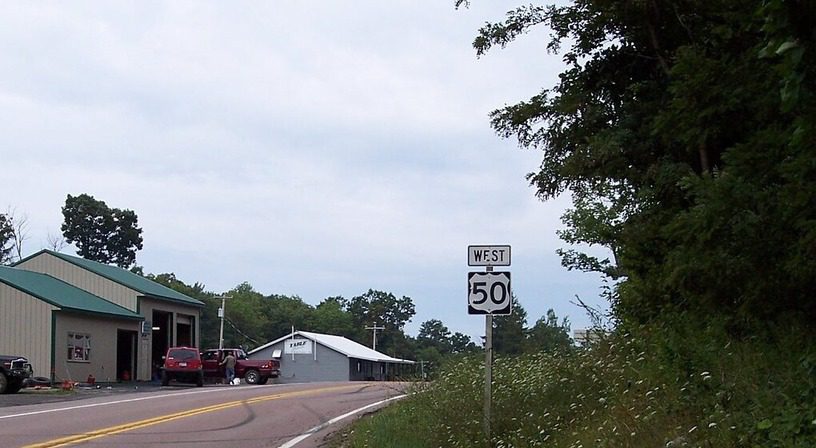 Garrett County Backroads offer some of the most exhilarating riding experiences in Maryland. Known for their twisting turns, rolling hills, and stunning scenery, these routes are sure to satisfy any motorcycle enthusiast's craving for adventure.
Spring and fall are the ideal seasons for exploring Garrett County Backroads. The temperate climate paired with vibrant foliage makes for a truly enjoyable riding experience. During the summer months, however, the higher temperatures and increased humidity can make the ride less comfortable.
The total distance of this route varies depending on the specific backroads you choose to explore. On average, riders can expect anywhere from 75 to 200 miles of thrilling curves and breathtaking views. A full day should be set aside to fully appreciate this motorcycle adventure.
Places to stop:
Swallow Falls State Park: Home to the highest waterfall in Maryland, this park offers a picturesque stop along your journey.
Deep Creek Lake: This expansive freshwater lake is perfect for a relaxing break, featuring opportunities for fishing, swimming, and boating.
Wisp Resort: Year-round activities like skiing, snowboarding, and zip-lining make this resort a worthwhile stop.
Moderate to challenging. The Garrett County Backroads feature a mix of different road types and conditions, providing a challenge for even experienced riders. Expect sharp turns, steep inclines, and some narrow roads.
Other Information:
Fuel up before you head out, as there are limited gas stations along the backroads.
Keep an eye out for wildlife, particularly deer, as they can be quite active in the area.
Some roads may be poorly maintained, so it's essential to remain cautious and adjust your speed accordingly.
It's crucial to ride within your skill level and take your time to fully enjoy the stunning scenery Garrett County offers.
3. The Harriet Tubman Byway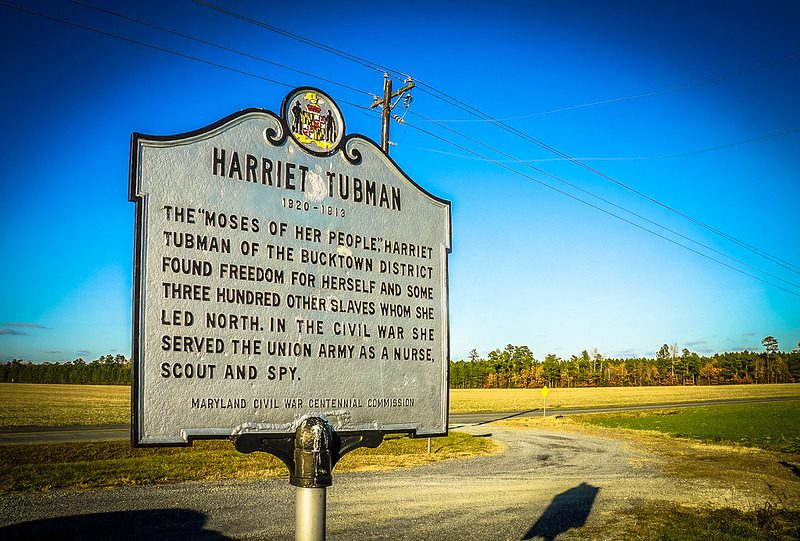 This motorcycle road ride offers riders the chance to explore some of the most breathtaking views in the state, as well as a unique historical experience with several key stops.
The best time for this ride is spring through fall when the weather is mild and the foliage is at its peak. April through October provides the most comfortable riding temperatures and the stunning colors of nature.
The Harriet Tubman Byway covers roughly 125 miles and takes around 3 hours to travel depending on your stops and your riding pace.
Places to Stop:
Harriet Tubman Underground Railroad Visitor Center: An informative and interactive introduction to Harriet Tubman's life and her heroic efforts to help slaves escape to freedom.
Blackwater National Wildlife Refuge: A serene oasis perfect for scenic breaks, bird-watching, and photography.
Historic Downtown Cambridge: Explore the charming shops, restaurants, and historic architecture of this picturesque town.
This ride is considered easy to moderate, with well-maintained roads and gentle curves. Riders of all skill levels can enjoy the journey while soaking in the beautiful views.
Other Information:
| Fact | Details |
| --- | --- |
| Route Type | Scenic, historical, and rural roads |
| Roadway Quality | Well-maintained roads with gentle curves |
Safety Tips: As with all motorcycle rides, safety is paramount. Be sure to wear appropriate protective gear and follow Maryland state laws for motorcyclists.
History Buffs: The Harriet Tubman Byway is an important historical area and offers multiple opportunities for riders to delve into the life of this extraordinary woman and the Underground Railroad.
4. The Catoctin Mountain Vista Journey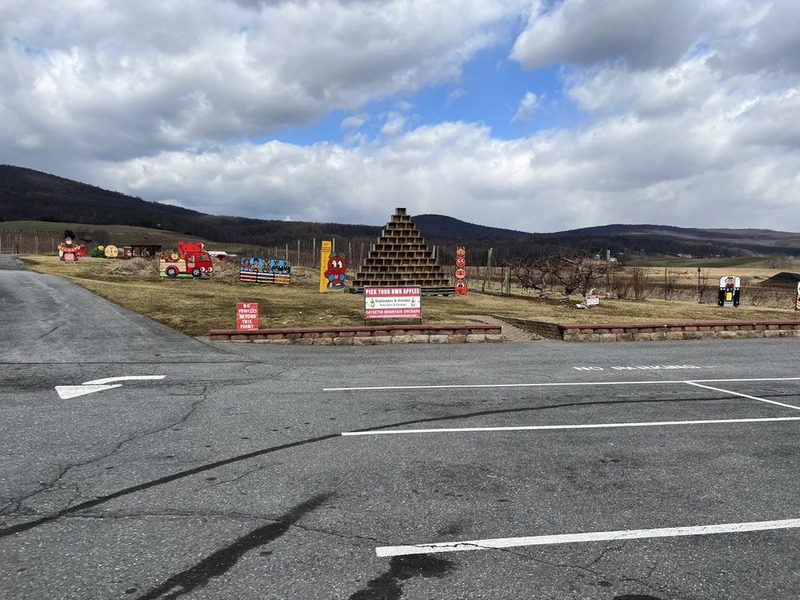 As a bonus ride, I highly recommend the Catoctin Mountain Vista Journey. This motorcycle route showcases some breathtaking views and takes riders through the beautiful Catoctin Mountain Park.
The best time to enjoy this ride is between April and October when the weather is most favorable. Spring offers an explosion of color from blooming flowers, while fall brings stunning foliage to the region.
The Catoctin Mountain Vista Journey is approximately 50 miles long and should take about 1.5 hours to complete without stops.
Along the way, you'll find several interesting places to stop and explore:
Cunningham Falls State Park: Known for its 78-foot cascading waterfall, this park offers hiking, swimming, and picnicking opportunities.
Catoctin Mountain Park: Home to Camp David, this park features scenic vistas, historic buildings, and various hiking trails.
Thurmont: A quaint town with a friendly community, where you can grab a bite to eat and explore local shops.
Catoctin Mountain Orchard: A great place to pick up some fresh fruit, vegetables, and other locally produced goodies.
While it's not overly challenging, the Catoctin Mountain Vista Journey has some twists and turns that demand attention. The route is suitable for riders with intermediate level experience and is perfect for those seeking both relaxation and excitement.
Here are some additional tips to help you plan your trip:
It's wise to fill up on gas before beginning the journey, as there are limited fuel stations along the route.
Keep an eye out for wildlife, especially deer, as they can often be seen crossing roads in the area.
If possible, avoid weekends and holidays, as the roads can become quite congested with tourists.
5. Route 50, Ocean Gateway Ride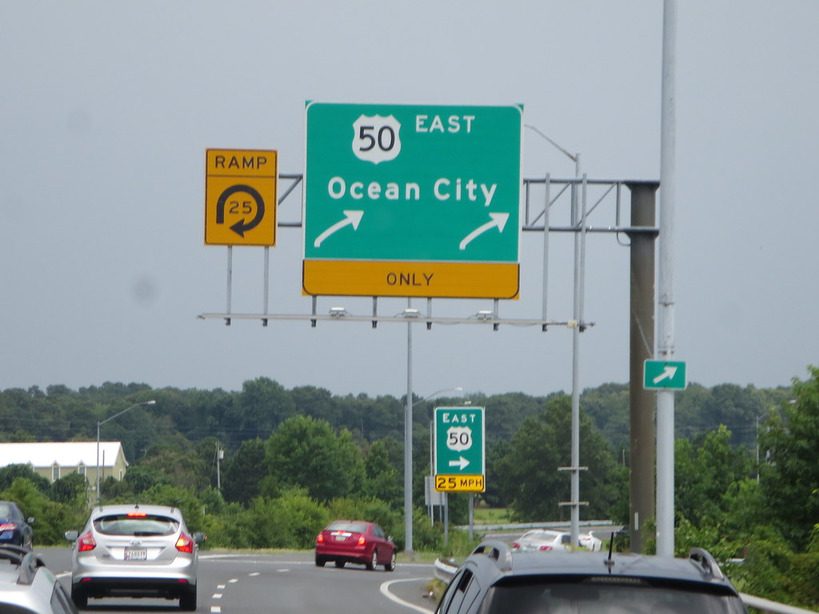 This scenic route offers a diverse landscape and plenty of memorable stops along the way. In this section, I'll highlight why you should put this ride on your must-do list.
The ideal time to tackle this journey is during the late spring, summer, or early fall. During these months, the weather is more predictable and milder, which makes for a pleasant riding experience.
The Route 50 Ocean Gateway Ride stretches for about 150 miles, and you can complete it in about 3 to 4 hours. However, with plenty of fascinating stops to make, you might want to set aside a whole day for this adventure to make the most of it.
There's no shortage of interesting stops along the way, so here are a few of my recommendations:
Kent Island: First, you'll come across Kent Island, the largest island in the Chesapeake Bay. This beautiful location boasts picturesque views and an engaging local history.
Wye Oak State Park: Further along Route 50, you'll discover Wye Oak State Park, home to the famous Wye Oak – a symbol of Maryland's commitment to preserving its natural heritage.
Cambridge: Sitting along the Choptank River, Cambridge is a charming waterfront town where you can grab a bite to eat or visit the Harriet Tubman Museum.
I'd say the Route 50 Ocean Gateway Ride is an easy to moderate ride, depending upon your skill level. As you head east towards the coast, the road's flat, straight stretches turn into smooth, sweeping curves. It's a comfortable ride for any motorcycle aficionado.
Besides the beautiful scenery, Route 50 Ocean Gateway Ride offers plenty of amenities and facilities, such as gas stations and restaurants. Cell service is also generally reliable throughout the ride. Be aware that some stretches of the route follow heavily used roads, so watch out for traffic, especially during weekends and holiday seasons.
FAQ's
What are some of the top motorcycle rides in Maryland?
Top Motorcycle Rides In Maryland Include St. Mary's River Loop, Elk Neck State Park, Winchester To Deep Creek Lake, Route 550, And The Charles County Loop.
Where can I find a list of great motorcycle roads in Maryland?
Websites Such As MotorcycleRoads.com, BestBikingRoads.com, And GreatMotorcycleRoads.com Offer Listings And Descriptions Of Popular Motorcycle Routes In Maryland.
Which motorcycle route in Maryland offers scenic views and historical sites?
The Maryland Panhandle History Run Is A Great Motorcycle Route That Offers Scenic Views Combined With Historical Sites Throughout The Ride.
Are there any coastal motorcycle rides in Maryland?
Yes, Elk Neck State Park Is A Recommended Coastal Motorcycle Ride In Maryland, Providing Riders With Stunning Views Of The Chesapeake Bay.
What is a popular scenic mountain route for motorcycle riders in Maryland?
The Catoctin Mountain And Frederick County Route Is A Popular Scenic Mountain Ride, Offering Beautiful Views And A Diverse Landscape For Riders To Enjoy.
Wrapping Up: Motorcycle Road Rides in Maryland
Maryland truly is a biker's paradise with its scenic roads and varying terrains. The top five motorcycle road rides in Maryland we explored offer something for everyone, whether you're a casual rider or an experienced enthusiast.
To make the most of your ride, I recommend visiting Maryland from April to October. The weather is usually mild and pleasant during these months, allowing for comfortable riding temperatures.
| Month | Avg. Temperature (°F) |
| --- | --- |
| April | 61 |
| May | 71 |
| June | 79 |
| July | 83 |
| August | 81 |
| September | 75 |
| October | 63 |
Along these routes, you'll find plenty of stops to take a break, refuel, or feast your eyes on the scenery. Some popular stopping points include:
Historic towns and cities like Frederick and Brunswick
Local attractions like the Antietam National Battlefield and Monocacy National Battlefield
State parks such as Deep Creek Lake State Park and Cunningham Falls State Park
Picturesque lookout points along the way
These five routes offer a range of difficulty levels to cater to riders of varying skill. From easier trips like the North Central Railroad Trail, to more challenging roads such as the ascent on Backbone Mountain, you're sure to find a ride that suits your expertise.
It's crucial to stay informed about any road conditions, closures, or weather-related issues before embarking on your journey. Keep yourself updated through local news or the Maryland Department of Transportation's website.
That's a wrap on the five best motorcycle road rides in Maryland! Armed with this information, I'm confident you'll have a remarkable experience exploring these fantastic routes. Remember to ride safely, respect other road users, and most importantly, enjoy the journey!
Motorcycle Rides in the US by States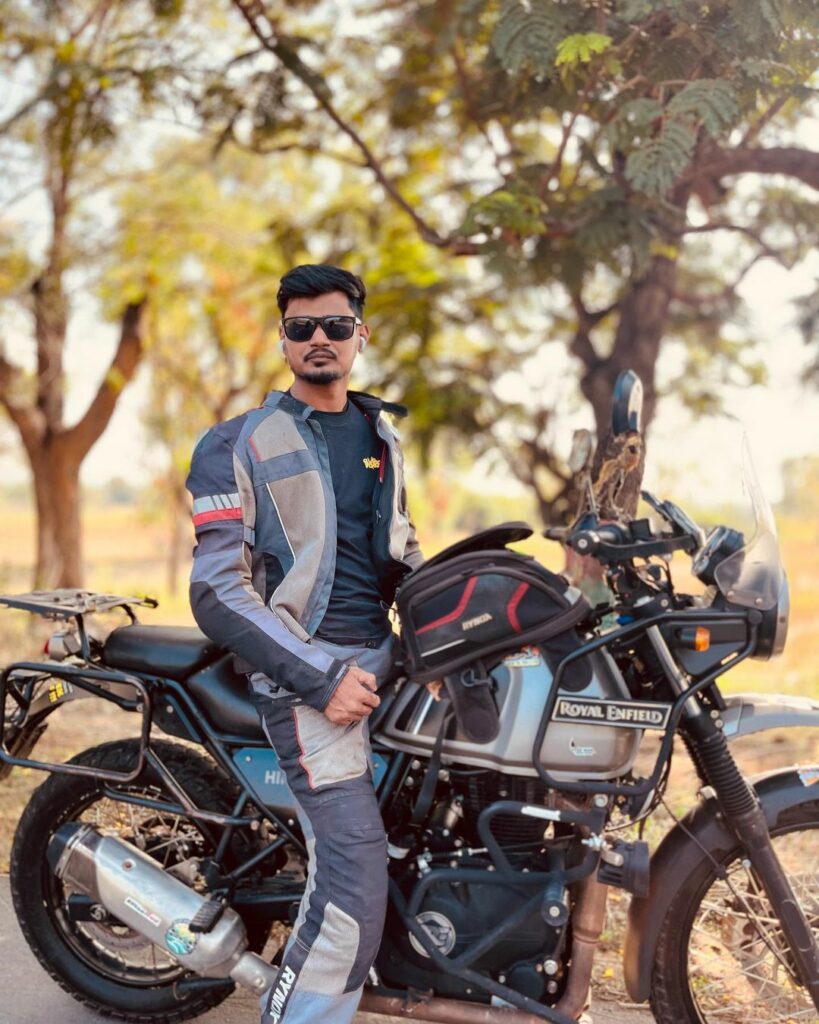 Vishwanath Mathpati
I am Vishwanath Mathpati, a full-time Blogger and Motorcyclist from Bidar, Karnataka. I love writing about my Motorcycles Stories and Riding Gears on this blog.
Know More About Me.
---
If you liked this article, then please subscribe to our YouTube Channel for more Bike Videos. You can also find us on Instagram, Twitter and Facebook.
Disclosure: As an Amazon Associate, I earn from qualifying purchases. Read more about Amazon Affiliate Disclaimer.