Top 10 Best Motorcycle Rides in South Dakota: My Ultimate Guide
South Dakota, a hidden gem when it comes to motorcycle road rides, offers so much more than the famous Mount Rushmore. Surrounded by scenic landscapes and rich history, it's a paradise for riders who love to explore new terrains. I've narrowed down the Top 10 Best Motorcycle Road Rides in South Dakota to make your next adventure an unforgettable experience.
The state's diverse terrain, from the rolling prairies of the Great Plains to the rugged Black Hills, makes it an ideal destination for motorcycle enthusiasts. Whether you're seeking sweeping curves, twists and turns, or simply beautiful panoramas, South Dakota's roads have something for every rider. I can't wait to share my top picks of these majestic routes that traverse national parks, historic landmarks, and breathtaking vistas.
South Dakota is a gem for motorcycle enthusiasts, offering stunning rides like the Needles Highway, renowned for its spiral bridges and granite pinnacles. Its neighboring states also promise spectacular rides. Over in North Dakota, the Enchanted Highway features enormous scrap metal sculptures, making it a unique ride. In Montana, the Beartooth Highway offers a thrilling ride with breathtaking views of glaciated peaks. Wyoming's Chief Joseph Scenic Byway presents a serene journey through mountainous landscapes. In Nebraska, the Sandhills Journey Scenic Byway allows riders to experience Nebraska's unique grassland ecosystem. Finally, the Wildlife Loop State Scenic Byway in Iowa is a peaceful route where riders can spot a variety of wildlife.
From breathtaking mountainous rides to serene wildlife journeys, these neighboring routes offer diverse experiences that make South Dakota a perfect starting point for an unforgettable motorcycle adventure.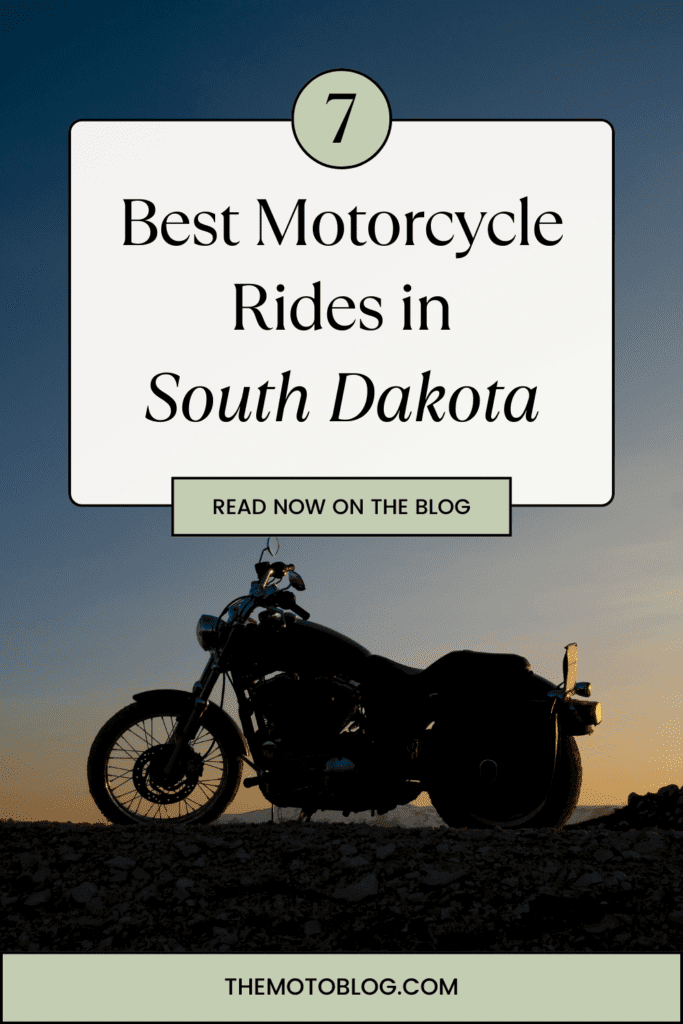 1. Needles Highway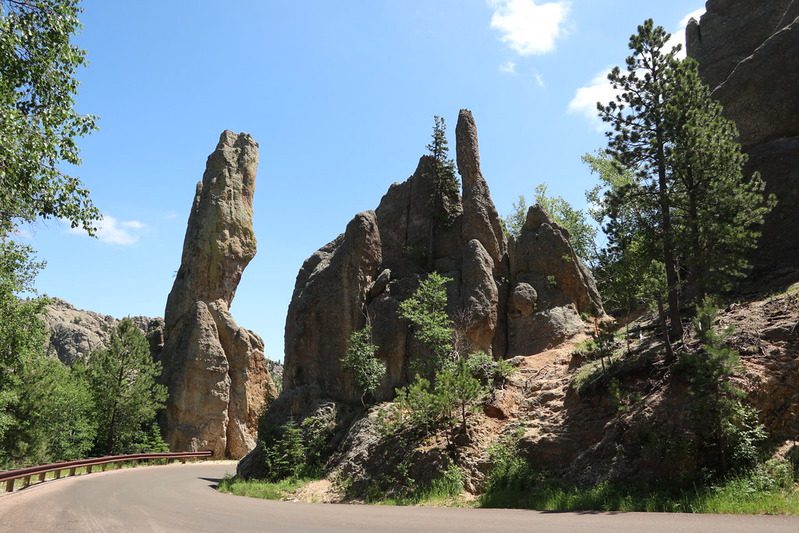 There's something exhilarating about cruising through the twists and turns of Needles Highway in South Dakota. As one of the top 10 best motorcycle rides in the state, it's certainly a must-visit spot for motorcycle enthusiasts.
The ideal time to experience Needles Highway is during May to October, when the weather is typically milder. However, it's essential to keep in mind that the Sturgis Motorcycle Rally in August can make the roads a bit more crowded.
This picturesque ride stretches approximately 14 miles along State Route 87, and it typically takes around 1-2 hours to complete, depending on the number of stops made along the way.
Needles Highway offers several scenic lookout points worth stopping for:
Sylvan Lake: A popular spot for picnics and water activities
Needles Eye: A unique rock formation with a narrow opening
Cathedral Spires: Towering granite pinnacles that are a sight to behold
Hood Tunnel: A narrow rock tunnel perfect for a quick break and photo opportunity
While the ride is incredibly scenic, it's important to note that the numerous hairpin turns, switchbacks, and narrow passages make it moderately challenging for riders. Those with experience in handling such routes will find it more manageable and perhaps even adventurous.
Other essential details riders need to know about Needles Highway include:
Wildlife: Keep an eye out for the local wildlife, such as mountain goats, bighorn sheep, and deer.
Towns: Nearby towns such as Custer, Hill City, and Keystone offer lodging, dining, and other amenities.
Admission Fee: A fee is required to enter the Custer State Park where Needles Highway is located, currently set at $20 for a 1-7 day motorcycle pass.
2. Spearfish Canyon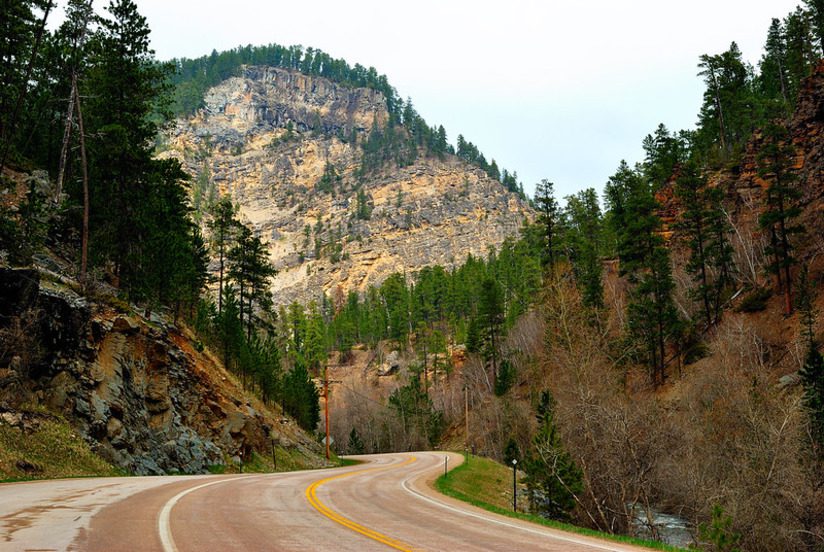 Spearfish Canyon, often referred to as a Nature Lover's Paradise, offers riders a stunning ride through one of South Dakota's most beautiful landscapes. With its lush green forest, steep limestone cliffs, and rushing waterfalls, this scenic route is perfect for riders who crave a breathtaking view.
I'd recommend visiting between late spring and early fall. During this time, the temperatures are more comfortable and the canyon's vibrant colors truly come alive. However, be prepared for increased tourist traffic during peak summer months.
The Spearfish Canyon Scenic Byway is approximately 19 miles long and takes about an hour to ride, not including stops. This route provides an excellent opportunity for a leisurely ride, so take your time and don't be afraid to stop and admire the views.
Places to Stop:
Bridal Veil Falls: A must-see destination, this beautiful waterfall is easily accessible from the road.
Roughlock Falls Nature Area: A short hike from the parking lot reveals this picturesque waterfall and its surrounding nature trails.
Spearfish Falls: Another stunning waterfall worth visiting, located at the Latchstring Restaurant near the Spearfish Canyon Lodge.
I'd classify this ride as easy to moderate. While the road is well-maintained and offers plenty of straight stretches for all skill levels, there are also some tight curves and elevation changes to keep more experienced riders engaged.
Other Information:
Be sure to keep an eye out for wildlife. Deer, turkeys, and various bird species are often spotted within the canyon.
Allow enough time for the ride, as the speed limit is set at a maximum of 35 miles per hour to preserve the natural beauty of the environment.
The Spearfish Canyon Lodge makes for great accommodations if you plan to stay overnight and explore the area further.
3. Iron Mountain Road

Iron Mountain Road is a must-ride for any motorcycle enthusiast visiting South Dakota. This spectacular scenic route offers breathtaking views and an unforgettable riding experience. The road twists and turns, providing ample thrills while serving as a gateway to the iconic Mount Rushmore.
The ideal time to enjoy this motorcycle ride is during late spring, summer, and early fall. This is when the weather is most favorable and the roads are clear.
Iron Mountain Road extends for 17 miles, taking approximately 45 minutes to traverse, excluding stops for admiring the view and snapping pictures.
Some popular stops along Iron Mountain Road include:
Peter Norbeck Scenic Byway Visitor Center: Stop by for maps, information, and tips for your ride.
Mount Rushmore National Memorial: This incredible monument is a must-visit during your ride.
Custer State Park: A beautiful spot for a break, with stunning scenery and wildlife sightings.
The Pigtail Bridges: Unique and captivating, these bridges showcase the road's impressive engineering.
The winding roads and hairpin turns of Iron Mountain Road categorize it as a moderate to difficult ride. It's important to remember your own skill level, and take it slow if needed.
Here are a few more noteworthy details about Iron Mountain Road:
The road consists of 314 curves, 14 switchbacks, and 3 tunnels.
The tunnels are specifically designed to frame the faces of Mount Rushmore, offering exceptional photo opportunities.
Be prepared for narrow lanes and limited visibility around turns. Stay alert and ride cautiously to ensure a safe and enjoyable journey.
4. Badlands Loop State Scenic Byway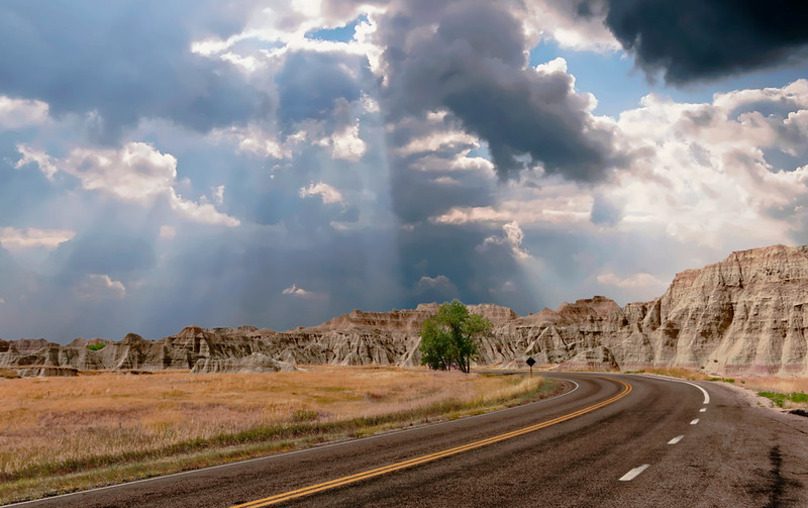 Badlands Loop offers a stunning motorcycling experience through the unique landscape of South Dakota's Badlands National Park. This amazing route will take you on a journey through eroded buttes, pinnacles, and spires, making it an unforgettable adventure.
I'd highly recommend visiting this fantastic destination from May to October. The weather's usually mild and reliable, providing ideal conditions for a pleasant motorcycle ride.
The Badlands Loop is approximately 39 miles long (63 kilometers) with an average ride time of about 2 hours. Keep in mind that this might vary depending on how often you stop and the pace you maintain.
There are numerous overlooks and attractions along the way that you definitely shouldn't miss. Here are a few worth mentioning:
Pinnacles Overlook: enjoy a stunning panoramic view of the Badlands' geologic formations
Yellow Mounds Overlook: marvel at the fascinating yellow and red-striped mounds
Fossil Exhibit Trail: walk this short trail to learn about the area's rich fossil history
I'd say the Badlands Loop falls within the easy to moderate range for riders. The road is generally well-maintained and paved throughout the route. Some twists and turns make the ride engaging, but it's not too challenging.
Other Information:
Entrance fees will apply to enter Badlands National Park, so don't forget your wallet. The fees are as follows:

Motorcycle Pass (valid for 7 days): $15
Annual Pass: $30
Interagency Annual Pass: $80

While the route doesn't offer many amenities, do keep an eye out for the Ben Reifel Visitor Center. It's a great spot to replenish some essentials during your ride.
Finally, don't forget to refuel and prepare your motorcycle before entering the loop, as gas stations are scarce along the road.
5. Custer State Park Wildlife Loop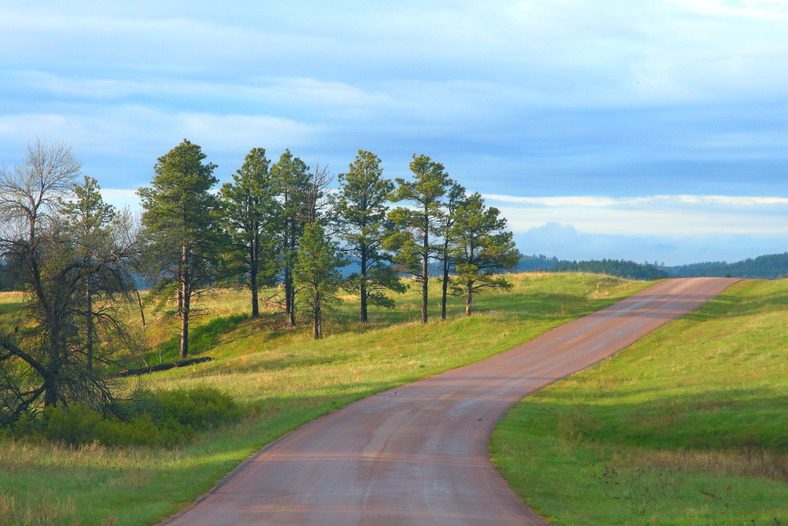 When it comes to motorcycle rides that combine natural beauty and opportunities for animal encounters, Custer State Park Wildlife Loop is definitely high on my list. This 18-mile loop offers stunning views of rolling hills, expansive prairies, and diverse wildlife. It's not uncommon to see bison, pronghorn antelope, deer, elk, and even wild burros as you ride through the picturesque landscape.
The prime time to enjoy the park's beauty is from late spring to early fall, as temperatures are more comfortable for riding and wildlife is more active.
The 18-mile loop takes about 1-2 hours to complete, depending on your pace and how often you stop for photos or wildlife encounters.
There are several scenic overlooks and pullouts along the route, and it's worth taking breaks at the Peter Norbeck Outdoor Education Center and the Wildlife Station Visitors Center for more information on the park's history and animals.
The ride is easy and accessible to riders of all skill levels, with smooth, well-maintained roads and gentle curves.
Be sure to obey posted speed limits and exercise caution around wildlife, giving them plenty of space. It's illegal to feed wild animals in the park, so please, don't tempt them with food offerings.
6. Black Hills Ride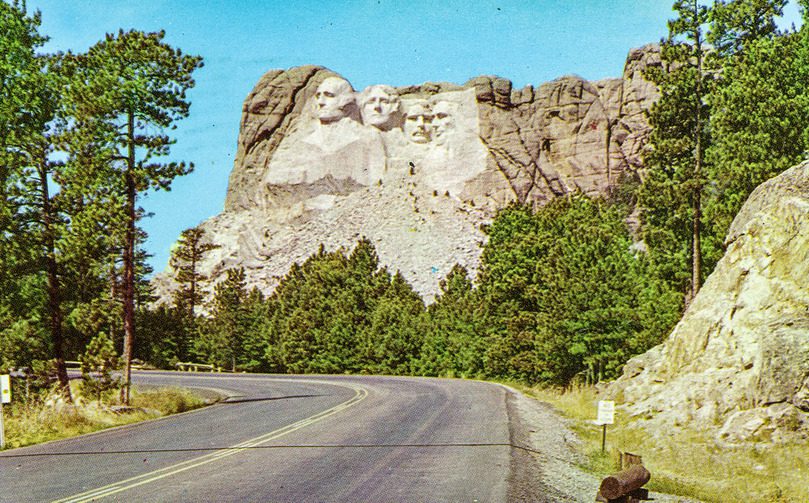 I can tell you without hesitation that the Black Hills Ride is one of the most impressive motorcycle rides in South Dakota. This ride combines both history and picturesque scenery for an unforgettable experience.
The ideal time to embark on this ride is from late spring to early fall, as the weather is optimal for enjoying the open road. During these months, you'll find temperatures in the range of 50-80°F, offering comfortable riding conditions.
The Black Hills Ride spans approximately 100 miles and takes about 3 hours to complete. This estimated time includes stops for photo opportunities and rest breaks.
As you journey through the Black Hills, you'll come across several must-see landmarks and attractions. Be sure to stop at:
Mount Rushmore: This iconic landmark is home to the massive granite sculptures of four U.S. presidents.
Crazy Horse Memorial: A monumental carving honoring the Oglala Lakota warrior, Crazy Horse.
Custer State Park: Featuring diverse wildlife, including the famous buffalo herd.
Spearfish Canyon: Known for its breathtaking views, waterfalls, and hiking trails.
While the Black Hills Ride doesn't pose too many challenges, it's best suited for intermediate riders. Some sections offer twisty roads and elevation changes requiring a certain level of skill to navigate safely.
Other Information
Speed Limits: In many areas of the ride, speed limits are lower than average. This is to accommodate both the unfamiliarity of the roads, as well as wildlife that occasionally wanders onto the road.
Fuel Stops: Plan your gas stops in advance, as there are some stretches with limited fuel options.
7. Vanocker Canyon Road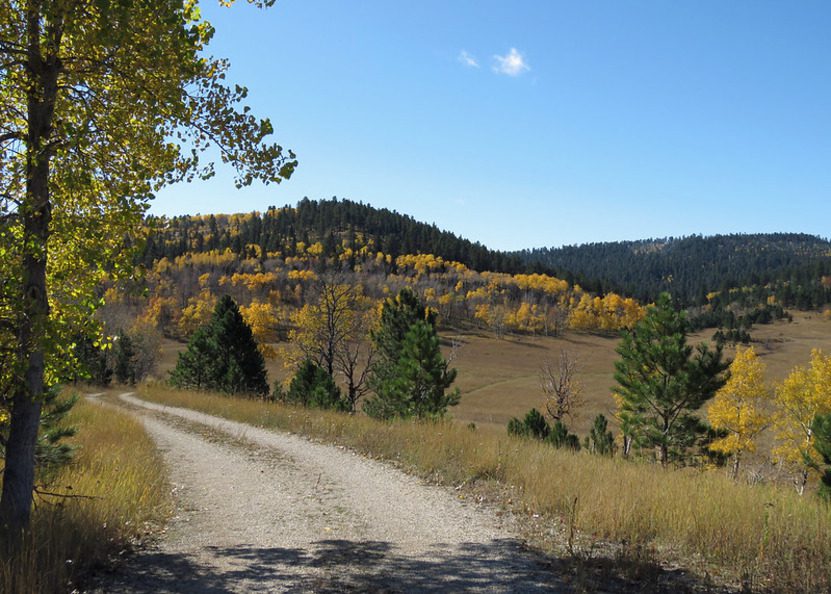 Vanocker Canyon Road is not just another winding path in South Dakota; it's a hidden treasure for motorcyclists craving an unforgettable experience. This scenic route takes you through the heart of the Black Hills, offering breathtaking views of the dense forests and surrounding limestone cliffs.
The ideal time to visit Vanocker Canyon Road is between May and October, when the weather is perfect for riding. Winter months can be challenging due to snow, ice, and low temperatures, so it's best to avoid this period.
Spanning 17 miles from Sturgis to Nemo, Vanocker Canyon Road can be completed in about 30 minutes without stops. However, I recommend scheduling additional time to enjoy the picturesque scenery and stretch your legs at the available stops.
As you embark on this spectacular journey, consider stopping at these notable spots:
Vanocker Canyon Picnic Area: A great place to relax and refuel amidst nature, providing picnic tables and restrooms.
Nemo Guest Ranch: Make a quick stop to explore the historical Nemo town or perhaps stay overnight at the ranch to maximize your experience.
Vanocker Canyon Road is characterized by its smooth pavement and gentle curves, making it a moderately easy ride. It's perfect for riders of all skill levels, only cautioning those who may be traveling during harsh weather conditions or at high speeds.
Before venturing onto the Vanocker Canyon Road, keep these tips in mind:
Fuel up: It's essential to fill up beforehand since there are no gas stations along the route.
Wildlife awareness: Deer and other wildlife are common in the area, so stay alert to avoid a dangerous encounter.
Check the weather: Ensure that you're riding in favorable conditions by checking the weather forecast before departing.
8. Nemo Road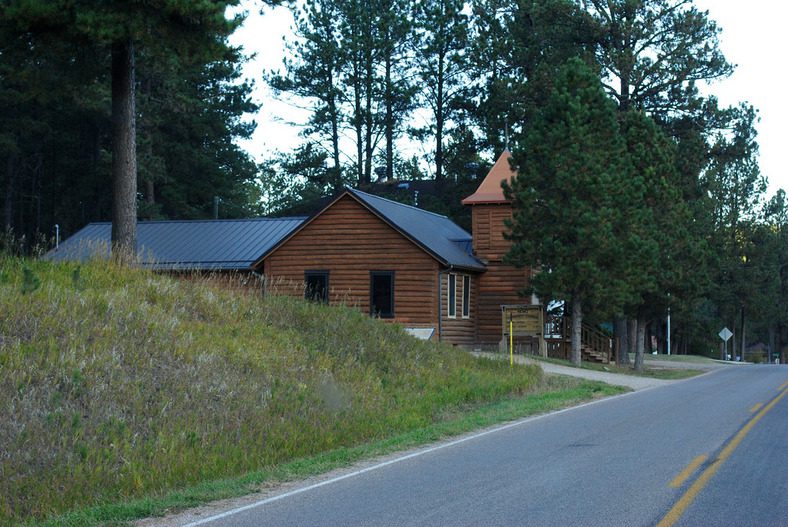 Nemo Road is an underrated gem tucked away in South Dakota's Black Hills. As a motorcycle enthusiast, there's something truly unique about the experience on this twisty, scenic road.
The ideal time to visit Nemo Road is during the late spring to early fall months. The weather is typically mild, making for comfortable riding conditions. Be sure to avoid visiting during the Sturgis Motorcycle Rally which usually happens in the first week of August, as the road can become crowded.
Nemo Road stretches for approximately 24 miles and takes about 45 minutes to travel from start to finish. This allows you to take your time, relishing the beautiful scenery and challenging curves along the way.
While riding Nemo Road, there are a few noteworthy stops:
Nemo Guest Ranch: A fantastic spot for a break, offering facilities for overnight stays, RV camping, and horseback riding.
Box Elder Creek: Take a breather and enjoy the peaceful surroundings of this picturesque creek.
Ghost Town of Nemo: Take a trip into history by exploring the remnants of this once bustling mining town.
Although Nemo Road isn't incredibly challenging, it does have some tight corners and twists that keep you on your toes. I'd rate the difficulty level as moderate, making it suitable for riders with some experience under their belt.
A few additional tips to consider before embarking on your Nemo Road adventure:
Keep an eye out for wildlife, as deer and other animals are known to roam the area.
Fuel up before hitting the road, as gas stations along the way can be sparse.
With limited cell phone coverage, it's a good idea to carry a paper map or GPS device to avoid getting lost.
9. Belle Fourche to Devils Tower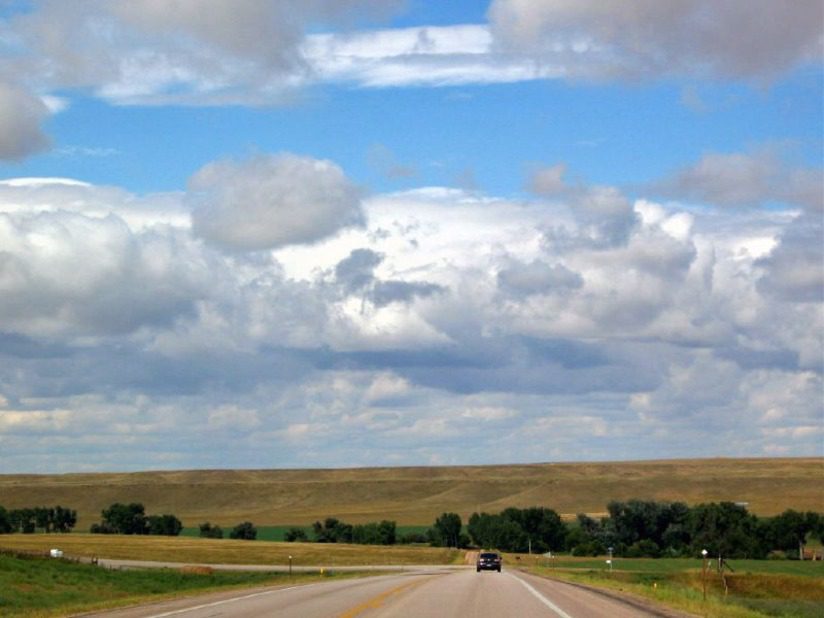 I've always found the ride from Belle Fourche to Devils Tower to be an intriguing detour. Let me share some important details about this unique route to help you plan your adventure.
Late spring to early fall, preferably between May and September, offers the most comfortable and enjoyable riding conditions.
The route covers approximately 64 miles and usually takes about 1.5 hours, depending on your pace and stops.
Places to stop:
Belle Fourche: Don't miss the historic town of Belle Fourche, the geographic center of the United States, and home to the Center of the Nation Monument.
Sundance: Take a break in this small town known for its Western heritage and proximity to many scenic attractions.
Hulett: This picturesque rural community provides a pleasant rest stop with shops and places to grab a bite before reaching Devils Tower.
The route is generally easy to navigate. However, be prepared for some twists and bends as you approach Devils Tower.
Some key points to keep in mind while planning your ride:
The route mainly follows U.S. Highway 212 and Wyoming Highway 24, offering a smooth and scenic ride.
Watch out for wildlife along the route, especially during dawn and dusk hours.
Check for ongoing construction or road closures before heading out.
Fill up your gas tank in Belle Fourche as gas stations are sparse along the route.
Prepare for unpredictable weather, as it can change suddenly in the Black Hills area.
10. Peter Norbeck National Scenic Byway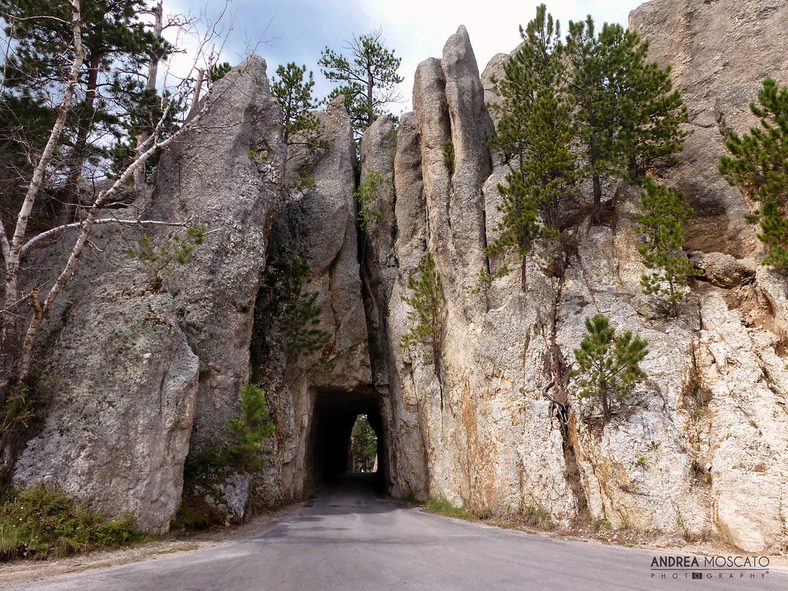 No road trip in South Dakota would be complete without experiencing the Peter Norbeck National Scenic Byway. Winding through the breathtaking Black Hills, it unveils a rich history and provides stunning vistas that are sure to leave a lasting impression on any motorcyclist.
Fall is the perfect time to ride the Peter Norbeck National Scenic Byway, as you'll be treated to a dazzling display of colorful foliage. Spring and summer also offer vibrant scenery, while avoiding the area during winter is recommended due to potential snow and ice.
The byway covers a distance of 70 miles (112 kilometers) and takes approximately 2-3 hours to ride. However, you'll likely want to take your time to truly savor the experience and scenery.
Places to Stop:
Mount Rushmore National Memorial: One of the most iconic landmarks in the United States, Mount Rushmore showcases the talents of American sculptor Gutzon Borglum and the faces of four influential presidents – George Washington, Thomas Jefferson, Theodore Roosevelt, and Abraham Lincoln.
Custer State Park: Home to free-roaming herds of bison, prairie dogs, and the regal pronghorn, Custer State Park encompasses over 71,000 acres of untamed beauty. Don't miss the Wildlife Loop Road for the best chance to spot these majestic animals.
Needles Highway: A masterpiece of engineering, Needles Highway boasts tight tunnels and steep canyons alongside granite pinnacles to create unparalleled photo opportunities and thrilling riding experiences.
The Peter Norbeck National Scenic Byway offers a moderate level of difficulty for motorcyclists. With plenty of twists, turns, and tunnels, the byway requires some experience on a bike, but it's not an overly challenging ride.
Exercise caution on the Peter Norbeck National Scenic Byway, as you may encounter wildlife crossing the road, especially through Custer State Park. Additionally, make sure your tank is full before setting off. Gas stations can be scarce along the route, so it's best to come prepared.
FAQs
What are some top motorcycle rides in South Dakota?
Popular Motorcycle Rides In South Dakota Include Spearfish Canyon Scenic Byway, Central Hills Loop, Native American Scenic Byway, Vanocker Canyon, And Needles Highway.
Where Can I Find Information About The Best Motorcycle Rides In South Dakota?
Details About South Dakota's Best Motorcycle Rides Can Be Found On Websites Like South Dakota Rides, Motorcycle Roads, REVER, And Best Biking Roads.
What is the Spearfish Canyon Scenic Byway motorcycle route in South Dakota?
The Spearfish Canyon Scenic Byway Is A Spectacular Ride That Follows Highway 14A Through Spearfish Canyon, Offering Stunning Views Of Waterfalls, Limestone Cliffs, And Dense Forests.
What Is The Needles Highway Motorcycle Route In South Dakota?
Needles Highway Is A Famous Ride In South Dakota That Features Winding Roads, Granite Spires, And Scenic Vistas, Located Within Custer State Park.
How can I find more motorcycle rides and routes in South Dakota?
To Find Additional Suggestions And Information On Motorcycle Rides In South Dakota, Explore Websites Like Great Motorcycle Roads, Black Hills Badlands, And Law Tigers.
Wrapping Up the Best Motorcycle Rides in South Dakota
After taking an in-depth look at the top 10 best motorcycle rides in South Dakota, I've gathered some key points about each route to help you plan your next adventure. Below, you'll find the best time to visit, places to stop, degree of difficulty, and other information for each ride.
While visiting South Dakota can be enjoyable throughout the year, the optimal time for motorcycle rides is from late spring through early fall. Specifically:
Late spring (May-June): cooler weather, fewer tourists
Summer (July-August): warmer weather, more tourists
Early fall (September-October): cooler weather, less crowded
Each ride has its own unique stops and points of interest, including:
Historic landmarks
State parks
Scenic overlooks
Mountain peaks
Visitor centers
Quaint towns
Local eateries
Motorcycle routes in South Dakota cater to a wide range of skill levels, from beginner to experienced:
Easy: Iron Mountain Road, Custer State Park, Needles Highway
Moderate: Spearfish Canyon Scenic Byway, Badlands Loop Scenic Byway, Vanocker Canyon Road, Wildlife Loop Road
Challenging: Black Hills National Forest Loop, Peter Norbeck Scenic Byway, Sica Hollow Trail and Hairpin Curve
When planning your trip, keep in mind the following:
South Dakota weather can change rapidly, so come prepared for varying conditions.
Wildlife is abundant in the area; watch for bison, elk, deer, and other animals crossing the roads.
Many routes pass through national parks and attractions; plan ahead to ensure entrance and facility availability.
So there you have it! With this information at hand, you're well-equipped to take on the best motorcycle rides South Dakota has to offer. Enjoy the journey, and ride safe!
Motorcycle Rides in the US by States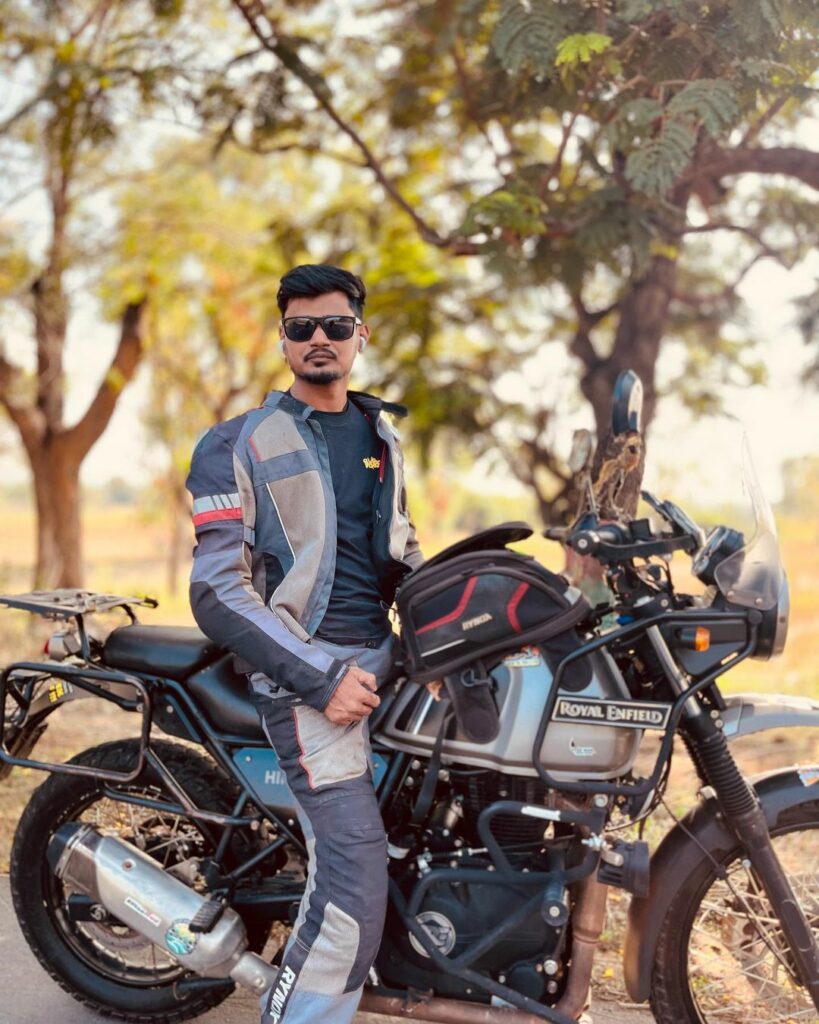 Vishwanath Mathpati
I am Vishwanath Mathpati, a full-time Blogger and Motorcyclist from Bidar, Karnataka. I love writing about my Motorcycles Stories and Riding Gears on this blog.
Know More About Me.
---
If you liked this article, then please subscribe to our YouTube Channel for more Bike Videos. You can also find us on Instagram, Twitter and Facebook.
Disclosure: As an Amazon Associate, I earn from qualifying purchases. Read more about Amazon Affiliate Disclaimer.