Top 8 Best Motorcycle Rides in Texas: My Ultimate Guide
There's no denying that Texas is a vast and diverse state, offering some of the most scenic and exciting motorcycle rides any biker could dream of. With a wide range of landscapes from coastal roads to hill country twisties, Texas has a lot to offer for riders of all skill levels. In this article, I'll be sharing my top 8 best motorcycle rides in Texas, so get ready to fire up your engine and explore the Lone Star State!
So whether you're planning a multiday motorcycle adventure or a quick weekend trip, you'll find the perfect route to suit your riding preferences.
In no particular order, here are my top 8 picks for the best motorcycle rides in Texas. These routes showcase the beauty and diversity of the state's landscapes, guaranteed to make lasting memories for every rider. So grab your helmet, put on your leathers, and let's hit the open road! Stay tuned for detailed information and tips about each of these epic rides.
Brimming with diverse landscapes, Texas offers unforgettable motorcycle routes. One of the most popular is the Three Sisters Loop, which serves up a mix of wide valleys, scenic overlooks, and twisting turns. The adjacent states also provide some remarkable rides. In Oklahoma, the Talimena Scenic Drive offers a stunning ride through the state's most beautiful fall foliage. Louisiana's Creole Nature Trail provides a unique ride showcasing the state's rich wetland wildlife. In New Mexico, the Enchanted Circle Scenic Byway offers a journey through a variety of landscapes including forests, mountains, and valleys. Over in Arkansas, experience the Ozarks via the Pig Trail, one of the state's most popular motorcycle rides.
Whether you prefer winding roads, coastal routes, or mountain views, these neighboring routes make Texas the perfect starting point for any motorbike adventure.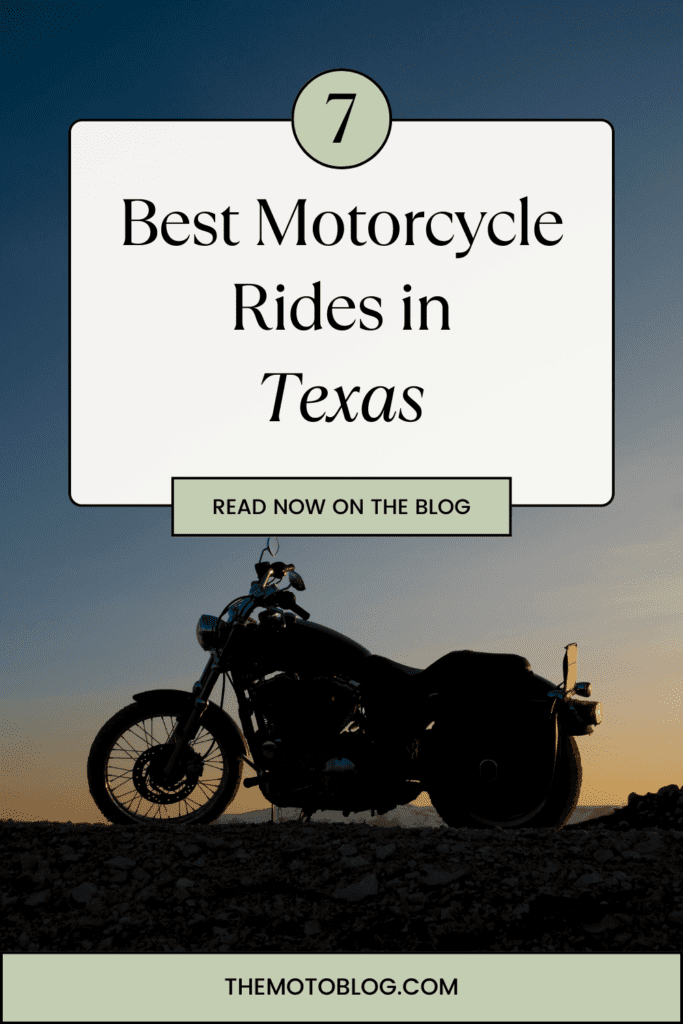 1. Twisted Sisters: RR 335, 336, and 337a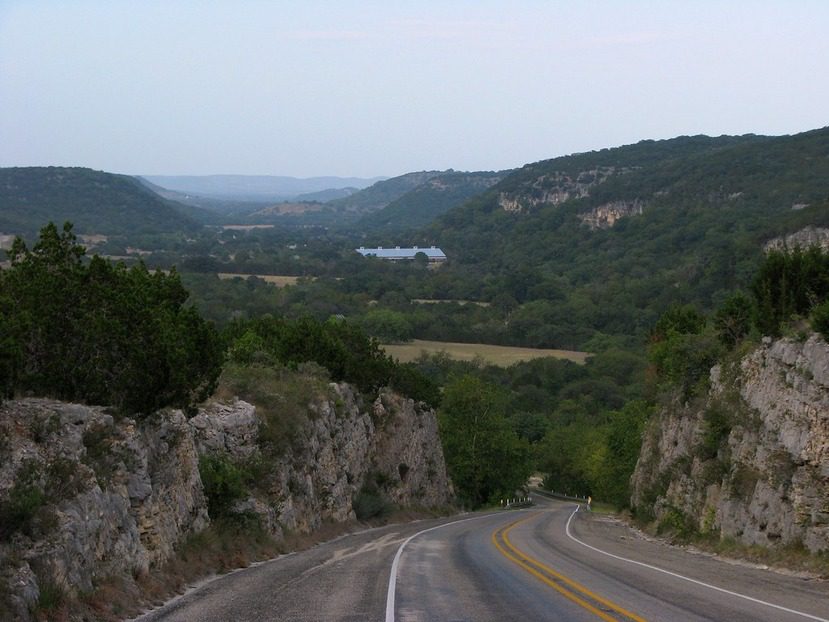 If you're looking for some exhilarating motorcycle rides in Texas, then there's no need to look further than the famous Twisted Sisters. The Twisted Sisters are three Ranch-to-Market roads (RR 335, RR 336, RR 337a) that have become a must-visit destination for riders. These roads are famous for their switchbacks, breathtaking views, and thrilling twists and turns.
More often than not, the weather in Texas is quite predictable. The best time to visit would most definitely be during the spring or fall when temperatures are cooler and perfect for extended rides. During these seasons, be prepared to witness an array of vibrant wildflowers and mesmerizing landscapes.
The Twisted Sisters loop spans around 100 miles and can typically be completed in 3-4 hours. However, I'd recommend setting aside a full day to truly enjoy the experience and take in the scenery.
Along the route, you'll find countless picturesque spots to rest, take photos, and simply enjoy the moment. Here's a short list of must-see stops:
Frio Canyon Motorcycle Stop: Refuel and grab a bite to eat at this biker-friendly stop. You'll also find a fantastic selection of souvenirs to commemorate your ride.
Lost Maples State Natural Area: Located just off RR 337a, this gem offers a multitude of scenic trails, perfect for a short hike or picnic.
Garner State Park: Also located off RR 337a, this large park offers picturesque views of the Frio River and the surrounding hills.
The Twisted Sisters ride is considered to have moderate difficulty. While the roads themselves are well-paved and in good condition, the sharp turns and tight switchbacks can prove challenging for inexperienced riders. Even seasoned veterans should approach the ride with caution and respect for the road.
Lastly, be sure to fill your tank before embarking on the ride, as gas stations are far and few between. Communication with other riders and sharing your itinerary with friends or family members is a good safety precaution, too. Cell phone reception along the roads may be spotty, so it's best to be prepared and let others know of your plans.
2. Willow City Loop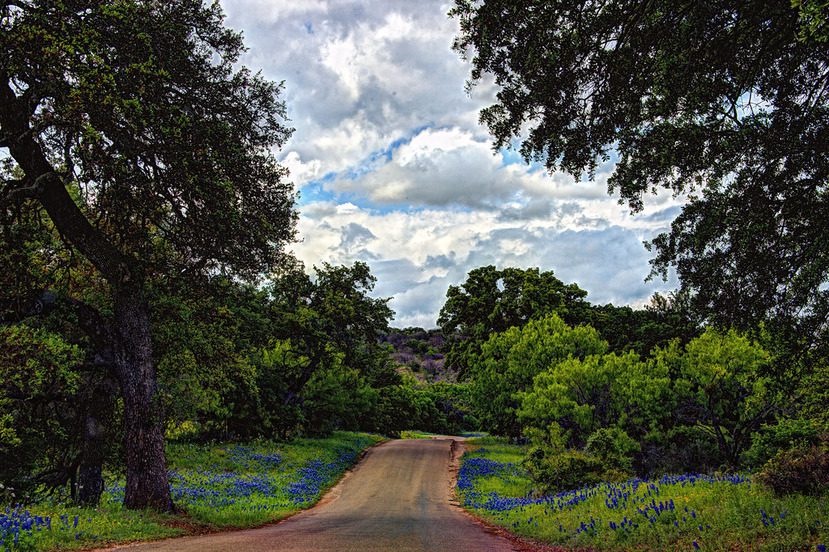 Let me share some secrets about the Willow City Loop, a hidden gem of a motorcycle ride in Texas. This experience is truly unique, showcasing picturesque landscapes and plenty of chances to explore local nature.
The ideal time to embark on this ride is during the spring season, when you'll be greeted by vibrant wildflowers and lush greenery. Also, try to go during weekdays to avoid any potential traffic and make the most of your journey.
| Spring Months | Weekdays |
| --- | --- |
| March | Monday |
| April | Tuesday |
| May | Wednesday |
The Willow City Loop is about 22 miles long and takes approximately 1 to 2 hours to travel, considering breaks and stops to admire the scenery.
Places to Stop
Willow City School: A historic schoolhouse dating back to the early 1900s
Harry's Hill: An overlook with a panoramic view of the Texas Hill Country
Willow City: A quaint town to explore, grab a bite to eat, or fill up on gas
This ride is suitable for all skill levels, as it offers a combination of easy-going straightaways and gentle, sweeping curves.
A few things you should know before hitting the road:
The Loop is privately owned; please respect the landowners' property and privacy
Cell phone reception is minimal, so plan your trip in advance
It's important to watch out for livestock crossing the road, as this area is home to free-roaming animals
Lastly, be cautious of gravel or rocks on the road, particularly in the corners
3. RR 152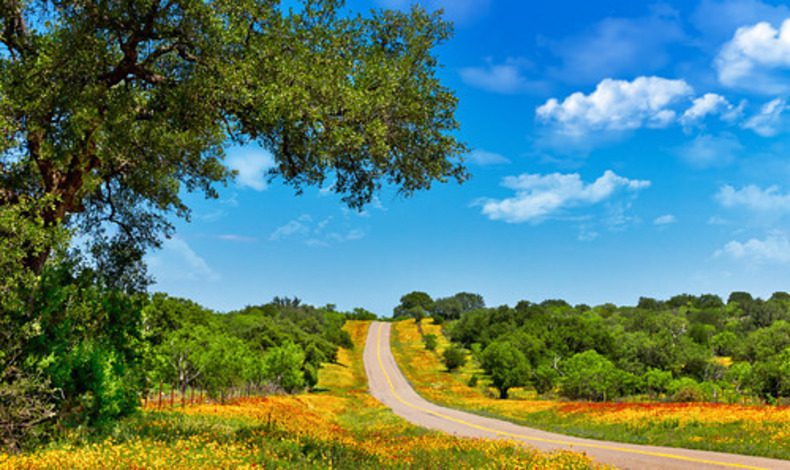 The Texas Hill Country is known for its beautiful, winding roads and captivating scenery, making it a favorite destination for motorcyclists. One of the most popular routes to explore is Ranch Road 152 (RR 152), which offers a combination of thrilling twists, turns, and undeniable charm.
Arguably two of the best times to visit RR 152, the spring and fall seasons allow riders to experience comfortable temperatures while admiring the breathtaking Texas wildflowers in spring or the vibrant foliage during fall.
This route stretches from the town of Llano to picturesque Castell, approximately 20 miles of motorcycle-riding heaven. With a leisurely pace, you can expect the ride to take anywhere between 30-40 minutes.
There are several fantastic stops along RR 152, perfect for taking a breather or appreciating the local charm. A few top picks include:
Llano: Grab a snack or fuel up as you begin your journey through the Hill Country.
Castell: Don't miss out on the Castell General Store, offering a taste of old Texas and a great place to rest, grab a cold drink, or even sample their famous BBQ.
I'd say RR 152 offers a moderate level of difficulty, which makes it enjoyable for riders of various skill levels. The combination of long, sweeping curves and tighter turns provide a pleasant mix of challenges, captivating riders of all experience levels.
It's important to note that while RR 152 is undoubtedly a fantastic ride for adventure-seeking motorcyclists, it's also a rural road that crosses active ranch areas. You need to keep an eye out for local livestock and stay vigilant for sudden road hazards. Additionally, during heavy rainfall, parts of the road may become prone to flash floods – so remember to stay weather-aware and take appropriate precautions.
4. Bluebonnet Trail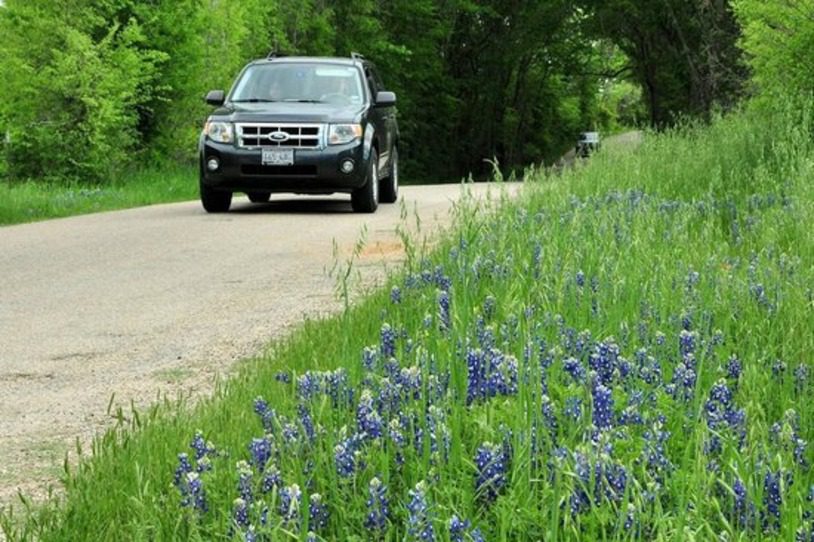 This scenic route, located around Ennis and its surrounding areas, offers stunning views of wildflowers, especially during the bluebonnet blooming season.
There's no doubt that the ideal time to ride the trail is April, when bluebonnets are at their peak. During this time, you can truly appreciate the beauty of this fantastic trail.
The Bluebonnet Trail is around 40 miles long and takes approximately 1.5-2 hours to complete.
While riding the Bluebonnet Trail, there are a few noteworthy spots to take a break and soak in the surroundings:
Ennis: Known as the official Bluebonnet City of Texas, Ennis offers vibrant landscapes and friendly locals. Don't miss the opportunity to admire the vivid display of bluebonnets at the Ennis Garden Club's Bluebonnet Trails Festival.
Sugar Ridge: This breathtaking location offers an incredible viewpoint to capture the perfect shot of bluebonnets and rolling hills.
Bristol: A quaint small town with historic buildings and picturesque landscapes.
The Bluebonnet Trail is a fairly easy ride, suitable for riders of all experience levels. The roads are well-maintained, making it a smooth journey for everyone to enjoy.
Be sure to keep an eye out for wildlife while riding the trail, as it's not uncommon to come across deer, birds, or other critters. Additionally, make sure to carry necessary safety gear, as it's always better to be prepared.
5. River Road : FM 170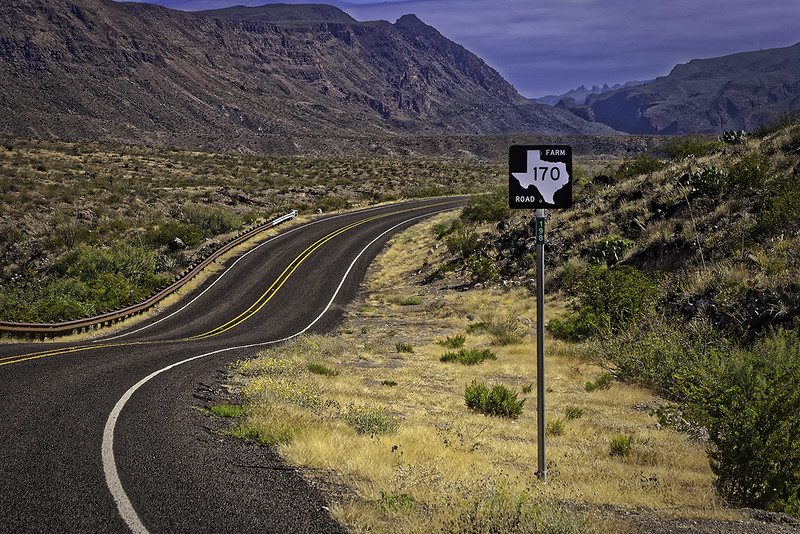 River Road: FM 170 offers incredible views, exciting roads, and tons of natural beauty, this ride easily makes my top 8 list.
Spring and fall are the ideal seasons for taking in the stunning scenery of this route – cooler temperatures and vibrant foliage enhance the experience. Summer can be hot and unforgiving, so it's best to avoid during this time.
The stretch of FM 170 known as River Road spans 120 miles, curving gracefully alongside the Rio Grande in West Texas. It usually takes around 3-4 hours to complete this route.
Places to stop:
Lajitas Resort: Treat yourself to luxury and dine at their restaurant, or enjoy a refreshing beverage at the Thirsty Goat Saloon.
Presidio: A historic town with everyone's favorite pit stop, Marfa Burrito.
Big Bend Ranch State Park: Witness the jaw-dropping beauty of Texas landscapes in this park managed by Texas Parks and Wildlife.
River Road offers a mix of challenges for both beginners and experienced riders. With twisted curves, elevation changes, and smooth straight sections, this ride can be both exciting and technical.
Other Information:
| Route Length | Speed Limit Range |
| --- | --- |
| 120 miles | 55-70 mph |
Fuel stations: On this route, fuel stations are quite scarce between Presidio and Terlingua. Make sure to refuel in either of these towns before continuing your journey.
Caution: Keep an eye out for livestock and wildlife that may wander onto the road.
Camping: Several camping options are available along the route like the Barton Warnock Visitor Center in Lajitas or Big Bend Ranch State Park. But you'll need a permit to camp in the state park.
6. Devil's Backbone: Ranch Road 32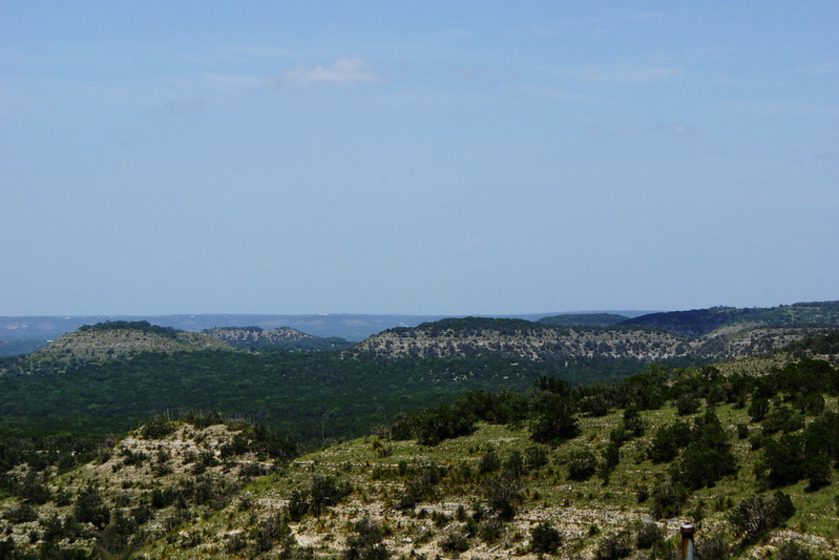 Embarking on the Devil's Backbone along Ranch Road 32 is an unforgettable experience for motorcycle enthusiasts. This scenic route, stretching over 36 miles in the heart of Texas Hill Country, offers riders thrilling twists, turns, and unparalleled views.
Spring and Fall are the ideal times to visit Devil's Backbone, as the weather is typically mild and the landscape is at its prime. During these months, the wildflowers blanket the hills, creating a stunning backdrop to the ride.
Ranch Road 32 covers a distance of approximately 36 miles and should take riders about 1-2 hours to complete, depending on the number of stops and the rider's pace.
Places to stop:
The Devil's Backbone Scenic Overlook: Located at a high point on the route, this viewpoint offers panoramic views of the surrounding hills and valleys.
The historic Fischer Store: Built in the 1900s, it's a chance to step back in time and learn about the area's rich history.
Canyon Lake: A gorgeous reservoir providing ample opportunities to rest, have a picnic, or even enjoy some water activities.
For experienced riders, Devil's Backbone is moderately challenging. The route features tight turns, steep inclines, and some uneven surfaces, demanding good bike handling skills. However, despite the challenges, it's worth the effort due to the incredible vistas it offers.
Other Information:
For an even more thrilling ride, some riders combine the Devil's Backbone with neighboring roads, such as FM 335, FM 336, and FM 337, forming what is known as the Texas Hill Country Three Sisters or Twisted Sisters route.
There are a few gas stations along the route, but it's a good idea to fuel up before starting your journey.
Cell phone reception can be spotty along the route, so it's wise to carry a map and tell someone where you're going if you plan to ride alone.
7. Texas Highway 16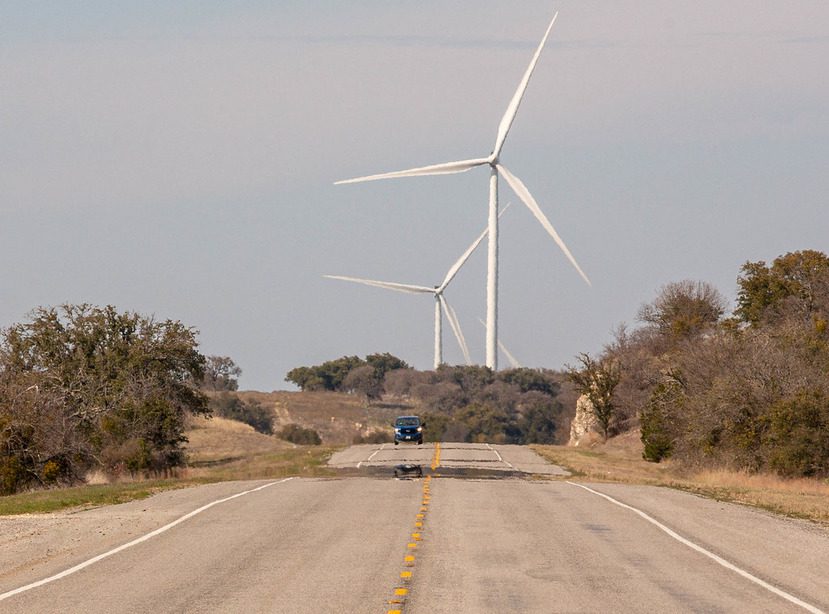 One of the most scenic and enjoyable motorcycle rides in Texas, Bandera Pass is a must-ride for all motorcycling enthusiasts. The route follows Texas Highway 16, boasting incredible views of Texas Hill Country. With its stunning landscapes and thrilling curves, this ride offers a uniquely exhilarating experience.
While you can ride the Bandera Pass year-round, the ideal time to tackle it is between April and October. The weather in these months is typically moderate, allowing for a comfortable and enjoyable ride.
Bandera Pass stretches for approximately 50 miles, which typically takes around 1.5 hours to complete. However, you may want to allow for additional time to stop and take in the beautiful surroundings along the way.
Along the route, a few noteworthy stops include:
Lost Maples State Natural Area: A beautiful park boasting an abundance of maple trees and great opportunities for hiking and birdwatching.
Tarpley: A small, welcoming town that offers local eateries, like the renowned Mac & Ernie's Roadside Eatery.
Medina: Known as the Apple Capital of Texas, it's the perfect spot to visit Love Creek Orchards and indulge in their delicious apple treats.
The level of difficulty for Bandera Pass ranges from moderate to challenging as it boasts a variety of twists, turns, and elevation changes. While the route may be challenging for some, it's also what makes this ride a thrilling and satisfying experience for seasoned motorcyclists.
Safety should always come first when embarking on a motorcycle ride. Keep the following points in mind before hitting the road:
Make sure your motorcycle is in good shape and properly maintained.
Wear appropriate gear, including a helmet, gloves, and boots.
Always be alert and prepared for possible hazards, such as wildlife, rough road surfaces, and changing weather conditions.
Riding with a buddy or group can increase safety and add to the overall enjoyment of the ride.
8. Charm of Texas FM 455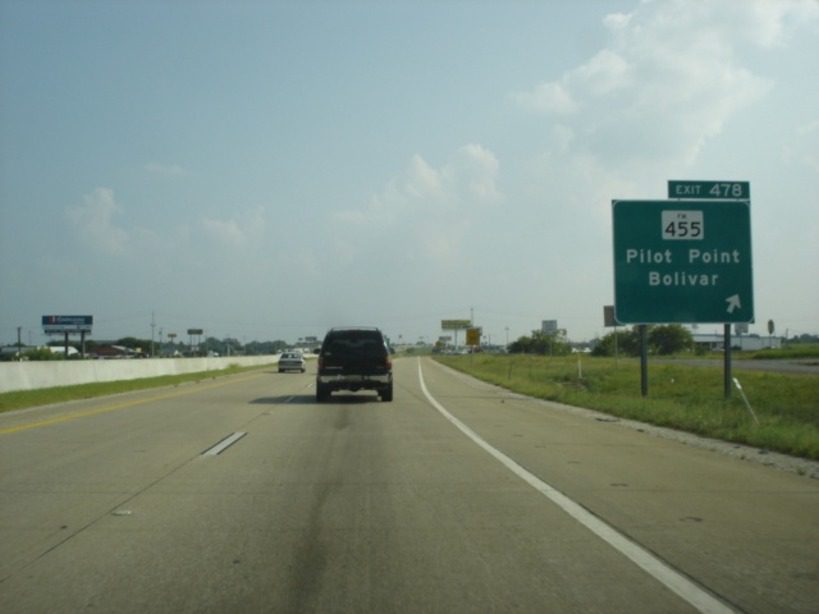 When you think of Texas motorcycle rides, one can't help but mention the charm of FM 455. Perfectly encapsulating what makes this state's roads so enjoyable, it's high time we uncover the beauty of this particular route.
Ideally, the best time to hit FM 455 is from late September to early November. During this period, the weather is moderate, and the vibrant fall colors are in full display, allowing you to enjoy the ride without facing unforgiving temperatures.
The stretch of the FM 455 route you'd want to cover is roughly 50 miles, connecting Sanger to Celina. It'll typically take about an hour and a half to complete, depending on how often you stop for breaks or to take in the scenery.
Places to Stop:
Ray Roberts Lake State Park: Positioned around 10 miles northeast of Denton, this park offers a fantastic break spot. Perfect for a quick picnic or a stretch, be sure to soak in the stunning views of the lake and surrounding woodlands.
Downtown Pilot Point: Approximately halfway through FM 455, this quaint little town boasts adorable antique shops, historic homes, and a welcoming atmosphere.
Sister Grove Park: A perfect respite towards the end of your ride, Sister Grove Park provides plenty of parking, shaded tables, and washroom facilities.
FM 455 offers a delightful mix of twisties, sweepers, and elevation changes, making this course an enjoyable challenge for experienced riders. However, it is not particularly difficult, and novice riders can still partake in this journey while gaining valuable experience.
Other Information:
As you navigate FM 455, it's important to watch out for small critters and debris on the road, especially during the early morning or late evening hours.
While the road conditions are generally in good shape, be cautious of stray gravel or uneven spots as they can occur in less-used stretches.
FAQs
What are some top motorcycle rides in Texas?
Top Motorcycle Rides In Texas Include El Paso Lower Valley Mission Trail To Ft. Hancock, The Lizard's Tail, North Dallas Twistys, Dinosaur Valley State Park, Possum Kingdom Lake Ride, The Twisted Sisters, And Highway 39 Hunt, Texas.
Is Texas A Good State For Motorcycle Rides?
Yes, Texas Is A Great State For Motorcycle Rides, With Diverse Landscapes, Beautiful Sceneries, And A Wide Variety Of Routes Suitable For All Skill Levels.
What is the Twisted Sisters motorcycle ride in Texas?
The Twisted Sisters, Also Known As The Three Sisters, Is A Popular Motorcycle Route In Texas, Consisting Of Ranch Roads 335, 336, And 337a, Known For Its Thrilling Twists, Turns, And Scenic Beauty.
Where Can I Find Motorcycle Routes Near Dallas, Texas?
Some Motorcycle Routes Near Dallas Include North Dallas Twistys, The Red River Cruise, The Lizard's Tail Pt. 1, New Hope Through Blue Ridge, And Farm To Market Road 149.
What is the Texas Hill Country Motorcycle Rides Map?
The Texas Hill Country Motorcycle Rides Map is a Resource That Shows Various Motorcycle Routes And Scenic Roads In The Texas Hill Country Region, Providing Riders With A Guide To Explore And Enjoy The Area On Two Wheels.
In Conclusion
I've taken you through the top 8 best motorcycle road rides in Texas, from the thrilling twists and turns of the Three Sisters to the stunning beauty of the Hill Country. I hope you're feeling inspired to hop on your motorcycle and explore these amazing routes. Before you ride off, I've got some essential information to help you make the most out of your time on these fantastic Texas backroads.
The best time to visit for optimal riding conditions in Texas is during the spring and fall months. You'll typically find mild weather and relatively low humidity, which makes for comfortable cruising. To avoid the scorching heat or unpredictable winter weather, try to stay away from Texas during the summer and winter months.
Along these routes, you won't want to miss out on some fantastic places to stop and explore. Here are a few highlights:
Scenic overlooks with majestic views
Charming small towns filled with local history and culture
Delicious eateries, from barbeque joints to Tex-Mex restaurants
State parks and natural attractions, perfect for stretching your legs or taking a break from the road
Each of the routes I've mentioned has its own level of difficulty, so it's essential to choose a ride that suits your skill level. Twists, tight turns, and elevation changes can add excitement but also pose their challenges. The Three Sisters, for example, is a more advanced route due to its winding curves, while the Hill Country Loop is more suited for beginners, with gentler roads and more relaxed cruising.
Finally, some other information to keep in mind when planning your Texas motorcycle adventure:
Ensure all necessary safety gear, as Texas law requires helmets for riders and passengers under 21
Prepare for changes in the weather, as Texas weather can be unpredictable, even during the more temperate spring and fall months
Keep an eye out for wildlife, as many of the routes travel through areas inhabited by deer, cattle, and other animals
I hope you find this information helpful in planning your ultimate Texas motorcycle road trip. Get ready to discover the fantastic variety of routes, breathtaking landscapes, and unforgettable experiences that await you in the Lone Star State. Happy riding!
Motorcycle Rides in the US by States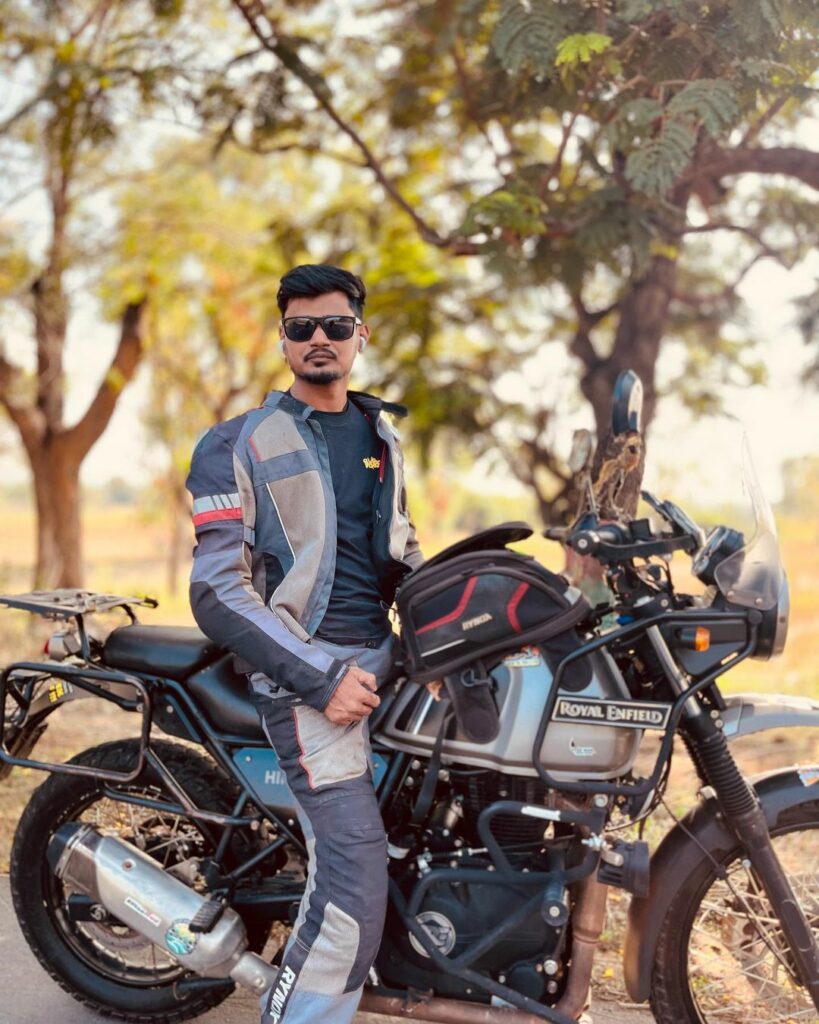 Vishwanath Mathpati
I am Vishwanath Mathpati, a full-time Blogger and Motorcyclist from Bidar, Karnataka. I love writing about my Motorcycles Stories and Riding Gears on this blog.
Know More About Me.
---
If you liked this article, then please subscribe to our YouTube Channel for more Bike Videos. You can also find us on Instagram, Twitter and Facebook.
Disclosure: As an Amazon Associate, I earn from qualifying purchases. Read more about Amazon Affiliate Disclaimer.