Top 10 Best Motorcycle Rides in Oklahoma: My Ultimate Guide
There's no better feeling than hitting the open road on a motorcycle, and Oklahoma has ample opportunities to make that dream a reality. The Sooner State offers a variety of scenic highways and picturesque landscapes that'll make your heart race and give you lasting memories. In this article, I'm going to reveal the top 10 best motorcycle rides in Oklahoma that'll take your breath away.
From winding roads with lush green foliage to sweeping vistas of the Great Plains, Oklahoma is a treasure trove for motorcycle enthusiasts. The state's diverse terrain has something for everyone, whether you're into cruising leisurely through small towns or tackling challenging mountain curves. These road rides showcase the state's natural beauty, its rich history, and unique charm.
Oklahoma, with its wide-open spaces and vibrant sunsets, offers a unique selection of scenic motorcycle rides. Yet, the excitement extends beyond Oklahoma's borders, with neighboring states offering their own captivating routes. To the north, Kansas provides the Flint Hills National Scenic Byway, which boasts gentle rolling hills and expansive prairies. If you venture east to Arkansas, the Pig Trail Scenic Byway promises a thrilling ride through the Ozark Mountains. Over in Texas, to the south, the Three Sisters route delivers an exceptional hill country experience with its twists, turns, and hilltop views. Lastly, head west to New Mexico and explore the Enchanted Circle Scenic Byway, a ride that showcases the state's stunning alpine scenery.
Each of these neighboring state routes offers a unique perspective, adding to the diversity of motorcycle journeys starting in Oklahoma. Let's dive into the ultimate list of Oklahoma's top motorcycle road rides that you'll be yearning to explore!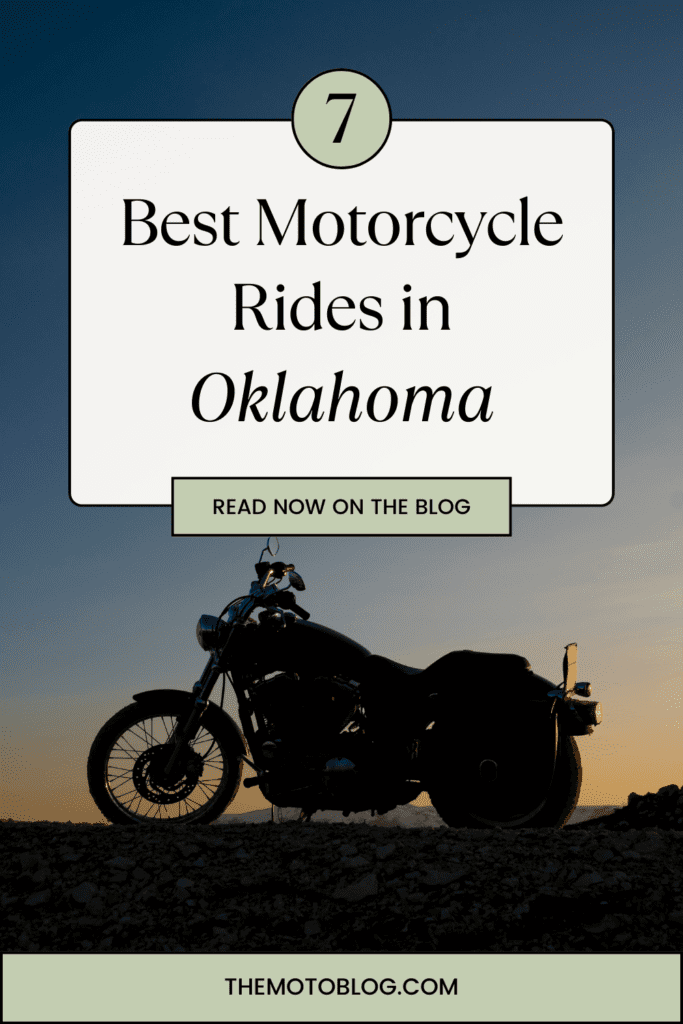 1. Talimena National Scenic Byway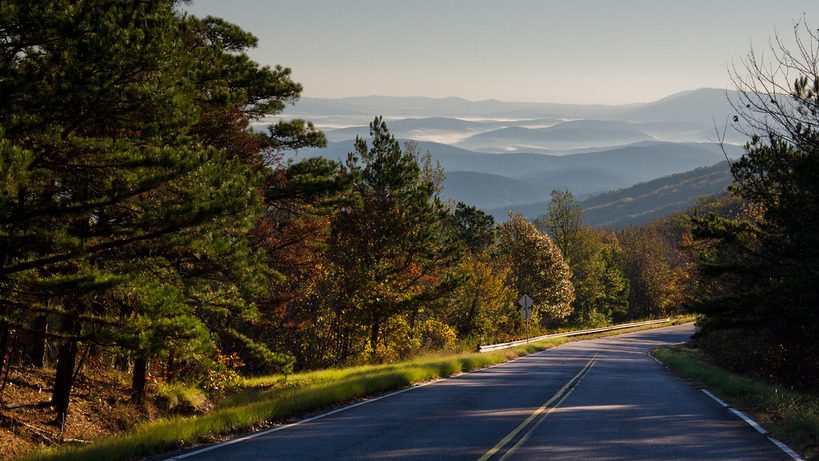 Talimena National Scenic Byway is undoubtedly one of the most amazing motorcycle rides you can experience in Oklahoma. This incredible route is situated in southeastern Oklahoma and stretches into western Arkansas, providing picturesque vistas and curvy roads that make it a motorcyclist's dream. Here are some essential details you should know before venturing onto this fantastic journey:
You'll have the best riding conditions from late September through mid-November. During this period, the colors of fall foliage come alive, making for an unparalleled visual experience. Springtime, particularly April and May, are also excellent months to explore the byway, when the region's wildflowers are in full bloom.
The byway covers 54 miles of scenic route from end to end, with a multitude of tantalizing twisty roads along the way. You should allocate around 2 hours for a leisurely ride, but riders eager to make the most out of their experience may take longer, stopping at various breathtaking overlooks and attractions.
Places to Stop:
Queen Wilhelmina State Park: Located on the Arkansas portion of the byway, this park offers amazing views, hiking trails, and a historic lodge.
Ouachita National Forest: This vast forest offers numerous outdoor activities, including hiking, fishing, and horseback riding.
Horsethief Springs: It's a popular camping and picnic spot, as well as the starting point for the Horsethief Springs hiking loop.
The Talimena National Scenic Byway accommodates riders of all skill levels. However, the winding roads and elevation changes might prove challenging for inexperienced riders. So, always ride within your limits and choose a pace you're comfortable with.
Other Information:
The byway's highest point is at Rich Mountain – second highest peak in Arkansas, providing amazing vistas.
You'll encounter numerous pull-outs and overlooks along the route, each offering unique views of the surrounding landscape.
Make sure to fuel up in advance, as there are limited gas stations along the byway.
2. Wichita Mountains Wildlife Adventure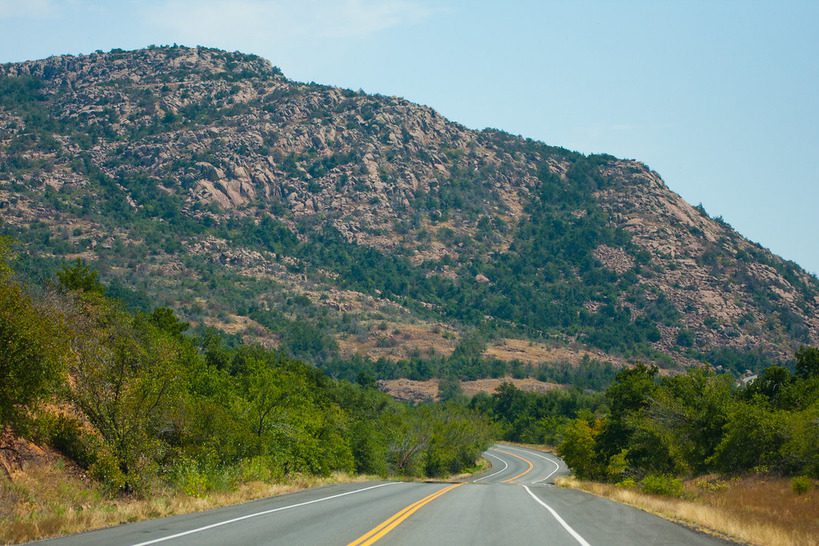 I cannot stress enough how wonderful the Wichita Mountains Wildlife Adventure truly is. Nestled in southwest Oklahoma, this ride will take you through the winding roads of the beautiful Wichita Mountains National Wildlife Refuge.
The ideal time to visit this astonishing location is from April to October. During these months, the weather is generally pleasant, and the colorful blooms add an extra layer of charm to the already stunning landscape.
The Wichita Mountains Wildlife Adventure spans approximately 60 miles and should take an estimated 2-3 hours to complete, depending on your speed and the number of stops you decide to make.
While meandering along this ride, you'll have several worthwhile stops. Here are my top recommendations:
Quanah Parker Lake: An essential stop for nature lovers! It's a peaceful spot to relax and enjoy the view.
Mount Scott: On this 2,464-foot mountain, you'll have a panoramic vista of the surrounding area. Make sure to bring your camera for capturing the striking Oklahoma landscape.
The Holy City: A remarkable historical site that replicates biblical architecture. Don't miss their annual Easter pageant!
This motorcycle ride is rated as moderate in difficulty level. The winding roads and occasional steep inclines may present some challenges for inexperienced riders, but overall, it's an enjoyable and manageable route. Just be prepared to navigate tight corners and take your time on steeper sections.
For your convenience, here's some additional info that you might find helpful while planning your Wichita Mountains Wildlife Adventure:
Fuel Availability: Keep in mind that gas stations are few and far between in this area, so it's best to fuel up before entering the refuge.
Admission Fee: There's no admission fee for the Wichita Mountains National Wildlife Refuge – another great reason to visit this fantastic location!
3. Oklahoma Route 66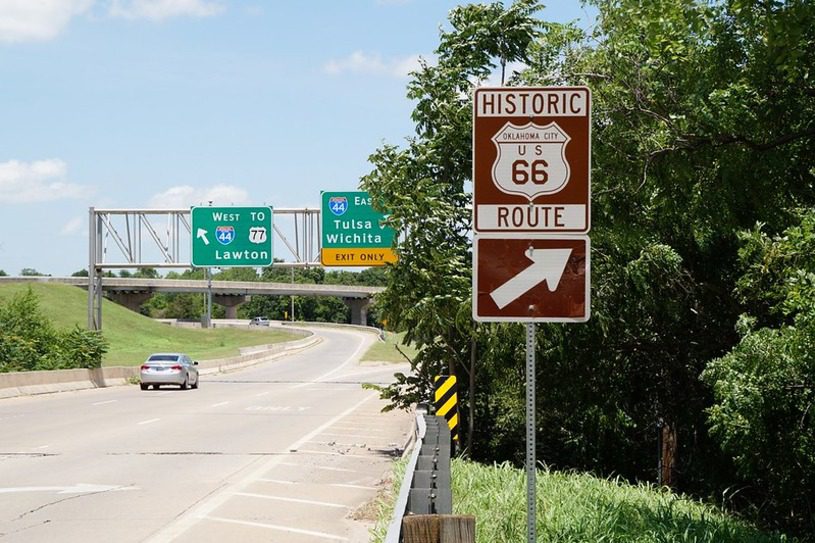 I can't talk about motorcycle rides in Oklahoma without mentioning the iconic Oklahoma Route 66. It's a road steeped in history and beauty, offering a mix of nostalgia and an unforgettable riding experience.
My recommendation for the best time to ride Oklahoma Route 66 would be during the spring or fall. During these seasons, the weather is usually mild, allowing riders to enjoy the beautiful scenery while avoiding the intense summer heat and the freezing winter cold.
The Oklahoma portion of Route 66 spans approximately 400 miles. If you're in a hurry, you can ride the entire route in a single day. However, I suggest taking 2-3 days to truly soak in the experience and explore the roadside attractions this historic highway has on offer.
There's no shortage of interesting stops along Oklahoma Route 66. Some of my favorites include:
The Blue Whale of Catoosa: a quirky roadside attraction featuring a massive blue whale sculpture
POPS: a modern soda pop and diner emporium with over 700 varieties of soda to choose from
Route 66 Museum in Clinton: an immersive museum experience focused on the history and culture of Route 66
One of the reasons Oklahoma Route 66 is so popular among motorcycle riders is its easy level of difficulty. The road is mostly flat and straight, making it ideal for less experienced riders or those simply seeking a relaxing ride.
It's important to keep in mind that Oklahoma Route 66 has changed over the years, meaning you'll have to pay attention to road signs and possibly rely on a GPS to stay on track. Additionally, some stretches of road might not be in the best condition, but that's all part of the Route 66 experience.
4. Glover River Loop
I've always been fond of the Glover River Loop. It's a stunning motorcycle ride located in southeastern Oklahoma near the towns of Battiest and Glover. Best time to visit this scenic route is during spring or fall, when the foliage is vibrant and temperatures are moderate. The ride itself covers around 54 miles and should take approximately 1.5 hours to complete without stops.
Below is a markdown table for the distance and travel time for Glover River Loop.
| Distance | Time to Travel |
| --- | --- |
| 54 miles | 1.5 hours |
While cruising along the Glover River Loop, don't miss out on these fantastic spots to take a breather and enjoy the surroundings:
Three Sticks Monument: dedicated to the Choctaw Nation's efforts in the Civil War.
Little River National Wildlife Refuge: a great place to stretch your legs and spot wildlife.
Glover River: perfect for fishing or just relaxing by the water.
This ride is rated as moderate difficulty. There are some winding curves and elevation changes, but nothing too overwhelming for an experienced rider. Take your time and pay attention to the road, and you'll be just fine.
As you journey along the Glover River Loop, keep an eye out for the foliage and wildlife characteristic of southeastern Oklahoma. You'll be treated to picturesque views of the nearby Ouachita Mountains and astounding changes in scenery. The area is also rich in Native American history, so there are plenty of learning opportunities along the way.
5. Kiamichi Trace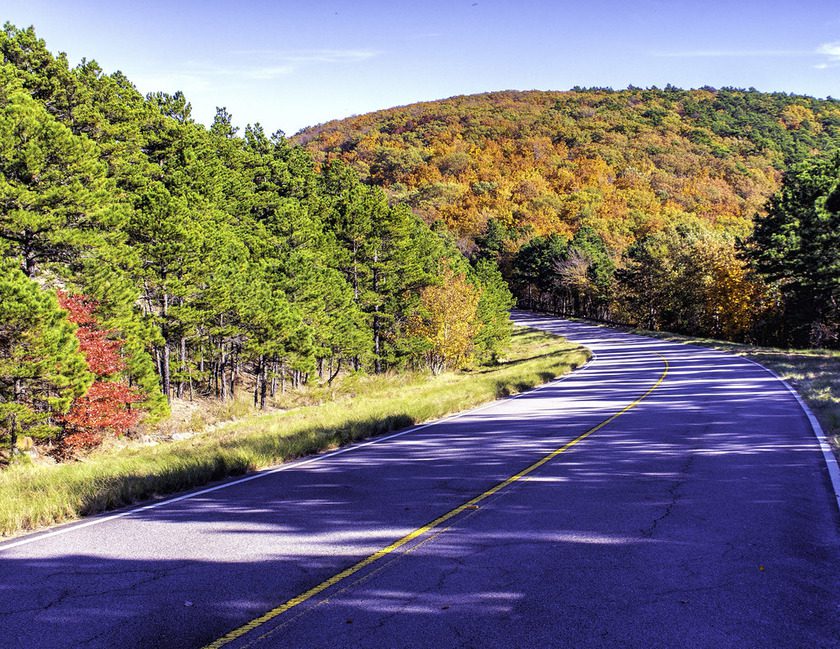 As one of Oklahoma's hidden gems, the Kiamichi Trace offers motorcyclists an exhilarating experience that's both scenic and challenging. Winding through the Ouachita National Forest, this route boasts picturesque landscapes and captivating wildlife. When planning your ride along the Kiamichi Trace, keep the following factors in mind:
The ideal time to enjoy the Kiamichi Trace is in the spring and fall, when the weather is comfortable and the foliage is in its peak of color changes. During these seasons, the temperatures typically range between 60°F and 75°F, providing pleasant conditions for riding.
Covering approximately 60 miles, the Kiamichi Trace takes around 1.5-2 hours to complete without stops. However, it's recommended to allocate extra time for breaks in order to fully savor the picturesque surroundings.
Along the Kiamichi Trace, riders will find a number of excellent stopping points that are definitely worth a visit, including:
Talimena State Park: The perfect spot to start your journey or to take a break, this park provides an abundance of recreational activities and picnic spots.
Horsethief Springs: A serene location surrounded by lush forest, offering a relaxing break and a chance to stretch your legs during your ride.
Panorama Vista: An ideal place to pause and soak up awe-inspiring views of the valleys and mountains.
Although the Kiamichi Trace is suitable for riders of all levels, some sections pose more of a challenge with tighter curves and steep inclines. Therefore, it's essential to exercise caution, particularly for less experienced riders.
Given that this route runs through a national forest, riders should be mindful of wildlife, particularly deer and other animals that may venture onto the road. Additionally, cell phone reception could be spotty along certain areas of the trail, so it's a good idea to carry a map or GPS device as backup.
6. Beaver's Bend State Park Ride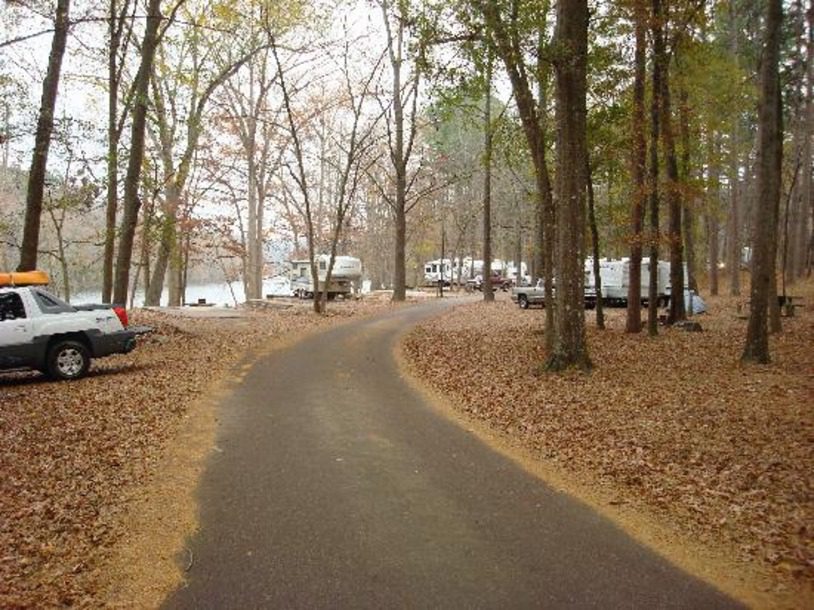 This scenic route promises a journey filled with natural beauty, exciting twists and turns, and plenty of opportunities to stop and explore the surroundings.
Fall offers some of the most beautiful views along this route, thanks to the stunning foliage colors. However, spring and summer are also excellent choices if you prefer warmer weather.
The ride covers approximately 115 miles and should take around 3 hours to complete. This time doesn't include stops, so plan accordingly to make the most of your adventure.
Places to Stop:
Hochatown: Before beginning your ride, fuel up with a delicious breakfast at one of Hochatown's local eateries.
Broken Bow Lake: With crystal-clear waters and picturesque surroundings, taking a break by the lake is a must.
Mountain Fork River: Enjoy a quick dip or a picnic by the serene riverbanks.
Talimena Scenic Drive: This 54-mile route offers remarkable vistas and lookout points that you won't want to miss.
| Point of Interest | Approximate Mile Marker |
| --- | --- |
| Hochatown | 0 |
| Broken Bow Lake | 25 |
| Mountain Fork River | 60 |
| Talimena Scenic Drive | 100 |
Level of difficulty is Intermediate. While this route has some tight switchbacks and twists, they're manageable for experienced riders.
Be prepared to encounter wildlife, as deer and other animals are known to roam the area. Keep a safe distance and be cautious when navigating the winding roads.
7. Arbuckles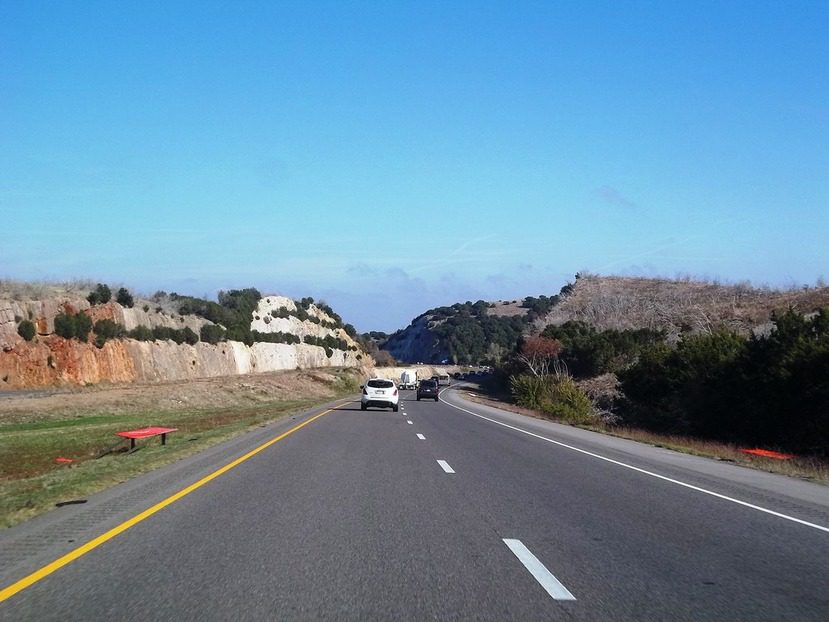 I can confidently recommend it as one of the top motorcycle rides in Oklahoma. The ride takes you through the stunning Arbuckle Mountains and provides picturesque views of the lush countryside.
The ideal time to visit the Arbuckles is in the spring and fall. During these seasons, the temperatures are mild and the foliage is stunning, making for an enjoyable and comfortable ride.
The Adventure to the Arbuckles covers approximately 120 miles and typically takes about 3-4 hours depending on the number of stops along the route.
Places to Stop:
Turner Falls: The largest waterfall in Oklahoma is a must-see while riding through the Arbuckles.
Arbuckle Wilderness: Observe fascinating wildlife in this drive-through wildlife park.
Chickasaw National Recreation Area: A fantastic spot for a picnic or a walk on the park's scenic trails.
The ride is considered moderate, with some curves and elevation changes. Riders of various skill levels can enjoy the Adventure to the Arbuckles.
Other Information:
Gas stations can be scarce along the route, so make sure to fuel up before you start the journey.
Keep an eye out for wildlife crossing the roads, particularly around the Arbuckle Wilderness area.
Allocate some time for photo opportunities—you won't want to miss capturing the beautiful scenery.
8. Osage Hills State Park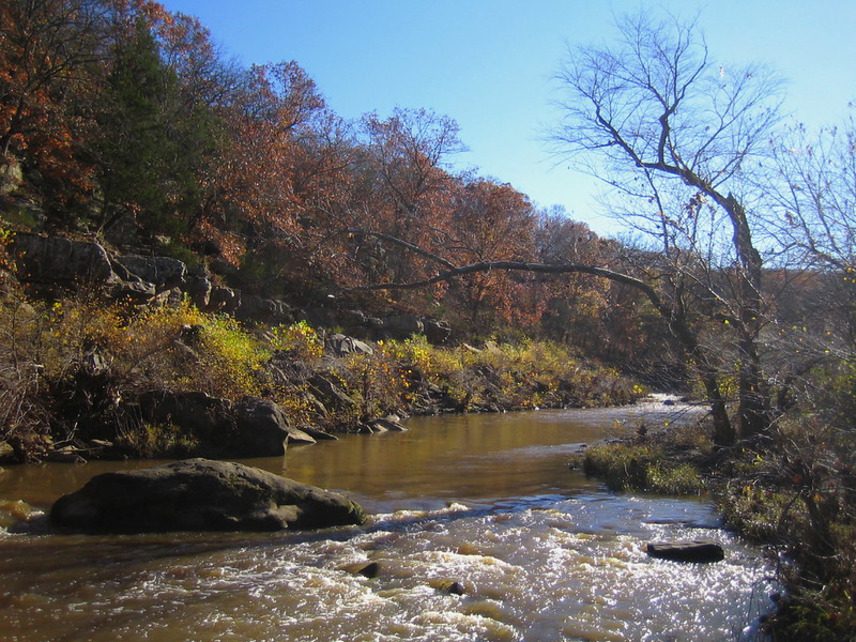 Located in northeastern Oklahoma, the Osage Hills State Park offers some of the most scenic and enjoyable motorcycle rides in the state. The park, which spans over 1,100 acres, is rich in history and is home to a diverse ecosystem. The winding roads, picturesque landscapes, and numerous attractions make it an ideal destination for a motorcycle ride.
Spring and fall are the best times to visit Osage Hills State Park, as the weather is usually pleasant and the park's vibrant colors truly shine. Summer is also a great time to visit, but be prepared for higher temperatures and more visitors.
The state park encompasses a beautiful, 20-mile loop perfect for a leisurely motorcycle ride. Allow at least an hour to fully enjoy the experience. From Tulsa, the state park is about an hour's drive, while Oklahoma City is roughly a two and a half hour journey.
There are several noteworthy stops and attractions to enjoy on your ride through Osage Hills State Park. Notable stops include:
Osage Hills State Park Nature Center: Learn about the park's unique flora and fauna.
Lookout Lake: A serene spot for a quick break or a picnic lunch.
Sand Creek Waterfall: A great spot to relax, snap some pictures, or enjoy a refreshing dip.
Osage Hills State Park offers a gentle ride experience, ranking it as an easy to moderate difficulty level. Although there aren't many steep inclines or hairpin turns to navigate, it's still an enjoyable ride for both new and experienced riders.
Here are a few additional tips to help enhance your motorcycle ride through Osage Hills State Park:
Basic amenities, like restrooms and picnic areas, are available throughout the park.
Keep alert for wildlife, especially early mornings and evenings, as deer are known to make appearances near the roads.
Park roads are well-maintained, but always exercise caution and obey posted speed limits.
9. The Medicine Park Expedition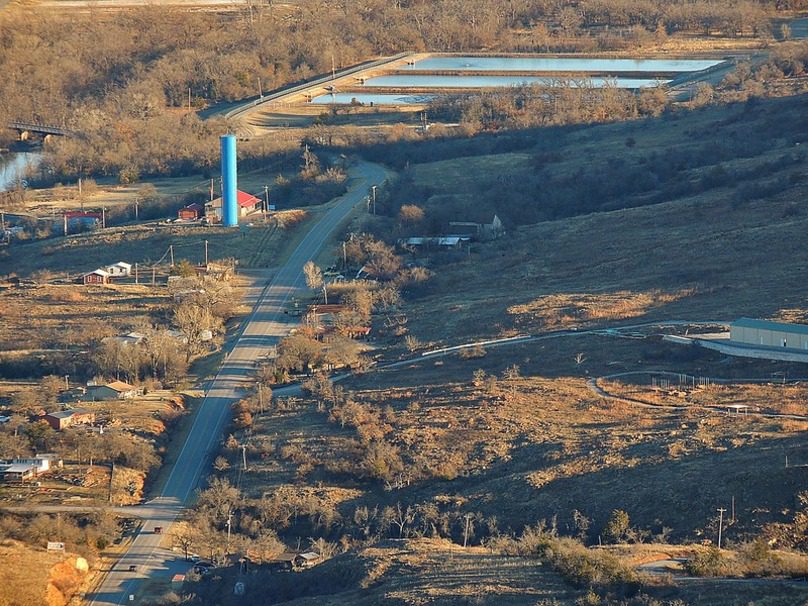 The beauty of this ride lies in its unique blend of nature and culture, making it an ideal trip for those who enjoy both the open road and the charm of small-town America.
Riding enthusiasts will find the spring and fall seasons to be the most enjoyable times to embark on this journey. During these months, the weather is mild, and the foliage creates a stunning backdrop for the ride. I'd recommend avoiding the summer months if possible, as Oklahoma's heat can be quite intense.
The Medicine Park Expedition covers a DISTANCE of about 55 miles (88.5 kilometers) and takes approximately 1-2 hours to complete, depending on your pace. This gives you ample time to take in the sights and sounds along the way.
As you cruise along this route, there are several noteworthy stops that I recommend:
Medicine Park: This historic cobblestone town is a must-see, offering quaint shops, eateries, and picturesque views of the surrounding Wichita Mountains.
Wichita Mountains Wildlife Refuge: Home to abundant wildlife species and striking landscapes, the refuge is a popular stop for outdoor enthusiasts.
Meers: It's definitely worth making a pit stop at the Meers Store and Restaurant to taste their famous longhorn beef Meersburger.
The Medicine Park Expedition is a relatively EASY circuit, with smooth roads and minimal elevation changes, making it an enjoyable ride for novice and experienced riders alike.
Lastly, I want to share a few additional tips to help you make the most of this exciting ride:
Be sure to FUEL UP before hitting the road, as gas stations can be scarce along this route.
Keep an eye out for wildlife, especially deer, which are commonly seen near the refuge.
10. Quartz Mountain Trail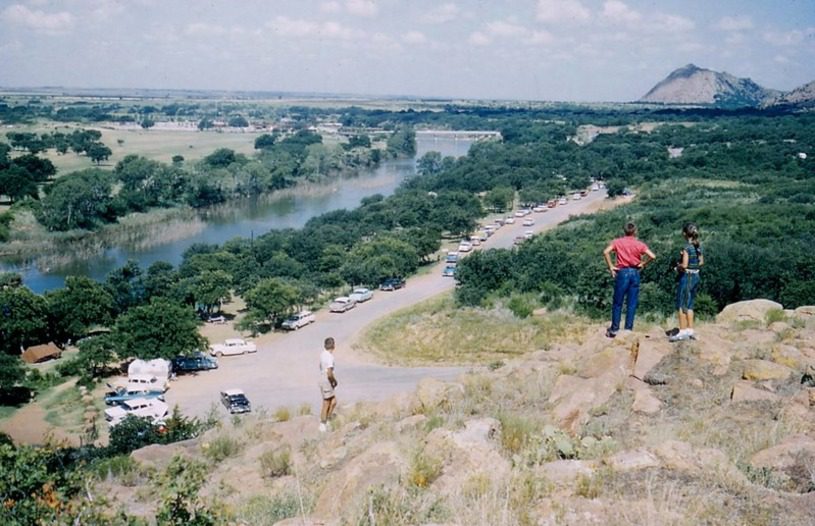 It's an exhilarating experience that never fails to amaze, combining scenic beauty with the thrill of the open road. Let's dive into what makes this route such a popular choice among motorcyclists.
The ideal time to embark on this memorable journey is during the fall months when the weather is cooler and the foliage bursts with an array of vibrant colors. Late September through early November offers the perfect window for a comfortable, enjoyable ride.
The trail extends for about 60 miles, carving a path through the stunning Quartz Mountain State Park and the Wichita Mountains Wildlife Refuge. The entire route takes approximately 2-3 hours to complete, including stops at various points of interest.
Places to Stop:
Quartz Mountain State Park: This 4,284-acre park boasts fantastic views of Lake Altus, perfect for rest stops and photo opportunities.
Wichita Mountains Wildlife Refuge: Stretching over 59,020 acres, this refuge is home to diverse wildlife, including bison, elk, and white-tailed deer. A pit stop here is a must!
I'd rate Quartz Mountain Trail as moderate in terms of difficulty. While certain portions of the route may pose a challenge, especially for novice motorcyclists, the majority of the road is well-maintained and easy to navigate.
Gas Availability: Although there are limited gas stations along the route, it is highly recommended to fill up before beginning your 60-mile adventure.
FAQs
What are the top motorcycle rides in Oklahoma?
Talimena Scenic Byway, Medicine Park, Wichita Mountain Wildlife Refuge, Route 66 Rides, OK-20 Through Claremore And Spavinaw
Which Road Offers A Scenic Experience With Wildlife In Oklahoma?
Wichita Mountain Wildlife Refuge Offers A Scenic Experience Combined With The Opportunity To View Wildlife.
What is a popular historic motorcycle ride in Oklahoma?
Route 66 Is A Historic And Popular Motorcycle Ride Encompassing Various Sites And Towns In Oklahoma.
Can You Recommend A Scenic Byway For Motorcycle Riding In Oklahoma?
Talimena National Scenic Byway Is A Beautiful Stretch Ideal For Motorcycle Riding With Picturesque Views.
Which route offers a combination of scenic views and state parks in Oklahoma?
OK-8 Takes Riders Through Roman Nose And Red Rock Canyon Adventure Park, Offering Both Scenic Views And State Park Experiences.
Conclusion
I've walked you through some of the best motorcycle rides in Oklahoma, showcasing not only the diverse terrain that the state has to offer but also the unique and rich culture. Let's recap the crucial information to make sure you're all set for your next ride.
Best Time to Visit:
Spring and fall seasons are ideal for motorcycle rides in Oklahoma
Watch out for weather changes to avoid storms and extreme heat
Places to Stop : Some highlights during your rides might include:
Route 66 stops (like the U-Drop Inn or Pops)
Talimena Scenic Drive stops (Horsethief Springs or Cedar Lake)
Local restaurants and diners in small towns (for that authentic Oklahoma experience)
Level of Difficulty :
There's a range of routes available, catering to both beginner and seasoned riders
Adjustments can be made to accommodate your level of experience or desired challenge
Other Information: When planning your ride, remember to:
Wear proper protective gear
Adhere to traffic laws and regulations
Be aware of wildlife and other possible roadside hazards
Keep your motorcycle well-maintained
Though this is by no means an exhaustive list of all the great rides available in Oklahoma, it should serve as a great starting point. No matter which ride you choose, I believe that every mile will offer unforgettable experiences and stunning views.
Motorcycle Rides in the US by States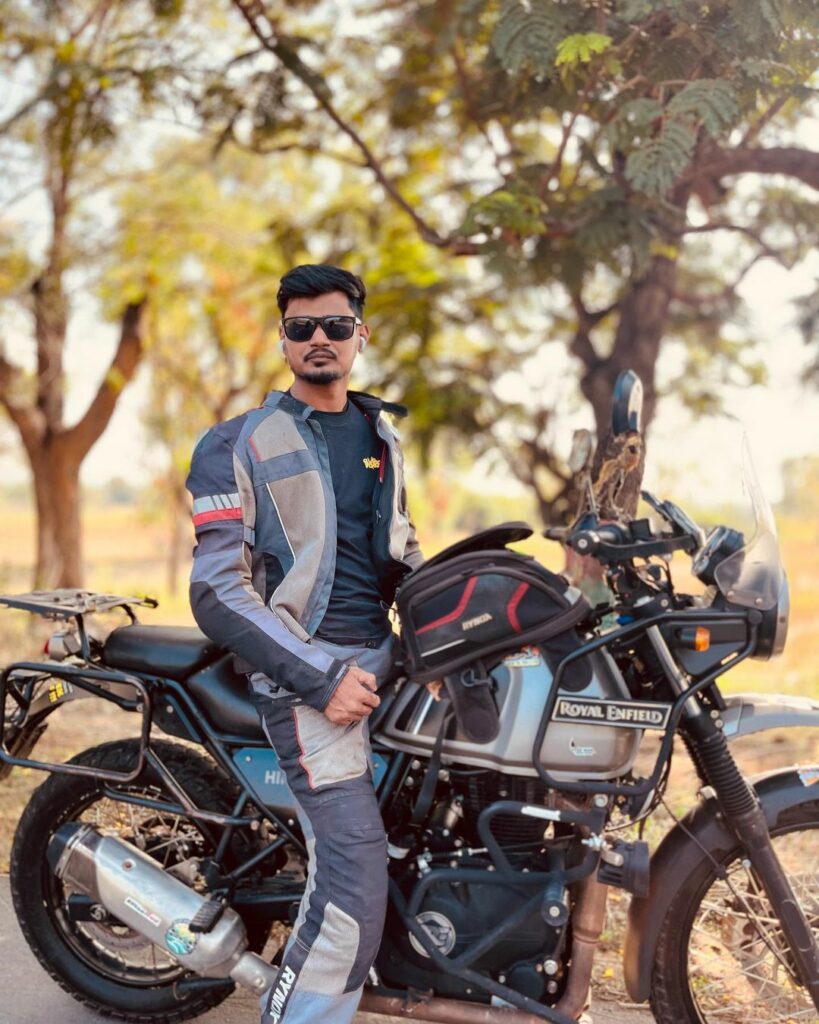 Vishwanath Mathpati
I am Vishwanath Mathpati, a full-time Blogger and Motorcyclist from Bidar, Karnataka. I love writing about my Motorcycles Stories and Riding Gears on this blog.
Know More About Me.
---
If you liked this article, then please subscribe to our YouTube Channel for more Bike Videos. You can also find us on Instagram, Twitter and Facebook.
Disclosure: As an Amazon Associate, I earn from qualifying purchases. Read more about Amazon Affiliate Disclaimer.