Top 8 Best Motorcycle Rides in New Jersey: My Ultimate Guide
New Jersey, a state often overlooked for its motorcycle routes, is actually home to some of the most scenic and thrilling rides in the Northeast. With a diverse landscape that includes mountains, beaches, forests, and rolling hills, there are endless opportunities for unforgettable adventures on two wheels.
My top 8 motorcycle rides in New Jersey range from leisurely, picturesque cruises along the coastline to adrenaline-pumping twists and turns through hilly, wooded terrain. These routes offer the best of what the Garden State has to offer, allowing riders to explore historic towns, charming villages, and impressive views.
Whether you're a seasoned biker or new to the exhilarating world of motorcycles, these rides will appeal to a wide range of interests and skill levels. So gear up and hit the road – New Jersey's hidden gems are waiting to be discovered. So, let's dive in and uncover the best routes the state has to offer.
While New Jersey might be small in size, it offers a surprising variety of scenic motorcycle rides from the Jersey Shore to the Skylands Region. Yet, the journey expands beyond the state's borders. To the north, New York's Catskills Preserve route offers a splendid ride through mountainous terrain and charming towns. To the east, across the Hudson River, the Long Island North Shore provides an oceanic ride complemented by historic lighthouses and lavish estates.
Venturing west into Pennsylvania, riders can experience the Grand Army of the Republic Highway for a blend of history and natural beauty. To the south, Delaware's Brandywine Valley Scenic Byway delivers a ride enriched by colonial history and pastoral landscapes. Each neighboring route offers a unique motorcycling adventure, adding to the diverse array of rides originating from New Jersey.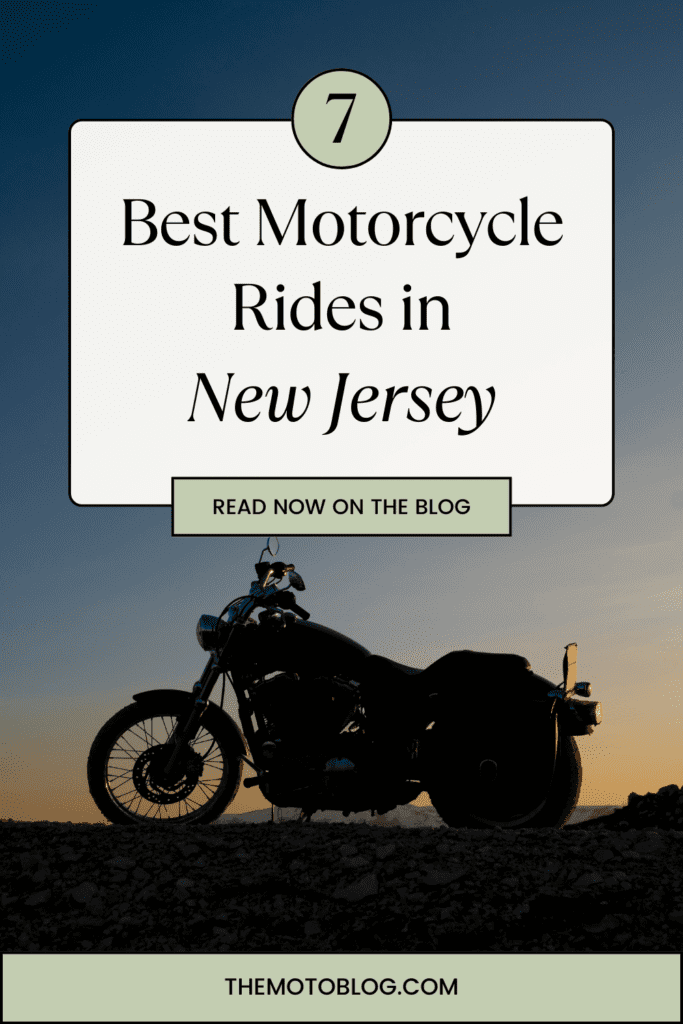 1. Palisades Interstate Parkway Ride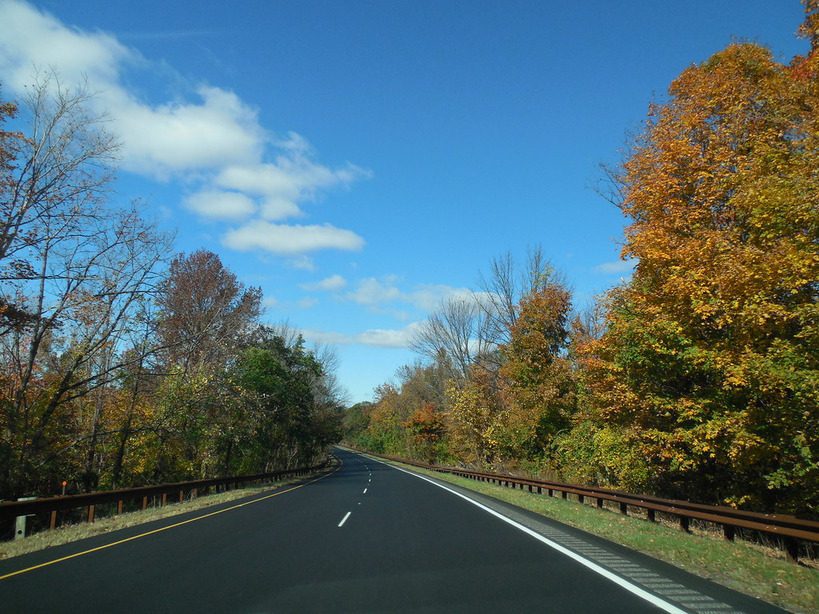 My first recommendation for the best motorcycle road rides in New Jersey is the stunning Palisades Interstate Parkway Ride. This scenic route starts at the George Washington Bridge and continues north along the picturesque Hudson River for roughly 42 miles, until reaching the Bear Mountain Bridge in New York.
The ideal time to enjoy this ride is during the months of May through October. You'll experience fantastic weather and vibrant colors, especially during the fall foliage season.
The Palisades Interstate Parkway Ride covers a total distance of approximately 42 miles. Depending on your riding pace and the number of stops, it could take 1.5 to 2 hours to complete the entire route.
Places to Stop:
State Line Lookout: A must-visit stop offering panoramic views of the Hudson River and the New York City skyline.
Palisades Interstate Park: Home to several picturesque spots, such as the Alpine Boat Basin and Hazard's Ramp, perfect for photo ops and rest breaks.
Bear Mountain State Park: A popular destination at the end of the route, providing various recreational activities, including hiking, picnicking, and sightseeing.
The Palisades Interstate Parkway Ride is generally an easy to moderate ride. Smooth, well-maintained roads and minimal elevation changes make it suitable for most riders; however, always exercise caution, as some areas may experience heavy traffic during peak seasons.
Other Information:
Be aware of the seasonal closures on some sections of the parkway, particularly those prone to ice and snow buildup during the winter months.
Familiarize yourself with local traffic rules and regulations. It's important to note that the parkway has a low speed limit (50 mph) throughout its entire stretch.
Gas stations can be scarce along the way, so make sure your motorcycle has enough fuel before starting the ride.
2. The Skyline Drive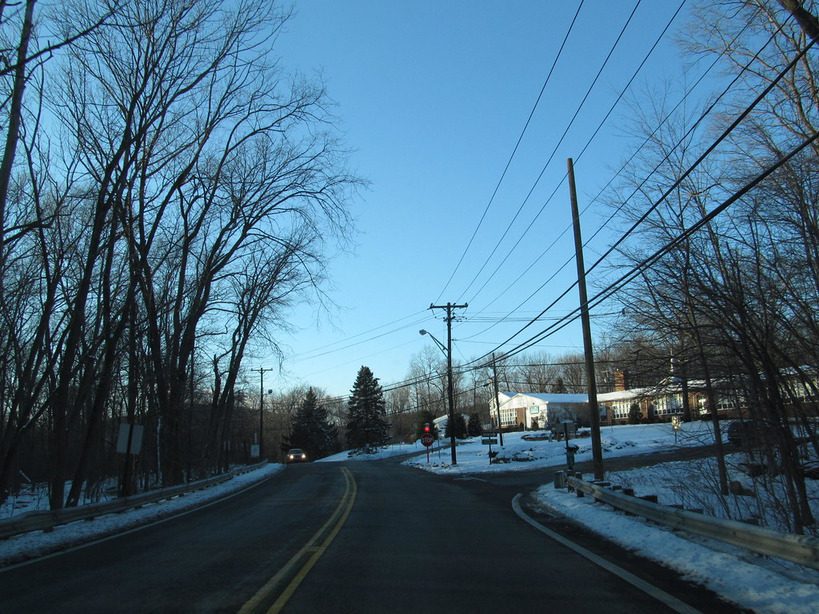 One of my favorite rides in New Jersey has to be the Skyline Drive. This scenic route offers a thrilling ride for motorcyclists who dare to conquer its twists and turns.
It's an excellent ride in almost any season; however, I would recommend taking on Skyline Drive in the fall. The colors of the leaves changing create an unforgettable backdrop for your ride. Though be cautious during the peak leaf-peeping season to avoid traffic congestion.
The route is approximately 20 miles long and takes about an hour to ride. Traffic can be unpredictable, so it is best to allot more time for the trip, especially during peak seasons.
As you navigate through the ride, consider stopping at some of the following points of interest:
Ringwood State Park: Go for a short walk, explore the historic buildings, or enjoy a picnic.
Ramapo Mountain State Forest: Hike the many trails and take in the stunning views of the surrounding landscape.
Ramapo Valley Reservation: Home to multiple lakes and waterfalls, it's perfect for a photo op or short rest stop.
The Skyline Drive is a moderately challenging ride, with plenty of twists, turns, and elevation changes. It requires a certain level of riding experience but is manageable for most motorcyclists.
Skyline Drive is a well-maintained route, but always be cautious of road conditions, debris, and other hazards. Stay aware of changing weather conditions, especially during fall and winter months. Safety always comes first, so gear up, respect the speed limits, and share the road with other motorists.
3. Bergen-Hudson Coastal Loop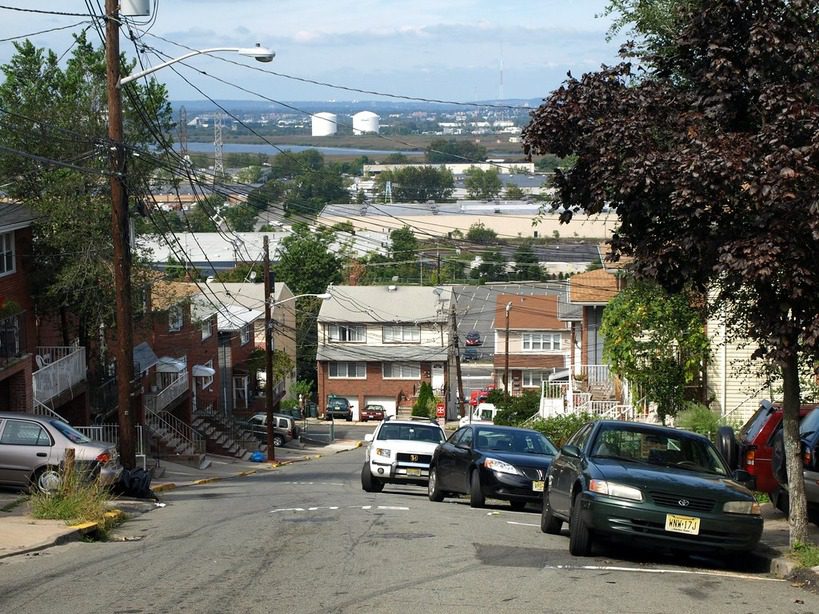 One of my favorite motorcycle rides in New Jersey has to be the Bergen-Hudson Coastal Loop. This picturesque route starts in Fort Lee and takes you on a thrilling journey through some of the Garden State's most scenic coastal regions.
The best time to experience the Bergen-Hudson Coastal Loop is from April to October, when the weather is most favorable for motorcycle riding. During this time, you'll be treated to mild temperatures and less rain, ensuring a comfortable and enjoyable ride.
The loop covers approximately 100 miles and can be completed in 4-5 hours, including stops for breaks and sightseeing. However, I recommend taking your time, as there are many beautiful places to stop and explore along the way.
Some must-visit highlights of the loop to break up your ride include:
Palisades Interstate Park: This park offers stunning views of the Hudson River and New York City skyline. Don't miss the opportunity to stop and take a few photos.
Sandy Hook: This beautiful barrier beach peninsula is home to several beaches and a historic lighthouse.
Liberty State Park: A perfect stop for history buffs, with the powerful Empty Sky 9/11 Memorial, and views of the Statue of Liberty and Ellis Island.
The Bergen-Hudson Coastal Loop is considered a moderate difficulty ride, suitable for experienced riders, as well as beginners who are looking to build their confidence on the road. The route has a mix of twisty sections and straightaways, transitions between urban and rural environments, and a few challenging elevation changes.
Other Information
While riding through the scenic coastal areas, be prepared for some windy conditions that can make handling a motorcycle more challenging.
Tolls might be encountered along the route, so it's a good idea to have some cash or an E-ZPass handy.
Fueling stations, restaurants, and restrooms can be found along the route, but it's wise to plan ahead and mark these stops on your map or GPS.
Steer clear of the area during rush hour traffic, particularly when passing through urban centers, such as Jersey City and Hoboken.
4. Six Mile Run State Park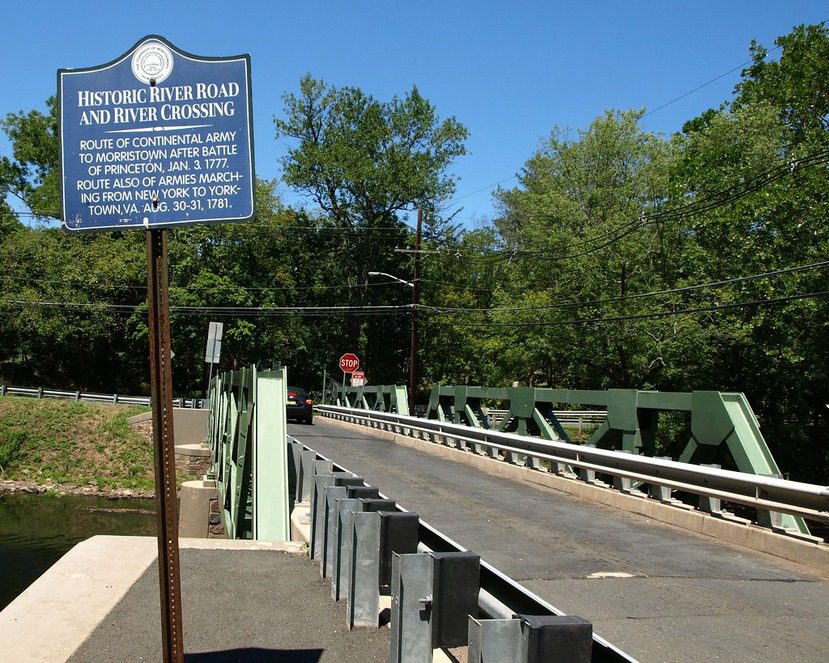 Exploring Six Mile Run State Park is one of the best ways to enjoy New Jersey's natural beauty while riding your motorcycle. Nestled in Somerset County, this magnificent park boasts over 3,000 acres of trails and scenic landscapes that make for an unforgettable riding experience.
The ideal time to visit Six Mile Run State Park is during spring, summer, or fall when the weather is pleasant and the park blooms with lush greenery. It's essential to check the weather forecast beforehand and avoid visiting the park during severe weather conditions or heavy rain.
The park is approximately 45 minutes away from Newark and an hour and a half from New York City, making it an easily accessible destination for a day trip or weekend getaway.
Places to Stop:
Blackwells Mills Canal House: A historic landmark located near Six Mile Run, perfect for a quick sightseeing stop.
State Theatre New Jersey: Catch a live performance or event at this historic theater.
Colonial Park: Take a break from riding and explore the beautiful gardens and recreational areas in this park.
The park offers a mix of off-road and paved trails, catering to riders of different skill levels. However, some of the off-road paths might be more suitable for experienced riders looking for a challenge. It's crucial to research the trails before your visit and choose the ones that match your riding abilities.
Six Mile Run State Park is open daily from dawn to dusk, offering ample time for exploring its beautiful landscapes. Motorcycle riders should be aware of the following:
Some parts of the park might have restricted areas or require a permit. Make sure to research the park's regulations and obtain necessary permits.
Respect the park's environment and carry out all waste generated during your visit.
Watch out for wildlife and pedestrians on the trails. Keep a safe distance and yield the right of way when necessary.
5. High Point State Park Route
Motorcycling through High Point State Park Route is truly an unforgettable experience. I've put together some useful information to help you plan your ride.
I recommend riding during late spring, summer, or early autumn. The park's lush greenery, clear skies, and comfortable temperatures make it the perfect time to embrace the scenic views. Avoid winter season since the park is usually blanketed in snow.
The High Point State Park Route is approximately 30 miles long. It should take around 1.5 hours to complete if you account for riding at a leisurely pace. To spend more time exploring the park, plan for a half-day trip.
There are several notable places to stop along the route:
High Point Monument: The iconic 220-foot tall monument offers a 360-degree view of New Jersey, giving you the chance to savor the scenery.
Lake Marcia: A picturesque spot to relax or enjoy a picnic by the water.
Appalachian Trail: If you're up for a little hiking, this famous trail passes through the park.
This route falls under the moderate level of difficulty due to its twisty roads and a few steep uphill sections. First-time riders or those with limited experience should approach with caution.
The park entrance fee is $5 per vehicle on weekdays and $10 per vehicle on weekends and holidays (May 1st through October 31st). There is no additional cost for motorcycles.
High Point State Park is known for its wildlife, especially black bears. Exercise caution and remember not to feed them.
Fuel up before entering the park, as there are no gas stations within the park boundaries. The nearest refueling options are in the towns of Sussex and Wantage.
Don't forget to pack a camera! The views from High Point State Park are truly Instagram-worthy.
6. Ocean Drive and the Atlantic Shore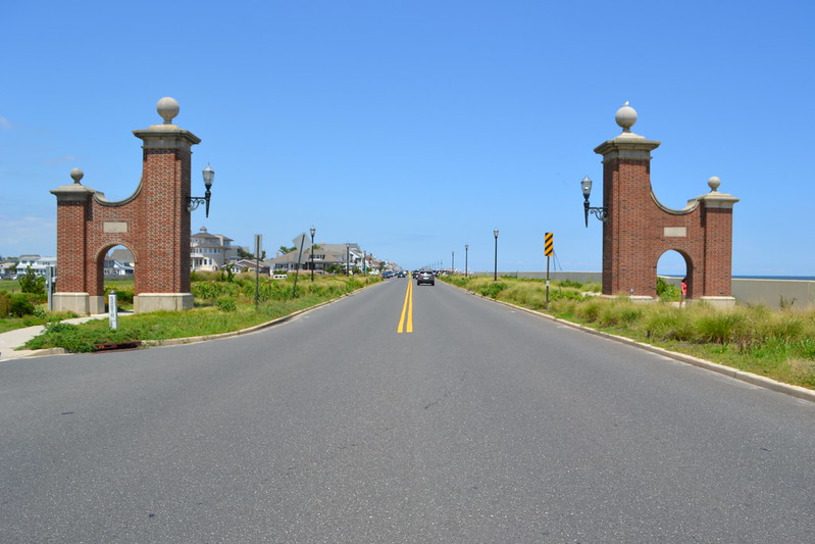 When talking about the top motorcycle road rides in New Jersey, Ocean Drive and the Atlantic Shore can't be left out. This picturesque route offers riders unmatched coastal views as they cruise along the Atlantic shoreline.
The most enjoyable time to visit this scenic route would be late spring to early fall. During these months, you'll encounter warm temperatures and less traffic, making the ride even more enjoyable. It's also the ideal time to take in the stunning beach views, with many shore towns bustling with seasonal activities.
Ocean Drive covers approximately 22.2 miles and takes about 40 minutes to complete without stops. Of course, you may want to factor in additional time if you choose to explore the various points of interest along the way.
There are numerous places to stop and explore during your ride. Some noteworthy stops include:
Cape May: A historic and charming town famous for Victorian architecture, the Cape May Lighthouse, and enjoyable beaches.
Wildwood: Offering boardwalk attractions, like amusement rides and water parks, it's an entertaining stop to take along the way.
Avalon and Stone Harbor: These two adjacent towns boast beautiful beach landscapes and delicious seafood restaurants.
The ride along Ocean Drive is considered to be a moderate difficulty level. While there are no overly challenging sections, riders should be mindful of seasonal traffic and local regulations, especially if they're riding during the busier summer months.
There are a few additional pointers worth noting before embarking on this Atlantic Shore adventure:
Be mindful of the occasional wildlife crossing your path, such as deer and marine birds.
Due to the coastal nature of the route, you may encounter sand or damp pavement, so ride with care.
Bring appropriate gear, as the weather along the coast can sometimes be unpredictable.
7. Round Valley Reservoir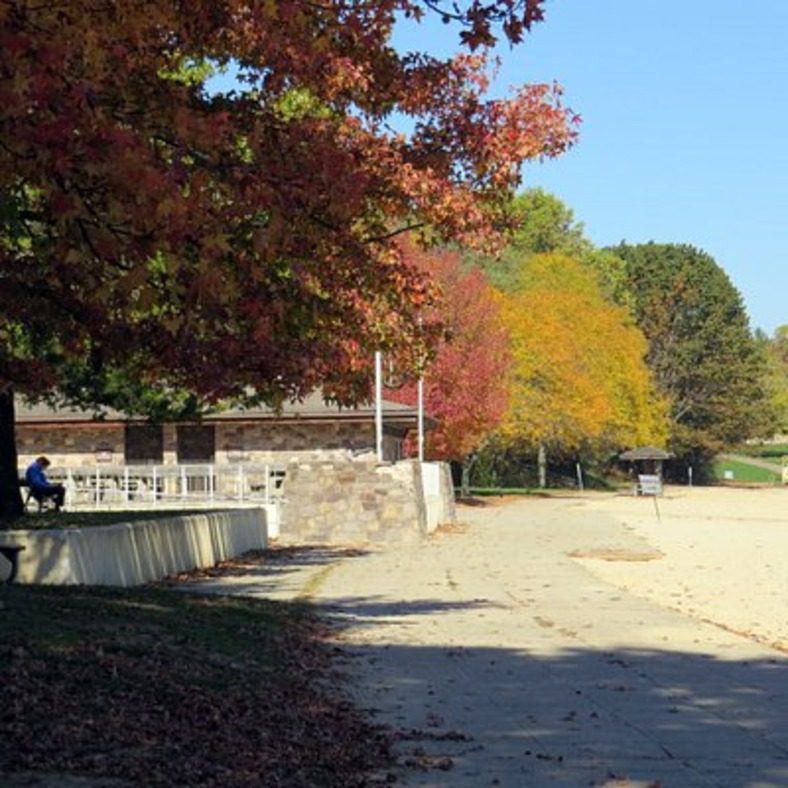 Navigating the Round Valley Reservoir is an exceptional motorcycle ride for both beginners and experienced riders. From the scenic views to the smooth road curves, this route offers a satisfying experience.
The ideal time to enjoy the Round Valley Reservoir ride is between late spring and early fall. This is when the weather is most favorable and the natural surroundings are at their most vibrant.
| Month | Weather (F) |
| --- | --- |
| May | 60-75 |
| June | 65-80 |
| July | 70-85 |
| August | 68-82 |
| September | 60-75 |
The entire route is approximately 20 miles in length and takes around 45 minutes of travel time. However, this time may vary based on stopovers to explore the area and capture stunning photographs.
These are some noteworthy spots to pause and appreciate the landscape:
Round Valley Recreation Area: A must-see location for nature lovers
Spruce Run Recreation Area: Offers great picnic spots and fishing opportunities
Hutcheson Memorial Forest: Perfect for explorers wanting to delve into nature trails
The ride along Round Valley Reservoir is a mix of moderate curves and straight roads, making it enjoyable for riders of all skill levels. With the picturesque surroundings, it provides a perfect balance between challenge and leisure.
When venturing through this route, keep these points in mind:
Be careful of local traffic, as you'll pass through some residential areas
Stay within the speed limits to ensure a safe and enjoyable ride
Anticipate occasional road construction or maintenance, especially during off-peak seasons
8. Pine Barrens Devil's Half Acre Tour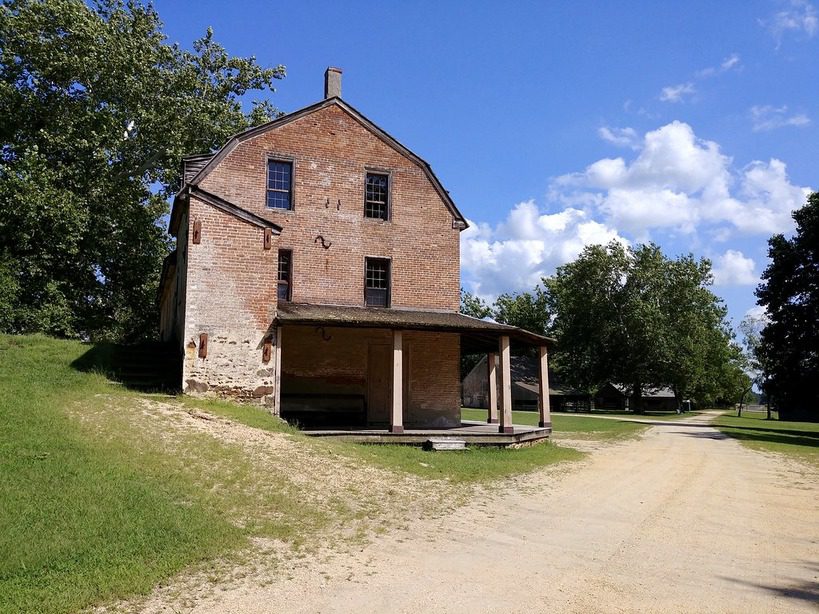 I can't help but share my excitement about the Pine Barrens Devil's Half Acre Tour, which is truly one of the best motorcycle rides in New Jersey. This epic journey sends you deep into the heart of the Pine Barrens. These mysterious, forested wetlands are home to some of the most unique flora and fauna you'll find in the state, and the tranquil atmosphere makes for a perfect escape from the hustle and bustle of everyday life.
The ideal time to embark on this ride is from late spring to early autumn. Mild temperatures and lush green foliage create a beautiful backdrop for your ride. I personally recommend timing your trip around the foliage peak in October to experience the Pine Barrens' stunning fall colors.
Covering approximately 60 miles, the Devil's Half Acre Tour takes around 1.5 to 2 hours to complete without stopping. But trust me, you'll want to take your time to soak in the scenery and explore the unique stops along the way.
Places to Stop:
Batsto Village: A historic, well-preserved village dating back to the 18th century, it's a perfect place to learn about the area's history and enjoy a relaxing picnic.
Chatsworth General Store: Known as the "Heart of the Pines," this quaint store has everything from snacks to souvenirs, making it an essential stop for refreshments and mementos from your trip.
The winding roads, moderate elevation changes, and occasional sandy patches make this ride suitable for intermediate or advanced riders. Due to the unpredictable nature of Pine Barrens weather, it's important to keep an eye on local forecasts before and during your ride.
Other Information:
Be prepared for limited cell phone reception throughout the Pine Barrens.
Keep an eye out for wildlife, as you might catch a glimpse of the elusive Jersey Devil, the legendary creature said to inhabit this region.
And last but not least, remember to respect the environment and leave no trace during your visit.
FAQs
What are some popular motorcycle rides in New Jersey?
Top Rides Include Greenwood Lake To Mountain View, Tabernacle, NJ Loop, Phillipsburg To High Point, The New Jersey Skyline Drive, And Chester To Frenchtown.
What are some scenic routes for motorcycle rides in New Jersey?
Scenic Routes Include Skyline Drive, The Delaware River Canal Run, And Old Mine Road In The Delaware Water Gap National Recreation Area.
Is New Jersey considered an enjoyable destination for motorcycle riders?
Yes, New Jersey Offers Diverse Landscapes And Scenic Routes, Making It A Popular Destination For Motorcycle Enthusiasts.
What is a well-known motorcycle road in the Delaware Water Gap area of New Jersey?
The Old Mine Road Is A Highly Regarded Route In The Delaware Water Gap National Recreation Area.
Where can I find a list of the top-rated motorcycle roads in New Jersey?
Websites Like Motorcycle Roads (motorcycleroads.com) And Best Biking Roads (bestbikingroads.com) Provide Rankings And Descriptions Of Top Motorcycle Routes In New Jersey.
Wrapping Up Your Motorcycle Adventures
After exploring the top 8 best motorcycle rides in New Jersey, it's important to take a moment and gather some essential information. To help you get the most out of your journey, I've compiled a few key points on the best time to visit, distance with time to travel, places to stop, and level of difficulty, among other information.
It's ideal to plan your motorcycle adventures between April and October, as temperatures are mild and the weather remains favorable for your rides. Rainy conditions can make the roads slippery, while colder months might bring snow and ice, impeding your riding experience.
When cruising through New Jersey, remember to take some time and soak in the stunning scenery by stopping at scenic spots such as:
High Point State Park
The Delaware Water Gap
The Pine Barrens
The Hudson River waterfront
Don't forget to also grab a bite or take a break at locally-owned eateries and cafes along your routes. You deserve a good meal and great conversations after a long ride!
While the majority of the routes on this list pose a moderate level of difficulty, some are more challenging than others. It's crucial to assess your skill level and choose routes that best suit your riding capabilities. Always make sure that both you and your motorcycle are up to the task to ensure a safe, enjoyable ride.
Lastly, some additional tips to keep in mind while on your motorcycle adventures in New Jersey include:
Always wear appropriate protective gear
Check your bike's tires, brakes, and fluids before each ride
Adhere to local traffic laws and respect the environment
Carry a well-stocked emergency kit, just in case
By considering these essential factors, you're one step closer to an unforgettable experience on the open road. Now gear up, rev your engine, and let the Garden State's best motorcycle routes sweep you off your feet! Enjoy your ride!
Motorcycle Rides in the US by States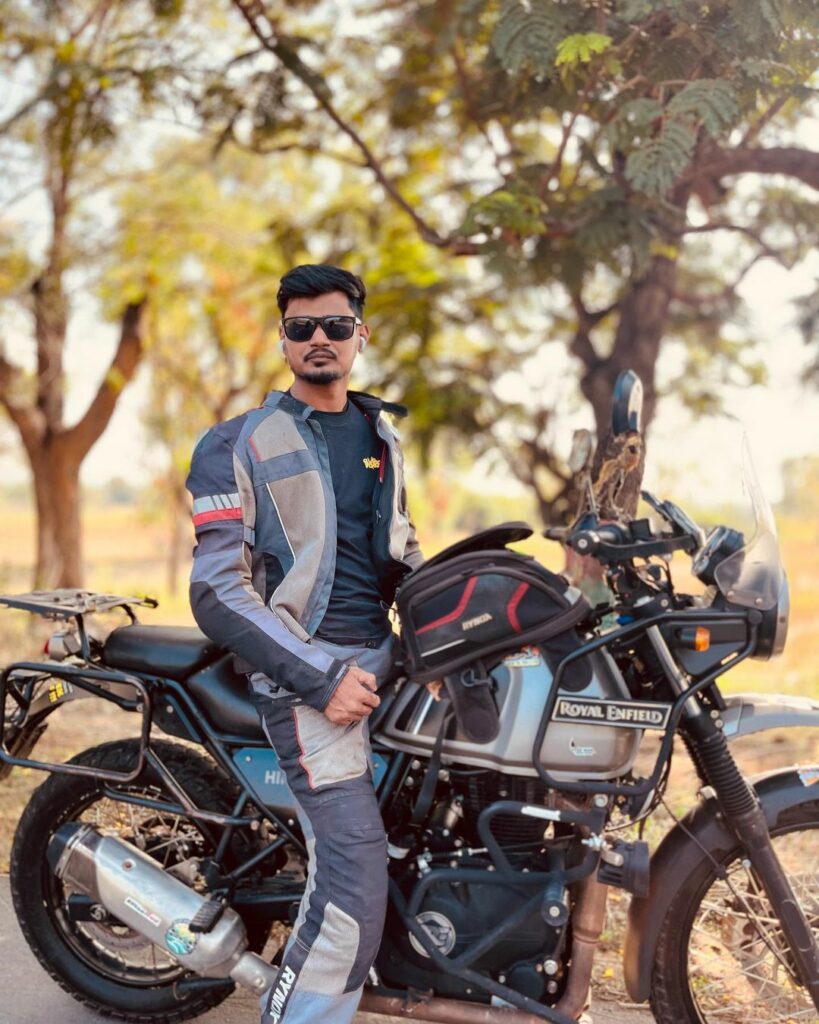 Vishwanath Mathpati
I am Vishwanath Mathpati, a full-time Blogger and Motorcyclist from Bidar, Karnataka. I love writing about my Motorcycles Stories and Riding Gears on this blog.
Know More About Me.
---
If you liked this article, then please subscribe to our YouTube Channel for more Bike Videos. You can also find us on Instagram, Twitter and Facebook.
Disclosure: As an Amazon Associate, I earn from qualifying purchases. Read more about Amazon Affiliate Disclaimer.