Top 8 Best Motorcycle Rides in Utah: My Ultimate Guide
Utah is a state that offers some of the most breathtaking motorcycle rides in the US. This diverse landscape provides a perfect playground for motorcycle enthusiasts; no matter what type of riding you enjoy – curvy roads, high-speed highways, or incredible scenery, Utah has something for everyone.
From the red rock formations of Southern Utah to the high alpine roads in the north, Utah's motorcycle routes showcase a wide variety of stunning landscapes and thrilling riding experiences. With countless scenic byways and backroads just waiting to be explored, I've narrowed it down to the 8 most unforgettable rides you don't want to miss.
Known for its striking red rock formations and canyons, Utah is a motorcycle rider's paradise. One of the most iconic routes is the Highway 12 Scenic Byway, offering an exhilarating ride through the state's most breathtaking landscapes. Utah's surrounding states also have fantastic routes for motorcycle enthusiasts. Journey through Arizona's Sedona Red Rock Scenic Byway for a ride adorned with awe-inspiring red rock formations. In Nevada, the Valley of Fire Ride offers a fiery red landscape that is truly unique. Colorado's Million Dollar Highway is a challenging route that rewards with stunning alpine scenery. In Idaho, the Sawtooth Scenic Byway gives you an idyllic rural ride with picturesque mountain views.
Each of these neighboring routes offers an exhilarating and visually captivating experience, bringing a sense of adventure to every turn of the wheel.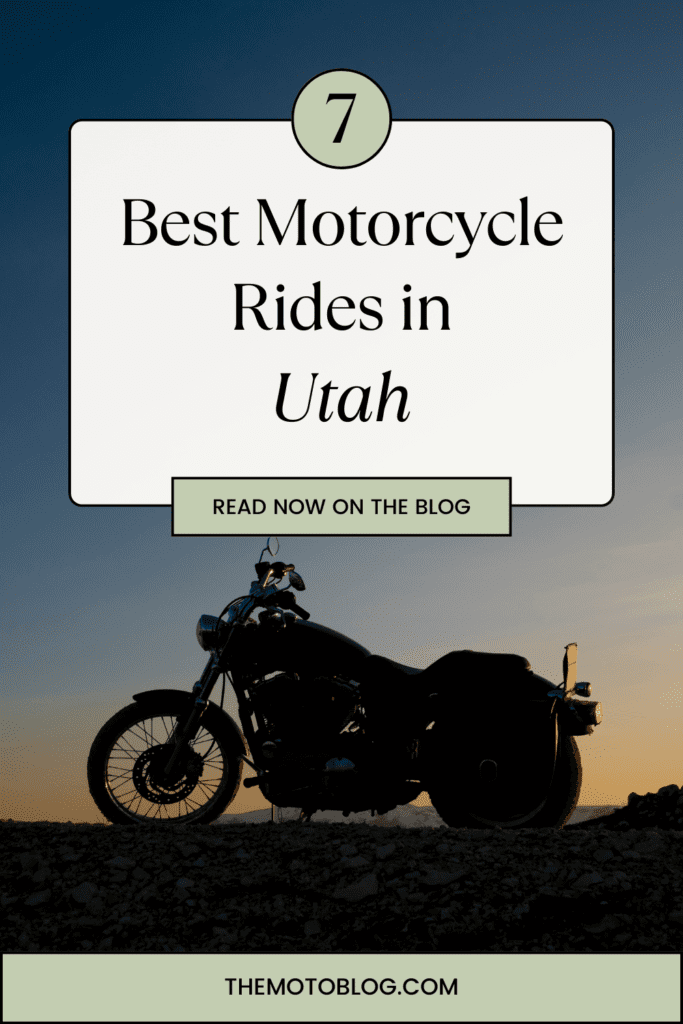 1. The Alpine Loop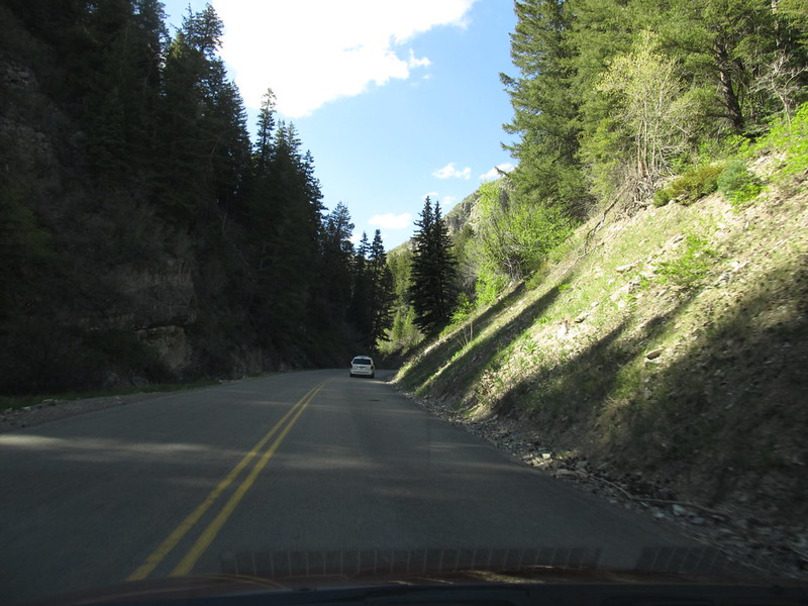 One of the most breathtaking motorcycle rides in Utah is the Alpine Loop. This visually stunning route takes you through dense forests, open meadows, and past towering peaks, providing an unforgettable experience for any motorcycle enthusiast.
The Alpine Loop is best enjoyed during the late spring and fall months when the weather is cooler and the fall foliage offers even more spectacular views. While the Loop is open during the summer, it's essential to be cautious of the higher temperatures and large crowds that flock to the area.
The Alpine Loop spans approximately 38 miles and takes around 2 hours to complete at a leisurely pace. Keep in mind that the road surrounding the loop is narrow, winding, and steep, so it's important to ride carefully.
While cruising the Alpine Loop, be sure to take advantage of these fantastic stopping points:
Sundance Resort: This iconic ski resort offers a great opportunity to grab a bite to eat, relax, and soak in the beautiful surroundings.
Cascade Springs: This natural spring features several cascading waterfalls and short hikes, perfect for stretching your legs and enjoying the flora and fauna.
Mount Timpanogos: The trailhead for hiking the impressive Mount Timpanogos lies just off the Alpine Loop, providing an opportunity for more adventurous riders to tackle an additional challenge.
Riding the Alpine Loop is considered moderately difficult due to its sharp curves, changing elevations, and narrow roads. While seasoned riders may not find it particularly challenging, less experienced motorcyclists should approach this route with caution and respect for the conditions.
Other Information
The Alpine Loop is not ideal for large touring motorcycles due to the tight turns and narrow roadways.
Be cautious of wildlife and cyclists sharing the road as you ride.
The Loop is subject to seasonal closures due to snow. Always check the current conditions before setting off on your ride.
2. Nebo Loop: Payson to Nephi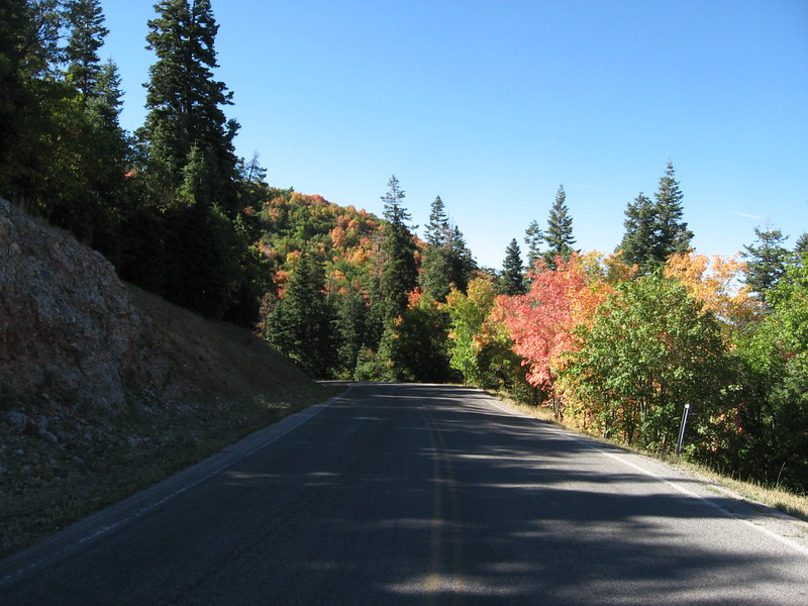 I can't help but rave about the Nebo Loop, one of the most scenic motorcycle rides in Utah. The route stretches for approximately 38 miles, connecting the cities of Payson and Nephi. Winding through the Uinta National Forest, riders can embrace the beauty of Mount Nebo, the tallest peak in the Wasatch Mountain Range.
The ideal time for this ride would be during the late spring to early fall. The road is usually open from May to October, but it's always a good idea to check the weather conditions before heading out.
The Nebo Loop is approximately 38 miles long. Riding at an average speed, you can expect the journey to last around 1.5 to 2 hours without stops. However, I'd highly recommend setting aside extra time to relish the picturesque views and unique points along the road.
Places to Stop
Devil's Kitchen: A miniature version of Bryce Canyon with red rock formations, ideal for a quick photography stop.
Ponderosa Campground: A lovely spot for picnicking or overnight camping with well-maintained facilities and serene views.
Vista Points: The route boasts several scenic viewpoints, where you can pull over to soak in the captivating panoramas of the Wasatch Mountain Range.
Nebo Loop is considered a moderate ride. Engineers designed the route to be cyclist-friendly, with stunning turns and elevations to keep riders intrigued. While experienced motorcyclists might find it relatively easy, beginners can cautiously maneuver and enjoy the ride at their own pace.
Other Information
Fuel and Amenities: Make sure to fill up before starting the ride as gas stations aren't available along Nebo Loop. Payson, on the northern end, and Nephi, at the southern end, offer various facilities, eateries, and places to stay.
Wildlife: Watch out for wildlife, particularly deer, crossing the road – especially during dawn and dusk.
3. La Sal Mountain Loop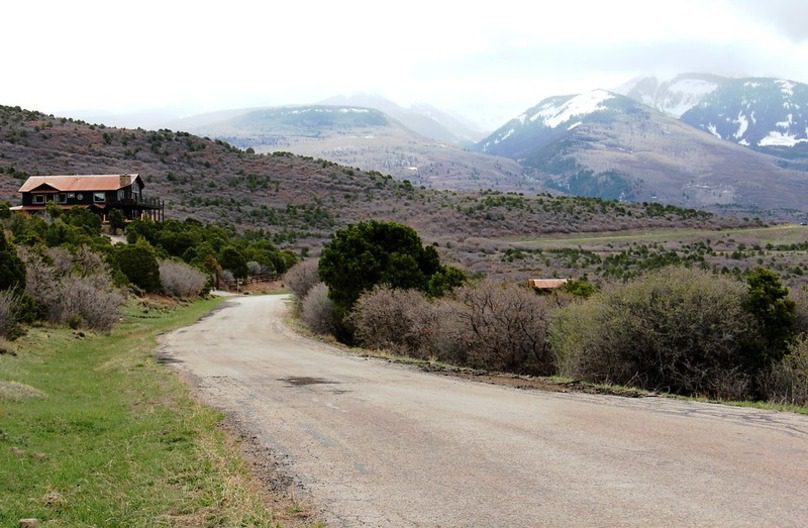 This spectacular route offers a truly unique experience as it winds through desert landscapes, lush forests, and stunning mountain terrain. No matter when you choose to ride, the beauty of this loop will leave you in awe.
The ideal time to take on the La Sal Mountain Loop is during late spring and early fall. Temperatures during these seasons are often more comfortable for riding compared to the scorching summer heat.
The entire loop spans a distance of about 60 miles and takes approximately 3 hours to complete, depending on your riding speed and how often you stop.
Along the journey, you'll come across several scenic overlooks and stopping points that offer breathtaking views of the surrounding landscape. Some must-visit stops include:
Castle Valley Overlook
Geyser Pass
Warner Lake
The La Sal Mountain Loop features a combination of winding roads and straight stretches, making it suitable for both beginner and experienced riders. The well-paved route also ensures a smooth and enjoyable ride.
While riding the La Sal Mountain Loop, you'll experience drastic changes in elevation – from 4,500 feet to over 10,000 feet. That's why it's important to dress appropriately, layering your clothing to adapt to the changing temperatures. Additionally, make sure to stay hydrated and take plenty of breaks to soak in the incredible views.
Throughout the ride, you'll encounter an incredibly diverse ecosystem, from the desert-like terrain of the lower elevations to the lush alpine forests found at higher altitudes. Wildlife sightings are also common, and you might spot deer, elk, black bears, or even the occasional mountain lion.
4. Zion-Mount Carmel Highway: Zion National Park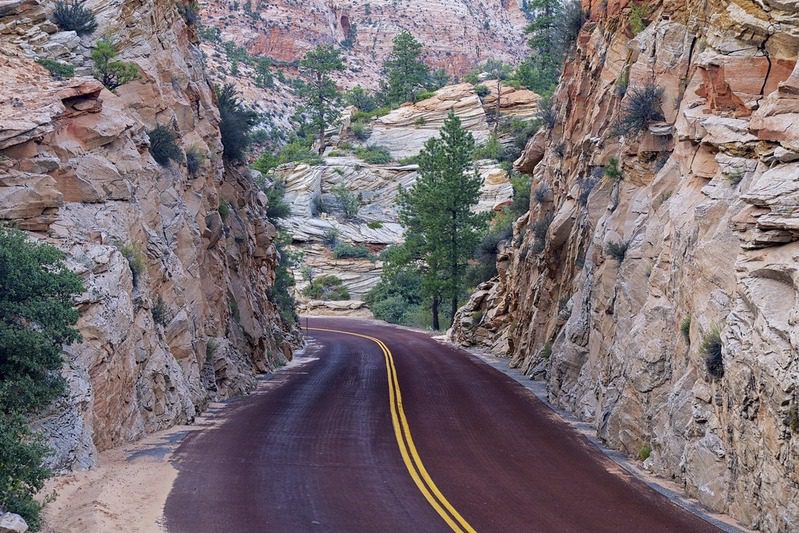 One of my favorite motorcycle rides in Utah has to be the Zion-Mount Carmel Highway located in the majestic Zion National Park. The highway offers awe-inspiring views of the park's sandstone cliffs, winding through some of the most beautiful landscapes I've ever seen.
The best time to experience this ride is during the spring or fall months as temperatures are more pleasant, and the park isn't as crowded as during peak summer months.
The Zion-Mount Carmel Highway stretches for about 24 miles, generally taking about 1-1.5 hours to complete the ride, depending on how many stops you make along the way.
Some noteworthy spots to stop and take in the breathtaking views include:
Zion Canyon Overlook: Gazing down into Zion Canyon is a must-see during your ride.
Checkerboard Mesa: A unique geological formation with a checkered pattern, perfect for a quick stop and photo op.
Canyon Junction Bridge: Enjoy the views of the Virgin River and red canyon walls.
While the Zion-Mount Carmel Highway isn't particularly challenging for experienced riders, there are a few steep inclines and sharp curves to navigate. I'd rate the ride as moderate in terms of difficulty.
Before embarking on this magnificent ride, there are a few essential details to keep in mind:
National Park Fee: Since Zion is a national park, you'll need to pay an entry fee or have a valid national park pass.
Tunnel Restrictions: The Zion-Mount Carmel Tunnel requires permits for certain large vehicles, so be mindful of oversized motorcycle restrictions.
Seasonal Closures: While unlikely to affect motorcycle riders, be aware of potential seasonal closures for other park areas during winter months.
5. Ogden River Scenic Byway: Ogden to Huntsville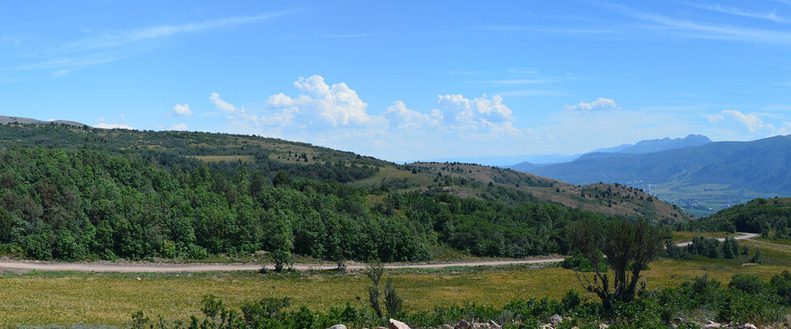 Ogden River Scenic Byway, offers a truly enjoyable motorcycle ride through northern Utah's stunning landscapes. This picturesque route, which stretches from Ogden to Huntsville, provides riders with an unforgettable experience as they cruise along the winding roads surrounded by majestic mountains and serene waters.
The most popular time for visiting the Ogden River Scenic Byway is between May and October. During these months, the weather is generally warm and the surrounding scenery is in full bloom, making for an ideal riding experience.
The route covers a distance of approximately 46 miles and typically takes about 1 to 1.5 hours to travel, depending on your pace and the number of stops you make along the way.
There are several fantastic places to stop and enjoy the views as you travel along the Ogden River Scenic Byway. Some must-see spots include:
Pineview Reservoir: This picturesque body of water is perfect for taking a break and soaking in the scenery.
Causey Reservoir: A serene location that's ideal for a quick detour, offering incredible views and opportunities for water activities.
Ogden Valley: Take in the stunning panoramas of the valley surrounded by mountains and diverse wildlife.
The Ogden River Scenic Byway is considered to be a moderate ride for motorcyclists. Some sections of the route feature winding roads and tight turns, so it's essential to have a good level of experience before embarking on this journey. However, the breathtaking scenery more than makes up for any challenging parts of the ride.
When planning your trip along the Ogden River Scenic Byway, remember to:
Check the weather forecast beforehand and dress accordingly, as conditions can change rapidly in the mountains.
Bring plenty of water and snacks for your journey.
Be cautious of wildlife on or near the road, especially during early morning and evening hours.
Lastly, make sure your motorcycle is in good working condition and that you're equipped with safety gear for a safe and enjoyable ride.
6. Valley of the Gods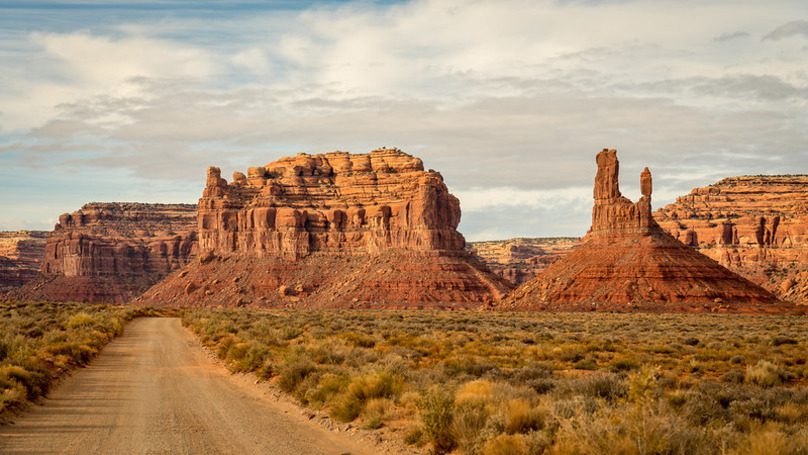 The Valley of the Gods is an awe-inspiring stretch of roadway offers a truly unique ride that I can't recommend enough for any motorcycle enthusiast. During this journey, you'll be surrounded by towering red rock formations, wide-open spaces, and breathtaking landscapes that look like they're straight from a postcard.
The best time to visit the Valley of the Gods and experience the ride is Spring and Fall. During these seasons, daytime temperatures are usually moderate and more comfortable for riding, as summers can be brutally hot in this desert landscape. The months of April, May, September, and October typically have the most comfortable conditions for riders with temperatures ranging from 60°F to 80°F.
This captivating ride covers around 122 miles and takes about 2 to 3 hours to complete, depending on your pace and how many stops you choose to make along the way.
There are a few key stops worth considering during your ride through the Valley of the Gods:
Mexican Hat: This small town is named after a nearby rock formation and offers limited services for riders. It's a good place to grab lunch before diving into the valley.
Goosenecks State Park: Just a short detour off the main route, you'll find this park offering unmatched views of the San Juan River and its dramatic bends and meanders.
Mokee Dugway: At the top of the Mokee Dugway, there's a viewpoint where you can take in the expansive view of the valley and snap some impressive photos.
I would rate this route as a moderate ride in terms of difficulty. While the roads are generally well-paved and maintained, there are some tight turns, steep inclines, and potential for gravel on the road that may present challenges for less-experienced riders.
Keep in mind that this ride takes you through a remote area with limited cell reception, so plan accordingly. Ensure you have a full tank of gas before entering the valley, and carry extra water as well as emergency supplies just in case.
7. Capitol Reef Country: Scenic Route 24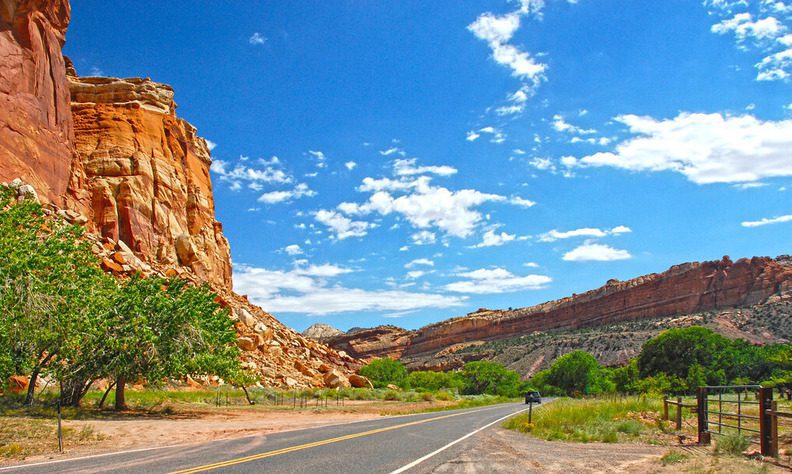 Utah's Scenic Route 24 takes you through the striking landscape of Capitol Reef Country, offering breathtaking views and diverse terrain that any motorcycle enthusiast would appreciate. From red rock canyons to lush green valleys, this ride lets you experience the natural beauty of this rugged area while the open road stretches for miles in front of you.
Spring and fall are ideal for this ride, as temperatures during these seasons are more agreeable. Summer can be hot, while winter can see snow and ice, making conditions potentially dangerous for bikers.
The route covers around 60 miles and takes about 3 hours to complete, depending on your riding speed and the number of stops you make.
Some must-see landmarks on this ride include:
Capitol Reef National Park: Marvel at the unique geological formations and enjoy the variety of recreational activities available here.
Fruita: Visit this charming historic district to witness how early settlers lived and farmed in the region.
Hickman Bridge: Take a detour to hike the trail leading to this natural sandstone bridge.
The ride is relatively easy, but you should be cautious as certain sections of the road can have tight curves, and wildlife crossing the road is not uncommon.
In addition to these points, consider the following tips when embarking on your Scenic Route 24 ride:
Ensure your motorcycle is well-maintained and ready to tackle varying terrain, as the route alternates between paved and gravel surfaces.
Don't forget to pack water, sunscreen, and other essentials, as the weather can be unpredictable and varies greatly depending on the altitude.
Respect the speed limits and be aware of the potential for flash floods in certain areas during rainy seasons.
8. Cedar Breaks Scenic Byway: Cedar City to Navajo Lake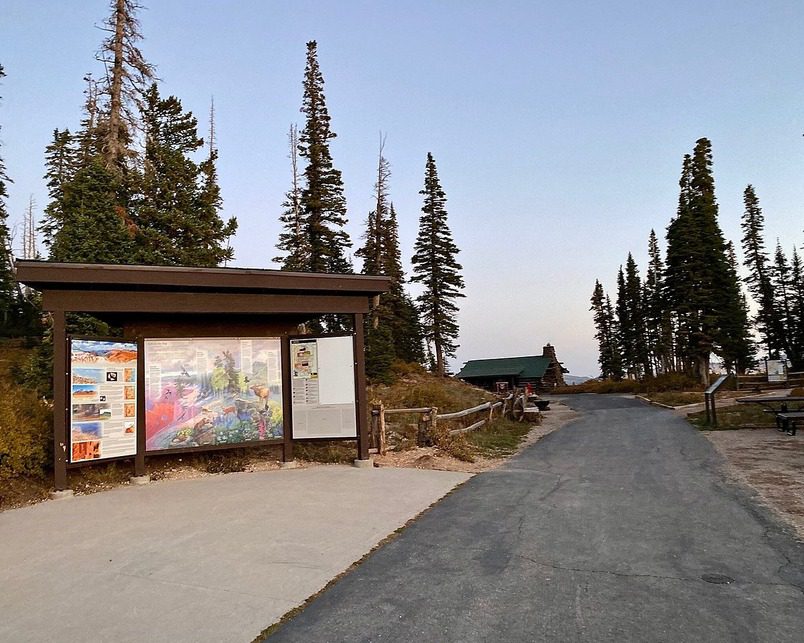 Nestled among southern Utah's geological wonders, the Cedar Breaks Scenic Byway offers one of the state's most diverse and beautiful motorcycle road routes. While riding this byway, I can't help but enjoy the picturesque locations and thrilling twists and turns.
The optimal time to experience the Cedar Breaks Scenic Byway is from late May to October. During this time, the road is clear of snow and the weather is ideal for motorcycle riding. However, it's recommended to always check the conditions before heading out, as sudden changes are possible.
From Cedar City to Navajo Lake, the route spans approximately 38 miles and takes about 1 hour to complete. The ride runs through Utah's picturesque Dixie National Forest, providing stunning views of the dense forest and the striking red rock formations.
Numerous stops along the route offer opportunities for some scenic breaks, such as:
Cedar Breaks National Monument: This natural amphitheater offers a breathtaking view of the red-rock formations, wildflowers, and dark-blue night skies. Don't miss the short hikes to Point Supreme and Spectra Point.
Duck Creek Village: A quaint little village perfect for a rest stop and to grab a bite to eat.
Navajo Lake: The final destination of the ride, Navajo Lake is an excellent place to unwind, admire the scenic views, go fishing, or explore the surrounding trails.
The Cedar Breaks Scenic Byway has a moderate difficulty level, with curvy roads and elevation changes. It is, however, accessible to riders of all skill levels, as long as they remain cautious and ride within their limits.
While enjoying the ride on this scenic byway, keep an eye out for wildlife like deer, elk, and black bears, which can sometimes be spotted near the road. Also, be prepared for changes in temperature as the elevation rises, so pack appropriate layers to stay comfortable.
FAQs
What are some top motorcycle rides in Utah ?
Top Motorcycle Rides In Utah Include Canyonlands National Park, Capitol Reef National Park, Bryce Canyon National Park, Zion National Park, Arches National Park, Grand Staircase-Escalante National Monument, Alpine Loop Scenic Byway, And Nebo Loop Road.
Is Utah A Good Destination For Motorcycle Enthusiasts?
Yes, Utah Offers Diverse Landscapes, Picturesque National Parks, And Breathtaking Scenery, Making It An Incredible Destination For Motorcycle Enthusiasts.
What makes the Alpine Loop Scenic Byway a popular motorcycle route in Utah?
The Alpine Loop Scenic Byway Is Famous For Its Stunning Mountain Views, Picturesque Aspen Groves, And A Winding Road That Takes Riders Through The Wasatch Mountain Range, Making It A Popular Motorcycle Route.
What Can One Expect When Riding Through Zion National Park In Utah?
Riding Through Zion National Park Entails Experiencing A Diverse Landscape With Deep Canyons, Towering Cliffs, Mesas, And Picturesque Green Valleys, Offering A Thrilling And Scenic Ride For Motorcyclists.
Are there any motorcycle rides near Salt Lake City, Utah?
Some Motorcycle Rides Near Salt Lake City Include The Antelope Island State Park Tour, Cascade Springs Ride, The Scofield Loop, Nebo Loop Scenic Byway, And The Diamond Fork Loop.
Concluding Your Utah Motorcycle Adventure
Wrapping up an unforgettable motorcycle journey through Utah's top 8 best rides, it's crucial to consider a few essential factors to optimize your overall experience. These details can turn great rides into unforgettable memories.
Utah has four distinct seasons, making it essential to plan your trip around the most favorable weather conditions. For motorcycle enthusiasts, the best time to visit is usually:
Spring (April to June)
Fall (September to October)
During these months, temperatures are moderate, and the seasonal colors make for stunning scenery.
As you embark on your journey, consider stopping at both popular destinations and hidden gems. Be sure to explore:
State parks
Museums and historical sites
Scenic viewpoints
Local mom-and-pop diners
Utah's top motorcycle rides range from novice to expert levels of difficulty. Keep in mind your skill level and the type of motorcycle you're riding. Be sure to challenge yourself but stay within the limits of your own riding abilities for the safest and most enjoyable experience.
Lastly, to enhance your Utah motorcycle adventure, it's wise to:
Stay updated on local weather forecasts
Bring adequate gear for changing weather conditions
Familiarize yourself with the local traffic laws
Keep an eye out for wild and domestic animals on rural roads
With this comprehensive guide, you're prepared to explore the top 8 best motorcycle rides in Utah, creating lasting memories and unparalleled experiences. Remember to always ride safe and enjoy the journey!
Motorcycle Rides in the US by States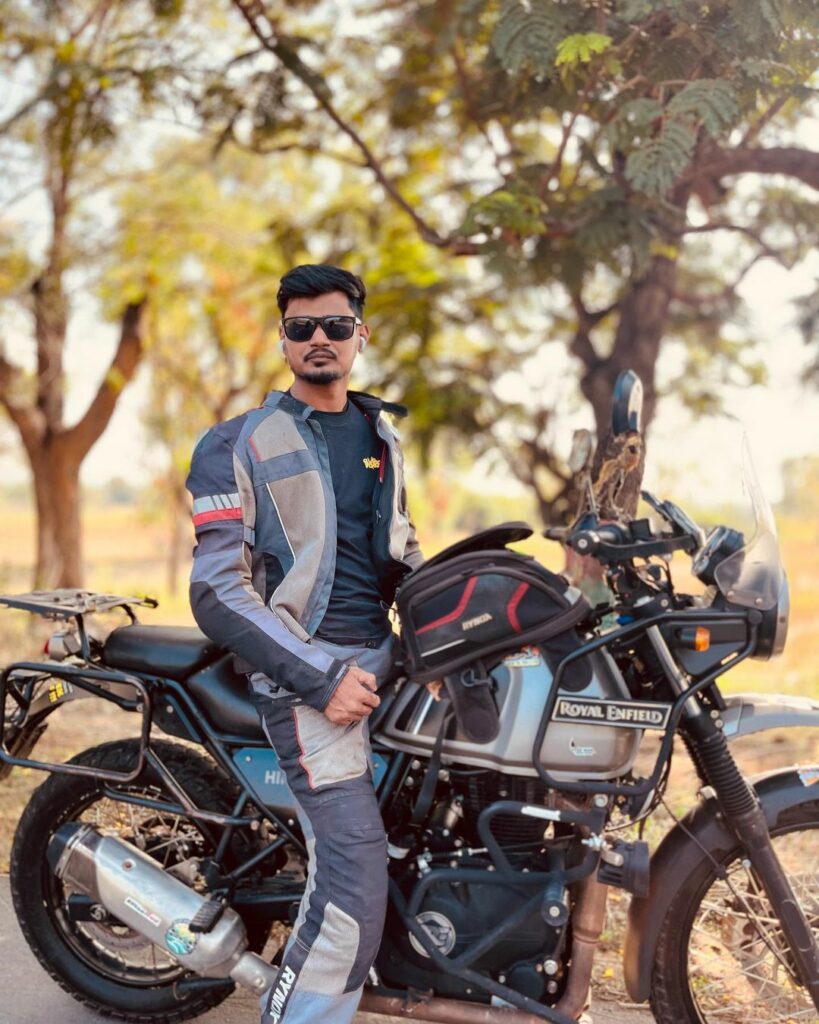 Vishwanath Mathpati
I am Vishwanath Mathpati, a full-time Blogger and Motorcyclist from Bidar, Karnataka. I love writing about my Motorcycles Stories and Riding Gears on this blog.
Know More About Me.
---
If you liked this article, then please subscribe to our YouTube Channel for more Bike Videos. You can also find us on Instagram, Twitter and Facebook.
Disclosure: As an Amazon Associate, I earn from qualifying purchases. Read more about Amazon Affiliate Disclaimer.