Top 10 Best Motorcycle Rides in Missouri: My Ultimate Guide
Missouri, the "Show-Me State," has so much to offer motorcycle enthusiasts with its scenic beauty and winding roads. The state's combination of rolling hills, lush forests, and interesting landmarks make it an ideal destination for motorcyclists to explore. In this article, I've compiled a list of the Top 10 Best Motorcycle Rides in Missouri that you don't want to miss out on.
Missouri's diverse landscape provides riders with the chance to experience a little bit of everything, from the awe-inspiring Ozark Mountains to the charming small towns nestled along historic Route 66. As you ride through Missouri, you'll be treated to amazing vistas, picturesque valleys, and thrilling twists and turns that will leave you craving more.
From the Lake of the Ozarks to the Mark Twain National Forest, Missouri is a motorcycle riding paradise that connects with an array of fascinating rides in neighboring states. To the north, Iowa's Loess Hills National Scenic Byway invites riders to experience a unique landscape created by wind-blown soils. Moving east into Illinois, the Great River Road traces the mighty Mississippi, offering a ride steeped in history and natural beauty.
Heading south, Arkansas's Ozark Highlands Scenic Byway provides a challenging journey through rugged mountains and lush forests. Traveling west into Kansas, the Flint Hills National Scenic Byway showcases the vast beauty of America's heartland. Each neighboring route adds a unique flavor to the wide array of motorcycle rides radiating from Missouri.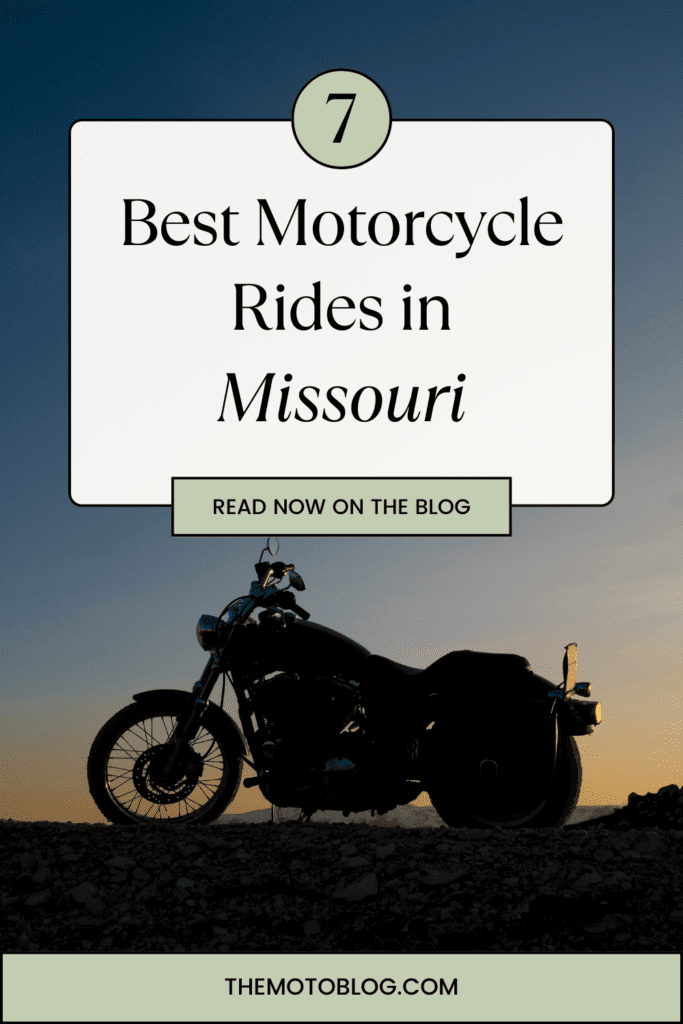 1. Ozark Mountain Adventure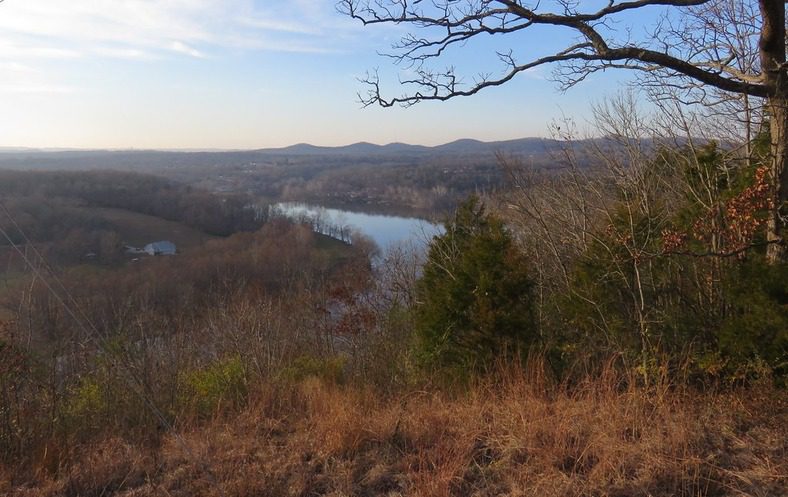 The Breathtaking Ozark Mountain Adventure is a must-experience ride for motorcycle enthusiasts. With its diverse landscape and incredible views, it's no wonder Missouri's Ozark Mountains draw riders from across the country.
Spring and fall are ideal times to enjoy this amazing ride. The mild weather means you'll experience comfortable riding temperatures and witness the changing colors of the surrounding foliage. You might also avoid the busy summer tourist season, ensuring a quieter, more peaceful journey.
The Ozark Mountain Adventure spans approximately 350 miles and typically takes around two to three days to complete. This allows for plenty of time to take in the breathtaking views and explore the numerous landmarks along the way. Of course, you can customize your ride to include more or fewer stops according to your preferences.
Here are some top spots worth visiting while you're exploring the Ozarks:
Lake of the Ozarks: A beautiful lake offering picturesque views, watersports, and numerous restaurants and accommodations.
Branson: A lively city known for its entertainment and family attractions.
Eureka Springs: A charming Victorian-style town with unique shops and fantastic scenery.
Ozark National Scenic Riverways: A gorgeous region featuring pristine rivers and fascinating caves, perfect for outdoor enthusiasts.
I'd rate the Ozark Mountain Adventure as an intermediate ride. While the journey doesn't involve highly technical roads, riders should anticipate several twists and turns along the way. As with any ride, be aware of changing road conditions and always employ safe riding skills.
Before embarking on your Ozark Mountain Adventure, make sure you're properly equipped. Essential gear includes a well-maintained motorcycle, appropriate clothing, and essential tools for any potential roadside repairs.
Don't forget to give your bike a thorough check and keep an eye on weather forecasts, as conditions can change rapidly in the Ozarks.
2. St. Louis County Loop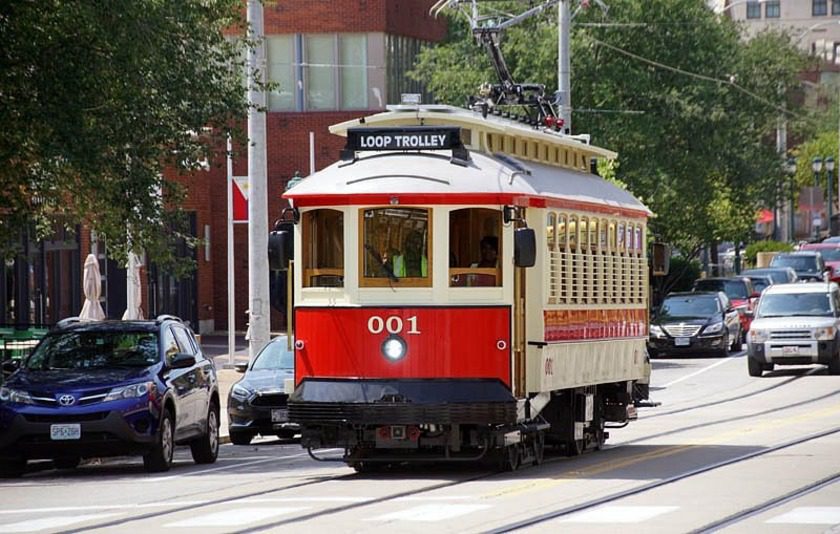 I must say, there's something truly mesmerizing about the Enthralling St. Louis County Loop. Passing through lush forests, rolling hills, and picturesque landscapes, this charming route should definitely land a spot on every biker's Missouri road ride bucket list.
Missouri is known for its temperamental weather, but the optimal time to visit the St. Louis County Loop is during spring and fall. During these seasons, you'll enjoy comfortable temperatures and experience the beauty of the changing foliage.
The St. Louis County Loop covers approximately 100 miles with an estimated travel time of around 3 to 4 hours. This allows for a leisurely ride with ample time to soak in the views and take necessary breaks.
While riding through the St. Louis County Loop, there are several noteworthy stops to make, which include:
Missouri Botanical Garden: Home to beautiful flora and seasonal events, it's a great place to stretch your legs and explore the picturesque grounds.
Forest Park: Explore the variety of attractions, including the Saint Louis Zoo, Saint Louis Art Museum, and Saint Louis Science Center.
Old Chain of Rocks Bridge: Marvel at this historic Route 66 bridge that crosses the Mississippi River and provides a great photo opportunity.
The St. Louis County Loop is suitable for riders of all skill levels. It provides a mix of moderate curves and straightaways that can be enjoyed by both experienced riders and novices alike.
Before embarking on this remarkable route, ensure that your motorcycle is in good condition and that you're equipped with safety gear. Additionally, considering Missouri's unpredictable weather, it's wise to check the forecast and be prepared for the possibility of rain.
3. Old Appleton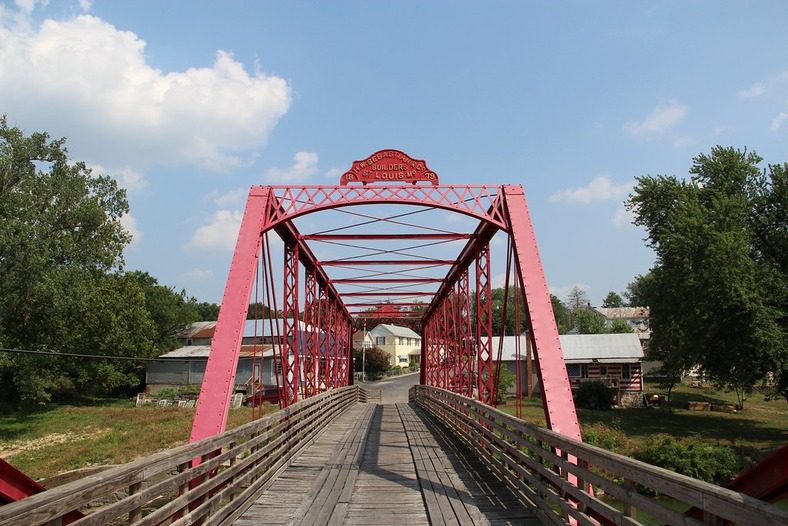 The area offers not only breathtaking landscapes and sweeping curves, but also an excellent opportunity for motorcyclists seeking a serene ride through Missouri's picturesque countryside.
The ideal time to experience Old Appleton on a motorcycle is from late spring to early fall. During these months, you'll enjoy warmer weather and colorful foliage, which make for a truly unforgettable ride.
The overall distance of the Old Appleton route is roughly 60 miles, which usually takes around 1.5 hours to complete, depending on your speed and stops along the way.
Places to Stop:
Old Appleton Bridge: As you pass through the town, make sure to stop and admire the historic Old Appleton Bridge, a beautiful place for a break and photos.
Trail of Tears State Park: A visit to Trail of Tears State Park offers a great opportunity to learn about Native American history and enjoy some picturesque views.
Downtown Cape Girardeau: Finally, as you head back home, consider making a stop at downtown Cape Girardeau for a meal or to explore some of the unique shops the area has to offer.
The Old Appleton route is considered a moderately challenging ride, with sweeping curves and changing elevations that keep riders engaged throughout the journey. It's an excellent ride for intermediate and experienced motorcyclists, while beginners may find some sections a bit challenging.
The route provides a sampling of Missouri's finest country roads, complete with beautiful views and ample opportunities for detours to interesting sites. Additionally, please keep in mind that this is a rural area, so make sure to fuel up and prepare any necessary supplies ahead of time.
4. Joplin's Treasure: Devil's Promenade Loop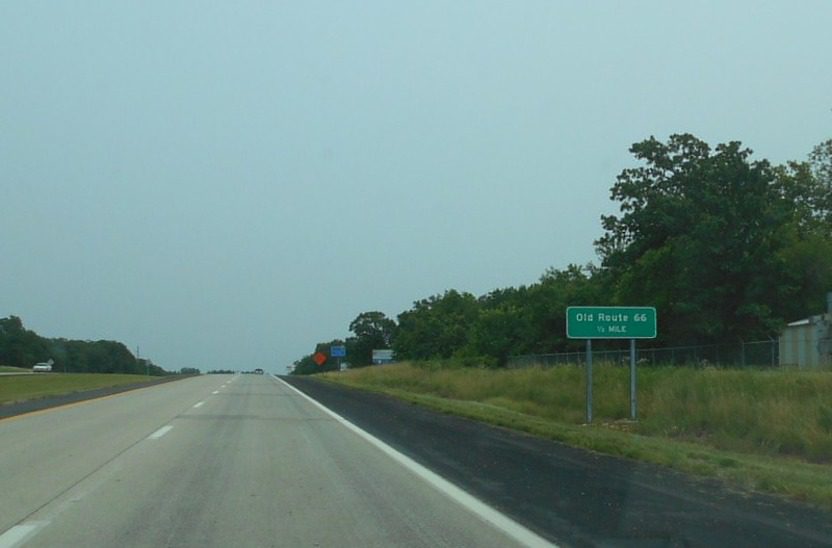 As a motorcycle enthusiast, I often find myself on the hunt for the best road rides, and one of the top rides I've discovered in Missouri is Joplin's Treasure: Devil's Promenade Loop. This exciting route offers beautiful scenery, smooth roads, and great stops for your enjoyment.
The ideal time to hit this road ride is during the spring and fall season when the weather is mild and the surrounding foliage is at its peak of beauty. During these seasons, you'll experience stunning views of the greenery, colorful blooms, or vibrant fall foliage, depending on the time of your visit.
The total distance covered on this loop is approximately 80 miles, so make sure you set aside at least 3 hours to comfortably complete this scenic ride and enjoy the attractions along the way. This timeframe includes the occasional stop at some must-see spots on the route.
There are several noteworthy stops along the Devil's Promenade Loop:
Grand Falls: A beautiful waterfall, perfect for photo opportunities and a quick breather
Red Oak II: An authentic historic village, where you can explore a piece of Missouri's past
Route 66 Carousel Park: An amusement park with fun attractions for all ages
With well-maintained roads and a variety of interesting landscapes, the Devil's Promenade Loop is suitable for all skill levels. You'll find a mix of curves and rolling hills that will keep you engaged throughout the ride.
Keep in mind a few tidbits before venturing on this captivating loop:
Remember to always wear your helmet and proper riding gear for safety
Some parts of the road might not have cell reception, so plan your navigation details in advance
Be cautious of wildlife and changes in weather conditions
5. Taum Sauk Mountain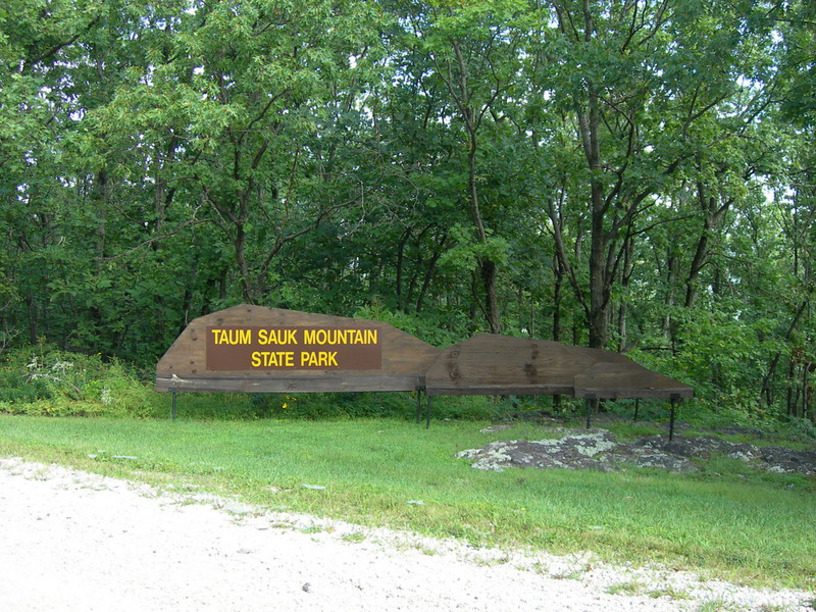 Missouri, the Show-Me State, has more than just rolling hills and verdant valleys to offer bikers. As a scenic wonderland, Taum Sauk Mountain leaves riders in awe with its breathtaking views and challenging curves.
Fall is the prime time to experience the ride along Taum Sauk Mountain. Leaves changing colors transform the landscape into a stunning display, enhancing the overall experience. However, spring and summer are also enjoyable seasons for this ride, with lush green surroundings and moderate temperatures.
The drive along Taum Sauk Mountain covers approximately 70 miles, with an average ride time of 1.5 to 2 hours. Keep in mind, this doesn't account for stops you might make along the way, which I'm sure you'll want to do.
Places to Stop:
Missouri's highest point: Ascend to the highest point in the state for stunning, panoramic views.
Taum Sauk Mountain State Park: Offers restrooms, a picnic area, and multiple trails to explore.
Johnson's Shut-Ins State Park: A natural waterpark with chutes, pools, and spectacular rock formations.
Fort Davidson Historic Site: Immerse yourself in Civil War history at this well-preserved site.
The Taum Sauk Mountain ride is rated as a moderate to difficult level in terms of riding challenges. Experienced riders appreciate the twists and turns that demand focus and skill. Newer riders, don't be overwhelmed; just take your time and ride within your comfort zone.
Other Information:
Keep an eye out for wildlife, especially deer, crossing the roads.
Cell phone reception may be spotty, so inform someone of your route and estimated return time.
Fuel up before hitting the road as gas stations can be scarce.
6. Central Ozarks on Route 19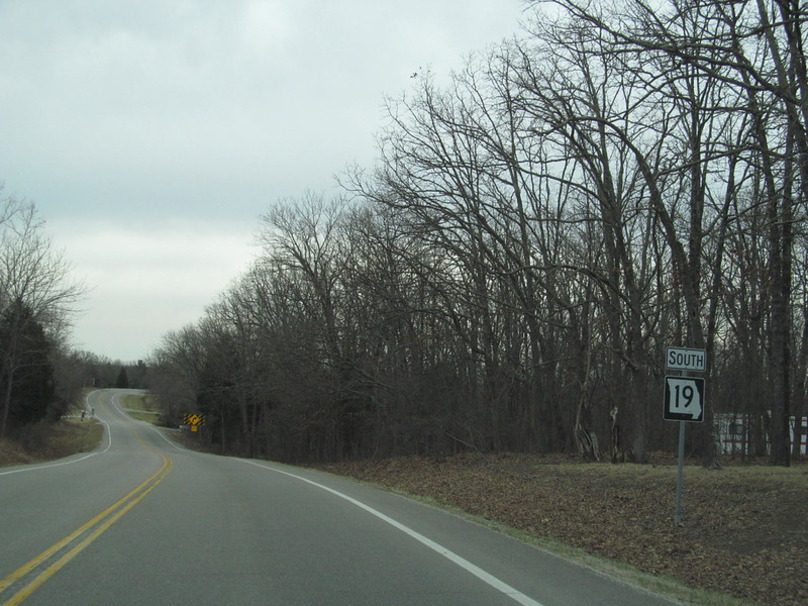 If you're looking for a scenic motorcycle route in Missouri, then don't miss the opportunity to explore Route 19 as it takes you through the heart of the Central Ozarks. Discover a diverse landscape filled with lush forests, rolling hills, and impressive vistas.
The best time to enjoy Route 19 is during the spring and fall months, when temperatures are mild, and the surrounding scenery is at its finest with blooming wildflowers in the spring, and stunning fall foliage in autumn.
Route 19 covers approximately 192 miles, and it's recommended to allocate about 4-6 hours for a leisurely ride through the Central Ozarks. This timeframe includes time for short stops and leisurely breaks to soak in the beauty of the region.
There are several interesting spots to stop and explore along the route, including:
Montauk State Park: A picturesque park offering natural beauty and excellent fishing opportunities.
Round Spring: This natural spring is awe-inspiring with crystal clear waters and great picnic areas.
Eminence: A small town with a charming atmosphere. Perfect place for a lunch break.
Alley Spring: Home to a beautiful red mill and a picturesque spring, a must-see stop!
The level of difficulty for Route 19 is moderate. Although it is a well-maintained road with gentle turns and hills, riders should remain cautious, as some areas might have sharper turns and steeper inclines. As always, be mindful of changing road conditions, especially during wet weather.
Here are some points to consider when planning your trip along Route 19 through the Central Ozarks:
Be prepared for limited cell phone coverage in some areas.
Dress in layers to accommodate varying temperatures and weather conditions.
Don't forget your camera! The breathtaking views along this route are worth capturing.
Be sure to keep an eye out for wildlife, especially deer, as they are often seen near the roadside.
7. Farmington Wine Country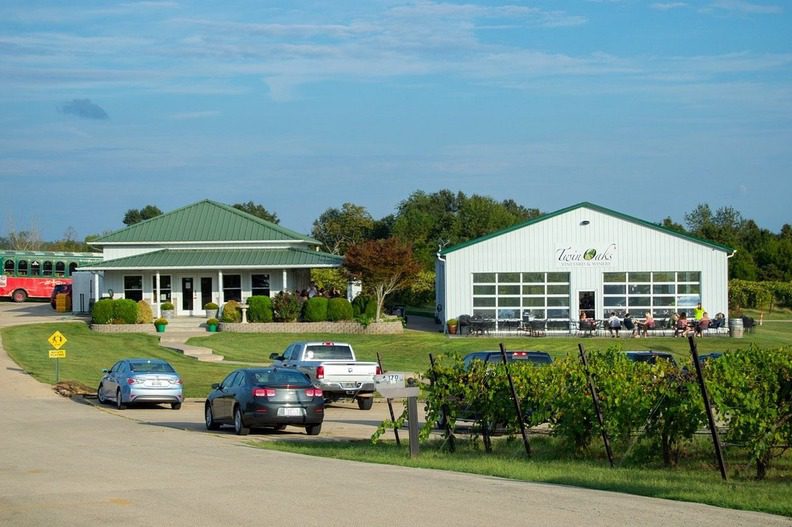 Riding through Farmington Wine Country is an experience that you'll treasure for a lifetime. Not only do you get to indulge in the natural beauty of the landscapes, but you also get to pass through quaint towns and explore the wineries that make this region famous.
In my opinion, the ideal time to visit Farmington Wine Country is during the fall season. The temperatures are moderate, and the stunning foliage adds a spectacular burst of color to the journey.
In total, this ride covers roughly 50 miles which takes about 1.5 hours to complete at a leisurely pace. I'd recommend allotting an additional 2-3 hours to spend time at the various wineries and attractions you'll encounter on the route.
Some notable spots you simply must check out along the ride include:
Twin Oaks Vineyard & Winery: This beautiful winery features delicious wines, a gourmet bistro, and gorgeous grounds that are perfect for picnicking.
Crown Valley Winery: Offering a wide selection of high-quality wines, Crown Valley also boasts stunning views of the vineyards and surrounding countryside.
St. Francois State Park: With plenty of picnic areas and picturesque hiking trails, St. Francois State Park makes for an enjoyable rest stop on your ride.
The Farmington Wine Country route is moderate in difficulty. While the roads are well-maintained and easy to navigate, there are a few curvy stretches and modest elevation changes that pose a bit of a challenge, especially for less experienced riders.
Here are a few important details to round out your trip planning:
It's wise to start the journey early, as some wineries close relatively early in the evening.
Be sure to pack a helmet and appropriate safety gear to ensure a safe and enjoyable ride.
Designated parking areas are available at most wineries and state parks, making your stops hassle-free.
It doesn't hurt to call ahead to the wineries to check their current hours and any possible restrictions.
8. Glade Top Trail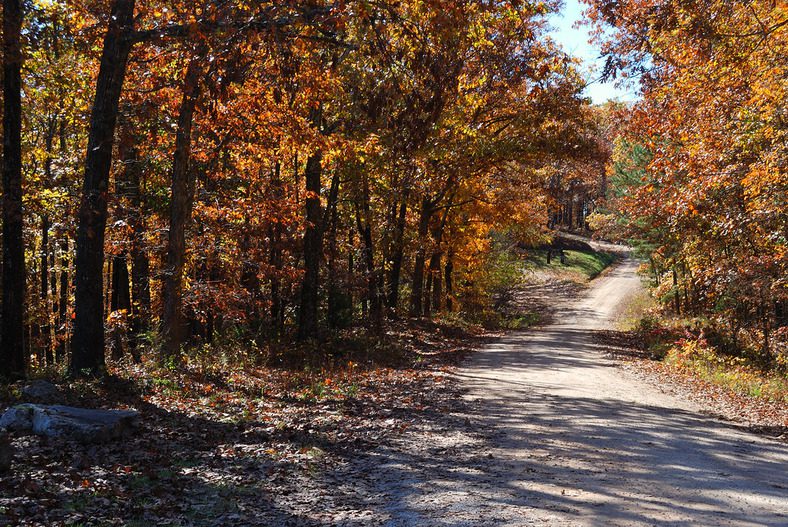 I'll take you on a journey through one of my favorite motorcycle rides in Missouri – the Glade Top Trail. Located within the Mark Twain National Forest, this breathtaking route provides motorcyclists with a perfect combination of scenic beauty, thrilling curves, and elevation changes.
The best time to visit the Glade Top Trail is during spring and fall, where you can enjoy the vibrant colors of the changing foliage.
The Glade Top Trail spans approximately 23 miles and takes around 1-1.5 hours to complete without any stops. However, I recommend taking your time to fully appreciate the stunning views along the way.
There are numerous places to stop along the route, providing you with ample opportunity to enjoy the forest's beauty, have a bite to eat, or take a break. Some of my favorite stops include:
Caney Picnic Area: A serene spot to enjoy a picnic with views of the surrounding forest.
Inspiration Point: An overlook that provides stunning panoramic views of the Ozark Mountains.
The Glade Top Trail presents a moderate level of difficulty, with several sharp turns and varying elevations. It's suitable for riders with some experience but might be challenging for beginners.
Here are a few other helpful details to note before embarking on your ride:
It's important to fuel up before starting your journey, as there are no gas stations along the trail.
Cell phone service can be spotty in this area, so it's a good idea to carry a map or GPS device to help with navigation.
Lastly, don't forget to bring a camera so you can capture the beautiful memories that await you along the Glade Top Trail.
9. Osage River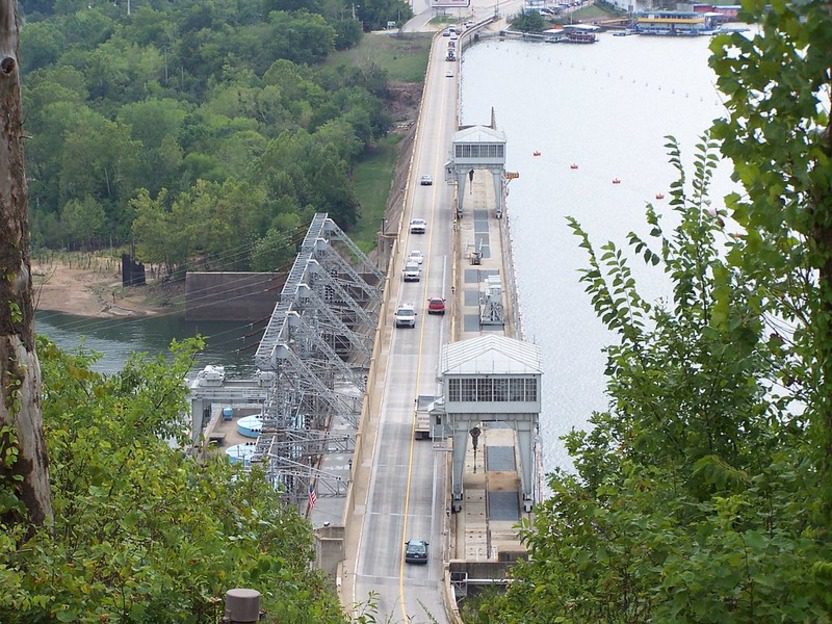 Osage River trip is an amazing motorcycle journey that combines breathtaking natural beauty with a focus on protecting the environment. This ride offers just that, along with some incredible views and memorable pit stops too.
While you can enjoy this ride during most of the year, the fall season (September to November) is the most awe-inspiring. The foliage shows off an array of vibrant colors, enhancing the natural beauty of the Osage River area.
This trip covers about 100 miles and takes around 2 to 3 hours to complete, depending on your speed and the number of stops you make.
Places to stop:
Bagnell Dam: This impressive structure offers a great look at human engineering and a fantastic view of the river's surroundings.
Osage National Golf Resort: If you're up for a break, why not stop for a round of golf or a meal at the clubhouse?
Ha Ha Tonka State Park: Stroll through the park and explore its fascinating caves, sinkholes, and interesting geology.
The Osage River ride is moderately challenging, with some winding roads, occasional gravel, and elevation changes. Riders should be comfortable with these conditions but don't need to be experts.
Other Information:
| Info | Details |
| --- | --- |
| Camping | There are various campgrounds and cabin rentals available in the area. |
| Fuel Stations | Make sure to top off your tank at the beginning of the ride, as there aren't many fuel stations along the route. |
| Cell Service | Cell service may be spotty in some areas, so plan accordingly and carry a map or GPS device. |
10. River-Hugging Route 94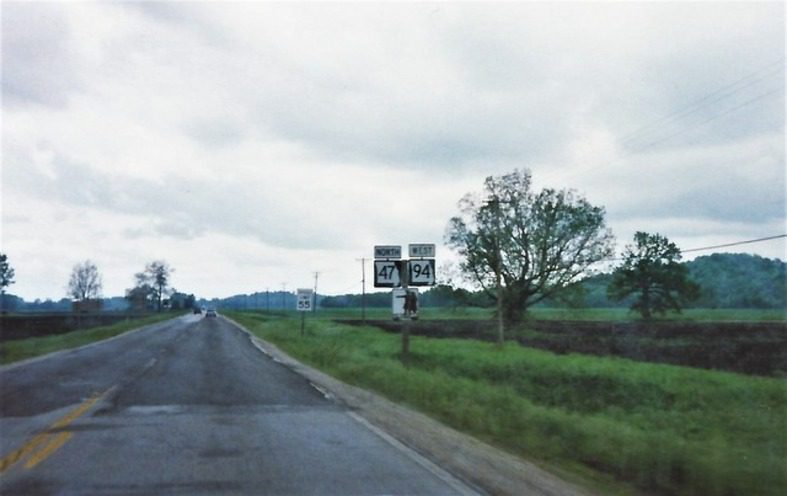 When it comes to scenic motorcycle rides in Missouri, one of my personal favorites is the river-hugging Route 94. This magnificent route stretches from St. Charles to Hermann, offering plenty to see and do along the way.
I recommend taking this ride during the spring or fall, as the temperatures are pleasant and the foliage adds extra beauty to the journey. Avoid visiting during the winter as ice and snow can make riding conditions quite treacherous.
Route 94 covers a distance of approximately 80 miles and takes about 1.5 to 2 hours of travel time, depending on the number of stops you choose to make.
Privileged with various attractions, there are several places that I love to stop at during this journey:
August A. Busch Memorial Conservation Area: With numerous fishing lakes and hiking trails, it's a perfect place for a quick outdoor break.
Defiance: A quaint little town known for award-winning wineries like Sugar Creek Winery and Yellow Farmhouse Vineyard.
Daniel Boone Monument: Take a moment to appreciate the historic site dedicated to the legendary frontiersman.
Hermann: End your ride by exploring this delightful German-inspired town, famous for its wineries, breweries, and B&Bs.
While the river-hugging Route 94 isn't considered particularly challenging, some winding sections may require a bit more attention, especially when wet. I'd categorize this ride as being suitable for intermediate riders.
During your ride, you'll frequently pass by the Missouri River, providing incredible views and plenty of spots for a quick photo op. Moreover, several towns along the way offer great dining options, so there's no need to worry about packing lunch.
FAQs
What are some popular motorcycle rides in Missouri?
Some Top Rides Include Missouri Wine Country Tour, Missouri Route 86 – Ride The Eagle, The "Big Mo" River Ride Loop, Highway 21 South To Elephant Rock, And St. Louis / Illinois Bluffs / MO Mining Country Loop.
Where can motorcyclists explore the Ozarks in Missouri?
Riders can access the Ozark Hill Country route, which offers scenic landscapes, winding roads, and picturesque views of the Ozark Mountains.
What does the Missouri Wine Country Tour route offer?
The Missouri Wine Country Tour Takes Riders Through The Beautiful Wine Country Region, Visiting Charming Wineries And Vineyards While Enjoying Scenic Roads And Views.
What can riders expect in the Missouri Route 86 – Ride the Eagle route?
The Ride The Eagle Route Offers A Thrilling Experience With Scenic Views Of Table Rock Lake, The Mark Twain National Forest, And The Ozark Mountains, As Well As Some Tight Twisty Sections For A Fun Ride.
What is unique about The "Big Mo" River Ride Loop?
The "Big Mo" River Ride Loop Provides A Picturesque Route Along The Missouri River, Taking Motorcyclists Through Small Towns, Historic Sites, And Beautiful Countryside.
In Conclusion: Missouri's Road Riding Gems
Throughout this article, I've explored the top 10 best motorcycle road rides in Missouri, highlighting some memorable gems these routes have to offer. Each road holds unique characteristics and surprises, allowing riders to enjoy a wide variety of scenery and riding experiences. In order to help you properly plan your next ride, I've summarized essential information on the best time to visit, places to stop, level of difficulty, and other useful details.
Missouri's prime riding season typically kicks off in April and lasts until October. Spring and fall are especially ideal for experiencing the picturesque landscapes, cooler temperatures, and fewer crowds. Each route's distance and time to travel will vary, though most can be easily enjoyed in a day or a weekend trip.
Each route boasts a variety of interesting pitstops for riders to rest, eat, or simply appreciate the surroundings. Some notable stops include:
Dining establishments ranging from local eateries to fine dining options
Quaint B&Bs or lodging facilities
Scenic overlooks or vistas perfect for photo opportunities
Historical sites or roadside attractions
Riders of all skill levels will find something to enjoy among the selected routes. The level of difficulty ranges from beginner to advanced, with roads featuring both gentle curves and more challenging twists and turns. Be sure to research each ride's terrain beforehand to find one that matches your preference and experience.
When planning your next adventure, consider additional factors such as the road conditions and local weather patterns. Staying informed will allow you to make the most of your riding experience in the great state of Missouri.
In conclusion, Missouri offers riders plenty of opportunities to explore its diverse landscapes and indulge in some of the best road riding gems in the region. By taking note of the essential information I've provided, you'll be well-prepared to hit the road and discover all these fantastic routes have to offer. Head out and enjoy the ride!
Motorcycle Rides in the US by States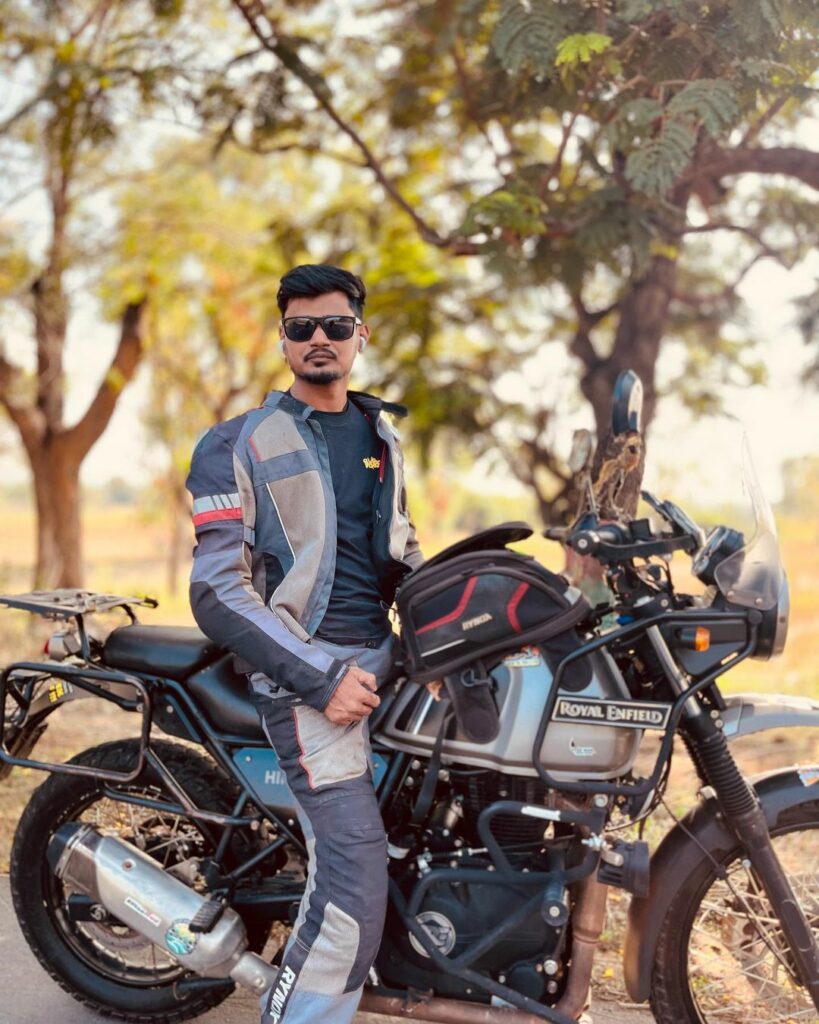 Vishwanath Mathpati
I am Vishwanath Mathpati, a full-time Blogger and Motorcyclist from Bidar, Karnataka. I love writing about my Motorcycles Stories and Riding Gears on this blog.
Know More About Me.
---
If you liked this article, then please subscribe to our YouTube Channel for more Bike Videos. You can also find us on Instagram, Twitter and Facebook.
Disclosure: As an Amazon Associate, I earn from qualifying purchases. Read more about Amazon Affiliate Disclaimer.