Top 8 Best Motorcycle Rides in Ohio: My Ultimate Guide
Ohio is a state that's often overlooked when it comes to motorcycle rides, but it shouldn't be. From the winding roads of Hocking Hills to the shores of Lake Erie, Ohio offers a wealth of beautiful scenery and thrilling roads for motorcycle enthusiasts to explore. As someone who has experienced the thrill of these routes firsthand, I can attest to their incredible beauty and excitement.
Don't limit yourself to just the well-known hotspots; there are countless hidden gems waiting to be discovered. In this article, I'll be sharing the top 8 best motorcycle rides in Ohio that you won't want to miss. From scenic byways to picturesque countryside roads, these routes will not only provide an exhilarating ride but also the opportunity to connect with Ohio's rich history, stunning landscapes, and charming small towns.
Ohio offers motorcycle riders a diverse selection of routes, from the rolling hills in the southeast to the flat farmlands in the west. However, the journey doesn't end at Ohio's borders. Heading north to Michigan, riders can take on the Tunnel of Trees Road, a narrow scenic road that follows the eastern coastline of Lake Michigan. In neighboring Indiana to the west, the Hoosier National Forest Loop offers scenic views of forested hills, farmland, and historical sites. Over in Pennsylvania, to the east, the Grand Army of the Republic Highway offers an engaging journey through a variety of terrains. Heading south, Kentucky's Red River Gorge Scenic Byway presents riders with a unique geological landscape.
Each of these routes in neighboring states offer unique perspectives and additional adventure for Ohio's motorcycle enthusiasts. So let's dive in and explore what Ohio's roads have to offer.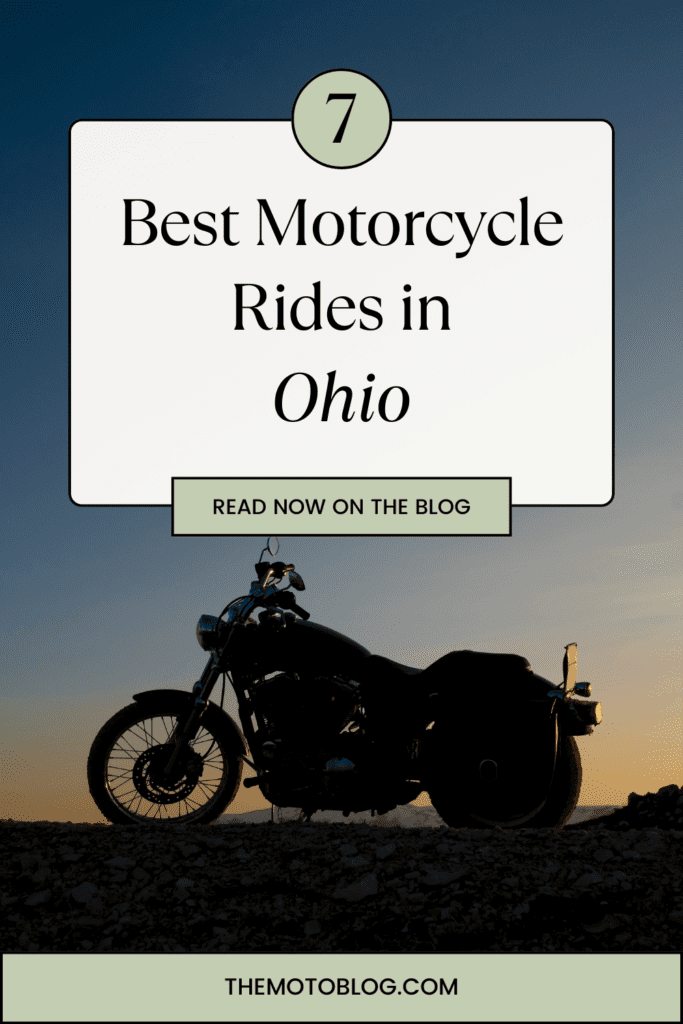 1. Ohio Route 555: The Triple Nickel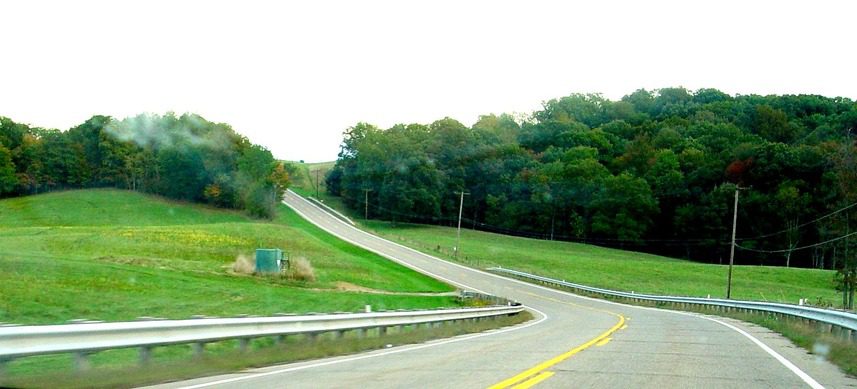 One of the most thrilling rides in the Buckeye State, Ohio Route 555 also known as The Triple Nickel, is definitely a must-ride for any motorcycle enthusiasts. This scenic and exciting 62-mile stretch features breathtaking views, ample opportunities for pit stops, and a decent level of difficulty, making it a popular choice among riders.
The ideal time to take on the Triple Nickel is during late spring to early fall. During these months, the weather is more favorable with moderate temperatures and less risk of encountering icy road conditions or heavy snowfall.
With a total distance of 62 miles, Route 555 is no cakewalk. Riders can expect to spend approximately 2 to 3 hours to complete the journey, depending on the number of pit stops one makes and the pace at which they travel.
The Triple Nickel is known for its challenging terrain, with plenty of tight turns, elevation changes, and narrow sections. This makes it more suited for intermediate to experienced riders. It's essential to keep safety in mind and not to push one's limits while on the road.
Along the Triple Nickel, there are a few notable stops and attractions that are worth checking out:
Big Muskie's Bucket: Located in Miner's Memorial Park, it's the perfect spot to take a break and marvel at the massive piece of mining machinery.
Zanesville: This picturesque town offers an assortment of restaurants, shops, and historical sites to explore.
Burr Oak State Park: A great place for a relaxing picnic, hiking, or just taking in the natural beauty.
Riders should keep in mind that the road surface condition may vary from smooth asphalt to rough patches and gravel in certain areas. It's always a good idea to check the weather forecast and road conditions before embarking on the ride. And, as always, don't forget to wear your helmet and proper protective gear to ensure a safe and enjoyable ride.
2. Ohio Route 26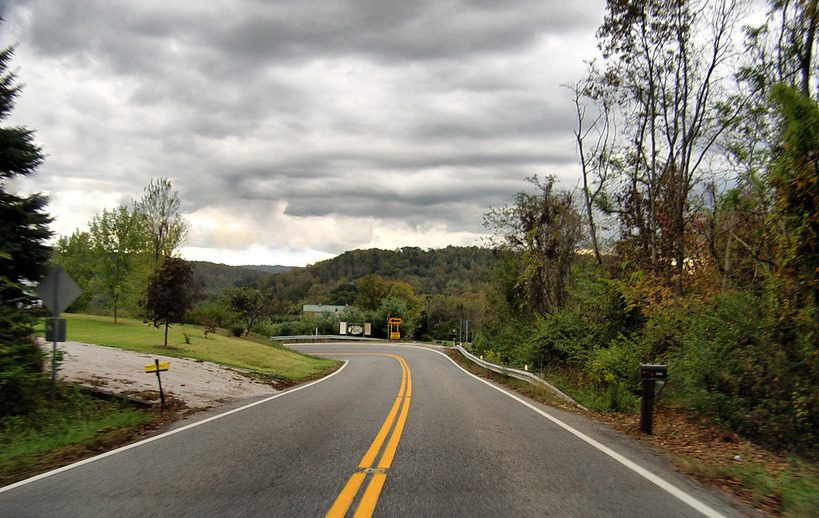 It's a hidden gem that is sure to take your breath away with its scenic beauty and diverse terrain. The route stretches for 97 miles from Marietta, in the southeast corner of Ohio, all the way to Woodsfield.
The best time to ride this fantastic route is during the fall months, particularly late September to mid-October. This is when autumn leaves create a vibrant display of colors, making the route even more striking and memorable.
Ohio Route 26 runs for about 97 miles and takes approximately 2 to 3 hours to complete, depending on your riding speed and how often you stop to take in the sights.
Along the way, there are several must-see places that you shouldn't miss:
Marietta Historic District: Start your ride in the charming town of Marietta. Explore its historic district, where you'll find beautiful old homes, shops, and the Ohio River Museum.
Wayne National Forest: Route 26 passes through this vast forest, offering great views and ample opportunities for wildlife spotting and photography.
Ring Mill: Located in the heart of the forest, this site features an old mill and waterfall that make for a perfect photo op.
Covered Bridges: Be sure to admire some historic covered bridges as you ride along – they're quintessential Americana!
Due to Route 26's winding roadways and elevation changes, I would recommend this ride for intermediate to experienced riders. It's important to stay vigilant and ride within your skill level, as the curves may be challenging for less experienced riders.
Lastly, here are some additional tips and information to keep in mind for your ride:
Be sure to fuel up before starting on Route 26, as gas stations may be scarce along certain stretches.
Keep your eyes peeled for wildlife, especially deer, which are often spotted in the area.
In terms of lodging, there are several quaint bed and breakfasts in both Marietta and Woodsfield that offer comfortable stays and local charm.
3. Hocking Hills Scenic Byway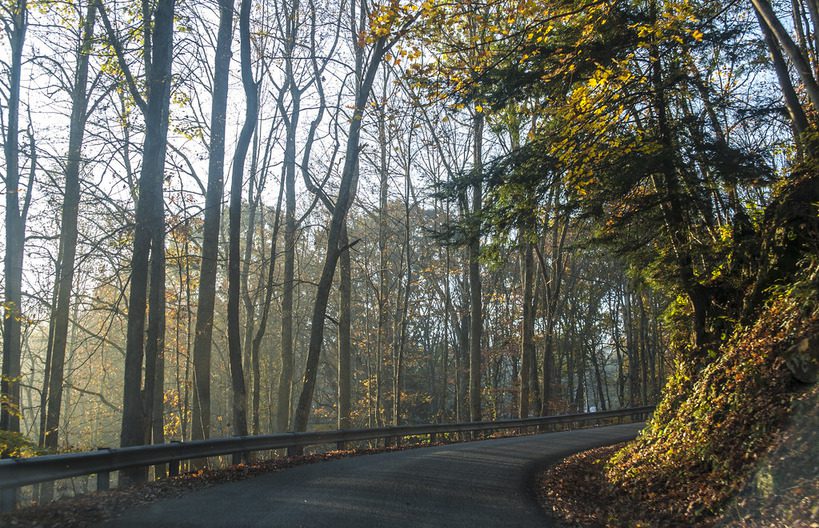 This picturesque stretch of road, located in the southeastern region of the state, offers riders a perfect combination of natural beauty, thrilling twists, and turns, as well as fascinating roadside attractions.
The ideal time to explore the Hocking Hills Scenic Byway is from April through October. During these months, the weather is typically more conducive to motorcycle riding, and the lush greenery and colorful foliage create a canvas of breathtaking landscapes.
The total length of the byway is approximately 62 miles and takes around 1.5 to 2 hours to traverse without stops. However, I highly recommend taking your time and stopping at various points of interest to fully appreciate the beauty of this ride.
Some of the must-see stops along the Hocking Hills Scenic Byway include:
Old Man's Cave: A stunning, deep gorge, with waterfalls, rock formations, and hiking trails
Conkle's Hollow State Nature Preserve: Features a deep, rocky gorge and lush, green flora
Ash Cave: An immense sandstone recess cave surrounded by a beautiful, scenic hemlock forest
Rock House: A unique, tunnel-like cave with a fascinating history
The Hocking Hills Scenic Byway is a ride that most motorcyclists, regardless of skill level, can enjoy. However, it's essential to be aware that the road does have some tight hairpin turns and elevation changes, so riders should always be cautious and respect their limits.
While exploring the Hocking Hills Scenic Byway, you'll also encounter various charming small towns, eateries, and shops to visit. Additionally, numerous campgrounds and lodgings cater to different budgets, so overnight stays are always an option.
4. Lake Erie Loop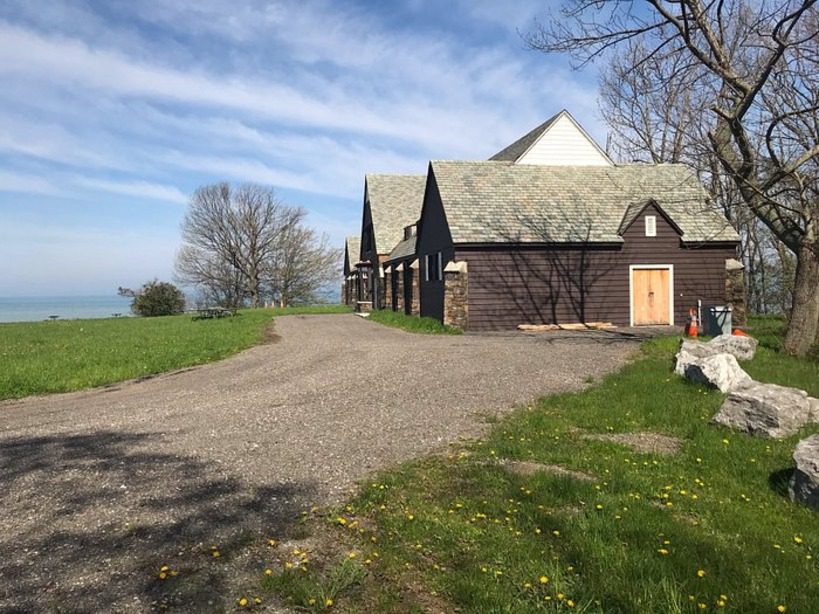 One of the best motorcycle rides in Ohio is undoubtedly the Lake Erie Loop. As the name suggests, this fascinating route takes you for a spin around the majestic Lake Erie. Known for its captivating scenery and abundant opportunities for sightseeing, this trip is ideal for those who want to enjoy the beauty of nature while cruising on their beloved motorcycles.
The perfect time to explore the Lake Erie Loop depends on your personal preferences. That being said, I'd recommend visiting between May and October, since the weather is warm and mostly dry during these months. Avoiding the frigid winters of Ohio and the uncertainties of early spring will allow for a more enjoyable riding experience.
The Lake Erie Loop covers approximately 620 miles, with the time required to complete the journey varying based on your chosen stopovers. For a more leisurely ride, allot about two to three days to fully immerse yourself in the sights and sounds of the region.
Some must-see attractions during your Lake Erie Loop adventure include:
Marblehead Lighthouse
Perry's Victory and International Peace Memorial
Kelleys Island and Put-In-Bay
Magee Marsh Wildlife Area
Geneva-on-the-Lake
Make sure to also indulge in the fantastic local eateries and savor Lake Erie's wine trails along the way.
The Lake Erie Loop is considered a moderately easy ride, suitable for most skill levels. The roads are generally well-maintained, making it a smooth journey, but riders should still exercise caution when navigating through various towns and cities.
A few essential pointers to keep in mind for this trip include:
Get an early start in the morning to not only avoid rush hour but also to make the most of daylight.
Be prepared for occasional rain showers – always pack waterproof gear.
Ohio's helmet laws require riders under 18 and those with less than one year of experience to wear helmets. Be sure to know and follow all state laws.
5. Scioto Trail State Route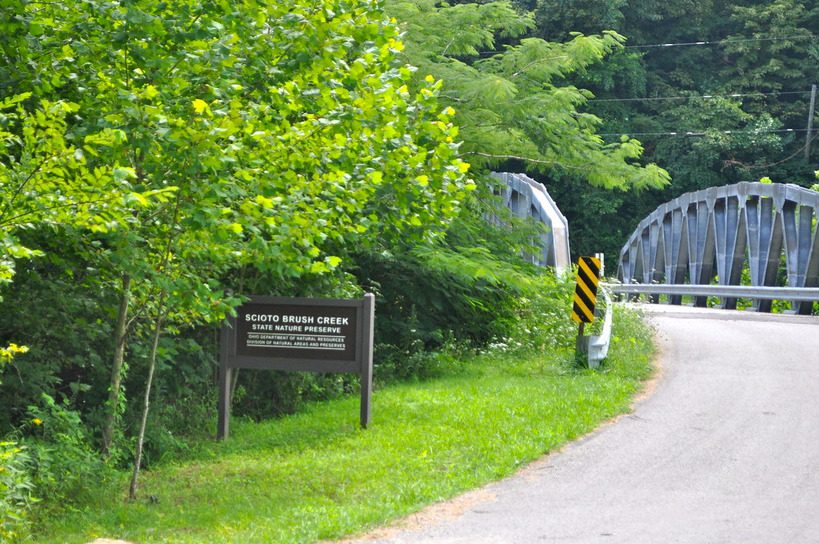 As I explore some of the best motorcycle rides in Ohio, the Scioto Trail State Route stands out as one of my top recommendations. This picturesque route takes riders through the rolling hills of Southern Ohio, offering stunning views and an unsurpassed riding experience.
The ideal time to take on this ride is during the fall season, when the changing colors of the leaves create a breathtaking backdrop for the journey. However, the route is enjoyable throughout the spring and summer months as well.
The entire route spans around 75 miles and can be completed in approximately 1.5 to 2 hours. Of course, this will vary depending on the number of stops and the pace of your ride.
There are a number of interesting places to visit along the Scioto Trail State Route:
Rock House: A unique cave-like structure, perfect for a quick photo op
Great Seal State Park: Experience beautiful hiking trails and wildlife
Dogwood Pass: A re-created old western town with occasional live events
This route is relatively easy to navigate and is suitable for riders of all skill levels. However, there are some twists and turns that may prove challenging for novice riders. It's always important to drive within your skill level and stay alert throughout the route.
Here are a few additional details to consider when planning your ride on the Scioto Trail State Route:
Remember to bring along a camera to capture the incredible scenery
Exercise caution when passing through small towns and be respectful of local residents
As this is a rural area, gas stations and amenities may not be readily available, so plan accordingly
6. Little Miami Scenic River Route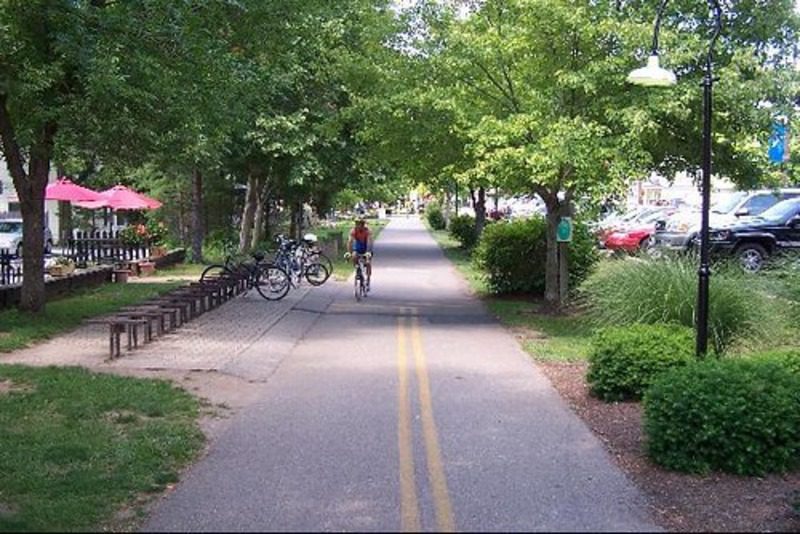 I'm excited to share the Little Miami Scenic River Route, one of Ohio's most picturesque and enjoyable motorcycle rides. This winding route stretches alongside the beautiful Little Miami River and takes you through lush forests, charming small towns, and scenic parks.
The ideal time to experience this amazing ride is between late spring and early fall, as the weather is usually pleasant and the foliage is lush and vibrant.
The Little Miami Scenic River Route spans approximately 50 miles and can be completed in about 1 to 2 hours, depending on your pace and stops.
Places to Stop:
Waynesville, known for its quaint historic downtown and antique shops
Caesar Creek State Park, perfect for a picnic and taking in the lake views
Ft. Ancient State Memorial, learn about Native American history with a museum and trails
This ride is fairly easy, with no significant elevation changes or sharp turns. It's perfect for both beginner and experienced riders who want a relaxed and scenic journey.
Other Information:
The route follows State Route 350 and in some parts, State Route 22/3.
Be prepared for a few two-lane bridges crossing the river, giving you a close-up view of the stunning Little Miami.
Take your time to explore some of the parks and nature preserves in the area, like the Little Miami State Park and John Bryan State Park.
7. Amish Country Byway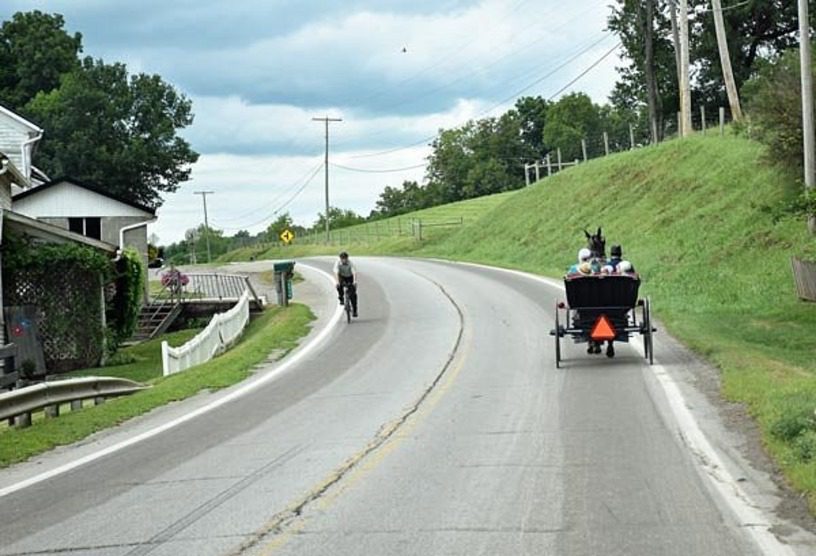 As I explore the Top 8 Best Motorcycle Rides in Ohio, I can't help but recommend the picturesque Amish Country Byway. This beautiful route takes you through the heart of Ohio's Amish Country, offering a perfect blend of rolling hills, winding roads, and charming countryside.
The ideal time to visit Amish Country Byway is during the spring or fall months. These seasons provide stunning foliage, comfortable temperatures, and typically ideal riding conditions. Summer is also a popular time, but be prepared for potential heat and humidity.
The Amish Country Byway covers approximately 76 miles and can take anywhere from 1.5 to 2.5 hours to complete, depending on your pace and stops along the way. It includes parts of State Routes 39, 93, and 557 as well as US Route 62.
There are numerous places to take a break, admire the scenery, or grab a bite to eat during your ride. Some of my favorite stops include:
Charm: This quaint town features shops, restaurants, and the famous Guggisberg Cheese Factory
Berlin: Known as the heart of Amish Country, Berlin offers shopping, dining, and lodging options
Sugarcreek: Immerse yourself in Swiss heritage as you explore this town's Swiss-style architecture and attractions
Walnut Creek: Discover beautiful views, homemade jams, and the renowned Der Dutchman restaurant
The Amish Country Byway is considered a low to moderate difficulty ride. Riders should be aware of occasionally sharp curves and some changes in elevation, but overall, the route is well-suited for riders of varying skill levels.
While enjoying your ride, it's important to be respectful of the Amish community. Keep an eye out for horse-drawn buggies and take precautions when passing, giving them ample space. In addition, be mindful of the posted speed limits and avoid excessive noise, as this is a peaceful, rural area.
Furthermore, Ohio law requires that motorcyclists wear a helmet if they're under 18 or hold a motorcycle license/endorsement for less than a year. It's always a good idea to wear proper safety gear for a safe and enjoyable ride.
8. Brandywine Falls Ride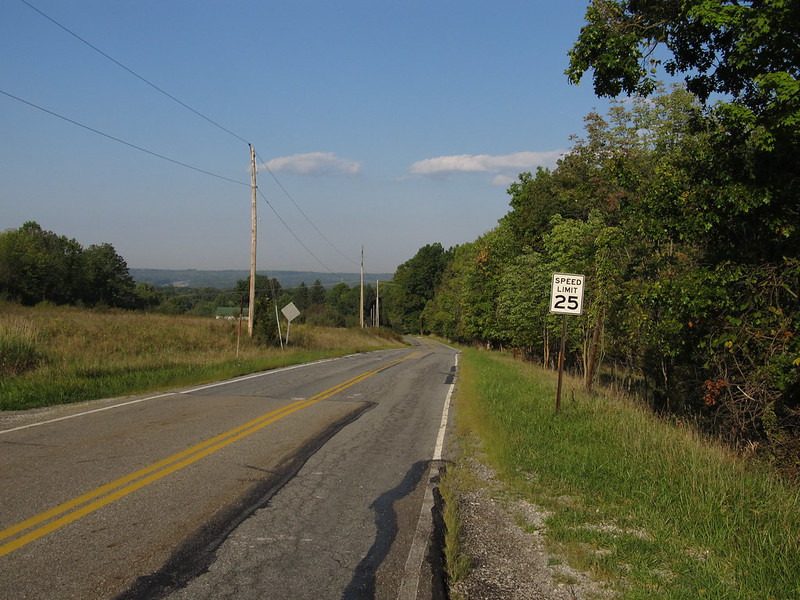 I've discovered that Brandywine Falls Ride is ranked as one of the most picturesque motorcycle rides in Ohio. It's no wonder riders flock to this scenic route to experience the breathtaking beauty of the Cuyahoga Valley National Park, starting from Peninsula and ending at the magnificent 65-foot Brandywine Falls. This ride is also popular with locals and tourists alike, as it offers an escape from the bustling cities and a relaxing journey through nature's wonders.
The ideal time to visit and ride along the Brandywine Falls route is during the fall months, when the foliage turns to spectacular hues of red, orange, and gold, creating a stunning backdrop for your ride. However, spring and summer also offer pleasant conditions for a day trip, with the flowers in bloom and the park's landscape coming alive with vibrant colors.
The Brandywine Falls Ride covers a distance of 15 miles and takes approximately 1-1.5 hours to complete, depending on how many stops you make along the way. This moderate-length ride will allow you to fully immerse yourself in the surrounding beauty and take in all the sights at your own pace.
You'll find plenty of places to stop and take in the scenery along the way. Some noteworthy pit stops include:
Brandywine Falls Scenic Overlook: offering a panoramic view of the falls and the valley below
Boston Mills Historic District: a charming and well-preserved slice of history
Indigo Lake: a picturesque spot to enjoy a picnic or take a short hike
Beaver Marsh Overlook: ideal for birdwatching and taking in the tranquil marshland
The Brandywine Falls Ride is classified as an easy route, making it suitable for riders of all experience levels. The roads are well-maintained and clearly marked, ensuring a smooth and safe journey. You'll encounter some gentle curves and rolling hills, but nothing overly challenging.
Before embarking on your Brandywine Falls Ride, ensure you have a valid park pass. The national park requires all visitors to present an up-to-date pass upon entry. Additionally, it's recommended to download a park map or pick one up at the visitor center, so you don't miss any hidden gems along the way.
FAQs
is Ohio good for motorcycle rides?
Yes, Ohio Offers Various Scenic And Enjoyable Motorcycle Routes Known For Their Twists, Turns, And Beautiful Landscapes.
What Is The Triple Nickel Motorcycle Ride?
The Triple Nickel Is A Popular Motorcycle Route Along State Route 555 In Ohio, Featuring Winding Roads, Dynamic Elevation Changes, And Picturesque Scenery.
What is the Ohio Dragon's Tail?
Ohio's Dragon's Tail Is Another Famous Motorcycle Route, Noted For Its Steep Hills, Sharp Turns, And Challenging Terrain, Often Compared To The Famous "Tail Of The Dragon" In Tennessee.
Where Can I Find The Best Motorcycle Rides In Ohio?
Some Of The Best Motorcycle Rides In Ohio Include The Windy 9, Hocking Hills Scenic Byway, Ohio Route 26, And The Three Rivers Ride.
What is the Hocking Hills Scenic Byway? A
The Hocking Hills Scenic Byway Is A Popular Motorcycle Route In Ohio That Takes Riders Through The Scenic Hocking Hills Region, Featuring Beautiful Forests, Waterfalls, And Rock Formations.
Wrapping Up the Ride
Having explored the top 8 best motorcycle rides in Ohio, it's hard not to be impressed by the variety and beauty these routes have to offer. From scenic countryside views to breathtaking coastal cliffs, each ride presents a unique experience. Before setting off on your two-wheeled adventure, it's good to keep in mind:
Spring through fall is the ideal time for motorcycle rides in Ohio, as the weather is more favorable and the landscape is lush and vibrant. Early mornings and late afternoons provide comfortable temperatures and stunning views.
The difficulty of each ride varies, catering to both beginner and seasoned motorcycle riders. While some routes include challenging twists and turns, others present more leisurely cruises through scenic landscapes.
Remember to always wear proper protective gear and follow local traffic laws while riding. It's also wise to check the weather conditions beforehand, as well as the road conditions on the Ohio Department of Transportation website.
Now that I've introduced you to the top 8 best motorcycle rides in Ohio, it's time for you to prepare your bike and gear up for some incredible adventures on the open road. May the wind forever be at your back, and happy riding!
Motorcycle Rides in the US by States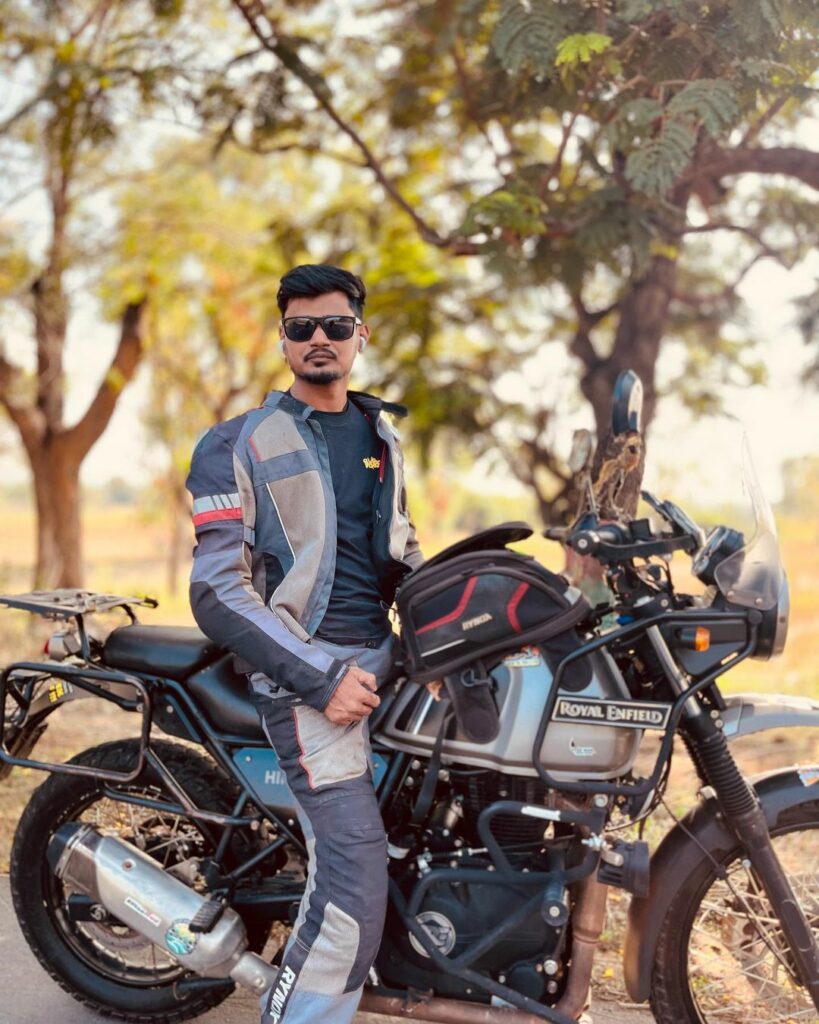 Vishwanath Mathpati
I am Vishwanath Mathpati, a full-time Blogger and Motorcyclist from Bidar, Karnataka. I love writing about my Motorcycles Stories and Riding Gears on this blog.
Know More About Me.
---
If you liked this article, then please subscribe to our YouTube Channel for more Bike Videos. You can also find us on Instagram, Twitter and Facebook.
Disclosure: As an Amazon Associate, I earn from qualifying purchases. Read more about Amazon Affiliate Disclaimer.