Top 8 Best Motorcycle Rides in North Carolina: Discovering Scenic Adventures
North Carolina has some spectacular motorcycle rides that every biker should experience at least once. From the iconic Blue Ridge Parkway to the twisty Tail of the Dragon, there are an abundance of scenic routes that offer everything from mountain vistas to coastal landscapes. I've put together a list of the top 8 best motorcycle rides in North Carolina that you won't want to miss on your next two-wheeled adventure in the Tar Heel State.
The diverse terrain of North Carolina makes it a top destination for motorcyclists looking to explore picturesque backroads and thrilling curves. Whether you're a fan of winding mountain roads or prefer the peaceful seaside scenery, there's something for everyone here. It's no wonder North Carolina consistently ranks as one of the best states for motorcycling. In addition to unforgettable scenery, these rides also boast rich cultural and historical landmarks that are worth exploring.
With its diverse landscapes, from the Great Smoky Mountains to the Atlantic coastline, North Carolina is a dream for motorcycle enthusiasts. The adventure doesn't stop there, as the neighboring states also offer fascinating routes. Traveling north to Virginia, riders can traverse the Blue Ridge Parkway, a national scenic byway known for its stunning views and gentle curves. Head south into South Carolina, and you'll find the Cherohala Skyway, a sweeping journey through the Appalachian Mountains. Over in Tennessee to the west, the Tail of the Dragon promises a thrilling ride with its 318 curves in 11 miles.
Finally, to the east, the Outer Banks Scenic Byway in North Carolina itself offers a unique coastal ride through barrier islands. Each of these routes in neighboring states and within North Carolina itself offers a unique perspective, adding to the diverse range of motorcycle journeys in the region.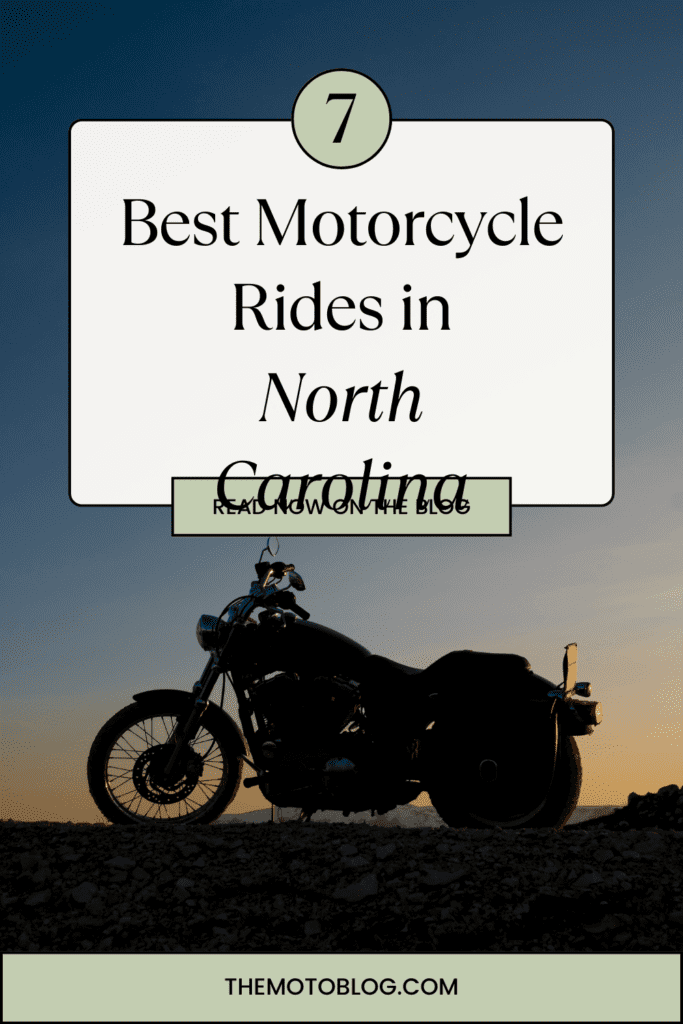 1. Blue Ridge Parkway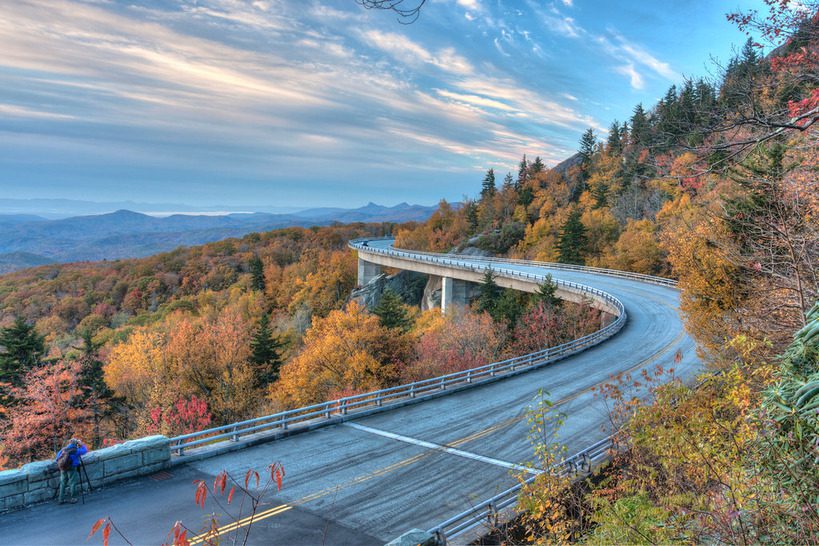 The Blue Ridge Parkway in North Carolina is truly an unforgettable motorcycle ride with some of the best views and curves in the region. Let me walk you through what makes it such an amazing experience.
Fall is without a doubt the best time to experience the Blue Ridge Parkway. The vibrant colors of the leaves, along with cooler temperatures, make it the perfect time to hit the road. However, if you can't make it during the fall season, the parkway offers stunning views and enjoyable rides year-round.
Stretching over 469 miles with an estimated travel time of 3 to 4 days, the Blue Ridge Parkway offers countless opportunities for thrilling rides along one of the most scenic routes in the United States.
When riding the parkway, you'll come across numerous must-see stops along the way, just waiting to be explored. Some of my favorites include:
Linn Cove Viaduct: A remarkable piece of engineering that offers breathtaking views of the surrounding mountains.
Mount Pisgah: Steeped in history and offering a fantastic panoramic view from the summit, this is a stop you won't want to miss.
Craggy Gardens: Known for its rhododendron blooms and amazing vistas, Craggy Gardens is an absolutely stunning location to take a break from the road.
The Blue Ridge Parkway provides a variety of riding experiences, from easy, relaxing cruises to more challenging and technical curves. While it's suitable for riders of all skill levels, the parkway's frequent twists and elevation changes offer a fun challenge for even the most experienced riders.
Don't forget that the Blue Ridge Parkway has several regulations in place to help ensure everyone's safety, including a strict speed limit of 45 mph and mandatory use of helmets. Additionally, weather conditions can change rapidly, so it's always a good idea to check the forecast before heading out on your ride.
2. Cherohala Skyway: Scenic Delight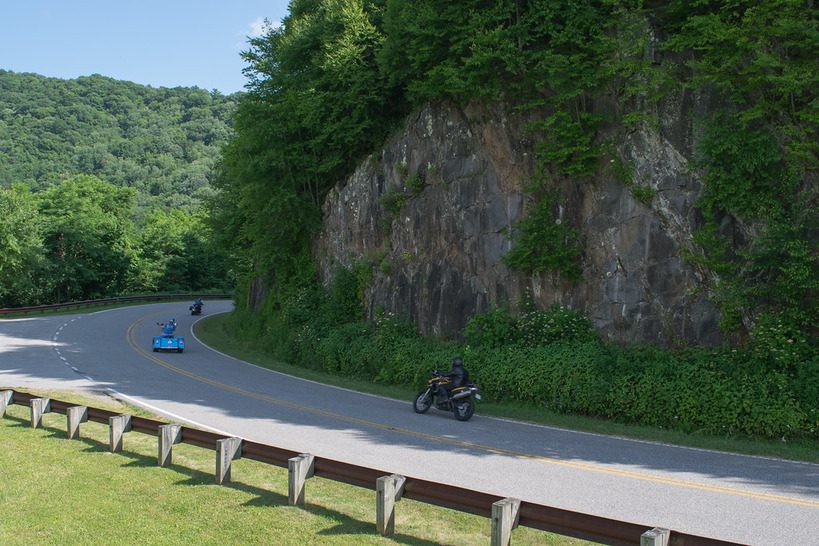 One of the must-ride roads in North Carolina is the Cherohala Skyway. The Skyway offers some of the most captivating views of the Blue Ridge and Smoky Mountains. You will absolutely love cruising through the picturesque scenery that never fails to leave you in awe.
To fully appreciate Cherohala Skyway's beauty, I recommend visiting during the fall months (October or early November), when the striking colors of foliage are at their peak. The weather is comfortable, with cooler temperatures and minimal rainfall, making the ride pleasurable.
The Cherohala Skyway runs for 43 miles and connects Tellico Plains, Tennessee, to Robbinsville, North Carolina. The journey takes about 2 hours to complete, considering stops for photo opportunities and enjoying the breathtaking views.
There are numerous picturesque stops along the Skyway, perfect for taking photos and soaking in the scenery. Some of the gems you'll encounter include:
Santeetlah and Calderwood Overlooks: These are two of the most popular viewpoints. Spend some time here, enjoying the panoramic views that showcase the natural beauty of the Skyway.
Indian Boundary Lake Recreation Area: This park has a beautiful picnic area, perfect for a relaxing lunch break alongside a pristine lake surrounded by dense forest.
River Road: A short detour off the Cherohala Skyway takes you to the Little Tennessee River. This spot offers a peaceful riverside escape with the opportunity for fishing or a refreshing swim during the warmer months.
The Cherohala Skyway is a moderate motorcycle ride. As it winds through mountainous terrain, expect sweeping curves and dramatic elevation changes. Novice riders should take extra caution, while seasoned motorcyclists will appreciate the exhilarating challenge provided by this road.
Make sure to fuel up before embarking on the Skyway, as gas stations are scarce along the route. Cell reception is also limited, so it's a good idea to carry a physical map or download an offline GPS map of the area. Keep an eye on the weather too, especially during the colder months, as fog and ice can make the journey hazardous.
3. The Copperhead Loop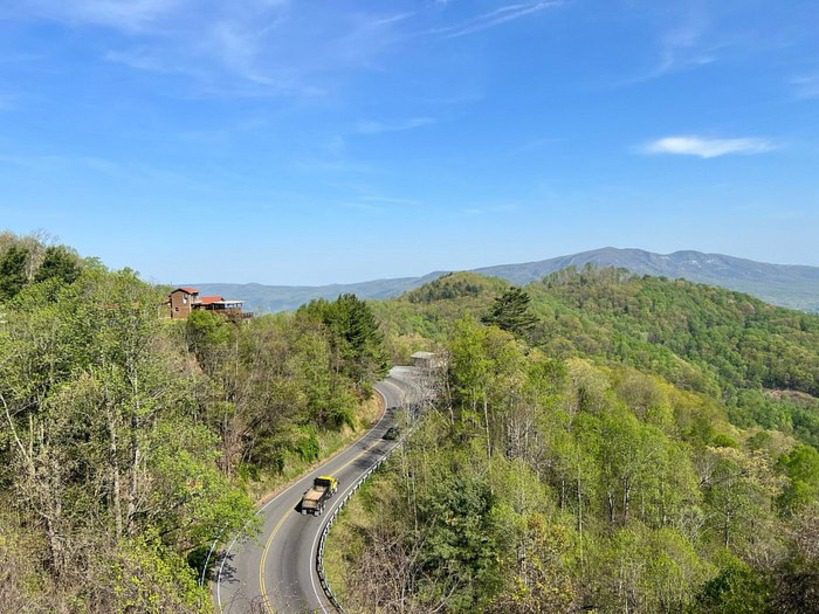 The Copperhead Loop never ceases to amaze me with its picture-perfect blending of natural beauty and thrilling twists. This enchanting, serpentine route offers some of the best motorcycle riding in North Carolina.
The ideal time to visit is during the spring and fall seasons, when you can marvel at the vibrant foliage and enjoy the crisp air. The moderate temperatures during these periods offer a refreshing experience for riders.
The entire loop spans around 77 miles, and it generally takes about 3 hours to traverse, including time for breaks and scenic stops.
Some of the notable places to stop and take in the beauty of this ride are:
Little Switzerland, a charming community with quaint accommodations and picturesque views
The Orchard at Altapass, which offers stunning vistas, apple picking, and live music
Linville Falls, a breathtaking waterfall, and its surrounding nature trails
I would rate The Copperhead Loop as a moderate level of difficulty, owing to its steep descents, tight curves, and switchbacks. It's not the most challenging ride out there, but it requires focus and a decent grasp of motorcycle riding skills.
Safety always comes first, so it's essential to pay attention to posted speed limits and be prepared for sudden turns. Since the route passes through the Pisgah National Forest, it's essential to remain cautious of wildlife crossings and be respectful of the natural environment. Lastly, remember that fuel stations are limited along the route, so you should plan accordingly.
4. Hellbender 28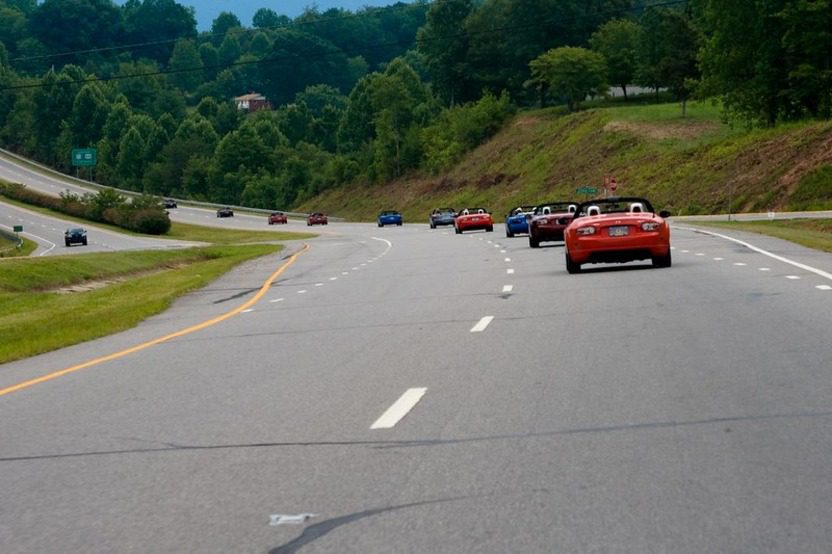 This scenic lakeside journey stretches along the Great Smoky Mountains, offering some of the most breathtaking views you'll ever witness. Let me walk you through the key aspects of this amazing ride.
When planning a Hellbender 28 ride, I recommend visiting during the fall months (September through mid-November) for a truly spectacular experience. The vibrant autumn colors provide a majestic backdrop that you won't want to miss.
The Hellbender 28 covers a total distance of 22 miles and can be completed in approximately 1 to 2 hours, depending on how many stops you make to enjoy the views.
During your ride, you'll come across some incredible spots worth stopping for. Some of my favorites are:
Fontana Dam: The tallest dam in the eastern US and an engineering marvel
Cheoah Dam: A captivating sight with a fascinating history
Deals Gap Motorcycle Resort: A great place to grab a bite, fuel up, and chat with fellow riders
As an expert biker, I'd say that Hellbender 28 offers a moderate level of difficulty. This road isn't as challenging as some of the other options in North Carolina, making it an enjoyable ride for bikers of various skill levels.
When you're on the Hellbender 28, here are some additional tips and facts to keep in mind:
Gas station availability is LIMITED, so it may be wise to fill up your tank beforehand
The road is also known as the NC-28 Lakeshore Road
5. The Moonshiner 28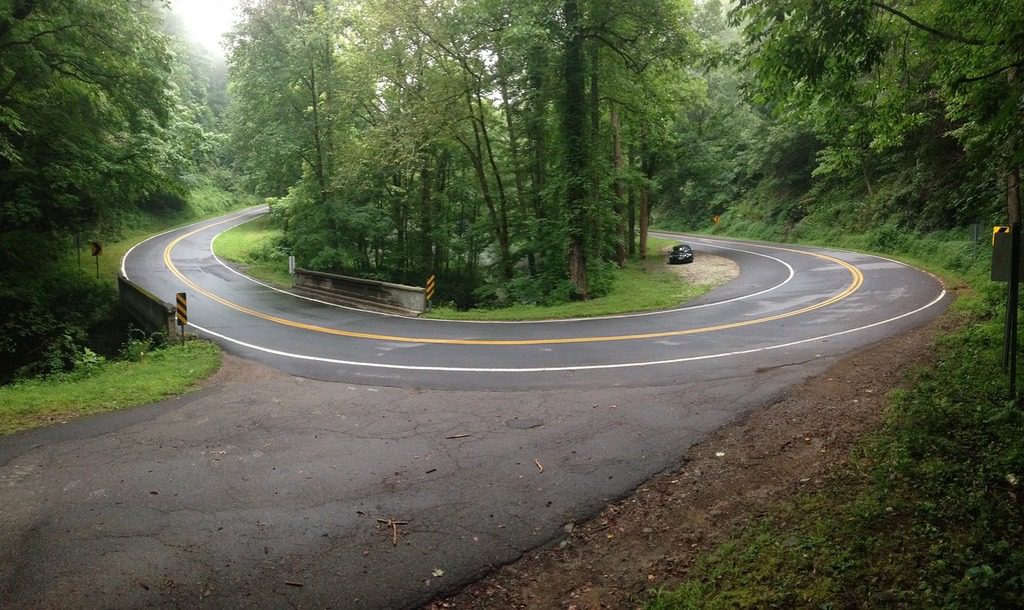 I can't wait to tell you about the Moonshiner 28—an exciting, must-ride motorcycle route in North Carolina. Known for its thrilling twists, turns, and scenic beauty, Moonshiner 28 takes riders on an unforgettable journey.
The ideal time to get the most out of this experience are the more temperate months—April to June and September to November. It's important to know that some sections may be closed during winter, so always check conditions in advance.
Moonshiner 28 covers a distance of 103 miles. You'll need approximately 2.5 to 4 hours depending on your speed and the number of stops.
There's plenty to see and do along the way:
Franklin, NC: As the starting point of the journey, this charming town offers plenty of options for food, lodging, and fuel.
Fontana Dam: This impressive dam is a must-stop for incredible views and a look at the tallest dam in the eastern United States.
Tail of the Dragon: This world-famous stretch of road boasts 318 curves in just 11 miles of asphalt, making it a must-ride for any motorcyclist.
Cherohala Skyway: A breathtaking, high-altitude ride that takes you deep into the mountains.
Moonshiner 28 is considered an intermediate to advanced route due to its twisty roads and elevation changes. Its sweeping curves and tight hairpins will keep you on your toes, making it both challenging and enjoyable.
To make your ride even more pleasant, keep these tips in mind:
Traffic is typically light, but be prepared for increased activity on weekends and holidays.
Some remote areas might not have cell phone service, so carry a map or GPS device.
It's crucial to stay alert for wildlife, especially during dawn and dusk.
Don't forget to fill up your gas tank before embarking on this journey, as gas stations might be scarce in some areas.
6. Diamondback Loop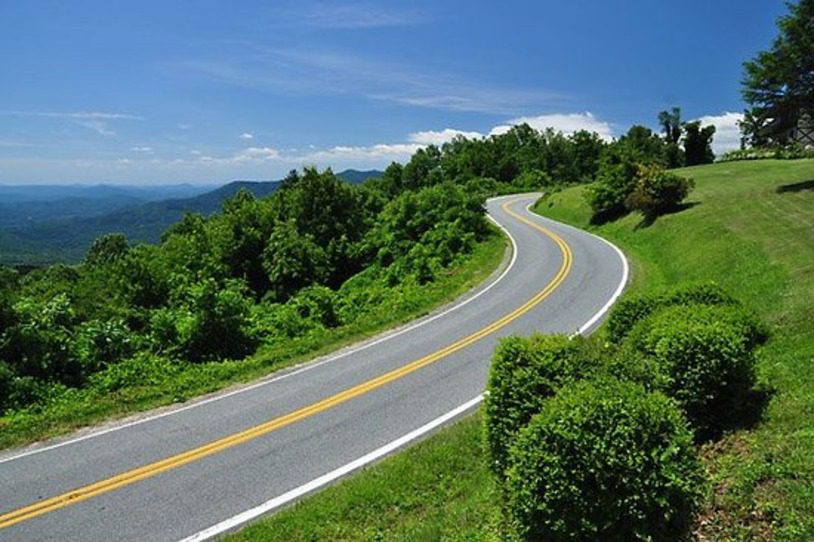 It's an adrenaline-pumping route with impressive views of the Appalachian Mountains. The 38-mile loop offers an exciting challenge with over 190 tight curves and elevations of 5000 feet. Let me share some highlights of the Diamondback Loop that every motorcycle enthusiast should know.
In my opinion, the ideal time to visit the Diamondback Loop is between late April and early October. You'll enjoy pleasant weather and beautiful scenery.
Late Spring: Wildflowers dot the landscape.
Summer: Dense foliage with minimal seasonal rainfall.
Early Fall: Splashes of bright autumn colors paint the mountains.
The Diamondback Loop stretches approximately 38 miles and takes around 1 hour 30 minutes to complete, but I'd recommend budgeting some extra time for stops and to take in the views.
While navigating the twists and turns of this route, you'll find some great spots for breaks:
Little Switzerland: A charming village with breathtaking views, dining, and some shopping options.
Crabtree Falls: A quick hike takes you to this stunning waterfall, perfect for a refreshing pit stop.
Spruce Pine: Check out local arts and crafts or grab a bite to eat, perfect for refueling before the next stretch.
As a seasoned rider, I'd rate the Diamondback Loop as moderately challenging due to its sharp curves and elevation changes. Novice riders should take their time and exercise caution.
Other Information
Watch out for wildlife, including deer, wild turkey, and even the occasional black bear.
Gas stations can be few and far between, so it's a good idea to fill up your tank before hitting the loop.
Pay close attention to safety signage; some sections demand extra care.
7. The Devil's Whip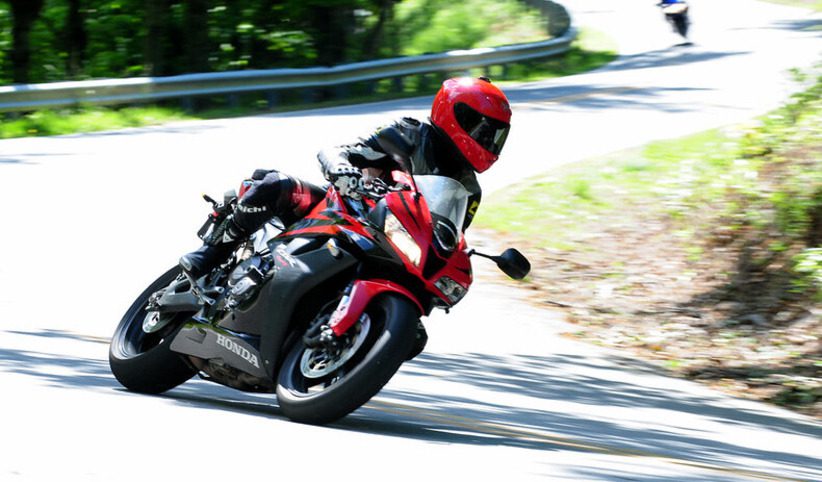 North Carolina is home to some truly incredible motorcycling routes, and the Devil's Whip is no exception. This thrill seeker's paradise offers a challenging ride through the southern Appalachian Mountains that's sure to leave you craving more.
The ideal time to experience the Devil's Whip is during the spring and fall seasons. The weather is mild, and the vibrant foliage creates an unforgettable backdrop for your ride. Avoid visiting during the winter months as snow and icy conditions can make the ride more dangerous than it's worth.
Stretching 12.5 miles, it takes approximately 30 minutes to complete the Devil's Whip. However, I recommend allotting additional time for photo opportunities and rest stops along the way.
There are several points of interest worth exploring on your ride:
Orchard at Altapass: An apple orchard and historic site with scenic views.
Loafers Glory Depot: A local historical landmark with quaint charm.
Linville Falls: A popular pit stop featuring stunning falls, nature trails, and picnic areas.
The Devil's Whip is known for its demanding twisty sections and sharp elevation changes. It requires a high level of skill and undoubtedly deserves its reputation as a challenging route. I believe that only experienced riders with superior technical abilities should tackle this iconic ride.
Before embarking on your journey, consider these crucial pieces of information:
The route is also known as NC Highway 80.
Winding through lush forests, the path offers limited visibility around turns.
The road is relatively well-maintained, but keep an eye out for any potential debris or hazards.
Don't forget to refuel before setting off, as gas stations are scarce along the way.
8. Tail of the Dragon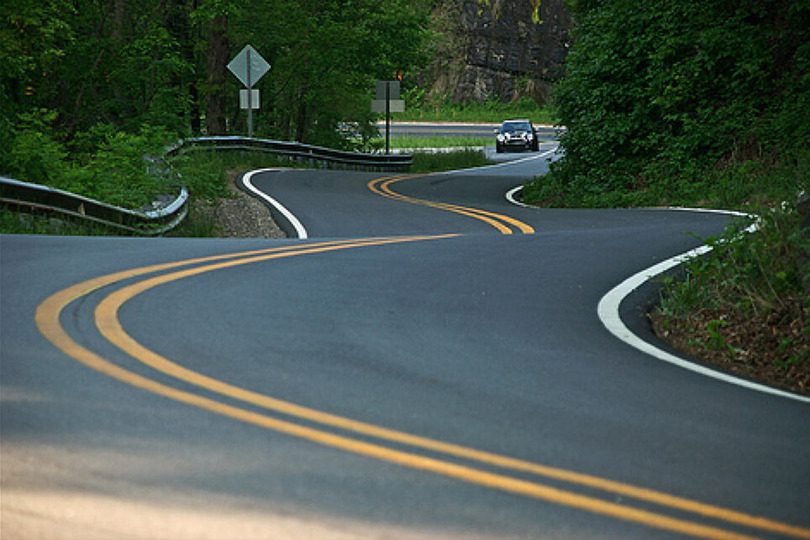 As I dive into the rich motorcycle riding culture in North Carolina, I must highlight one of the most renowned destinations – the Tail of the Dragon. This challenging route is guaranteed to give you a one-of-a-kind experience.
The optimal time to travel here is from late spring to early fall. The weather is mild and traffic usually lighter, allowing for a smoother and more enjoyable ride. Keep in mind that weekends can be crowded, so aim for weekdays if possible.
Crowned as one of the most thrilling motorcycle roads in the US, the Tail of the Dragon stretches for approximately 11 miles with 318 exhilarating curves. Completing the full route may take around 45 minutes to an hour, although this may vary depending on your speed and number of stops.
While the Tail of the Dragon is certainly not a leisurely route, there are a couple noteworthy stops to make:
Deal's Gap – Begin or end the ride with a stop at Deal's Gap, home of the famous "Tree of Shame."
The Crossroads of Time – A popular spot for bikers to take a break, grab a bite to eat, and swap stories with other riders.
It's essential to mention that the Tail of the Dragon comes with high difficulty, emphasizing the importance of being well-prepared and making safety a top priority. Riding this route demands skill, focus, and experience, so be sure to evaluate your abilities before tackling this challenge.
Here are a few points to keep in mind when riding the Tail of the Dragon:
North Carolina law prohibits trucks over 30 feet long on the route, making it safer for bikers.
Watch out for wildlife and always respect the posted speed limits.
Several professional photographers frequent the route, capturing action shots of riders, so there's a chance to have your photo taken while conquering the Dragon.
It's essential to check the weather before heading out and to carry rain gear just in case.
FAQs
Is North Carolina a good place to ride a motorcycle?
Yes, North Carolina Offers A Variety Of Scenic And Challenging Routes For Motorcyclists To Enjoy.
What Is The Best Month To Motorcycle The Blue Ridge Parkway?
The Best Months For Motorcycling The Blue Ridge Parkway Are Typically May Through October, With The Peak Foliage Season In October.
Can you ride a motorcycle year-round in North Carolina?
While It Is Possible To Ride A Motorcycle Year-Round In North Carolina, Weather Conditions May Vary, And Some Areas May Experience Colder Temperatures And Winter Weather During The Late Fall And Winter Months.
Where Is The Safest Place To Ride A Motorcycle?
The Safest Place To Ride A Motorcycle Would Be On Well-Maintained Roads With Lower Traffic Volume, Good Visibility, And Minimal Hazards.
What are some popular motorcycle rides in North Carolina?
Popular Motorcycle Rides In North Carolina Include The Blue Ridge Parkway, Cherohala Skyway, Deals Gap, Grandfather Mountain, And Cherokee Foothills Scenic Highway.
Conclusion
It's been quite a journey exploring the top 8 best motorcycle road rides in North Carolina. These roads offer a diverse range of experiences, from twisting mountain roads to stunning coastal views. Let's wrap up by summarizing what we've learned about the best time to visit, distance and time to travel, places to stop, level of difficulty, and other valuable information.
The ideal time for most of these motorcycle rides is during spring and fall, when the weather is mild, and nature's colors are at their most vibrant.
These motorcycle rides were chosen for their varying levels of challenge, ensuring that both novice and experienced riders can find a road that suits their skills:
Dragon's Tail, Devil's Whip, and Diamondback offer a higher level of difficulty, making them more suitable for experienced riders
Blue Ridge Parkway, Cherohala Skyway, Hellbender, Moonshiner, and Copperhead Loop cater to riders of varied skill levels, with a range of challenging and less-intense sections
Based on our overview, these rides showcase the best that North Carolina has to offer. Besides the thrill and scenic beauty, make sure to keep the following in mind:
Always check the weather conditions before setting out to avoid any unexpected surprises
Be mindful of local traffic laws, and prioritize safety while enjoying these beautiful roads
Plan your stops for fuel, rest, and refreshments to enhance your overall riding experience
I hope this information has inspired you to rev up your motorcycle and explore these amazing roads in North Carolina. Whether you're seeking adventure, relaxation, or a combination of both, there's no doubt that a ride on any of these spectacular routes will create lasting memories. Safe travels and happy riding!
Motorcycle Rides in the US by States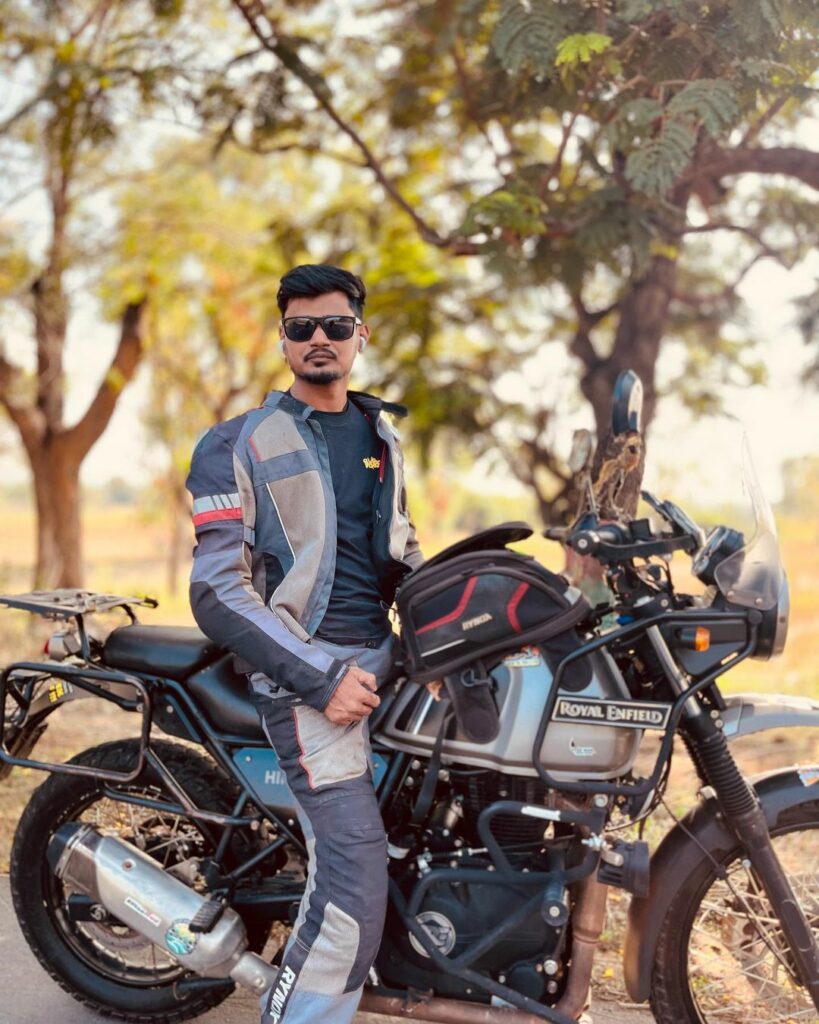 Vishwanath Mathpati
I am Vishwanath Mathpati, a full-time Blogger and Motorcyclist from Bidar, Karnataka. I love writing about my Motorcycles Stories and Riding Gears on this blog.
Know More About Me.
---
If you liked this article, then please subscribe to our YouTube Channel for more Bike Videos. You can also find us on Instagram, Twitter and Facebook.
Disclosure: As an Amazon Associate, I earn from qualifying purchases. Read more about Amazon Affiliate Disclaimer.