Top 8 Best Motorcycle Rides in Michigan: Exploring the Great Lakes State
I've always enjoyed exploring the open road, and Michigan is one of those locations that offers an incredible variety of landscapes and unique experiences for motorcycle enthusiasts. Home to picturesque coastlines, dense forests, and charming small towns, Michigan is the perfect backdrop for an unforgettable motorcycle adventure.
Michigan, with its shoreline drives along the Great Lakes and scenic routes through the Upper Peninsula, is a motorcyclist's dream. Still, the thrill extends into the neighboring states as well. If you head south into Indiana, the Ohio River Scenic Byway offers stunning views of the Ohio River. Travelling west into Wisconsin, the Kettle Moraine Scenic Drive takes riders through a landscape sculpted by ancient glaciers. To the east, across the waters of Lake Huron, Ontario's Cabot Trail offers a breathtaking coastal ride with panoramic views of the Gulf of St. Lawrence. These neighboring journeys enrich the diverse range of motorcycle experiences originating from Michigan.
When it comes to scenic routes, Michigan's got plenty up its sleeve. So rev up that engine and get ready as I reveal my top 8 best Motorcycle Rides in Michigan to experience in this beautiful Great Lakes State. Trust me, you'll be itching to hop on your bike and explore these fantastic routes in no time.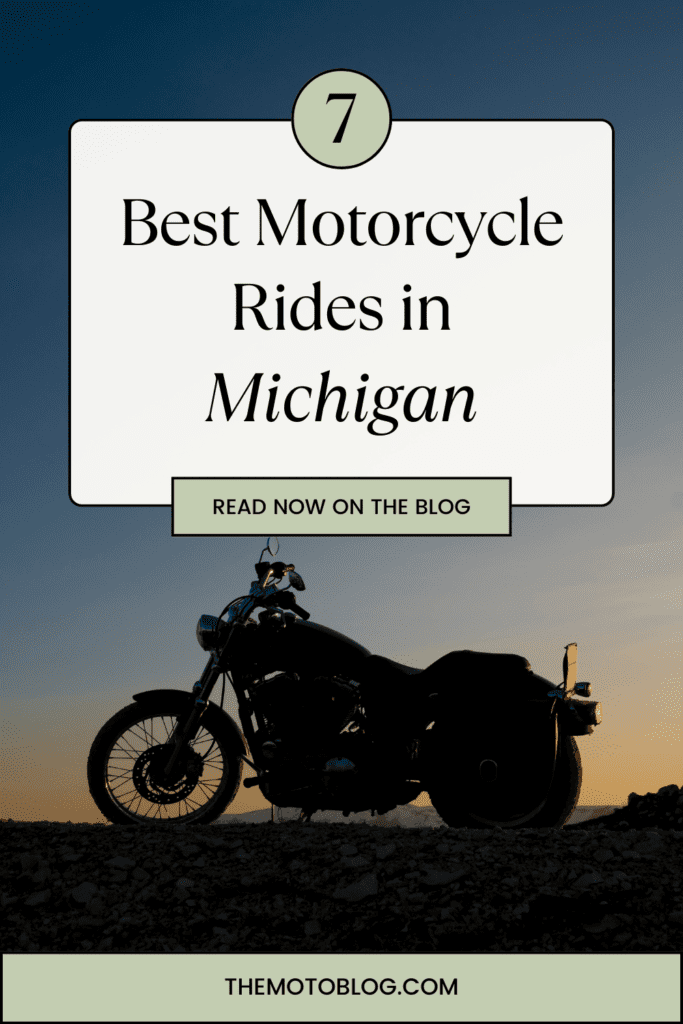 1. The Copper Harbor Loop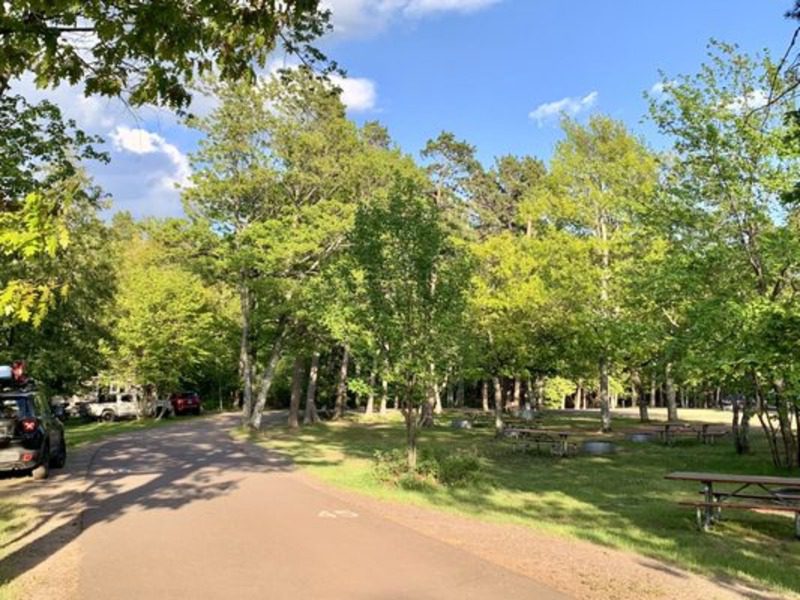 Riding the Copper Harbor Loop is like taking a trip back in time. As you navigate through this scenic route, you can't help but admire the rich history and breathtaking views that surrounds you. If you're looking for an unforgettable motorcycle road ride in Michigan, this is one route you won't want to miss.
The ideal time to experience the Copper Harbor Loop is during the summer and fall months. Warmer temperatures make for comfortable riding conditions, and the changing fall foliage adds a stunning backdrop to the journey.
The Copper Harbor Loop covers approximately 55 miles and usually takes around 2 hours to complete, depending on stops and the pace at which you ride. Be sure to give yourself some extra time to take in the sights and sounds along the way.
There are several historical sites and natural attractions worth stopping for during your ride:
Fort Wilkins Historic State Park: Explore a restored 1844 military fortress, complete with costumed interpreters and exhibits.
Copper Harbor Lighthouse: Take a guided tour of this picturesque 1866 lighthouse, situated on the harbor's rocky shoreline.
Estivant Pines Nature Sanctuary: Stretch your legs on one of the sanctuary's peaceful hiking trails and admire the ancient white pines.
I'd rate the Copper Harbor Loop as a moderate ride, with some twists and turns that require focus and skill. However, it's suitable for riders of all levels, just be prepared for winding roads and a few steep inclines.
While cruising the Copper Harbor Loop, keep these handy tips in mind:
Gas stations are not abundant along the route, so it's a good idea to fuel up before embarking on the ride.
The road surfaces can be rough in some areas, so be vigilant and alert.
Since the ride is quite short, it's perfect for a day trip, but you can also make it part of a longer vacation by staying in the nearby town of Copper Harbor.
2. The Lake Michigan Shoreline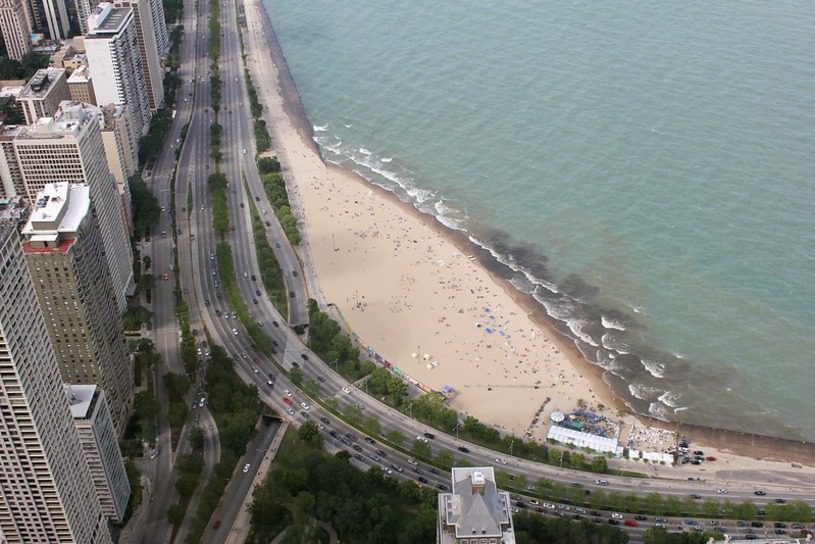 Embarking on a motorcycle journey along the Lake Michigan shoreline, I discovered some unparalleled scenic routes and picturesque coastal towns. This popular ride grants riders a combination of beach views, historical lighthouses, dunes, and woods, making it one of Michigan's best motorcycle rides.
When it comes to the best time to visit, I'd have to say late spring through early fall is ideal. During these months, riders can take full advantage of the pleasant weather, with temperatures ranging from 60°F to 75°F, ensuring a comfortable journey.
To fully appreciate the entire Lake Michigan shoreline, riders should budget for a distance of approximately 772 miles. The total time to travel this distance, with minimal stops, would take roughly 15-17 hours. However, I recommend spreading the trip over a few days. This allows for ample time to enjoy the must-see attractions and rest in the picturesque towns.
Notable places to stop on this route include:
Traverse City: A charming coastal town known for its vibrant arts scene, wine, and culinary delights.
Sleeping Bear Dunes National Lakeshore: Home to towering sand dunes and breathtaking vistas.
Ludington State Park: A perfect spot for outdoor enthusiasts, offering beach access, hiking, and camping opportunities.
Holland: A quaint Dutch-inspired town that hosts the famous Tulip Time Festival.
Silver Lake Sand Dunes: A thrilling destination for off-road adventures on massive sand dunes.
Level of difficulty for this motorcycle route can be considered beginner to intermediate. The winding roads call for focus and control but are generally manageable for those with even basic motorcycle skills.
Some helpful other information for planning your trip:
Ensure your motorcycle is in good condition before embarking on this lengthy ride.
Carry essential tools and spare parts to handle any roadside emergencies.
Keep a current and updated map or GPS device handy for navigating unfamiliar routes.
Dress appropriately for the weather and always wear protective gear.
3. The Red Arrow Highway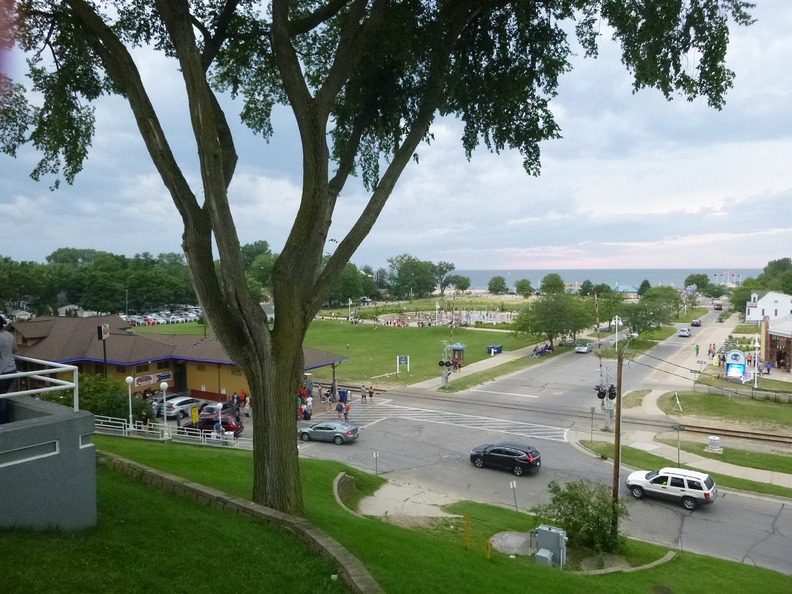 When it comes to scenic rides in Michigan, the Red Arrow Highway is a must-do trip for every motorcycling enthusiast. The picturesque journey includes a mix of sweeping curves, captivating scenery, and an authentic taste of Michigan's quaint small towns. In this section, I'll provide you with the essential information you need to make this ride both enjoyable and memorable.
The ideal time to hit the Red Arrow Highway would be during late spring to early fall. This timeframe offers pleasant temperatures and the best scenery, as the trees and flowers are in full bloom. Also, riders can catch the famous sunsets over Lake Michigan during this period.
The trip covers a distance of approximately 100 miles, starting from New Buffalo and ending in St. Joseph. Depending on your riding speed and the number of stops you make, the total time to complete the journey can vary from 3 to 5 hours.
Some popular stopping points along the Red Arrow Highway include:
Warren Dunes State Park: A beautiful stretch of sand dunes and shoreline, perfect for a quick break or even a brief hike.
Harbor Country: Explore this collection of charming small towns for local cuisine or to indulge in some shopping.
Silver Beach: Enjoy the crystal-clear waters and soft sandy shores at this popular beach destination.
The Red Arrow Highway is suitable for riders of all skill levels. While the road is mostly flat and boasts well-maintained pavement, riders should still exercise caution on some tight turns and during occasional wildlife crossings.
A few bits of additional information to bear in mind:
There are numerous gas stations and convenience stores along the route, making it easy to refuel or pick up essentials.
The road can get quite busy during the warmer months, so be prepared for heavy traffic at times.
Keep an eye out for the alluring vineyards and fruit orchards, as they're a stunning highlight of this magical journey.
4. The Sunrise Coast on US-23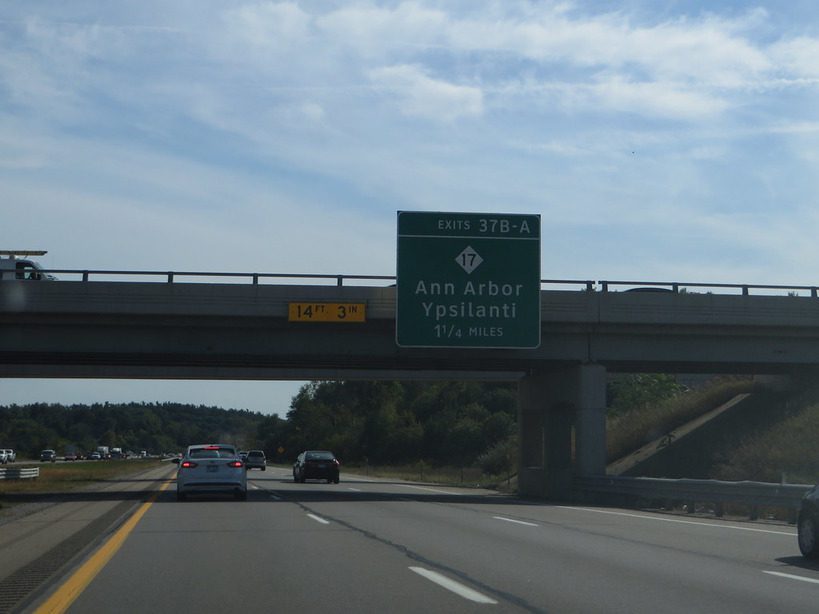 Michigan's US-23 is a dream ride for motorcycle enthusiasts. Nicknamed the Sunrise Coast, this scenic route stretches 200 miles along the eastern shoreline of the state
The perfect time to ride the Sunrise Coast is during the summer months (June through August) when temperatures are warmer, and days are longer. You really get to experience the beauty of the region at its best during this time.
| Distance | Approximate Time to Travel |
| --- | --- |
| 200 miles | 4 to 5 hours |
Keep in mind that you might take longer if you plan on stopping frequently or if you're enjoying a leisurely pace.
Some of the must-see spots along the Sunrise Coast include:
The Lighthouses of Lake Huron – There are several historic lighthouses to visit, including Presque Isle, Tawas Point, and Sturgeon Point.
Tawas Bay – Take a break in this picturesque bay in East Tawas. Grab a bite to eat and do some shopping along Newman Street.
Thunder Bay National Marine Sanctuary – At Alpena, make a stop at this marine sanctuary, which features a museum and glass-bottom boat tours showcasing shipwrecks.
Oscoda Beach Park – Enjoy a relaxing break on the sandy shores of this park, and take advantage of amenities like picnic areas, playgrounds, and restrooms.
I'd rate the Sunrise Coast ride as easy to moderate. The route mostly consists of straight, well-paved roads, with a few curves that should pose no issues for riders of any skill level. Just watch for sand and gravel near the shoulders.
Don't forget to take in the incredible scenic vistas of Lake Huron. With countless parks, beaches, and roadside overlooks, there are plenty of opportunities to pause and enjoy the breathtaking scenery.
Make sure to bring sunscreen and stay hydrated during your ride, as the sun can be quite intense, especially in the summertime. Finally, be prepared for potentially changeable weather conditions along the coast. You might experience sudden rain showers or changes in temperature, so dressing in layers and carrying waterproof gear is always a good idea.
5. M-25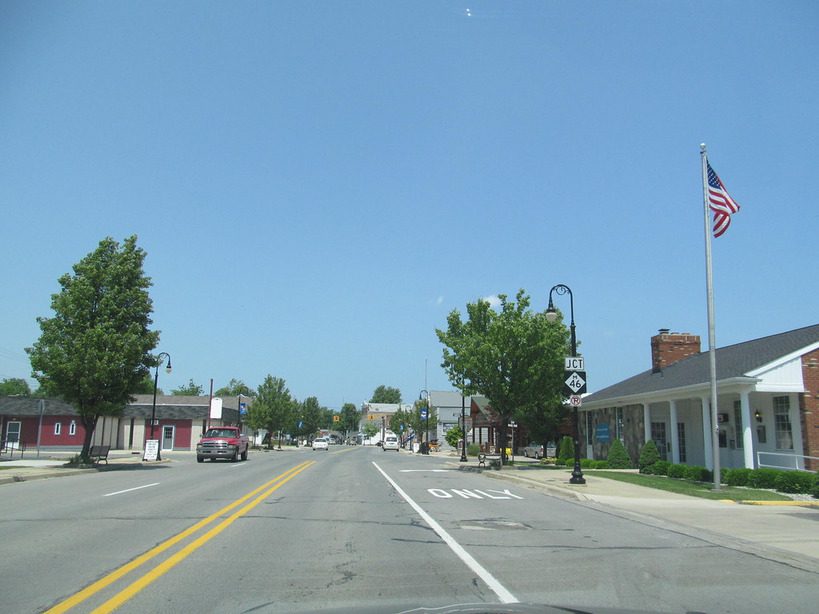 Michigan's M-25 offers a fantastic motorcycle road trip with its scenic river roads hugging the shores of Lake Huron. The 120-mile stretch of road leads bikers through charming small towns and breathtaking waterfront views. I can't wait to share the highlights of riding on this amazing highway with you.
The ideal time to explore M-25 is during the summer and fall months. Summer brings warm temperatures, while fall showcases beautiful foliage and cooler weather. However, if you're considering a trip in the fall, keep in mind that some attractions and businesses might have reduced hours or may be temporarily closed.
The entire M-25 route covers about 120 miles which takes approximately 2.5 to 3 hours to traverse, without accounting for stops. But take your time, as there are many lovely places to explore and appreciate along the way.
Some of the highlights on the M-25 route include:
Harbor Beach Lighthouse: This historic lighthouse offers guided tours and stunning views of the waterfront.
Port Austin: A cozy harbor town where you can rest, grab a snack, and admire the picturesque shoreline.
Sanilac Petroglyphs Historic State Park: This park features fascinating ancient rock carvings and offers a great spot for a peaceful picnic.
Lexington: A charming lakeside village with shops, eateries, and a lovely harbor.
Pointe Aux Barques Lighthouse – A beautifully restored lighthouse and museum where you can learn more about local maritime history.
Riding the M-25 route is relatively easy and enjoyable, as the roads are well-maintained, and the speed limits give you plenty of time to admire the scenic surroundings. However, during weekends and holiday seasons, expect a bit more traffic.
Motorcyclists should note that Michigan has a helmet law in effect for riders under 21 years of age or those with less than two years of riding experience. Additionally, all riders are required to have a motorcycle endorsement on their driver's license.
6. The M-22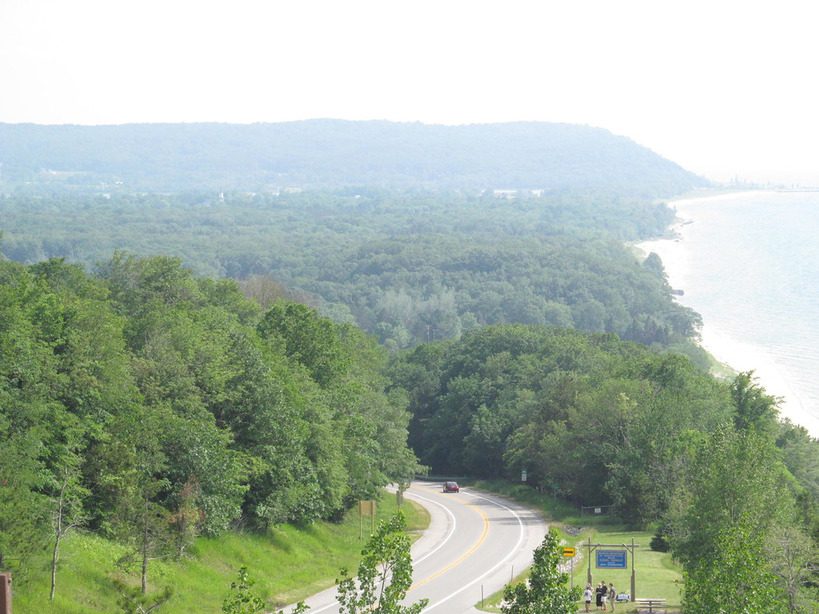 As a lover of motorcycle rides, I think one of the best routes out there is the M-22 in Michigan. It's a favorite for its stunning views, charming towns, and twisting roads that hug the Lake Michigan shoreline.
The M-22 is truly enjoyable during the late spring, summer, and early fall months. The mild weather, sunshine, and colorful fall foliage make for an unparalleled riding experience. I would highly recommend planning your trip during mid-September to mid-October for the best combination of comfortable temperatures and vibrant scenery.
The M-22 spans about 116 miles (186 km) and covers the coastline from Manistee to Traverse City. Depending on your riding style and the number of stops and attractions you want to check out, the total travel time can vary. To really savor the sights and local charm, it's best to allocate a full day or even a weekend for this ride.
There are several quaint towns and natural wonders to explore along the M-22 route. Some of my personal favorites include:
Arcadia Overlook: A breathtaking panoramic vista of Lake Michigan.
Frankfort: A delightful town with shops, restaurants, and a Lake Michigan beach.
Sleeping Bear Dunes National Lakeshore: A must-see, with incredible dunes and numerous hiking opportunities.
Glen Arbor: A charming town located right by Sleeping Bear Dunes.
Leland: The historic fishing village containing cute little shops and the well-known Fishtown.
I would consider the M-22 to be a ride of moderate difficulty. While the route boasts some curves and elevation changes, it's not overly challenging. However, it still offers enough to keep experienced riders entertained, making it suitable for a wide range of skill levels.
It's important to note that the M-22 is not just for motorcyclists. You'll also come across cyclists and drivers enjoying the scenic drive. Be mindful of your surroundings and always practice safe riding habits.
7. The Copper Country Trail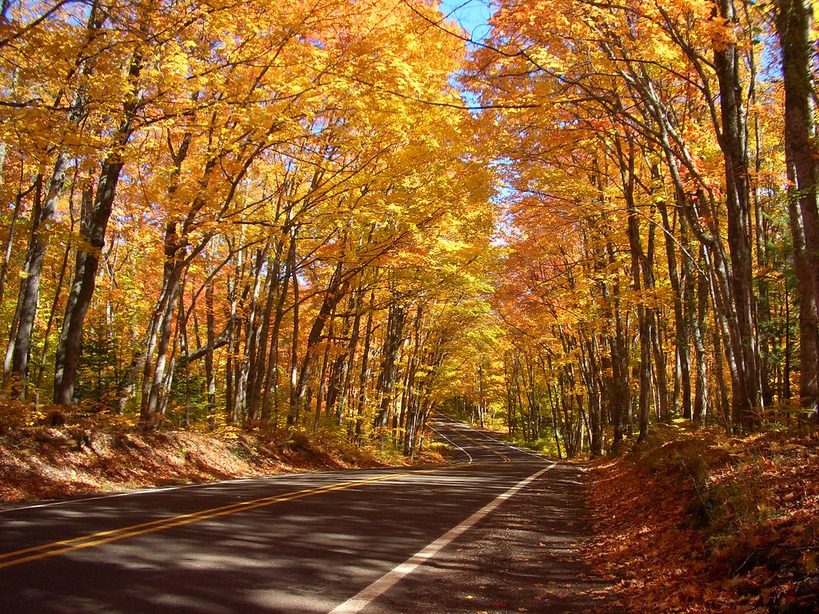 I can't help but get excited when talking about the Copper Country Trail, a spectacular Michigan motorcycle ride that takes you on an unforgettable journey. The mix of captivating natural beauty and rich cultural history in this region makes for an astonishing experience, no matter what time of year you choose to explore it.
Fall is the ideal season to venture through this trail, as the autumn foliage creates a breathtaking backdrop. The months of September and October typically offer the most vibrant colors, but the summer months provide warm weather and lush greenery for riders who prefer it.
The Copper Country Trail stretches for approximately 47 miles, which can be completed in around 60-90 minutes without stops. However, it's highly recommended to allocate extra time for sightseeing and taking in the stunning views.
Places to Stop:
Calumet: This historic town is filled with gorgeous architecture and offers a glimpse into the area's rich copper mining history.
Eagle Harbor Lighthouse: A must-see stop for any lighthouse enthusiast, this picturesque site provides scenic views of Lake Superior's rugged shoreline.
Brockway Mountain: A top attraction in the Keweenaw Peninsula, offering a panoramic view of the surrounding landscape and Lake Superior.
Quincy Mine: Formerly a working copper mine, it's now open for tours that delve into its history and offer insight into the region's mining industry.
I'd classify this ride as moderate in terms of difficulty due to its hills and twists, but experienced riders will find it manageable and enjoyable. That said, beginners should still be able to navigate it with caution and at a comfortable pace.
Other Information:
Road Quality: The Copper Country Trail is a mix of paved and gravel roads. Overall, its surface is quite good, and it's easily navigable for motorcycles.
Gas Stations: Make sure to fill up before embarking on your ride, as gas stations may be scarce in certain sections of the trail.
Cell service: Expect spotty cell service in some areas along the route. It's always wise to carry a map and be prepared for potentially limited connectivity.
8. The Old US-27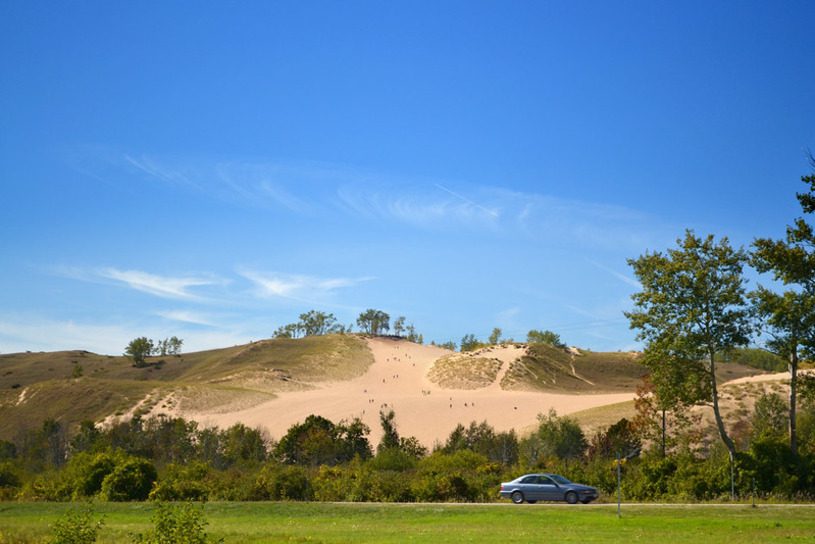 Old US-27, also known as Michigan's Historic Route, is one of the most remarkable motorcycle rides you could ever take. This scenic route will have you passing through lush forests, quaint towns, expansive water bodies, and much more.
The ideal period to experience the beauty of Old US-27 is from late spring to early fall. During this time, the weather is pleasant and the colorful foliage comes alive, making for breathtaking views.
Old US-27 stretches over approximately 200 miles from Lansing to Grayling. To make the most of your ride, set aside 6-8 hours to give yourself ample time for breaks and exploring the charming towns you'll pass.
Places to Stop:
South Higgins Lake State Park: Enjoy the lush greenery and exquisite waterfront here.
Sleeping Bear Dunes National Lakeshore: Marvel at the towering sand dunes.
Cross In The Woods Shrine: Stop to admire the impressive craftsmanship of the world's largest crucifix.
The ride is considered to be of moderate difficulty due to possible traffic, occasional road construction, and varying weather.
Other Information:
Accommodation: Hotels, motels, and campgrounds can be found along the route, offering various options to rest.
Road Quality: Most of the road is well-maintained, but be prepared for some parts to have uneven surfaces or loose gravel.
Safety Measures: Ensure you carry appropriate gear, stay updated on weather reports, and adhere to traffic rules.
FAQs
What are some of the best motorcycle rides in Michigan?
Notable motorcycle rides in Michigan include Ride Round the Thumb, Copper Harbor Run (Keweenaw Peninsula), UP's Northern Coast Tour, Michigan's Central Lake, and Curley Lewis Memorial Highway.
What is the Ride Round the Thumb in Michigan?
Ride Round The Thumb Is A Scenic Motorcycle Route That Takes Riders Along The Coastlines Of Lake Huron And Lake St. Clair, Offering Beautiful Views Of The Water And Surrounding Landscapes.
How long is the Copper Harbor Run in the Keweenaw Peninsula?
The Copper Harbor Run In The Keweenaw Peninsula Is Approximately 200 Miles Long And Offers Beautiful Views Of Lake Superior And The Surrounding Forests.
What can riders expect on the UP's Northern Coast Tour in Michigan?
UP's Northern Coast Tour Takes Riders Along The Beautiful Coastlines Of Lake Superior And Lake Michigan, Showcasing Pristine Beaches, Picturesque Lighthouses, And Charming Small Towns.
Which motorcycle ride in Michigan offers views of the Great Lakes and the Curley Lewis Memorial Highway?
The Curley Lewis Memorial Highway Motorcycle Ride Offers Stunning Views Of The Great Lakes And Takes Riders Along The Picturesque Shorelines Of Lake Huron And Lake Michigan.
Conclusion
Exploring the top 8 best motorcycle rides in Michigan has led me to appreciate the beauty and diversity of the landscapes, roads, and riding experiences this state has to offer. These are some factors to consider when planning your Michigan motorcycle adventure:
The ideal time to hit these routes is between late spring and early fall. May to October provides the most pleasant weather conditions for motorcycle riding, although summer months could be quite busy with tourists.
Be sure to take advantage of the various attractions, scenic overlooks, rest areas, and local eateries along these fantastic routes. Some highlights include beautiful lighthouses, charming small towns, state parks, and historic sites.
The difficulty level of these routes varies, with some being relatively easy, such as the Tunnel of Trees, and others providing more challenging twists and turns, like in the Copper Country Ride. Riders should be aware of their skill level and comfort zones while choosing a route.
Safety should always be your top priority while riding. Wear proper gear, maintain your motorcycle, and adhere to local laws and regulations. Have a plan in place for emergencies and be ready to adjust your plans if necessary.
Overall, embarking on these incredible motorcycle rides in Michigan promises a mix of excitement, adventure, and unforgettable memories. So, gear up and let's explore the beauty of Michigan on two wheels!
Motorcycle Rides in the US by States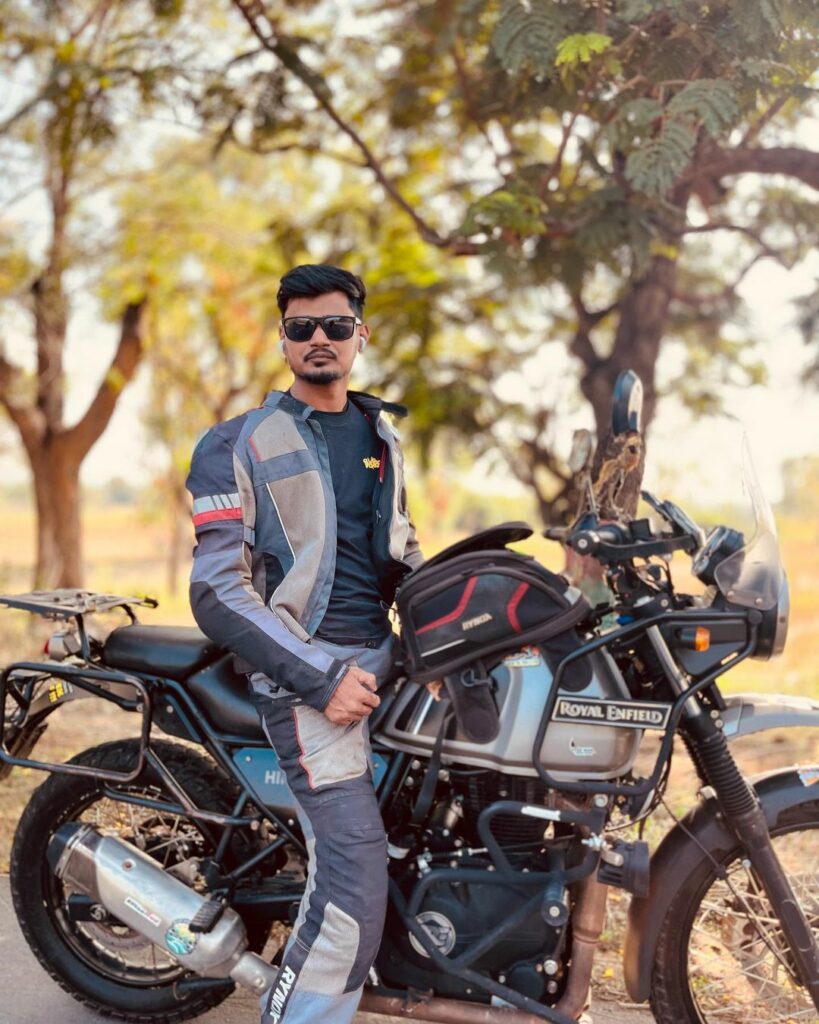 Vishwanath Mathpati
I am Vishwanath Mathpati, a full-time Blogger and Motorcyclist from Bidar, Karnataka. I love writing about my Motorcycles Stories and Riding Gears on this blog.
Know More About Me.
---
If you liked this article, then please subscribe to our YouTube Channel for more Bike Videos. You can also find us on Instagram, Twitter and Facebook.
Disclosure: As an Amazon Associate, I earn from qualifying purchases. Read more about Amazon Affiliate Disclaimer.