Top 10 Best Motorcycle Rides in Tennessee: My Ultimate Guide
There's no denying that Tennessee is a state full of picturesque roads, perfect for motorcycle enthusiasts craving an unforgettable ride. From the rolling hills to the lush valleys, it's a true motorcycling paradise with countless scenic twists and turns. Today, I'll share my top 10 best motorcycle rides in Tennessee, offering you the ultimate rides to discover and experience firsthand.
Starting with well-known routes like Cherohala Skyway and moving on to lesser-known gems, each journey is guaranteed to provide adrenaline-pumping thrills and unparalleled scenery. As you ride through charming towns and pristine landscapes, you'll understand why so many riders rank Tennessee as their favorite motorcycling destination.
In addition to stunning views, these routes offer a range of environments and challenges for every skill level. Whether you're a seasoned rider or new to the world of motorcycling, Tennessee's varied terrain and striking beauty make it an ideal location for anyone looking for the perfect blend of adventure and relaxation.
With its sweeping valleys and majestic mountains, Tennessee offers some of the best motorcycle rides in the U.S. Notably, the Cherohala Skyway and the Tail of the Dragon — which spills into neighboring North Carolina — provide the perfect blend of thrills and views. Neighboring states also boast excellent routes. Kentucky's Red River Gorge Loop offers a scenic ride through a beautiful canyon system. In Alabama, the Cheaha Mountain Skyway presents breathtaking vistas from the state's highest point. Georgia's Suches Loop provides the exhilaration of twisting mountain roads. In Mississippi, the Natchez Trace Parkway offers a serene and smooth ride.
These routes in the neighboring states contribute to making Tennessee and its surroundings a motorcyclist's paradise, each offering unique topographies and unforgettable experiences.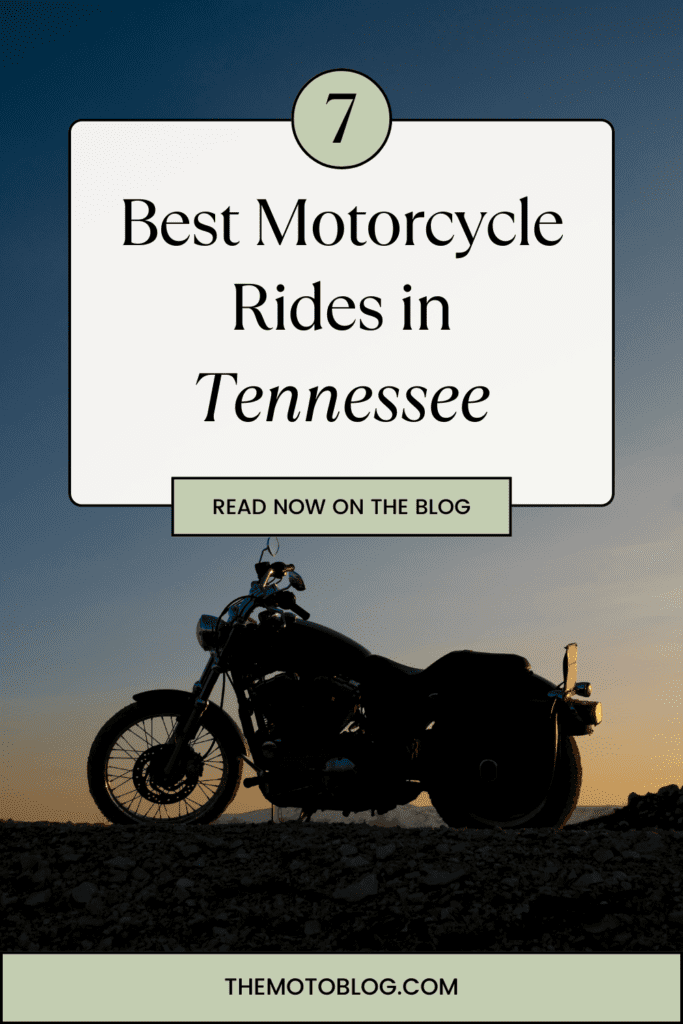 1. The Tail of the Dragon: US 129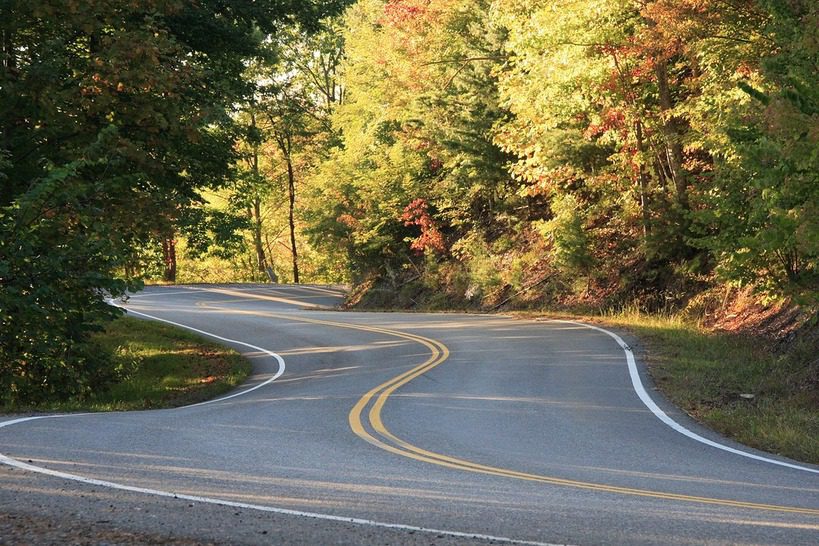 As a stretch of US 129 that serpentines through the Great Smoky Mountains, it's not just a ride; it's an adventure waiting to happen.
The ideal time for riding the Dragon is between April and October, when the weather is the most favorable. However, I'd avoid weekends during peak season (June to August), as traffic can be heavy.
The Tail of the Dragon spans 11 miles with a whopping 318 curves to navigate. Depending on your level of experience and the number of stops you make, expect to spend 45 minutes to an hour on the route itself.
During your exhilarating ride, there are several must-see-stop spots, including:
Deal's Gap Motorcycle Resort: A perfect spot for a break, offering food, fuel, and souvenirs.
Tree of Shame: A quirky landmark and tribute to riders who have crashed on the Dragon.
Fugitive Bridge: A scenic overlook with a view of the river and connection to the film "The Fugitive."
The Tail of the Dragon caters to experienced riders with its tight, technical curves. While this route might be challenging for beginners, a little practice can go a long way. Remember to ride at your own pace and treat every curve with respect.
To make the most of your ride, keep the following tips in mind:
Ride during weekdays: Traffic is reduced, so you can savor those curves.
Mind the speed limit: It's 30 mph and is actively enforced by Tennessee Highway Patrol.
Watch for wildlife: Animals like deer or wild turkeys might cross your path unexpectedly.
Stay in your lane: It's essential for rider safety on this narrow, twisting route.
2. Cherohala Skyway: A Picturesque Ride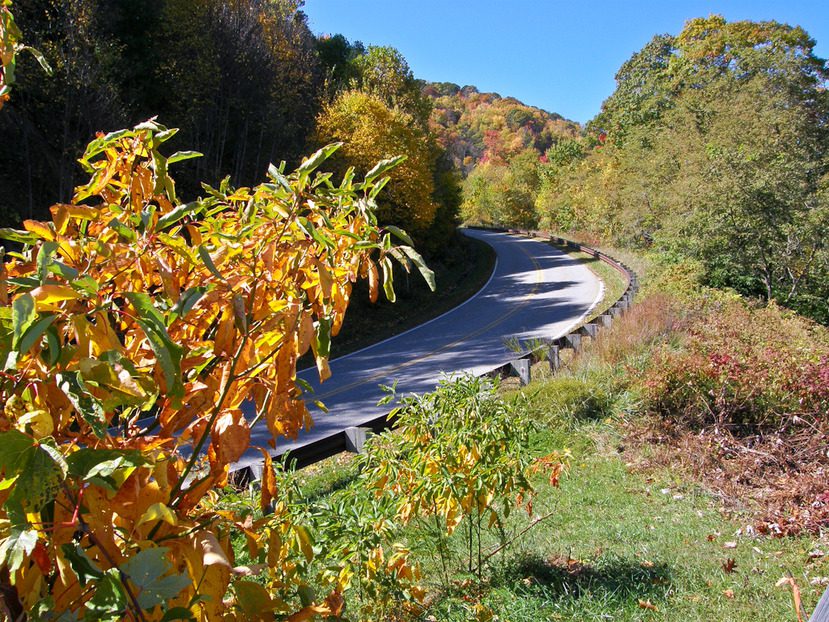 When I think of the perfect motorcycle ride, Cherohala Skyway always comes to mind. This incredible route stretches for almost 50 miles and runs between Robbinsville, North Carolina, and Tellico Plains, Tennessee. Along the way, you'll be treated to some of the most beautiful scenery in the country, as well as numerous opportunities for adventure and exploration.
I recommend to ride Cherohala Skyway during fall foliage season, usually from mid-October to early November. The vibrant colors of the changing leaves provide an unforgettable backdrop for the ride. However, spring and summer also offer beautiful views, with wildflowers and lush greenery lining the route.
The Skyway covers approximately 50 miles, making it a fairly manageable ride for a day trip or a leisurely weekend outing. It's important to factor in stoppages and sightseeing while planning your ride, though. With places to stop and taking into account the 40-50 mph speed limit along the Skyway, you should allot 3 to 4 hours for the entire trip.
Throughout the ride, you'll come across a variety of worthwhile stops, including:
Indian Boundary Recreation Area: A popular campground for motorcycle riders, offering lake access and well-maintained facilities.
Bald River Falls: A majestic waterfall located just off the Skyway, with a viewing area perfect for a quick break.
Santeetlah Overlook: This overlook provides excellent photo opportunities and panoramic views of the surrounding landscape.
Cherohala Skyway is suitable for riders of all skill levels! While the route does feature some twists and turns, they're relatively gentle compared to other more challenging rides. Just be sure to exercise caution, as the road can become slippery after rainfall.
Before embarking on your ride, be prepared for a few additional factors to keep in mind:
Limited services: Gas stations, restaurants, and restrooms are scarce along the Skyway, so plan accordingly.
Wildlife: Keep an eye out for animals such as deer or elk that may cross the road.
Elevation changes: With elevations ranging from 900 to 5,400 feet, you may experience temperature variations — pack extra layers just in case!
Seasonal closures: Keep in mind that the Skyway closes during winter months due to snow and ice.
3. Natchez Trace Parkway: Leiper's Fork to Collinwood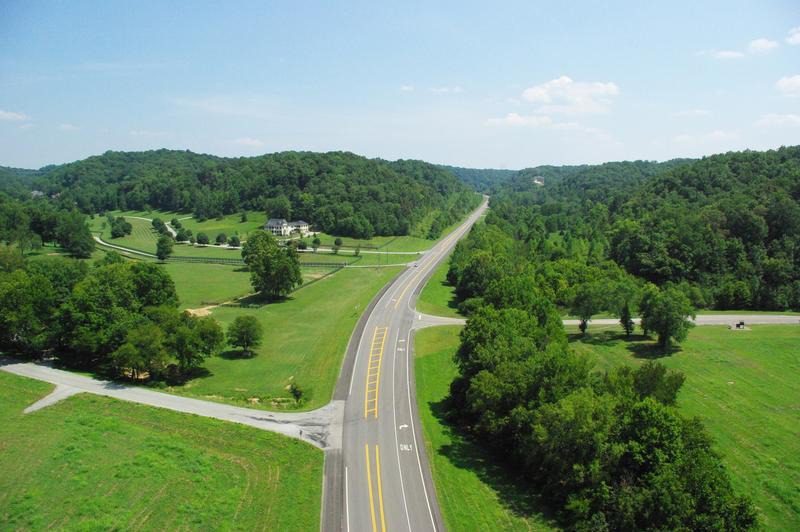 Natchez Trace Parkway will be your one of the favorite rides while exploring Tennessee's beautiful landscapes. Stretching between Leiper's Fork and Collinwood, this scenic road offers stunning views, historical sites, and plenty of opportunities for memorable stops along the way.
Fall is the perfect time to experience the parkway, as the leaves change color and create a vibrant display that's truly breathtaking. Spring and summer also provide pleasant weather for riding, although there's a higher chance of rain than in autumn.
Spanning roughly 75 miles, the ride from Leiper's Fork to Collinwood typically takes about 2 hours to complete, not including stops. I'd recommend setting aside an entire day to fully enjoy this amazing journey.
Places to Stop:
Double Arch Bridge: This impressive structure offers a great photo opportunity as well as a chance to stretch your legs.
Meriwether Lewis Monument: Located at milepost 385.9, this monument honors the famous explorer and is worth a quick visit.
Fall Hollow Waterfall: Just a short hike off the parkway at milepost 391.9, this picturesque waterfall is a perfect place for a break and a photo op.
While the parkway itself isn't particularly challenging for experienced riders, it can be trickier for novices due to the winding nature of the road. Additionally, the speed limit of 50 mph should be adhered to, as park rangers frequently patrol the area.
Other Information:
Be aware of deer on the parkway, especially during early morning and evening hours.
There are no gas stations directly on the parkway, so plan your fuel stops accordingly.
Primitive camping is available at select areas along the Natchez Trace Parkway, but it's always a good idea to book a campsite in advance if needed.
4. Foothills Parkway: US 321 to Wears Valley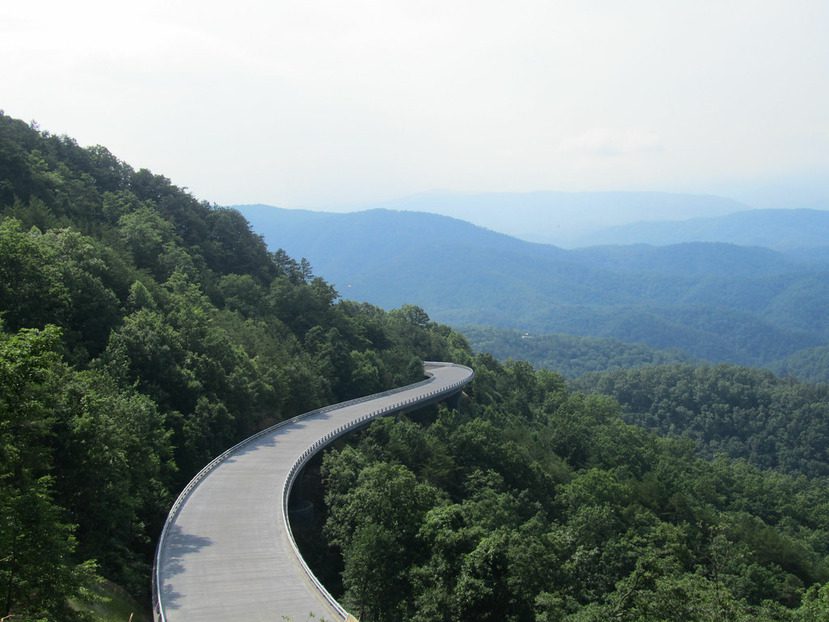 You will be impressed by the beauty and challenge offered by the Foothills Parkway motorcycle route. A stunning 16.7-mile ride, the Foothills Parkway stretches from US 321 in Walland to Wears Valley in the heart of the Smoky Mountains. Let's explore some of the highlights, tips, and details that make this such a fantastic road ride in Tennessee.
Hands down, the ideal time to traverse the Foothills Parkway is during the spring and fall months. The colorful foliage of autumn and vibrant bloom of spring add an unbeatable scenic touch to your ride. Summers are also enjoyable, but it can get quite crowded with tourists.
The Foothills Parkway ride covers approximately 16.7 miles with a recommended time of 45 minutes to an hour to complete the journey. However, you'll likely want to stop and soak in the views, so it's wise to give yourself a little extra time.
On your ride, you'll find multiple places to pull over and take in the wondrous scenery. Some of the most noteworthy scenic overlooks include:
Look Rock observation tower
Twin Creeks overlook
Buck Springs Gap overlook
These designated spots provide breathtaking panoramic views of the surrounding mountains and valleys, so don't miss the opportunity to snap some photos.
Foothills Parkway is often rated as a moderate motorcycle ride. The road has well-maintained pavement with gradual, sweeping curves, perfect for experienced and intermediate motorcyclists. Additionally, the elevation change adds an element of excitement, but it's not too steep to deter novice riders from venturing out on this thrilling route.
There are two key points to note while embarking on this unforgettable ride:
Bikers should be aware of the potential for wildlife encounters, particularly around dusk and dawn, when animals like deer are most active.
Facilities and amenities along the route are limited, so make sure to plan accordingly by topping off fuel and carrying extra supplies like water, snacks, and a first-aid kit.
5. Great Smoky Mountains Loop: Mountain Splendor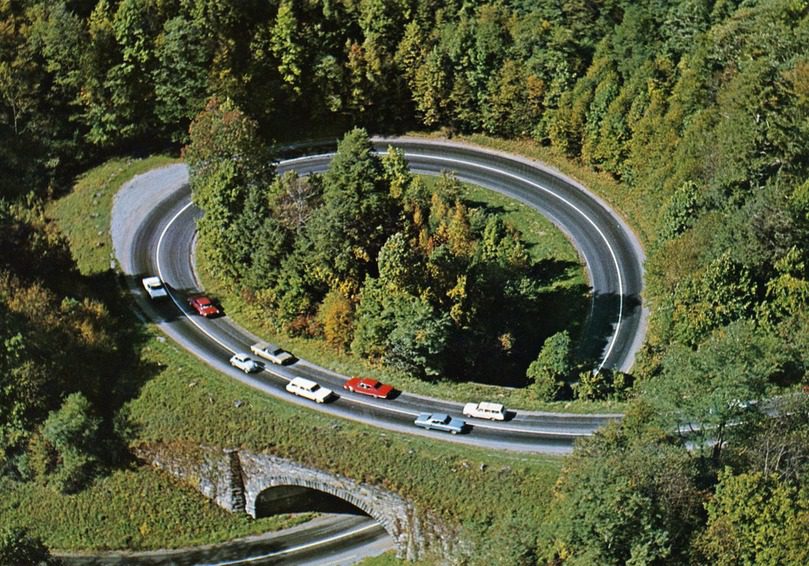 The Great Smoky Mountains Loop offers a spectacular ride, showcasing the breathtaking mountain scenery and welcoming pit stops that define the spirit of motorcycle cruising in Tennessee. Towering trees, colorful wildflowers, and panoramic viewpoints make this ride truly memorable.
The ideal time to take on this epic journey is from late spring to early fall. During these months, you'll enjoy mild temperatures, vibrant foliage, and ideal riding conditions. Be mindful that the weather can change rapidly, so it's important to pack gear for various climates.
This loop covers approximately 178 miles and typically takes about 4-6 hours to complete, without accounting for stops along the way.
There are several points of interest on the Great Smoky Mountains Loop, including:
Clingmans Dome: Devote some time to visit the highest point in the Smokies, boasting an impressive observation tower.
Newfound Gap: Stop here for jaw-dropping panoramic views across the mountain range, a favorite among photographers.
Cherokee, NC: Explore the lively town of Cherokee, where you'll find shopping, dining, a museum, and a casino.
Cades Cove: Discover the historic structures and abundant wildlife of this picturesque valley.
While I'd describe the Great Smoky Mountains Loop as a moderate ride, some experience in navigating curves and changes in elevation is recommended. The Park Service maintains the roads, and they are generally in excellent condition. Pay attention to speed limits and posted warnings for wildlife crossing, as many curvy sections have limited visibility.
Keep an eye on fuel levels as fuel stations within the park boundaries are scarce. Additionally, take advantage of the numerous pull-offs, rest areas, and overlooks to catch your breath, snap photos, and soak in the beauty of the Great Smoky Mountains.
Remember, the higher you climb into the mountains, the cooler temperatures get, so dress in layers or pack extra clothing.
6. Cumberland Plateau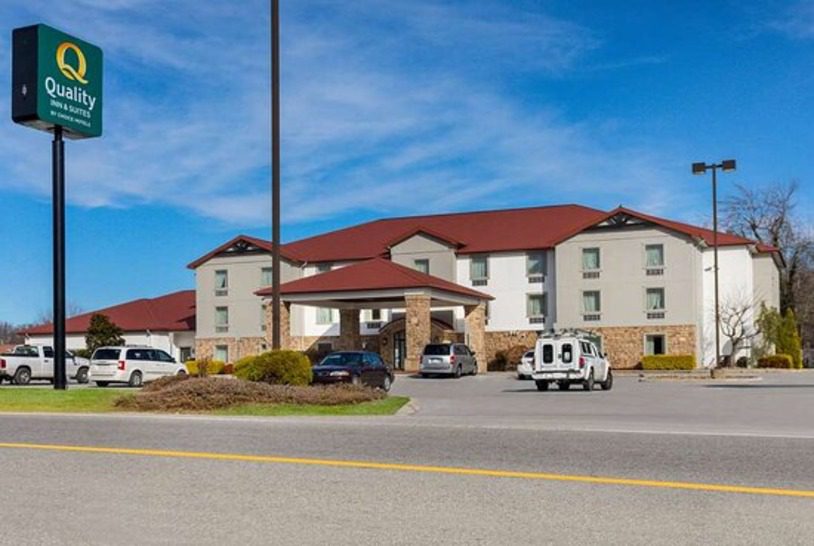 As a motorcycle enthusiast, you will be captivated by the Cumberland Plateau, one of the top 10 best motorcycle rides in Tennessee. This serene and picturesque ride offers majestic views that every biker should experience at least once.
The best time to explore this natural beauty is during the spring and fall months. This is when the weather is most comfortable for riding, and the lush greenery is accompanied by vibrant foliage.
The Cumberland Plateau ride stretches for about 150 miles. I would recommend setting aside at least 3 to 4 hours of your day to fully enjoy this unforgettable journey. Keep in mind that this estimate doesn't account for any stops you might want to make along the way.
During your motorcycle ride, you'll come across several must-see destinations:
Fall Creek Falls State Park: Boasting the highest waterfall in the eastern United States, it's the perfect location to take a break and soak in nature's splendor.
Cumberland Mountain State Park: This park offers hiking trails, fishing spots, and bird watching opportunities – a great place to unwind after a long ride.
Crossville and Cookeville: If you're looking for more urban pit stops, consider visiting these towns. They have plenty to offer including local restaurants, historical sites, and shopping centers.
While the Cumberland Plateau is mostly famous for its natural beauty, the ride itself presents some challenges. There are twisty sections along the way, which might prove difficult for beginner riders. Intermediate or advanced motorcyclists will likely find these twists to be thrilling and enjoyable.
During your journey, remember to fill up on gas whenever the opportunity arises. Gas stations can be scarce in this region, especially when riding through more remote areas. Also, always have a map or GPS on hand, as cell reception might be unreliable in certain spots. Finally, be prepared for frequent change in elevation during the ride; this can make for an exhilarating adventure but also may require some acclimatization.
7. The Tennessee Triangle: Nashville, Chattanooga, and Knoxville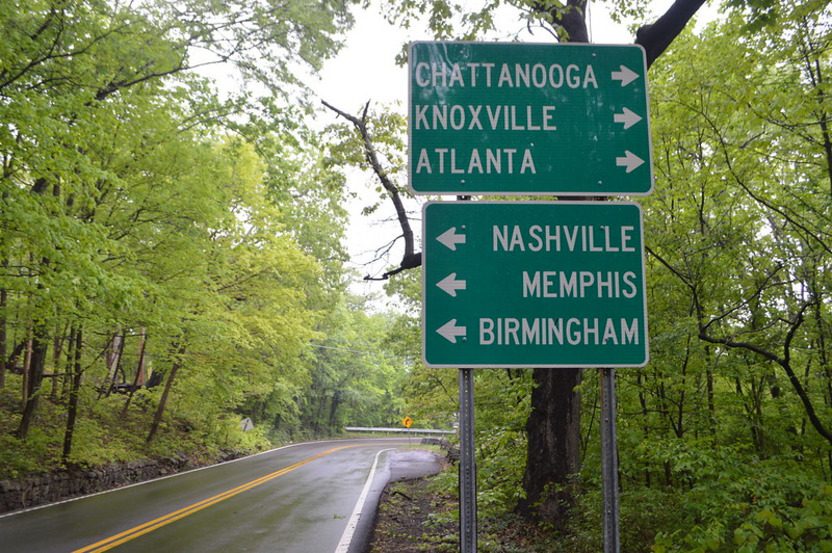 You will become huge fan of the Tennessee Triangle because it showcases the best of what this incredible state has to offer. On this ride, you'll experience Nashville, Chattanooga, and Knoxville – three of its largest cities. Here are some essential details of this ride:
Spring and fall seasons are hands down the best times to tackle the Tennessee Triangle. The mild temperatures and vibrant foliage will make your trip enjoyable, while you avoid the sweltering heat and humidity of summer. Also, the winter months are cold and often have icy conditions, making motorcycle rides a bit more hazardous.
| Route Segment | Distance | Time to Travel |
| --- | --- | --- |
| Nashville – Chattanooga | 134 miles | 2.5 hours |
| Chattanooga – Knoxville | 111 miles | 2 hours |
| Knoxville – Nashville | 180 miles | 3 hours |
| Total | 425 miles | 7.5 hours |
While riding the Tennessee Triangle, you'll find a plethora of exciting places to take breaks and enjoy fun activities:
Nashville: The Country Music Hall of Fame, Ryman Auditorium, and the Parthenon
Chattanooga: Lookout Mountain attractions, Tennessee Aquarium, and the Historic Downtown area
Knoxville: The World's Fair Park, the Sunsphere, and the Market Square
This ride is perfect for riders of all skill levels. You'll encounter mild elevation changes, several twisty sections, and some highway stretches. However, it's crucial to stay cautious, as there may be a lot of traffic, especially near the city areas.
Other Information
I highly recommend visiting the Tail of the Dragon if you're up for a detour on this route. It's a legendary 11-mile stretch with 318 curves that'll give you a unique motorcycle ride experience.
Tennessee's weather can be unpredictable, so prepare for sudden downpours by carrying rain gear.
8. Hwy 70N : Nashville to Cookeville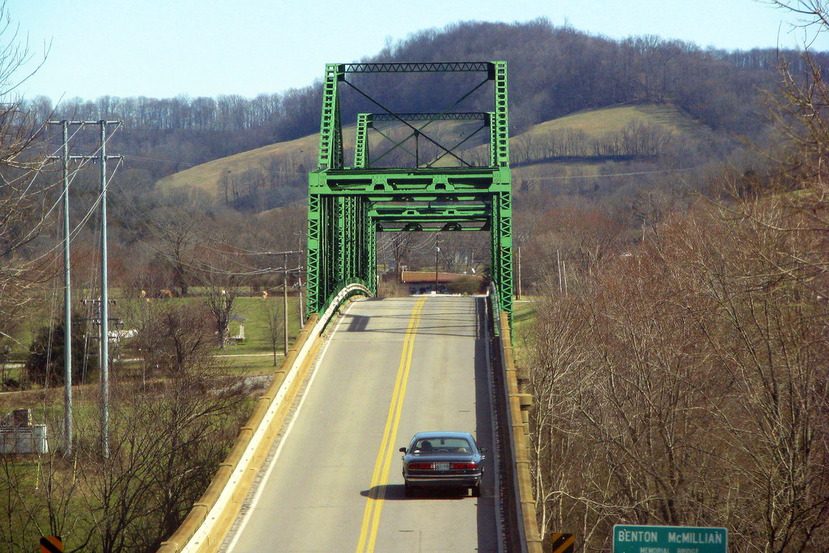 If you're looking for a scenic and thrilling ride, the Hwy 70N stretch from Nashville to Cookeville is a perfect choice. With rolling hills, winding turns, and beautiful countryside, this motorcycle ride will surely satisfy your need for adventure.
The ideal time to ride this route is during the spring or fall months when the weather is generally mild and roads are in good condition. These seasons also bring out the best colors in the Tennessee landscape, making for a visually stunning ride.
Hwy 70 spans 111 miles between Nashville and Cookeville, taking approximately 2 hours and 30 minutes to travel. This allows for an enjoyable day trip or a relaxed weekend excursion.
There are several noteworthy stops along this route, ensuring you'll have plenty to see and do. Some highlights include:
Cumberland River: Take a break by the water, or hop on a paddleboard to explore the river.
Edgar Evins State Park: Stretch your legs while taking in the beautiful views of Center Hill Lake.
Gordonsville: This charming small town offers great local dining and shopping experiences.
While Hwy 70N offers a thrilling ride with many twists and turns, I'd rate it as an intermediate level of difficulty. This means that those with some riding experience should be able to navigate the route with ease, but beginners might find it a bit challenging.
Other Information
Beware of the occasional loose gravel and wildlife, as these can pose hazards for riders. It's essential to remain aware of your surroundings and ride with caution.
There aren't many gas stations along this stretch, so be sure to fuel up before embarking on your journey.
If you're planning a weekend trip, there are several lodging options available in both Cookeville and Nashville.
9. Hwy 165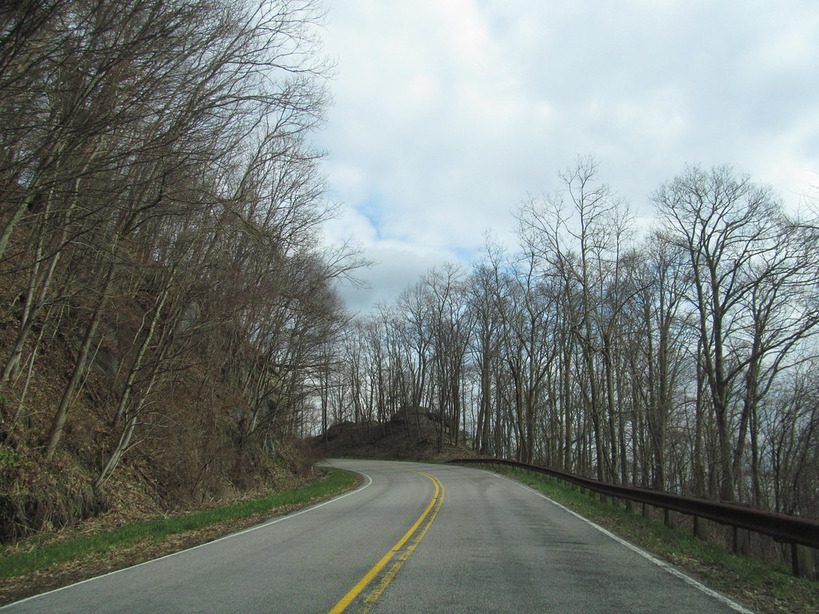 This stunning motorcycle route offers a unique coastal adventure unlike any other! Allow me to shed some light on why you, too, should make Hwy 165 a "must-ride" on your list of top Tennessee motorcycle routes.
The best time to enjoy Hwy 165 is during the late spring, summer, or early fall. During these months, the weather is generally warm and pleasant, perfect for a full day of riding!
Hwy 165 spans approximately 58 miles, which can take around 1.5 to 2 hours to cover, depending on how often you stop. Be sure to give yourself ample time to soak in the beautiful surroundings as well as explore the charming communities you pass through.
While cruising along Hwy 165, there are a few noteworthy places to stop and recharge:
Eagle Bend Fish Hatchery: Discover how trout are raised in this incredible facility. Guided tours are provided occasionally.
Norris Dam State Park: This picturesque park is great for picnicking, fishing, and hiking. Don't forget to snap a photo of the iconic dam!
Museum of Appalachia: Immerse yourself in the rich Appalachian culture by visiting this living history museum.
Hwy 165 is a fairly moderate route, as it features numerous curves and hills, requiring consistent attention and focus from the rider. Despite this, it's still an incredibly approachable ride for motorcyclists of various experience levels.
Other Information
Be mindful of wildlife, as there have been sightings of deer and other animals near the road.
Refuel before beginning your journey, as gas stations can be infrequent along Hwy 165.
Take time to acquaint yourself with the route before setting out. This can prevent any unexpected surprises and allow you to concentrate on appreciating the gorgeous scenery!
10. Hwy 11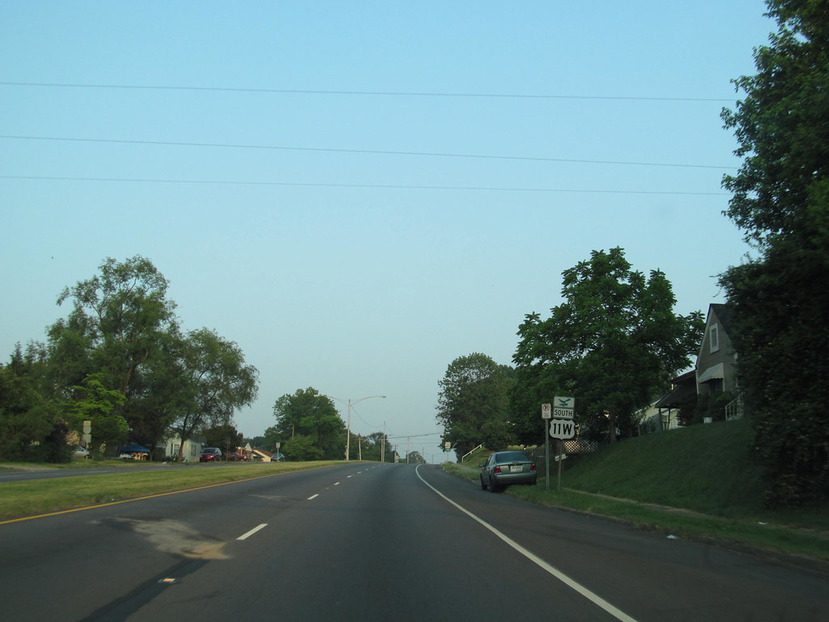 Hwy 11 in Tennessee might not be the first ride that comes to mind when looking for top motorcycle rides, but it's definitely a unique and underrated gem that's worth exploring. This route offers beautiful scenery, picturesque views, and minimal traffic, which makes it perfect for a relaxing motorcycle ride.
The ideal time to visit Hwy 11 is during the spring and fall seasons. During these times, the weather is typically mild and comfortable, making it perfect for a day out on your motorcycle. You'll also be able to enjoy the vibrant colors of the trees lining the route, giving the entire ride an added touch of beauty.
Overall, Hwy 11 stretches for about 67 miles, and it takes approximately 1.5 to 2 hours to complete, depending on your speed and how often you stop to take in the scenery.
Throughout your ride on Hwy 11, you'll have plenty of opportunities to stop and enjoy some of the attractions along the way. Some notable places include:
Cumberland Mountain State Park: Perfect for a leisurely walk or a picnic with picturesque views of the lake.
Historic Town of Sweetwater: Stop and explore the quaint shops and delicious local eateries.
Memory Lane Museum: A hidden gem that showcases vintage cars, motorcycles, and memorabilia from the past.
This particular route is considered to be relatively easy, making it a perfect ride for beginners and experienced riders alike. With minimal twists and turns and generally smooth pavement, it's easy to kick back, relax, and savor the views.
Other Information
Gas stations and restrooms are available sporadically along the route, but it's always a good idea to fill up your tank and make pit stops when you can.
Wildlife sightings are not uncommon, so be sure to keep an eye out and ride at a safe speed.
Pay attention to local weather conditions and always pack appropriate gear for potential changes in weather.
FAQs
What are some top motorcycle rides in Tennessee?
Some Top Motorcycle Rides In Tennessee Include The Tail Of The Dragon, The Best Of The Snake, Cherohala Skyway, Newfound Gap Road, And The Devil's Triangle.
Is Tennessee A Good State For Motorcycle Rides?
Yes, Tennessee Is A Great State For Motorcycle Rides Due To Its Picturesque Landscapes, Curvy Roads, And Numerous Scenic Routes.
What is the Tail of the Dragon?
The Tail Of The Dragon Is An 11-Mile Stretch Along The Great Smoky Mountains, Featuring 318 Curves And Offering An Exciting Ride For Motorcyclists.
Where Can I Find Motorcycle Routes Near Nashville?
Some Motorcycle Routes Near Nashville Include The Natchez Trace Parkway, Cumberland Plateau Tour, And North Nashville To Ashland City.
When is the best month to motorcycle the Blue Ridge Parkway?
The Best Month To Motorcycle The Blue Ridge Parkway Is Generally Between May And October, When The Weather Is Mild, But Avoid Peak Tourist Season In July And August For A Less Crowded Experience.
Conclusion: Discovering Tennessee's Motorcycle Paradise
Tennessee's vast expanse offers some of the most enjoyable and scenic motorcycle rides in the United States. With a diverse landscape ranging from mountains to agricultural plains, I can safely say that riding through Tennessee is an unforgettable experience for any motorcycle enthusiast.
The prime months for a motorcycle ride in Tennessee are April through October, when the weather is mild and pleasant. However, if you fancy riding through the changing leaves of fall, October is the ideal time to plan your trip.
While cruising through Tennessee, you'll find plenty of exciting pit stops along the routes. Some favorite spots include:
The Hogs & Rags Motorcycle Museum (Devils Triangle)
The Wheels Through Time Motorcycle Museum (Great Smoky Mountains Loop)
The Johnny Cash Museum (Music Highway)
The Chattanooga Choo Choo (Tennessee River Run)
Though Tennessee has a wide variety of roads available for bikers, the level of difficulty varies. Rides like Tail of the Dragon and Devils Triangle are quite challenging and best suited for experienced riders. On the other hand, the Natchez Trace Parkway and Music Highway cater to riders of all skill levels.
Before hitting the roads, make sure your motorcycle is in perfect condition and you have all the necessary gear. It's also a good idea to check current weather conditions before deciding which route to take.
So, whether you're a seasoned rider or new to the motorcycle community, the scenic routes of Tennessee will leave you mesmerized. Now's the time to gear up, hit the open roads, and discover Tennessee's motorcycle paradise!
Motorcycle Rides in the US by States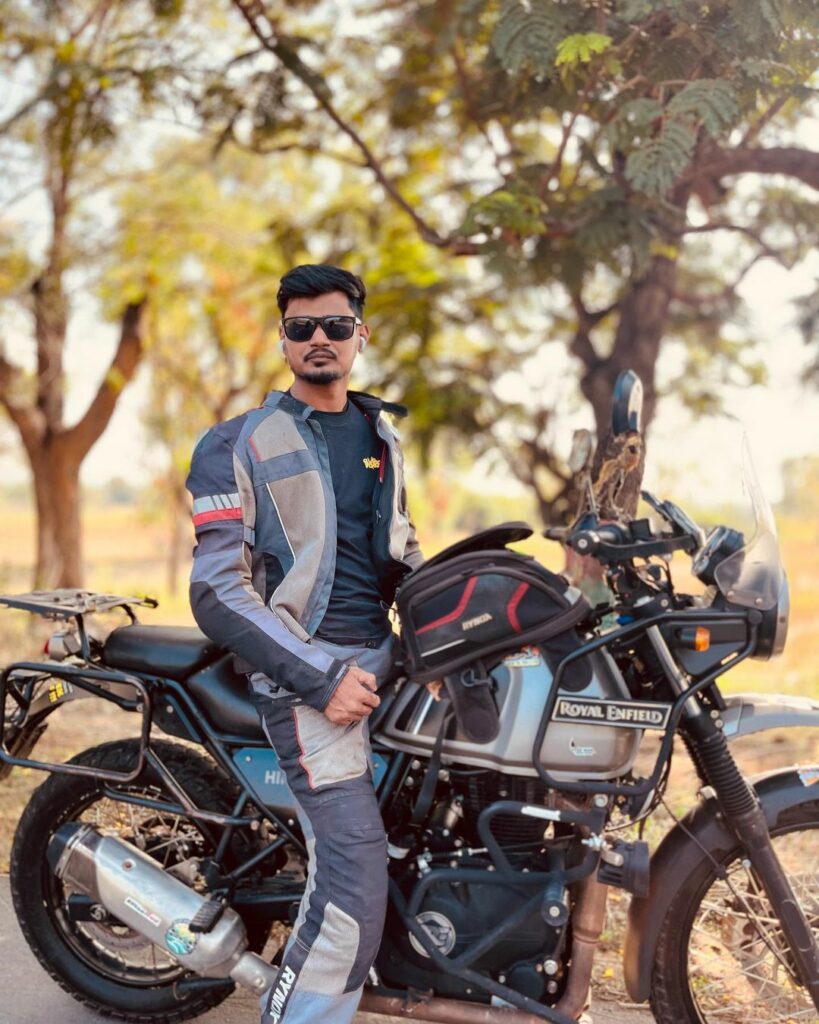 Vishwanath Mathpati
I am Vishwanath Mathpati, a full-time Blogger and Motorcyclist from Bidar, Karnataka. I love writing about my Motorcycles Stories and Riding Gears on this blog.
Know More About Me.
---
If you liked this article, then please subscribe to our YouTube Channel for more Bike Videos. You can also find us on Instagram, Twitter and Facebook.
Disclosure: As an Amazon Associate, I earn from qualifying purchases. Read more about Amazon Affiliate Disclaimer.