Top 8 Best Motorcycle Rides in Iowa: My Ultimate Guide
Iowa might not be the first place that comes to mind when dreaming of epic motorcycle rides, but this Midwestern state has plenty to offer motorcyclists. With its rolling hills, picturesque landscapes, and under-the-radar scenic roads, Iowa is a hidden gem just waiting to be explored on two wheels.
From winding river roads to routes that curve through the state's iconic farmland, Iowa's diverse landscape offers a variety of rides suitable for every type of motorcyclist. Whether you're a seasoned rider or a beginner looking for your next adventure, you're sure to find a memorable experience within the Motorcycle Rides in Iowa.
But the experience doesn't end within Iowa's borders. The neighboring states also provide equally enticing rides. Northwards, Minnesota's North Shore Scenic Drive offers spectacular Lake Superior views. To the east, Illinois' Great River Road runs along the Mississippi River, offering a different kind of thrill. If you travel westwards, you can explore the Sandhills Journey Scenic Byway in Nebraska, and southwards, Missouri's Ozark Mountain ride will give you an unforgettable adventure. So, without further ado, let's delve into these fantastic motorcycle routes that showcase Iowa's natural beauty and charm.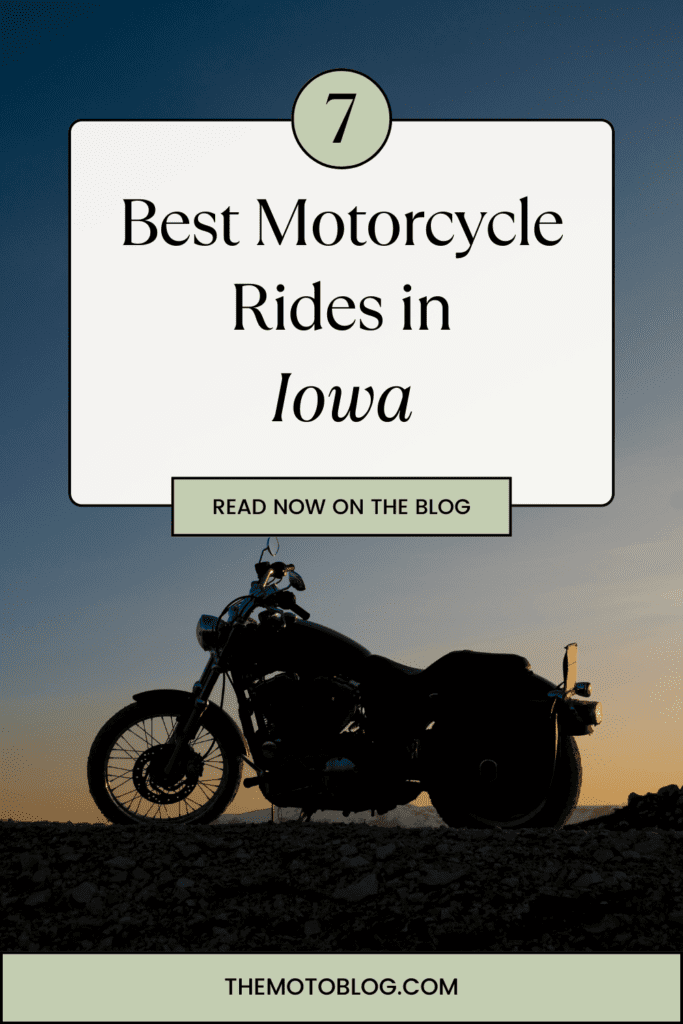 1. The Lincoln Highway Heritage Byway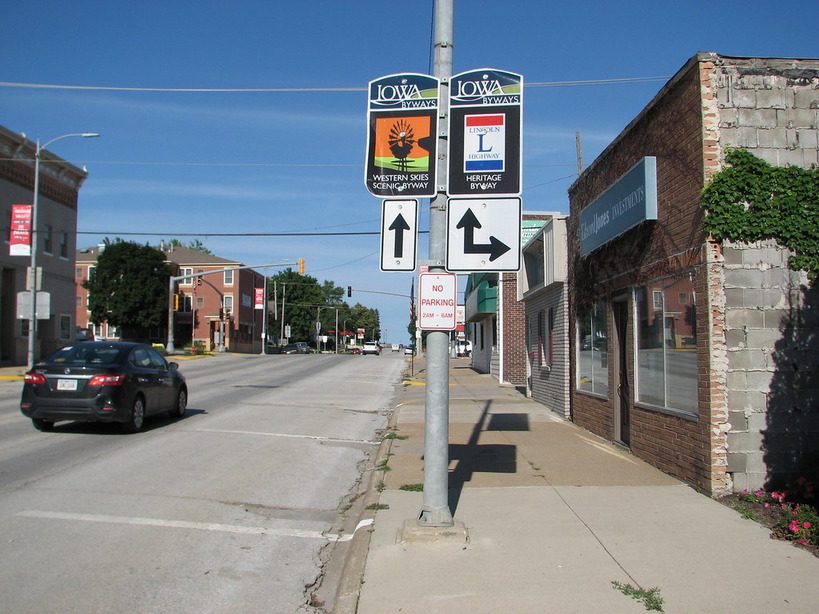 Lincoln Highway Heritage Byway has a perfect mix of beautiful landscapes, unique attractions, and historic landmarks that make it an absolute treat to ride.
Fall offers the most stunning views of the changing foliage, but spring and summer are also pleasant periods to explore this stretch. Winter can be a bit tricky as it may get snowy and icy, so I'd recommend avoiding it during colder months.
The Lincoln Highway Heritage Byway spans approximately 460 miles in length. Depending on how many stops you make, it can take anywhere from one to three days to explore the entire route.
Places to Stop:
High Trestle Trail Bridge: This 13-story, half-mile long bridge is a must-see. Enjoy the stunning view of the Des Moines River Valley below.
Lincoln Heritage Park: The park houses roadside sculptures, interpretive panels, and a small museum with detailed information on the Lincoln Highway.
NILS Swedish Immigration Museum: Learn about the history of Swedish immigrants in Iowa and view exhibits representing Swedish-American life.
| Place | Level of Difficulty |
| --- | --- |
| High Trestle Trail Bridge | Easy |
| Lincoln Heritage Park | Easy |
| NILS Swedish Immigration Museum | Easy |
The route is mainly flat and easy to navigate, making it suitable for beginners and experienced riders alike. However, you might encounter a few hilly sections and curves along the way, so always stay alert!
Other Information:
The route passes through several historic districts, such as the Boone Historic District and the Jefferson Historic District. Make sure to allow yourself some time to absorb their charm and learn about their past.
There's a fantastic variety of local cuisine and lodging options along the route. Make sure to try some local restaurants and cafes – you never know what culinary delights you may discover!
2. Loess Hills National Scenic Byway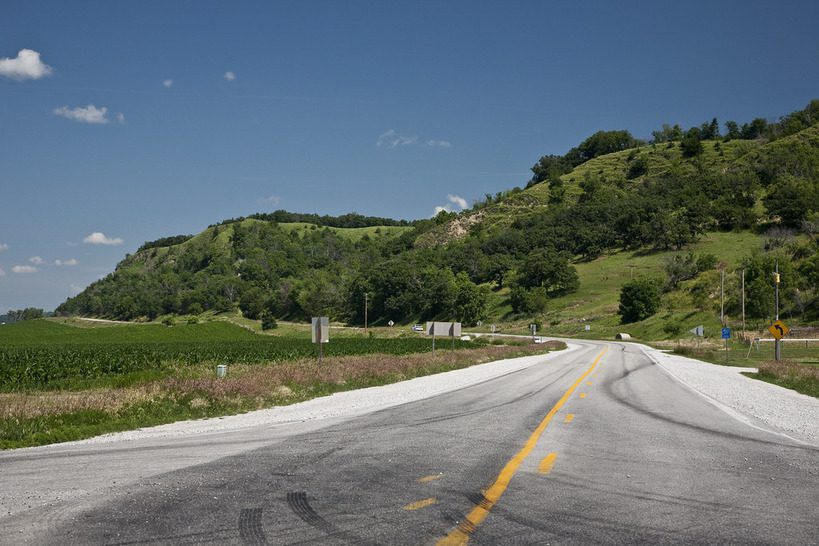 Loess Hills National Scenic Byway is a stunning 220-mile byway offers me a perfect blend of natural beauty, lush landscapes, and picturesque views. Here are some essential details to help you plan your motorcycle adventure on this must-ride route.
The most incredible time to experience the Loess Hills National Scenic Byway is during the late spring and early fall. The comfortable temperature during these periods allows for an enjoyable ride while taking in the vibrant colors of both flowers and foliage.
The route stretches over 220 miles, approximately, and it would take about six hours to ride from start to finish at a leisurely pace. However, with numerous stopping points and attractions, it's easy to spread this ride over two or even three days.
Along the Loess Hills National Scenic Byway, I love indulging in these delightful stops:
Preparation Canyon State Park: It's a great place to stretch my legs and take in the breathtaking panorama of the Loess Hills.
Sioux City's Stone Park: Offering beautiful picnic spots and hiking trails, it's an ideal destination for a mid-ride break.
Hitchcock Nature Center: With an array of wildlife and bird-watching opportunities, this conservation area is a fantastic stop for nature lovers.
I'd rate this route as moderately challenging. While the riding itself isn't particularly technical, be prepared to navigate some steep inclines and tight curves at times.
Keep in mind that the Loess Hills National Scenic Byway is a combination of paved roads and areas of hard-packed gravel. Make sure your motorcycle is capable of handling these surfaces and that you're comfortable riding on various terrains.
3. Glacial Trail Scenic Byway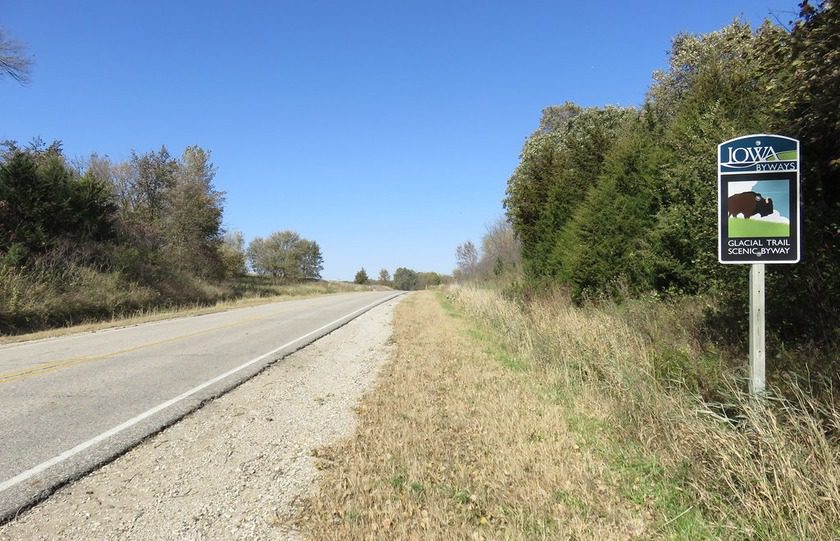 When it comes to picturesque motorcycle rides in Iowa, the Glacial Trail Scenic Byway surely deserves a spot on the list. This route offers riders a splendid experience through rolling hills, forested areas, and serene prairies.
The ideal time to ride the Glacial Trail Scenic Byway is between late April and October. During these months, the weather is generally pleasant, with milder temperatures and less precipitation. Opting for a ride in the spring or fall gives you the opportunity to admire the vibrant colors of the changing foliage, adding an extra layer of visual splendor to your ride.
The Glacial Trail Scenic Byway stretches for approximately 36 miles from rural Cherokee to the Iowa Great Lakes region. Under normal traffic conditions, it should take you about 1.5 to 2 hours to complete the ride, depending on your pace and stops. This relatively short distance allows you ample time to take in the sights without feeling rushed.
There are several notable stops along the Glacial Trail Scenic Byway that you won't want to miss:
Liska-Stanek State Wildlife Management Area: A haven for wildlife enthusiasts, this 302-acre area offers an excellent opportunity to spot various species of birds, deer, and other local critters.
Prairie Heritage Center: Stop by this educational facility to learn about Iowa's natural history and witness the beauty of the surrounding tallgrass prairie.
Dog Creek Park: A picturesque site for a break, with facilities for camping, fishing, and picnicking.
It's important to note that the Glacial Trail Scenic Byway is primarily a moderate ride for motorcyclists. While there are no hair-raising twists or sharp corners along the route, riders should exercise caution due to the occasional uneven terrain and limited visibility around some bends.
Other Information
As you ride through the byway, take note of the numerous glacial landmarks that give the route its name. These remnants from the last Ice Age offer a fascinating insight into the region's geological history.
Be mindful of wildlife crossings as you travel, particularly in the Liska-Stanek State Wildlife Management Area.
4. Dragoon Trail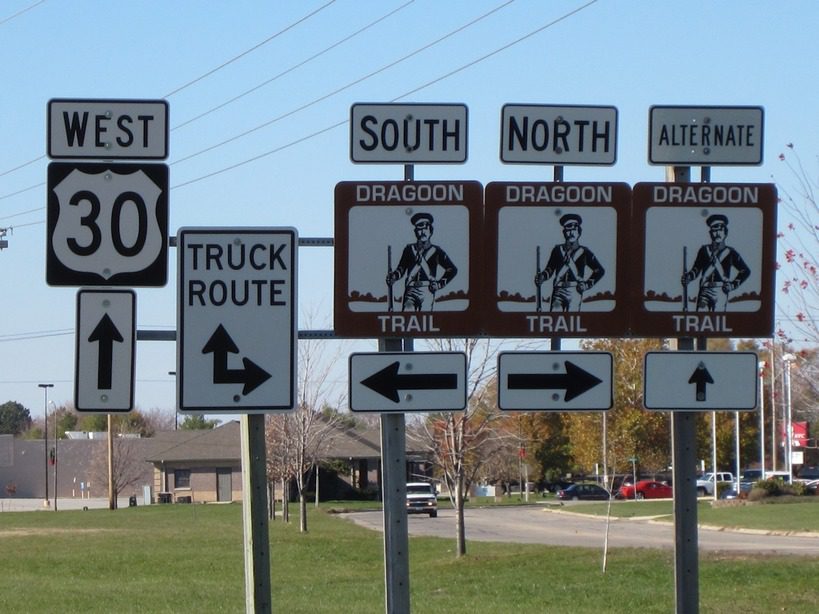 I've always found Dragoon Trail to be among the most picturesque motorcycle rides in Iowa. This historic route follows the path of the First U.S. Dragoons, who were sent in the 1830s to explore the newly acquired Iowa Territory. It combines natural beauty and historical significance, offering riders an unforgettable experience.
The best time to ride the Dragoon Trail is during late spring to early fall. Rains are less frequent, and there's an abundance of greenery along the route. Be sure to catch a glimpse of the breathtaking fall foliage around mid-October.
The Dragoon Trail covers a total of 200 miles and takes approximately 4 to 6 hours to complete, depending on the frequency of stops.
Fort Des Moines Park: A significant historical landmark, perfect for a picnic or a short rest.
Ledges State Park: Known for its spectacular river canyon and vibrant flora.
Dolliver Memorial State Park: Offers picturesque views and unique geological formations.
The Dragoon Trail is considered a moderate level of difficulty. It's a mix of well-maintained paved roads and gravel sections, suitable for most motorcycle types. Some sections might require a bit more skill, especially in wet conditions.
Other Information
Along the route, you'll find various historical markers that share fascinating stories about the trail's past.
Be prepared for occasional wildlife encounters, such as deer and other small animals.
5. Historic Hills Scenic Byway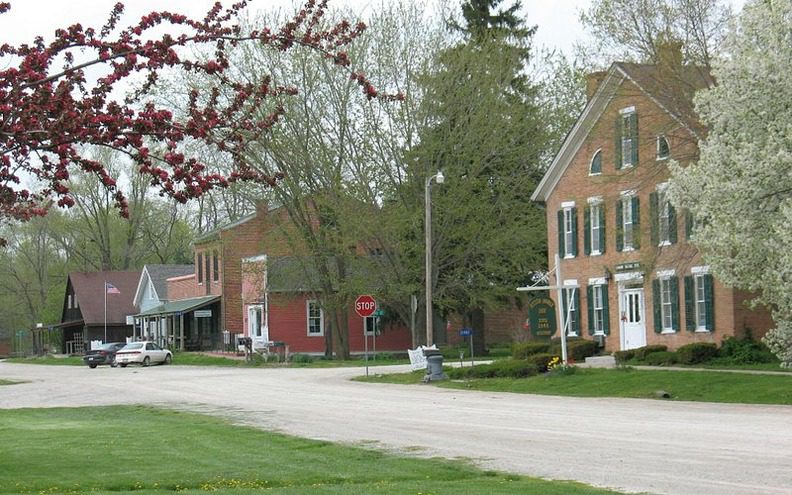 The Historic Hills Scenic Byway in Iowa is an iconic route that offers riders some truly remarkable experiences while riding their motorcycles.
The ideal season to ride on the Historic Hills Scenic Byway is from mid-May to mid-October. This period provides the most pleasant weather conditions, perfect for motorcycle riding. Warmer temperatures, blooming flowers, and colorful foliage create a stunning backdrop for both experienced and amateur riders to enjoy.
Spanning 110 miles, the Historic Hills Scenic Byway typically takes around 3 to 4 hours to complete. However, depending on how often you stop to explore the various sights and attractions along the way, you may spend an entire day to make the most of this route.
Places to Stop:
Along the Historic Hills Scenic Byway, there's a variety of interesting places to pause and explore:
Dutchman's Store: A traditional Amish and Mennonite store, perfect for some unique souvenirs.
Indian Creek Nature Center: A beautiful oasis for nature lovers with miles of scenic trails.
Bentonsport Historic District: Visit this charming village with its charming antique shops and historic attractions.
I would rate this route as moderately challenging, as it offers a mix of gentle curves, rolling hills, and flat stretches. It's suitable for riders with basic to intermediate skill levels, and the road conditions are generally well-maintained throughout.
It's always a good idea to wear appropriate safety gear, such as helmets and protective clothing, while riding your motorcycle. The Historic Hills Scenic Byway offers limited amenities along the way, so make sure to pack some snacks or stop at local eateries for refueling.
6. Covered Bridges Scenic Byway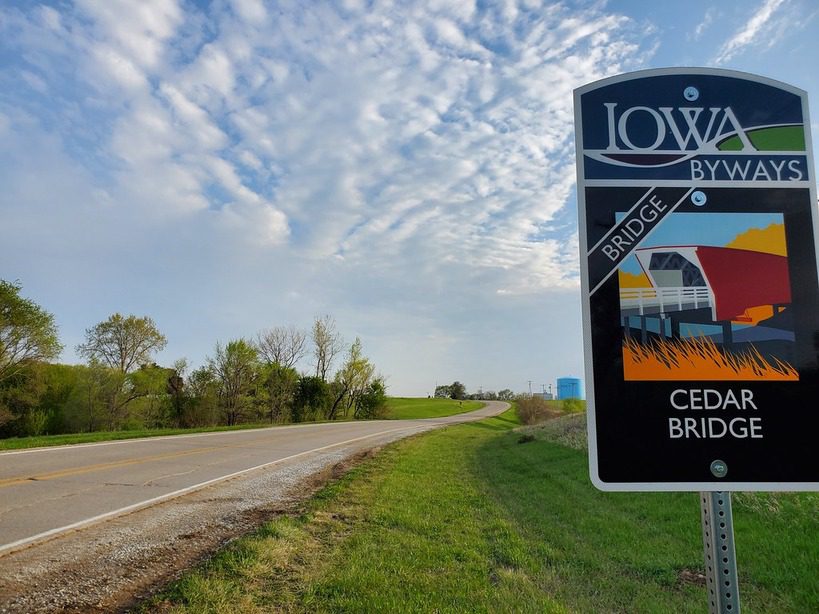 Covered Bridges Scenic Byway is a fantastic motorcycle route in Iowa, boasting tranquil countrysides and historically rich pathways. From the winding roads to the picturesque covered bridges, this byway offers an unforgettable journey for riders.
The ideal time to explore this byway is from late spring to early fall, as the weather conditions are more favorable for motorcycle rides. Especially in autumn, the fall foliage transforms the scenery into a stunning display of colors.
| Season | Timeframe | Pros | Cons |
| --- | --- | --- | --- |
| Spring | April-May | Mild temperatures, blooming flowers | Occasional rain showers |
| Summer | June-August | Warmer temperatures, longer days | Higher humidity, tourist crowds |
| Fall | September-October | Cooler temperatures, vibrant foliage | Dwindling daylight hours, cooler evenings |
Covering approximately 82 miles, the Covered Bridges Scenic Byway goes through two counties – Madison and Polk – in Iowa. Typically, it takes about 2 to 3 hours to complete this gorgeous ride, depending on your pace and the number of stops made along the way.
While traversing the byway, there are several noteworthy locations to pause and explore, such as:
Imes Bridge, Iowa's oldest covered bridge
Roseman Bridge, famous for its role in The Bridges of Madison County
Winterset City Park, home to the remarkable Clark Tower
Shops and restaurants in the towns of Winterset and St. Charles
The Covered Bridges Scenic Byway offers a relatively easy ride suitable for riders of various skill levels. You'll encounter mostly gentle curves and moderately hilly sections, making it an enjoyable experience for both beginners and experienced motorcyclists.
Other Information
The byway has no admission fees or tolls
Covered bridges typically have limited parking spaces for motorcycles, so plan accordingly
Be aware of the speed limits and local traffic laws, as the byway goes through residential areas and many historical sites
7. Grant Wood Scenic Byway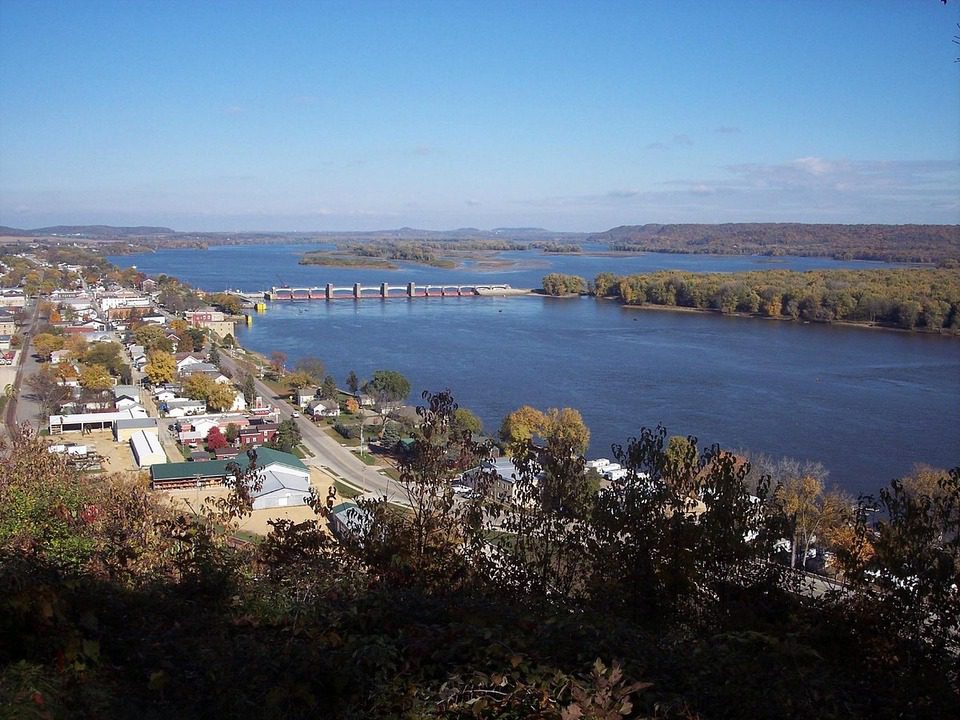 One of my favorite motorcycle rides in Iowa is the Grant Wood Scenic Byway. This picturesque route captures the beauty of Iowa's landscapes and offers motorcyclists a thrilling experience.
I recommend visiting in spring and fall since you'll witness some of the most exquisite colors from the changing foliage. Summer is also a great time to ride, with warm temperatures and lush greenery, but it can also be busy with other tourists.
The Grant Wood Scenic Byway stretches around 77 miles and can take approximately 1.5 hours to complete non-stop. But I suggest taking the time to stop at some iconic locations to fully appreciate everything this scenic byway has to offer.
There are several worthwhile spots to check out during your ride:
American Gothic House: Famous for its depiction in Grant Wood's 1930 painting, this house is a must-see for art enthusiasts.
Stone City: Once a thriving quarry town, now a charming stop, with stunning limestone buildings and views of the Wapsipinicon River.
Anamosa State Penitentiary Museum: Dive into Iowa's history as you explore the grounds of the oldest operational prison west of the Mississippi.
I'd rate the Grant Wood Scenic Byway as an intermediate level ride. The road conditions are generally well-maintained, with some twists and turns that require attention but aren't overly challenging. There may be a few patches of gravel to watch out for, but overall, it's a comfortable ride for most motorcyclists.
Here are some essential tips for those planning to ride the Grant Wood Scenic Byway:
Make sure to fill up your gas tank, as fuel stations can be sparse along the route.
Pack a camera, as you'll want to capture the breathtaking views and unique stops.
Keep an eye on weather conditions, especially during transitional seasons, as temperatures and road conditions can change rapidly.
8. White Pole Road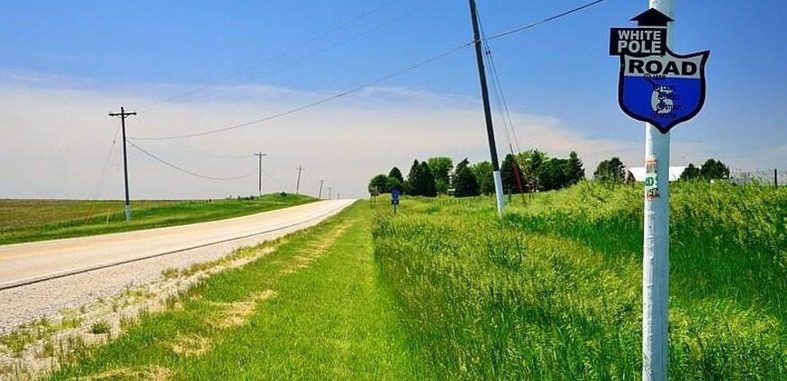 Iowa's scenic White Pole Road is a must-ride for any motorcycle enthusiast. This picturesque route stretches for 26 miles through the heart of Iowa, connecting five charming communities: Adair, Casey, Menlo, Stuart, and Dexter. With its smooth, winding roads, you're in for a truly enjoyable ride.
The ideal time to ride White Pole Road is from late spring to early fall, as the temperatures are more comfortable and the vibrant green landscapes create a stunning backdrop for your journey.
White Pole Road covers a 26-mile route, which should take you around an hour to complete if you ride at a leisurely pace.
While traveling along White Pole Road, consider the following stops:
Adair: home to the famous Smiley Face Water Tower and Jesse James Historical Marker.
Casey: famous for its century-old Iowa Beer Toast mural
Menlo: where you'll find a historic gas station and Robert's Roost, a popular stop for White Pole Road travelers.
Stuart: known for its stunning Rock Island Depot and vintage Penn Central Caboose
Dexter: visit the site of Bonnie and Clyde's infamous shootout – the Dexter Museum Complex
White Pole Road is considered an easy ride, with gentle curves and well-maintained roads that are perfect for riders of all skill levels. There are no steep inclines or sharp turns, making it a calming and enjoyable journey.
Here's more information to help you plan your ride:
Route: Begins in Adair and ends in Dexter, IA
Road quality: Smooth asphalt, well-maintained with minimal traffic
Scenery: Picturesque farmland, antique railroad equipment, charming small towns
FAQs
What are some top motorcycle rides in Iowa?
Top Rides Include The Hub Of The Hills, Old Highway 141, Iowa's Old Lincoln Highway, Des Moines To Council Bluffs, And Northeast Iowa Loop.
Where can I find information on the best motorcycle roads in Iowa?
Resources Such As Best Biking Roads, Great Motorcycle Roads, Viking Bags, and REVER Provide Information On Top Iowa Motorcycle Routes.
What scenic byways are popular among motorcyclists in Iowa?
The Loess Hills National Scenic Byway And The Grant Wood Scenic Byway Are Popular Choices For Scenic Motorcycle Rides In Iowa.
What type of landscapes can be experienced on Iowa motorcycle rides?
Iowa Offers Diverse Landscapes, Including Rolling Hills, Lush Forests, Farmland, Rivers, And Historic Landmarks.
Are there any unique motorcycle attractions or landmarks in Iowa?
"The Gypsy Ride" is a Unique Motorcycle Masterpiece Standing 15 Ft. Tall, Located Along The Loess Hills National Scenic Byway.
Conclusion: Choosing Your Iowa Motorcycle Adventure
After going through the top 8 motorcycle rides in Iowa, it's time for me to help you decide on the perfect adventure for you! Factors like the best time to visit, distance with time to travel, places to stop, and level of difficulty play a crucial part in your decision. Additionally, I'll provide you with some other essential information to help you plan your journey.
While opinions may vary, the ideal time to embark on a motorcycle adventure in Iowa is from late spring to early autumn. During these months, you'll experience:
Pleasant temperatures
Lower rainfall
Bright, sunny days
Of course, it's always a good idea to check the local weather forecast before setting out on any trip.
Motorcycle rides in Iowa offer a variety of distances, and the time required to complete them will depend on your preferences. Here's a rough breakdown of the distances you'll cover:
Shorter routes: 50-80 miles, 1-2 hours to complete
Medium routes: 80-150 miles, 2-4 hours to complete
Long routes: 150-250 miles, 4-6 hours to complete
When choosing a route for your Iowa motorcycle journey, consider the following places to stop and explore:
Scenic state parks
Quaint towns and cities
Historic landmarks and sites
Local eateries
Motorcycle routes in Iowa range from laid-back cruises to challenging twists and turns. Therefore, consider your comfort level and riding experience to select the appropriate route. Here's a summary:
Beginner: Flat and straight routes, minimal traffic, and easygoing corners
Intermediate: Some elevation changes, a few winding roads, and moderate traffic
Expert: Steep climbs, sharp turns, and heavier traffic
Other Information
Before you set off on your chosen adventure, keep the following tips in mind:
Stay safe and follow local traffic laws
Wear the proper riding gear, including a helmet
Ride within your skill level
Allow some flexibility in your route planning to account for detours or unforeseen circumstances
Ultimately, the perfect Iowa motorcycle adventure boils down to your preferences, needs, and skill level. So, grab your helmet, hit the highway, and prepare to explore the Hawkeye State like never before! Happy riding!
Motorcycle Rides in the US by States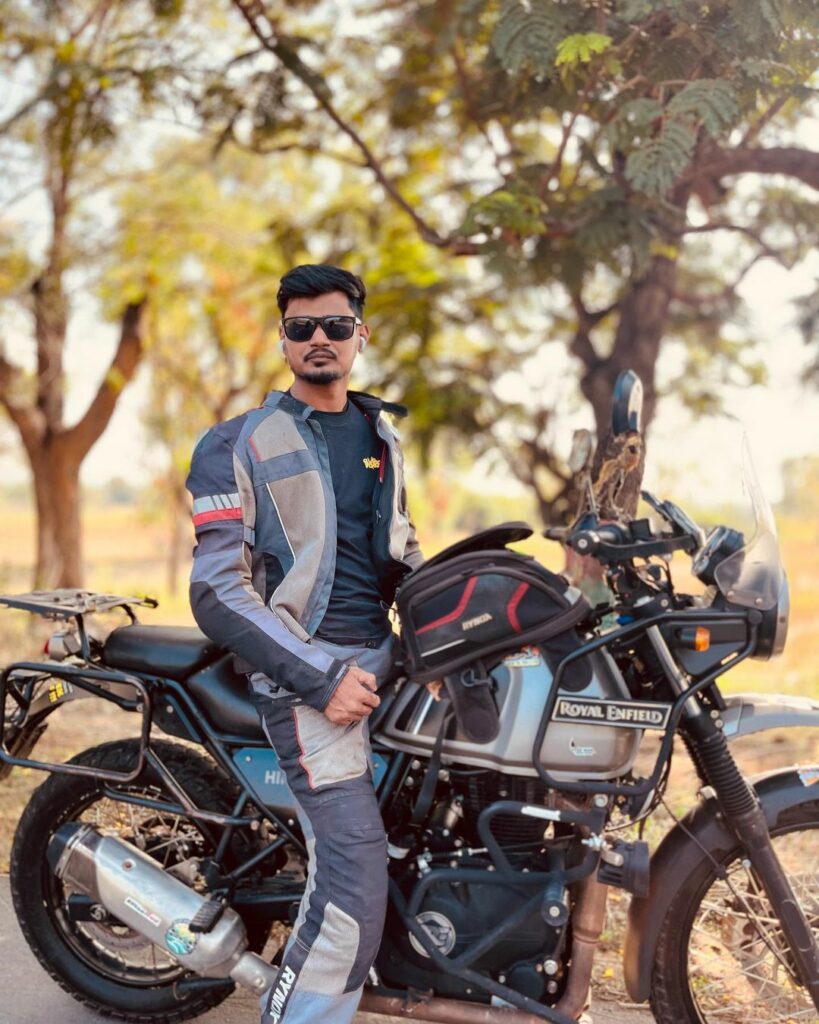 Vishwanath Mathpati
I am Vishwanath Mathpati, a full-time Blogger and Motorcyclist from Bidar, Karnataka. I love writing about my Motorcycles Stories and Riding Gears on this blog.
Know More About Me.
---
If you liked this article, then please subscribe to our YouTube Channel for more Bike Videos. You can also find us on Instagram, Twitter and Facebook.
Disclosure: As an Amazon Associate, I earn from qualifying purchases. Read more about Amazon Affiliate Disclaimer.