Top 10 Best Motorcycle Rides in New York: My Ultimate Guide
New York is home to some of the most scenic and exhilarating motorcycle rides that cater to every rider's taste. From picturesque waterfalls and rugged mountains to serene valleys and charming small towns, the Empire State offers a wealth of experiences for motorcycle enthusiasts. In this article, I'll be sharing the top 10 best Motorcycle Rides in New York that you don't want to miss.
Adventure awaits as we explore different regions throughout New York State, including the majestic Adirondack Mountains, the stunning Finger Lakes, and the historic Hudson Valley. These rides will not only take you on a thrilling two-wheeled journey through some of the most beautiful landscapes in the country, but they will also introduce you to the unique culture and history that make up this fascinating state.
However, the ride doesn't stop at the state line. To the east, Connecticut's Merritt Parkway is a historically significant route offering a scenic journey through New England's charm. If you head west into Pennsylvania, the Grand Army of the Republic Highway unfolds an engaging journey through a variety of terrains and historic sites. To the north, Vermont's Green Mountain Byway promises a ride enveloped by lush forests and mountain views. Lastly, traveling south into New Jersey, the Delaware River Scenic Byway is a ride that showcases the picturesque landscapes along the Delaware River. Each neighboring state offers a unique motorcycle riding experience, adding to the robust selection of routes originating from New York.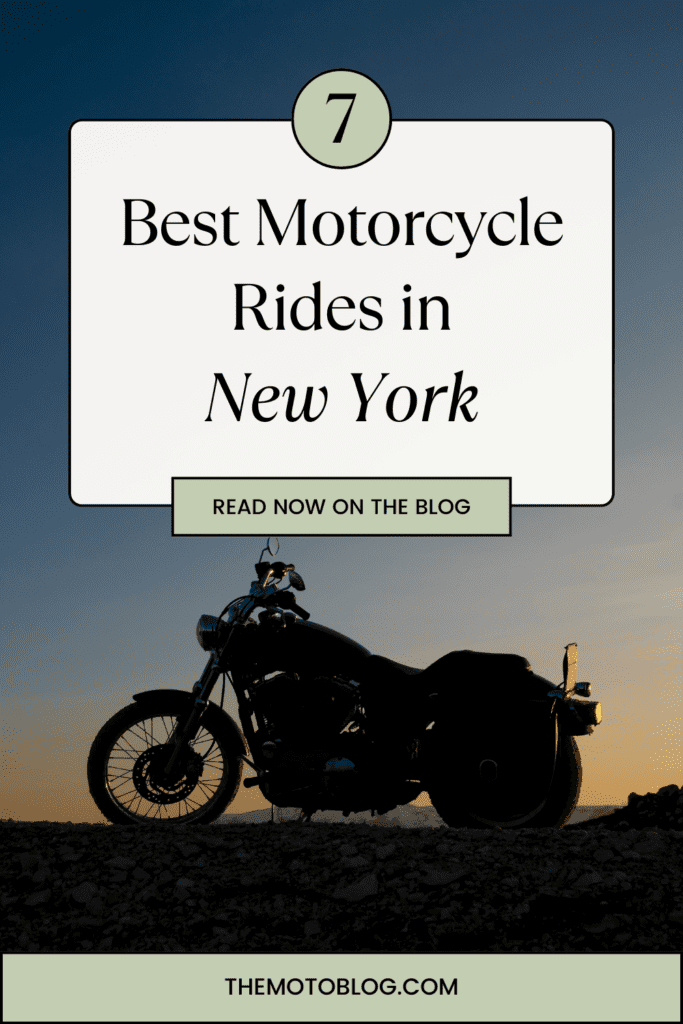 1. The Catskill Mountains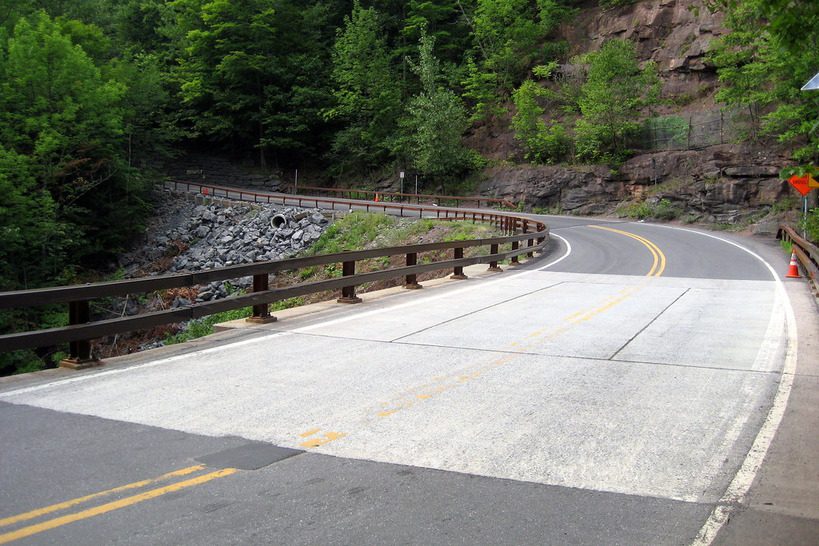 When it comes to breathtaking scenery and fantastic motorcycle roads, the Catskill Mountains in New York stand out as an exceptional destination. As a passionate rider, I'd say that exploring these mountains offers some of the most thrilling and unforgettable experiences.
The ideal time for a motorcycle ride through the Catskill Mountains is late spring to early fall. However, keep in mind that the period from mid-September to late October is the peak of fall foliage, which makes the scenery even more spectacular.
Covering the entire Catskill Mountains by motorcycle can easily total around 250+ miles. Depending on your riding speed and how often you stop to enjoy the view or grab a bite, completing the route may take anywhere from 4-7 hours.
Places to Stop:
Hunter Mountain offers gorgeous panoramic views, hiking trails, and opportunities for outdoor activities.
The town of Woodstock is a vibrant cultural hub filled with art, music, and unique shops.
Kaaterskill Falls provides a serene hiking destination to witness one of New York's highest waterfalls.
The Catskills ride is a moderate challenge, suitable for experienced riders who are comfortable with curvy mountain roads and occasional sharp turns. However, these challenges are balanced out by the sheer beauty of the surroundings.
Other Information:
Routes in the Catskill Mountains can be a mix of smooth and well-maintained surfaces as well as some rough patches; be prepared for a little bit of everything.
The ride's dramatic elevation changes demand a well-functioning motorcycle, so make sure your bike is in top-notch condition before heading out.
Cell phone reception may be spotty in some remote areas; consider carrying a paper map for backup.
2. The Adirondack Region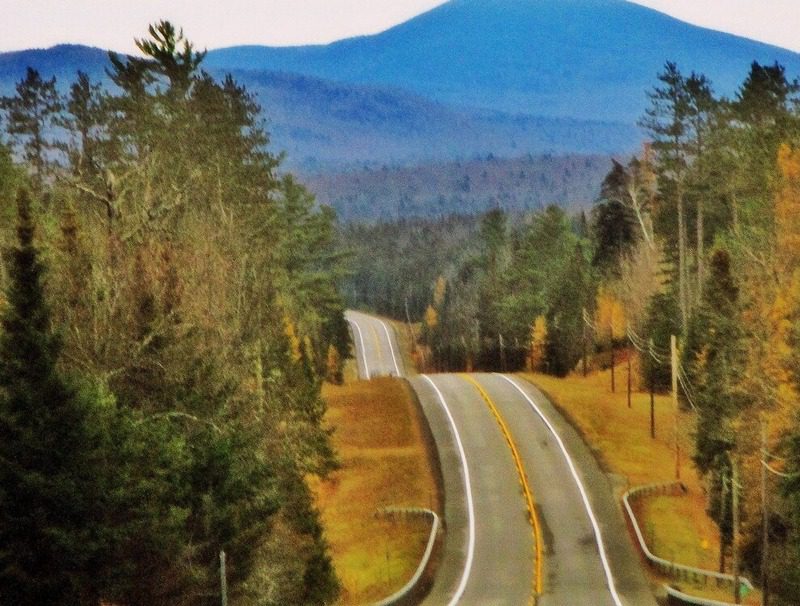 I've always found the Adirondack Region to be one of the most beautiful places in New York for a motorcycle ride. With its winding roads, picturesque wilderness scenery and charming towns, it's the perfect destination for a day trip or weekend getaway.
The best time to visit the Adirondack Region is during the warmer months, between May and October. During this time, you'll be able to appreciate the lush green landscapes and fully enjoy your ride.
The Adirondack Region is quite vast, so the distance and time to travel greatly depend on your chosen route. I'd recommend planning a trip between 100 and 300 miles, which should take roughly 3 to 8 hours depending on how fast you ride and how many stops you make along the way.
| Route Length | Estimated Time |
| --- | --- |
| 100 miles | 3 hours |
| 200 miles | 5-6 hours |
| 300 miles | 7-8 hours |
There are plenty of picturesque towns and natural wonders to stop and admire during your ride through the Adirondacks. Here are a few of my favorites:
Lake George: A beautiful and bustling lakeside town with plenty of shops, restaurants, and attractions to explore.
The High Peaks: With scenic roads and breathtaking views, don't miss your chance to appreciate the beauty of these magnificent mountains.
Lake Placid: Home of two Winter Olympics, this quaint town offers a fantastic mix of sports history and natural beauty
Riders of varying skill levels can enjoy the Adirondack Region. Some roads are relatively smooth and well-maintained making for easy rides. However, more experienced riders may seek out the curvier roads for added challenge and excitement.
When you're planning your motorcycle ride through the Adirondacks, consider the following:
Weather: Always check the weather forecast before your ride, and pack accordingly. Rain gear is always a good idea, as conditions can change quickly in the Adirondacks.
Lodging: If you're planning on extending your ride into a weekend getaway, there are several options for lodging, including bed & breakfasts, scenic campgrounds, and cozy lodges.
Safety: As always, prioritize safety by wearing proper riding gear, staying aware of traffic, and respecting the local wildlife.
Embarking on a motorcycle journey through the Adirondack Region lets you experience some of the best scenery New York has to offer. And with plenty of routes, stops, and sights to choose from, you're sure to create unforgettable memories on your ride.
3. The Hudson Valley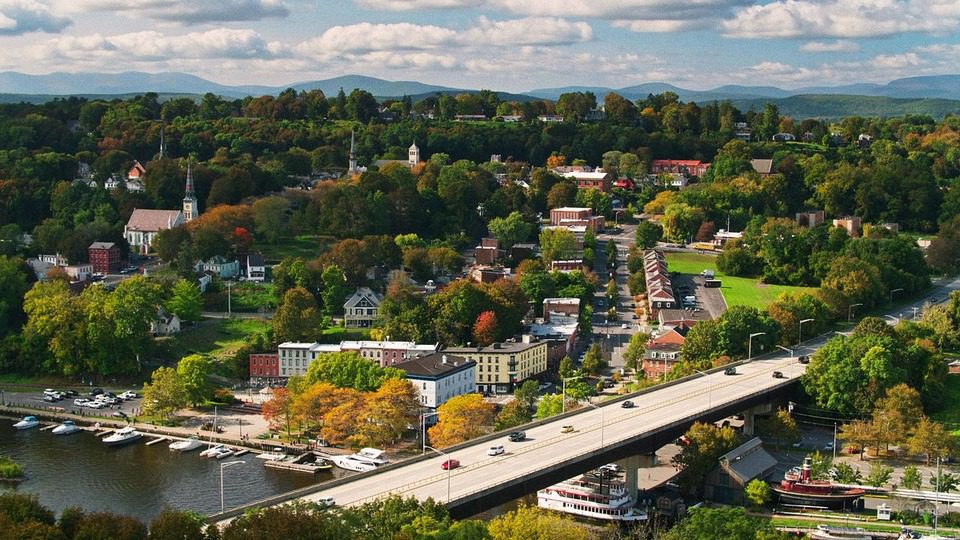 Hudson Valley offers a mix of scenic views, historic sites, and unforgettable motorcycle rides.
The ideal time to explore the Hudson Valley on your motorcycle is from May to October. During these months, you'll enjoy pleasant weather and beautiful colors, whether it's the lush greenery of spring and summer or the vibrant foliage of fall.
The Hudson Valley spans about 150 miles, starting from just north of Manhattan and stretching up to Albany. Depending on your riding preferences and how many stops you make, a round trip could take anywhere from 4 to 7 hours.
While riding through the valley, don't miss the opportunity to visit some notable spots:
Bear Mountain State Park: A haven for outdoor enthusiasts, offering hiking trails, a zoo, and beautiful views of the Hudson River.
Storm King Art Center: This open-air museum features large-scale sculptures across 500 acres of well-maintained landscape.
Dia:Beacon: A contemporary art museum housed in a former factory building, highlighting works from the 1960s to the present day.
The Culinary Institute of America: Offering a variety of dining options helmed by renowned chefs, it's a delicious pit stop.
The Hudson Valley offers a variety of roads that cater to different skill levels. For a more leisurely ride, choose Route 9W, which passes historic towns and offers plenty of opportunities for sightseeing. For those craving a bit more excitement, take Route 218 and enjoy its twisty curves as you ascend Storm King Mountain.
While planning your Hudson Valley motorcycle adventure, consider these additional tips:
Fuel up in advance, as gas stations may be sparse in certain areas.
Check for any potential road closures or construction work.
It's always a good idea to bring a GPS or map to help you navigate through the region.
4. Mohawk Towpath Byway: Schenectady to Waterford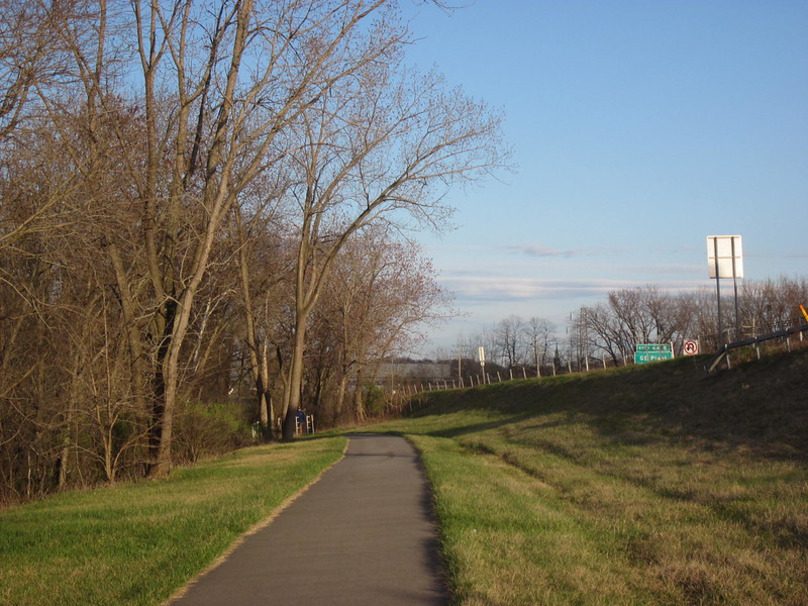 If you're looking to explore upstate New York on two wheels, Mohawk Towpath Byway is a fantastic choice for a road ride. This beautiful route runs between Schenectady and Waterford, winding through historic sites, picturesque landscapes, and quaint communities along the way.
Fall is an especially stunning time for a motorcycle ride on the Mohawk Towpath Byway, as the changing foliage offers a vibrant backdrop for your trip. The crisp but mild temperatures are comfortable for riding, as well. Spring and summer are also excellent seasons for enjoying the route.
The distance of this road ride spans 26 miles from end to end, with a travel time of approximately 1 hour, not accounting for any stops you might make.
As you ride along the Mohawk Towpath Byway, you'll encounter several noteworthy stops:
Cohoes Falls: A stunning waterfall with viewing platforms and walking trails, perfect for a scenic break.
Vischer Ferry Nature & Historic Preserve: This preserve offers walking paths, historic sites, and wildlife spotting opportunities.
Erie Canalway National Heritage Corridor: Discover the history of the Erie Canal, visit museums, and explore public parks along this significant waterway.
This route is mostly flat and well-maintained, making it suitable for riders of all skill levels. The road offers a mix of wide-open stretches, gentle curves, and some low-traffic urban areas, so there's a bit of variety for everyone.
While enjoying this ride, I recommend taking your time to appreciate the distinct blend of natural beauty and historical significance. The Mohawk Towpath Byway is part of the larger Erie Canalway National Heritage Corridor, which spans nearly 500 miles across the state of New York, and has played an important role in shaping the nation's history. Be sure to fuel up in either Schenectady or Waterford, since there are limited services along the route. And, as always, ride responsibly and wear the appropriate gear to ensure a safe and enjoyable journey.
5. Finger Lakes Region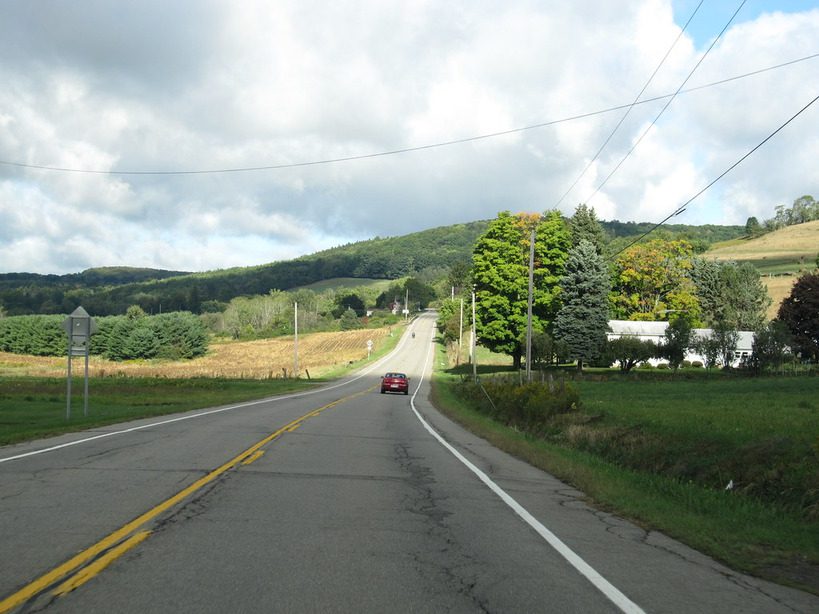 Exploring the Finger Lakes region on a motorcycle is one of the most exhilarating experiences you will have. The scenic routes, stunning views, and charming small towns make it a top choice when planning a New York motorcycle trip.
The best time to visit this region is between May and October. During these months, the weather is favorable for outdoor activities, and you'll get to enjoy the beautiful scenery in full bloom.
The Finger Lakes region spans about 250 miles (402 kilometers), with a variety of routes to choose from depending on your preferences. You can complete a leisurely tour in a day, or spend several days exploring the area in depth.
Don't miss out on these highlights when cruising the Finger Lakes region:
Watkins Glen: a quaint village nestled in wine country, famous for its picturesque gorge and Watkins Glen International Speedway.
Hammondsport: this charming village situated on Keuka Lake offers beautiful lakeside views, delicious local wines, and a chance to visit the Glenn H. Curtiss Aviation Museum.
Skaneateles: take a break by this pristine lake, enjoy lunch at a local eatery, and browse through the shops in the historic downtown area.
The Finger Lakes region provides a range of roadways for different skill levels. There are twisty roads for experienced riders seeking a challenge, as well as more relaxed routes for those looking for a leisurely cruise.
Keep these tips in mind when planning your motorcycle trip in the Finger Lakes region:
Stay alert: Be extra cautious while riding through wine country, as cars may suddenly pull out from wineries or slow down to take in the views.
Pack a rain jacket: Despite the favorable weather during May to October, occasional rain showers are common, so it's essential to be prepared.
Fill up: Gas stations can be few and far between in some areas, so make sure to top off your tank whenever you can.
6. Shawangunk Mountains Scenic Byway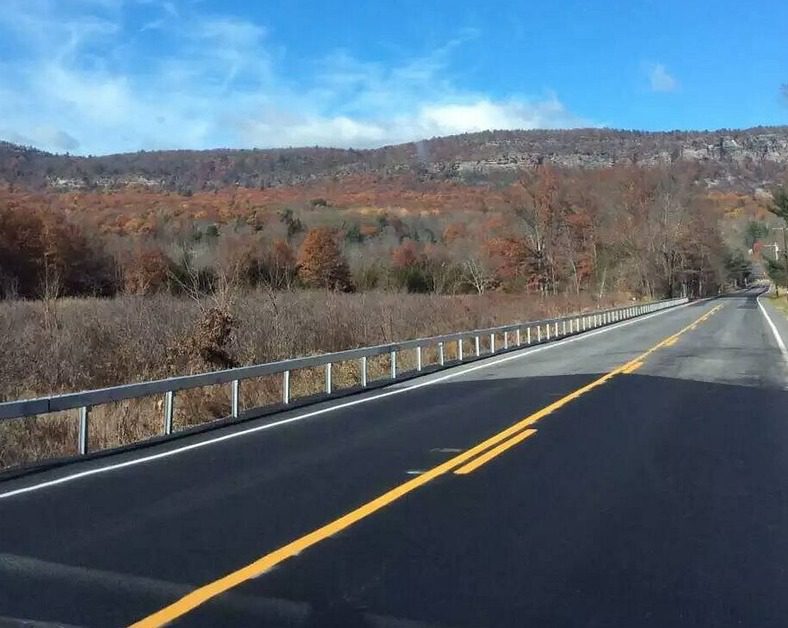 If you're seeking an incredible motorcycle ride in New York, you don't want to miss the Shawangunk Mountains Scenic Byway. This breathtaking route leads you through the foothills of the Shawangunk Mountains, also known as the Gunks, providing you with stunning landscapes and challenging twists and turns.
The best time to enjoy this route is during late spring, summer, and early fall, when the weather is warm and there's less chance of encountering rain or snow. Keep in mind, weekends could be busier as many other motorcyclists and tourists flock to enjoy the beauty of the Gunks.
The Shawangunk Mountains Scenic Byway spans approximately 88 miles through Ulster County. Starting in New Paltz, it stretches westward to the Delaware River. Riders should anticipate covering this distance in about 2-3 hours, which allows for taking in the breathtaking vistas, unplanned stops, and some leisure time.
There are several noteworthy places to stop along the Shawangunk Mountains Scenic Byway:
Minnewaska State Park Preserve: A popular destination for outdoor enthusiasts, the park offers hiking, swimming in the picturesque Lake Minnewaska, and rock climbing on world-class cliffs.
Mohonk Mountain House: This historic lodge sits beside a glacial lake and offers stunning views of the surrounding mountains. Stop by for a snack or explore the property's extensive network of trails.
Catskill Distilling Company: Visit this local distillery and tasting room near the western end of the route, sample some award-winning spirits while enjoying the beautiful Catskill Mountains scenery.
The Shawangunk Mountains Scenic Byway is considered a moderate ride, with some technical sections and various elevation changes. The route is well-paved, but riders should remain cautious of wildlife and occasional gravel patches.
Motorcyclists should note that this area is popular not only for its motorcycle rides but also rock climbing and hiking. Be prepared to share the road with bicyclists and hikers crossing the road.
7. Lake Ontario Shoreline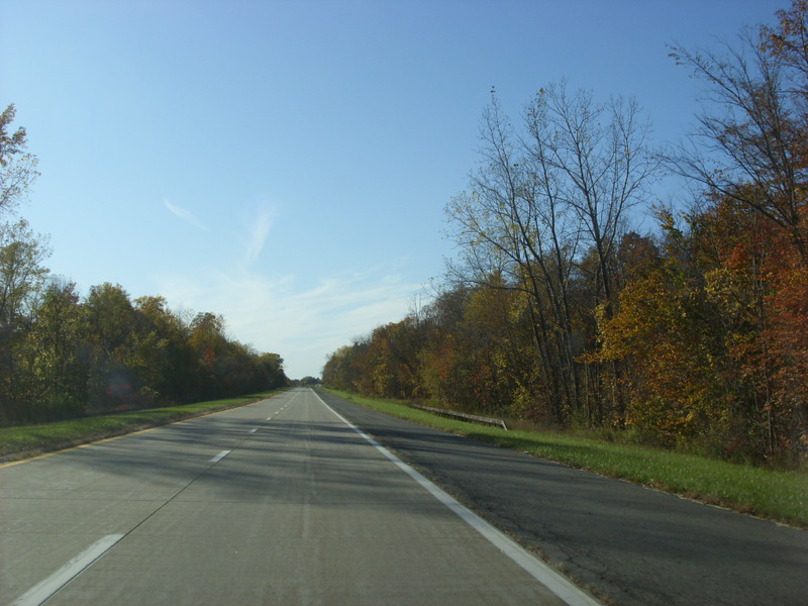 It's a popular motorcycle route in New York, offering breathtaking views and exhilarating twists and turns. If you're looking for an exceptional motorcycle ride in the Empire State, this is definitely one to take on.
The best time to ride the Lake Ontario Shoreline is from late spring to early fall. The months of May to October provide the most comfortable temperatures, clear roads, and beautiful foliage. However, riding during peak tourist season (July to August) might mean sharing the road with more traffic.
Distance with time to travel:
| Route | Distance | Estimated Time |
| --- | --- | --- |
| Lake Ontario Shoreline | 350 miles | 6-8 hours |
Keep in mind that these are approximations and can vary depending on your riding pace and the number of stops you take.
Places to stop:
Sodus Point: Located on the southern shore of Lake Ontario, Sodus Point offers a peaceful stop with its picturesque lighthouse and beach area.
Rochester: If you're a history buff, I'd recommend stopping in Rochester, where you can visit The Strong National Museum of Play or the George Eastman House, the historic home of Kodak's founder.
Niagara Falls: One of the most iconic tourist attractions in New York is just a short detour from the Lake Ontario Shoreline. It's well worth a visit to witness the awe-inspiring waterfalls.
The Lake Ontario Shoreline ride is a mix of easy to moderate difficulty. There are some sections with winding roads and sharp curves, particularly around river gorges, so it's a good idea to stay cautious and maintain a safe speed.
Other Information:
Make sure to pack rain gear, as sudden weather changes are common around the Great Lakes.
Gas stations and facilities can be scarce in some stretches, so plan your fuel stops accordingly.
Border crossing: This route comes close to the Canadian border. If you're considering a detour into Canada, carry your passport, and be aware of border crossing regulations.
8. Cherry Valley Turnpike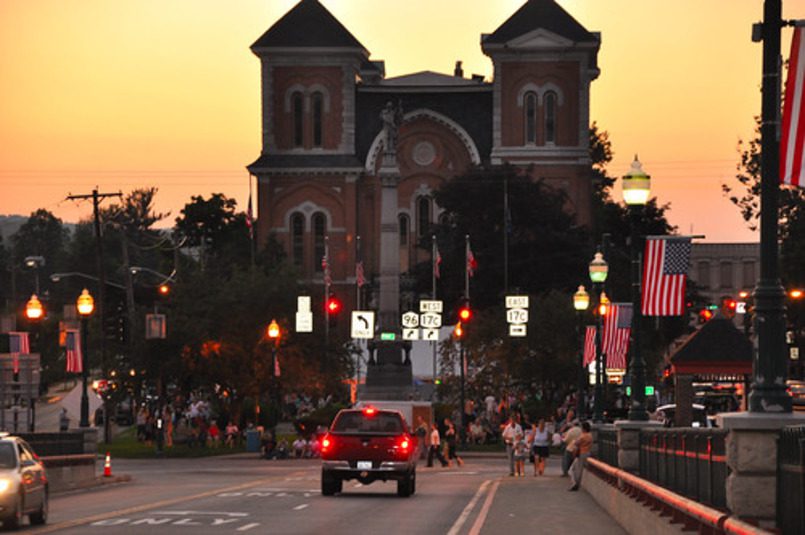 This historic route offers a perfect combination of both scenic beauty and smooth, curvy roads that truly make for a thrilling journey.
Spring to fall, or May through October, is the best time to experience the Cherry Valley Turnpike. During these months, you'll enjoy the full beauty of Central New York with its lush greenery, vibrant fall colors, and comfortable weather for riding. Keep in mind that upstate New York can experience snow and ice during the winter months, so check the weather forecast to ensure safe riding conditions.
Distance & Time to Travel
The Cherry Valley Turnpike covers approximately 50 miles and takes an estimated 1.5 hours to complete without stops. Of course, you'll want to take your time and explore this beautiful region, so be prepared to stretch your ride into a half or full-day adventure.
As you journey along the Cherry Valley Turnpike, there are several noteworthy stops to include in your trip:
The historic Village of Cherry Valley: A picturesque village with charming local shops, artist studios, and cozy cafes.
Glimmerglass State Park: A beautiful park offering various outdoor activities, including hiking trails, picnic areas, and stunning views of Otsego Lake.
Sharon Springs: A spa village known for its healing mineral waters, picturesque Victorian architecture, and a thriving up-and-coming food scene.
The Cherry Valley Turnpike is a moderate route that offers a bit of a challenge for riders. While the road conditions are generally good, some sections may have sharp turns and elevation changes. Overall, this route is manageable for experienced riders and can provide a rewarding experience for those new to motorcycle touring who are up for a challenge.
Before you embark on your ride, check for any road construction or events that may affect your journey. Also, it's essential to keep in mind that cellular service may be spotty in some areas, so arm yourself with both GPS and a good old-fashioned map for navigation. Lastly, as with any motorcycle ride, always prioritize safety by wearing appropriate gear and observing traffic laws.
9. The Scenic Route 97 – Hawks Nest Run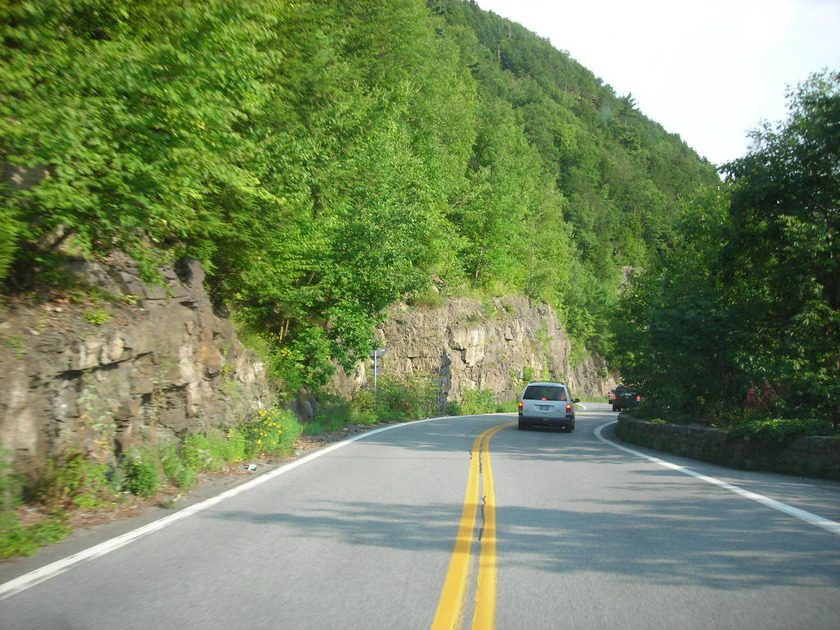 I must mention the Hawks Nest Run, located on Route 97, as one of the most scenic motorcycle rides in New York. This curvy stretch of road, situated along the Delaware River, offers spectacular views during its 8-mile run.
The prime time to enjoy this breathtaking ride is during the summer months and, more specifically, from May through October. The weather is typically warmer, and the surrounding foliage transforms the landscape into a beautiful array of green hues.
Hawks Nest Run spans approximately 8 miles and, depending on traffic, takes about 20 to 30 minutes to complete. Remember to factor in the time to enjoy the views and appreciate the landscape.
While riding through Hawks Nest Run, consider stopping at these notable locations:
Hawks Nest lookout: Provides an unforgettable panoramic view of the Delaware River
Barryville: A quaint town with diners, ice cream shops, and antique stores, making it the perfect spot to grab a bite or browse for souvenirs
The Roebling Bridge: A historic landmark built in 1848, its significance lies in its design by renowned engineer John A. Roebling
The serpentine road offers riders of all levels an enjoyable and challenging experience. Although the road itself isn't particularly difficult, the sharp curves and twists make for an exhilarating ride. It's worth noting that newer riders should exercise caution and ride at their comfort level.
There's a double yellow line that runs throughout the entire length of Route 97, and it's important to respect the laws and be cautious. Keep an eye out for slower-moving vehicles and wildlife crossing the road, as they can be unexpected obstacles. Additionally, since this stretch of road is quite popular, you might encounter other bikers and sightseers along the way.
10. Palisades Interstate Parkway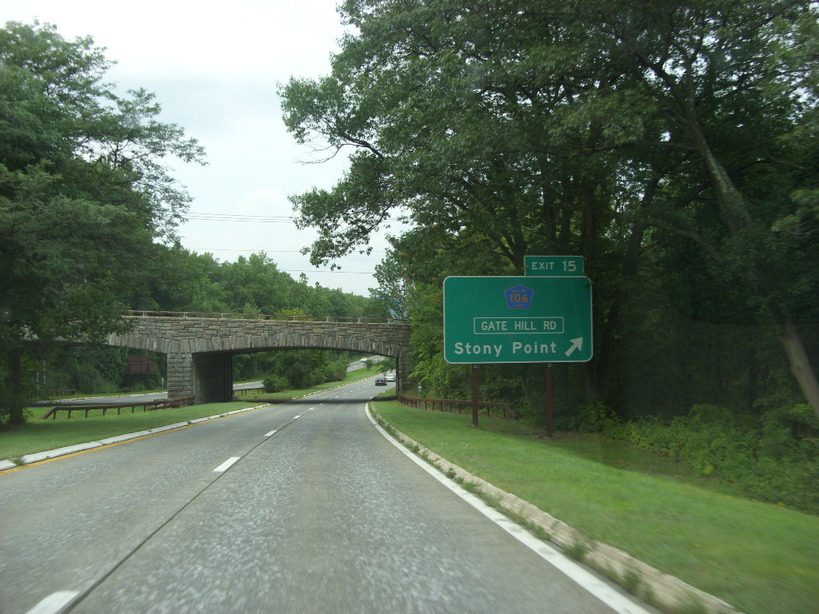 Let me introduce you to the Palisades Interstate Parkway, a thrilling 42-mile motorcycle route in New York that offers beautiful views, exciting curves, and scenic pit stops. Nestled along the Hudson River, this Parkway provides the perfect escape from the city and an adventure that will leave any motorcyclist craving for more.
The best time to hit the Palisades Interstate Parkway is definitely during the spring and fall months. During these seasons, you'll be surrounded by breathtaking foliage and comfortable riding temperatures. However, summer can offer warm and sunny days perfect for a spontaneous ride. Always be cautious during winter, as slippery conditions might make the trip more hazardous.
| Distance | Time to Travel |
| --- | --- |
| 42 miles | 1 – 1.5 hours |
This route can be completed in just a little over an hour without any stops. However, that doesn't account for the numerous attractive stops along this scenic ride that you don't want to miss, so plan accordingly.
These attractions offer great opportunities to stretch your legs and take in the beauty of the area:
Bear Mountain State Park: Hike, picnic, or just enjoy the stunning views of the Hudson River
Storm King Art Center: An open-air museum featuring large-scale sculptures and art installations
New Croton Dam: A picturesque location for a quick photo op or a relaxing rest by the water
The Palisades Interstate Parkway is considered a moderate level of difficulty. While the route is mostly well-maintained and features numerous sweeping curves, some sections might require a heightened level of skill and focus due to dense traffic and tight turns.
Before hopping onto your motorcycle, it's important to remember the following tips:
Be mindful of the speed limits, which range between 40 and 50 mph
Gas stations are limited on the parkway; fuel up before hitting the route
Keep an eye out for wildlife crossing the road, especially deer, since they are common in this area
Restrooms are available at the main attractions mentioned above, but are otherwise sparse along the route
Trust me, you won't want to miss this amazing ride along the Palisades Interstate Parkway. With its stunning views, engaging curves, and excellent pit stops, it's truly an unforgettable experience for any motorcycle enthusiast.
FAQs
What are some top motorcycle rides in New York?
Top Rides Include The Catskill Preserve, Adirondack Lake Loop, Hudson River Bridge Tour, Mohawk Towpath Scenic Byway, And Tracy Road.
Are there any scenic motorcycle routes in the Hudson Valley region?
Yes, The Hudson River Bridge Tour And US Route-9W From NYC To Albany Are Popular Scenic Routes In The Hudson Valley.
Can you recommend a motorcycle route within two hours of New York City?
The Fort Lee Loop Is An Enjoyable Ride Close To NYC That Offers Great Views And Challenging Twists.
Where Can I Find Great Motorcycle Rides In Upstate New York?
Upstate New York Offers Numerous Scenic Rides, Including Ones Through The Adirondacks, Central New York, And The Catskill Preserve.
What is the St. Lawrence Seaway route?
The St. Lawrence Seaway Is A Popular Motorcycling Route In New York That Offers Scenic Views As It Winds Alongside The St. Lawrence River.
Conclusion
I've taken you through the top 10 best motorcycle road rides in New York, each offering a unique experience for riders of various skill levels. The Empire State has so much to offer, from twisty mountain roads to scenic coastal routes, and each ride presents a different set of challenges and rewards. Consider the following when planning your next adventure:
Spring, summer, and early fall are the ideal seasons for exploring the open roads of New York. Temperatures are comfortable and the chance of rain is lower in these months. However, autumn does bring beautiful fall foliage, making it a popular time for rides as well.
It's important to plan spots for rest, food, and refueling along your ride. I've mentioned several worthwhile stops in each of the top 10 motorcycle road rides, such as attractions, diners, local hotspots, and scenic overlooks.
Routes will vary in difficulty, with some requiring more technical riding skills and others suitable for beginners. Be sure to choose a ride that matches your comfortability and skill level.
Before venturing out on any motorcycle ride, be prepared with proper gear, a suitable route map, and a basic understanding of road and traffic conditions. While I've provided insights on each of the top 10 rides, always research any updates, construction, and local alerts to ensure an enjoyable ride.
Now that we've covered the essentials, it's time to strap on your helmet and hit the road. Embark on one of these thrilling motorcycle road rides and experience the beauty, history, and excitement that New York has to offer. Safe travels and happy riding!
Motorcycle Rides in the US by States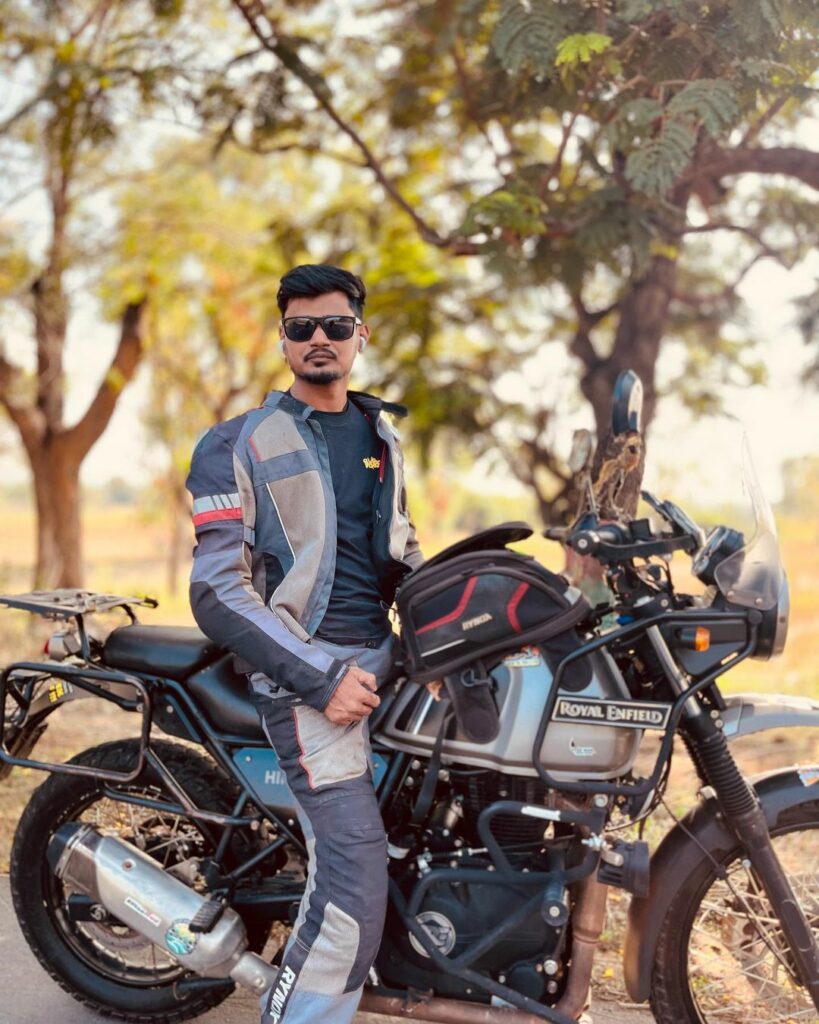 Vishwanath Mathpati
I am Vishwanath Mathpati, a full-time Blogger and Motorcyclist from Bidar, Karnataka. I love writing about my Motorcycles Stories and Riding Gears on this blog.
Know More About Me.
---
If you liked this article, then please subscribe to our YouTube Channel for more Bike Videos. You can also find us on Instagram, Twitter and Facebook.
Disclosure: As an Amazon Associate, I earn from qualifying purchases. Read more about Amazon Affiliate Disclaimer.