Top 10 Best Motorcycle Rides in Arkansas: My Ultimate Guide
Motorcycling through Arkansas is a genuine adventure. The state's diverse landscape offers thrilling rides, breathtaking scenery, and a rich history. As an avid motorcyclist, I thought I'd share my top 10 favorite rides in the "Natural State." Whether you're planning a road trip or just seeking recommendations, this list will make your next ride unforgettable.
From the sweeping Ozarks Mountain curves to the beautiful riverside views, Arkansas has something special for every rider. Scenic highways like the most famous Pig Trail, alongside lesser-known gems, provide endless exploration and lasting memories. Challenging twists, gentle rolling hills, and everything in between make for a fantastic experience with each trip.
While the state provides an array of fantastic routes for riders, why not broaden your horizons by venturing into neighboring states as well? The rolling hills and picturesque routes in Missouri provide an equally exhilarating ride, while the sweeping landscapes of Oklahoma are perfect for those seeking a unique experience. Journeying south, Louisiana offers a blend of rich history and unique scenery that's bound to leave you spellbound.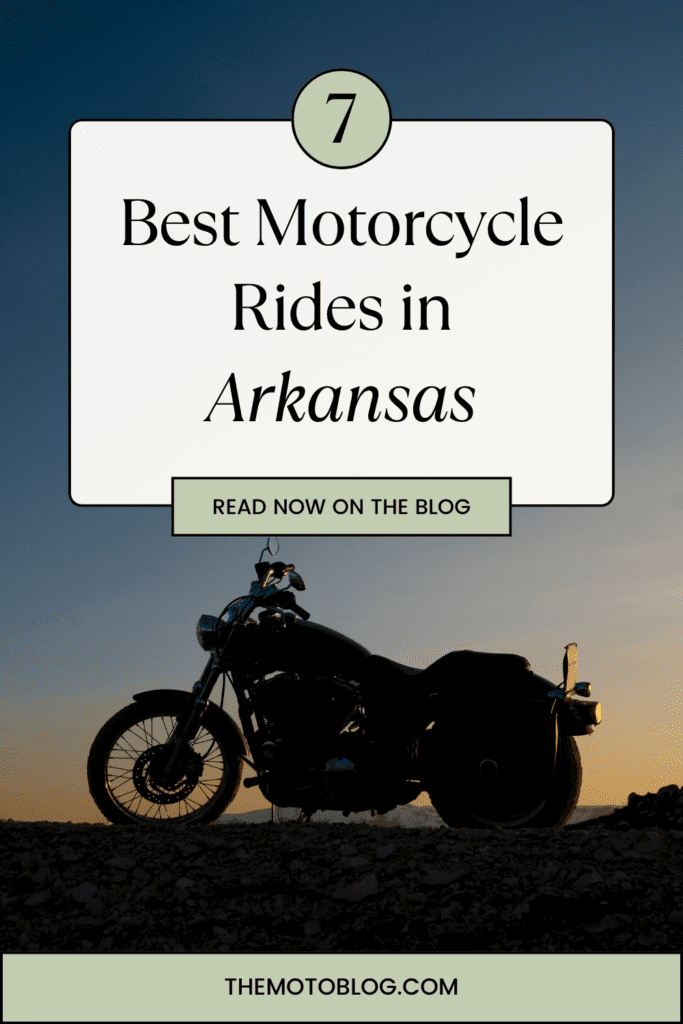 1. The Pig Trail: Highway 23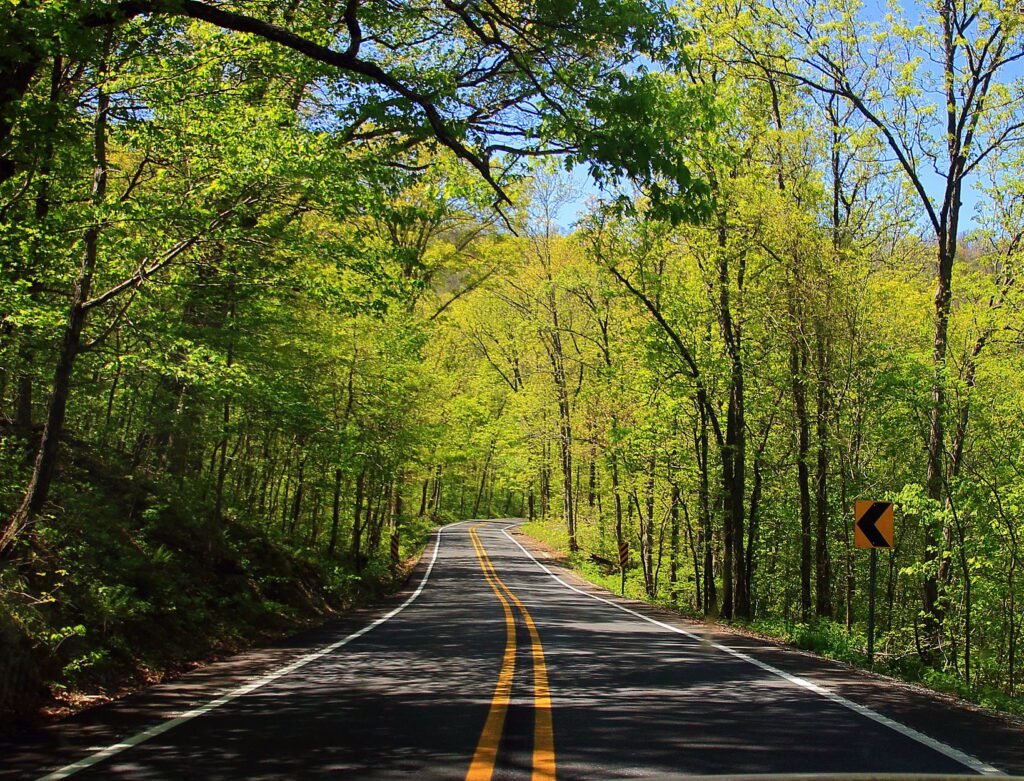 The Pig Trail: Highway 23 is a must-ride! This scenic route has everything you could want in a ride, from stunning views and challenging curves to quaint stops along the way.
Best Time to Visit: The ideal time to visit this fantastic route is during late spring or fall, when the foliage is at its peak and the weather is just right. During these seasons, you'll witness an explosion of colors that'll make your experience even more memorable.
Distance with Time to Travel: The Pig Trail spans approximately 80 miles and takes about 2 to 3 hours to complete, depending on your stops and the pace of your ride. Be prepared to take your time, as there are a few tight curves that require skill and attention.
Places To Stop: During your journey, there are several charming spots to take breaks and enjoy the scenery:
Turner Bend: A perfect stop for grabbing a snack or fueling up while taking in the beautiful surroundings.
Mulberry Mountain: A vast public-use area with camping, hiking, fishing, and ATV riding.
Oark General Store: The oldest general store in Arkansas offers delicious food and a picturesque atmosphere.
Level Of Difficulty : The Pig Trail is of moderate difficulty due to the tight curves and elevation changes you'll encounter. Inexperienced riders should exercise caution, and always be mindful of other travelers on the road.
Here are some additional tips before you take on The Pig Trail:
Be mindful of wildlife, as deer and other animals often cross the road.
Steep grades and sharp drop-offs are typical along this route, so it's crucial to stay alert and maintain safe speeds.
As with any ride, ensure your motorcycle is in good working condition and always wear appropriate safety gear.
2. Talimena National Scenic Byway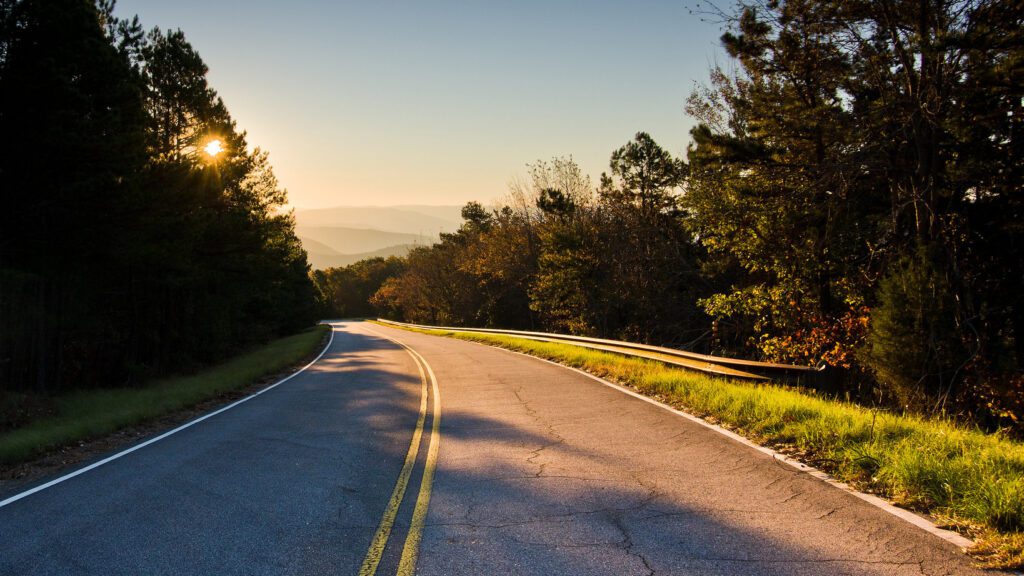 When seeking unforgettable motorcycle rides in Arkansas, the Talimena National Scenic Byway never disappoints. This renowned byway stretches over 54 miles, spanning from Mena, Arkansas to Talihina, Oklahoma. The route showcases some of the most captivating sights in the Ouachita Mountains and is particularly famous for its vibrant fall foliage.
Best Time To Visit : The ideal time for a ride along the Talimena National Scenic Byway is in the fall season. That's when you'll witness a remarkable display of colors as the leaves on the trees transition to vivid oranges, yellows, and reds. Autumn temperatures are typically moderate and comfortable for riding as well.
Distance & Time to Travel
Distance: 54 miles
Estimated Time: 1.5 to 2 hours, depending on stops
Places To Stop : There are several noteworthy stops along the way that you shouldn't miss:
Queen Wilhelmina State Park: Home to the impressive Queen Wilhelmina Lodge, the park offers panoramic views, hiking trails, and picnic areas.
Rich Mountain: Stop at the summit of Rich Mountain, the second highest peak in Arkansas, for breathtaking vistas.
Horsethief Springs picnic area: A perfect spot for a relaxing break surrounded by nature.
Level Of Difficulty : The Talimena National Scenic Byway is suitable for intermediate to experienced riders. As the route winds through the Ouachita Mountains, riders will encounter some steep inclines, sharp curves, and rapid elevation changes that require attention and caution. However, the road surface is generally well-maintained, making for a smooth and enjoyable ride.
To enhance your riding experience, keep these tips in mind:
Watch out for wildlife, especially deer, which are known to populate the region.
Prepare for cooler temperatures at higher elevations.
Obey posted speed limits and exercise caution on winding roads and blind curves.
3. Jasper Disaster: Highway 7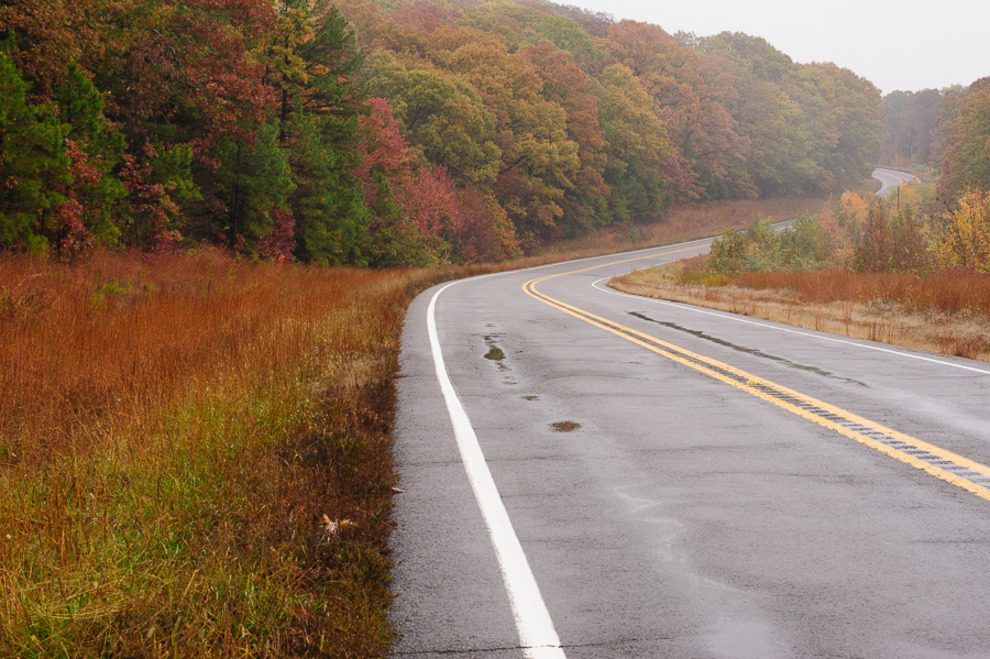 I can't emphasize enough how incredible the Jasper Disaster, Highway 7 is for motorcycle enthusiasts. This iconic ride has it all: scenic beauty, challenging curves, and stunning landscapes.
Best Time to Visit : Spring and Fall are the best times to experience Highway 7. The mild temperature, vibrant colors, and less traffic make for an unforgettable ride.
Distance and Time to Travel : The Jasper Disaster stretches a beautiful 60 miles, covering Eureka Springs to Harrison. It usually takes about 1.5 hours to complete the ride, but I'd recommend taking extra time to stop and enjoy the views.
Places to Stop
Ozark Café: Grab a bite to eat at this historic spot in downtown Jasper.
Scenic Point: A breathtaking overlook that'll make you want to pull over for a photo op.
Cliff House Inn: Consider staying at this charming inn overlooking the Arkansas Grand Canyon.
Level of Difficulty : Moderate to Experienced riders: Highway 7 has some tight curves and elevation changes, so it's essential to have some experience before tackling this route.
Other Information
Watch out for potential hazards like loose gravel, especially after heavy rain.
Keep an eye on the weather, as sudden downpours are not uncommon in this region.
It's important to always wear proper safety gear, like a helmet, gloves, and a reflective vest.
4. Boston Mountains Scenic Loop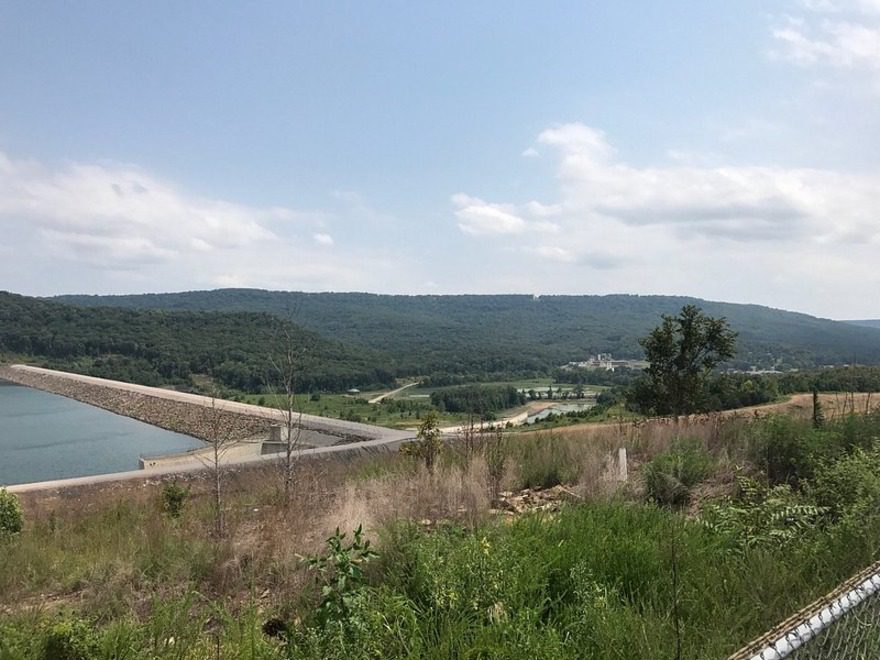 The Boston Mountains Scenic Loop, traverses through the stunning landscape of northwest Arkansas. This ride offers a perfect mix of thrilling twists, elevation changes, and breathtaking scenery. For those in search of adventure, you won't be disappointed.
Best Time to Visit: Fall is my favorite time of the year to explore this loop, with the gorgeous foliage providing a fantastic backdrop for your ride. However, spring's blooming flowers can make for an equally delightful experience.
Distance with Time to Travel: The loop is approximately 130 miles long, and it typically takes about 3-4 hours to complete, depending on the number of stops you choose to make.
Places to Stop:
Devil's Den State Park – a beautiful spot for hiking, picnicking, or taking a break.
Winslow – a charming small town with a few cafes and eateries, perfect for a quick bite.
War Eagle Mill – a historic 18th-century mill offering unique Arkansas products and fantastic photo opportunities.
Level of Difficulty: Due to its winding roads and elevation changes, I'd rate the Boston Mountains Scenic Loop as moderate for experienced riders. Beginners might find it a tad challenging, but with caution and patience, it's still an enjoyable ride.
Here are a few other handy details to help you plan your adventure:
| – | – |
| --- | --- |
| Comfort Breaks | Gas stations and restrooms can be found at regular intervals throughout the route. |
| Scenic Byways | The loop includes two scenic byways: the Pig Trail National Scenic Byway (AR 23) and the Ozark Highlands Scenic Byway (US 71). |
| Nearby Attractions | If you have extra time, consider exploring the surrounding Ozark National Forest or stopping at the Fayetteville area for more sightseeing options. |
5. The Arkansas Dragon: Highway 123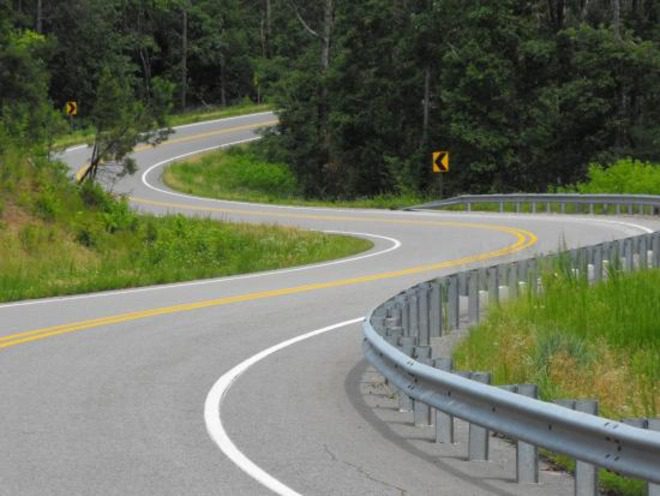 Arkansas welcomes motorcyclists with an exhilarating stretch of road known as The Arkansas Dragon, which is part of Highway 123. Let's dive into the highlights of this exciting route, including the best time to visit, distance and time to travel, places to stop, level of difficulty, and other useful information.
Best Time to Visit : The ideal time to experience The Arkansas Dragon is during the spring and fall seasons. During these months, you'll enjoy pleasant weather and captivating scenery as the lush foliage blooms in springtime or turns vibrant colors in the fall.
Distance With Time To Travel : The Arkansas Dragon stretches for approximately 19 miles, taking riders about 45 minutes to an hour to cover. It's essential to set aside adequate time to savor this thrilling route with its twists, turns, and scenic views.
Places To Stop : Here are some popular stops along The Arkansas Dragon:
Haw Creek Falls Recreation Area: Featuring a campground, picnic area, and beautiful waterfalls, it's an excellent spot for a break or even an overnight stay.
Sam's Throne: For hikers, this sandstone formation offers a challenging climb and rewarding panoramic views from the top.
Level Of Difficulty : The Arkansas Dragon is a demanding route with over 130 tight turns, sweeping curves, and significant elevation changes. It requires skillful handling of the bike, concentration, and adequate preparation for riders to safely enjoy this high-intensity ride. I'd recommend this route for intermediate to experienced motorcyclists rather than beginners.
Be cautious of wildlife crossing the road, especially deer, as they can present hazards to motorcyclists.
Keep an eye out for gravel, particularly on corners, as it can create slippery conditions and increase the risk of accidents.
Stay within the speed limits and maintain a safe distance from other vehicles to ensure everyone has a fantastic time on The Arkansas Dragon.
6. Twisted Lady: Highway 308
Twisted Lady, also known as Highway 308, is a remarkable route that I highly recommend for any motorcycle enthusiast exploring the beauty of Arkansas. This 22-mile stretch of road offers a mix of curves, stunning views, and smooth pavement, making it an engaging and enjoyable ride.
Best Time To Visit : The optimal time to ride the Twisted Lady is during the spring and fall seasons when the weather is mild, and the surrounding foliage showcases a vibrant display of colors. But it's essential to keep an eye on local forecasts, as weather conditions can change quickly in this region.
Distance With Time To Travel : The entire route of the Twisted Lady covers approximately 22 miles, taking about 45 minutes to 1 hour to complete at a comfortable pace. Keep in mind that this should be treated as an estimation since the actual travel time may vary depending on traffic, stops, and individual riding preferences.
Places To Stop : Several noteworthy stops along Highway 308 include:
Downtown Ozark: The starting point of the Twisted Lady, Ozark is a picturesque town with restaurants, shops, and historic sites to explore.
Ozark National Forest: A detour into this beautiful and expansive national forest is highly recommended for those who love nature and wilderness.
Scenic Overlooks: Several turnouts along the route allow for capturing breathtaking landscapes and photo opportunities.
Level Of Difficulty : While the Twisted Lady offers thrilling twists and turns, I would classify the route as moderate in difficulty. Riders with intermediate experience should feel comfortable navigating the roadway. It's essential to stay cautious and considerate when riding, especially around corners and tight curves.
Some additional tips for enjoying a ride on Highway 308 include:
Watch for wildlife: Keep an eye out for deer, especially in the early morning and late afternoon hours.
Limited cell service: Cellular reception may be spotty in some areas, so plan ahead and download maps or navigation apps when needed.
Prepare for changes in elevation: As the route winds through the Ozarks, expect significant changes in elevation and temperature. Always wear appropriate gear and adjust your riding style accordingly.
7. Sylamore Scenic Byway
This hidden gem offers unparalleled beauty, perfect road conditions, and exciting twists and turns for a memorable riding experience. Located in the heart of the Ozark National Forest, the byway is lined with lush forests, gorgeous bluffs, and crystal clear waters, making it a top pick for any bike enthusiast.
Best Time to Visit : The ideal time for a ride on the Sylamore Scenic Byway is during the late spring to early fall months. This is when the temperatures are comfortable, and the area comes alive with vibrant colors. Specifically, October offers stunning fall foliage that adds extra charm to your ride.
Distance and Time to Travel: The byway stretches for about 26.5 miles (42.6 kilometers), and on average, it takes approximately 45 minutes to ride its entirety. However, I'd recommend setting aside some extra time for brief stops and photo opportunities.
Places to Stop : Along the Sylamore Scenic Byway, you'll find several spots that are worth stopping for. Some of the highlights include:
Blanchard Springs Caverns: A must-visit, these fascinating caverns offer guided tours and numerous trails to explore.
Mirror Lake: A picturesque spot perfect for a break, enjoy the serene lake surrounded by lush nature.
Anglers White River Resort: Be sure to stop here for a delicious meal and a relaxing riverside atmosphere.
Level of Difficulty : I'd consider the ride to be of moderate level, making it suitable for most motorcyclists. With its sweeping curves, slight elevation changes, and mild traffic, the Sylamore Scenic Byway offers a smooth ride that's not too challenging but still keeps you entertained.
Lastly, be aware that some sections of the Sylamore Scenic Byway may not have cellular coverage. That's why I'd recommend carrying a physical map and having a basic understanding of the route before you hit the road.
8. Scenic Highway 71
Scenic Highway 71 offers some of the most stunning views and smooth riding experiences in Arkansas. Winding through the Ozark National Forest while it skirts along the edge of the Boston Mountains, this scenic route is a must-ride for motorcyclists seeking thrilling twists, turns, and picturesque panoramas.
Best Time to Visit : The best time to venture down this beautiful highway is during the spring and fall months. These seasons provide comfortable temperatures, colorful foliage, and fewer chances of encountering severe weather. I wouldn't recommend riding during the winter, as the road conditions may become slippery and hazardous.
Distance with Time to Travel : Scenic Highway 71 stretches for approximately 42 miles from Alma to Fayetteville. To fully enjoy the enchanting landscapes and allow some time for leisurely stops, I suggest setting aside at least 2-3 hours for the journey.
Places to Stop : There are several noteworthy stops along Scenic Highway 71, which include:
Artist Point: An overlook offering panoramic views of the surrounding forest and valleys. It's also home to an art gallery and gift shop.
Lake Fort Smith State Park: A serene park where you can take a break, stroll along the lake, and picnic.
Devil's Den State Park: With hiking trails, caverns, and picturesque scenery, this park is ideal for a quick exploration or an overnight camping adventure.
Level of Difficulty :This ride is perfect for intermediate to advanced riders as Scenic Highway 71 is known for its curvy nature and steep inclines. It's crucial to have experience handling these kinds of terrains and pay close attention to the road to ensure a safe journey.
Here are a few additional tips to help you prepare and make the most out of your ride:
Make sure you have a full tank of gas before starting the trip, as there are limited gas stations along the route.
Be cautious of scattered gravel or rocks on the road, which could make the ride slippery or unsafe.
Bring a camera to capture stunning landscapes along the way.
9. Boxley Valley Loop
When it comes to motorcycle rides in Arkansas, the Boxley Valley Loop certainly deserves mention. The picturesque scenery and winding roads provide an exhilarating riding experience for motorcycle enthusiasts.
Best Time to Visit : Autumn is the prime time to visit the Boxley Valley Loop. The fall foliage not only enhances the visual appeal of the landscape but also adds a layer of mystique to your ride. However, spring and summer offer pleasant riding conditions too.
Distance and Time to Travel : The loop covers approximately 75 miles and takes anywhere between 1.5 to 2.5 hours to complete, depending on your speed and riding style. Make sure to pace yourself and take breaks as needed, as the road can be quite twisty at times.
Places to Stop : Some noteworthy points of interest along the Boxley Valley Loop worth stopping for include:
Boxley Valley Historic District
Lost Valley Hiking Trail
Buffalo National River
Ponca Elk Education Center
Arkansas' Grand Canyon Scenic Overlook
Level of Difficulty : Boxley Valley Loop offers a moderate level of difficulty for bikers. While the road may have some tight curves and inclines, it's generally manageable for riders with some experience. You'll find that the route has a good mix of straightaways and twists, ensuring a memorable ride.
Here's some additional info to consider before embarking on your Boxley Valley Loop adventure:
Ensure your bike is well-maintained as gas stations and services are scarce along the route.
Keep an eye out for wildlife like elk and deer, especially during early morning and evening hours.
Cellular coverage may be inconsistent in certain stretches, so it's best to have a map or GPS handy.
Carry rain gear and pack extra layers; weather can be unpredictable in the area.
10. Creek & Lower Spring Loop
I can't help but be excited to talk about the Creek & Lower Spring Loop, one of Arkansas' hidden gems when it comes to motorcycle rides. This fantastic route combines natural beauty and exhilarating twists and turns, making it a must-ride for any motorcycle enthusiast.
Best Time to Visit : The perfect time to take on this loop is during the spring or fall months when the foliage is at its peak and the temperatures are just right. This allows for a comfortable ride and an unforgettable view of Arkansas' magnificent landscapes.
Distance and Time to Travel : The Creek & Lower Spring Loop loop is approximately 55-60 miles in length, which typically takes around 1-2 hours to complete, depending on your preferred pace and the number of stops you make along the way.
Places to Stop : While riding through this scenic loop, you'll come across a few notable places worth stopping at:
Withrow Springs State Park: A great spot to enjoy a picnic and stretch your legs amid picturesque surroundings.
War Eagle Mill: A historic mill that offers guided tours, a restaurant, and a quaint general store to explore.
Level of Difficulty : Riders will find that the Creek & Lower Spring Loop has a moderate level of difficulty. It boasts a mix of sweeping curves, tight turns, and elevation changes, making it an engaging ride for a variety of skill levels. Just be cautious of the occasional gravel on the road, especially after heavy rains.
Here are a few additional points to keep in mind before tackling the Creek & Lower Spring Loop:
Make sure to fill up your gas tank before embarking on the route, as gas stations can be scarce in this area.
Keep an eye out for wildlife, particularly deer, as they are commonly sighted near the road.
The loop can be enjoyed as a stand-alone ride or combined with other routes in the area, such as the popular Pig Trail or the Ozark Highlands Scenic Byway.
FAQs
What are some of the best motorcycle rides in Arkansas?
Some Top Motorcycle Rides In Arkansas Include Talimena Scenic Drive, State Highway 23 Pig Trail Scenic Byway, Arkansas 7, Push Mountain Road, And Arkansas 123.
Where can I find information on motorcycle rides in the Ozarks?
You Can Find Information About Motorcycle Rides In The Ozarks On Websites Such As Ozark Rides, Eureka Springs Motorcycle Rides, And Arkansas.com.
What can be expected on the Pig Trail ride between Ozark and Brashears?
The Pig Trail Ride Between Ozark And Brashears Offers Motorcyclists A Thrilling Route Through Winding Roads, Lush Forests, And Picturesque Landscapes In Arkansas.
What does the Paris to Mount Magazine motorcycle route offer?
The Paris To Mount Magazine Motorcycle Route Offers A Scenic Ride Through The Arkansas Countryside, With The Opportunity To Explore Mount Magazine State Park, With Its Beautiful Views And Various Outdoor Activities.
What is the War Eagle & Eureka Springs ride?
The War Eagle & Eureka Springs Ride Is A 124-Mile Motorcycle Route In Arkansas That Takes Approximately 3.5 Hours To Complete And Offers Scenic Views Along The Way.
In Conclusion
I've compiled the top 10 best motorcycle rides in Arkansas to showcase some of the best routes the state has to offer. When planning your trip, consider the best time to visit, distances and time needed, places to stop, level of difficulty, and other important information. Below, I've summarized these details to help make your adventure memorable and enjoyable.
Spring and fall are the most popular seasons for motorcycle rides in Arkansas. The temperatures are pleasant, and the foliage is a sight to behold. Summer can also be a good time, but be prepared for hot and humid weather. It's best to avoid winter as icy roads and snow can make the journey hazardous.
Some highlights along your chosen routes may include scenic overlooks, local restaurants, and picturesque towns. Make time for stops to rest, refuel, or take in the beauty that Arkansas has to offer. Each route may offer a unique combination of quaint small towns and beautiful natural vistas.
The difficulty of your motorcycle ride will depend on your riding experience and chosen route. Some routes may be more challenging, with hairpin turns and elevation changes, while others may feature leisurely, straight stretches. It's important to understand the difficulty of the routes to ensure your ride is a comfortable and enjoyable one.
Safety is paramount when embarking on your motorcycle ride through Arkansas. Remember to wear appropriate safety gear, including a helmet, gloves, and protective clothing. Check the weather forecast before setting off, and plan accordingly. Be aware of local traffic laws and respect other drivers on the road. By being prepared and mindful, you will have a more satisfying and successful experience on Arkansas' best motorcycle routes.
As an enthusiast of motorcycle adventures, I encourage you to experience the thrill and beauty that is Arkansas. Stay safe, and happy riding!
Motorcycle Rides in the US by States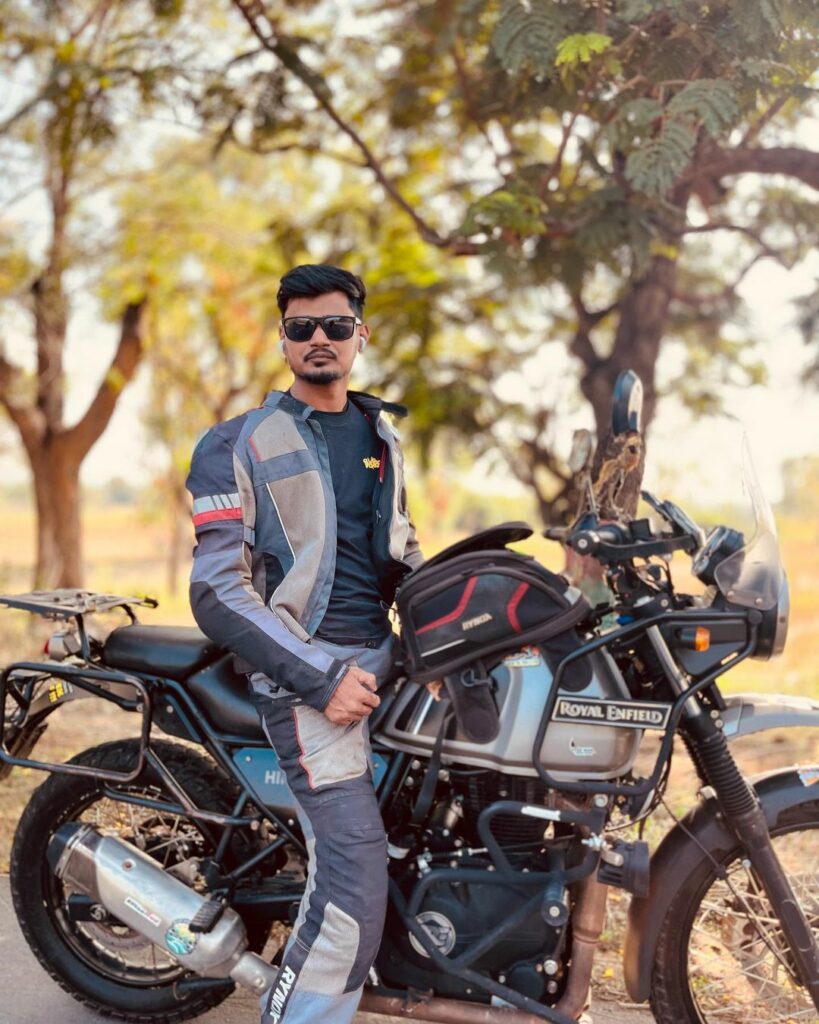 Vishwanath Mathpati
I am Vishwanath Mathpati, a full-time Blogger and Motorcyclist from Bidar, Karnataka. I love writing about my Motorcycles Stories and Riding Gears on this blog.
Know More About Me.
---
If you liked this article, then please subscribe to our YouTube Channel for more Bike Videos. You can also find us on Instagram, Twitter and Facebook.
Disclosure: As an Amazon Associate, I earn from qualifying purchases. Read more about Amazon Affiliate Disclaimer.