Top 6 Best Motorcycle Rides in Hawaii: My Ultimate Guide
As an avid motorcyclist, I understand the thrill of exploring new routes and destinations. Hawaii, with its scenic beauty and diverse landscapes, offers some of the best motorcycle rides you'll ever experience. From the winding roads through lush green valleys to the coastal highways with panoramic ocean views, Hawaii's top motorcycle routes are sure to leave you in awe.
Each island has something unique to offer, but no matter which rides you choose, you're bound to have an unforgettable time cruising through the Aloha State.
Though Hawaii does not share land borders with any states, its Pacific location and the magic of motorcycle riding make us dream of rides beyond. To the east, the continental US, and specifically California, offers famous rides like the Pacific Coast Highway, an iconic journey along the coastline. Further inland, Nevada provides a stark contrast to the coastal rides with its Valley of Fire loop. If one could ride across the ocean, we might imagine the distant treasures like Japan's Irohazaka Winding Road and Australia's Great Ocean Road – embodying the adventurous spirit of the motorcycle community. So, without further ado, let's check out the top 6 best motorcycle rides in Hawaii that'll make your trip nothing short of amazing.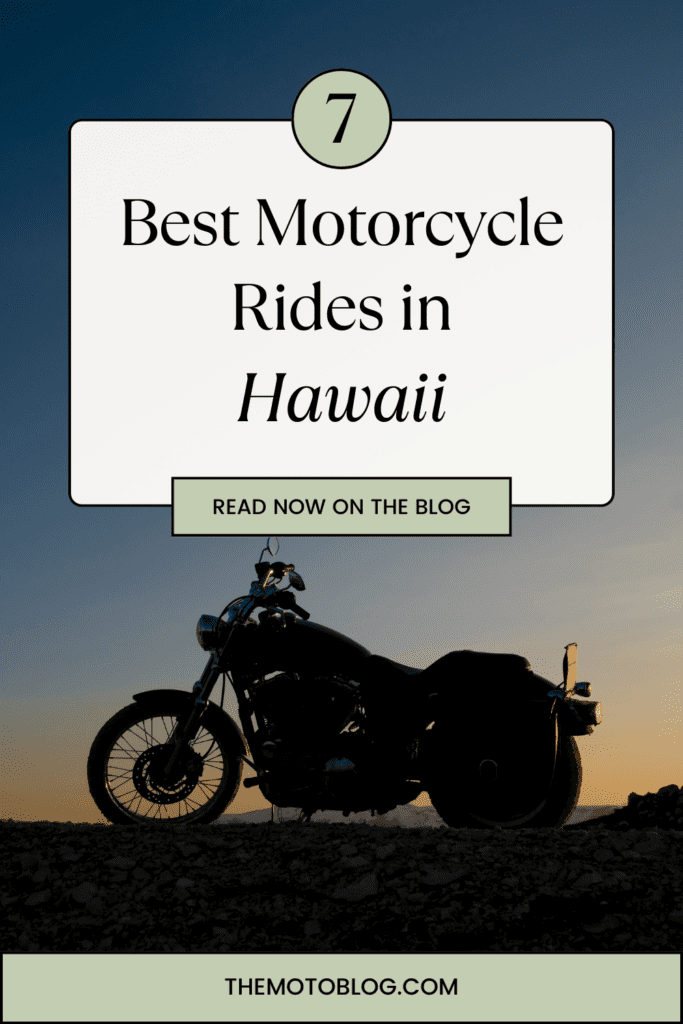 Discovering the Islands on Two Wheels
Hawaii is a paradise not only for surfers and beach lovers but also for motorcycle enthusiasts. Riding a bike on these magnificent islands is a true adventure, offering breathtaking roads, stunning landscapes, and perfect weather.
Keep in mind that distances and travel times will vary depending on the ride you choose. Riders of all experience levels can enjoy Hawaii's beautiful roads. However, some routes may present more of a challenge depending on your skills and comfort level. For instance, Hana Highway is famous for its narrow twists and turns, while Waimea Canyon Drive and Haleakala Crater Road offer steep inclines and breathtaking descents. It's essential to be prepared, ride within your limits, and always prioritize safety.
Ensure you have the necessary gear and equipment for your ride, like a reliable motorcycle, a helmet, and protective clothing. If you're visiting from outside the US, make sure you have the proper motorcycle license or endorsement to ride legally in Hawaii. Lastly, keep a close eye on the weather, as conditions can vary greatly depending on the area or elevation.
1. The Road to Hana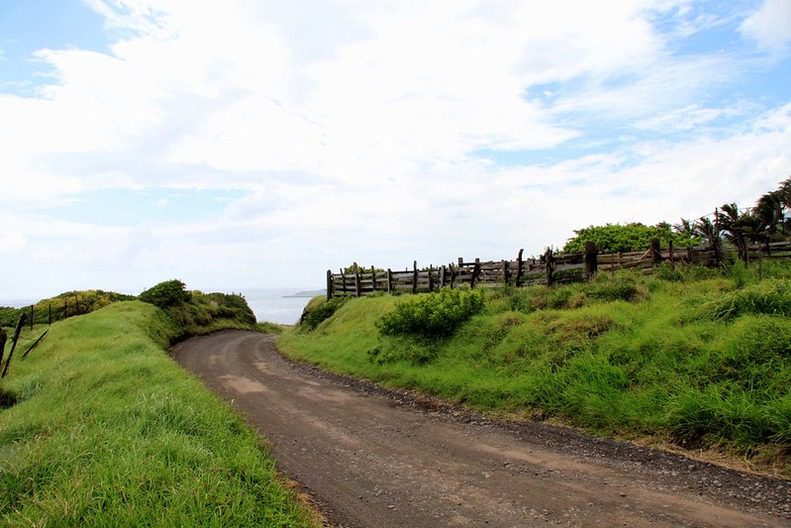 The breathtaking Road to Hana is one of Hawaii's most extraordinary motorcycle rides, perfect for those in search of a unique island adventure. This scenic route offers unforgettable views, so it's crucial to plan your trip accordingly. Here's a quick guide on what to consider when embarking on the journey:
Best Time to Visit : I'd suggest visiting between April and October when the weather is generally drier, making for more enjoyable riding. In these months, you'll have the best chance of avoiding rain and slippery roads. On the other hand, the off-season tends to be less crowded, making it another pleasant time to explore.
Distance and Time to Travel : The Road to Hana spans approximately 64 miles (103 kilometers) from Kahului to Hana. Prepare to set aside at least 2.5 to 4 hours for the ride without stops, depending on your speed and comfort navigating tight turns. However, with so much beauty to soak in, I highly recommend budgeting extra time for breaks.
Places to Stop : During your ride, be sure to stop at these notable spots:
Twin Falls: A stunning, easily accessible waterfall
Garden of Eden Arboretum: A lush, 26-acre botanical garden featuring impressive views
Wai'anapanapa State Park: Black sand beach and lava tube caves
Level of Difficulty : Navigating the Road to Hana is deemed moderate to challenging due to its intrusive turns and one-lane bridges. It's important to remain alert and focused throughout the ride, especially for less experienced riders. Remember, safety comes first!
Other Information : Keep in mind these useful tips while embarking on this unforgettable motorcycle journey:
Start your ride early in the day to avoid traffic
Make sure to check the weather forecast before venturing out
Stay attentive and be prepared for sudden stops or crossings by local wildlife
Fuel up before you begin, as gas stations are limited along the way
2. Waimea Canyon Drive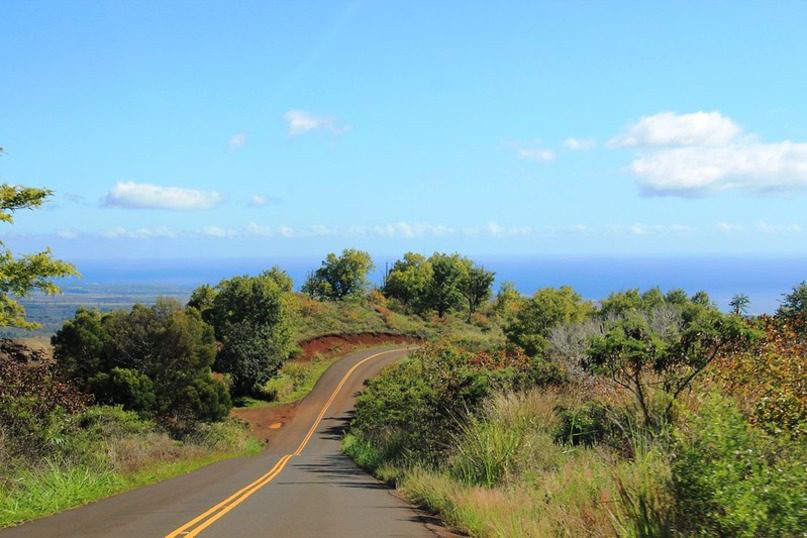 Waimea Canyon Drive is an amazing route that takes you through one of Kauai's most spectacular landscapes. If you're looking for one of the best motorcycle rides in Hawaii, then this is certainly one you cannot miss.
Best Time to Visit: I've found that the best time to visit Waimea Canyon Drive is during the dry months, between April and October. The weather during this period is more favorable for motorcycle rides, and you'll get to fully appreciate the fantastic views without much disruption from rainfall.
Distance and Time to Travel: The Waimea Canyon Drive stretches approximately 18 miles and usually takes about 1-2 hours to complete, depending on the number of stops you make. Trust me, there will be plenty of photo opportunities, so have your camera ready!
Places to Stop: Some of the must-visit stops along this route include:
Waimea Canyon Lookout: A perfect spot to admire the canyon's magnificence.
Puu Hinahina Lookout: Offers a panoramic view of the surrounding landscapes.
Kalalau Lookout: From this point, you'll see a sweeping view of the Kalalau Valley.
Level of Difficulty: For anyone wondering about the difficulty of riding Waimea Canyon Drive, I'd say it's a moderate ride. The curves and winding roads can be slightly challenging, especially for beginners. However, with a bit of caution and practice, it's a ride worth conquering.
Other Information: Here's some additional info to take note of:
The road conditions are generally good, but watch out for occasional potholes and erosion.
There are facilities and services available along the route, such as gas stations, restrooms, and food vendors.
Hunger not an issue? Treat yourself to a meal at the Kokee Lodge.
3. Oahu's North Shore Loop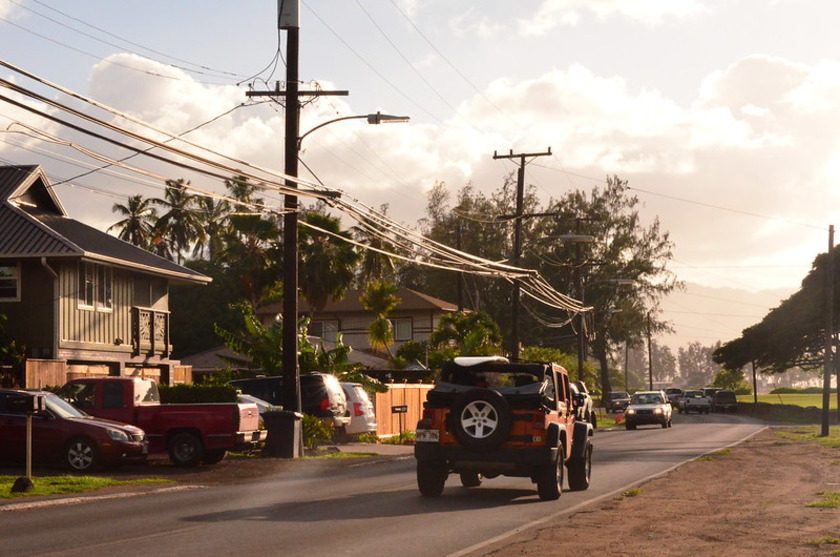 The Oahu's North Shore Loop is a must-visit for motorcycle enthusiasts looking for a unique motorcycling experience in Hawaii. This picturesque route offers an incredible blend of smooth roads, tight turns, and untamed natural beauty.
Best Time to Visit : The best time to ride the Oahu's North Shore Loop is between June and September when the weather is warm, and the ocean is calmer. The calmer ocean conditions during these months make it the perfect time for surfing, one of the highlights of this route. Making a trip during Hawaii's summer season will undoubtedly enhance the overall experience.
Distance and Time to Travel
The Oahu's North Shore Loop covers approximately 100 miles and should take about 3-4 hours to complete. This estimated time includes stopping at a few key attractions, so riders can fully appreciate what this route has to offer.
Places to Stop : A ride on the Oahu's North Shore Loop wouldn't be complete without stopping at some of its most beautiful and intriguing sights.
Haleiwa: A historic town known for its vibrant arts scene, food trucks, and surf shops.
Waimea Valley: An immaculately preserved botanical garden and cultural site.
Banzai Pipeline: One of the world's most famous surf spots, where spectators can watch professional surfers tackle massive waves.
Level of Difficulty : The Oahu's North Shore Loop can be considered a moderate ride. While the highway portions are relatively easy, some windy country roads might pose a challenge for less experienced riders. However, the route is still manageable for most motorcyclists with a bit of practice.
Other Information
Keep an eye out for wildlife, as the North Shore is home to various species of native Hawaiian flora and fauna.
Gas stations and restaurants are easily accessible along the route, making resupplying and refueling hassle-free.
4. The Big Island's Chain of Craters Road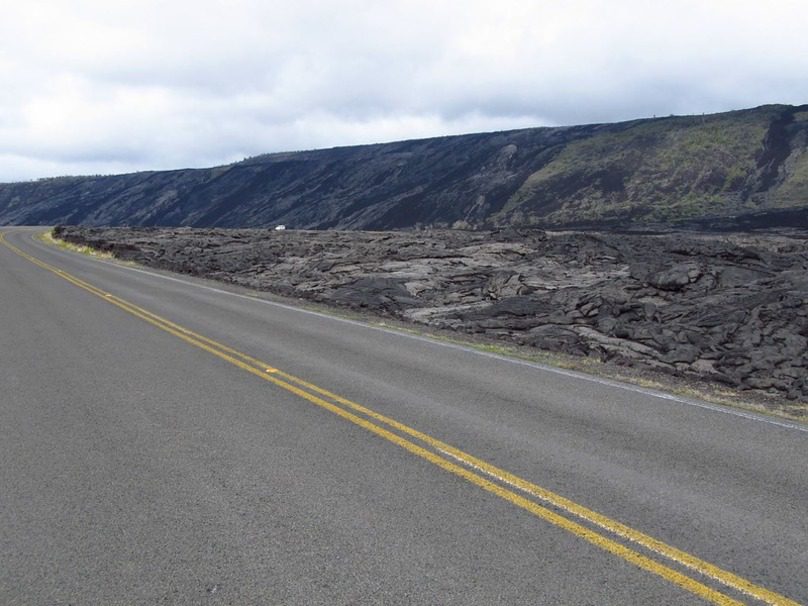 I've discovered that one of the best motorcycle rides in Hawaii is located on the Big Island. Chain of Craters Road takes you right through the heart of Hawai'i Volcanoes National Park, offering an unforgettable experience riding through volcanic landscapes.
Best Time to Visit : The ideal time to ride this route is between April and September when the weather is typically drier and more predictable. However, since the park is located at a higher elevation, it's essential to check local weather conditions before heading out, as they can change quickly.
Distance with Time to Travel : This awe-inspiring roadway spans approximately 19 miles from its start at Crater Rim Drive to its endpoint at the Holei Sea Arch. It's crucial to set aside at least 3 hours for this journey, considering the various stops and viewpoints along the way.
Places to Stop : Along Chain of Craters Road, you'll want to stop at several remarkable points of interest. These include:
Kīlauea Iki Overlook: Catch a glimpse of this impressive volcanic crater.
Lua Manu & Pauahi Craters: Two intriguing craters formed during different volcanic events.
Pu'u Huluhulu Cinder Cone: An excellent choice for a short hike, giving you a panoramic view of the surrounding area.
Holei Sea Arch: The endpoint of the road, where you can admire a fantastic natural sea arch.
Level of Difficulty : This ride is generally considered to be of moderate difficulty. Chain of Craters Road has several curvy and steep sections, requiring riders to remain attentive and cautious. It's important to be comfortable with your motorcycle and have sufficient experience for this ride.
Other Information : A few essential points to remember while riding the Chain of Craters Road are:
The entrance fee to Hawai'i Volcanoes National Park is $30 per motorcycle, valid for seven days.
There are limited places to refuel within the park. Make sure you have a full tank of gas before starting your journey.
Carry plenty of water and snacks, as there are minimal facilities along the route.
5. Saddle Road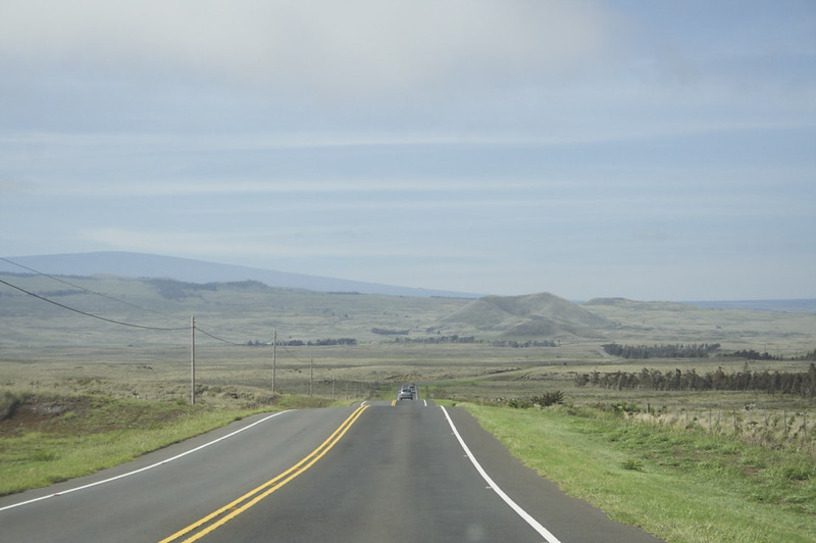 Let me take you on a journey through the heart of the Big Island of Hawaii. Saddle Road, also known as State Highway 200, stretches over 52 miles and is one of the best motorcycle rides in Hawaii. It connects the eastern and western sides of the island while providing a scenic route between two of Hawaii's most iconic mountains, Mauna Kea and Mauna Loa.
Best Time to Visit : The best time to ride Saddle Road would be May through September when you can expect drier weather and milder temperatures. Keep in mind, though, that even during these months, Hawaii's unpredictable weather can still bring occasional rain and chilly conditions, so it's essential to pack accordingly.
Distance and Time to Travel : The distance of Saddle Road is approximately 52 miles (84 kilometers). To truly enjoy the experience, I would recommend setting aside 2-4 hours for the ride, as this allows time to stop at scenic points, take photos, and immerse yourself in the landscape.
Places to Stop : As you ride along Saddle Road, you'll find various scenic spots and attractions that are worth exploring:
Mauna Kea Visitor Information Station – At this stopping point, you can learn about Mauna Kea's unique environment and cultural significance.
Onizuka Center for International Astronomy (OCIA) – Named in honor of astronaut Ellison Onizuka, who lost his life in the Challenger space shuttle, this center offers fascinating exhibits and information about space exploration.
Puu Hinahina – This lookout offers panoramic views of Mauna Kea, Mauna Loa, and the surrounding landscape.
Level of Difficulty : Saddle Road can be a moderately challenging ride for motorcyclists, with its winding turns, changing elevation, and occasionally unpredictable weather. It's essential to stay vigilant and adjust your speed accordingly to navigate the road safely.
Other Information : Before embarking on this ride, please be aware of the following:
Weather conditions can change rapidly on Saddle Road, so layered clothing, rain gear, and sunscreen are recommended.
The road may be closed occasionally due to military training exercises or inclement weather. Check for road closures and updates before starting your ride.
Cell phone reception may be limited along the route, so keep that in mind when planning your journey.
6. The Molokai Countryside Ride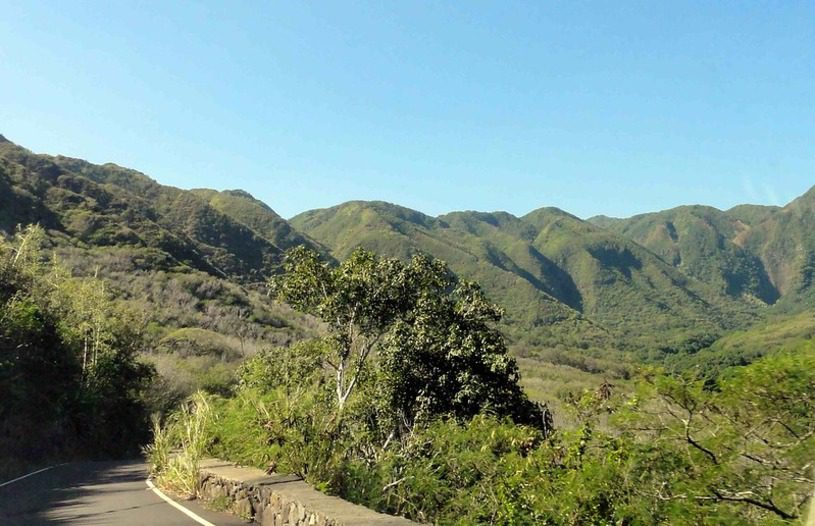 Exploring the Molokai countryside is undoubtedly one of the best motorcycle rides in Hawaii. Many riders consider it an off-the-beaten-path experience, with untouched landscapes and sweeping vistas that showcase the true beauty of the Hawaiian Islands.
Best Time to Visit: The ideal time for riding on Molokai is during the dry season, which typically falls between April and October. During these months, you'll experience more consistent weather with less rainfall. Moreover, temperatures tend to be comfortable, ranging from 75°F to 85°F.
Distance and Time to Travel: The Molokai Countryside Ride spans 42 miles and takes approximately 1.5 to 2 hours to complete, depending on the number of stops and your riding pace.
Places to Stop:
Pala'au State Park: Featuring the Kalaupapa lookout, this park offers stunning views of the rugged sea cliffs as well as the Kalaupapa Peninsula.
Molokai's east coast: Take a break here and enjoy the scenic shoreline, with plenty of opportunities for memorable photos.
Halawa Valley: Rich with history, it's the perfect spot to learn about ancient Hawaiian culture and also hike to Moa'ula Falls.
Level of Difficulty: The ride is generally easy, with well-maintained roads and minimal traffic. However, I'd recommend being cautious as you navigate the occasional tight turns and steep inclines, particularly along the east coast.
Other Information:
Be sure to pack essentials such as water, sunscreen, and a light snack.
Cellphone reception can be unreliable in some areas, so plan accordingly.
Respect private property and stay on designated roads.
FAQs
What is the East Maui Loop motorcycle route?
The East Maui Loop Is A 112-Mile One-Day Trip That Takes Riders Around The Eastern Half Of Maui, Offering Views Of Lush Tropical Foliage, Waterfalls, And Coastal Vistas.
How long is the Hana Highway motorcycle route?
The Hana Highway Is A One-Day Trip Covering 37 Miles And Features Picturesque Coastal Views, Lush Rainforests, And Multiple Waterfalls.
What can riders expect from the Circumnavigate West Maui (Hwy 30/340) motorcycle route?
The Circumnavigate West Maui Route Is A One-Day Trip Covering 48 Miles, Offering A Scenic Ride Along The Coastline And Through Diverse Landscapes.
What makes the Tantalus motorcycle route unique?
Tantalus Is A Shorter One-Day Trip Spanning 5 Miles That Takes Riders Through Lush Forests, Winding Roads, And Magnificent Views Of Honolulu City And The Surrounding Areas.
What is the Auloa Road motorcycle route known for?
Auloa Road Is Known For Its Two Miles Of Twisted Roads, Offering A Thrilling One-Day Trip For Riders Who Enjoy Sharp Turns And Scenic Views.
Picking Your Ideal Hawaiian Motorcycle Adventure
Choosing the perfect Hawaiian motorcycle adventure can be a daunting task, as there's much to consider. I've provided some essential information for each ride to help you make an informed decision. Pay close attention to the best time to visit, distance and time to travel, places to stop, level of difficulty, and other information.
Hawaii's weather is generally pleasant year-round, but some months are better than others for motorcycle rides. Here's a handy guide to help you determine the best time for your adventure:
November to February: Cooler weather and higher potential for rain, especially on the north and northeast shores.
March to May: A fantastic time to visit – the weather is mild, and the tourist crowds are lighter.
June to September: Warm weather and mostly dry conditions make it ideal for motorcycle riding. However, it's also the busiest tourist season.
October: A short shoulder season with mild weather and fewer visitors.
Along the way, you'll find numerous scenic stops, eateries, and other attractions. Some of the highlights include:
Hana Highway: Waianapanapa State Park, black sand beach, and waterfalls
Oahu's North Shore: Haleiwa town, Waimea Bay, and Polynesian Cultural Center
Ironwood Experience: Waikoko Beach, botanical gardens, and Kilauea Lighthouse
The top 6 rides offer various levels of difficulty, from beginner to advanced. It's important to choose a ride that matches your skill level and comfort.
Finally, consider these additional tips for your Hawaiian motorcycle adventure:
Always wear proper safety gear, including a helmet.
Check weather conditions before you ride.
Plan your route carefully and stay on designated roads.
Follow motorcycle riding laws in Hawaii.
Respect locals and the environment.
With this information in hand, you'll be better equipped to choose the ideal motorcycle ride for your Hawaiian adventure. Happy riding!
Motorcycle Rides in the US by States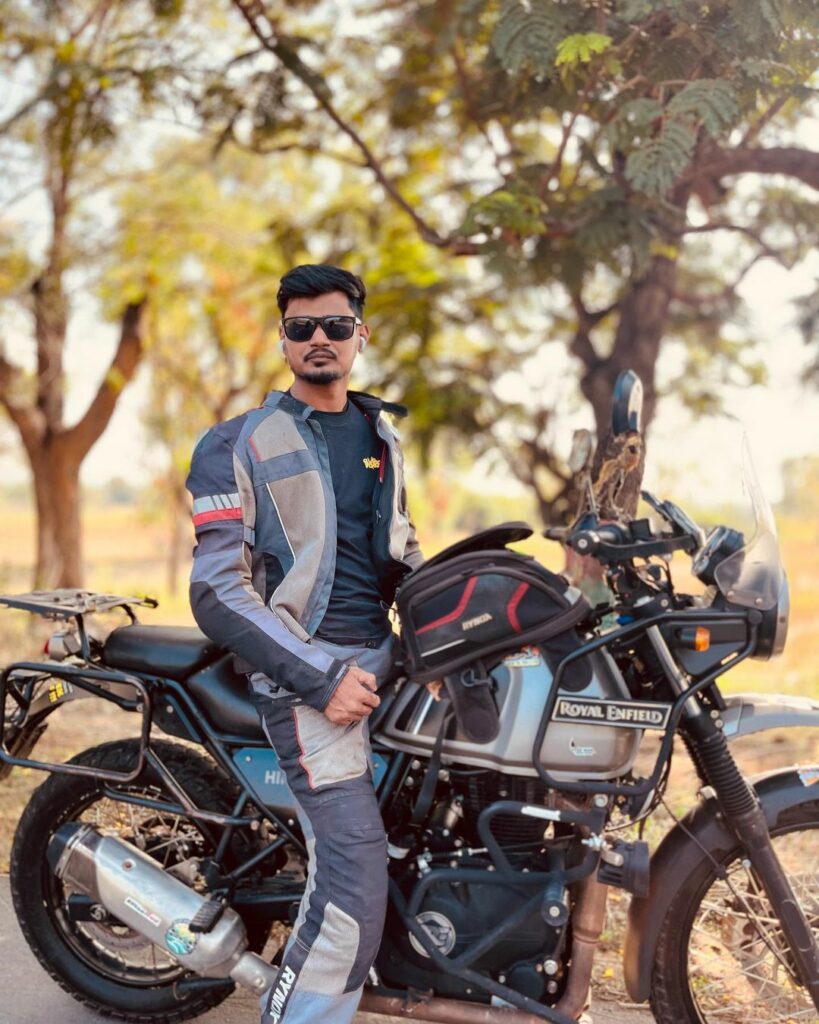 Vishwanath Mathpati
I am Vishwanath Mathpati, a full-time Blogger and Motorcyclist from Bidar, Karnataka. I love writing about my Motorcycles Stories and Riding Gears on this blog.
Know More About Me.
---
If you liked this article, then please subscribe to our YouTube Channel for more Bike Videos. You can also find us on Instagram, Twitter and Facebook.
Disclosure: As an Amazon Associate, I earn from qualifying purchases. Read more about Amazon Affiliate Disclaimer.