Top 8 Best Motorcycle Rides in Arizona: My Ultimate Guide
With its diverse terrain, from red rock canyons to desert roads, Arizona offers a unique riding experience for riders of all skill levels. When planning a motorcycle trip in Arizona, it's essential to consider factors such as the weather, road conditions, and the distance between destinations. The state's climate can vary greatly depending on the year, so be prepared for potentially hot and dry conditions. Additionally, it's important to note that some roads are more suited to experienced riders, while others are perfect for beginners.
Yet, the region also invites exploration beyond its own borders. Just a ride away, New Mexico promises diverse terrains, from desert flatlands to mountainous regions, each offering its unique charm. Westward, you can venture into the Golden State, California, with its stunning coastal routes and hilly backdrops. A northward journey can lead you to Utah, where the dramatic landscapes of its national parks will leave you in awe. Lastly, heading east, Nevada offers riders an unforgettable experience with its panoramic desert views and legendary locales.
In my list of the top 8 best motorcycle rides in Arizona, I'll cover routes that'll take you through incredibly varied landscapes, from the iconic Grand Canyon to the historic Route 666.
Arizona's Diverse Riding Terrain
One of the reasons Arizona's riding terrain is so diverse is because of its unique geographical features. You can find everything from the captivating red rocks of Sedona to the sprawling desert landscapes of the Sonoran Desert. Additionally, with elevations ranging from 70 feet to over 12,000 feet, there's no shortage of thrilling elevation changes and dramatic mountain roads.
Arizona's routes can range from short rides perfect for a day trip to long, winding stretches that can span over 200 miles. Keep that in mind when planning your ride, depending on your available time and desired distance.
It's crucial to know your skill level before embarking on a motorcycle ride in Arizona. The routes can range from comfortably paved, low-traffic roads to narrow, steep climbs with technical curves. Assess your expertise and choose your routes accordingly, as both beginners and experienced riders have a plethora of options to choose from.
1. The Apache Trail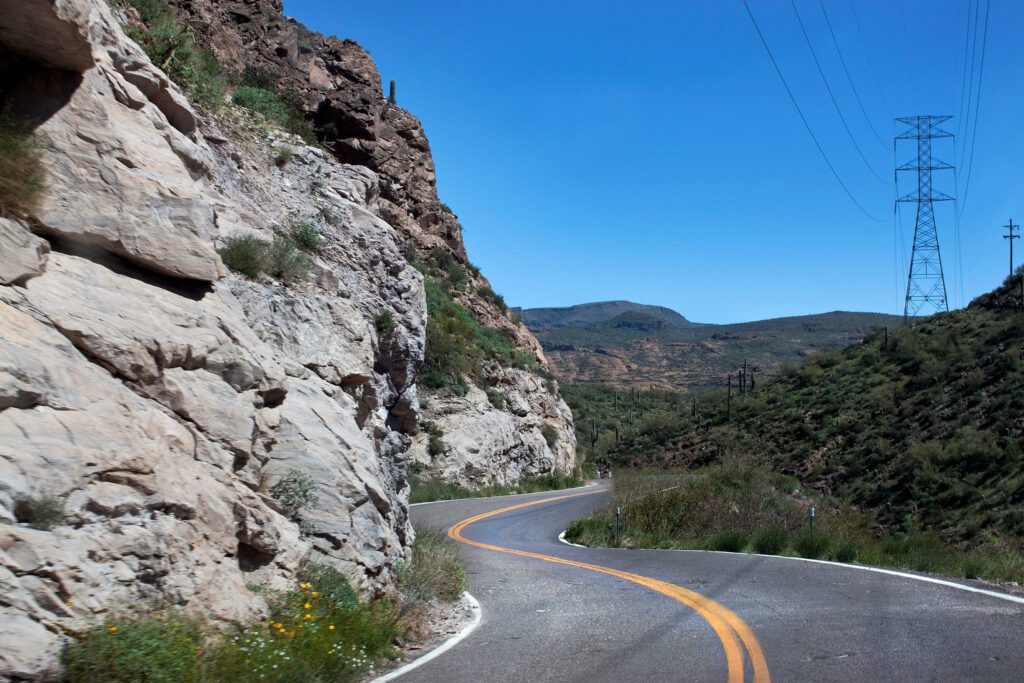 When seeking adventure, I often find myself recommending the Apache Trail in Arizona. This historic route offers some of the state's most stunning scenery, making it one of the top 8 motorcycle rides in the area.
Best Time to Visit: For the most pleasant riding experience, I'd suggest exploring the Apache Trail between October and April. During these months, the weather tends to be cooler and more comfortable, allowing riders to fully embrace the beauty of their surroundings.
Distance and Time to Travel: The Apache Trail stretches approximately 40 miles from Apache Junction to Theodore Roosevelt Lake. Depending on your riding experience and stops, it could take anywhere from 2 to 4 hours to complete.
Places to Stop: There are several noteworthy places to stop along the Apache Trail. Some of my personal favorites include:
Goldfield Ghost Town: A reconstructed 1890s mining town with fun attractions and an old west vibe.
Lost Dutchman State Park: A serene park offering camping, hiking, and amazing vistas of the Superstition Mountains.
Canyon Lake: A picturesque stop for a lakeside picnic or a refreshing swim.
Tortilla Flat: An authentic stagecoach stop turned unique tourist attraction, complete with an old-fashioned saloon.
Level of Difficulty: Considering its narrow, winding nature, I'd classify the Apache Trail as a moderately challenging ride. Nonetheless, the awe-inspiring vistas and rugged landscape make it well worth the effort for experienced riders.
An important aspect to remember is that the Apache Trail consists of both paved and unpaved sections. While the paved stretches are accessible to most riders, the unpaved portions necessitate proper preparation and, in some cases, an appropriate off-road capable motorcycle.
Keep in mind that cell phone reception can be spotty along the route, so it's essential to inform someone of your plans and carry a map or GPS device just in case.
2. The Coronado Trail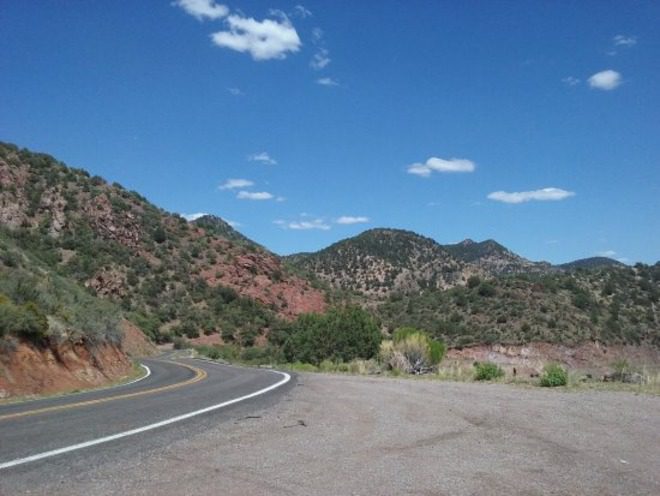 As one of the Top 10 Best Motorcycle Rides in Arizona, Cruising the Coronado Trail is a must for any motorcycle enthusiast. With its unique scenery, amazing twisties, and an incredible elevation range, it's a journey you won't soon forget.
Best Time to Visit: If you're pondering when's the best time to experience this ride, I'd advise riding between April to October. During these months, you'll enjoy pleasant weather and can fully appreciate the diverse landscapes. Avoid the winter season since snow and ice can make the road impassable and dangerous.
Distance and Time to Travel: The ride covers a distance of approximately 120 miles and usually takes about 3-4 hours to complete, depending on your stops and riding pace. It's important to manage your time wisely and savor the beauty of the surroundings.
Places to Stop: There's no shortage of interesting spots to stop along the Coronado Trail. You'll want to pull over and take in the following points of interest:
Morenci Mine: The largest copper mine in North America
Hannagan Meadow: A great spot for a rest, picnic, or even camping
Blue Vista: A picturesque lookout offers spectacular views of the surrounding area
Level of Difficulty: Cruising the Coronado Trail comes with a moderate difficulty level. The ride offers about 460 curves in total, providing an engaging experience for novice to seasoned riders alike. Be prepared for narrow lanes, switchbacks, and fluctuating elevations throughout the journey.
Keep in mind that the trail may have occasional debris or gravel on the road, especially after rain or snowmelt. Also, don't forget to check your fuel level before embarking on this trek, as gas stations can be few and far between. Finally, always be respectful of posted speed limits and keep a watchful eye for wildlife crossing, as the area is home to various animals such as elk and deer.
3. The Devil's Highway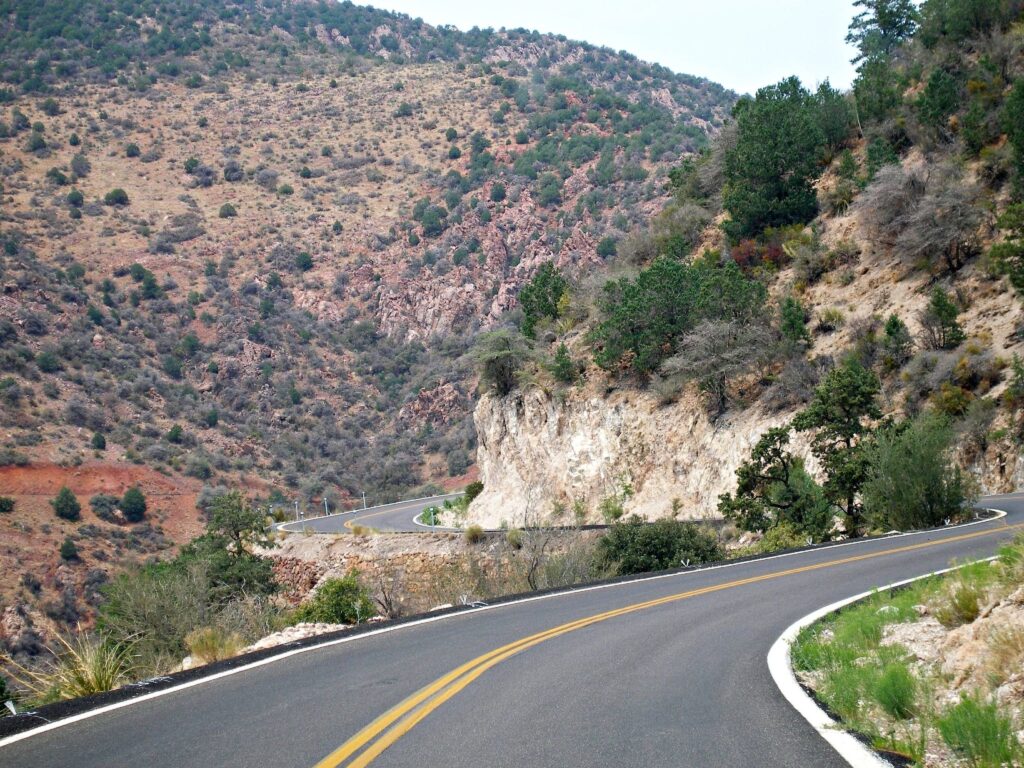 As a motorcycle enthusiast, there's no ride quite as thrilling and memorable as a journey along Arizona's notorious Devil's Highway. This stretch of road, formerly known as Route 666 and now designated U.S. Route 191, traverses approximately 120 breathtaking miles through varying landscapes, steep curves, and captivating elevations.
Best Time to Visit: The ideal time for embarking on this legendary ride is between late spring and early fall, specifically from May to October. The pleasant temperatures during these months allow for enjoyable riding conditions and captivating scenery along the way.
Distance and Time to Travel: With a length of about 120 miles, the Devil's Highway can be traversed in just a few hours. However, to fully appreciate the splendor of the winding roads and unique stops, it's recommended to set aside a day or even a weekend for this adventure.
Places to Stop: Some notable points of interest along the Devil's Highway include:
Clifton, AZ: A charming small town with rich mining history; perfect for a quick lunch or to refuel.
Blue Vista Overlook: Offering a panoramic view of the surrounding landscape and a perfect spot for photos.
Coronado Trail Scenic Byway: A spectacular 123-mile drive adorned with scenic vistas and diverse wildlife.
Level of Difficulty: The Devil's Highway is considered a challenging ride, due to its steep curves and elevation changes, ranging from 3,500 to 9,000 feet above sea level. It's important to have a good level of riding experience before attempting this route, as it can be demanding for novice riders.
Safety should be a top priority on this exhilarating ride. It's crucial to be cautious and attentive, especially during monsoon season when rain and possible debris can make the road more treacherous than usual. Additionally, be prepared with extra fuel and necessary gear, since services along the route can be limited.
4. Sedona's Red Rock Scenery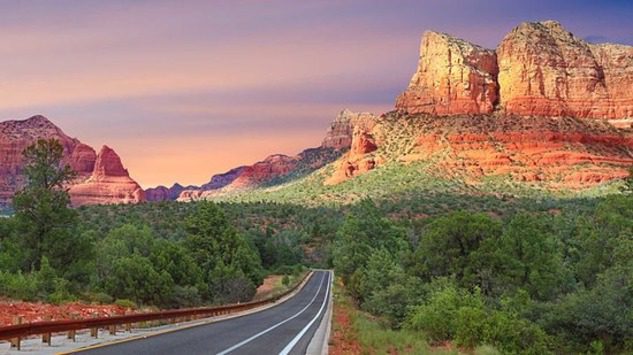 Among the top motorcycle rides in Arizona, Sedona's Red Rock Scenery never fails to impress. Known for its stunning views of the unique red rock formations, this ride is sure to be an unforgettable experience. So, let's dive into the details of this incredible ride.
Best Time to Visit: The ideal time to plan your ride through Sedona's Red Rock Scenery is during the fall and spring months. From March to May and September to November, expect pleasant temperatures and clear skies that'll make for perfect riding conditions.
Distance with Time to Travel: This route covers approximately 40 miles and typically takes around 2 hours to complete, giving you plenty of time to stop and admire the scenery.
Places to stop along the route include:
Sedona's Main Street: Take a stroll through the vibrant shopping district that offers a variety of restaurants, art galleries, and souvenir shops.
Chapel of the Holy Cross: This iconic chapel, built into the red rocks cliffs, offers a breathtaking view of the surrounding area.
Red Rock State Park: With over 286 acres of natural beauty, the park provides numerous opportunities for hiking, birdwatching, and picnicking.
Level of Difficulty: The ride through Sedona's Red Rock Scenery is considered moderate in terms of difficulty. Some sharp curves and inclines can be found throughout the route, but the smooth pavement and well-maintained roads will ensure a comfortable and enjoyable ride.
Other Information:
| Fact | Detail |
| --- | --- |
| Road Condition | Smooth pavement |
| Traffic | Generally light to moderate |
| Cell Reception | Spotty in some areas |
Few things to keep in mind before your ride:
Bring plenty of water and sunscreen to protect against the Arizona sun.
Keep an eye out for wildlife such as elk, deer, and javelinas that can be seen in the area.
Check weather forecasts and road conditions prior to your ride, as flash floods can occur during the rainy season.
5. Mt. Lemmon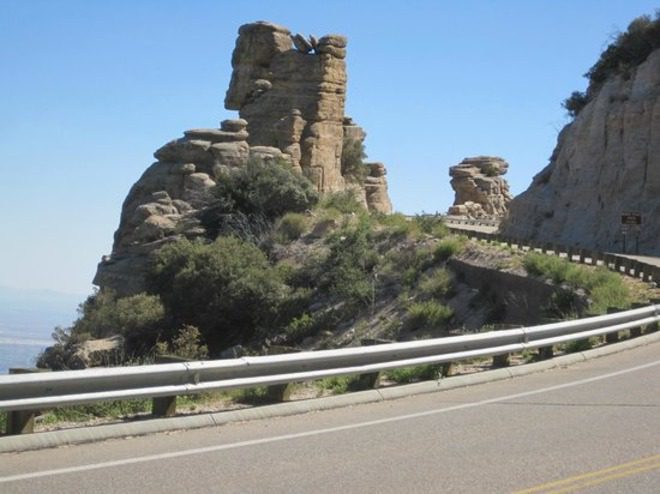 Mt. Lemmon is one of Arizona's most breathtaking motorcycle rides. A journey up the mountain reveals a plethora of panoramic views, exhilarating twists, and turns.
When considering the best time to visit, I recommend opting for late spring or early fall. During these months, you'll experience mild temperatures and minimal chances of rainfall, ensuring a more enjoyable ride. Keep in mind that during winter months, snow conditions may make the road impassable.
The total distance from the base of the mountain to the summit is approximately 27 miles, which should take around 1.5 hours to complete depending on the pace. Notably, it's crucial to pay attention to time when riding, as the road is steep and winding. Be prepared for a gradual climb in elevation from 3,000 feet to over 9,000 feet.
Along the way, there are several noteworthy places to stop:
Windy Point Vista: The perfect spot for a panoramic photo op.
Geology Vista: Marvel at the exposed rock layers and learn about the Catalina Mountains' history.
Ski Valley: A great rest stop with food and drink options.
Regarding level of difficulty, the ride up Mt. Lemmon can be moderately challenging, especially for inexperienced riders. I would classify the route as intermediate, with certain sections demanding extra caution. The roadway includes numerous sharp curves and switchbacks, requiring focus and proper riding techniques.
Other important information to keep in mind:
Remember to bring adequate layers of clothing, as temperatures can drop rapidly with elevation.
Prepare for possible wildlife encounters, such as deer or javelina.
Stay updated on road conditions through the Pima County Sheriff's Department.
Carry a spare tire and repair kit in case of any unexpected emergencies.
6. The Petrified Forest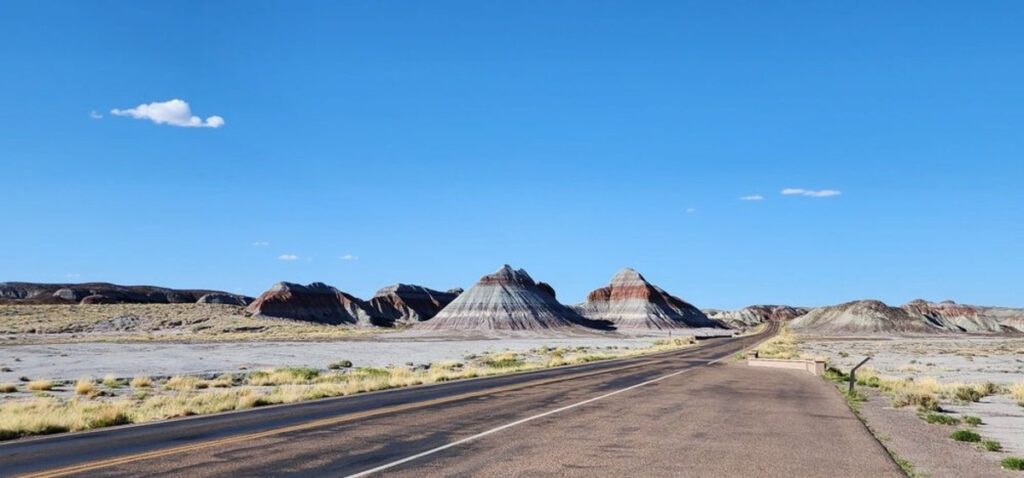 Arizona's Petrified Forest National Park is a must-visit destination for motorcycle enthusiasts. With its diverse landscape and unique geological features, the park offers riders an unforgettable experience.
Best Time to Visit: Late spring to early fall is the ideal time to explore the Petrified Forest, as the weather is typically mild and dry. Avoid visiting during the summer months, when temperatures can soar above 100°F, making the ride uncomfortable and potentially hazardous.
Distance with Time to Travel: The park stretches for 28 miles along a scenic road, with several pullouts and viewpoints. Plan for at least 2-3 hours to fully experience the beauty of the place, including photo stops and short walks to explore the petrified wood.
Places to Stop:
Painted Desert: These vibrant badlands boast stunning colors and unique geological formations. Stop at the Kachina Point overlook for a breathtaking view.
Blue Mesa: A 3.5-mile loop that showcases beautifully preserved petrified wood along its trail.
Newspaper Rock: View over 650 ancient petroglyphs etched onto the boulders by the ancestors of the Puebloan people.
Agate House: Explore this partially reconstructed pueblo made from petrified wood, providing a glimpse into the life of prehistoric inhabitants.
Level of Difficulty: The ride itself is relatively easy, with gentle curves and a well-paved road. However, be cautious of crosswinds, especially during the windy season (March to May), as they might pose a challenge for inexperienced riders.
Other Information:
Begin your ride at the southern entrance, off of U.S. Route 180, near Holbrook.
Fuel up before entering the park, as there are no gas stations within its boundaries. The closest town with fuel and other amenities is Holbrook, located about 30 minutes away.
A fee is required to enter the park: $15 per motorcycle for a 7-day pass, or $25 per motorcycle for an annual pass.
Lodging options in the area include hotels in Holbrook, as well as a few campgrounds and RV parks outside the park's boundaries.
7. Grand Canyon Caverns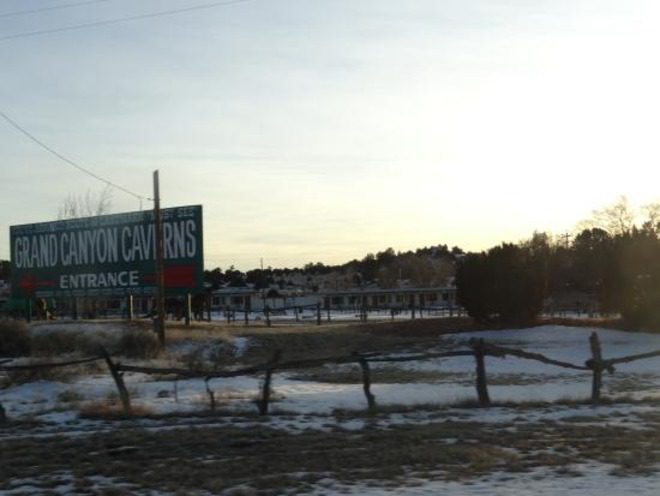 When it comes to motorcycle rides in Arizona, winding through the Grand Canyon Caverns should be on every rider's bucket list. Trust me, the stunning views and natural wonders along this route make it one of the best motorcycle adventures in the state.
Best Time to Visit: The ideal time to ride through the Grand Canyon Caverns is during the spring and fall months. These seasons offer the most comfortable temperatures for riding, resulting in a more enjoyable journey. To put it simply, avoid the scorching summer heat and the chilly winter weather.
Distance and Time to Travel: The winding ride through the caverns covers approximately 60 miles and takes about 1.5 to 2 hours to complete, depending on your riding speed and stops along the way.
Places to Stop: There's no shortage of interesting places to stop during your ride. Be sure to check out these must-see attractions:
Grand Canyon Caverns Underground Suite: Take a tour of this unique underground room, 220 feet below the surface.
Grand Canyon Caverns Inn: If you need a break, this historic Route 66 motel is a perfect spot to rest and recharge.
Peach Springs Trading Post: A great place to stop for fuel, food, and souvenirs to remember your trip.
Level of Difficulty: The ride itself boasts a moderate level of difficulty, with enough twists and turns to keep experienced riders engaged while still being approachable for beginners. The route features well-maintained, paved roads that provide a smooth and enjoyable journey.
Keep these additional tips in mind when planning your Grand Canyon Caverns motorcycle ride:
Wildlife: Be cautious of wildlife, such as elk and deer, which may be found near the road in early mornings and evenings.
Weather conditions: The weather can change abruptly in this area, so come prepared with appropriate gear for rain and sudden temperature drops.
Hydration: Arizona's dry climate can be deceiving – don't forget to drink plenty of water to stay well-hydrated during your ride.
8. The Tonto National Forest

Stepping outside of the Tonto National Forest, I've discovered a variety of exceptional motorcycle rides in Arizona. Each one offers a unique experience, taking riders through scenic landscapes and unforgettable routes.
Best Time to Visit: The best time to explore these routes is during spring and fall, as the temperature remains comfortable for riding. Avoid summer months, as it can get too hot for safe and enjoyable riding.
Distance with Time to Travel: I'll cover a few significant rides, with the distance and approximate travel time for each. Take note that the travel time may vary, depending on your riding expertise and the number of stops you make.
| Ride | Distance | Approx. Time to Travel |
| --- | --- | --- |
| Sedona to Jerome | 30 miles | 1 hour |
| Prescott to Crown King | 66 miles | 2.5 hours |
| Harquahala Mountain Heritage Road | 45 miles | 1.5 hours |
| Globe to Show Low | 125 miles | 3-4 hours |
Places to Stop: Make the most of your journey by stopping at these fascinating spots:
Sedona: Visit the Chapel of the Holy Cross and explore the vibrant shops and galleries.
Jerome: Take a stroll through the historic streets and get a taste of Arizona's mining history.
Prescott: Enjoy the small-town charm and visit the courthouse plaza.
Crown King: Discover this old mining town tucked away in the Bradshaw Mountains.
Wickenburg: Get a glimpse of the Wild West at Desert Caballeros Western Museum.
Level of Difficulty: Keep in mind that each ride offers a unique level of difficulty, ranging from easy to challenging. Sedona to Jerome is considered moderate, while the ride from Prescott to Crown King can be quite challenging due to the winding, narrow roads.
Don't forget to pack essential gear such as sunscreen, a first-aid kit, and plenty of water. Be mindful of the wildlife you might encounter along the way, such as rattlesnakes and javelinas. Lastly, it's always a good idea to check the weather forecast before your ride to ensure safe and comfortable conditions.
FAQs
What are some of the best motorcycle rides in Arizona?
Some Popular Motorcycle Rides In Arizona Include The Apache Trail, Catalina Highway, Jerome, Coronado Trail, Sunflower Mine, Sky Island Scenic Byway, And Cactus Forest Drive.
Is Arizona a good place to ride motorcycles year-round?
Arizona's Diverse Climate Allows For Year-Round Motorcycle Riding, Although Some High-Altitude Areas May Experience Colder Temperatures And Snow During The Winter Months.
What are some recommended motorcycle routes in the Phoenix area?
Recommended Motorcycle Routes In The Phoenix Area Include Cottonwood Canyon Run, Wickenburg Road, Phoenix To Show Low, Mesa To Globe, And Punkin Center.
Where can I find more information on Arizona motorcycle events and group rides? A:
Online Resources Such As Arizona Motorcycle Roads (motorcycleroads.com) And Local Motorcycle Clubs Often Provide Information For Motorcycle Enthusiasts In Arizona.
What do I need to ride a street-legal motorcycle in Arizona?
To Ride A Street-Legal Motorcycle In Arizona, You Must Have A Valid Motorcycle Endorsement On Your Driver's License, Proof Of Insurance, Vehicle Registration, And Proper Safety Gear Such As A Helmet (For Riders Under 18) And Eye Protection.
Conclusion: The Allure of Arizona's Motorcycle Rides
Arizona offers a diverse and stunning landscape that I believe is perfectly suited for motorcycle rides. From its deserts to its mountains, and everything in between, there's no shortage of incredible routes for riders to conquer.
Fall and spring stand out as the best times to explore Arizona on a motorcycle, offering mild temperatures ideal for long riding days.
During summer, the heat can be extreme in some areas, making early morning or late evening rides more pleasant.
Winter is generally mild in southern Arizona, but mountain routes could have cold and snowy conditions.
Arizona's routes vary greatly in length, so riders can opt for short, scenic day trips or more extended adventures.
Arizona's motorcycle routes offer something for every skill level. Well-maintained roads with low traffic are available for beginners. Challenging mountain curves and canyon switchbacks can exhilarate more experienced riders.
In summary, the vibrant landscapes of Arizona present an exciting and picturesque opportunity for motorcyclists of all skill levels to experience. So go ahead, gear up, and get ready to take on Arizona's top 8 best motorcycle rides!
Motorcycle Laws in the US By States
Motorcycle Rides in the US by States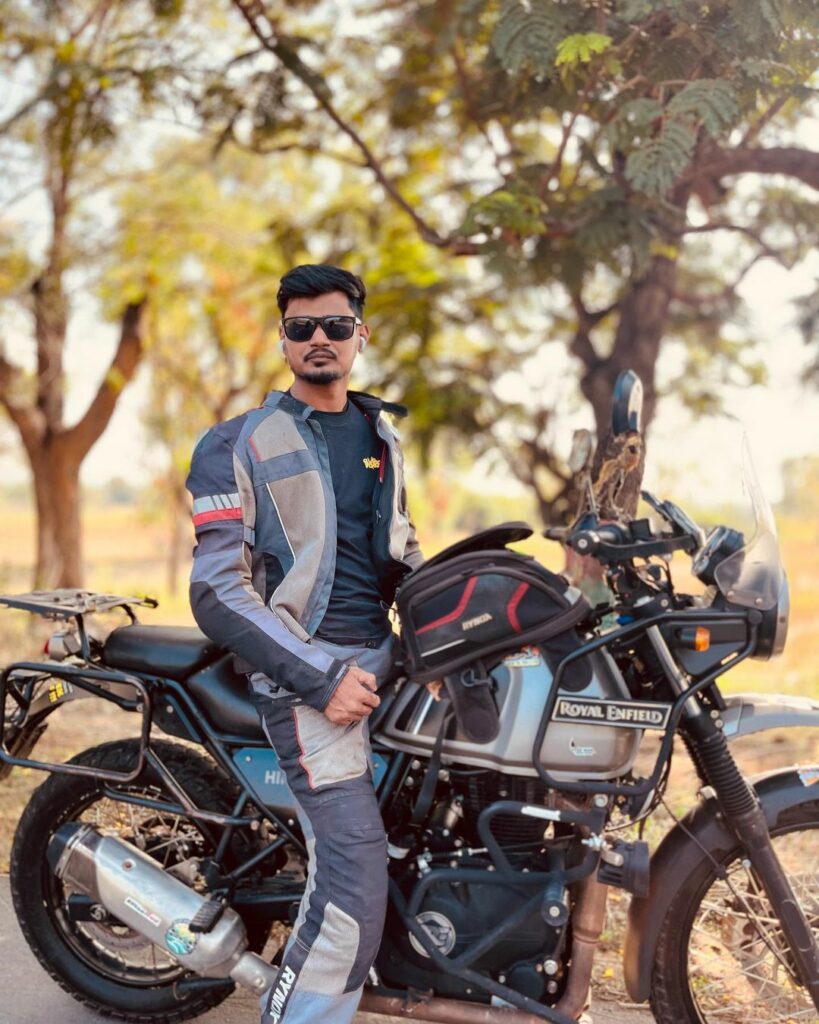 Vishwanath Mathpati
I am Vishwanath Mathpati, a full-time Blogger and Motorcyclist from Bidar, Karnataka. I love writing about my Motorcycles Stories and Riding Gears on this blog.
Know More About Me.
---
If you liked this article, then please subscribe to our YouTube Channel for more Bike Videos. You can also find us on Instagram, Twitter and Facebook.
Disclosure: As an Amazon Associate, I earn from qualifying purchases. Read more about Amazon Affiliate Disclaimer.