Top 8 Best Motorcycle Rides in Rhode Island: My Ultimate Guide
I've always been a fan of scenic road trips, and Rhode Island's stunning coastal views and lush landscapes provide some of the most memorable motorcycle rides in New England. As the smallest state in the US, it's easy to explore all that Rhode Island has to offer within a short amount of time, and I want to share my top 8 best motorcycle rides in Rhode Island in this picturesque region.
From the spectacular coastal roads to the charming rural routes, there's something for every motorcycle enthusiast in Rhode Island. Whether you're looking for a leisurely ride along the coast or a thrilling journey through the picturesque countryside, these eight routes offer diverse scenery and unique points of interest.
Before you head out on your motorcycle adventure, it's essential to familiarize yourself with Rhode Island's traffic laws and regulations to ensure your safety and the safety of others on the road.
Despite its small size, Rhode Island packs a punch when it comes to motorcycle rides. The Ocean Drive is particularly spectacular, offering a coastal ride with majestic views of the Atlantic Ocean. The state's neighbors also boast a myriad of splendid motorcycle rides. Massachusetts' Mohawk Trail is renowned for its scenic vistas and twisty roads. In Connecticut, the Merritt Parkway offers a ride adorned with unique bridges and lush landscapes. Over in New York, the Catskills are a must-ride area, providing a blend of mountain views, farmlands, and picturesque villages.
With the diverse experiences offered by Rhode Island and its surrounding states, the region provides a perfect playground for motorcycle enthusiasts, offering the beauty of the coast, the thrill of mountain riding, and the tranquility of scenic countryside routes. So, let's explore the beauty of Rhode Island on two wheels.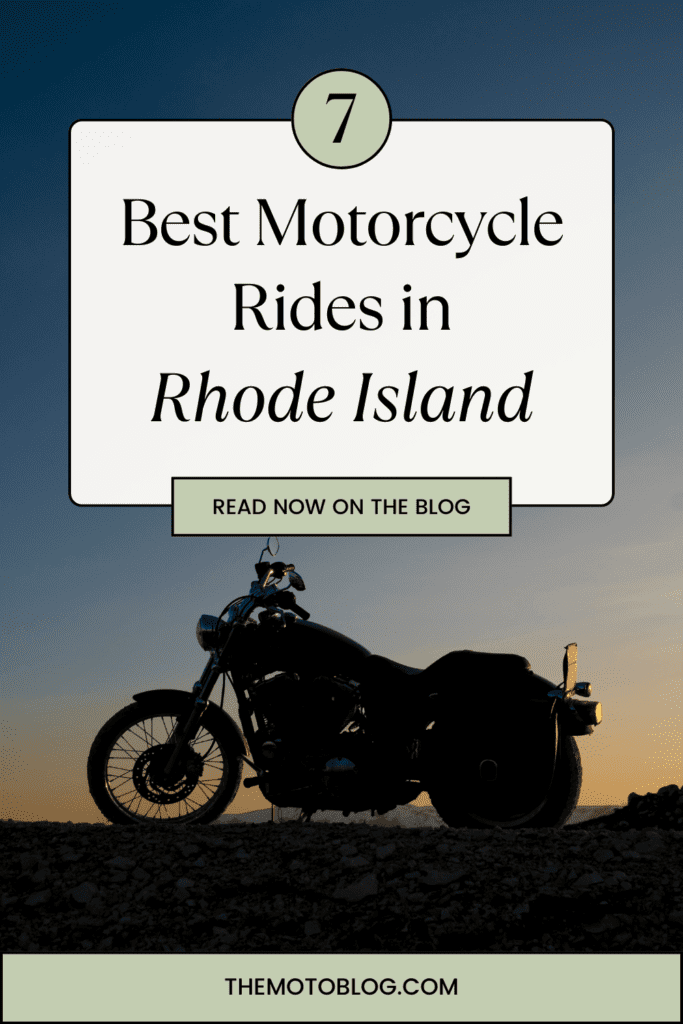 1. Charlestown to Narragansett Stretch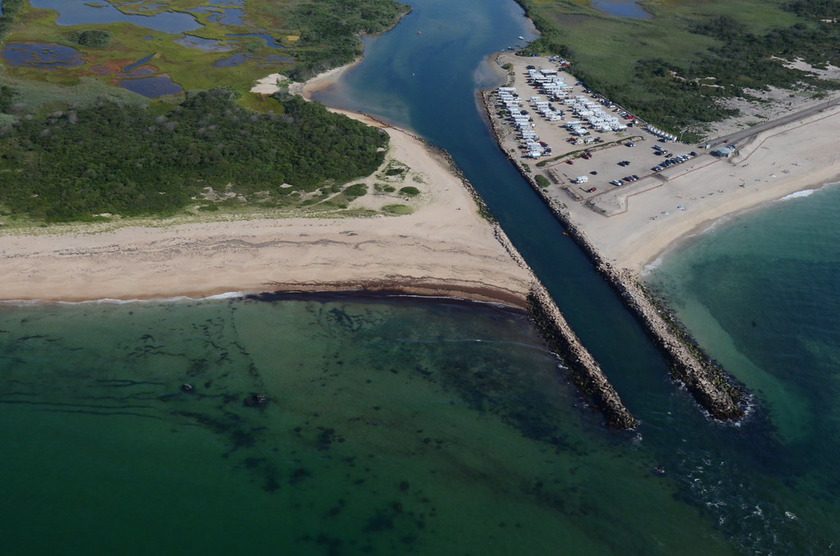 Rhode Island offers some of the most picturesque motorcycle routes on the East Coast, and the Charlestown to Narragansett stretch is no exception. The vibrant foliage and serene coastal landscapes make this route perfect for an enjoyable and relaxing ride.
Rhode Island's climate allows for amazing riding conditions from late spring to early fall, with September and October being particularly stunning due to the vibrant colors of autumn. However, it's important to note that roads can be a bit slippery during the rainy season, so make sure you check the weather forecast before hitting the road.
The Charlestown to Narragansett stretch spans approximately 20 miles, taking roughly 30-45 minutes to complete. The time varies based on your riding pace and how many stops you make along the way.
Places to Stop:
Charlestown Breachway: A popular spot for fishing, boating, and birdwatching – not to mention impressive ocean views.
Ninigret Park: Boasting numerous outdoor activities, including a freshwater pond and nature trails, this park is perfect for a mid-ride break.
Narragansett Town Beach: Finish off your ride with a visit to the bustling beach at Narragansett, known for its excellent surfing conditions.
This stretch is relatively easy, accommodating both experienced riders and beginners. The roads are well-maintained, and the scenery is sure to keep you engaged throughout the ride.
Other Information:
The route generally follows US Route 1, which is conveniently marked with signage.
There are several gas stations and convenience stores along the way, so you don't have to worry about running low on supplies.
Stay alert for wildlife crossings – Rhode Island is home to a diverse array of animals, some of which may venture near roadways.
2. Burrillville Country Ride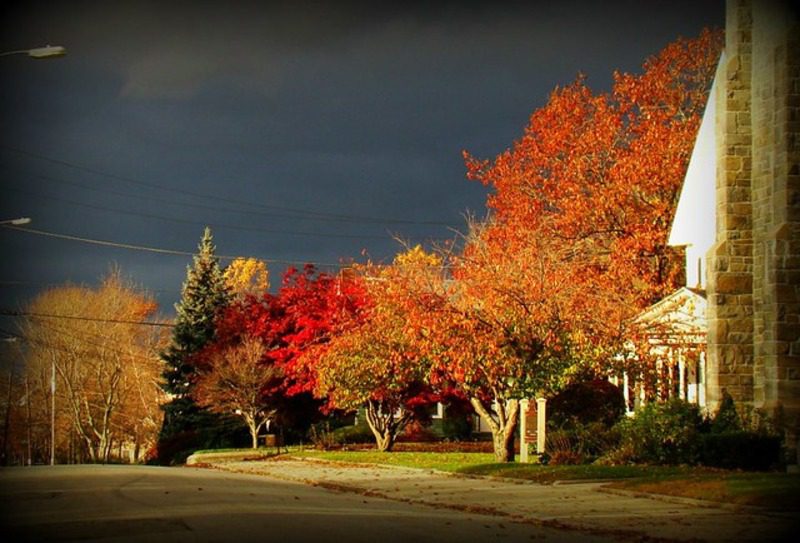 When mentioning some of the top motorcycle rides in Rhode Island, I can't overlook the Burrillville Country Ride. There are a few key factors that make this route a must-ride for motorcyclists of all skill levels.
In my opinion, the prime time to visit Burrillville Country Ride is during the late spring to early fall months. This gives you the advantage of enjoying warmer weather and drier roads, ensuring a more comfortable and enjoyable ride.
The total distance of this route is approximately 30 miles and takes roughly an hour to complete, depending on your driving speed and the number of stops you make along the way.
Burrillville Country Ride offers some noteworthy places to take a break during your journey. Here's a list of a few worth stopping at:
Spring Lake Beach: A picturesque place for swimming or lounging by the water
Wrights Farm: A popular local eatery for grabbing a quick bite
Burrillville Historical Society: An informative stop for history buffs
I would rate the difficulty level of the Burrillville Country Ride as moderate. This means that it's suitable for both beginner and experienced riders, as it offers a mix of straight stretches and winding curves, allowing for a fun and engaging experience.
Keep in mind that Burrillville is a fairly rural area, so while it offers serene views and quiet roads, you may not come across many amenities during your ride. Be sure to carry essentials like water, snacks, and any necessary motorcycle gear.
3. Route 102 Scenic Corridor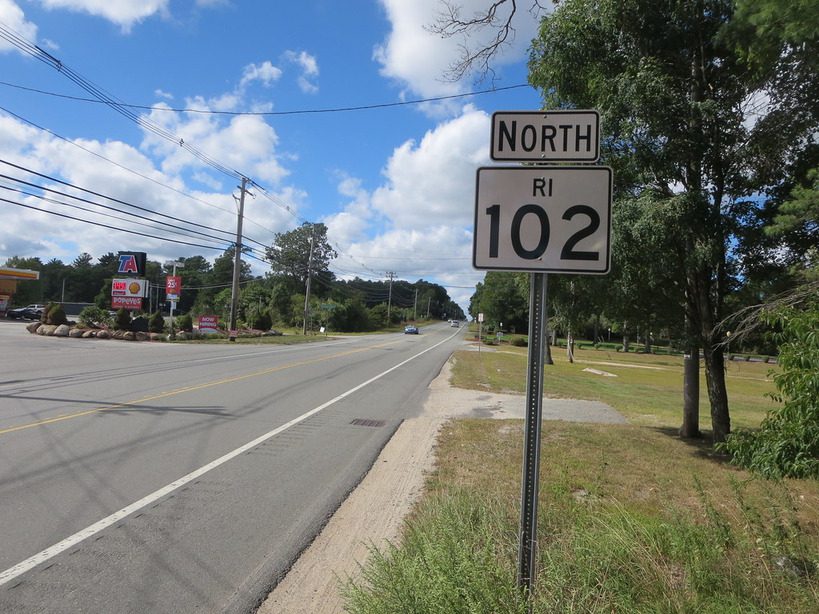 I've got a fantastic option for scenic motorcycle rides in Rhode Island: the Route 102 Scenic Corridor. Known for both its breathtaking landscapes and local charm, you're in for a treat on this journey.
April through October is the ideal time to plan your ride along Route 102. You'll enjoy mild, comfortable temperatures and the full bloom of nature, providing an amazing backdrop for your adventure.
The full distance of Route 102 is approximately 44 miles, and you should plan for about 1.5 hours to really appreciate the ride. Keep in mind, these estimates don't include stops at cool places along the way – which I definitely recommend.
Here are a few noteworthy stops on Route 102:
Cass Pond: A gorgeous body of water perfect for a photo op or rest stop
Stepping Stone Ranch: A horse ranch offering guided trail rides to explore the beautiful surrounding countryside
Wilfred's Mobility: Known for its collection of antique tricycles, if you're into quirky spots this one's for you
I'd say this ride is suitable for riders of all skill levels. The road is well-maintained, and the route doesn't present any particularly challenging twisties. That said, there's still plenty of fun to be had on this scenic corridor!
There's more to Route 102 than just its stunning landscapes. Along the way, you'll pass through quaint villages and small towns where you can stop to grab a bite or explore some local history. Whether you're a history buff or simply enjoy the charm of rural New England, these small communities offer a completely different experience from the hustle and bustle of the big cities.
4. The Foster-Westerly Journey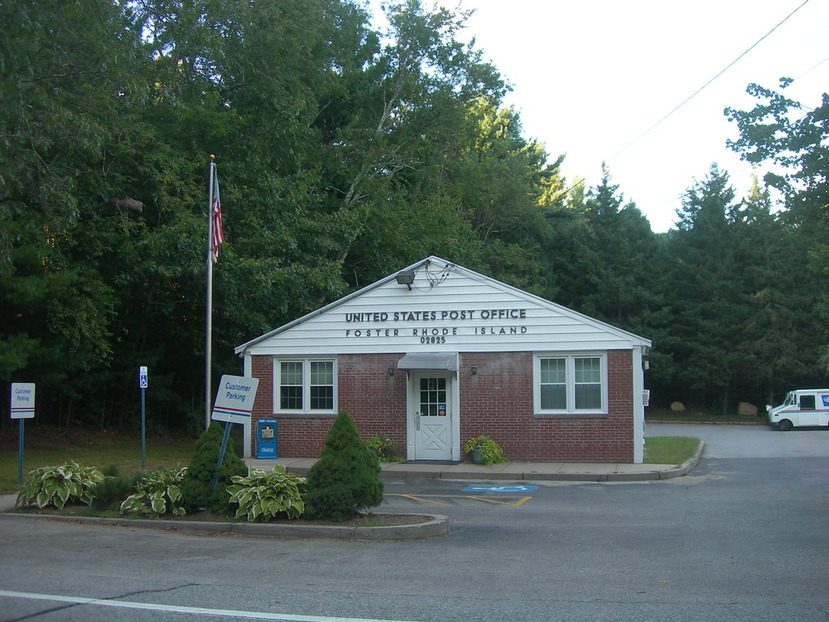 I've always found The Foster-Westerly Journey to be a fantastic ride through Rhode Island's picturesque landscape. This route offers a mix of lush forests, charming rural towns, and incredible views of the state's rolling countryside.
The ideal time to explore this route is from May to October. The weather is perfect for riding, with mild temperatures and little rain. Fall foliage is especially impressive along this journey, making October a particularly enchanting time to go.
Stretching approximately 43 miles (69 km), this captivating route usually takes about 2 hours to complete on a motorcycle. However, plan extra time to stop at the various charming points of interest along the way.
Some must-visit spots on the Foster-Westerly Journey include:
Snake Den State Park: A great place for a break with scenic hiking trails and picturesque views.
Foster Center: A quaint and historic village where you can explore local shops and cafes.
Step Stone Falls: A picturesque waterfall and swimming area perfect for a revitalizing dip on a hot day.
This route is relatively easy for most riders, with gentle curves and smooth, well-maintained roads. However, it's important to be cautious and aware of occasional wildlife crossings, particularly in the more rural areas.
Safety Tips
Be aware of local traffic laws and speed limits.
Keep an eye out for wildlife, especially deer, which are known to dart across the road unexpectedly.
Wear appropriate gear: a helmet, gloves, and a high-visibility jacket.
5. Route 77 to Sakonnet Point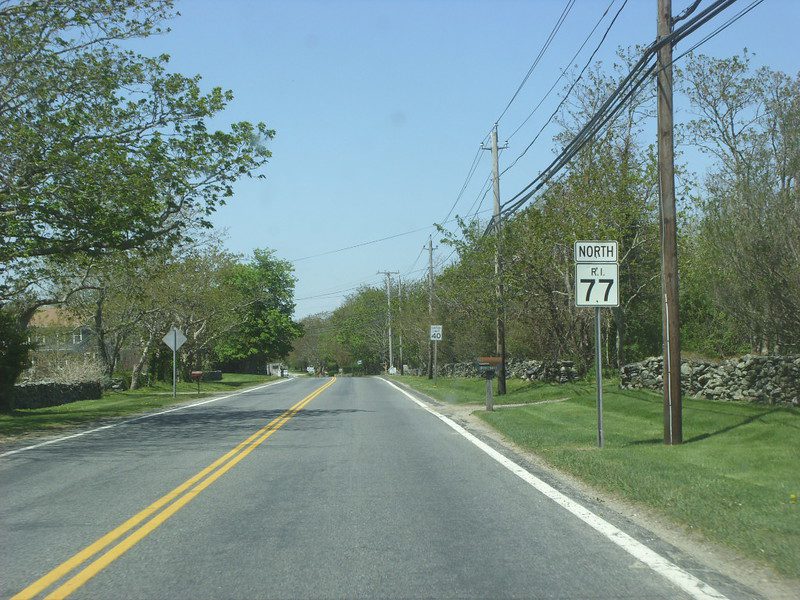 This scenic route offers stunning ocean views, picturesque farmland, and charming coastal towns. It's the perfect ride for a relaxing day trip or a weekend getaway.
The ideal time to ride this route would be between May and October when the weather is warm and sunny. Cooler temperatures and attractive foliage in the fall months also make for an enjoyable ride. Just be sure to plan around the peak tourist season of July and August.
This ride is approximately 20 miles long and takes around 45 minutes to an hour to complete, depending on how leisurely you want to ride and if you make any stops along the way.
Some highlights to stop by along this route include:
Tiverton Four Corners: A quaint and historic shopping area with unique stores, art galleries, and eateries.
Little Compton Commons: Another charming spot with a few shops, restaurants, and the must-visit Wilbor House Museum.
Sakonnet Point: A picturesque spot where you'll find hiking trails, a marina, and the striking Sakonnet Lighthouse.
| Level of Difficulty | Traffic | Road Conditions |
| --- | --- | --- |
| Intermediate | Light to moderate | Well-maintained, some curves |
As this route is popular among cyclists and visitors during the warmer months, be mindful of traffic and road conditions. Additionally, there are plenty of opportunities for photography, so don't forget to bring your camera.
6. Ocean Drive Cruise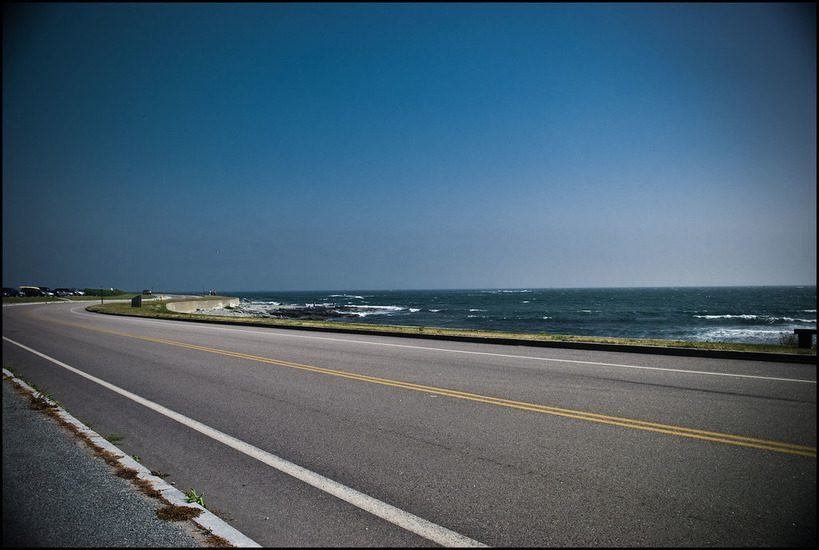 With its stunning coastal views, smooth roads, and vibrant atmosphere, this ride is a must for any motorcycle enthusiast visiting the area.
The best time to visit would be during warm months, typically between May and September, when the weather is perfect for cruising along the coastline. Riding along the 13-mile route, you'll take note that it's relatively easy, making it enjoyable for experienced riders and beginners alike.
Distance with time to travel:
Distance: 13 miles
Time: Approximately 1-2 hours, depending on stops
Places to stop:
Fort Adams State Park: A historic site and a park with great views of the Narragansett Bay.
Brenton Point State Park: Ideal for picnic breaks and looking out over the ocean.
Bellevue Avenue: Famous for its Gilded Age mansions and beautiful architecture.
The Breakers: The grandest of Newport's summer cottages and largest Vanderbilt mansion.
Level of difficulty is Easy. The Ocean Drive Cruise is suitable for all levels of riders, particularly because of its smooth roads and lack of intense curves or altitude changes.
Other Information:
Watch out for heavy traffic, as the area around Newport can get congested, especially during summer weekends.
Don't forget to fill up on gas before starting the ride, as there aren't many gas stations along the route.
Take the opportunity to explore Newport's historic downtown area after the ride – it's filled with shops, restaurants, and fascinating historical sites.
7. Diamond Hill Road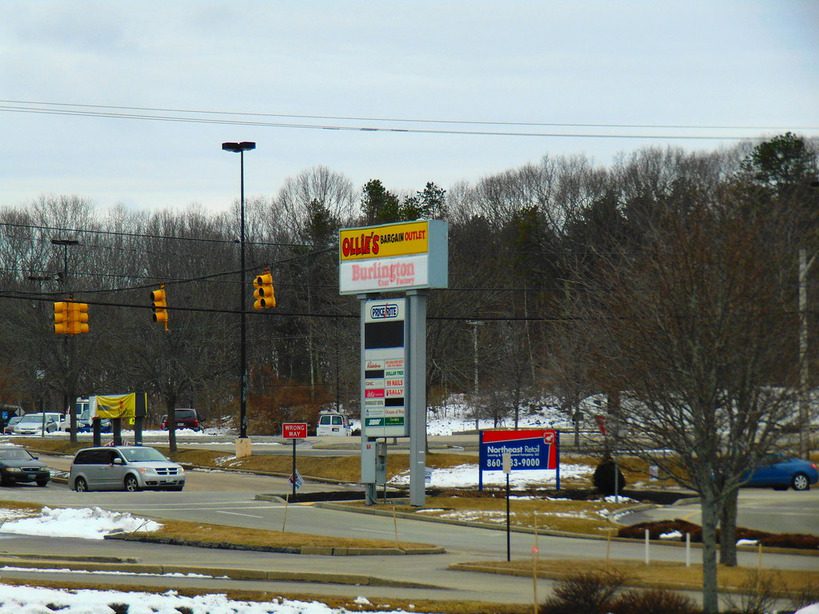 Rhode Island may be a small state, but it has its fair share of amazing motorcycle rides. One of these hidden gems is Diamond Hill Road, a twisty delight that has become a favorite among motorcyclists. Let me take you through some of the key features of this enticing route.
The optimal time to experience Diamond Hill Road is during the late spring, summer, and early fall months. These seasons provide pleasant weather and stunning foliage, making for an exhilarating ride.
Stretching approximately 15 miles, Diamond Hill Road takes roughly 20-30 minutes to ride, depending on your speed and traffic. You'll experience a variety of turns and elevation changes, making it a truly engaging journey.
There are a couple of noteworthy stops along Diamond Hill Road:
Diamond Hill Park: Just a quick detour off the main road, this park offers scenic views and the perfect spot for a break during your ride.
Ice Cream Machine: This popular ice cream spot, located near the northern end of the road, is an ideal treat on a sunny day.
Diamond Hill Road is a moderate route, suitable for riders with some experience navigating twisty roads. Its curvy nature might be challenging for beginners, but intermediate riders will find it an enjoyable challenge.
Other Information:
Road Surface: Overall, the road quality on Diamond Hill Road is good. However, riders should be aware of some uneven surfaces and occasional patches of gravel.
Traffic: Traffic on Diamond Hill Road can be moderate during peak hours, so it's best to ride early in the morning or later in the afternoon to enjoy a smoother ride.
Scenery: The verdant landscape surrounding Diamond Hill Road makes for a picturesque ride, complete with hills, valleys, and dense forests.
8. Route 1A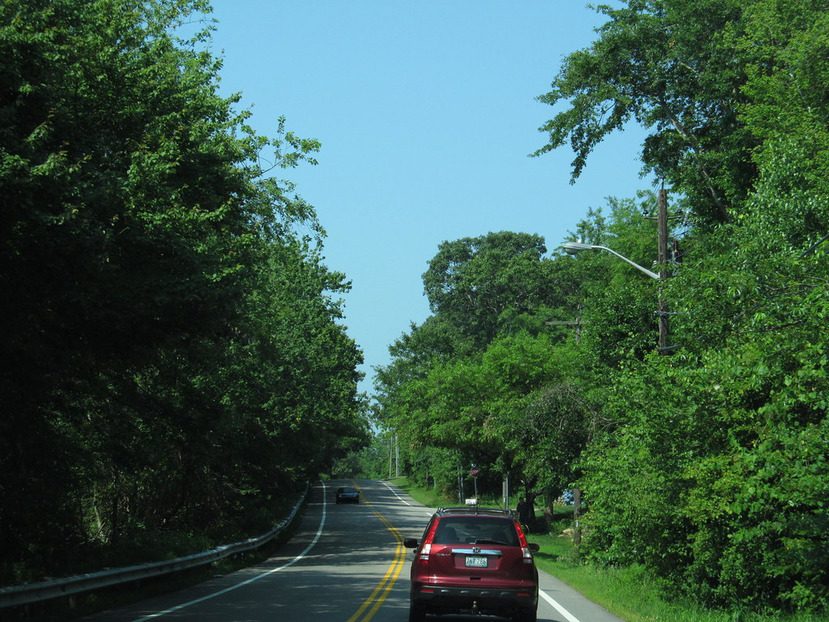 The ride is perfect for all skill levels and offers breathtaking views of the Atlantic Ocean as well as several charming coastal towns.
Ideally, the ride is most enjoyable from late spring to early fall. During this time, you'll experience warmer temperatures and have more opportunities to stop and enjoy the beaches.
Route 1A covers roughly 50 miles and can be completed in about 2 hours if you ride at a leisurely pace and make a few stops along the way. However, I suggest taking your time and enjoying the many attractions that this route has to offer.
Places to Stop:
Point Judith Lighthouse
Narragansett Beach
Scarborough State Beach
Beavertail State Park and Lighthouse
Fort Wetherill State Park
This ride is suitable for riders of all skill levels, as the road is mostly flat with some gentle curves. New riders and experienced riders alike will appreciate the ease and relaxation of this scenic ride.
Other Information:
The majority of Route 1A has a speed limit of 35-50 mph, so you'll be able to enjoy the ride without worrying about excessive speeds or dangerous curves.
Make sure you allot some time to explore the picturesque towns of Narragansett and Jamestown during your ride.
FAQs
What are some top motorcycle rides in Rhode Island?
Some Popular Motorcycle Rides Include Putnam Pike, Middletown To Newport, Backdoor To Newport, Jamestown Loop, And Scenic Route To The Narragansett Bay.
Where Can I Find Route Descriptions And Maps For The Best Motorcycle Rides In Rhode Island?
Detailed Route Descriptions And Map Links Can Be Found On Websites Such As Great Motorcycle Roads, Viking Bags, And The Haymond Law Firm.
What is the Putnam Pike motorcycle route in Rhode Island?
Putnam Pike, Also Known As Route 44, Begins In The Center Of Providence, Rhode Island, And Heads Towards The Border Of Connecticut, Offering A Scenic Ride.
What Is The Jamestown Loop Motorcycle Route In Rhode Island?
The Jamestown Loop Is A Popular Motorcycle Ride That Takes You Through Beautiful Coastal Views And Charming Town Centers On Aquidneck Island Near Newport.
How can I find more motorcycle rides and routes in Rhode Island?
Use Websites Like Motorcycle Roads, Best Biking Roads, And REVER For An Extensive List Of Motorcycle Rides And Recommended Routes In Rhode Island.
Conclusion: Ride Rhode Island
I've covered the top 8 motorcycle road rides in Rhode Island, and now it's time to wrap things up. With a mix of coastal routes and scenic countryside roads, the Ocean State is a hidden gem for motorcycle enthusiasts. To make the most of your Rhode Island riding experience, I've put together essential information, including the best times to visit, distances, travel times, and levels of difficulty.
The ideal time for a road trip through Rhode Island is from May to October. During this period, you'll enjoy pleasant weather and colorful foliage, making your rides even more enjoyable.
Along your rides, you'll find numerous places to stop, such as historic sites, state parks, beaches, and local eateries. Don't miss out on attractions like:
Fort Adams State Park
Beavertail Lighthouse
Rose Island Lighthouse
Sachuest Point National Wildlife Refuge
Goddard Memorial State Park
The rides I've listed offer a mix of levels, making Rhode Island suitable for riders of all experience levels. While some routes are more challenging than others, none of them are too demanding, allowing riders to relax and savor their time on the road.
While Rhode Island is a small state, it's important to remember that road and weather conditions can change quickly. Keep an eye on the forecast and update your route as needed. Above all, remember to ride responsibly and savor the treasures hidden within this unique New England state.
Now that you've got all the information, it's time to put on your helmet, rev up your engine, and set out on a thrilling motorcycle adventure through the picturesque roads of Rhode Island. Enjoy!
Motorcycle Rides in the US by States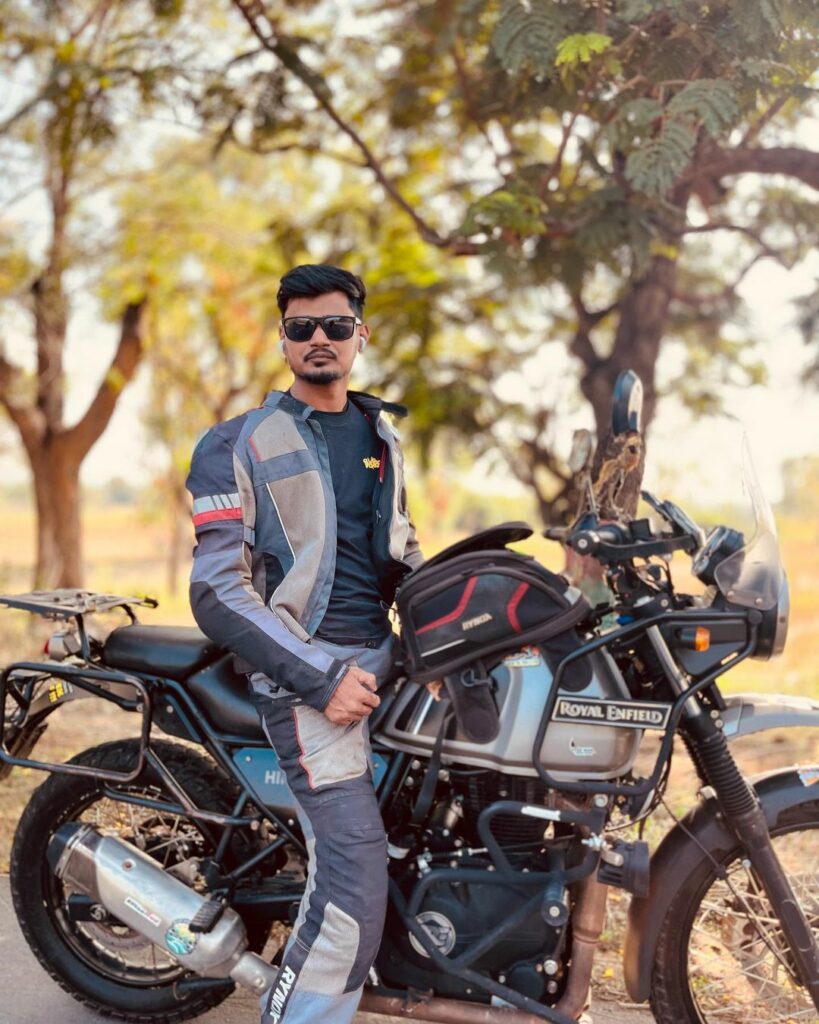 Vishwanath Mathpati
I am Vishwanath Mathpati, a full-time Blogger and Motorcyclist from Bidar, Karnataka. I love writing about my Motorcycles Stories and Riding Gears on this blog.
Know More About Me.
---
If you liked this article, then please subscribe to our YouTube Channel for more Bike Videos. You can also find us on Instagram, Twitter and Facebook.
Disclosure: As an Amazon Associate, I earn from qualifying purchases. Read more about Amazon Affiliate Disclaimer.