Top 7 Best Motorcycle Rides in Kentucky: My Ultimate Guide
As a passionate motorcyclist, I've had my fair share of unforgettable rides. When it comes to Kentucky, there's no shortage of scenic routes that'll leave you in awe of the state's natural beauty. From winding mountain passes to serene countryside roads, the Bluegrass State offers some truly amazing motorcycle rides. In this article, I'll share my top 7 best Motorcycle Rides in Kentucky.
To me, there's nothing quite like the thrill of discovering a new stretch of road on two wheels. Kentucky's diverse landscapes provide the perfect backdrop for memorable motorcycle road trips. From the Appalachian Mountains in the east to the Mississippi River in the west, there's a wide variety of environments to explore and enjoy.
Kentucky's Red River Gorge route is a striking ride across bridges, tunnels, and beautiful landscapes that bikers fondly cherish. Bordering the North, Ohio's Triple Nickel – Route 555 promises an exhilarating ride, while the southern neighbor, Tennessee, lures riders with the infamous Tail of the Dragon. To the east, the charm of the Blue Ridge Parkway in Virginia is an incredible journey. And, if you're heading west, the Trail of Tears Commemorative Motorcycle Ride in Alabama is a memorable trip. Kentucky, thus, stands as a gateway to a myriad of riding experiences across the United States. Not only will you be treated to beautiful scenery on these top 7 motorcycle road rides, but you'll also get a glimpse into Kentucky's rich history and unique culture.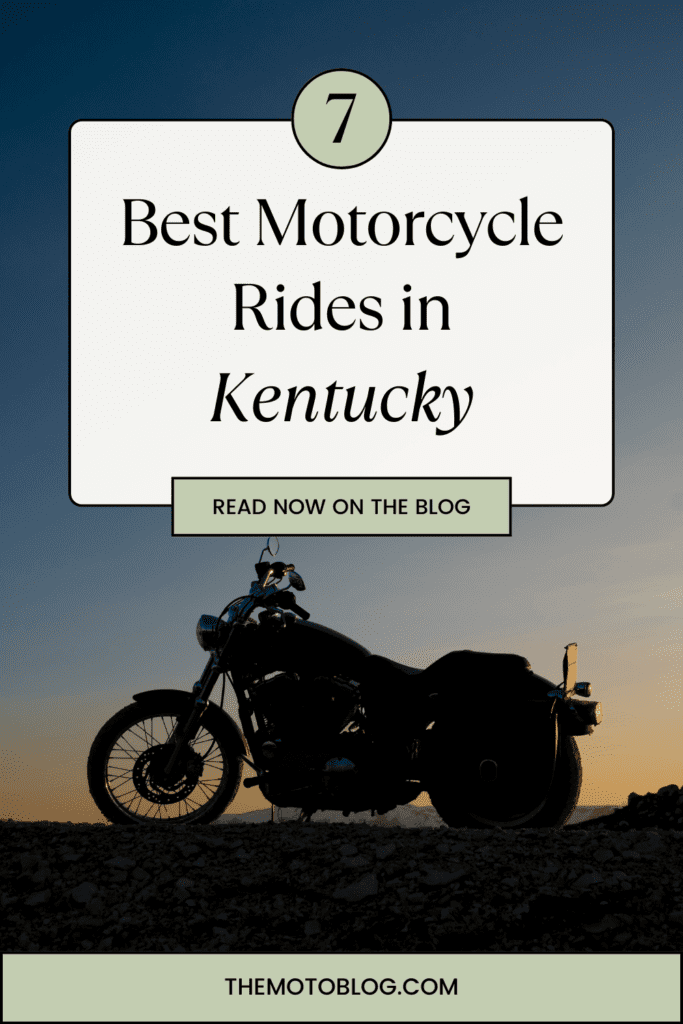 1. Red River Gorge Scenic Byway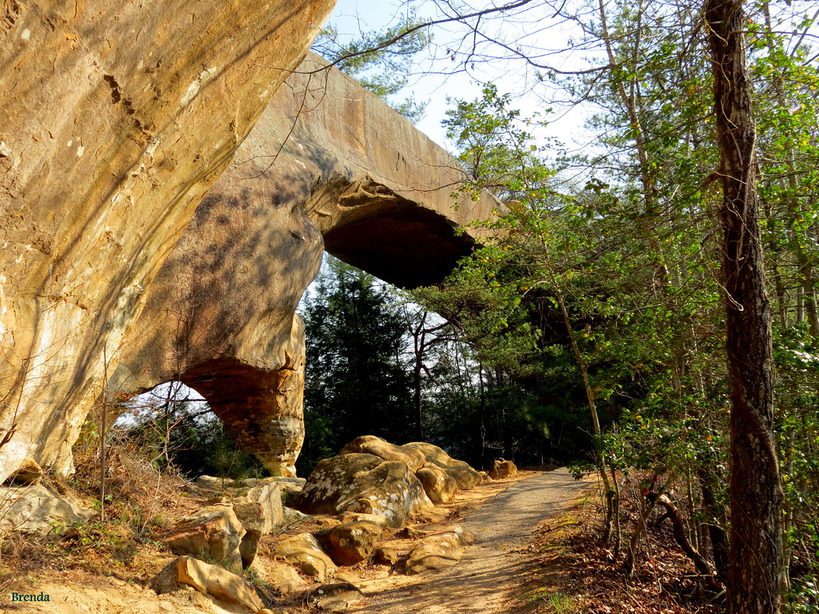 When it comes to breathtaking motorcycle rides in Kentucky, Red River Gorge Scenic Byway definitely ranks high on the list. As a motorcycle enthusiast, I'm always on the lookout for scenic routes, and this one left me in awe. Nestled in the heart of the Daniel Boone National Forest, this scenic byway offers riders an incredible experience filled with twists, turns, and picturesque views.
The ideal time to visit Red River Gorge is during the spring and fall months, when the temperatures are mild and the landscape is full of vibrant colors. However, the byway is open all year round, allowing riders to enjoy the different seasons and ever-changing beauty of the gorge.
The Red River Gorge Scenic Byway spans approximately 46 miles and takes about 1.5 to 2 hours to complete, depending on your speed and how often you stop. Keep in mind that there are numerous places to pause and appreciate the scenery, so allotting extra time is highly recommended.
There are several noteworthy stops along the Red River Gorge Scenic Byway, including:
Nada Tunnel: A 900-foot long, one-lane railroad tunnel that adds a fascinating touch to the ride.
Sky Bridge: An iconic natural sandstone arch with breathtaking views of the surrounding gorge.
Chimney Top Rock: Another stunning viewpoint atop a rocky outcrop, offering a panoramic perspective of Red River Gorge.
The roads at Red River Gorge Scenic Byway are generally well-maintained and enjoyable for most riders. However, I consider the route as having a moderate level of difficulty due to its winding nature and the potential for occasional tight turns. It's essential to remain vigilant and maintain a safe speed throughout the journey.
Aside from riding, Red River Gorge is known for its:
Outdoor recreational activities such as hiking, rock climbing, and camping
Abundance of wildflowers
Birdwatching opportunities with over 100 species of birds
2. Cumberland Valley Cruise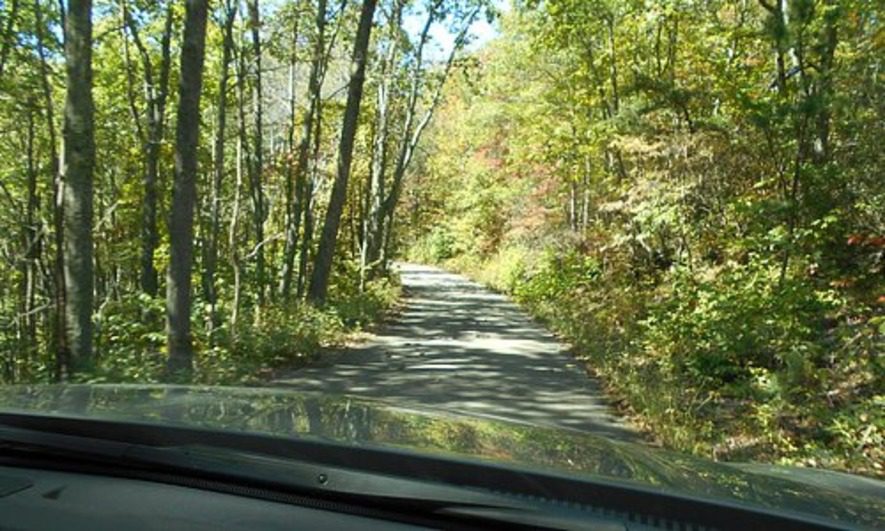 This scenic route takes you through the picturesque Cumberland Valley, offering stunning views, smooth roads, and a fantastic riding experience.
The ideal time to cruise through the Cumberland Valley is from late spring to early fall. During these seasons, the weather is generally more predictable and favorable for riding.
The Cumberland Valley Cruise covers approximately 120 miles and takes about 3 to 4 hours to complete. Here's a quick breakdown:
Along the way, there are several noteworthy stops that you shouldn't miss:
Cumberland Falls State Resort Park: Home to the impressive 68-foot Cumberland Falls, often referred to as the "Niagara of the South."
Laurel River Lake: This beautiful and serene lake is perfect for a quick break, photo opportunities, or fishing.
London, KY: A small city with a variety of restaurants, gas stations, and shopping centers to help you refuel and grab necessary supplies.
As far as difficulty goes, I'd rate this route as easy to moderate. The road conditions are generally excellent, with well-maintained asphalt surfaces and gentle curves – perfect for riders of various skill levels.
There are a few things that you should know before embarking on this motorcycle road trip:
Keep an eye out for wildlife: Deer and other animals often cross the road, particularly in the early morning and evening hours.
Watch for winding roads and blind turns: While this route is relatively straightforward, it's essential to stay focused, vigilant, and maintain safe speeds.
Fuel availability: Make sure to fill up in towns like London, KY, as there might be limited options for gas along the less populated stretches of the route.
3. U.S. Route 68: Harrodsburg to Shakertown Loop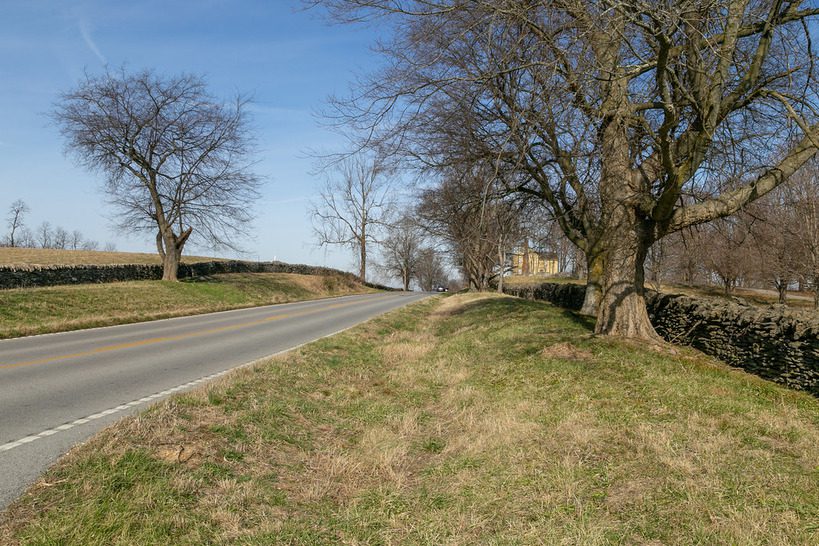 U.S. Route 68, stretching from Harrodsburg to Shakertown, is one of Kentucky's most scenic and enjoyable motorcycle rides. The route offers an incredible mix of rural landscapes, historic landmarks, and thrilling curves that make it a must-ride for all motorcycle enthusiasts.
Late spring to early fall offers the most enjoyable weather conditions for taking in the stunning sights along this route. During this period, you'll experience comfortably warm temperatures, colorful blossoms in spring, and vibrant foliage in autumn.
U.S. Route 68 spans approximately 28 miles, with the whole loop taking around an hour to complete, depending on your speed and number of stops.
Places to Stop:
Fort Harrod: Begin your ride in Harrodsburg, where you can visit Fort Harrod and immerse yourself in Kentucky's rich history.
Old Mud Meeting House: A historic site dating back to 1800, this is a great stop to stretch your legs and learn about the early settlers of the area.
Shaker Village of Pleasant Hill: As you reach the end of the loop, be sure to stop at Shaker Village, an incredibly well-preserved 19th-century community with museums, workshops, and beautiful gardens to explore.
The ride is suitable for riders of all experience levels. The route predominantly consists of gentle rolling hills and sweeping curves, perfect for a leisurely ride while soaking in the stunning scenery.
Other Information:
Remember to respect the posted speed limits and ride safely, especially when navigating the twistier sections of the route.
Be sure to check the local weather forecast before embarking on your journey, as conditions can change quickly, affecting your ride experience.
There are plenty of options for gas, food, and accommodations around the Harrodsburg and Shakertown areas, ensuring a comfortable and convenient ride.
4. Nada Tunnel Loop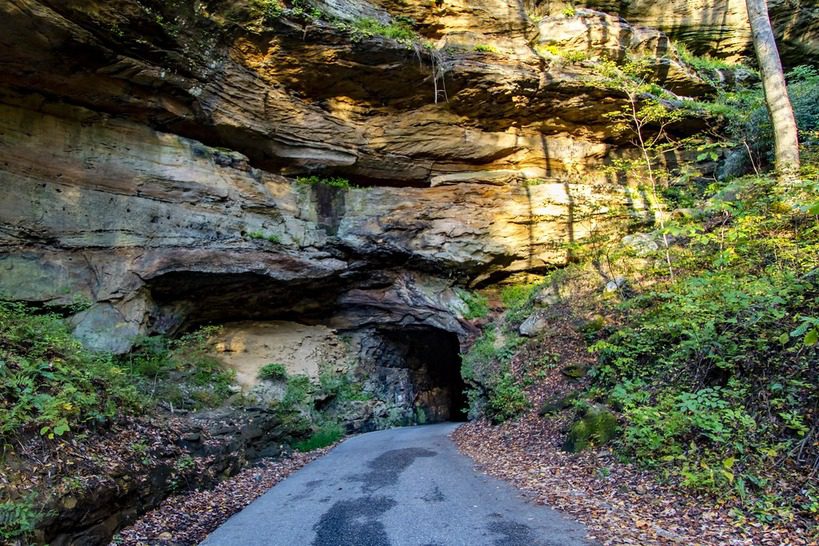 Discovering the Nada Tunnel Loop located in Red River Gorge will surely be an unforgettable experience. Motorcycle enthusiasts can relish the scenic views, winding roads, and rich history this ride has to offer. Filled with astonishing landscapes and remarkable landmarks, here's what you can expect:
To fully appreciate the beauty of the Nada Tunnel Loop, I'd recommend visiting during fall when the foliage erupts in vibrant hues of orange, red, and yellow. Riders can admire an unforgettable kaleidoscope of colors. Spring is also a great choice, as the wildflowers will be in bloom, adding splashes of color along the roadside.
The Nada Tunnel Loop is approximately 40 miles long and takes about 2 hours to complete at a leisurely pace. This gives ample time to enjoy the stunning views, challenging twists, and historic landmarks.
Some noteworthy stops along this exciting route include:
Nada Tunnel: Originally built for a railroad passage, this 900-foot tunnel is a must-see!
Sky Bridge: An impressive geological formation that offers breathtaking panoramas.
Natural Bridge State Resort Park: A fabulous detour, this park features a sandstone arch and ample opportunities to stretch your legs and enjoy the nature.
Riders will face a moderate difficulty adventure, presenting multiple twists and turns that require a moderate level of skill to navigate smoothly. The roads are generally well-maintained but can become narrow at certain stretches.
To ensure an enjoyable and safe trip, keep these tips in mind:
Pay close attention to posted speed limits and road conditions, especially around blind curves.
Keep an eye out for wildlife, as deer and other animals may cross your path unexpectedly.
Don't forget to fuel up before embarking on your journey; gas stations are sparse along the route.
As the Nada Tunnel Loop traverses through a National Forest area, always practice responsible riding etiquette and care for the environment by avoiding littering and obeying park rules.
5. Big Bone Lick State Park Loop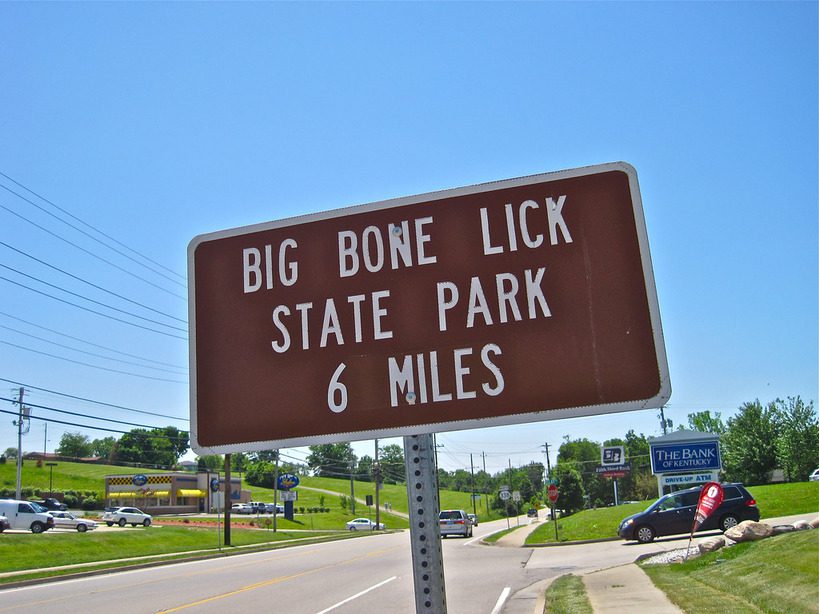 This fascinating route takes riders through a beautiful landscape, including the historic Big Bone Lick State Park.
The best time to explore the Big Bone Lick State Park Loop is during spring and fall when the weather is mild and the foliage is vibrant. The months of April through June and September through October are perfect for this ride.
The loop covers approximately 50 miles and takes around 1.5 hours to complete without stops. However, always budget extra time for any stops you'd like to make along the way, as there are plenty of attractions worth a visit.
Places to Stop:
Big Bone Lick State Park: Admire the park's preserved natural beauty and its unique prehistoric history, including mammoth fossils and trails that lead back to the Ice Age.
Rabbit Hash General Store: Established in 1831, this is the oldest general store in Kentucky and offers a wide variety of unique items.
Petersburg, KY: Stop in the charming town of Petersburg, where you'll find quaint shops and cozy cafes.
The level of difficulty for the Big Bone Lick State Park Loop is moderate. There are some twists and turns but nothing too challenging for an experienced motorcyclist. Just be prepared and stay alert!
Other Information:
Gas Stations: Be sure to fill up your tank before heading out as there are limited gas stations along the route. Petersburg is your best bet for refueling.
Packing: Remember to pack the essentials for your ride, like sunscreen, sunglasses, water, and snacks. As the weather can be unpredictable, always carry a rain jacket just in case.
Safety: Finally, prioritize safety by wearing your helmet and the proper gear. Ensure your motorcycle is well-maintained and ready for the ride.
6. Ohio River Scenic Byway: Louisville to Paducah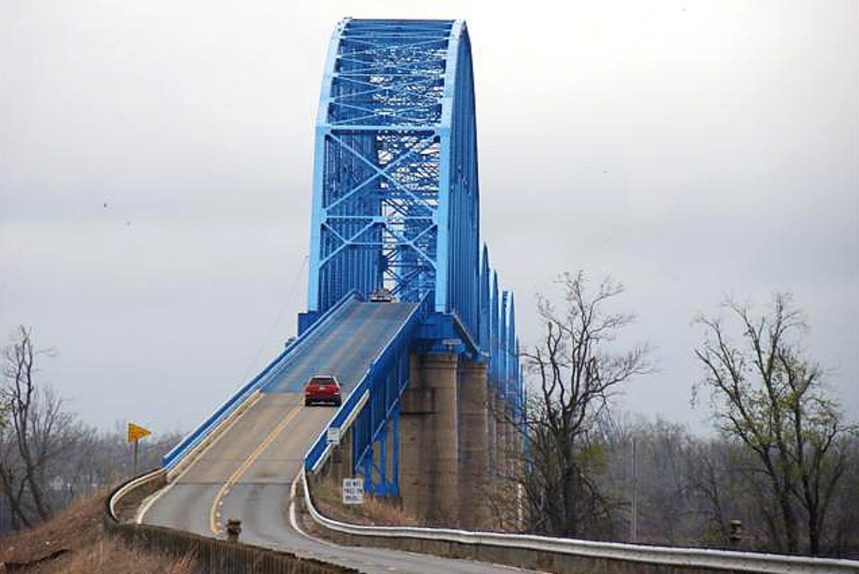 Stretching from Louisville to Paducah, this incredible route offers a diverse and thrilling experience for motorcycle enthusiasts.
The ideal time to ride the Ohio River Scenic Byway is during spring and fall. These seasons provide moderate temperatures and the most colorful landscapes, making for a picturesque journey along the river.
This fantastic route covers approximately 250 miles and can take around 5 to 6 hours to complete. However, it's not all about speed. Don't forget to allocate some time to stop and take in the stunning views or visit some of the historic towns along the way.
There are quite a few interesting places to stop during your ride:
Louisville: One of the largest cities in Kentucky, this lively and cultured metropolis also boasts a fantastic waterfront park.
Owensboro: Known as the "BBQ Capital of the World," this is a must-stop for food lovers looking to find some of the tastiest barbecue dishes.
Henderson: Enjoy a quiet break in this peaceful town, which features the John James Audubon State Park and the beautiful Riverwalk.
The Ohio River Scenic Byway is an easy to moderate ride, with mostly smooth roads and gentle twists and turns. Experienced riders may find it relatively tame, but it's perfect for those who prefer a more leisurely cruise.
Other Information
Fuel Availability: Make sure to fill up before hitting the road because gas stations can be sparse in some areas along this route.
Wildlife Warning: Keep an eye out for deer, especially during dawn and dusk, as they can sometimes wander onto the road.
Scenic Side Trip: Consider taking a quick detour to the Land Between the Lakes National Recreation Area, which offers more than 1,400 miles of shoreline and an abundance of outdoor activities.
7. Middlesboro to Pineville Trek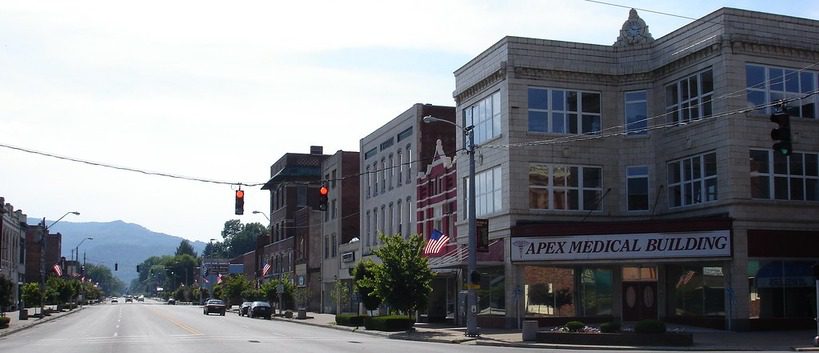 This journey provides riders with a mix of scenic beauty, thrilling curves, and rich history.
I've found that the best time to ride this route is during spring and fall. During these seasons, the mild weather combined with colorful foliage makes for a breathtaking experience. Summer can be enjoyable too, but it can get quite hot and humid.
The Middlesboro to Pineville Trek is approximately 27 miles long and takes around 45-60 minutes to complete, depending on your speed and how often you stop. But trust me, you'll want to take your time and soak in the beauty of this route.
There are several points of interest along the Middlesboro to Pineville Trek that I highly recommend stopping at:
Cumberland Gap National Historical Park: This park offers stunning vistas, picnic spots, and a chance to learn about the area's history.
Bell County Coal House: Situated in Pineville, this fascinating attraction showcases the region's mining heritage.
Chain Rock Overlook: A short detour leads to this scenic overlook with views of Pineville and the surrounding mountains.
This ride is graded as an intermediate level route. While the road conditions are generally good, it does include a few sharp curves, steeper inclines, and some narrow sections that could be challenging for less experienced riders.
Apart from the natural beauty this trek offers, it also takes you through the Cumberland Gap Tunnel. While riding through the well-lit tunnel is a fun experience, remember that the speed limit inside the tunnel is strictly enforced at 45 miles per hour.
It's important to note that cell phone reception can be spotty along this route, so be sure to plan ahead and download offline maps or carry a physical map just in case. Lastly, I must mention that you should always respect the local wildlife and be mindful of deer and other animals that could potentially cross the roadway.
FAQs
What are some of the best motorcycle rides in Kentucky?
Some Of The Best Motorcycle Rides In Kentucky Include The Big Lick Ride/Ohio River, Route 10 Country Tour, Rabbit Hash Ride, Route 32 – Morehead To Louisa, And Cave Run Lake Loop.
What is the Red River & Nada Tunnel motorcycle ride?
The Red River & Nada Tunnel Motorcycle Ride Is A Scenic Route In Kentucky That Takes Riders Through The Red River Gorge And The Historic Nada Tunnel, Offering Breathtaking Views And An Exciting Riding Experience.
What are some recommended resources for finding motorcycle rides in Kentucky?
Websites Like MotorcycleRoads.com, REVER, And BestBikingRoads.com Offer Detailed Information On Top Motorcycle Rides In Kentucky, Including Maps, Route Descriptions, Photos, And User Reviews.
What can riders expect to see while riding through Kentucky?
Kentucky Motorcycle Riders Can Expect To Experience Diverse Landscapes, Including Rolling Hills, Sweeping Curves, Beautiful Farmland, Picturesque Lakes, And Stunning Forested Areas Such As The Daniel Boone National Forest.
What are some attractions or points of interest along Kentucky motorcycle routes?
Attractions Along Kentucky Motorcycle Routes Include The Cumberland Gap National Park, Land Between The Lakes National Recreation Area, Rabbit Hash Historic Town, Natural Wonders Like Red River Gorge, And Various Scenic Byways And Parks For Riders To Explore.
Wrapping Up the Journey: Kentucky's Best
After exploring the top best motorcycle rides in Kentucky, it's evident that this beautiful state has so much to offer to motorcyclists who crave adventure, stunning natural landscapes, and thrilling twists and turns. Let's recap some of the essential information to keep in mind while planning your motorcycle journey.
Best Time to Visit:
Spring (April to May): Mild weather and colorful blooms create ideal riding conditions.
Fall (September to October): Cooler temperatures and vibrant foliage enhance the overall experience.
Some must-visit stops along these routes include:
Historical sites (Pioneer Village, Indian Fort Theater)
Nature attractions (Natural Bridge State Park, Cumberland Falls)
Local eateries and distilleries (Abby of Gethsemani, Bardstown Bourbon Company)
Most of these routes comprise a mix of easy and moderate riding, with some challenging twists and turns in certain areas. Riders should be prepared for a well-rounded experience that caters to different skill levels.
Other Information:
Don't forget to bring your camera to capture the beautiful vistas and charming attractions you'll come across.
Ensure your motorcycle is in good working condition before embarking on long rides.
Always adhere to local traffic laws and regulations.
Now that we've covered everything, you're ready to embark on an unforgettable motorcycle journey through the beautiful Bluegrass State. Happy riding!
Motorcycle Rides in the US by States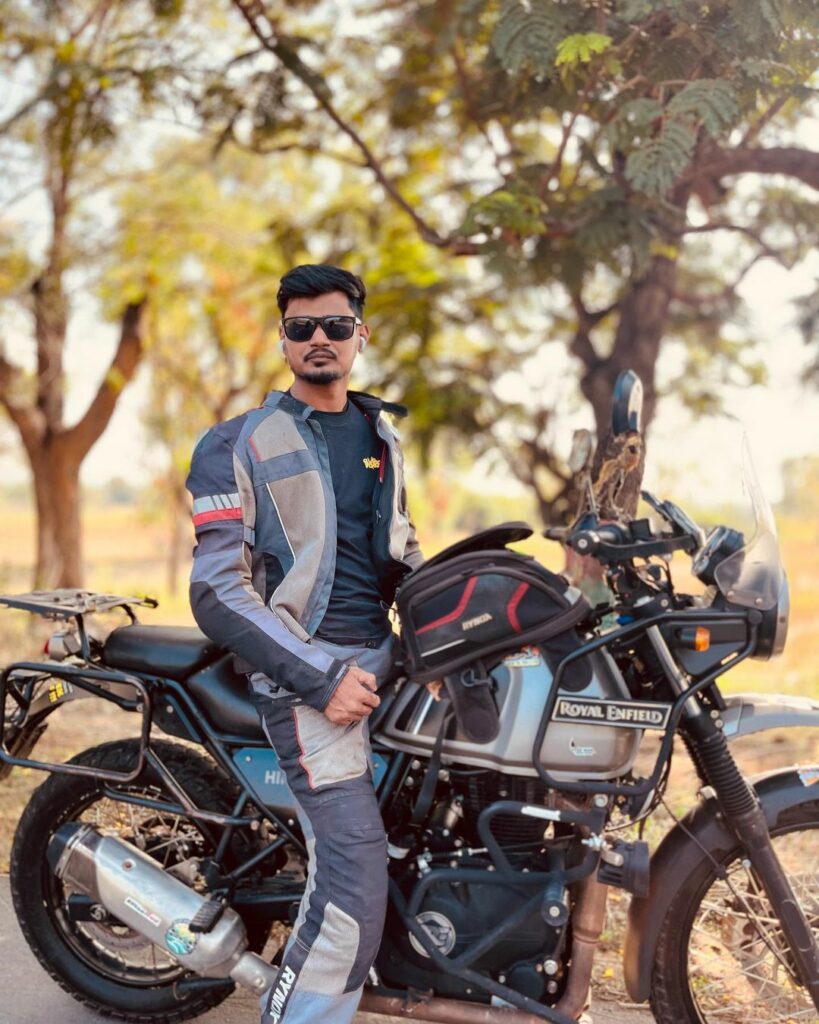 Vishwanath Mathpati
I am Vishwanath Mathpati, a full-time Blogger and Motorcyclist from Bidar, Karnataka. I love writing about my Motorcycles Stories and Riding Gears on this blog.
Know More About Me.
---
If you liked this article, then please subscribe to our YouTube Channel for more Bike Videos. You can also find us on Instagram, Twitter and Facebook.
Disclosure: As an Amazon Associate, I earn from qualifying purchases. Read more about Amazon Affiliate Disclaimer.