Top 8 Best Motorcycle Rides in Vermont: The Ultimate Guide
With its picturesque landscapes and winding country roads, Vermont is the perfect destination for motorcycle enthusiasts. Whether you're looking for the thrill of challenging curves or seeking a relaxing ride through quintessential New England, this small yet diverse state has you covered. In this article, I'll talk about my top 8 motorcycle rides in Vermont that you shouldn't miss if you're a fan of two-wheeled adventure.
From the scenic Green Mountains to the charming small towns, riding through Vermont is a refreshing experience for both seasoned and novice riders alike. Being a motorcyclist myself, I can attest to the allure of Vermont's captivating countryside and its varied terrain. The state offers a mix of lush forests, shimmering lakes, and peaceful meadows, making it an ideal playground for riders to explore and create lasting memories.
Vermont is not just about maple syrup and skiing, it's also a motorcycle rider's dream, with a vast network of idyllic roads. The Green Mountain Byway provides a mesmerizing ride through the heart of Vermont, from Waterbury to Stowe, showcasing a mix of quaint villages and spectacular mountain views. Bordering states also offer unforgettable rides. New Hampshire's Kancamagus Highway offers riders an exhilarating journey through the heart of the White Mountains.
In Massachusetts, experience the beautiful countryside with the Mohawk Trail, one of the best-known rides in the state. Heading west, New York's Catskill Preserve offers a blend of natural beauty and smooth roads. In the north, the Champlain Islands in Quebec, Canada, present a serene ride along Lake Champlain's shores. These neighboring routes offer riders an opportunity to experience a variety of landscapes, promising excitement and natural splendor in equal measure.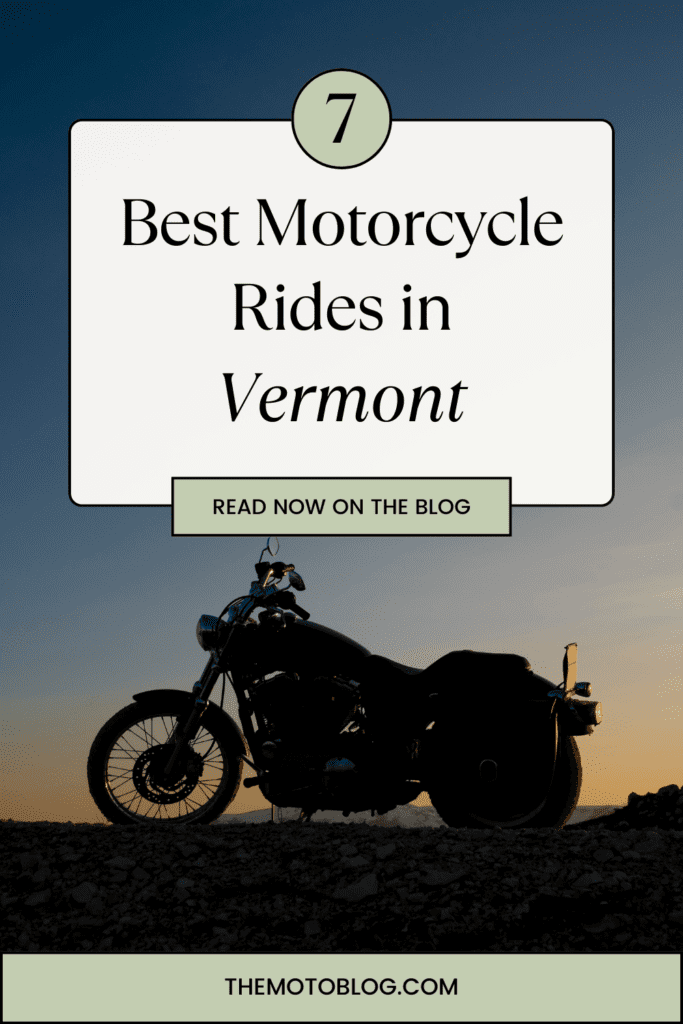 1. Green Mountain National Forest Loop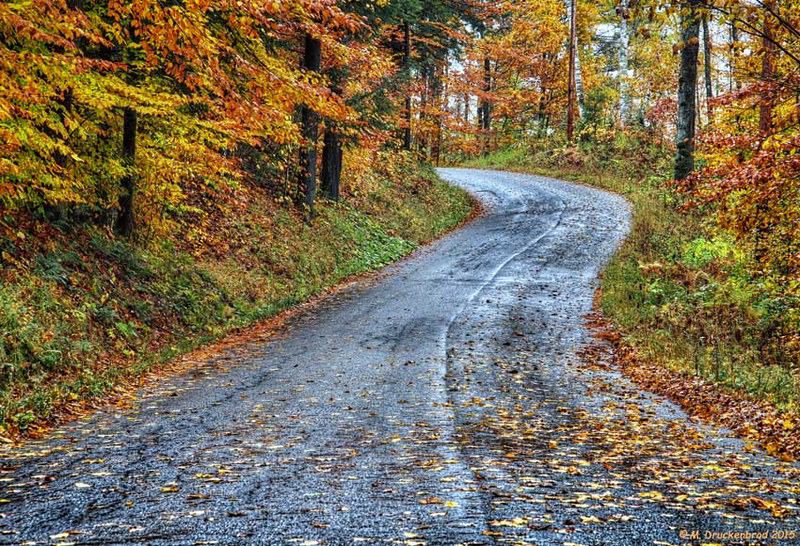 Vermont is known for its picturesque landscapes, and there's no better way to explore the beauty than on a motorcycle ride through the Green Mountain National Forest Loop. This ride offers so much to see and experience, from rolling hills to sweeping valleys. The trip begins in the charming town of Bennington, and takes you across a winding 145-mile route that's an absolute must-visit for motorcycle enthusiasts.
As a rider, I recommend planning your trip between May and October, when the weather is ideal and the fall foliage is at its peak. During this time, the vibrant colors will accompany you as you ride through the forest, creating a truly unforgettable experience.
Covering approximately 145 miles, this loop can be comfortably completed in one day of riding, with time to spare for lunch or coffee breaks and taking in the sights. However, if you prefer a more leisurely pace, then consider spreading the trip out over two days, allowing for ample time to relax and truly enjoy the scenery.
Places to Stop:
Bennington: Begin your ride at the southern gateway to Vermont's Green Mountains and explore the local attractions like the Bennington Museum and the Old First Church.
Grafton: A beautiful historic village with charming inns and unique shops – the perfect place for a lunch stop.
Killington: Renowned for its skiing in winter, Killington is worth a visit to experience its picturesque mountain views and vibrant summer atmosphere.
This route is ideal for riders with intermediate to advanced skills, as you'll encounter a variety of road conditions, including some challenging twists and turns. If you're a newer rider, be prepared to take it slow and approach the route with caution.
The Green Mountain National Forest Loop is undoubtedly one of Vermont's top motorcycle routes. To ensure you have a safe and enjoyable ride, remember to check your motorcycle's tire pressures, oil levels, and other essentials before hitting the road. Additionally, keep an eye out for any wildlife crossing the road and watch your speed around blind corners, as they can be quite sharp at times.
2. The Scenic Route 100 Byway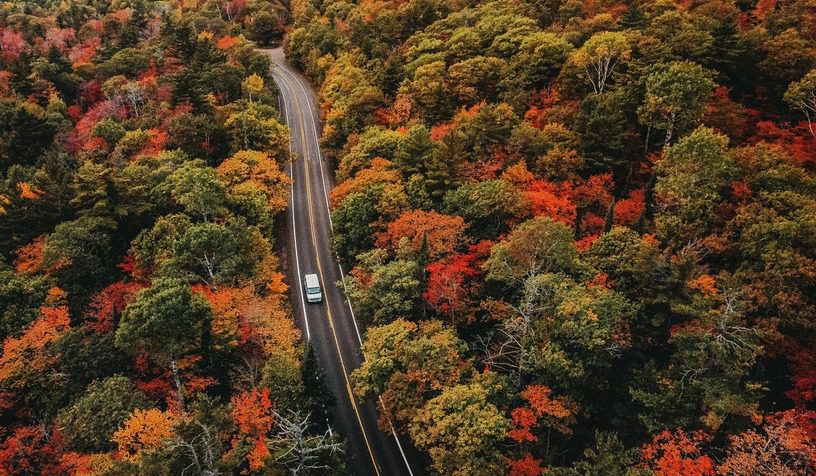 The Scenic Route 100 Byway is a true gem when it comes to motorcycle road rides in Vermont. The byway is an iconic route that meanders through the spine of the Green Mountains, showcasing jaw-dropping scenery and delivering the quintessential Vermont experience. It's a ride you don't want to miss!
The optimal time to ride the Scenic Route 100 Byway is from late spring through early fall. You'll find the best weather conditions during these months, enhancing your experience with comfortable temperatures, sunny skies, and the vibrant colors of nature.
The Scenic Route 100 Byway extends for approximately 216 miles through the heart of Vermont. On average, it takes about 5 to 6 hours to traverse this beautiful stretch of road. Keep in mind that this time can vary depending on the number of stops and the pace at which you choose to ride.
Along the Scenic Route 100 Byway, you'll encounter numerous charming towns and attractions that are worth a stop. Some favorites include:
Waitsfield and Warren: Located in the beautiful Mad River Valley, these neighboring towns offer a quintessential Vermont experience with lovely shops, farmer's markets, and breathtaking landscapes.
Ben & Jerry's Factory: A brief detour from Route 100 in Waterbury gets you to the famous ice cream factory where you can indulge in a sweet treat and learn about the company's history.
Moss Glen Falls: Just south of Stowe, this picturesque waterfall offers a fantastic photo opportunity and a chance to stretch your legs.
The Scenic Route 100 Byway is considered to be a moderate ride. The road is well-maintained, with occasional twists and turns. Inexperienced riders should exercise caution, especially on the more challenging sections of the route. However, this ride is enjoyable for riders of various skill levels.
Safety is paramount when riding a motorcycle, so be sure to adhere to the following guidelines:
Wear appropriate gear: helmet, gloves, and protective clothing.
Stay within your skill level and be mindful of your surroundings.
Check weather conditions before embarking on your journey.
Refuel at appropriate intervals to avoid running out of gas.
3. Mount Equinox Skyline Drive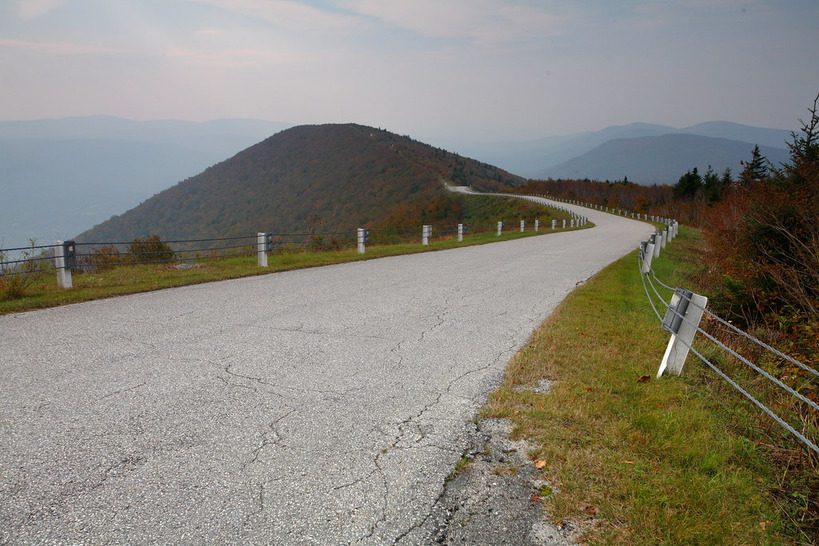 Mount Equinox Skyline Drive promises an unforgettable motorcycle ride. As an avid motorcyclist, I can assure you that this scenic ride will dazzle you with its sweeping curves, unparalleled views, and challenging climbs.
It's ideal to visit Mount Equinox Skyline Drive between late spring and early fall. During these months, the weather is pleasant, and the roads are usually in good condition. I would avoid the winter months, as snow and ice can make for hazardous riding conditions.
The ride up the mountain is approximately 5.2 miles long, with an elevation gain of about 3,235 ft. The ascent takes around 20-30 minutes to climb, depending on your riding skills and speed.
Along this fantastic route, you'll find a few great spots to take a break and enjoy the view.
Mount Equinox Summit: At the top of your climb, you'll reach the summit, where you'll be rewarded with breathtaking panoramic views.
Skyline Drive Visitor Center: Don't miss the visitor center for some great information about the area and an opportunity to stretch your legs.
Lookout Rock: Just below the summit, Lookout Rock offers stunning views of Manchester Village and the valley below.
I'd rate this ride as moderate to difficult due to the winding roads and steep inclines. It's an enjoyable challenge for experienced riders but might prove a bit much for beginners.
Other Information:
There's an admission fee of $20 per motorcycle to access Skyline Drive. The funds raised help maintain the road and support environmental conservation efforts.
Make sure to check the weather conditions before embarking on your journey – fog, rain, and high winds can result in a limited view from the summit and potentially unsafe riding conditions.
Fuel up before you hit the road, as there are limited fuel stations in the area.
If you are looking for a longer ride, consider connecting to nearby Route 7A or Route 30, which offer more beautiful Vermont scenery.
4. Lake Champlain Islands Cruise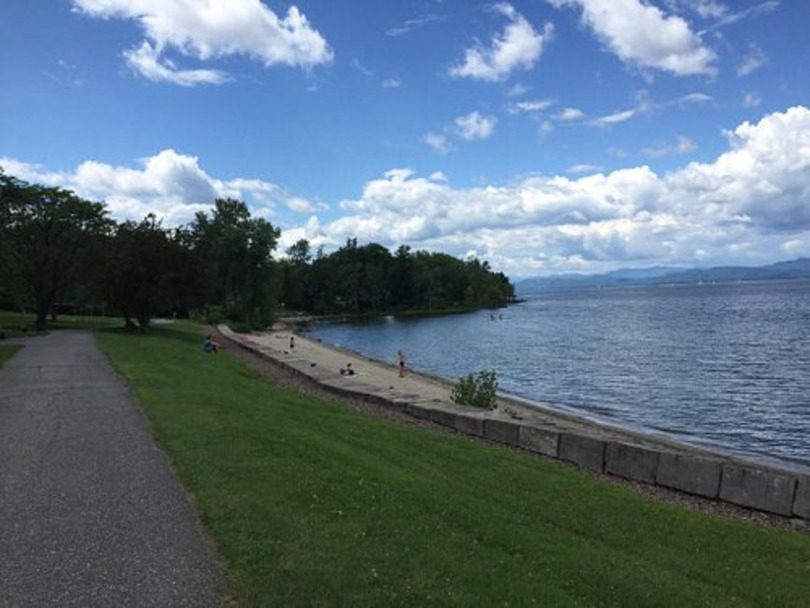 This ride takes you through a collection of beautiful islands connected by bridges, providing picturesque views of the lake and surrounding mountains. It's a truly unforgettable experience.
The ideal time for this ride is between May and October, when the weather is warm, allowing you to fully enjoy the charming scenery.
The Lake Champlain Islands Cruise covers approximately 60 miles and takes about 2 hours to complete, without factoring in stops along the way.
Lake Champlain Islands Cruise has some fantastic places to stop and explore. Some of my top recommendations include:
Knight Point State Park: With a beautiful beach and picnic areas, it's a great spot to relax and take in the views.
North Hero State Park: A popular destination for fishing and paddling, this park also offers campsites and beautiful walking trails.
Isle La Motte: Home to the famous St. Anne's Shrine, this island village is steeped in history and offers a peaceful retreat.
This ride is relatively easy, making it accessible for riders of all skill levels. The roads are well-maintained and generally less crowded than other routes in Vermont, allowing you to enjoy the ride at a comfortable pace.
Other Information
A ferry ride is available for those who'd like to extend their ride to connect with the Adirondack Coast in New York. This will provide stunning views of the Adirondack Mountains and an opportunity to discover charming New York towns.
The islands offer various dining options and local food stands, where you can savor some delicious local cuisine while taking a break from riding.
Since it's a popular summer destination, accommodations are plentiful, including campgrounds, B&Bs, and rental cottages.
5. Lake Willoughby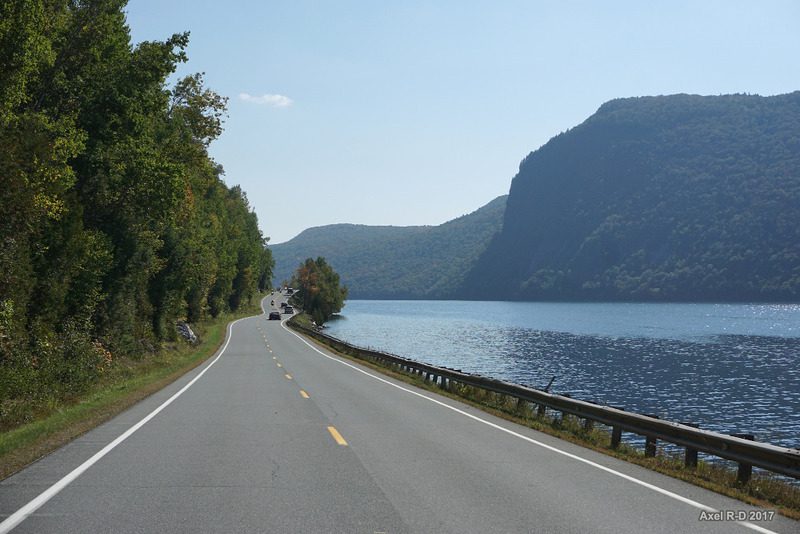 Stretching from Westmore to Orleans, this unforgettable ride takes you along the lake's scenic shoreline, providing picturesque views and exciting turns throughout the journey.
The ideal time to visit Lake Willoughby is during the late spring to early fall months. During this period, the weather is pleasant, allowing for a comfortable and enjoyable ride. Moreover, the foliage around the lake adds vibrant colors to the already beautiful landscape.
The Lake Willoughby route is approximately 20 miles (32 km) long, and you can easily cover it within 1 hour. However, I would highly recommend allocating extra time for photo opportunities, rest stops, and the chance to take in the breathtaking views.
Along the way, there are several stops you might want to consider:
Lake Willoughby North Beach: A beautiful spot to get off your motorcycle and admire the serene lake waters, while taking in the panoramic views of the surrounding forests and hills.
Willoughby State Forest: A great spot for a picnic or a short hike, and a wonderful place to learn about the region's flora and fauna.
Brownington Village: This charming village boasts historic homes and the Old Stone House Museum, perfect for a quick stroll and a taste of local history.
I consider the Lake Willoughby route to be of moderate difficulty, due to its twisty turns and few steep inclines. It is suitable for riders with some experience, but I would not recommend it for beginners. As always, proceed with caution and follow posted speed limits to ensure a safe ride.
Keep in mind that the Lake Willoughby route is a popular destination for cyclists and tourists, so you can expect to encounter some traffic during peak seasons. Also, there are no fuel stations along the route, so be sure to fill up your tank prior to embarking on this unforgettable adventure.
6. The Appalachian Gap: Route 17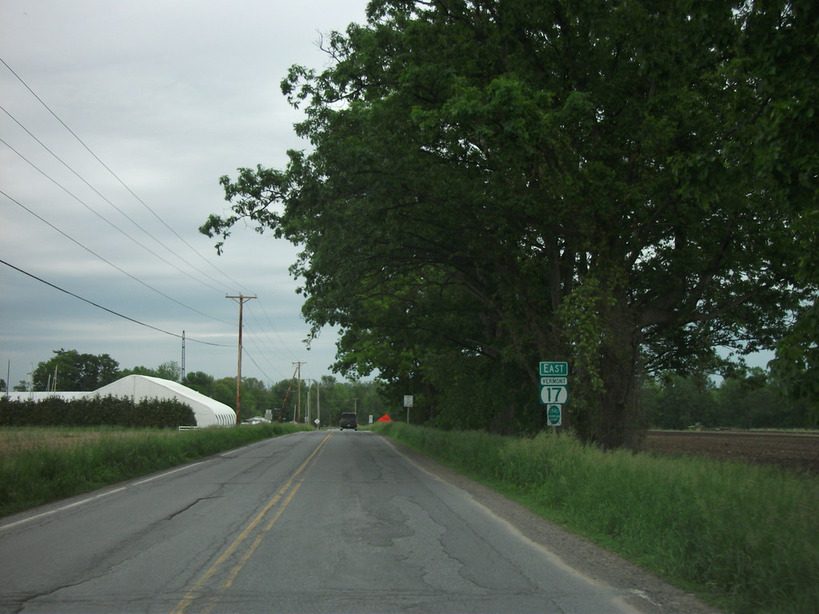 Riding through the Appalachian Gap on Route 17 is an exhilarating experience I highly recommend for motorcycle enthusiasts who want to explore Vermont's scenic beauty. The route stretches across the Green Mountains and offers some of the most breathtaking views in the state.
Ideally, you'll want to experience the Appalachian Gap during the late spring, summer, or early fall. In these seasons, the roads are clear and the weather is likely to be more favorable for a comfortable ride. Avoid visiting during winter months, as the snowy and icy conditions can make the ride both dangerous and less enjoyable.
The total distance covered by this magnificent ride is approximately 50 miles, which takes about 1 to 2 hours to complete, depending on your speed and the number of stops you make along the way. Be sure to allow some additional time for sightseeing and rest breaks.
During your ride on Route 17, there are several notable stops worth making, including:
Mad River Glen: A popular ski resort, where you can stretch your legs and grab a bite to eat at their cozy café.
Waitsfield: A charming town that offers local artisan shops and some delicious dining options.
Bristol: Another picturesque town on your journey, perfect for a quick rest stop and stroll around.
Route 17's Appalachian Gap is considered to be a moderate difficulty ride. While it's generally not too challenging for experienced riders, it does feature some sharp twists and turns, requiring a decent level of skill and alertness. Newer riders should take extra caution and allow for more time to navigate the curves safely.
Before embarking on your ride, be aware that some sections of the route are known for their gravel patches. Keep an eye out for these, especially when navigating the sharper turns.
7. The Historic Route 7A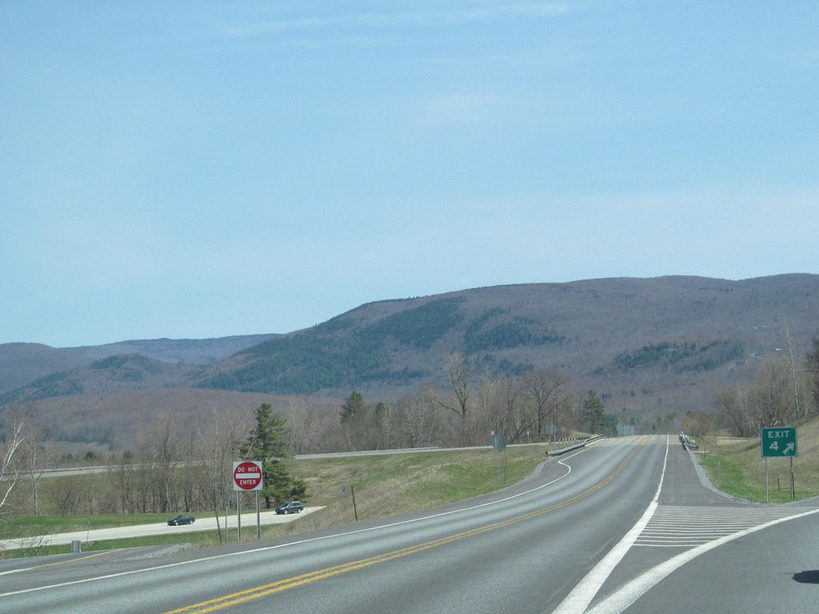 This picturesque route stretches between Manchester and Bennington, passing through several small charming towns, and offering plenty of great stops along the way.
Fall is the ideal season to experience the full beauty of this route, with the vibrant foliage creating a stunning backdrop. However, it's a great ride anytime between late spring and early fall.
The Route 7A motorcycle ride spans approximately 30 miles, and it typically takes about an hour to complete, not accounting for stops.
Places to Stop:
Arlington: Stop in the quaint town of Arlington to visit the Norman Rockwell Exhibit.
The Robert Frost Stone House Museum: Explore the former home of the famous poet, Robert Frost.
Hemmings Motor News Car Lover's Oasis: A must-see for automobile enthusiasts, located in Bennington.
The ride isn't particularly challenging, making it suitable for both experienced and beginner riders. The route features a few tight turns and elevation changes, but overall, it's a smooth and enjoyable ride with a good road surface.
Other Information:
Make sure to have a full tank of gas, as services are limited along the way.
In Bennington, don't miss the Bennington Battle Monument, which commemorates the Revolutionary War battle fought nearby.
8. Southern Vermont's Molly Stark Byway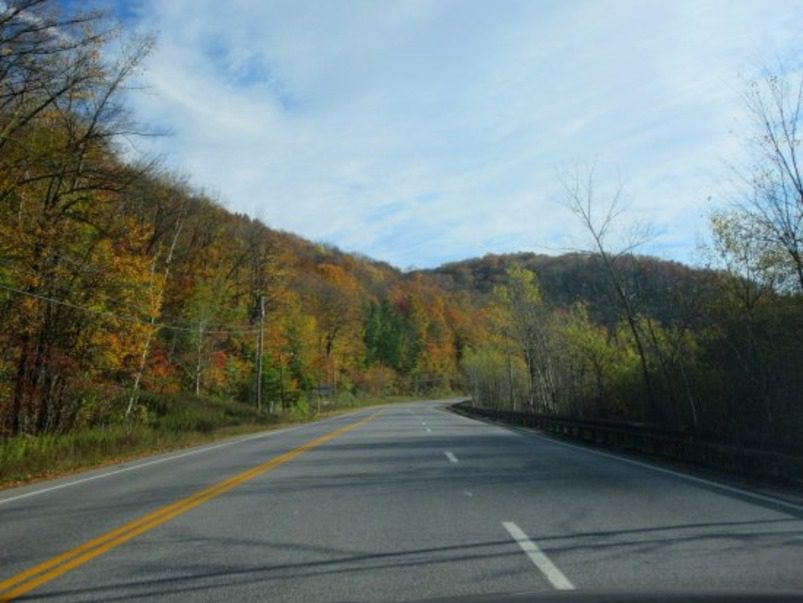 As a motorcycle enthusiast, I find myself constantly on the lookout for the best scenic rides. One of the top routes for motorcycle riders in Vermont is the Molly Stark Byway. It's a picturesque trip that takes you through the beautiful Southern Vermont countryside, with plenty of incredible stops and captivating scenery along the way.
The ideal time to ride the Molly Stark Byway is during the fall foliage season. From late September to early October, you'll experience the spectacular colors of the changing leaves, adding to the natural beauty of the surrounding landscape.
Traveling the Molly Stark Byway covers approximately 48 miles and takes about 1.5 hours to complete without stops. It's a manageable distance for most motorcycle riders, even those relatively new to the hobby.
The Molly Stark Byway provides numerous opportunities to take in the scenery, as well as immerse yourself in the region's history. Some popular stops along the route include:
Wilmington: A charming historic village with local shops, cafes, and galleries.
Hogback Mountain Scenic Overlook: Offering panoramic views of Southern Vermont's mountains and valleys.
Bennington Battlefield: Explore the site of a Revolutionary War battle that took place in 1777.
Riding the Molly Stark Byway is considered to be a moderate adventure. With twists, turns, and occasional elevations, this route demands focus and experience. However, it is still suitable for riders who are comfortable navigating such conditions.
When setting out on this ride, it's useful to keep the following points in mind:
The Molly Stark Byway primarily follows Route 9 between Brattleboro and Bennington.
Take note of gas stations along the way, as they can be few and far between.
Be aware of wildlife crossing the roads, particularly during dawn and dusk hours.
FAQs
What are the top 5 motorcycle rides in Vermont?
The Top 5 Motorcycle Rides Are The Green Mountain Byway, Lake Champlain Byway, Molly Stark Byway, Mad River Byway, And Route 30 (Middlebury To Poultney).
How Long Is The Dirt Road Highway In Vermont?
The Dirt Road Highway In Vermont Is 64 Miles Long.
What is the Killington Twist?
The Killington Twist Is A Popular Motorcycle Route In Vermont Known For Its Winding Roads And Scenic Views.
What Does The Scenic Route 100 Byway Cover In Vermont?
The Scenic Route 100 Byway Covers Virtually The Entire State In A Route That Runs North/South, Passing Through Picturesque Landscapes.
What are the main attractions in Vermont for motorcycle riders?
Main Attractions Include Mt. Mansfield State Park, Scenic Byways, And Picturesque Landscapes, Offering A Mix Of Low-Traffic Roads, Country Sweepers, And Technical Twisties.
Concluding the Vermont Motorcycle Journey
Vermont offers some of the best motorcycle road rides in the country, and I've thoroughly enjoyed exploring these diverse routes. Each one holds a special appeal, with scenic views, unique challenges, and interesting stops along the way. Before wrapping up this journey, let's take a moment to summarize what we've learned about these top 8 routes.
Best Time to Visit:
Late spring through early fall is the ideal time to ride in Vermont, as the weather is generally mild and pleasant during these months.
Fall foliage season (usually mid to late September, peaking in October) provides breathtaking views but can bring higher traffic.
Places to Stop:
Ben & Jerry's Factory (Green Mountain Byway)
Woodstock Covered Bridge (Southern Vermont Byway)
Greenbank's Hollow Covered Bridge (Appalachian Gap Loop)
Level of Difficulty:
Easier routes: Green Mountain Byway, Lake Champlain Islands Tour, Southern Vermont Byway
Intermediate routes: RT 100 – Vermont's 'Skiers Byway', Appalachian Gap Loop
Other Information:
Always plan ahead and check the weather conditions before embarking on a motorcycle road ride.
Adhere to local speed limits and exercise caution, particularly on more challenging routes.
Keep in mind seasonal changes, as certain routes may be closed or have limited services during the offseason.
With this knowledge in hand, I hope you're inspired to gear up and experience these stunning motorcycle road rides in Vermont. Happy riding!
Motorcycle Rides in the US by States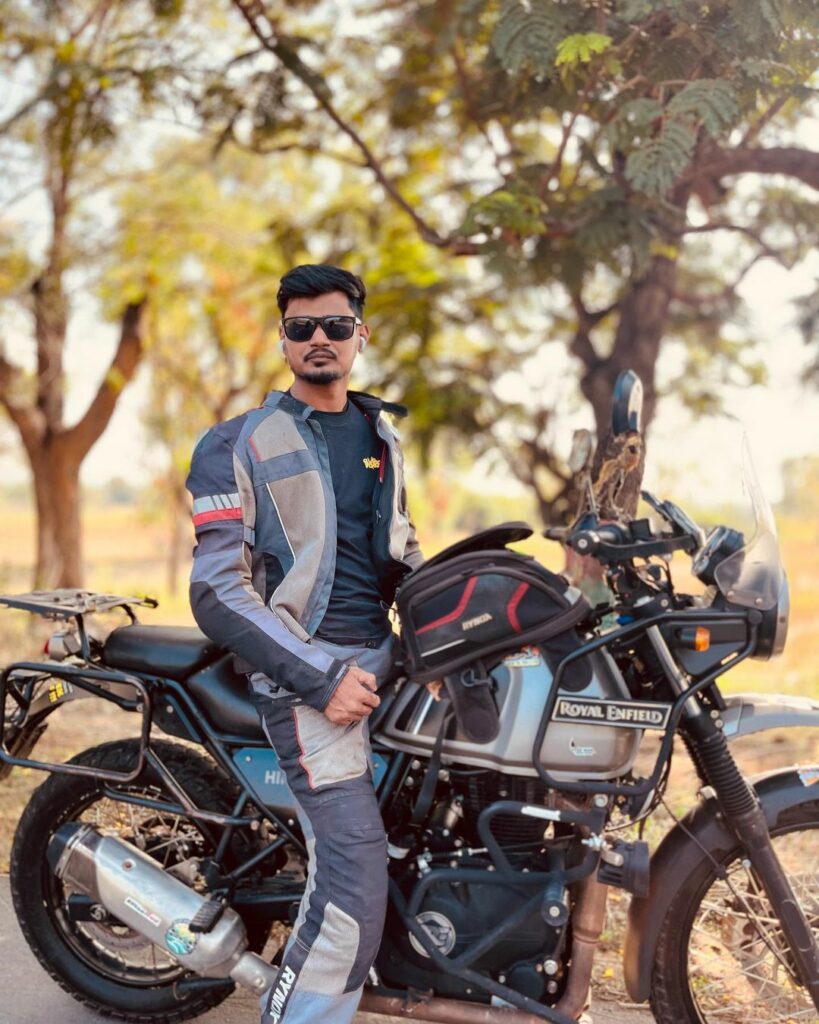 Vishwanath Mathpati
I am Vishwanath Mathpati, a full-time Blogger and Motorcyclist from Bidar, Karnataka. I love writing about my Motorcycles Stories and Riding Gears on this blog.
Know More About Me.
---
If you liked this article, then please subscribe to our YouTube Channel for more Bike Videos. You can also find us on Instagram, Twitter and Facebook.
Disclosure: As an Amazon Associate, I earn from qualifying purchases. Read more about Amazon Affiliate Disclaimer.