Top 8 Best Motorcycle Rides in West Virginia: The Ultimate Guide
If you're an avid motorcyclist like me, the thrill of discovering new roads and taking in breathtaking landscapes is what keeps your spirits high and your engine revving. And West Virginia, with its winding backroads and scenic mountains, is a motorcycle rider's paradise. Today, I'll share my top 8 best motorcycle rides in West Virginia that you absolutely must try.
West Virginia's diverse terrain and picturesque landscape make it a dream destination for motorcycle enthusiasts. As you navigate through its beautiful countryside roads, you will be greeted with majestic mountains, splendid waterfalls, and charming small towns, all while experiencing the freedom that only comes from cruising on two wheels.
The neighboring states also provide diverse and memorable rides worth exploring. Venture north to Pennsylvania and enjoy the Allegheny Mountains ride, which boasts a mix of sweeping curves and scenic beauty. Heading east, Virginia's Blue Ridge Parkwayis renowned for its panoramic views and smooth pavement. Over in Kentucky, to the west, the Red River Gorge route offers thrilling twists and turns through a unique geological landscape. If you head south, the Tail of the Dragon in North Carolina is a must-ride, offering 318 curves in 11 miles. These routes from neighboring states are excellent additions to the rich array of motorcycle rides found in West Virginia.
So, hop on your motorcycle, ride with confidence, and let's explore some of the most rewarding routes that the Mountain State has to offer!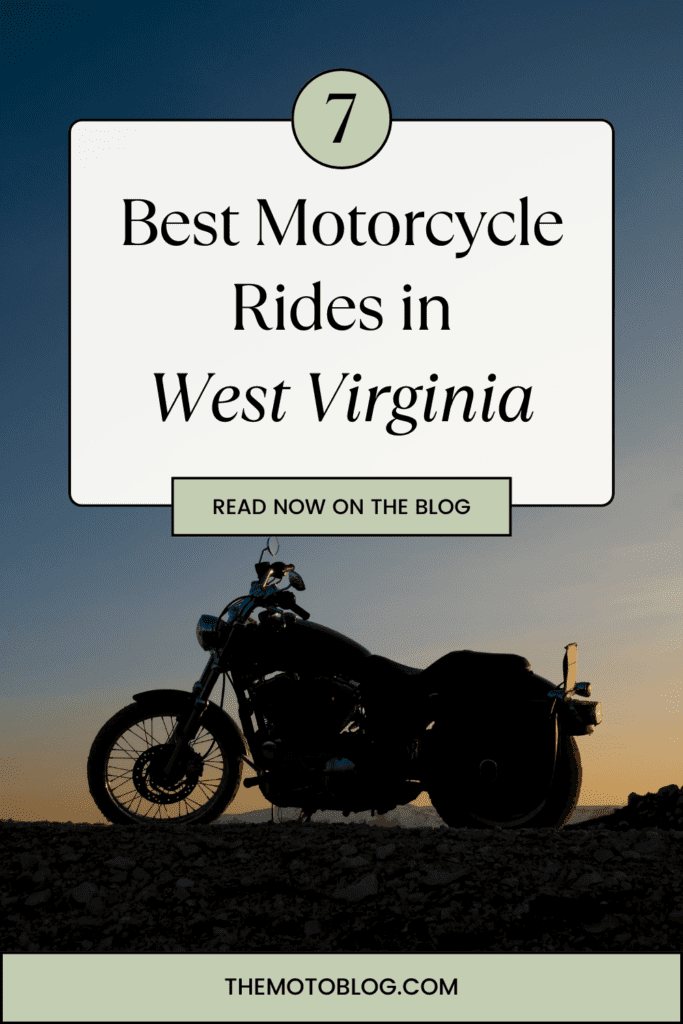 1. Seneca Rocks Scenic Byway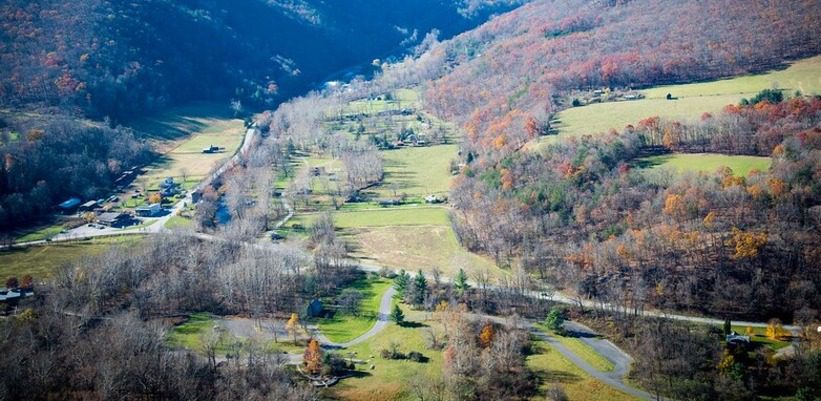 One ride I highly recommend in West Virginia is the Seneca Rocks Scenic Byway. This beautiful route takes you through some of the most picturesque landscapes in the state, with a multitude of twists and turns that make it perfect for experienced and adventurous riders.
The ideal time to visit this scenic byway is during the spring (April – June) and fall (September – October) months. This is when you'll find the most pleasant riding temperatures and witness the natural beauty of the area in full bloom, or enjoy the stunning fall foliage. Summers can be quite hot and humid, while winters bring cold temperatures and possible snowfall, so plan accordingly.
The Seneca Rocks Scenic Byway runs for approximately 35 miles and can typically be completed within 1-2 hours. However, I recommend allotting extra time for stops at the various points of interest along the route.
There are quite a few attractions and scenic stops you'll want to make along this beautiful byway:
Seneca Rocks: Iconic rock formation popular among rock climbers and hikers, offering a stunning viewpoint
Seneca Rocks Discovery Center: Learn about the area's history, geology, and wildlife at this informative center
Spruce Knob: The highest point in West Virginia, with fantastic views and hiking trails
Dolly Sods Wilderness: An expansive wilderness area with unique flora, fauna, and beautiful vistas
The Seneca Rocks Scenic Byway is considered a moderate to challenging route due to its array of twists, turns, and elevation changes. Skilled riders who appreciate a good challenge will be more than satisfied with this route. As always, be cautious, obey speed limits, and ride within your abilities.
Some additional details about the Seneca Rocks Scenic Byway:
Traffic: Light to moderate, depending on the season
Road conditions: Generally well-maintained pavement, with some possible gravel areas
Nearby Towns: Seneca Rocks, Franklin, and Riverton, providing gas and food options
Cell reception: May be spotty or nonexistent in some remote areas, so be prepared
2. The Coal Heritage Trail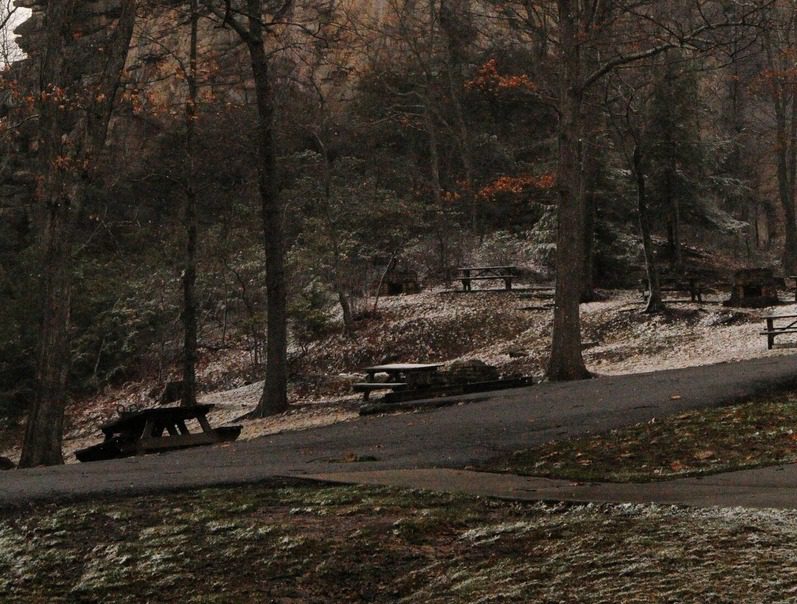 When planning a motorcycle road ride through West Virginia, one can't miss The Coal Heritage Trail. This historic ride offers bikers a chance to take in the region's rich history while enjoying some fantastic views.
For the ideal riding weather on the Coal Heritage Trail, I suggest visiting during the spring or fall months. Summer is feasible, but it can get quite hot and humid. Winter, on the other hand, may present challenging road conditions due to ice and snow. The scenery in autumn offers vibrant colors, making it my favorite season for this journey.
The Coal Heritage Trail stretches over 97 miles and might take about 2 to 3 hours to cover without stops. However, I highly recommend allocating around 4 to 6 hours to account for sightseeing stops and breaks.
Along the route, you'll find numerous interesting spots for breaks and exploration. Here are a few must-sees:
Bramwell: A historic town with charming Victorian architecture and several well-preserved mansions.
Pinnacle Rock State Park: A beautiful park with hiking trails, picnic facilities, and the namesake rock formation that provides breathtaking views of the surrounding area.
Coalwood: A former coal mining town where the best-selling book "Rocket Boys" (later made into the movie "October Sky") takes place.
I consider the Coal Heritage Trail to have a moderate level of difficulty. While the roads are generally well-maintained, you may come across curves, elevation changes, and occasional narrow stretches that demand a rider's attention and skill. It's important to be prepared for these challenges to fully enjoy the ride.
The Coal Heritage Trail offers not only stunning natural landscapes but also a glimpse into West Virginia's coal mining culture and history. Pay attention to the many historical markers along the route – they're great for educating yourself and taking memorable photos. The trail is part of the National Coal Heritage Area, which as a whole preserves, interprets, and promotes the history of southern West Virginia's coal heritage.
3. Greenbrier Valley's Moncove Lake Loop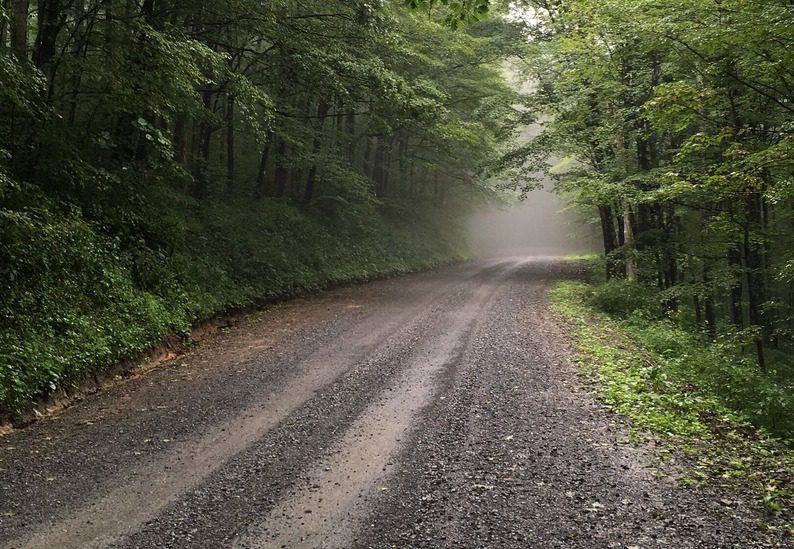 This beautiful route offers riders a variety of breathtaking vistas and thrilling curvy roads. Below is some helpful information I've gathered to ensure you have the best experience on your ride.
Spring and fall are the most popular seasons to hit this loop. The colors of the changing leaves are a sight to behold, and the spring offers a cool, fresh, and fragrant ride.
The Moncove Lake Loop covers approximately 50 miles and takes about 1 to 1.5 hours to complete, depending on the number of stops and your riding speed.
Places to stop:
Historic Lewisburg: Known for its charm and eclectic shops, it's the perfect spot to grab a coffee or visit a local brewery before the ride.
Moncove Lake State Park: Take a break to relax, explore the hiking trails, or enjoy some fishing.
Union: This small town offers a few options for lunch, so make sure to stop by and grab a bite.
The Moncove Lake Loop is considered intermediate in terms of difficulty. The route contains numerous tight corners and a few steep hills, demanding a certain level of riding skill.
Other Information:
Be cautious of loose gravel, especially on higher elevations. It's not uncommon to encounter patches of gravel, especially after storms and road maintenance.
The roads are mostly two lanes, so be prepared to share the road with other motorcyclists and vehicles.
Look out for wildlife, as deer crossings are frequent in this area.
Keep an eye on the weather forecast before your trip. West Virginia can experience unexpected rain, making the roads slippery.
4. The Highland Scenic Highway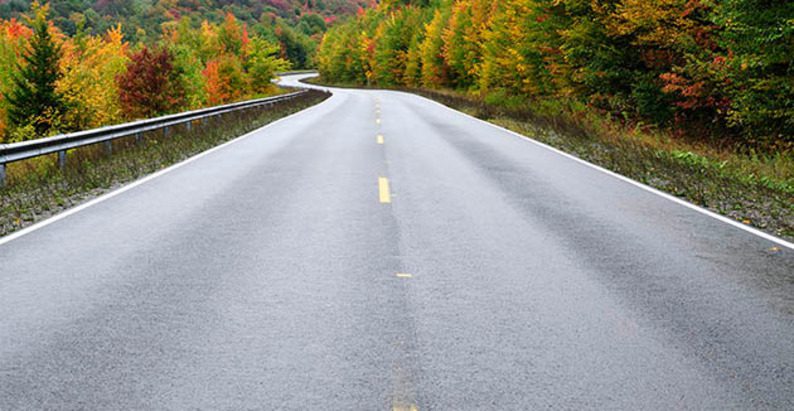 I'm excited to share with you one of the most spectacular motorcycle rides in West Virginia – The Highland Scenic Highway. Known for its breathtaking views and thrilling twists and turns, this route is guaranteed to leave you with unforgettable memories.
If you're wondering when to hit the road, I'd recommend going between May and October. During this time, you'll be rewarded with stunning wildflowers, vivid fall colors, and a comfortable climate that's perfect for riding.
The Highland Scenic Highway stretches for about 43 miles and roughly takes 1 to 1.5 hours to complete this spectacular ride.
While enjoying the ride, you'll find a few fantastic stops along the way. Here are some of my favorites:
Cranberry Glades Botanical Area: A picturesque, unique ecosystem with a wooden boardwalk for easy exploration. A great spot to stretch your legs and snap some photos.
Falls of Hills Creek: A series of three beautiful waterfalls guaranteed to leave you in awe – definitely worth the short hike!
Cranberry Mountain Nature Center: This educational center offers exhibits on local flora, fauna, and history. It's the perfect place to learn more about the area.
The road trip varies in difficulty, but I would classify it as moderate. Expect a mix of sweeping curves, tight hairpins, and undulating terrain. I'd recommend being comfortable with your motorcycle and riding abilities before tackling this road.
A bit of extra info to optimize your ride:
Gas Stations: Make sure to gas up before starting the journey, as fueling options are limited once you're on the highway.
Cell Service: Due to its remote nature, expect spotty or non-existent cell coverage. It's a good idea to carry a printed map in case you need it.
Wildlife: Keep your eyes peeled for local wildlife, such as deer and black bears. Remember to give them plenty of space and ride cautiously.
5. Hawks Nest State Park Tour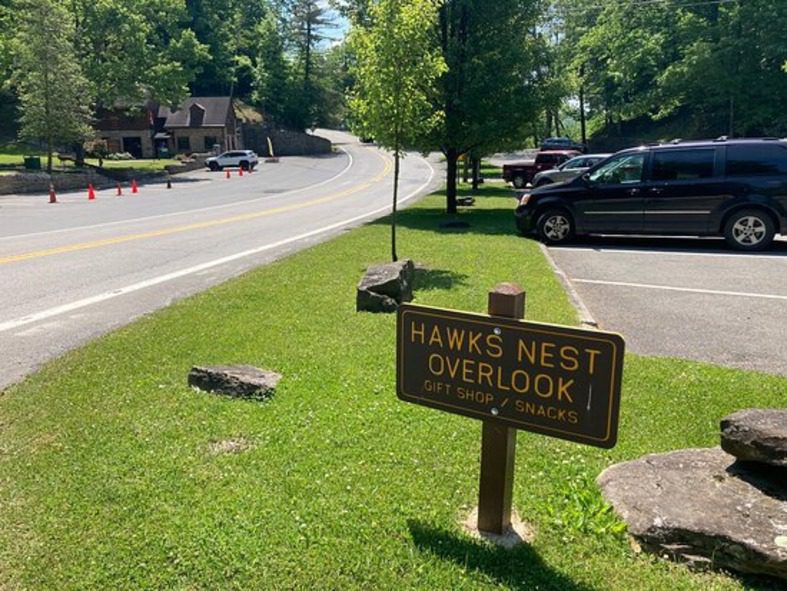 When I'm searching for picturesque motorcycle routes, I can't help but recommend the Hawks Nest State Park Tour in West Virginia. Nestled in the heart of the Appalachian Mountains, the tour offers breathtaking views, thrilling curves, and opportunities to explore the sprawling nature that surrounds you.
It's generally agreed that the best time to visit Hawks Nest State Park is between May and October. During these months, the weather is typically mild, making for a comfortable and enjoyable ride.
The route itself is roughly 40 miles long and takes approximately 1.5 to 2 hours to complete, depending on your speed and how often you choose to stop and take in the stunning scenery.
Places to Stop:
Fayette Station Road: Along the way, you'll want to pause and admire the view at Fayette Station Road, which boasts amazing panoramas of the New River Gorge Bridge.
Turkey Spur: Make a detour to Turkey Spur for a great vantage point over the New River Gorge.
Cathedral Falls: For nature enthusiasts, don't miss the opportunity to visit Cathedral Falls, a breathtaking waterfall located just a short distance from the main route.
Given the numerous curves and elevation changes, I'd rate the Hawks Nest State Park Tour as moderate in terms of difficulty. However, even beginner riders can conquer the route if they take their time and are aware of their surroundings.
Other Information:
Fuel up: You'll find gas stations in the nearby towns of Ansted or Fayetteville, so be sure to have a full tank before setting out on the tour.
Food and drinks: Most riders recommend grabbing a bite to eat in Fayetteville, which offers a variety of dining options to refuel before or after your ride.
Road conditions: Since West Virginia is known for its changing weather and seasons, it's important to check the road conditions before embarking on your ride. Be prepared for wet or icy conditions in colder months.
6. The New River Gorge Loop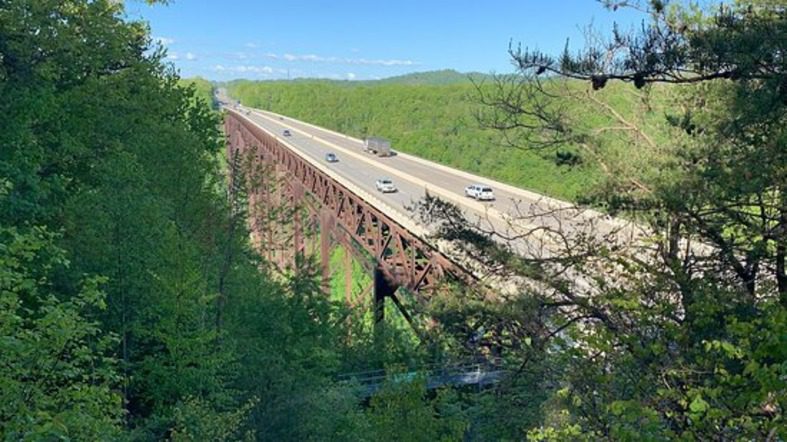 One of the most stunning motorcycle rides in West Virginia, the New River Gorge Loop has a lot to offer for those seeking an unforgettable riding experience.
The ideal time to ride the New River Gorge Loop is from late spring through early fall. While West Virginia can have unpredictable weather, these months typically offer comfortable temperatures and drier conditions, perfect for a motorcycle ride.
The entire loop covers about 134 miles and can be completed in approximately 3 to 5 hours, depending on the pace. Riders who prefer to take their time and enjoy the scenic views should plan for the longer timeframe.
The New River Gorge Loop offers numerous picturesque spots and points of interest for bikers to stop and enjoy. Some highlights include:
New River Gorge Bridge: A stunning engineering marvel, this steel-arch bridge is one of the most photographed landmarks in West Virginia.
Fayetteville: A charming small town with unique shops, local eateries, and plenty of history.
Sandstone Falls: A beautiful waterfall with viewing platforms, picnic areas, and opportunities for fishing.
Bluestone State Park: Perfect for a break from riding, this park offers hiking trails, boating facilities, and campsites.
This ride is considered moderate in difficulty. It features a combination of tight curves, long stretches of straight road, and occasional hills. While experienced riders will enjoy the challenge, less experienced riders should still be able to handle the route with caution.
The New River Gorge Loop offers stunning views of the New River Gorge National Park, which is home to diverse flora and fauna and offers plenty of opportunities for outdoor activities. Additionally, fuel and dining options are available throughout the loop, so riders won't have to worry about running low on gas or finding a good place to eat.
7. Gauley Mountain Scenic Drive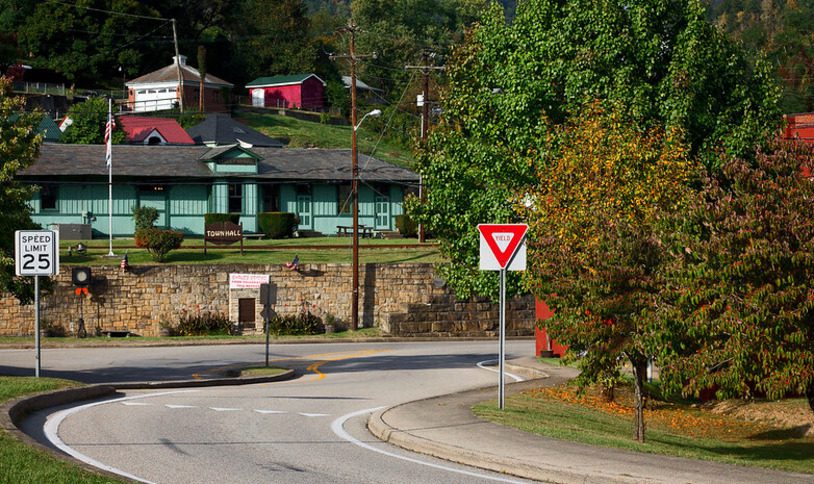 If you're searching for a ride that offers an incredible mix of natural beauty and excitement, look no further than the Gauley Mountain Scenic Drive. This impressive route runs along West Virginia Route 39 and takes you through some of the most picturesque landscapes in the state.
Late spring through early fall is the ideal time to embark on this ride, thanks to the pleasant weather and the brilliant colors of the surrounding nature. Autumn is also a popular time for riders, as the fall foliage creates an incredibly vibrant backdrop for your journey.
The Gauley Mountain Scenic Drive spans approximately 33 miles, which should typically take about 1 to 1.5 hours to complete, depending on your speed and how often you stop.
Along this scenic drive, you'll come across several amazing sites that are well worth a stop:
The beautiful Summit Lake, a popular spot for picnicking and fishing
Cranberry Glades Botanical Area, where you can explore a remarkable ecosystem
Cranberry Mountain Nature Center, an excellent resource for learning more about the local flora and fauna
The Gauley Mountain Scenic Drive offers a moderate level of difficulty. While its twisty, winding roads are a thrill for experienced riders, newcomers might need a bit of extra caution.
It's essential to keep your eyes peeled for wildlife along this route. The area is home to a wide variety of creatures, including deer, squirrels, and raccoons. Additionally, always remember to respect the speed limits and double-check your fuel levels before embarking on your adventure.
8. The Monongahela National Forest Adventure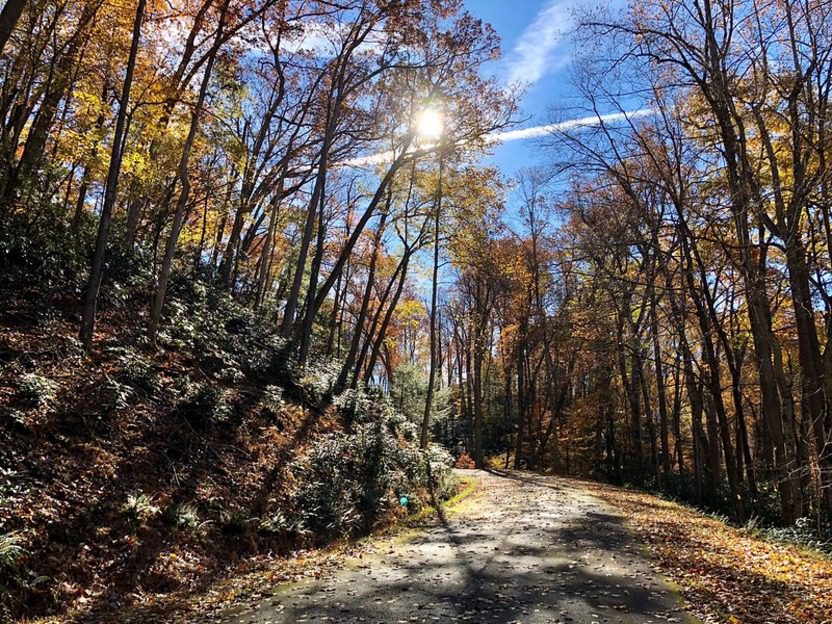 Monongahela National Forest Adventure in West Virginia is no exception in providing exhilarating experience. This breathtaking journey through the heart of the Appalachian Mountains will certainly become one of your favorite motorcycle rides.
The ideal time to enjoy this fantastic motorcycle ride is between May and October. During this period, the forest comes alive with vibrant colors and pleasant temperatures that allow riders to truly appreciate the beauty of the landscape.
I recommend allocating a full day for this ride as it spans approximately 130 miles. Giving yourself a day not only allows you to enjoy the scenery at a comfortable pace, but it also provides time for rest stops and exploring the points of interest along the way.
There are several noteworthy stopovers throughout the ride that I highly recommend:
Cranberry Glades – A beautiful bog area with unique flora and fauna, perfect for a leisurely stroll to stretch your legs.
Cass Scenic Railroad State Park – A historical park offering steam train rides, showcasing West Virginia's rich railroad history.
Seneca Rocks – An iconic point of interest with stunning rock formations and opportunities for rock climbing.
Spruce Knob – Located at 4,863 feet, it is the highest point in West Virginia and offers panoramic views of the surrounding area.
While the Monongahela National Forest Adventure is not a highly technical ride, I would rate it as intermediate level due to some winding roads and occasional steep slopes. However, even less experienced riders can enjoy this route with careful planning and an appropriate pace.
Other Information
The roads in the Monongahela National Forest can be narrow and winding; therefore, it's crucial to keep an eye out for wildlife, cyclists, and slow-moving traffic.
Due to the changing altitude and weather conditions, riders should be prepared for shifts in temperature and possible fog.
FAQs
What are some of the best motorcycle roads in West Virginia?
Top Motorcycle Rides In West Virginia Include U.S. Route 219, Coal Heritage Trail, Seneca Skyway, Capitol Circle, Cranberry Corridor, Heaven's Gate Motorcycle Trail, The Talon (Route 60), And National River Ride (Route 210).
Where Is The Head Of The Dragon Motorcycle Ride Located?
The Head Of The Dragon Is A 91-Mile Scenic Loop Located In McDowell County, West Virginia.
What are some popular motorcycle riding areas within the National River Ride in West Virginia?
The National River Ride (Route 210) Is A Popular Riding Area That Takes You Through The New River Gorge National Park.
What Is The Highest Motorcycle Ride In West Virginia?
The Highest Road In West Virginia, Suitable For Motorcycle Rides, Is Found Along The Route To The Fred Long Centennial Park.
Are there any motorcycle rides in West Virginia that offer scenic views of mountains and streams?
The Mountains & Streams Ride And The Canaan Valley Tour Are Both Scenic Motorcycle Routes In West Virginia That Showcase The State's Stunning Mountain And River Landscapes.
Final Thoughts on West Virginia's Best Motorcycle Rides
West Virginia, known for its beautiful landscapes and winding roads, provides thrilling and scenic motorcycle rides. I've compiled a list of the top 8 best motorcycle rides in the state. Here's a summary of some essential information.
West Virginia offers comfortable temperatures and brilliant foliage in the spring and fall seasons, making them ideal for motorcycle riding. Road conditions can vary, so it's essential to check weather forecasts before setting out.
As you explore these scenic routes, consider stopping at the following points of interest:
Charming small towns with great local cuisine
Stunning overlooks offering breathtaking views
National and state parks for a bit of adventure
Historical sites and landmarks for a dose of West Virginia's history
The rides vary in level of difficulty, catering to different experience levels. Some routes feature gentle, sweeping curves suited for beginners, while others present technical twists and turns that experienced riders will appreciate.
When planning your trip, consider these additional aspects:
Accommodations: Look for motorcycle-friendly accommodations in the region.
Safety: Always pack essential safety gear and maintain your motorcycle in top condition.
Respect local laws: Be mindful of speed limits, and remember that helmets are required in West Virginia.
I hope you find these motorcycle routes in West Virginia enjoyable and memorable. Ride safe, and take time to embrace the natural beauty and rich history that this incredible state offers.
Motorcycle Rides in the US by States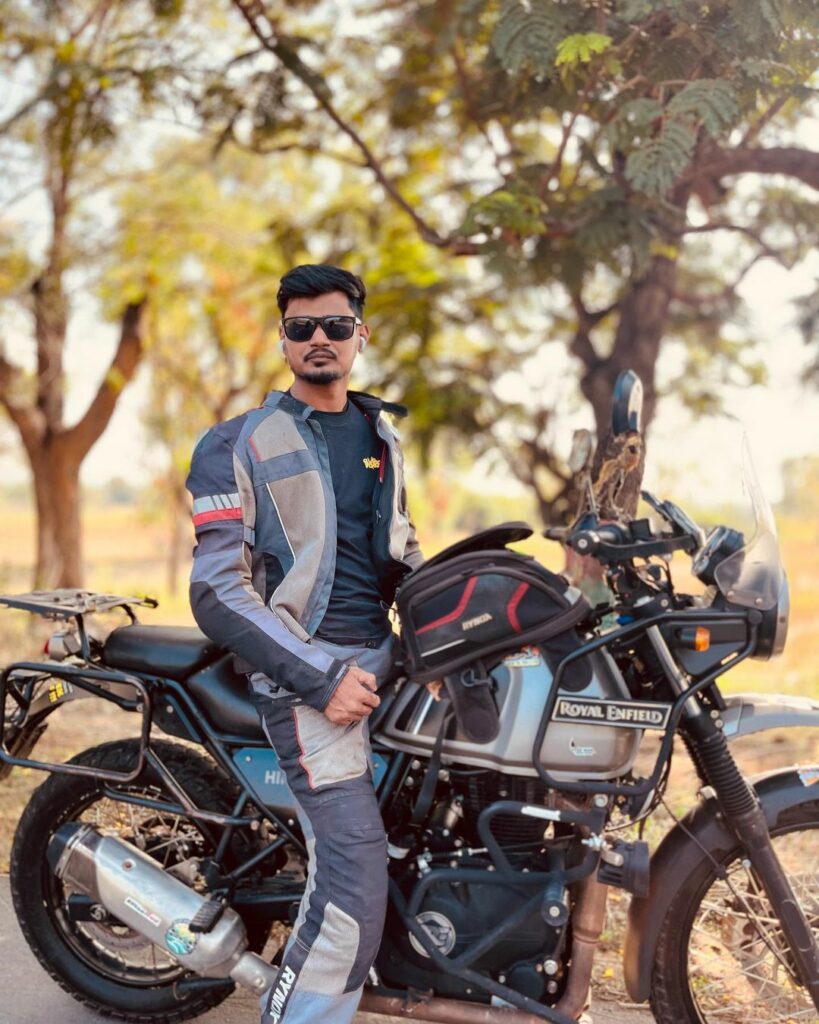 Vishwanath Mathpati
I am Vishwanath Mathpati, a full-time Blogger and Motorcyclist from Bidar, Karnataka. I love writing about my Motorcycles Stories and Riding Gears on this blog.
Know More About Me.
---
If you liked this article, then please subscribe to our YouTube Channel for more Bike Videos. You can also find us on Instagram, Twitter and Facebook.
Disclosure: As an Amazon Associate, I earn from qualifying purchases. Read more about Amazon Affiliate Disclaimer.