Top 10 Best Motorcycle Rides in Maine: My Ultimate Guide
Motorcycle enthusiasts know that there's nothing quite like hitting the open road, and Maine offers some of the most picturesque and enjoyable routes in the country. From stunning coastal routes to winding mountain passes, the Pine Tree State has a little of everything for riders of all skill levels. Motorcycle Rides in Maine are a truly unforgettable experience, whether you're a local rider or just visiting the area.
Nine standout routes rise to the top when planning a memorable motorcycle trip in Maine. These stunning rides boast an impressive mix of scenery, wildlife, and charm, making each journey unique and exhilarating. Whether it's exploring the tranquil serenity of Acadia National Park or taking in the breathtaking views along Route 1, these routes are sure to be a highlight of your time in Maine.
Home to some of the best scenic views in the Northeast, Maine offers amazing motorcycle rides like the one along the Acadia All American Road with vistas of rugged coastlines and mountainous forests. However, the thrill of riding doesn't stop at Maine's borders. Travel south to New Hampshire where the Kancamagus Highway is renowned for its enchanting autumn foliage. On the other hand, Vermont, to the west, has the Green Mountain Byway, taking riders on a journey through charming rural landscapes and quaint towns. With such neighbouring gems, Maine is truly a launching point for exploring some of the finest motorcycle routes in the Northeast.
In this article, I'll be sharing my experiences and insights on the top 10 best motorcycle road rides in Maine. So, grab your helmet, saddle up, and let's explore these amazing rides together.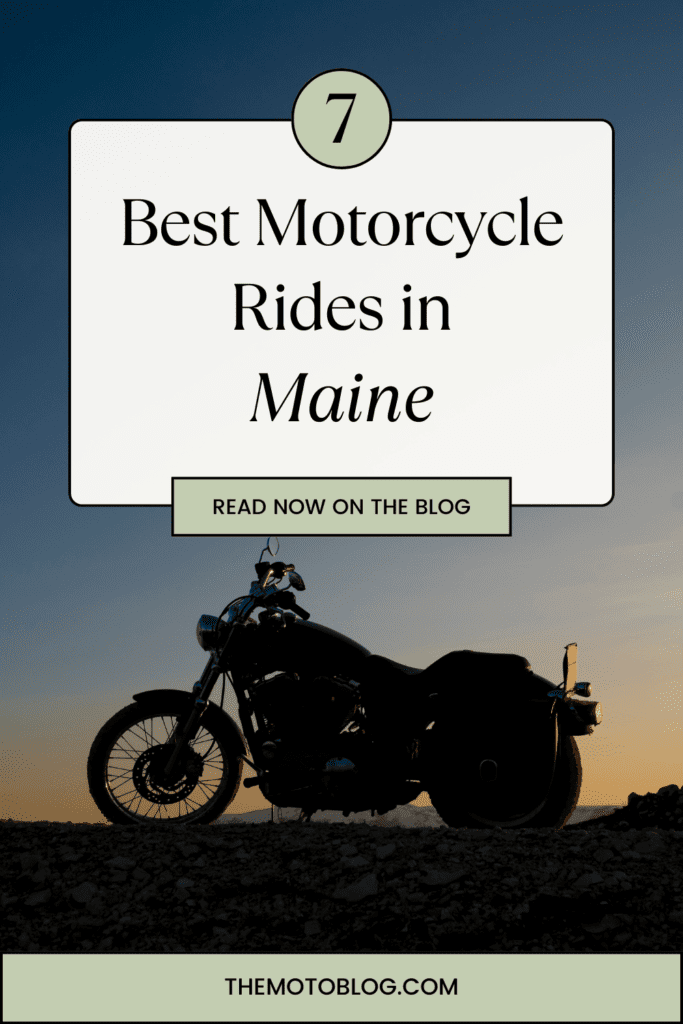 1. Maine's Beautiful Coastal Highway: Route 1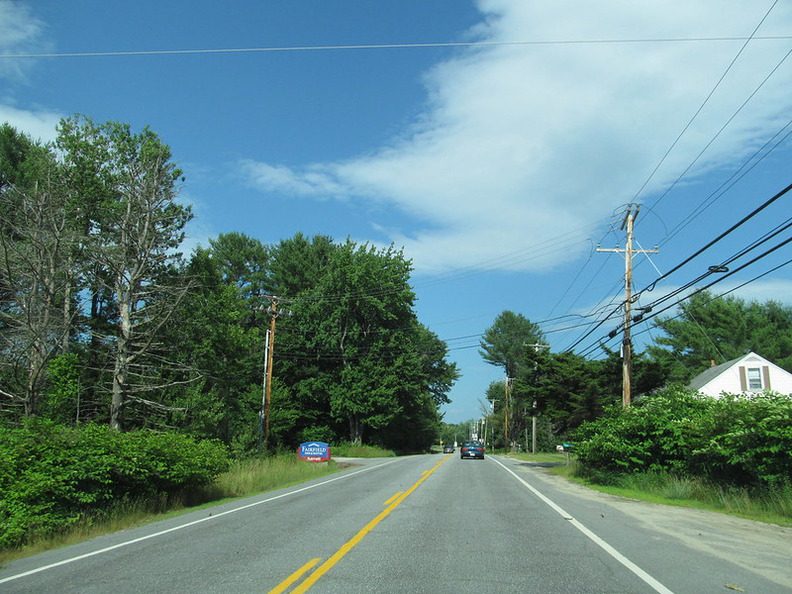 While riding Maine's Coastal Highway, Route 1 along this scenic route, you'll be treated to a taste of downeast culture and picturesque views of the Atlantic Ocean. It's easy to see why this is one of the top motorcycle rides in Maine.
To enjoy the stunning foliage and comfortable temperatures, it's best to visit Route 1 from late spring to early fall. Since tourist crowds tend to peak during summer vacation, you might find early fall to be the most enjoyable time to experience the route.
The entire length of Maine's Route 1 stretches for about 353 miles (568 kilometers), starting at the New Hampshire border and winding up to the Canadian border. If you want to ride the whole route, give yourself approximately 2-3 days to fully appreciate the beauty and attractions along the way.
Route 1 has numerous points of interest, but here are a few must-sees:
Kittery: Shop at the popular Kittery Outlets
Ogunquit: Relax at the beautiful Ogunquit Beach
Kennebunkport: Explore charming seaside shops and restaurants
Portland: Visit the historic Portland Head Light and Old Port district
Rockland: Take a trip to the Maine Lighthouse Museum
Camden: Experience picturesque Camden Harbor and hike Mount Battie
Bar Harbor: Discover the famous Acadia National Park
Machias: Check out the Burnham Tavern, Maine's oldest structure
Eastport: Pause in the easternmost city in the US, known for its vibrant arts scene
Route 1 is generally considered an easy ride, making it a great option for all skill levels. However, there might be a few challenges, such as traffic congestion and occasional tight turns, especially in the popular coastal towns.
When planning your journey, it's important to note that Route 1 goes through many small towns with unique attractions and events. Be sure to check the event calendars of each area to make the most of your trip. Additionally, keep an eye out for signs indicating scenic byways – these detours are well worth the extra time, as they showcase some of the most stunning sections of Maine's coastline.
2. The Scenic Rangeley Lakes Loop
Scenic Rangeley Lakes Loop in Maine is just the perfect destination for picturesque landscapes . Here, I'll break down the details of this amazing motorcycle road ride in Maine.
The ideal time to explore the Rangeley Lakes Loop is between June and September when the weather is warm and sunny. Keep in mind that fall foliage season, typically in October, can bring heavier traffic to the area.
The loop is approximately 124 miles long, and it can take around 3-4 hours to complete the ride, depending on the number of stops you take and your preferred riding pace.
Places to Stop:
Rangeley: A charming small town, it's worth spending some time exploring Rangeley before you hit the road.
Height of Land: This scenic overlook offers a stunning view of Mooselookmeguntic Lake and the surrounding mountains.
Smalls Falls: A beautiful waterfall with picnic areas and hiking trails, perfect for a quick stop.
The Scenic Rangeley Lakes Loop can be considered a moderate level ride. It features well-maintained roads with some twists and turns, but nothing too extreme. Skilled riders should be able to enjoy the ride without much difficulty.
Other Information:
The loop starts and ends in Rangeley, making it convenient for an overnight stay.
Keep an eye out for wildlife, as the area is home to deer, moose, and other animals that may occasionally wander onto the road.
Be prepared for changes in elevation and temperature during the ride, especially as you reach higher altitudes.
3. The Scenic Pines and Lakes Route: Route 17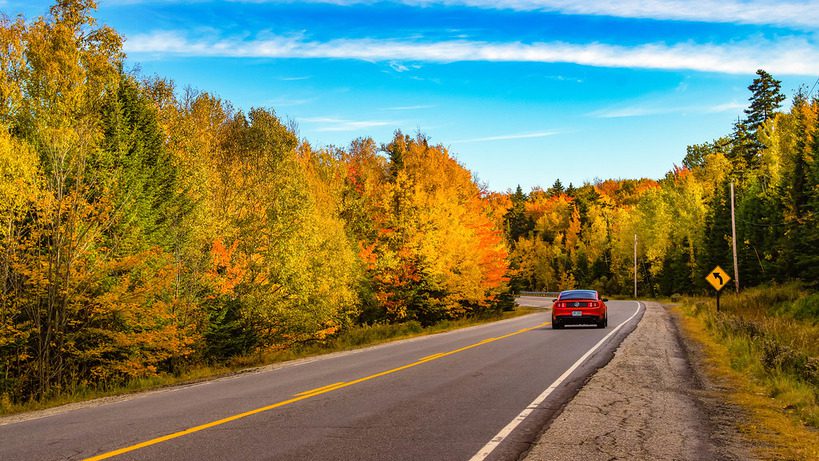 When it comes to the best motorcycle rides in Maine, the Scenic Pines and Lakes Route on Route 17 is undoubtedly one of the top contenders. This scenic route offers breathtaking views of the western mountains, crystal clear lakes, and lush pine forests.
Fall is the ideal time to experience the vibrant foliage and perfect riding weather. The crisp air and colorful leaves create a magical atmosphere for enjoying the ride.
The Scenic Pines and Lakes Route is approximately 60 miles long and can take around 1.5 to 2 hours to complete. Of course, this time might vary depending on the number of stops and one's riding speed. Here's a table illustrating the distance and time to travel:
Several stops along Route 17 are worth visiting. Some of these are:
Coos Canyon: A popular stop with a picturesque waterfall and a great place for a picnic
Height of the Land: A breathtaking overlook offering panoramic views of Mooselookmeguntic Lake and the surrounding mountains
Rangeley Lake: A serene spot to relax and take in the beauty of the lake
Route 17 is primarily suitable for intermediate riders. The road has some tight curves, elevation changes, and a few rough patches, so it's essential to stay alert and cautious.
While riding on Route 17, there are some tips I'd like to share to keep your experience memorable and enjoyable:
Remember to fill your gas tank before heading out, as there may not be many gas stations along the route.
Keep an eye out for local wildlife, especially deer and moose, while riding through the forested areas. It's best to be cautious and prepared for sudden encounters.
There aren't many restaurant options along the way, so pack a lunch or snacks to enjoy at one of the scenic stops.
4. The Old Canada Road – Route 201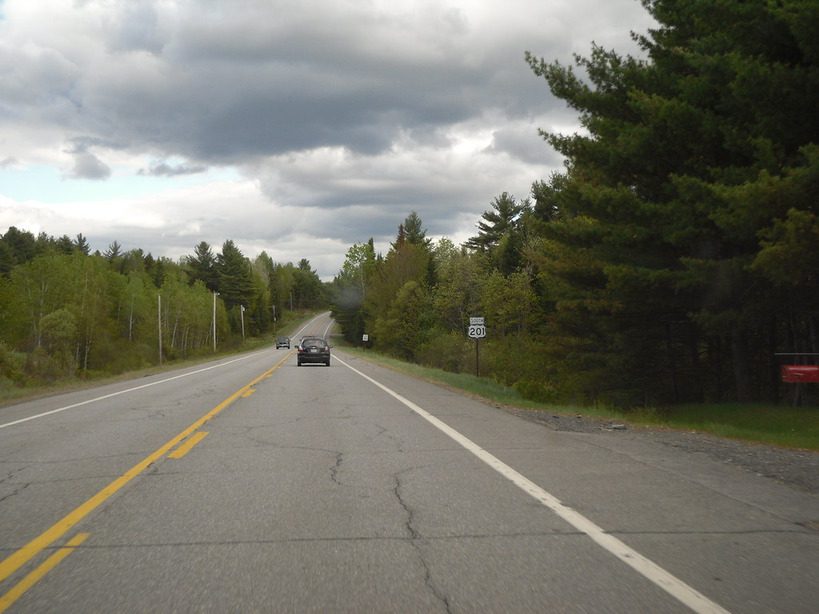 I will share my insights about the Old Canada Road (Route 201), a top motorcycle road ride in Maine. This historic route boasts incredible scenery and provides riders with an enjoyable and memorable ride as they explore the beauty of the Pine Tree State. Let's take a look at the details.
The ideal riding season for Route 201 is between April and October when the weather is nice, and the leaves turn vibrant colors.
This picturesque byway stretches for about 78 miles, and generally takes between 2-3 hours to ride.
Along the way, you'll discover several must-see spots:
West Forks (start or end of the ride)
Moxie Falls
Wyman Lake
Harris Station Dam
Moscow
Bingham
The Old Canada Road ride is generally considered moderate in difficulty. The route has gentle curves and a decent road surface, ensuring a smooth and enjoyable cruise. The ride also features mild elevation changes, adding just the right amount of challenge to keep things interesting.
Here are some insider tips and points of interest to make your journey even more memorable:
Be cautious of wildlife crossing.
Stop by Lakewood Golf Course near Madison for a fun round of golf.
Route 201 is part of the historic Old Canada Road Scenic Byway, designated in 2000.
5. The Bold Coast – Route 191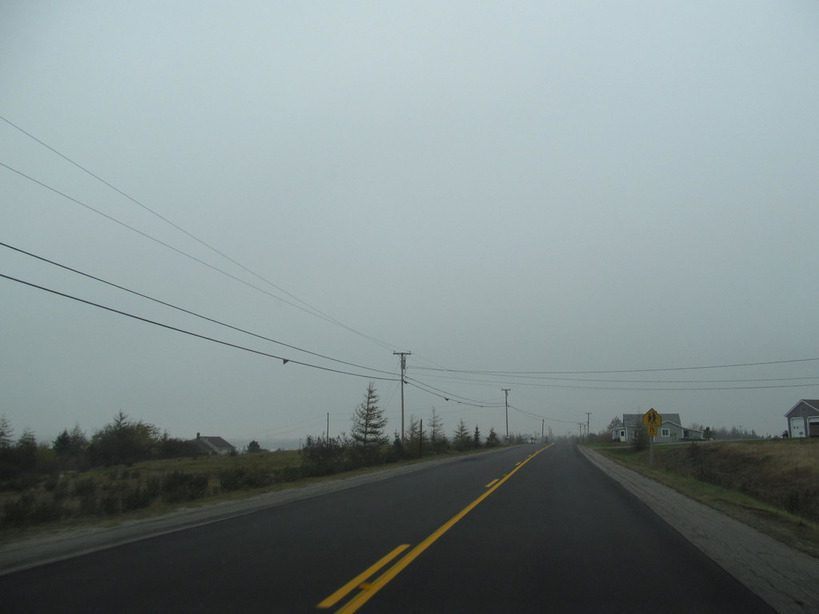 This ride offers an incredible combination of scenic coastal views, exhilarating twists and turns, and a lovely rural atmosphere. Here's what you can look forward to when taking on this fantastic route.
The best time to experience Route 191 is between late spring and early fall, when the weather is pleasant and the foliage is in full bloom. Summer tends to be the most popular time, so if you prefer less crowded roads, try visiting during May or September.
The Bold Coast journey along Route 191 stretches for about 94 miles, starting in the town of East Machias and ending in Lubec, the easternmost town in the United States. It typically takes 2 to 3 hours to complete, depending on your riding pace and how many stops you make along the way.
Places to Stop
Cobscook Bay State Park: This park offers fantastic ocean views and opportunities for picnics, camping, and wildlife observation.
Quoddy Head State Park: Home to the iconic red-and-white striped West Quoddy Head Lighthouse, the easternmost point in the U.S., the park also features miles of hiking trails and beautiful coastal vistas.
Roosevelt Campobello International Park: Accessible via the Lubec bridge, this park in New Brunswick, Canada, features the historic summer home of President Franklin D. Roosevelt and his wife Eleanor.
I would rate this ride as moderate in terms of difficulty. While the terrain is mostly flat and the roads are well-maintained, the sharp turns and narrow stretches near the coast might be challenging for beginner riders.
Other Information
Be prepared for inconsistent cell phone reception, especially in the more remote areas of the route.
Keep an eye out for wildlife like moose and deer, as they may occasionally wander onto the road. Always ride cautiously and at a safe speed.
Gas stations can be few and far between, so make sure to plan your stops accordingly and always top off when you have the chance.
6. The Harpswell Peninsula Route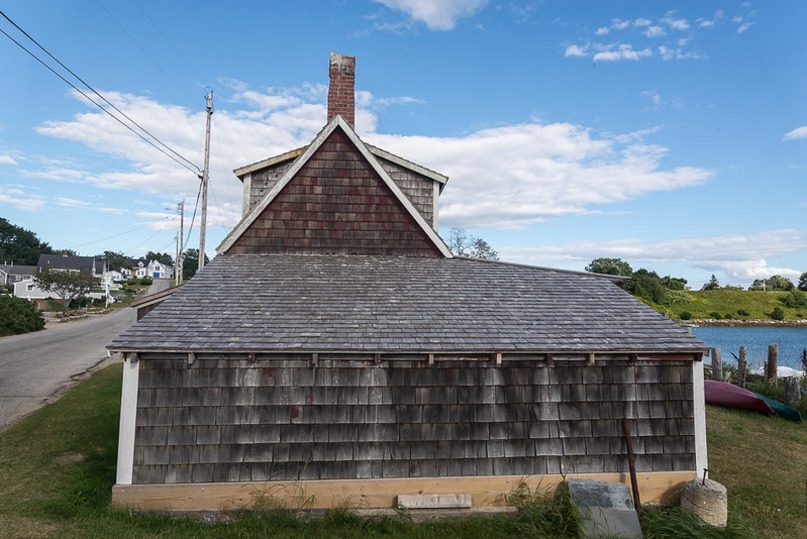 This route offers a mix of beautiful coastal views, winding roads and quaint fishing villages. You'll definitely want to add this ride to your bucket list.
The best time to conquer the Harpswell Peninsula Route is during late spring and early fall. During these months, the weather is mild and the scenic beauty is at its peak. You'll also avoid the summer tourist crowds in popular stops along the way.
Covering approximately 50 miles, it typically takes about 1.5 to 2 hours to complete the ride, but it's always best to set aside extra time for the many stops you'll want to make and take in the breathtaking views.
Some highlights and recommended stops include:
Giant's Stairs: A short walking trail that leads you to a stunning rock formation overlooking the ocean
Harpswell Cliffs: Offers great views and a picnic area
Orr's Island: A small, picturesque island connected to the mainland by a bridge
Cundy's Harbor: A charming fishing village where you can enjoy fresh seafood
This route is considered moderate in difficulty. While the roads are well-maintained, there are several tight turns and steep hills throughout the ride. It's important to exercise caution, especially in wet or slippery road conditions.
Other Information:
Be sure to pack a camera, as you'll want to capture the incredible sights along the way
Gas stations and comfort facilities are available in Brunswick and at some stops along the route
Wearing appropriate gear and a helmet is essential for safety and comfort during the ride
7. Moosehead Lake and Mount Katahdin Loop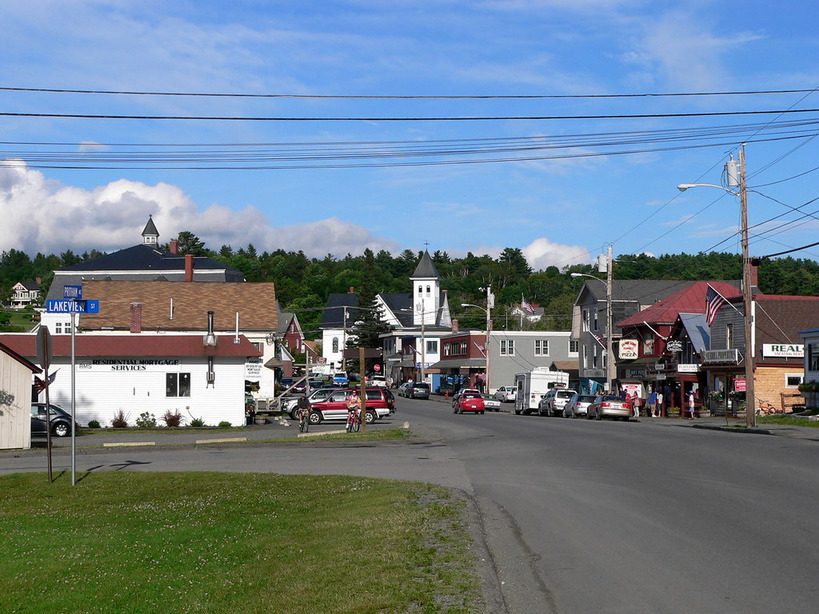 During my search for the best motorcycle road rides in Maine, I stumbled upon the Moosehead Lake and Mount Katahdin Loop. This route is an absolute gem for motorcycle enthusiasts, providing a mix of scenic beauty, winding roads, and excellent pit stops. As per the requested information, I've outlined the details below.
It's best to visit between May and October, when the roads are clear, and the weather is pleasant. During the autumn months, the foliage is especially striking and adds a colorful backdrop to the ride.
The loop takes you through roughly 350 miles of spectacular Maine landscapes. It generally takes about 6 to 8 hours of actual riding time, but I would allocate a full day or even two, to make the most out of your journey.
There are several must-see stops along the route:
Greenville: A charming town situated on the southern tip of Moosehead Lake, perfect for grabbing a meal or exploring its quaint shops.
Lily Bay State Park: Stop to take in the picturesque views of Moosehead Lake, maybe even have a picnic.
Millinocket: A gateway to Mount Katahdin and the famous Baxter State Park, where outdoor enthusiasts can find a variety of recreational activities.
Patten: Enjoy the rich history of this classic Maine lumber town by visiting the Patten Lumbermen's Museum.
I'd rate the Moosehead Lake and Mount Katahdin Loop as moderately challenging. The mix of winding roads, elevation changes, and occasional wildlife crossings require a certain level of skill and caution. However, it's still suitable for most riders, as long as they're prepared and ride responsibly.
Other Information:
Keep an eye out for moose, especially during dusk and dawn, as they're frequently seen roaming the area.
Gas stations can sometimes be scarce along the route, so be sure to fill up whenever there's an opportunity.
Cell phone reception can be spotty in some parts of the loop; remember to bring along a physical map or have your offline GPS navigation ready just in case.
Accommodations are available in various towns along the loop, but it's advisable to book ahead during peak seasons.
8. The Summit of Cadillac Mountain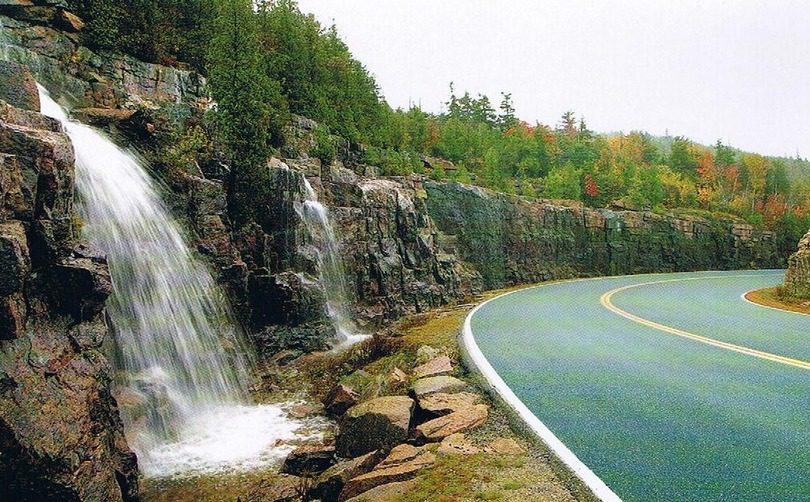 Standing tall at 1,530 feet (466 meters), Cadillac Mountain is the highest peak on the Atlantic coast of the United States. I've chosen this destination as one of the best motorcycle rides in Maine because of the breathtaking views and unique riding experience it offers.
Without a doubt, the best time to visit Cadillac Mountain is during the warmer months, from May to October. Sunrise is a popular time because Cadillac Mountain is one of the first places to see the sunrise in the United States, but sunset rides can be just as amazing. The road may be closed during bad weather or icy conditions, so it's important to plan accordingly.
The journey to the summit is approximately 3.5 miles (5.6 kilometers) long, taking roughly 20 to 30 minutes to complete depending on traffic and how many times you stop to admire the scenery. The road is well-maintained and features numerous lookout spots to take in the panoramic views.
A few notable stops along the way to the summit include:
Blue Hill Overlook: A popular spot to take in the sights of Bar Harbor and the Porcupine Islands.
Eagle Lake Overlook: Enjoy the view of Eagle Lake and the surrounding area.
Mount Desert Island Overlook: Perfect for a snapshot of the island from above.
The ride to Cadillac Mountain summit is considered intermediate in difficulty. While the road is well-maintained and features gentle curves, the elevation gain can be challenging for novice riders. That said, experienced riders will appreciate the smooth ascent and rewarding views.
Here are some other important details to keep in mind:
There is a $30 entrance fee for motorcycles, valid for seven days. You can also purchase an annual pass for $55.
Parking is limited at the summit, so consider visiting during off-peak hours or utilizing the free Island Explorer shuttle bus.
The summit can be windy, so bring extra layers even during the warmer months.
9. The Grafton Notch Scenic Byway: Route 2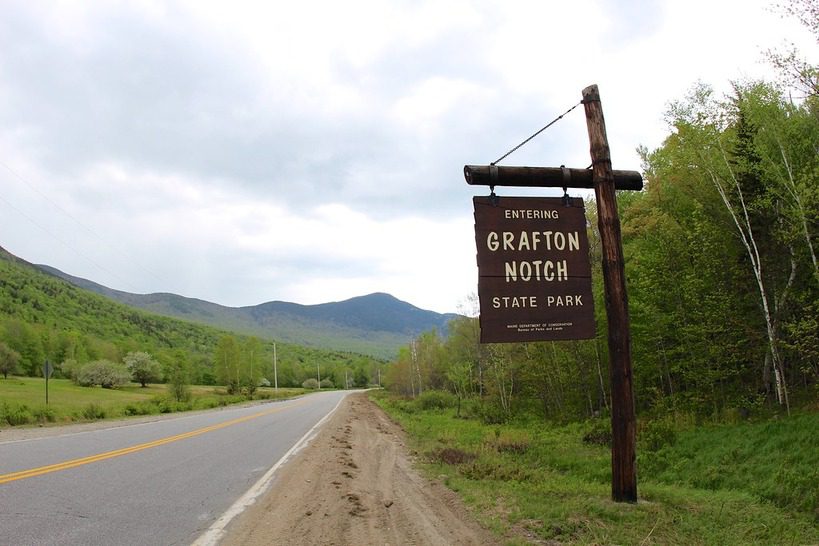 As an experienced rider, I can confidently say that the Grafton Notch Scenic Byway is one of the best motorcycle rides in Maine. Situated in the western part of the state, this picturesque route offers stunning views of mountain ranges, dense forests, and sparkling rivers. It's truly a feast for the eyes.
I'd recommend riding this route from late spring to early fall, when the weather is warm and dry. The vibrant foliage during autumn is particularly mesmerizing, so don't miss out on this opportunity if you can.
Spanning 112 miles, the Grafton Notch Scenic Byway can easily be covered in a single day. However, I suggest setting aside at least 4-5 hours to fully appreciate the ride and make stops along the way.
Places to Stop:
Grafton Notch State Park: Home to several popular hikes, waterfalls, and panoramic views, the park is an ideal place to stretch your legs.
Bethel: A charming, historic town that boasts a variety of shops, restaurants, and lodging options, making it the perfect spot for a break or an overnight stay.
Rumford Falls: Take a break to marvel at the powerful waterfall and enjoy the surrounding park facilities.
The Grafton Notch Scenic Byway has a few twists and turns, but it's generally an easy ride for experienced motorcyclists. Novices should exercise caution, especially on the winding sections near the state park.
Other Information:
This route is part of the larger Maine's High Peaks Scenic Byway network, which offers additional riding options for those looking to explore more of the region.
Be prepared for sudden weather changes, so make sure you carry proper gear. It's always better to be prepared.
Lastly, keep an eye out for wildlife, especially moose and deer, which can often be seen along the route. Exercise caution and respect their habitats.
10. the Majestic Western Maine Mountains: Route 26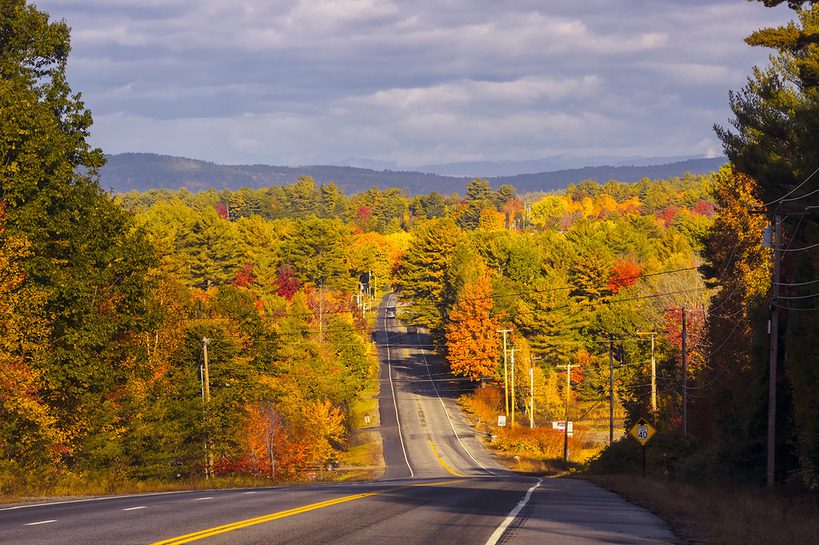 I've always found the Western Maine Mountains to be a captivating destination for motorcycle rides. Route 26, in particular, has some amazing scenery that is worth exploring.
The best time for a motorcycle ride on Route 26 is between late spring and early fall. During these months, you'll have better chances of good weather, warmer temperatures, and picturesque landscapes.
Route 26 runs for about 75 miles from Gray to Grafton Notch State Park. This incredible journey typically takes around 2 hours to complete, but I'd recommend allocating extra time for stops along the way.
There are several spots worth stopping at while riding along Route 26. Here are some noteworthy ones:
Gray: The starting point of your journey, it's home to the Maine Wildlife Park, where you can learn about local wildlife and their habitats.
Range Ponds State Park: Located in Poland, this park is a great place for a picnic or a quick break.
Bryant Pond: A picturesque lake in Woodstock, there's a scenic rest area here for you to soak in the views.
Grafton Notch State Park: This is the finale of the motorcycle ride. The park offers several hiking trails, waterfalls, and breath-taking views of the Mahoosuc Mountains.
Route 26 isn't a technical or challenging ride. The road is well-maintained and has a diverse landscape that features lakes, mountains, and forests. However, don't underestimate the importance of being prepared for unpredictable weather conditions.
Before setting off on your Route 26 adventure, keep these tips in mind:
Make sure your motorcycle is well-maintained and check its tire pressure, fluid levels, and brakes before you hit the road.
Carry essential tools, a rain suit, and a first aid kit.
Keep an eye out for local wildlife, especially when passing through wooded areas.
Always wear appropriate safety gear, such as a helmet, gloves, and a riding jacket.
FAQs
What are some of the best motorcycle rides in Maine?
Top Motorcycle Rides In Maine Include Route 113 Border Cruise, Rangeley Lakes Scenic Byway, Mount Desert Island Loop, The Grafton Notch – 93 Mile Woods Loop, And Northern Route 201.
Where can I find routes for great motorcycle roads in Maine?
Websites Such As MotorcycleRoads.com, GreatMotorcycleRoads.com, And BestBikingRoads.com Offer Listings And Descriptions Of Popular Motorcycle Routes In Maine.
What is a recommended ride for experiencing coastal views in Maine?
The Mount Desert Island Loop Is A Highly Recommended Motorcycle Ride In Maine, Providing Riders With Stunning Coastal Views And Scenic Landscapes.
Are there any scenic byways for motorcycle enthusiasts in Maine?
Yes, The Rangeley Lakes Scenic Byway Is One Of The Popular Options, Offering Breathtaking Views Of The Lakes And Surrounding Nature.
Is the Coastal Route 1 in Maine suitable for motorcycle rides?
Yes, Coastal Route 1 Is A Popular Motorcycle Route In Maine, Providing Riders With Picturesque Views Of The Coastline And Quaint Seaside Towns.
In Conclusion: Exciting Motorcycle Adventures Await in Maine
Maine's picturesque landscapes and winding roads make it a prime destination for motorcycle enthusiasts. Throughout the state, riders can find an abundance of scenic routes offering coastal views, quaint villages, and impressive mountain ranges.
With such diverse natural beauty, from the rocky shores of the Atlantic Ocean to the lush forests in the heart of the state, I believe that exploring Maine on two wheels is truly an unforgettable experience.
I've explored the top 10 best motorcycle road rides in Maine, and it's clear that there's no shortage of incredible routes to choose from. The diversity in landscape, level of difficulty, and overall experience is fantastic, making this an ideal destination for motorcycle enthusiasts.
Motorcycle Rides in the US by States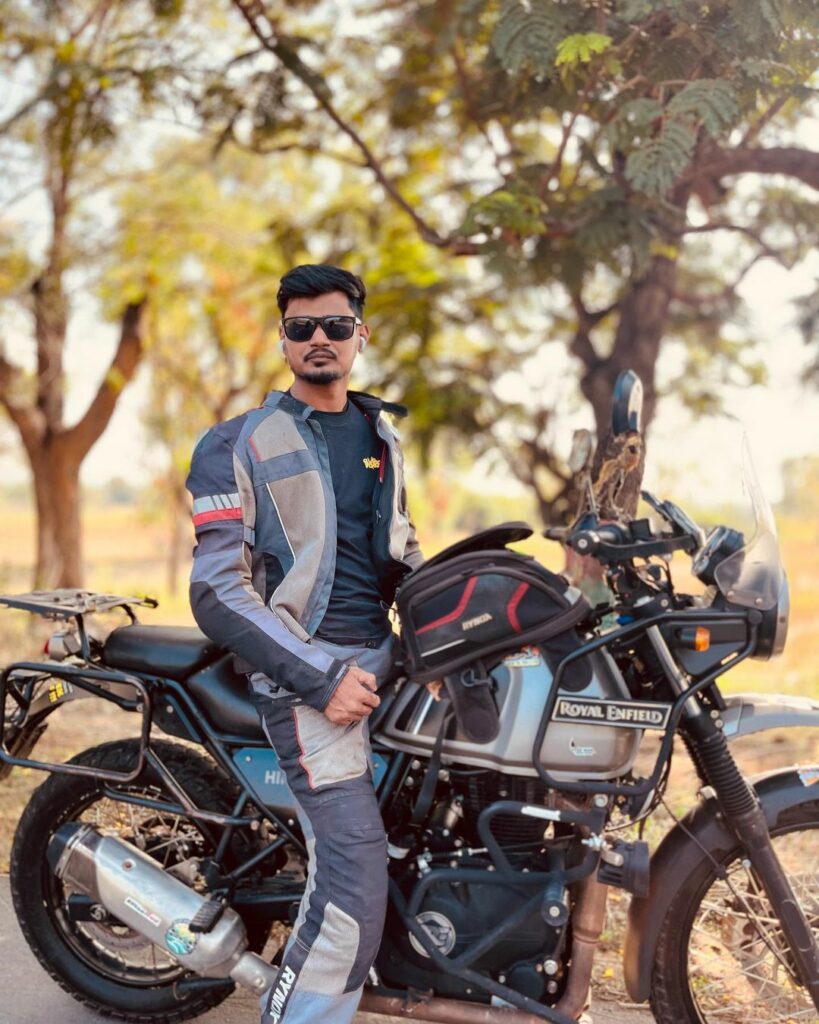 Vishwanath Mathpati
I am Vishwanath Mathpati, a full-time Blogger and Motorcyclist from Bidar, Karnataka. I love writing about my Motorcycles Stories and Riding Gears on this blog.
Know More About Me.
---
If you liked this article, then please subscribe to our YouTube Channel for more Bike Videos. You can also find us on Instagram, Twitter and Facebook.
Disclosure: As an Amazon Associate, I earn from qualifying purchases. Read more about Amazon Affiliate Disclaimer.