Top 7 Best Motorcycle Rides in Pennsylvania: My Ultimate Guide
There's no denying that Pennsylvania is a state filled with countless scenic roads and picturesque landscapes just perfect for motorcycle enthusiasts. I'm excited to share with you the Top 7 Best Motorcycle Rides in Pennsylvania. From winding riverside routes to glorious mountain passes, each of these rides truly showcases the Keystone State's diverse terrain and charm.
One of the most appealing aspects of motorcycle travel is the opportunity to immerse yourself in the surroundings and truly experience the environment in a way that just isn't possible from the confines of a car. Pennsylvania offers miles upon miles of scenic byways that are not only visually stunning but also provide an exhilarating experience for any motorcyclist. So, if you're a fan of two-wheeled adventures and you're looking for some of the most impressive routes to explore in Pennsylvania, I've got you covered.
Pennsylvania boasts an impressive array of motorcycle routes, with its picturesque landscapes and historic roads. But the Keystone State's neighbors offer enticing journeys of their own. Venture north to New York and discover the legendary Catskill Mountains ride, known for its sweeping turns and panoramic views. To the east, New Jersey's Delaware River Scenic Byway offers a peaceful, riverside journey. If you head west to Ohio, the Triple Nickel presents a challenge with its series of twists and turns through the state's scenic rural landscapes. Down south, Maryland's Chesapeake & Ohio Canal ride blends history and beauty, following a historic canal route.
Each of these neighboring state routes adds depth to the broad spectrum of motorcycle rides you can find in and around Pennsylvania.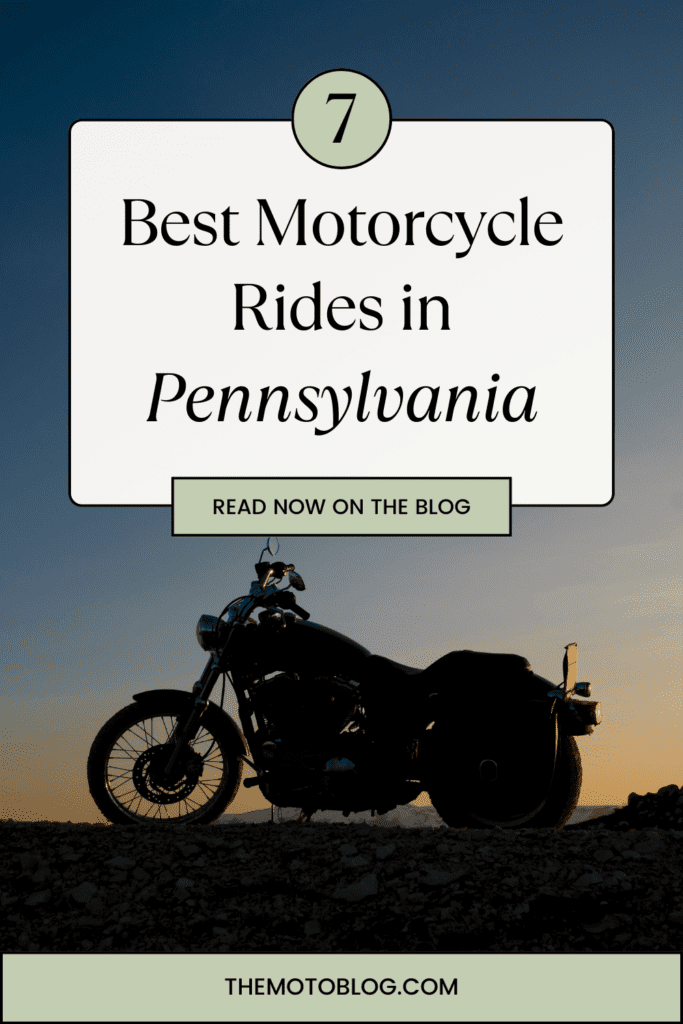 1. The Grand Army of the Republic Highway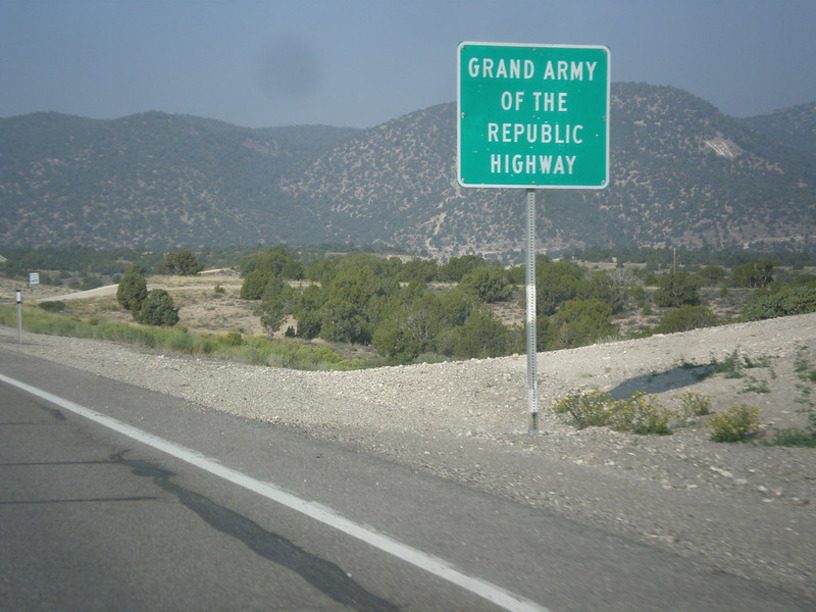 It's hard to imagine a motorcycle ride in Pennsylvania without mentioning the Grand Army of the Republic Highway. This scenic road, also known as Route 6, stretches across northern Pennsylvania and offers riders an unforgettable experience. Let me share some essential information about this fantastic ride, perfect for motorcycle enthusiasts.
The ideal time to explore the Grand Army of the Republic Highway is between May and October. During these months, the weather is typically mild and comfortable for motorcycle riding. Additionally, you'll witness vibrant foliage in the fall, enhancing the overall riding experience.
The Grand Army of the Republic Highway spans over 400 miles in Pennsylvania. Plan for at least 2-3 days to fully enjoy the ride and stop at various attractions.
Numerous magnificent places are worth a visit while riding along Route 6. Some of my favorites include:
Three Springs Alpacas: A family-owned alpaca farm where you can learn about these fascinating animals and even feed them!
Kinzua Bridge State Park: Marvel at the remnants of the Kinzua Viaduct and the breathtaking views from the skywalk.
Grey Towers National Historic Site: The former home of Gifford Pinchot, the first chief of the U.S. Forest Service, is a must-see for history buffs.
Pine Creek Gorge: Also known as the Grand Canyon of Pennsylvania, this natural wonder offers panoramic vistas, hiking trails, and picturesque photo opportunities.
I'd rate the Grand Army of the Republic Highway as moderately challenging. While it's mostly suitable for riders of all skill levels, some sections have tight curves and occasional elevation changes. Remember to stay vigilant and cautious, especially during inclement weather.
Other Information
Along Route 6, you'll encounter plenty of dining and lodging options. However, I recommend making reservations ahead of time during peak season.
Make sure to carry a Pennsylvania road map and GPS as cell reception can be spotty in some areas.
Always wear proper riding gear and exercise caution, especially when riding through small towns and rural areas prone to wildlife.
2. Longhouse Scenic Byway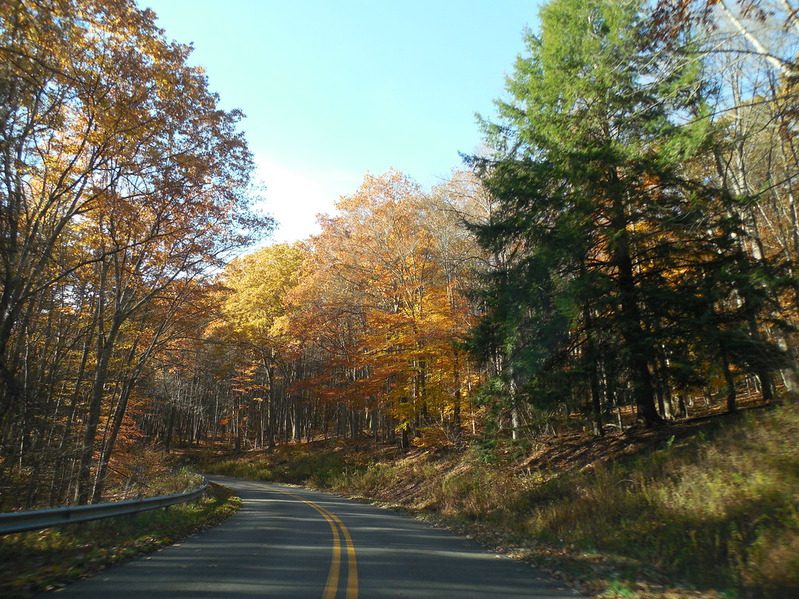 Pennsylvania's Longhouse Scenic Byway is a ride that I highly recommend for motorcycle enthusiasts looking for an exhilarating experience. Located in the breathtaking Allegheny National Forest, this 29-mile loop offers picturesque views filled with lush greenery and stunning natural landscapes. It is truly an unforgettable journey.
The absolute best time to enjoy this ride is during the summer and fall months. In the summer, you can soak up the warm sunshine and marvel at the forest's vibrant green foliage. During the fall, witness an explosion of colors as the leaves turn to red, orange, and gold.
As mentioned earlier, the Longhouse Scenic Byway is a 29-mile loop. It typically takes 1.5 to 2 hours to complete, depending on your riding speed and how many stops you make along the way.
A few noteworthy stops along this route include:
Rimrock Overlook: A stunning viewpoint that offers panoramic vistas of the forest and Allegheny Reservoir below.
Jakes Rocks: A popular destination for rock climbing enthusiasts and those who enjoy picturesque views.
Kinzua Dam: A must-visit attraction showcasing the impressive engineering feat of constructing the dam while offering scenic lake views and picnic areas.
I'd consider the Longhouse Scenic Byway a ride of moderate difficulty. While most of the route consists of gentle, sweeping curves, there are some tighter curves and elevation changes to keep you on your toes. It's important to approach these sections with caution, especially if you're new to the area or a less experienced rider.
Here's some additional information to keep in mind before embarking on your Longhouse Scenic Byway adventure:
Ensure your motorcycle is in good working order, as there are limited facilities along the route.
Be aware of potential wildlife on or near the road, particularly deer, which are common in the area.
The area is known for sudden weather changes, so it's best to check the local weather forecast before heading out to avoid any surprises.
3. Bucktail Trail Ride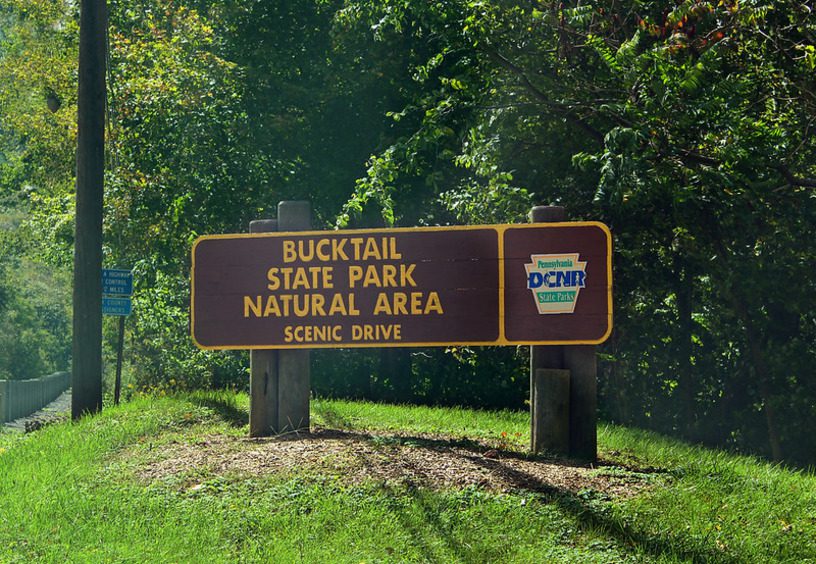 Spanning approximately 110 miles, the Bucktail Trail Ride takes you through the spectacular scenery of North Central Pennsylvania. It's a perfect route for motorcyclists looking for a mix of twisty roads, rolling hills, and panoramic forest views. The best time to ride the trail is from late spring to fall when the temperatures are more comfortable and the foliage is picturesque.
Best Time to Visit:
The entire Bucktail Trail Ride covers about 110 miles (177 km) and takes roughly 3 hours to ride, without accounting for stops along the way. Plan on at least 5 hours for this ride, including breaks to appreciate the views and absorb the beauty of the route.
Here are a few key spots you'll want to make sure to visit on your Bucktail Trail Ride:
Sinnemahoning State Park: A perfect location for wildlife watching, with possible sightings of elk, deer, and bald eagles.
Kettle Creek State Park: Enjoy breathtaking views as you ride alongside the Kettle Creek Reservoir and take in the serene beauty of the park.
Austin Dam and Memorial Park: A historical site where you can explore the ruins of a 1911 dam failure and walk the grounds of the memorial park.
The Bucktail Trail Ride is considered a moderate ride in terms of difficulty, with a mix of twists, turns, and hills. The road condition is generally good, but be cautious of any possible fallen leaves, gravel, or water across the pavement, especially during and after heavy rains.
Other Information:
Keep an eye out for signs marking the Kinzua Heritage Scenic Byway and Pennsylvania Route 120, which coincide with the Bucktail Trail Ride.
Gas stations and restaurants are scattered along the route, but it's wise to have a full tank of gas before embarking on the ride.
Although wildlife adds to the charm of the ride, be extra vigilant during dawn and dusk hours as deer and other animals tend to be more active during these times.
Don't forget to bring a camera or smartphone to capture the breathtaking views and make lasting memories of your adventure on the Bucktail Trail Ride.
4. Brandywine Valley Ride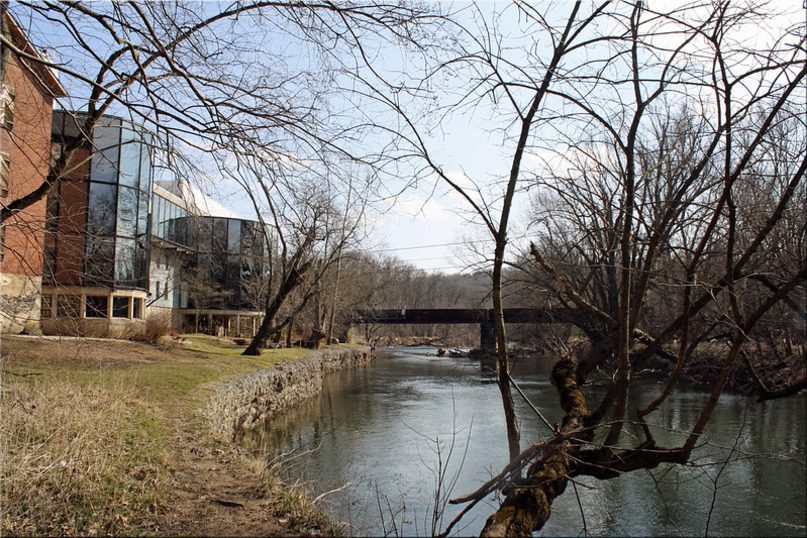 The Brandywine Valley Ride is Located in southeastern Pennsylvania, this scenic route takes you through lush forests, rolling hills, and picturesque farmland.
The ideal time to experience this beautiful ride is during spring or fall when the temperatures are comfortable, and the colors of the landscape are captivating. However, the ride can be enjoyed throughout the year, barring any inclement weather conditions.
The Brandywine Valley Ride covers approximately 70 miles and takes about 1.5 to 2 hours to complete, depending on your riding style and the number of stops you make along the way.
While cruising the Brandywine Valley, there are several enticing stops you can make to enjoy the area:
Longwood Gardens: A must-see destination, boasting vast gardens, breathtaking displays, and dazzling horticultural exhibits.
Brandywine River Museum: Showcases local art, including works by the famous Wyeth family and American illustration art.
Winterthur Museum and Gardens: A splendid historic mansion that offers impressive interiors and a world-class decorative arts collection.
Generally, the Brandywine Valley Ride is of moderate difficulty. The terrain consists of smooth, winding roads with occasional tight turns, making it ideal for intermediate riders. Novice riders may feel challenged at times, but with caution and proper preparation, it's a manageable and rewarding ride.
Other Information:
Fuel Stops: There are a good number of gas stations and convenience stores along the route to ensure you have ample opportunities to refuel.
Accommodations: If you plan to extend your ride over multiple days, the area features a range of hotel options, from quaint bed and breakfasts to chic boutique hotels.
Local Cuisine: Be sure to try some local PA Dutch delicacies at the various roadside eateries along the route.
5. Susquehannock State Forest Loop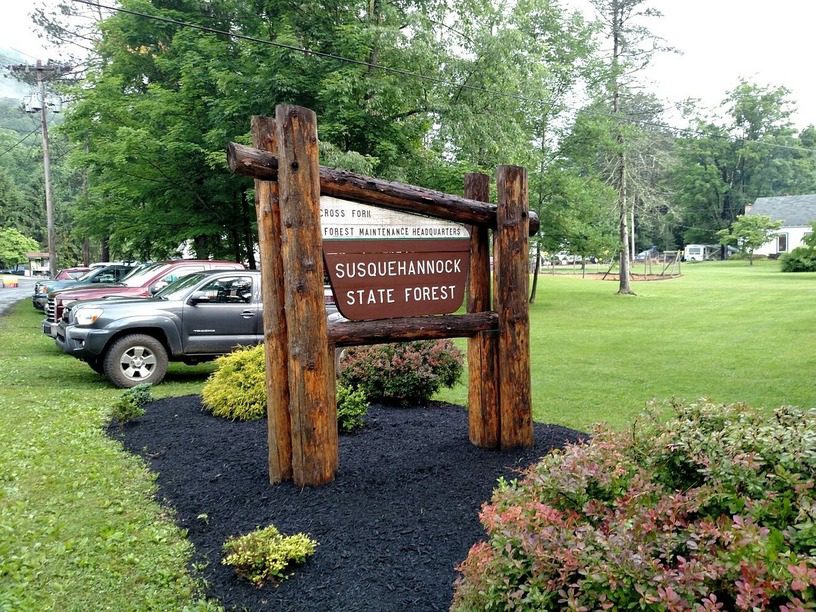 When considering top motorcycle road rides in Pennsylvania, the Susquehannock State Forest Loop surely stands out for its breathtaking scenery and enjoyable riding experience. Located in the heart of north-central Pennsylvania, this loop takes riders on a thrilling journey through picturesque landscapes and charming small towns.
The ideal time to enjoy the Susquehannock State Forest Loop is during late spring, summer, or early fall, as these seasons provide the most pleasant weather conditions and scenic beauty. Be sure to check the local weather forecast before embarking on your ride.
The Susquehannock State Forest Loop measures approximately 120 miles, and it can easily be completed in one day. However, riders may choose to spread their trip over two days to fully appreciate the sights and sounds of the area. Allowing for stops and scenic breaks, the entire loop might take around 4-5 hours to complete.
Key stops along this scenic route include:
Cherry Springs State Park, known for its dark skies and stargazing opportunities,
Ole Bull State Park, perfect for picnicking and taking a break,
The historic Austin Dam, an impressive sight featuring a waterfall.
Take the time to explore these places and immerse yourself in nature's beauty.
The Susquehannock State Forest Loop is a ride suitable for all skill levels, with a mix of sweeping curves and pleasant straightaways. Moreover, traffic is typically very light on this loop, allowing riders to experience the road at their own pace.
This loop also offers a variety of interesting attractions and dining options scattered along the route, such as small-town cafes, antique shops, and museums.
6. Route 125: The Rattling Run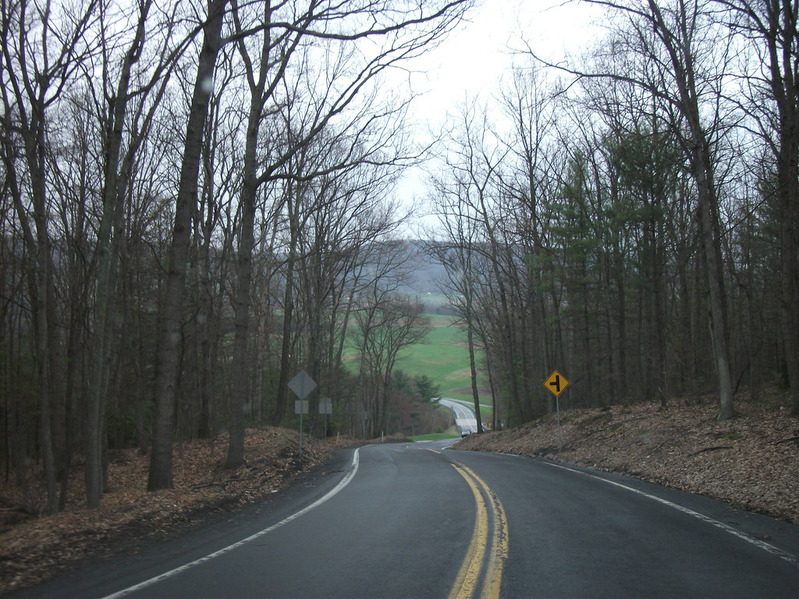 This enjoyable road ride in Pennsylvania offers a thrilling combination of lush scenery and challenging twists and turns.
It's wise to plan a trip to Route 125 between April and October. During this time, the weather is comfortable and the road conditions are typically favorable for biking adventures. Keep in mind that weekends draw more traffic, so if possible, plan your ride during the weekday.
The route stretches for 27.8 miles and takes about 45 minutes to complete, without including stops. This distance allows for a relaxed pace, so take your time to savor the scenic beauty and exhilarating bends.
A few notable places to stop along Route 125 include:
Renninger's Farmers Market: Open on weekends, this market offers tasty treats and unique finds. Perfect for a food break, shopping, or simply strolling around.
Hawk Mountain Sanctuary: Take a break from riding, and stretch your legs as you explore this fascinating bird sanctuary featuring fascinating raptor species.
Route 125 presents a moderate level of difficulty, so it's suitable for both seasoned riders and those with some experience. Be prepared for some hairpin turns and elevation changes that'll challenge your motorcycle handling. As with any road ride, always prioritize safety and precaution.
To further enhance your riding experience on Route 125, make sure to:
Check for any road closures or construction before your trip. This ensures a smooth and uninterrupted experience.
Keep an eye out for wildlife, as deer and other animals frequent the area.
Respect the local communities and drive responsibly.
7. Southern Alleghenies Adventure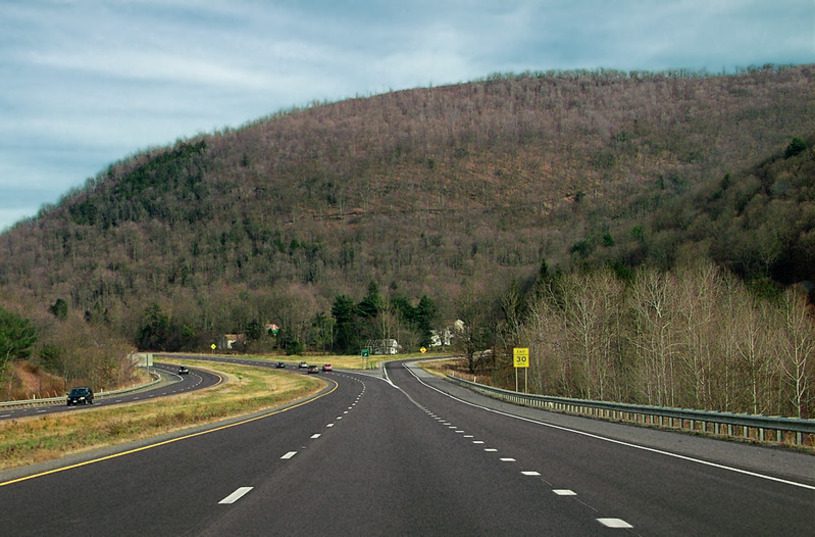 The Southern Alleghenies Adventure is a captivating ride that takes you on a journey through the breathtaking Allegheny Mountains, offering stunning landscapes, picturesque highways, winding roads, and small-town charm. This ride promises an unforgettable experience that showcases some of the best scenic views Pennsylvania has to offer.
The ideal time to embark on the Southern Alleghenies Adventure is between May and October, as you can enjoy the brilliant colors of spring, summer, and fall during these months.
The Southern Alleghenies Adventure covers approximately 275 miles and takes about 6 to 8 hours to complete, depending on how many stops you make along the way.
Places to Stop:
Hyner View State Park: This historic state park offers a stunning viewpoint of the West Branch Susquehanna River Valley and is a great spot to stretch your legs and take some awe-inspiring photos.
Gravity Hill: Experience the unusual phenomenon of rolling uphill at this famous site located in Bedford County.
Flight 93 National Memorial: Pay your respects at this somber yet inspirational memorial for the heroes of Flight 93, who fought back against their hijackers on September 11, 2001.
The ride is considered moderate, with some curvy and hilly sections, but it's mostly on well-maintained roads.
Other Information:
Make sure to plan your fuel stops accordingly, as there may be limited gas stations in more remote areas.
Keep an eye out for wildlife, especially deer, as they can be more active during certain times of the year.
FAQs
What are the top motorcycle rides in Pennsylvania?
Clarion Countryside, Elk Country, Lincoln Highway, Groundhog Loop, Fantastic Forests
Which Route Offers A Scenic Ride Through Amish Country In Pennsylvania?
PA Route 340 takes riders through Amish living areas, offering a unique cultural experience.
Where can I find a mountainous motorcycle ride in Pennsylvania?
The Groundhog Loop Near Punxsutawney Offers A Mountainous Ride With Stunning Views.
What Is A Popular Motorcycle Route Near Pennsylvania's Grand Canyon?
PA Route 6 Passes Through The Pennsylvania Grand Canyon, Offering Breathtaking Views Of The Gorge.
Which route provides a star-gazing opportunity for motorcycle riders in Pennsylvania?
The Highway To The Stars Offers Riders An Opportunity To Enjoy Nighttime Views Of The Sky Away From City Lights.
Concluding the Keystone State Adventure
It's been an incredible journey exploring the top 7 best motorcycle road rides in Pennsylvania. Before closing this article, let's summarize some points.
Considering Pennsylvania's climate, the best time to experience these road rides is from late spring to early fall. During this time, the weather is warmer and more comfortable for riding. April through October offers ideal riding conditions, with the peak season being June through September.
Though most of these routes are accessible for riders of all levels, some can be more challenging than others. Routes with tighter turns, steeper inclines, or less-maintained surfaces may require more experience. It's essential to read the descriptions of each route and choose the best fit based on your skill level and comfort.
It's crucial to remember that weather conditions can change quickly, so always be prepared with appropriate gear and keep an eye on the forecast. Additionally, be respectful of local traffic laws and share the road with other motorists, cyclists, and pedestrians.
With all this in mind, you're ready to embark on a memorable motorcycle road trip through the beautiful landscapes of Pennsylvania. Enjoy the ride, make new memories, and embrace the open road!
Motorcycle Rides in the US by States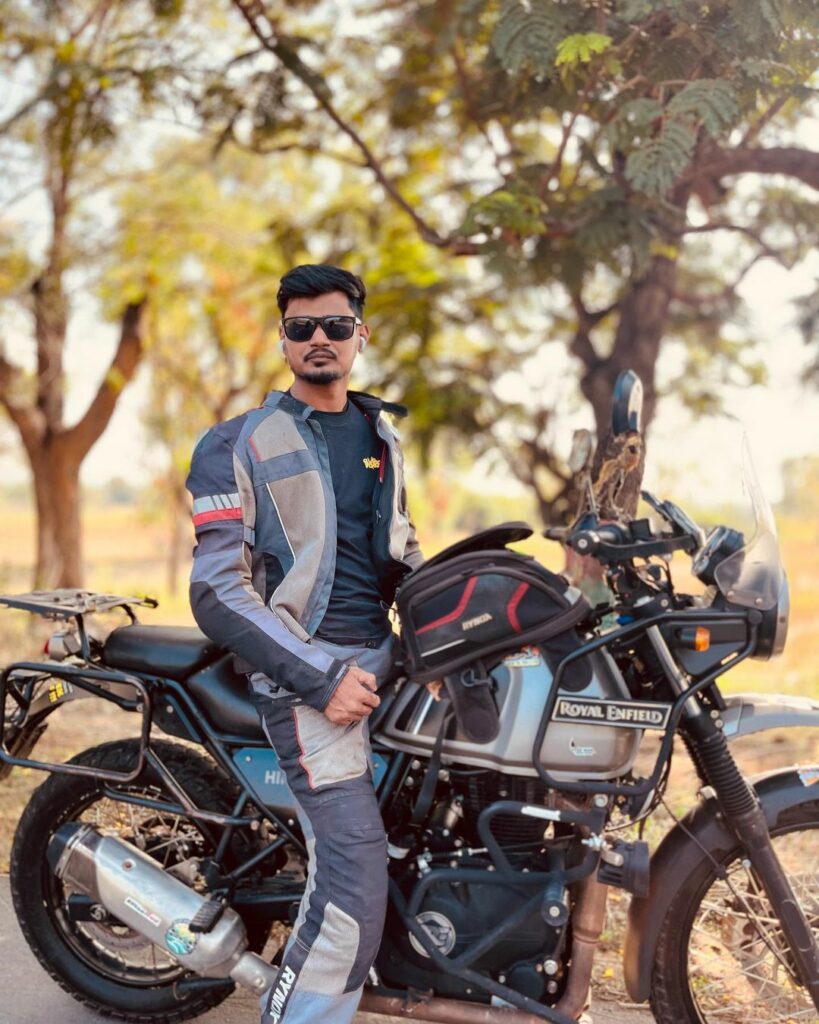 Vishwanath Mathpati
I am Vishwanath Mathpati, a full-time Blogger and Motorcyclist from Bidar, Karnataka. I love writing about my Motorcycles Stories and Riding Gears on this blog.
Know More About Me.
---
If you liked this article, then please subscribe to our YouTube Channel for more Bike Videos. You can also find us on Instagram, Twitter and Facebook.
Disclosure: As an Amazon Associate, I earn from qualifying purchases. Read more about Amazon Affiliate Disclaimer.