15 Best Bikes Routes in India: My Top Picks for Thrilling Adventures
India's vast and varied landscape has long been a haven for motorcycle enthusiasts. The sheer size and diversity of the country mean there's an array of fantastic routes for riders to explore. From the winding roads of the Himalayas to the sun-kissed coastal paths of Goa, there are plenty of thrilling, scenic journeys to be had on two wheels.
One of the most epic routes I've ridden is the Manali to Leh highway in the breathtakingly beautiful region of Ladakh. This 473-kilometre journey is not for the faint-hearted, as it takes bikers through some of the world's highest and most challenging mountain passes. But the jaw-dropping vistas and the sense of accomplishment make it well worth the effort.
Another fantastic choice for those looking for a unique biking experience is the East Coast Road, which connects the cities of Chennai and Pondicherry. This 162-kilometre coastal route treats rider to some stunning seascapes, quaint coastal towns, and plenty of fascinating cultural sights. From historic temples to French colonial architecture, there's always something new to discover on this picturesque trail.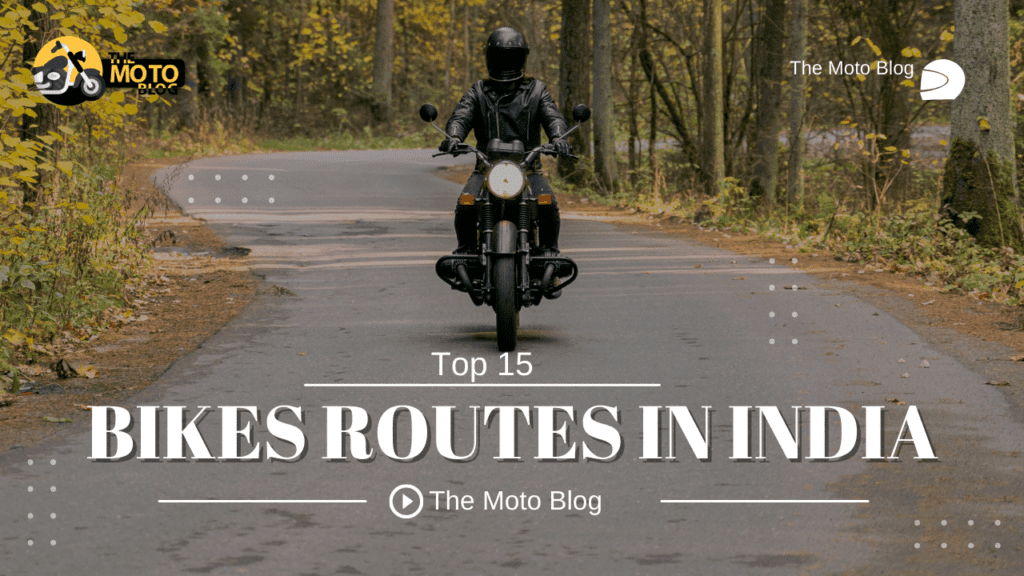 Top 15 Best Bikes Routes in India
Here's a table showcasing the top bike ride destinations in India, including the name, distance, best time to visit, and difficulty level:
| Name | Distance (Approx.) | Best Time to Visit | Difficulty Level |
| --- | --- | --- | --- |
| Mumbai to Goa | 600 km | November to March | Moderate |
| Manali-Leh Route | 470 km | June to September | Challenging |
| Siliguri to Gangtok | 115 km | March to June | Easy |
| Shillong to Cherrapunji | 54 km | September to May | Moderate |
| Jaipur to Jaisalmer | 570 km | October to March | Moderate |
| Manali to Spiti Valley | 200 km | June to September | Challenging |
| Bangalore to Munnar | 470 km | September to May | Moderate |
| Chennai to Kanyakumari | 700 km | October to March | Moderate |
| Delhi to Ranthambore | 380 km | October to March | Easy |
| Kochi to Varkala | 170 km | September to May | Easy |
| Mumbai to Nashik | 170 km | October to March | Easy |
| Guwahati to Tawang | 520 km | April to June | Challenging |
| Darjeeling to Pelling | 73 km | March to May | Easy |
| Guwahati to Dawki | 190 km | October to April | Easy |
These breathtaking routes encompass the beauty of India's landscapes, offering a range of difficulty levels and scenic experiences. Choose your destination, plan your journey, and let the adventure unfold as you discover the thrill of biking across this diverse nation.
While choosing the right route for your adventure, also make sure to select the perfect bike by considering the Best 650cc Bikes in India and the Best 400cc Bikes in India.
1. Riding Down the Coast: Mumbai to Goa
I've always found the coastal ride from Mumbai to Goa to be one of India's most scenic and enjoyable routes. This journey offers riders breathtaking views of the Arabian Sea, charming coastal towns, and plenty of photo-worthy spots along the way.
For more off-the-beaten-path routes in India, check out the Gonbo Rangon to Padum: Full Off-Road Zanskar Route.
The overall distance of this route is approximately 590 km, making it perfect for a 2-3 day ride. The best time to embark on this adventure is between October and February, when the climate is cooler and the monsoon rains have subsided. Here's a brief overview of the route and some notable attractions:
| Distance | Route Description |
| --- | --- |
| 0-150 km | Mumbai to Kashid |
| 150-300 km | Kashid to Guhagar |
| 300-450 km | Guhagar to Sindhudurg |
| 450-590 km | Sindhudurg to Goa |
Mumbai to Kashid: This stretch provides riders with stunning views of the Western Ghats and the sea. Along the way, you'll pass through Alibaug, a popular beach destination, where you can enjoy watersports or simply relax on the sand.
Kashid to Guhagar: Continuing southward, you'll encounter more serenity and ever-changing landscapes. Highlights include the ancient Karnala Fort and the awe-inspiring Phansad Wildlife Sanctuary. Don't forget to visit the tranquil Nagaon Beach before reaching Guhagar.
Guhagar to Sindhudurg: This leg takes you through the picturesque Konkan coastline, where you'll find hidden gems like Hedvi Beach and the sleepy village of Velneswar. En route, you may also explore the magnificent Jaigad Fort, and catch a glimpse of the legendary Chandika Cave.
Sindhudurg to Goa: The final stretch of the ride is marked by idyllic beaches and historic sites like the Sindhudurg Fort. Before crossing into Goa, be sure to stop by the bustling town of Tarkarli for a taste of authentic Malvani cuisine.
Throughout this route, you'll be accompanied by the gentle lapping of the Arabian Sea and the refreshing aroma of the sea breeze. With pristine beaches, fascinating historic sites, and lush greenery, the Mumbai to Goa coastal ride is bound to leave an unforgettable impression. So pack your bags and get ready to embark on a memorable adventure.
2. The Legendary Manali-Leh Route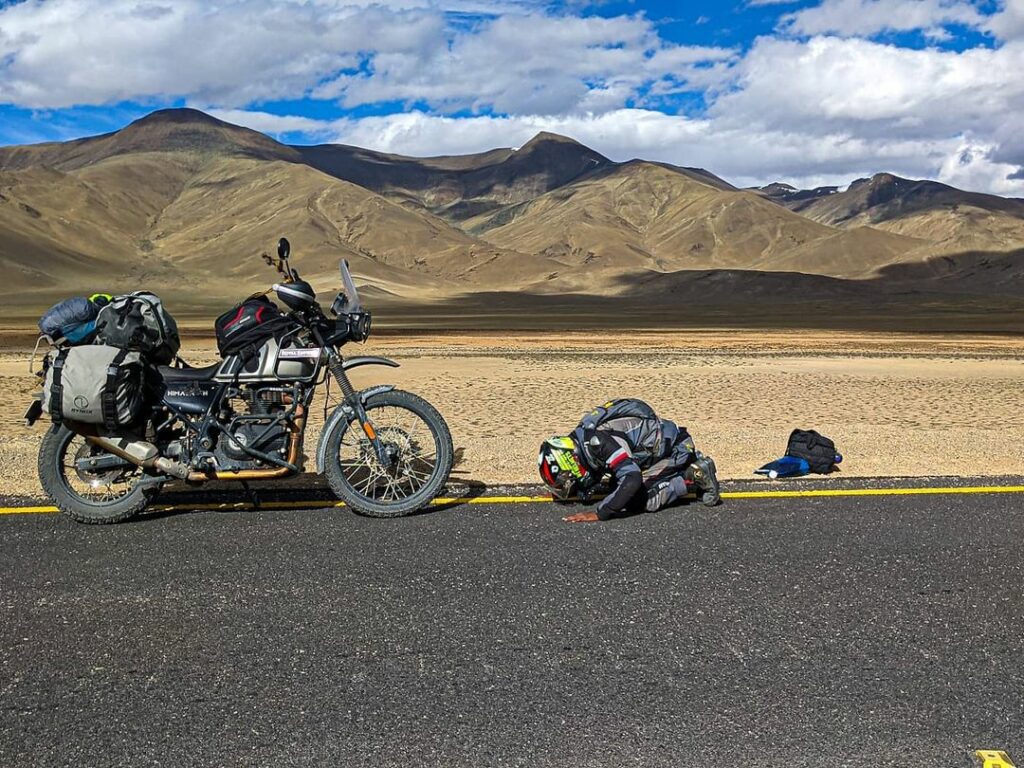 I've ridden numerous bike routes in India, and the Manali-Leh route stands out as a truly legendary one, offering spectacular views and an unforgettable journey.
The route stretches for approximately 490 kilometres and boasts some of the most incredible landscapes you'll ever see. A typical ride along this route takes anywhere between 2 to 4 days, depending on your pace and sightseeing preferences.
Discover another beautiful route in the region by exploring the Padum to Leh via Lingshed Zanskar in Kannada.
Here's a table showing the key statistics of the route:
| Distance (in km) | Duration (in days) |
| --- | --- |
| 490 | 2-4 |
There are numerous reasons why this route is considered an all-time favourite among motorcyclists:
The landscape: Spectacular mountain vistas, ever-changing terrain, and winding roads make for an unparalleled experience.
The altitude: With high mountain passes, some over 5,000 metres, this journey will truly test your riding skills and stamina.
The challenge: The route isn't easy – it's full of sharp turns, narrow roads, and a few off-roading sections, but that's what makes it all the more exciting for the adventurous rider.
However, preparing yourself and your bike for this trip is essential. Here are some key preparations to consider:
Before embarking on this route, make sure to check out the Best Adventure Bikes in India to ensure a smooth and enjoyable journey.
Acclimatise: Spend a couple of days in Manali to acclimatise to the altitude and reduce the risk of altitude sickness.
Check your bike: Ensure your motorcycle is in top condition – tyres, brakes, and engine – before embarking on this route.
Pack light: Being on a motorcycle, you'll have limited space, so pack only essential items.
Don't forget to pack essential safety gear like the Riding Gloves, Riding Jacket, Riding Boots,and Riding Pants.
Proper Luggage: Make sure you get adequate luggage; here are some articles recommending Motorcycle Luggage, Best Saddle Bags, and. Best Tank Bags.
While riding the route, you'll encounter several remarkable places along the way:
Rohtang Pass: Situated at an altitude of 3,978 metres, Rohtang Pass offers breathtaking views and is a popular stopover.
Keylong: A quaint hill town, Keylong is an excellent place to rest and soak in the serene atmosphere.
Sarchu: Another stopover point on the route, Sarchu offers basic tented accommodations for a night's rest.
Khardung La: One of the highest motorable passes in the world, Khardung La is a must-visit spot, offering panoramic views.
In brief, the Manali-Leh route is an incredible and challenging journey that tests your endurance and rewards you with unparalleled sights. So if you're up for an adventure, gear up and ride through one of India's most iconic bike routes.
3. Saddle Up for Sikkim: Siliguri to Gangtok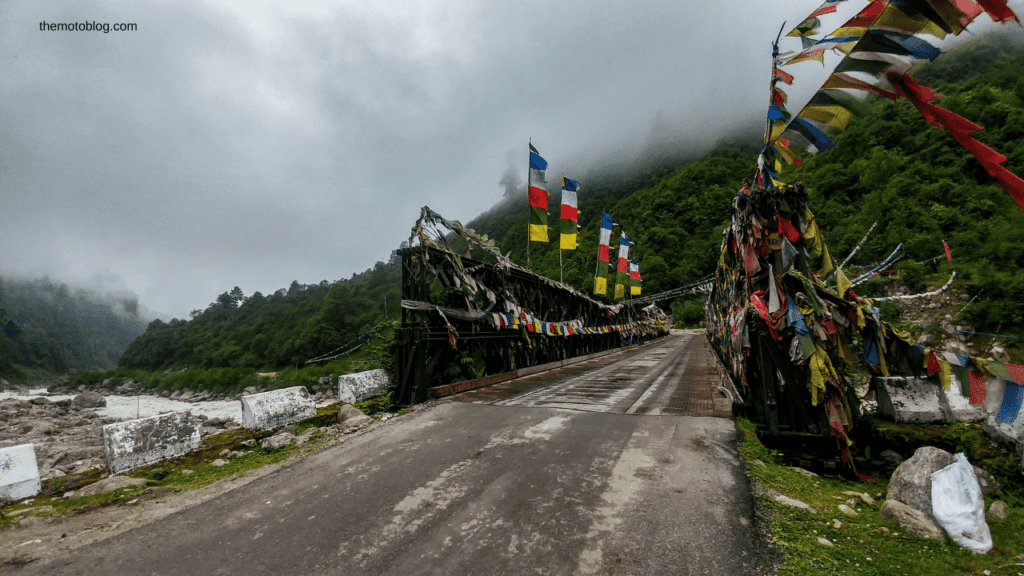 When I'm asked about the best motorcycle routes in India, I can't help but mention the Siliguri to Gangtok route, which takes you through the mesmerising terrain of Sikkim. This route offers an unparalleled experience, as it affords a scenic combination of lush green forests, cascading waterfalls, and the serene Teesta River. The route spans around 110 km, providing the perfect opportunity to savour everything Sikkim has to offer.
Embarking on this journey, you'll begin in Siliguri, the gateway to northeast India. From here, you'll ride along the banks of the Teesta River and pass through the captivating Mahananda Wildlife Sanctuary. This sanctuary boasts a wide variety of flora and fauna, which makes it a must-visit spot during your ride. Some key attractions you'll encounter along the route are:
Kali Mandir, for a peaceful temple visit
Mahananda Wildlife Sanctuary, to revel in nature's beauty
Teesta River, for a tranquil riverside ride
As you approach Gangtok, the capital city of Sikkim, you'll be greeted by the mighty Kanchenjunga, standing tall as the third highest peak in the world. Gangtok boasts an array of attractions, offering something for every traveller. Be sure to pay a visit to:
Rumtek Monastery, the largest monastery in Sikkim
Tashi Viewpoint, for a panoramic view of the Himalayas
Ban Jhakri Falls, to admire nature's beauty
The best time to embark on this journey is between September to June. During this time, the weather remains favourable and the road conditions are optimal for riding. However, it's essential to be prepared for the tricky terrains and changing weather conditions, as the route can be challenging for inexperienced riders.
Here's a summary of the key data for this route:
| Total Distance | Best Time to Visit | Attractions |
| --- | --- | --- |
| 110 km | September to June | Kali Mandir, Mahananda Wildlife Sanctuary, Teesta River, Rumtek Monastery, Tashi Viewpoint, Ban Jhakri Falls |
Finally, it's crucial to note that this route lies in a fragile eco-sensitive region. As a responsible traveller, make sure to take conscious steps to minimise your environmental impact. Carry your litter bags, don't use plastic and refrain from making loud noises or playing loud music. So go ahead, saddle up for an unforgettable ride through the charming landscapes of Sikkim – just remember to respect the environment as you do!
4. Twisting Turns: Shillong to Cherrapunji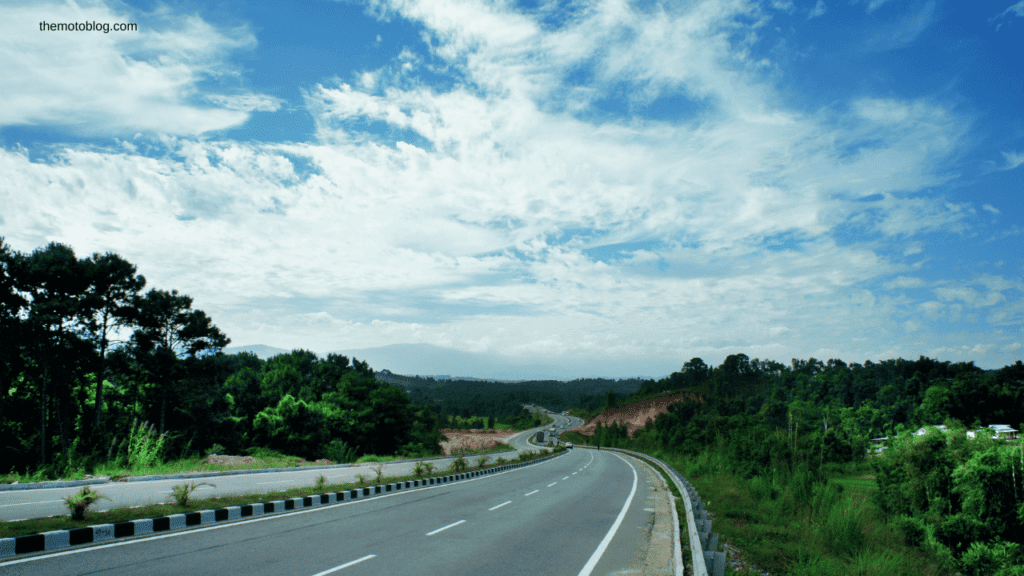 I've always found the stretch of road from Shillong to Cherrapunji to be a mesmerising experience. Known for its thrilling twists and turns, this route winds through the scenic Meghalaya hills and offers a fantastic ride for any biking enthusiast. The journey covers a distance of about 53 kilometres, making it just the right length for a pleasant day trip.
The road from Shillong to Cherrapunji has gained popularity over the years, particularly among bikers who appreciate the dramatic elevation changes and the lush green surroundings. Along the way, you'll notice several magnificent viewpoints that'll make you want to stop and take it all in. Some must-visit spots include:
Elephant Falls
Shillong Peak
Mawkdok Dympep Valley Viewpoint
Nohkalikai Falls
The best time to embark on this ride is during the post-monsoon season, around October to May, when the weather is pleasant, and the landscape is at its most vibrant. However, it's a good idea to avoid the route during heavy rainfalls, as unexpected landslides might occur.
While navigating through the twists and turns, it's essential to be cautious and attentive, giving yourself ample time to enjoy the breathtaking views safely. Also, ensure you're well-prepared and carry essential items such as:
A motorcycle in good working condition
Helmet and safety gear
A puncture repair kit
Adequate water and snacks for the journey
A fully-charged phone and power bank
You can also find a few pit stops en route, like the Mystic Restaurant at Dympep Valley or Café Cherrapunji, for a well-deserved meal break.
The journey from Shillong to Cherrapunji offers ample opportunity for photographers, as the landscapes are nothing less than picturesque. From cascading waterfalls and misty valleys to the unique living root bridges, this route offers a diverse range of unforgettable sights. So, don't forget to pack your camera and capture those incredible shots!
In essence, if you're a biker seeking an exciting and scenic adventure, the twisting turns from Shillong to Cherrapunji will undoubtedly live up to your expectations. So go ahead, hop on your bike and immerse yourself in the beauty of this unparalleled journey.
5. Desert Excursion: Jaipur to Jaisalmer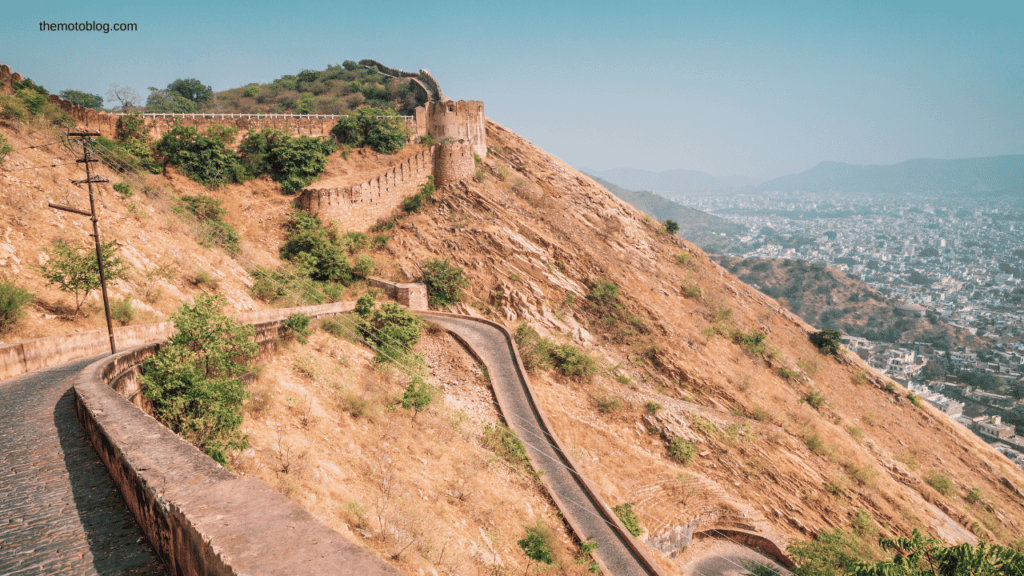 India is home to some of the most stunning motorcycle routes, and I've found that the desert excursion from Jaipur to Jaisalmer is particularly awe-inspiring. This ride takes you through the heart of Rajasthan and offers an unparalleled experience filled with rich culture, history, and breathtaking landscapes.
Commencing the journey in Jaipur, known as the Pink City due to its distinctive coloured architecture, it's hard not to be mesmerised by the city's beauty. It's essential to take a day or two here and immerse yourself in the captivating sights Jaipur has to offer, such as the iconic Hawa Mahal and Amer Fort. Once you're ready to hit the road, you'll be greeted by the open desert landscape, guiding you through quaint villages and offering you glimpses of spectacular sand dunes.
The route from Jaipur to Jaisalmer stretches approximately 560 km and can be comfortably covered in 2 to 3 days. En route, there are several fascinating places to explore, such as:
Bikaner: Known for its remarkable fort, the Junagarh Fort, and the famous Karni Mata Temple
Jodhpur: The Blue City, home to the majestic Mehrangarh Fort and Umaid Bhawan Palace
Khimsar: A hidden gem where you can indulge in camel safaris to explore the sandy terrain
Throughout the journey, the ever-changing landscape will leave you in awe. From the golden-hued dunes of the Thar Desert to the vibrant splendour of Rajasthan's regal cities, the variety of scenery is truly enchanting.
While on this trip, it's essential to plan strategically given the volatile weather conditions. The best time to venture on this route is during the cooler months, between October and February. Riding during these months will ensure a more pleasant experience, as the unbearable desert heat can turn an otherwise exhilarating ride into sheer torture.
It's also wise to plan your rides early in the day or during late afternoons, avoiding the midday heat as much as possible. Additionally, carry ample water and sunscreen to combat the scorching sun.
To sum up, the desert excursion from Jaipur to Jaisalmer is an unforgettable experience that every motorcycle enthusiast should embark on at least once in their lifetime. As you ride through the captivating landscapes, you'll not only be mesmerised by the incredible vistas, but you'll also experience the rich tapestry of Rajasthan's culture and history up close. So gear up and embark on this adventure, creating memories that will last a lifetime.
6. Journeying the Himalayas: Manali to Spiti Valley
When it comes to an incredible motorcycle adventure in India, nothing beats the journey from Manali to Spiti Valley. Widely regarded as one of the best biking routes in the country, this trip offers everything a biker could dream of: jaw-dropping landscapes, challenging routes, and an unbeatable sense of freedom on the open road.
The journey typically spans over 5-7 days, covering a distance of around 565 kilometres. Here are some highlights of this unparalleled route:
Rohtang Pass: One of the highest and most scenic motorable passes in India, Rohtang Pass sits at an altitude of 3,978 metres. The ride here takes you through awe-inspiring views of snow-capped mountains and lush green valleys.
Kunzum Pass: Connecting Lahaul Valley with Spiti, this mountain pass is situated at an altitude of 4,590 metres. Known for its stunning landscapes and treacherous roads, Kunzum Pass is a must-visit for any bike enthusiast.
Key Monastery: Located in the Spiti Valley, the impressive Key Monastery, which dates back to the 11th century, is an excellent stop on this journey. The vibrant colours, intricate architecture, and fascinating history of this place are sure to leave you spellbound.
Route details and distance breakdown:
| Route Segment | Distance (KM) |
| --- | --- |
| Manali to Rohtang Pass | 53 |
| Rohtang Pass to Kaza | 202 |
| Kaza to Key Monastery | 14 |
| Key Monastery to Tabo | 49 |
| Tabo to Kaza | 47 |
| Kaza to Manali (via Shimla) | 200 |
Preparing your bike and yourself for this challenging journey is crucial. Here are a few tips and things to keep in mind:
Ensure your bike is serviced and fitted with quality tyres, as the roads can be quite rough and rocky.
Carry essential repair tools along with spare parts like spark plugs and clutch cables, as finding repair shops en route can be difficult.
Acclimatize yourself to the high altitudes, as it will help you avoid altitude sickness and stay comfortable during the ride.
Check weather forecasts before embarking on your journey, as sudden changes in weather can pose risks.
Carry food, water, and necessary supplies, as the availability of resources on this route is scarce.
In summary, Manali to Spiti Valley is a thrilling ride providing a unique experience that's perfect for seasoned bikers and adventurous travellers alike. But always remember – safety first! So prepare well and don't forget to enjoy every moment on this fantastic journey.
7. Spectacular Munnar: Bangalore to Munnar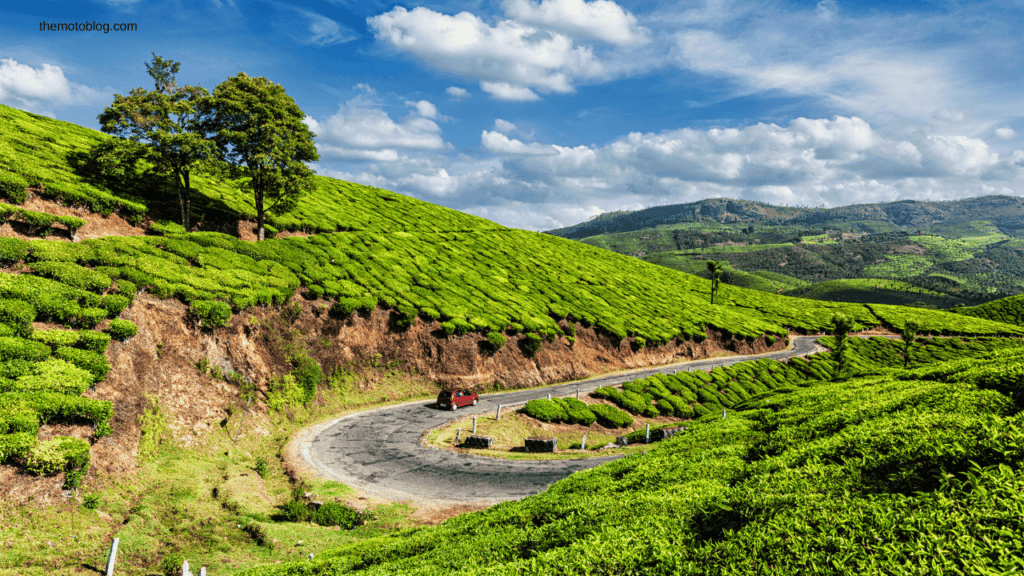 I must say, Munnar is one of the most picturesque destinations I've travelled to in India, and the motorcycle ride from Bangalore to Munnar is an absolute treat. This stunning route offers a mix of lush greenery, winding roads, and fascinating hill stations, making it a top choice for biking enthusiasts seeking adventure in India.
The total distance between Bangalore and Munnar is approximately 476 kilometres. By taking the NH 44 and SH 33, you'll find yourself riding through some of the most amazing landscapes India has to offer. Expect the journey to last about 10-12 hours, depending on the stops you take along the way.
Some of the key highlights that I encountered during my ride include:
The serene Sholayar Dam
Breathtaking Athirappilly Falls
Scenic Valparai hill station
Enchanting Anamalai Tiger Reserve
While riding from Bangalore to Munnar, it's essential to plan some important stops. Here are my top recommendations for pit stops and sightseeing:
Hosur: About 40 kilometres from Bangalore, this industrial town houses the stunning Chandira Choodeswarar Temple built atop a small hill.
Salem: At the 200-kilometre mark, this city offers plenty of food joints to refuel your body and bike.
Coimbatore: Situated roughly 367 kilometres into the journey, this bustling city offers picturesque landscapes and some great eateries.
Pollachi: Known for its traditional Jaggery market, this small town is about 100 kilometres from Munnar and acts as a perfect stop to explore the local culture.
For accommodation, Munnar offers various options, including charming homestays, budget hotels, and luxurious resorts. I highly recommend booking in advance to ensure a comfortable stay.
Lastly, let's talk about the ideal time to undertake this motorcycle journey. Though Munnar boasts pleasant weather throughout the year, it's best to avoid the monsoon season (June to September) as heavy rains could pose riding challenges.
So grab your helmet, fuel up your motorcycle, and let the spectacular Bangalore to Munnar route leave you mesmerised – it's truly the journey of a lifetime!
8. A Ride Through History: Chennai to Kanyakumari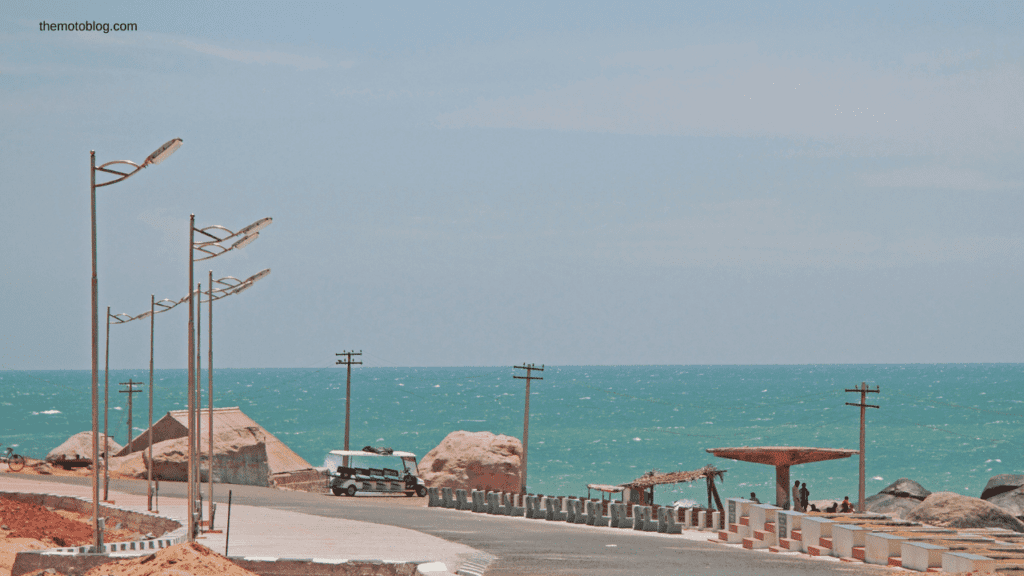 When it comes to embracing India's rich history and diverse landscapes, there's no better way than taking a motorcycle ride from Chennai to Kanyakumari. This incredible route, stretching over 700 kilometres, takes you through some of the most important historical and heritage sites in the southern part of India.
Starting off in the bustling city of Chennai, it's essential to explore the historic Fort St. George and the stunning San Thome Basilica. From there, heading south along the East Coast Road (ECR), I come across the beautiful Pondicherry, an absolute must-visit place for its blend of French colonial and Tamil architecture.
Continuing down the ECR, the vast openness of the East Coast Roadways contrasts sharply with the dense greenery of the Cuddalore Forest Reserve. Further into the journey, I witness some of the most scenic views in the region, including the impressive Pichavaram Mangroves.
Experience the following must-visit sites along the route:
Mahabalipuram: A UNESCO World Heritage site boasting the Shore Temple
Pichavaram: The world's second-largest mangrove forest
Chidambaram: Home to the famous Natraja Temple
Thanjavur: Replete with historical artefacts at the Royal Palace Museum
| Key Sites | Distance from Chennai (km) |
| --- | --- |
| Mahabalipuram | 56 |
| Pichavaram | 215 |
| Chidambaram | 237 |
| Thanjavur | 342 |
Reaching the southern tip of India, I find Kanyakumari, a place brimming with spirituality and history. Here, it's recommended to visit sites like Vivekananda Rock Memorial and the Thiruvalluvar Statue.
However, a detour to the sacred Madurai along the way is definitely worth it. The ancient city, steeped in history, is home to the grand Meenakshi Amman Temple.
The entire Chennai to Kanyakumari bike route is filled with countless spots to stop, take in the history, and admire the natural beauty. From captivating temples and coastal roads to serene landscapes, this motorcycle journey truly offers an unforgettable experience for anyone looking to immerse themselves in India's past.
So grab that helmet and fill up the tank for a ride through history that'll leave a lasting impression long after the journey has ended.
10. Taking on the Tiger: Delhi to Ranthambore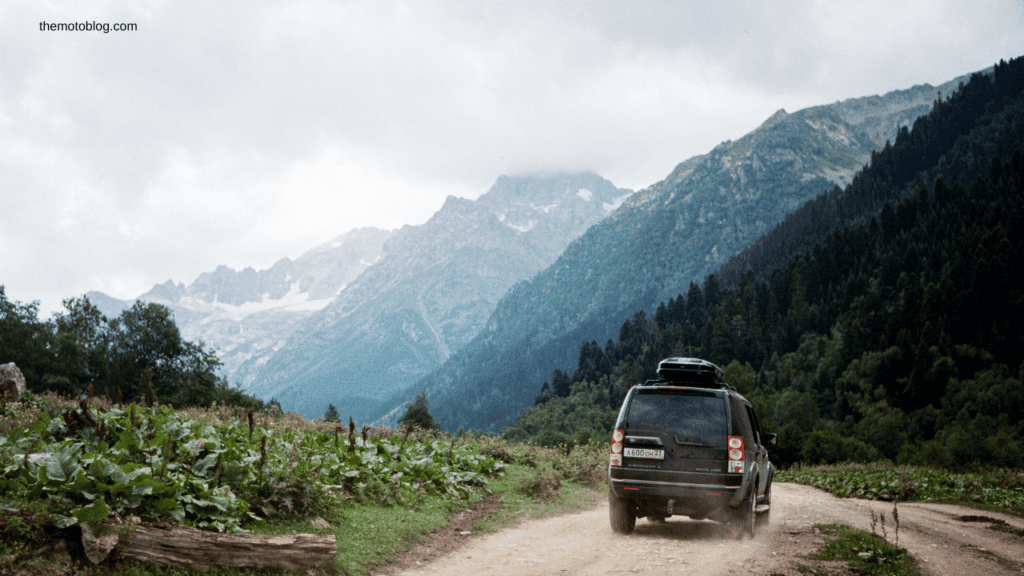 I've always been fascinated by the wild beauty of Ranthambore National Park, and I couldn't think of a better way to experience it than on two wheels. In this section, I'll take you through my journey from Delhi to Ranthambore, including some of the best stops and scenic views along the way. So, let's gear up and embark on this thrilling ride together!
We started our trip from Delhi and made our way towards the highway where the ride became a lot smoother. The distance between Delhi and Ranthambore is approximately 394 kilometres and can be covered in about 9 hours, depending on the traffic and road conditions.
Here's a quick breakdown of the route:
| Route | Distance | Time |
| --- | --- | --- |
| Delhi to Neemrana | 120 km | ~2.5 hours |
| Neemrana to Jaipur | 151 km | ~2.75 hours |
| Jaipur to Ranthambore | 123 km | ~3.25 hours |
Some stops I'd recommend along the way are:
Neemrana Fort Palace: A beautifully restored 15th-century fort turned heritage hotel, Neemrana Fort Palace is an ideal pit-stop to stretch your legs and grab a cup of tea or a quick snack. It's also great for quick history lesson.
Jaipur: Known as the Pink City, Jaipur offers a plethora of attractions and experiences for travellers. Once there, it's worth visiting the iconic Amber Fort, Hawa Mahal, and Jantar Mantar. Also, be sure to sample some local delicacies such as Ghewar.
During the ride, you'll come across varied landscapes, from bustling cities to serene countryside settings. I relished the opportunity to get acquainted with the locals and learn about their culture and way of life. Their hospitality and warmth left a lasting impression on me.
Upon reaching Ranthambore, gear up for wildlife encounters and breathtaking views. This is tiger territory, which adds an element of unpredictability and excitement to the journey. Some highlights of Ranthambore National Park include:
Ranthambore Fort: This UNESCO World Heritage Site offers panoramic views of the park and its surroundings. It's also steeped in history and perfect for snapping pictures.
Wildlife safari: A visit to Ranthambore is incomplete without a wildlife safari. Get up-close with tigers, leopards, crocodiles, and a host of bird species. The cherry on top is witnessing a tiger in its natural habitat.
Throughout this ride, take it easy and enjoy each moment. The mixture of cultural experiences, picturesque landscapes, and encounters with India's amazing wildlife make this journey truly unforgettable.
11. Breath-Taking Kerala: Kochi to Varkala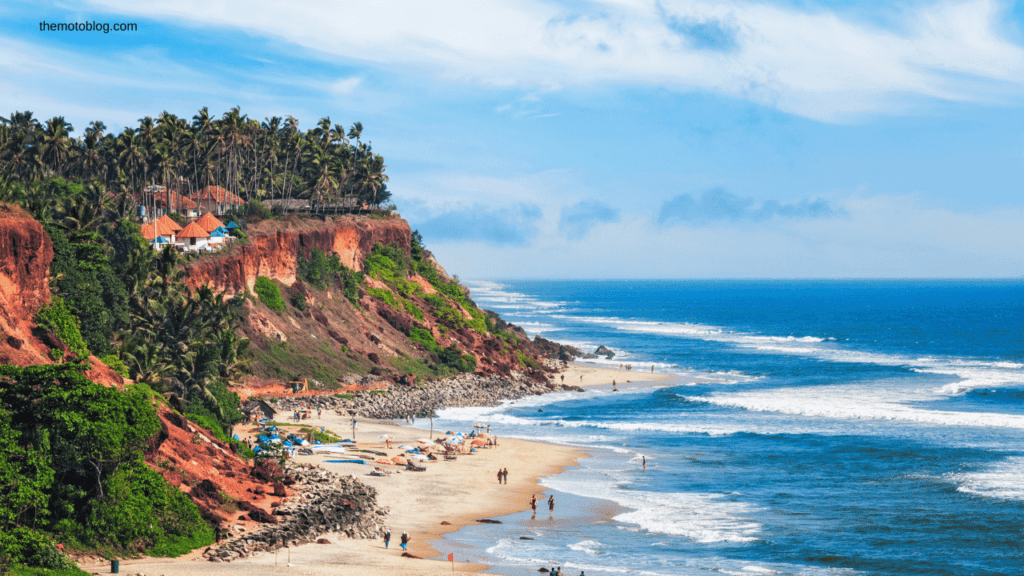 The coastal route from Kochi to Varkala is undoubtedly one of India's most scenic motorcycle routes. Kerala's lush greenery, palm-fringed beaches, and winding backwaters make it a brilliant choice for adventure seekers and travel enthusiasts alike.
I've experienced this incredible journey first-hand, and there's something truly magical about cruising along the southwestern coast of India. The 293 km stretch takes you through diverse landscapes that showcase Kerala's natural beauty. Some of the must-see sights include:
Fort Kochi: A historic district in Kochi known for its colonial architecture and bustling markets.
Alleppey: Nicknamed 'Venice of the East', Alleppey is famous for its enchanting backwaters and houseboat cruises.
Kollam: This coastal city features pristine beaches, traditional temples, and the remarkable Ashtamudi Lake.
While exploring these mesmerising locations, you can also treat your taste buds to authentic Keralan cuisine – whether it's fresh seafood, coconut-infused dishes, or spicy curries. It's hard not to fall in love with Kerala's delectable flavours.
Safety and preparation are of utmost importance on a motorcycle trip. Before embarking on your journey from Kochi to Varkala, make sure you:
Service your motorcycle: A well-maintained bike is crucial for a hassle-free ride.
Carry essential items: These include a first-aid kit, toolkit, tyre repair kit, and spare parts.
Plan your stops: Allow yourself plenty of time to explore sights and enjoy breaks.
It's important to note that Kerala experiences tropical weather, with temperatures ranging between 20°C (68°F) and 36°C (97°F). The ideal time to hit the road is during the dry season, from October to February. It'll be easier to manage the route, and it's the best time to witness Kerala's natural splendour in its full glory.
In conclusion, the stunning route from Kochi to Varkala is a must for all motorcycle enthusiasts who want to experience India's diverse, captivating landscapes. Make sure to plan your adventure well, and you'll be rewarded with unforgettable experiences and memories that will last a lifetime.
12. Nashik Vineyard Ride: Mumbai to Nashik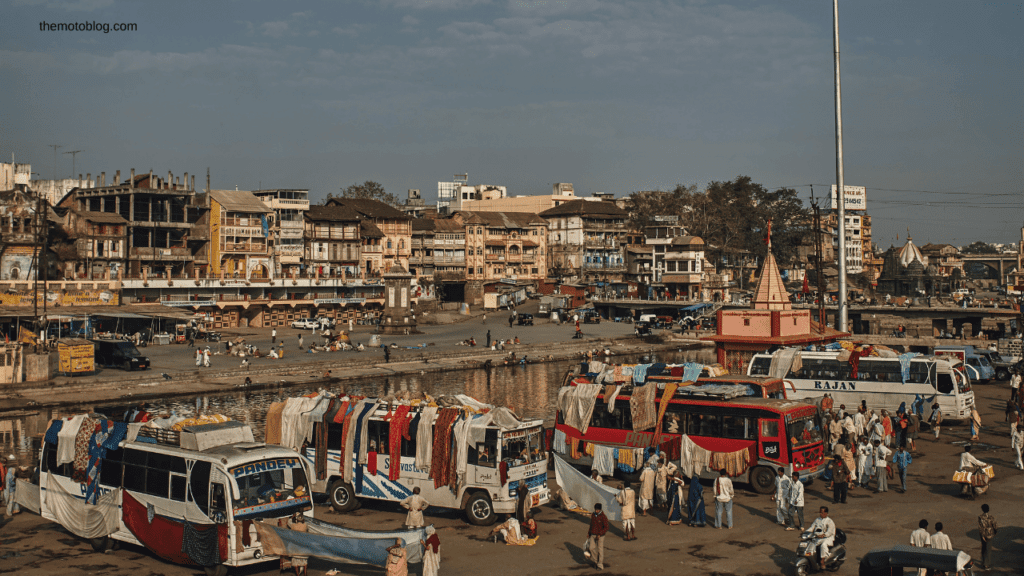 I've always believed that India's diverse landscape offers motorcycling enthusiasts endless opportunities for thrilling and memorable experiences. One such remarkable adventure is the Nashik Vineyard Ride – a picturesque journey from Mumbai to Nashik through lush vineyards and breathtaking scenery.
Starting in the bustling city of Mumbai, this 165 km route leads riders directly into the lush wine country of Nashik. The journey typically takes around 3.5 to 4 hours, depending on riding preferences and stops along the way.
The best time to embark on this captivating ride is during the grape harvesting season, which falls between February and March. Not only will you enjoy pleasant temperatures, but you'll also be able to witness the beauty of the vineyards in their full glory.
The route itself starts with the NH160 highway, which offers a smooth ride and gives you a chance to get accustomed to the journey. As you venture further, you'll pass through the verdant landscapes of the Western Ghats, eventually reaching the world-renowned vineyards of Nashik.
Here are some essential stops and highlights to consider along this scenic route:
Kasara Ghat: One of the most beautiful sections of the ride, the winding roads of Kasara Ghat take you through dense forest with panoramic views of the valleys below.
Igatpuri: Located just before you enter Nashik, this quaint hill station is perfect for a quick pit stop to rest and refuel.
Sula Vineyards: As the most famous winery in Nashik, Sula Vineyards provides an opportunity for riders to participate in wine tastings and explore their sprawling vineyards.
If you prefer a more leisurely pace, considering breaking up the ride into two-day trip by staying overnight at one of the many wineries or resorts in the area. This allows you to truly soak in the beauty of the landscape and explore the many offerings of this fertile region.
Lastly, it's essential to plan your ride with safety in mind – ensuring that your motorcycle is in good condition, wearing appropriate riding gear, and keeping an eye on the weather forecast. With careful preparation and an adventurous spirit, the Nashik Vineyard Ride promises to be one of the most unforgettable experiences on two wheels!
| Route Details | |
| --- | --- |
| Distance | 165 km |
| Estimated Duration | 3.5 to 4 hours |
| Best Time to Ride | February to March (grape harvesting season) |
13. Blossoming Beauty: Guwahati to Tawang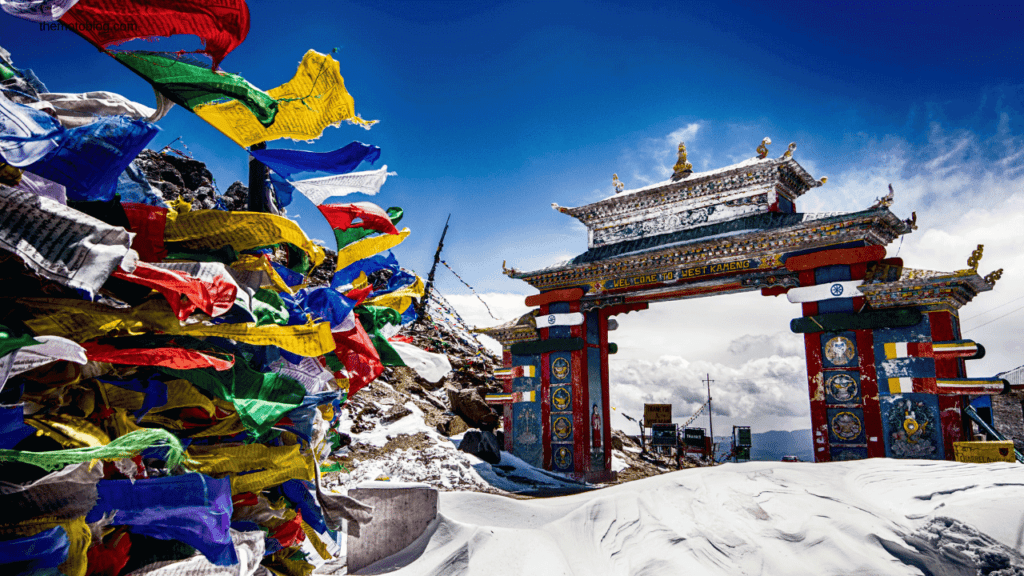 I can confidently say that the Guwahati to Tawang route has its special place among the best motorcycle routes in India. This extraordinary journey will take you through the beauty of the Northeast, amaze you with its diversity, and let you experience a ride like never before.
Embarking on this route, you'll pass through some of the most awe-inspiring landscapes, from the lush green hills of Assam to the snow-capped peaks of the Himalayas in Arunachal Pradesh. Along the way, you'll get the opportunity to navigate through twists and turns, enhancing your biking experience.
Allow me to mention a few memorable spots that you'll encounter during this remarkable journey:
Tezpur: Situated on the banks of the Brahmaputra River, it's worth stopping here to explore its ancient temples and cultural heritage.
Bomdila: A picturesque town that offers spectacular views of the snow-capped mountains and serves as an ideal halt for rest and refuelling.
Sela Pass: Riding up the thrilling mountain pass situated at an elevation of 13,700 feet, you'll be captivated by the enchanting view of the frozen Sela Lake and its surroundings.
| Location | Elevation |
| --- | --- |
| Sela Pass | 13,700 ft |
Now, let's talk a bit about the famous final destination of this route – Tawang. It's a hidden gem located at an altitude of 10,000 feet, welcoming you with its vibrant culture and rich history. Key attractions of Tawang include:
Tawang Monastery: The largest monastery in India and the second-largest in Asia, it's home to over 400 monks and showcases a fascinating collection of scripts and rare artefacts.
Tawang War Memorial: A reverent place, paying homage to the martyrs of the 1962 Indo-China war, standing as a testament to their bravery and sacrifices.
Nuranang Falls: Also known as Jang Falls, it's a stunning 100-meter high waterfall that simply cannot be missed.
During your time in Tawang, don't forget to indulge in the delightful local cuisine and experience the warmth and hospitality of the Monpa tribe. They'll make you feel right at home in their charming abode.
To summarise, the Guwahati to Tawang route is a magical motorcycle journey that offers a mix of scenic beauty, adventure, and cultural experiences. Each twist and turn will reveal something new and enchanting. So, gear up and get ready to embark on one of the most exhilarating rides of your life!
14. Tea Trails Cruise: Darjeeling to Pelling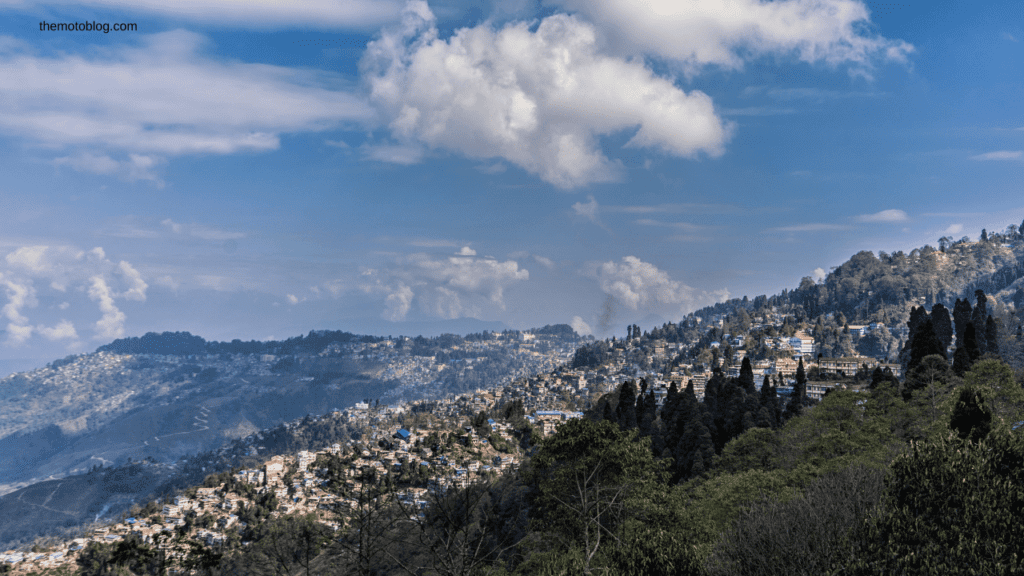 Embarking on the Tea Trails Cruise from Darjeeling to Pelling, I've found it to be one of the most captivating motorcycle routes in India. This ride takes us through the stunning landscapes of the Eastern Himalayas and the serene tea estates that contribute to the world-renowned Darjeeling tea.
Setting off from Darjeeling, we first head towards the picturesque town of Kalimpong. The winding roads, lush greenery, and enchanting views of the Teesta river make for a thrilling ride. Kalimpong is famous for its colonial architecture, beautiful monasteries, and vibrant marketplaces. It's an excellent spot to take a break, explore the local culture, and experience the warmth of the region's hospitality.
Continuing our journey, we reach the quaint village of Rinchenpong, nestled amidst the lush Rhododendron forests. This area is known for its historical significance during the British East India Company's invasion of Sikkim, and it offers spectacular views of the snow-clad Kanchenjunga mountain range.
Our next stop is the enchanting town of Pelling, situated at an altitude of 2,150 metres. Pelling is a treasure trove of natural and historical attractions. Here are some must-visit highlights of the town:
Khecheopalri Lake: A sacred lake, believed to possess wish-fulfilling powers, engulfed in dense forests.
Sangachoeling Monastery: One of the oldest monasteries in Sikkim, it showcases Buddhist culture and stunning artwork.
Rabdentse Ruins: The remnants of the ancient capital of Sikkim, offering panoramic views of the surrounding landscape.
Throughout the Tea Trails Cruise, we're immersed in the rich culture and heritage of the region. We can savour the flavours of traditional Nepali, Tibetan, and Sikkimese cuisine at various spots along the way. Moreover, the soothing music of the monasteries enhances the spiritual ambience of the journey.
This route, covering approximately 186 km, can be covered in 3 to 4 days, depending on stopovers and pacing preferences. The best time to embark on this ride is between October and March, when the skies are clear and the weather is pleasant.
To sum up, the Tea Trails Cruise from Darjeeling to Pelling offers an unforgettable motorcycle journey through the mesmerising landscapes, rich cultural heritage, and serene tranquillity of the Eastern Himalayan region. If you're passionate about motorcycling and seek an adventure, this route is a must-try!
15. Mesmerising Meghalaya: Guwahati to Dawki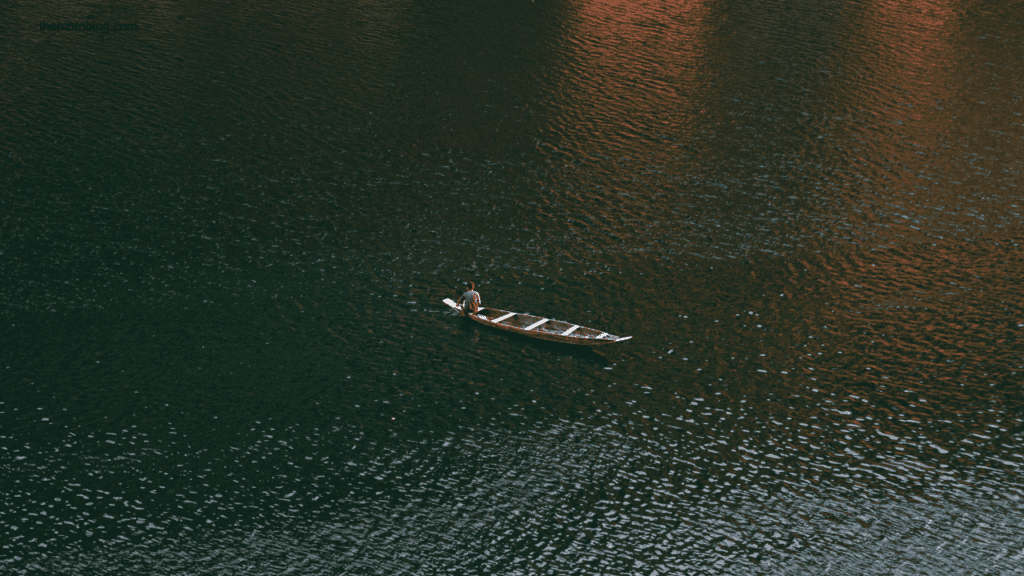 I've always found Meghalaya to be one of the most mesmerising places in India, and the route from Guwahati to Dawki will truly leave you in awe. This spectacular journey offers an array of natural wonders, scenic beauty, and adventure, as it takes you through picturesque landscapes and lush greenery.
One key highlight of this route is the stunning Umiam Lake, a must-visit spot that offers breathtaking views and a chance to indulge in some fun-filled water sports. As you venture further into the journey, you'll be greeted by the enchanting beauty of the Nohkalikai Falls, the tallest plunge waterfall in India. It's impossible not to be captivated by the sight of water cascading down from a height of 341 metres.
Here's a quick overview of some popular stops along the route:
Guwahati: The starting point, known for its diverse wildlife, historic sites, and vibrant culture.
Shillong: The capital of Meghalaya, adorned with rolling hills, picturesque landscapes and pleasant weather.
Cherrapunji: Famous for being the wettest place on Earth, boasting rich flora and fauna as well as numerous waterfalls.
Dawki: Nestled along the India-Bangladesh border, home to the crystal clear Umngot River and a popular spot for boating and camping.
| Distance (in km) | Duration (approx.) |
| --- | --- |
| Guwahati to Dawki | 175 |
| Guwahati to Shillong | 100 |
| Shillong to Cherrapunji | 54 |
| Cherrapunji to Dawki | 82 |
The best time to embark on this one-of-a-kind journey is during the months of October to April. During this period, the weather is pleasant, providing just the right conditions to explore Meghalaya in all its glory.
Keep in mind, the roads on this route can be challenging at times, and it's important to be well-prepared for the journey. I recommend carrying the necessary safety gear, a well-maintained motorcycle, and don't forget to check the weather forecast before setting off.
To sum it up, the Guwahati to Dawki route is a captivating motorcycle journey showcasing Meghalaya's mesmerising beauty. It's truly a must-experience adventure for biking enthusiasts and nature lovers alike.
Conclusion: Pick Your Perfect Indian Adventure
With so many incredible motorcycle routes in India, choosing just one for your next adventure can be challenging. However, I've compiled a list of top picks to help make this decision easier for you. Each of these routes boasts stunning scenic views, diverse landscapes, and a sense of exploration that's guaranteed to pump adrenaline through your veins.
Leh-Ladakh: This route has become synonymous with adventure motorcycling, covering high altitude mountain passes, remote villages, and some of the most stunning landscapes in India.
Manali-Leh: This 500 km-long journey will take you through Rohtang Pass, Baralacha Pass, and Tanglang La, offering breathtaking views and challenging terrain that tests your riding skills.
Shimla-Spiti Valley: The spectacular route through the Spiti Valley provides a unique mix of adventure and culture, with its high passes, monasteries, picturesque villages, and the beautiful Chandratal Lake.
Sikkim: Explore the lush green mountains and serene landscapes of Sikkim, experiencing popular attractions such as the Tsomgo Lake, Gurudongmar Lake, and beautiful viewpoints along the way.
To ensure the best experience possible, preparing well for your chosen route is essential. Some key safety preparation tips include:
Checking the weather updates and avoiding riding during monsoon season.
Acclimatising yourself to the altitude, especially for routes in Leh and Ladakh.
Choosing the right motorcycle and ensuring it's maintained properly.
Packing necessary gear, including warm clothing, a helmet, gloves, and other essentials.
Preparing and selecting the ideal route allows you to immerse yourself in an unforgettable motorcycling adventure through India. No matter which route you pick, you're sure to create lifelong memories and truly appreciate the diverse beauty that this incredible country has to offer. So, gear up and get ready for the ride of a lifetime!

When it comes to challenging bike routes in India, one that stands out is the Manali-Leh Highway. Known for its breathtaking scenery and treacherous terrain, this route takes riders through high-altitude mountain passes, narrow roads, and extreme weather conditions. It's not for the faint-hearted, but those seeking an adrenaline rush and a test of their riding skills will find this route exhilarating.
In terms of the best road trip bike in India, the Royal Enfield is a popular choice among motorcycle enthusiasts. Known for its ruggedness and reliability, models like the Royal Enfield Classic and Royal Enfield Himalayan are favored for long journeys. These bikes offer comfort, power, and the ability to handle various terrains, making them ideal for road trips across the diverse landscapes of India.
When it comes to selecting the best place for a bike travel adventure in India, the Himalayan region offers an unparalleled experience. Riding through the mighty mountains and exploring destinations like Ladakh, Spiti Valley, and Sikkim provides bikers with awe-inspiring landscapes, challenging roads, and an opportunity to immerse themselves in the serenity of nature.
To plan and navigate bike routes in India, riders often rely on apps like Google Maps, MapMyRide, or Ride with GPS. These apps provide real-time navigation, route planning, and information about distances, road conditions, and nearby amenities. They are user-friendly and help bikers optimize their routes based on their preferences and requirements.
For bike enthusiasts in Hyderabad, the Outer Ring Road (ORR) offers a fantastic riding experience. This well-maintained expressway provides a smooth ride and allows riders to cover a considerable distance while enjoying scenic views and minimal traffic. Additionally, the stretch from Hyderabad to Ramoji Film City is a popular route among bikers.
Karnataka, too, offers some incredible bike ride destinations. The Western Ghats region, with its lush green forests, winding roads, and beautiful waterfalls, provides a thrilling biking experience. Riding through places like Coorg, Chikmagalur, and Shimoga allows bikers to soak in the natural beauty of the region while enjoying the thrill of the road.
When it comes to South India, the Nilgiri Mountains in Tamil Nadu offer an unforgettable biking experience. The road from Ooty to Coonoor, known as the Nilgiri Mountain Railway Road, provides riders with breathtaking views of tea estates, dense forests, and winding roads. The peaceful surroundings and cool climate make it a perfect destination for a bike ride in South India.
In Kerala, the Western Ghats offer numerous opportunities for bikers. Munnar, with its scenic beauty and tea plantations, is a favorite among riders. The route from Munnar to Thekkady, passing through the Periyar Tiger Reserve, offers a thrilling experience as riders navigate through the lush greenery and encounter wildlife along the way.
Some of the best bike trips in South India include the Golden Quadrilateral, which covers the major cities of Chennai, Bengaluru, Hyderabad, and Kochi, providing a mix of urban and rural landscapes. The East Coast Road (ECR) from Chennai to Pondicherry offers a scenic coastal route with stunning beaches and quaint towns. Additionally, the Konkan Coast in Maharashtra and Goa is a popular choice for bikers looking for a blend of scenic coastal beauty and cultural exploration.
These bike routes and destinations in India offer varied experiences, from challenging terrains to serene natural beauty. Whether seeking adventure or a peaceful ride, motorcycle enthusiasts will find plenty of options to fulfill their biking dreams in this diverse and captivating country.
Motorcycle Rides in the US by States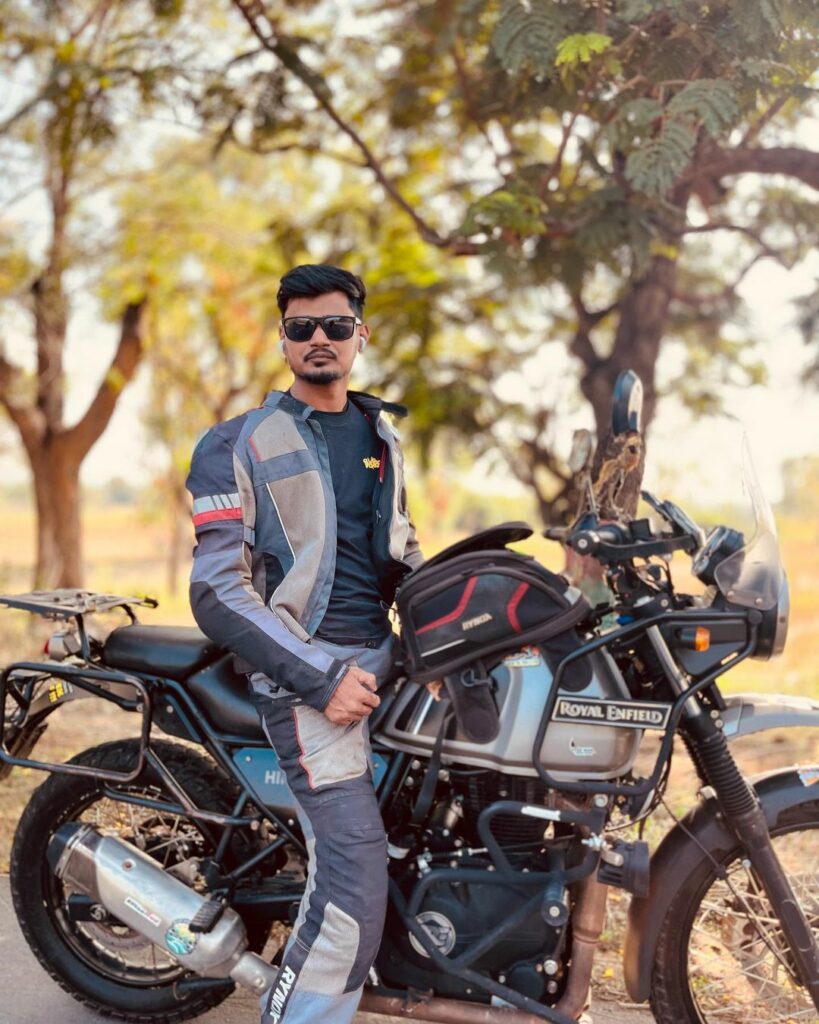 Vishwanath Mathpati
I am Vishwanath Mathpati, a full-time Blogger and Motorcyclist from Bidar, Karnataka. I love writing about my Motorcycles Stories and Riding Gears on this blog.
Know More About Me.
---
If you liked this article, then please subscribe to our YouTube Channel for more Bike Videos. You can also find us on Instagram, Twitter and Facebook.
Disclosure: As an Amazon Associate, I earn from qualifying purchases. Read more about Amazon Affiliate Disclaimer.